Add some sweetness to your morning with these Vegan Blueberry Muffins, loved by vegans and non-vegans alike. This is a simple muffin recipe that packs a sweet and slightly tart punch and bakes up beautifully to be a part of breakfast or brunch.
Back when I was a newspaper photographer in Mississippi, I spent a significant amount of time driving around the Southern portion of the state, covering everything from monster truck throwdowns to sporting events and political rallies to festivals.
One of the festivals I had the opportunity to cover was the Blueberry Jubilee in Poplarville, Miss. I've been obsessed with these lovely blue fruits ever since.
Not only did I bring home the most delectable blueberry cobbler I have ever consumed, but also I scored some great deals on blueberries and took them all home, freezing a majority to make baked goods, smoothies and anything else I could think of.
In fact, I'd love to see if there is some sort of festival like this around Dallas that I could check out in the spring or summertime.
I was grocery shopping last week and stumbled upon a fabulous organic blueberry sale, so I snatched up a few containers of them and brought them home, thrilled to have a little blueberry sweetness during the wintertime. After much waffling, I decided to make some muffins…
This blueberry breakfast treat harkens back to my galley kitchen in Mississippi, and as if that wasn't enough, they're vegan, to boot.
(Yes, I know. We're not vegan, but there's no harm in making a delicious vegan baked good, especially if you can please both vegans and non-vegans! And lemme tell you, these babies never last long at our house.)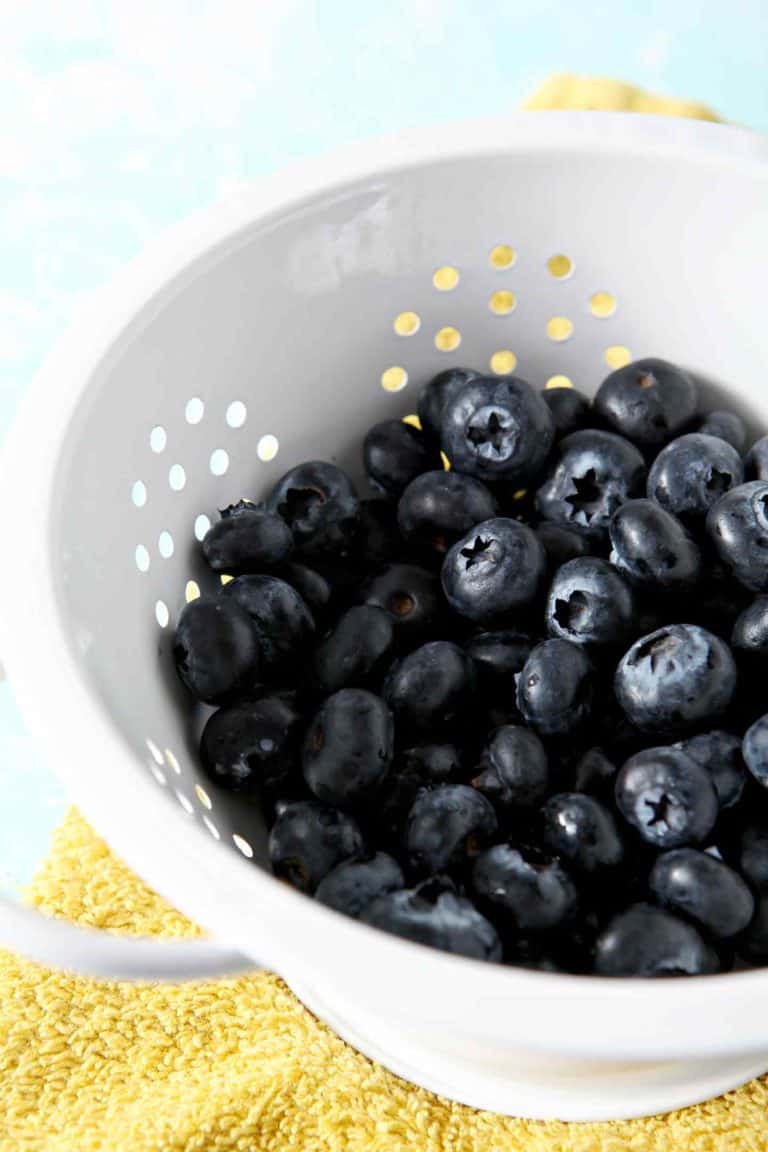 Recommended Tools/Products for Vegan Blueberry Muffins
Disclaimer: The links below are affiliate links. If you click through and take action, I will receive a small commission. Please refer to my disclosure page for more information about the affiliate programs The Speckled Palate participates in.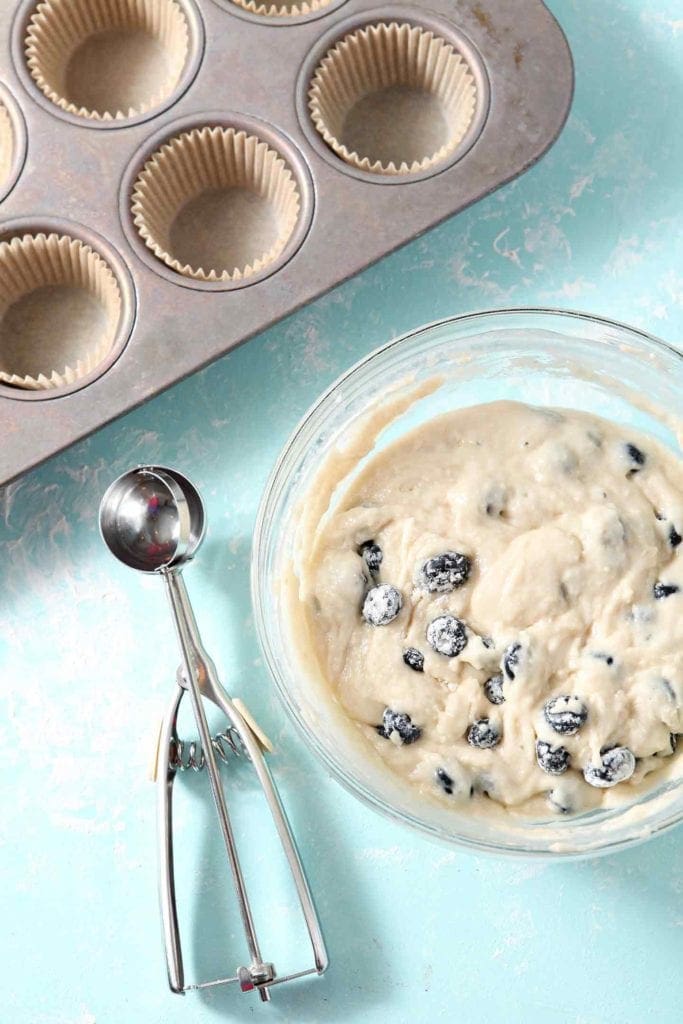 Tips and Tricks for Making the BEST Vegan Blueberry Muffins
Make sure your baking powder and baking soda are fresh. If they're not, your muffins might not rise as well as these!
Make sure your oven is at the suggested baking temperature before popping the muffins into the oven. I've run into problems with these muffins being cooked halfway through and raw on the bottom because of an inconsistent oven. So learn from my mistakes and make sure yours is doing its thing right!
This recipe calls for unsweetened applesauce in lieu of oil. The batter is more than sweet enough without a sweetened applesauce, so read the label and ensure your applesauce fits the bill.
There have been complaints of these muffins being "too bland." If you are afraid a plain 'ol blueberry muffin won't fit the bill for your palate, add a tablespoon of lemon, orange or even lime zest to jazz it up! This is delicious and adds a bit of pizzazz.
If you're not a fan of almond milk, use coconut milk or cashew milk or soy milk.
If you're not a vegan, these muffins are still awesome! (You can also use dairy milk instead of non-dairy milk if you don't have it on hand (and obviously aren't feeding these muffins to vegans and/or touting these as vegan muffins, ha.))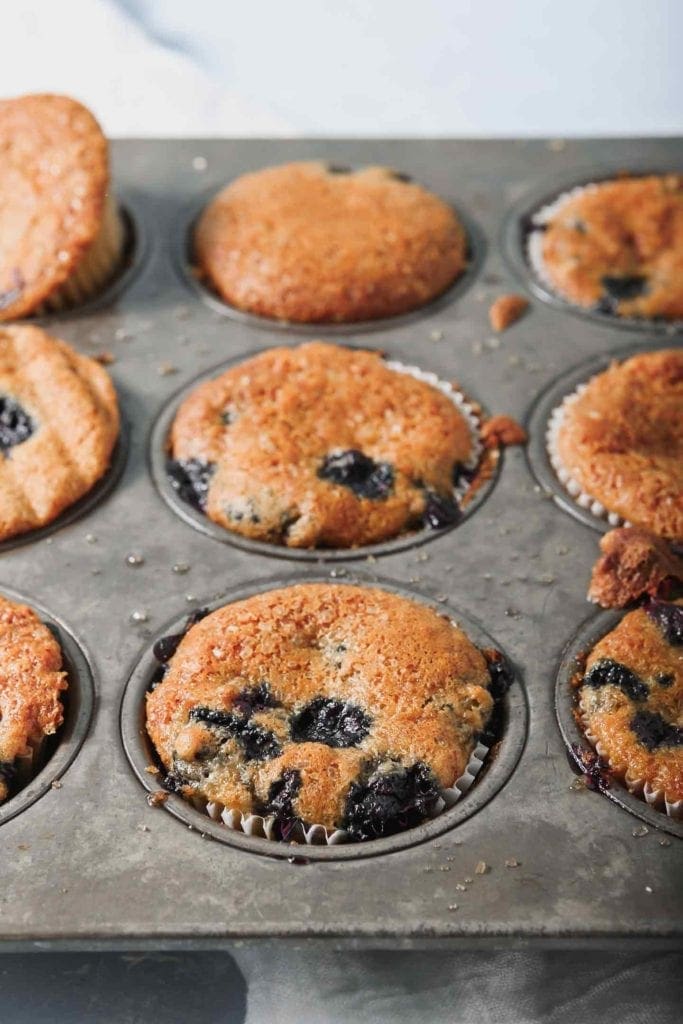 Want more vegan breakfast recipes?

Want more blueberries for breakfast?
And if you just want to make these beauts, here's how you can do it at home…
Yield:

18 muffins
Vegan Blueberry Muffins
Add some sweetness to your morning with these Vegan Blueberry Muffins, loved by vegans and non-vegans alike. This is a simple muffin recipe that packs a sweet and slightly tart punch.
Ingredients
2 cups fresh blueberries
1 tablespoon unbleached all-purpose flour
½ cup unsweetened applesauce
1 tablespoon vegetable oil
1 ¼ cups granulated sugar
2 tablespoons white vinegar
2 teaspoons baking soda
2 teaspoons vanilla extract
2 cups unbleached all-purpose flour
1 ½ teaspoons baking powder
½ teaspoon kosher salt
½ cup unsweetened almond milk
Instructions
Preheat the oven to 350°F. Line a muffin tin with baking cups, then spritz with nonstick cooking spray. Set aside.
In a medium-sized glass bowl, toss the blueberries in 1 tablespoon of flour. Set aside.
In a large glass mixing bowl, ix the flour, baking powder and salt together, whisking until combined. Set aside.
In another large bowl, combine the sugar, oil and applesauce. (These are the wet ingredients.) Using a hand mixer or a whisk, beat until light and fluffy.
Add vinegar and baking soda to the wet ingredients, then the vanilla. Stir until incorporated.
Sprinkle in the dry ingredients and almond milk, stirring until just combined.
Fold in the flour-coated blueberries, folding into the batter gently.
Dollop the batter into the prepared baking cups using a cookie scoop.
Bake for 20-25 minutes or until golden brown and cooked through, then enjoy warm!
Notes
If you like lemon flavors in your blueberry muffins, add a little bit of lemon zest (1-2 tablespoons) to the batter for lemony zip!
Nutrition Information:
Yield:
18
Serving Size:
1 muffin
Amount Per Serving:
Calories:

127
Total Fat:

1g
Saturated Fat:

0g
Trans Fat:

0g
Unsaturated Fat:

1g
Cholesterol:

0mg
Sodium:

240mg
Carbohydrates:

28g
Fiber:

1g
Sugar:

16g
Protein:

2g
Nutrition facts are an estimate and not guaranteed to be accurate.
Does a certain food remind you of a specific place or time in your mind?
Are they good memories to look back on?
The photos and recipe for these Vegan Blueberry Muffins were originally published on February 8, 2013. The photographs, along with the text of this blog post, were updated on March 20, 2018.