Celebrate Kentucky Derby Week by mixing homemade Blueberry Mint Juleps! This twist on the classic Mint Julep recipe has spring flavors and is utterly delicious. Makes 2 drinks.
Love bourbon drinks? Don't miss Peach Bourbon Slush and Kentucky Mule! (Also, if you're a bourbon lover or know one, you might like The Ultimate Guide of Gifts for Bourbon Lovers!)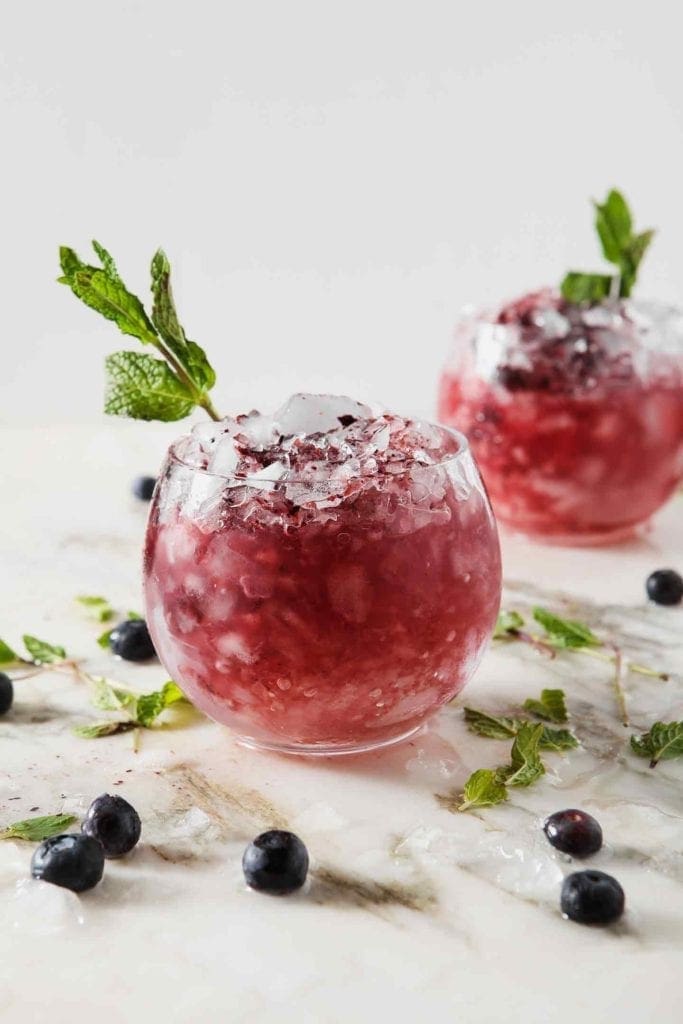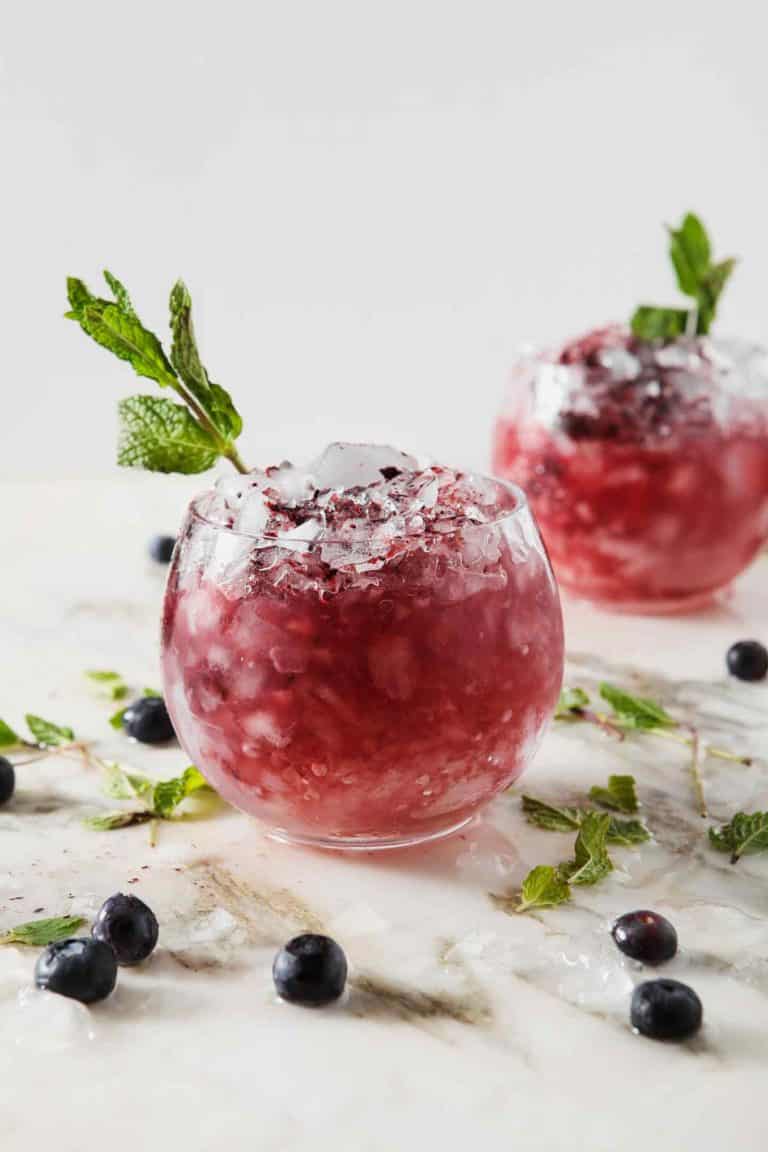 The photos and recipe for these Blueberry Mint Juleps were originally published on May 4, 2016. The post was updated in April 2021.
The first weekend of May has always been special to me because it means one thing: The Run for the Roses.
As a kid, I was obsessed with horse racing. I recorded races onto video tapes and listened to the commentators analyze races. I wanted to own a racehorse one day. And my racehorse, obviously, would be the one who broke the Triple Crown drought.
Unfortunately, this dream hasn't been realized, and the Triple Crown drought was broken by American Pharoah in 2015. And I didn't get to see it live because I was a new mama to Lady A and didn't realize it was Belmont day until I got a news alert. Whoops.
Why I love this julep recipe:
Did y'all know that the Kentucky Derby, the Preakness and the Belmont all have their own signature drinks? Because they do, and the Derby's drink—the Mint Julep—is one of my favorites. (No offense to the Black Eyed Susan or the Belmont Breeze, but neither of those work as nicely for me as a classic julep.)
The driving force behind this cocktail is my love for blueberries.
Mint Juleps are really strong, and the first one I ever imbibed was overwhelming. Yes, it was utterly delicious, but I knew if I drank it too fast, I wouldn't remember the Derby, let alone my name.
So when making this here adaptation, I made the executive choice to make it a bit lighter. After all, it's got a lot going on, and the blueberries and mint don't need to drown in bourbon.
Some bourbon baked goods to try this year alongside this julep: Mini Bourbon Chocolate Pecan Pies | Bourbon Pecan Pie (or Bourbon Pecan Pie Bars) | Bourbon Pecan Tassies | Chocolate Bourbon Pecan Hand Pies | Bourbon Pecan Brownies
Looking for some more bourbon drink recipes? Check out my Bourbon recipe index.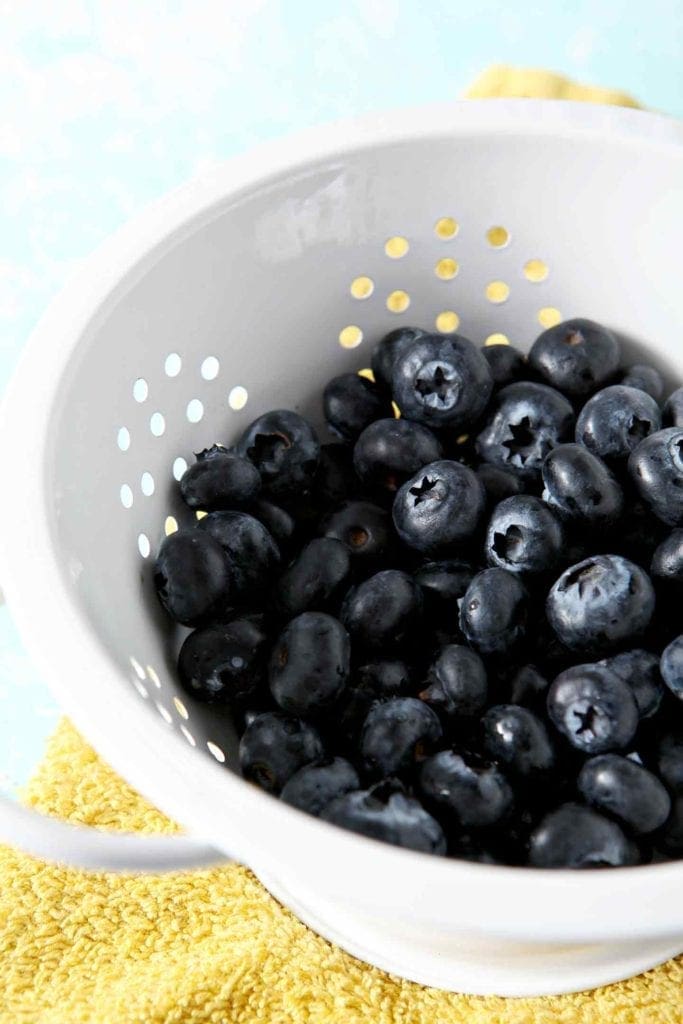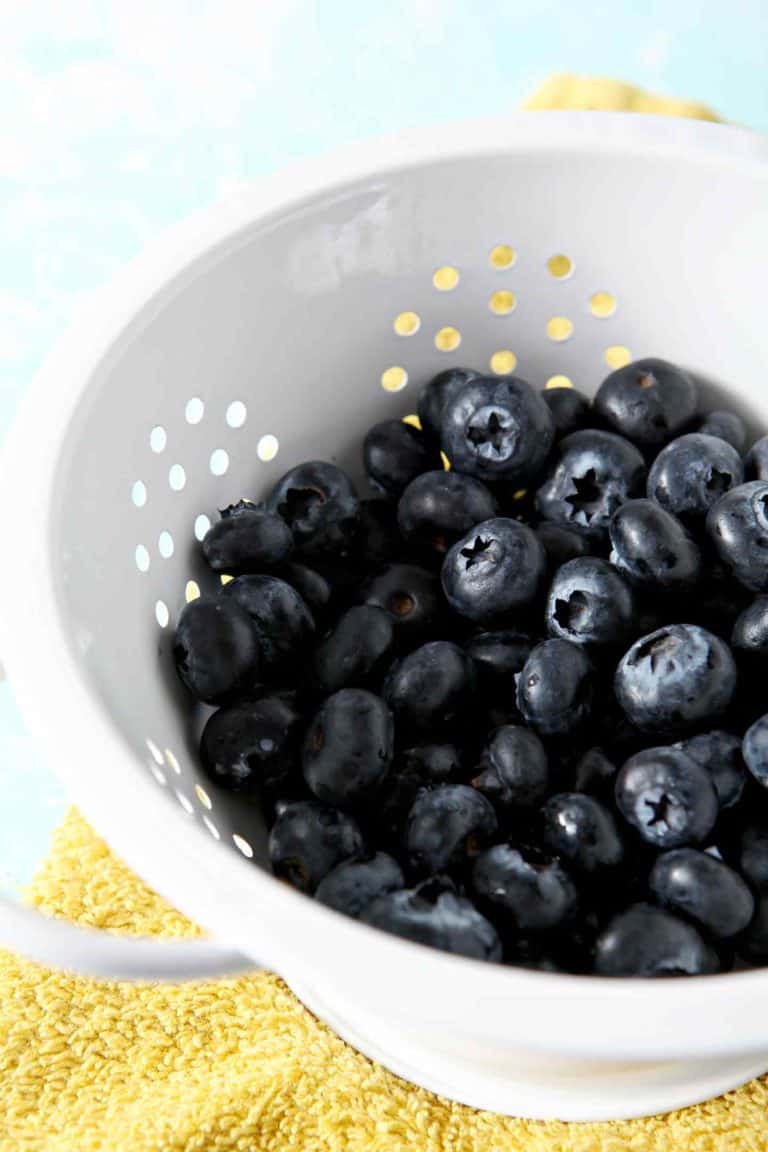 What you need to make Blueberry Juleps
The Speckled Palate participates in affiliate programs. As an Amazon Associate, I earn a commission from qualifying purchases. Please refer to my disclosure page for more information about these affiliate programs.
You might be wondering, what is in a mint julep? Well, it's pretty simple, but the mint julep ingredients are so incredibly important…
Fresh mint—spearmint is the "correct" type of mint to use.
Turbinado or caster sugar—for just a little bit of sweetness to cut into the bite of the bourbon.
Hot water—to melt the sugar and get it mixed up with those mint leaves.
Fresh blueberries—we use these to make a delicious puree! While it sounds like a lot of work, all this requires you to do is blend them up in the blender before mixing the rest of the drink. You can even do this part in advance, too!
Lemon juice—for just a bit of tartness and balance.
Bourbon

—the good stuff. I used Basil Hayden's because that's what we had here, but any high quality bourbon is what you want. (Stay away from blends.)

Crushed ice—yes, I'm going to say this is an ingredient! The texture matters, and the smaller the ice particles, the faster it's going to melt into the julep to mellow out the punch of the bourbon. You can make this in your blender, you can crush it in a bag with a meat tenderizer or you can purchase some from your favorite fast food restaurant.
But First, Let's Talk About Bourbon…
Because this matters when we're making a mint julep: All bourbon is whiskey, but not all whiskey is bourbon.
Bourbon is a type of whiskey that has very specific requirements. It's kind of like France and champagne.
Some of these requirements are:
The mash making the bourbon must be at least 51% corn.
It must be produced in America.
The mash must be distilled at 160 proof or less and bottled at 125 proof or less.
Bourbon has to be aged in charred white oak barrels that are new.
Southern Living has a really informative article about the differences between bourbon and whiskey if you want to learn more!
How To Make An Easy Mint Julep
Make the Blueberry Puree. In a blender, blend 1 cup of blueberries until pulverized. Pour it into a mason jar and chill until it's julep time.
Crush the ice. I've used my blender* (affiliate link) to make the crushed ice, but you can do this in a plastic bag, too, if you don't have a blender. To do this, place ice cubes in a plastic bag, and wrap it in a kitchen towel. Use a meat tenderizer or a rolling pin to smash the ice into pieces.
Make the juleps. In a cocktail shaker, muddle the mint leaves into the sugar. Pour in the hot water and swirl the mint leaves and sugar in it until the sugar has dissolved. Pour in the blueberry puree, lemon juice and bourbon, then shake until chilled.
Serve in your favorite glass (or a julep cup!) over ice, and enjoy immediately with a garnish of mint leaves and fresh blueberries.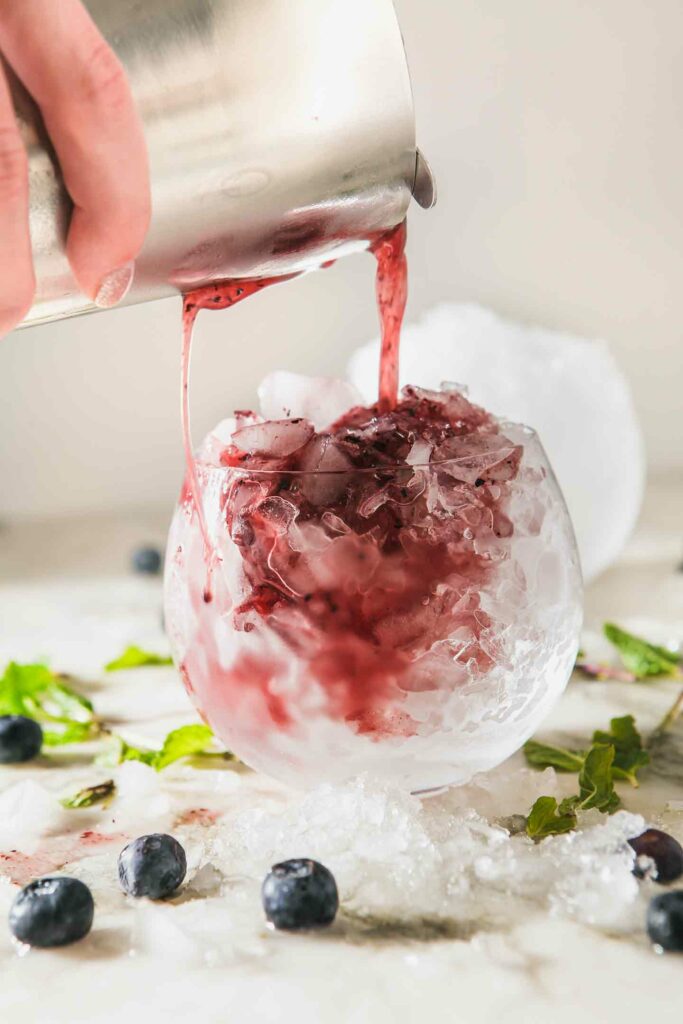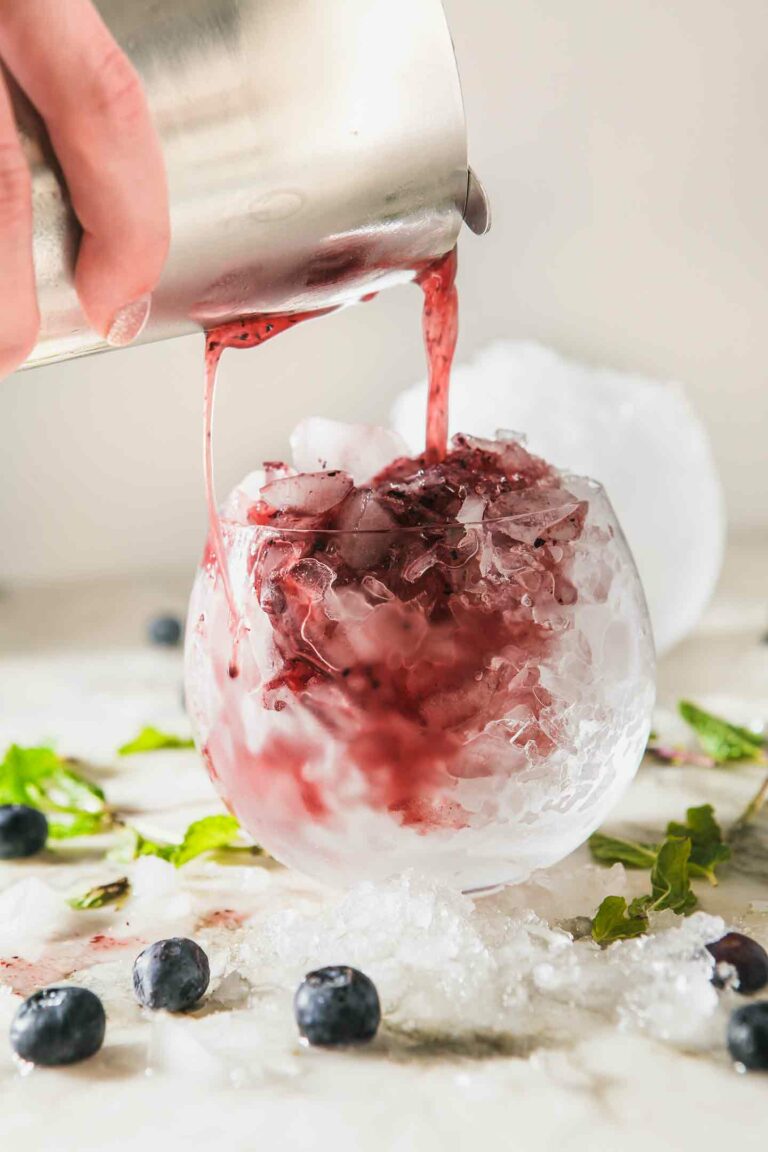 Erin's Easy Entertaining Tips
This twist on a classic Mint Julep is the perfect way to celebrate, whether you're watching at Churchill Downs or from your living room.
This Mint Julep recipe is especially charming, in my opinion, because it's pretty simple to make and is bursting with flavor. And if you're entertaining? It's something you can make for a crowd, too.
Here are a few tips and tricks to make it as easy as possible:
Make your blueberry puree 1-2 days in advance. Let it hang out in the fridge, and make a lot of it, depending on how many friends are joining you.
Have more than enough mint on hand. If you've got a prolific mint plant in your garden, you're probably good, but if you're purchasing mint from the store, buy several packs. Why? You want a beautiful garnish of mint on top of your julep for both look and scent!
Turn it into a bar! I don't recommend making a Blueberry Mint Julep Pitcher because these drinks are better for making individually, so turn this into an event for your people. Print out the recipe, set out the ingredients and tools your guests will need, and let them mix their own juleps!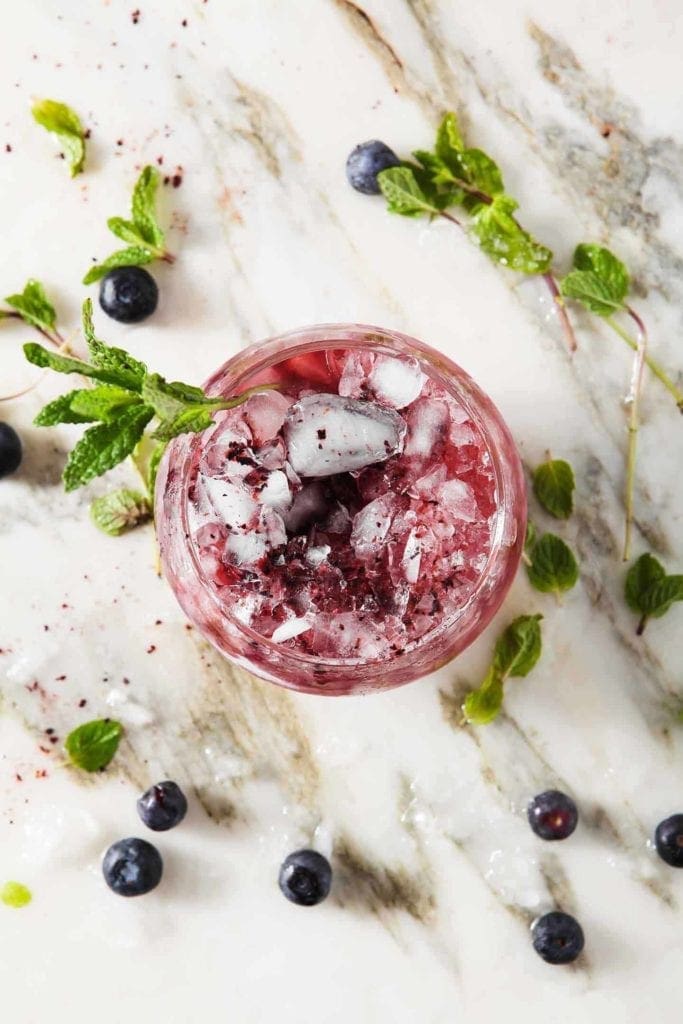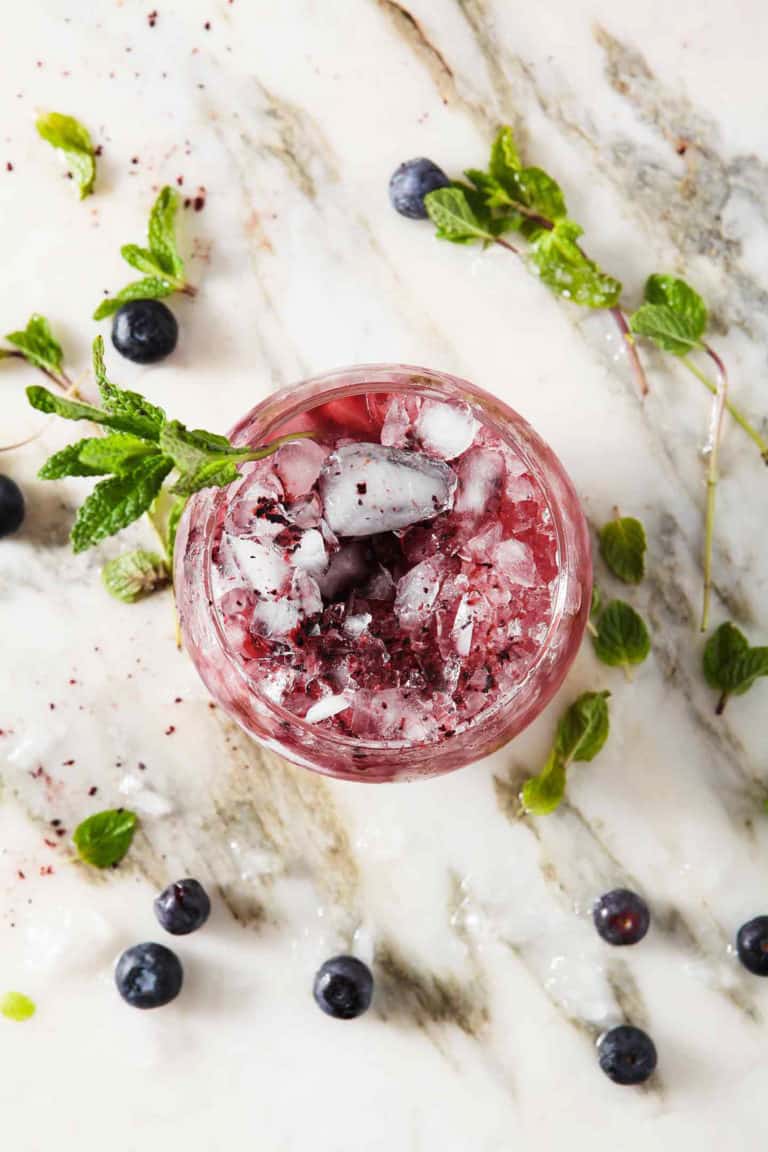 Frequently Asked Questions
What bourbon is best for mint juleps?
There isn't a specific brand of bourbon you should use for a mint julep! However, I know at the Kentucky Derby, they make juleps with Woodford Reserve Kentucky Straight Bourbon.

If you don't know your bourbon, I'd reach out to someone at your local liquor store who's knowledgeable and who can help you choose a bottle. (This is what I do whenever I visit the liquor store and don't feel confident in my ability to choose a good bottle.)

I think it's important that you don't want to purchase a bottom shelf bottle of bourbon because you taste the bourbon in this drink and obviously, we want it to taste good.
What kind of mint is used in Mint Juleps?
Spearmint is the fresh mint you're looking for.
Do Mint Juleps taste good?
They do. However, they are strong bourbon drinks, so if you are not a bourbon fan, this cocktail is not for you.
What food goes with Mint Juleps?
I like to pair Southern foods with juleps… just because I think they go nicely and work well at a Derby party. We're talking pimento cheese, deviled eggs, biscuits, etc.
Can I use frozen blueberries instead of fresh in this recipe?
If you don't have fresh blueberries, yes! But you need to let the frozen ones defrost so you actually make a puree and not a frozen slush situation.
Quick Tips And Tricks For Making The Best Blueberry Mint Juleps
Crush your ice! It might sound wild, but the texture of the ice matters in a mint julep. The finer the ice, the more quickly it's going to melt into the drink, taking away a bit of the bourbon's bite.
Use your favorite bourbon. Now is not the time for bourbon/whiskey blends. Use quality bourbon that you can afford, and enjoy every sip. (And honestly, this goes for the rest of the blueberry mint julep ingredients: use the good stuff!)
Don't forget the mint garnish! Not only does it make your drink look beautiful, but the oils in the mint itself add to the enjoyment of this bourbon cocktail.
All right!
Who's ready for one of these beauties?
Here's how you can mix up a batch of your own: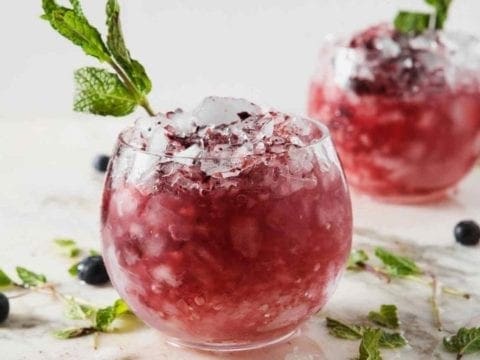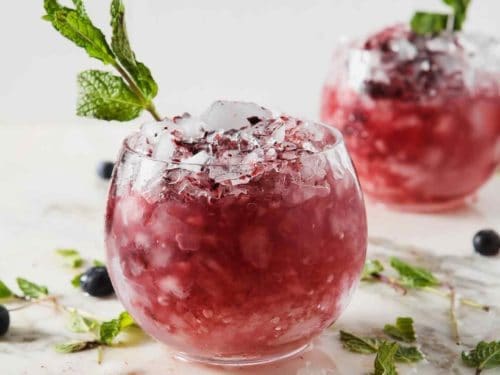 Yield:

2 drinks
Blueberry Mint Juleps
Celebrate Kentucky Derby Week by mixing homemade Blueberry Mint Juleps! This twist on the classic Mint Julep recipe has spring flavors and is utterly delicious.
Ingredients
15 mint leaves
1 ½ teaspoon turbinado sugar
1 oz. hot water
3 oz. blueberry puree, instructions below
½ oz. lemon juice, freshly squeezed
2 ½ oz. bourbon
Ice, crushed finely in the food processor or with a meat tenderizer
Instructions
Make the Blueberry Puree
In a blender or a food processor, blend 1 cup of fresh blueberries until completely pulverized.
Pour the blueberry puree into a mason jar for storage, and chill until time to make the drinks.
Make the Juleps
In a cocktail shaker, muddle the mint leaves into the turbinado (or caster) sugar.
Pour in the hot water, swirling the mint leaves and sugar in it until the sugar has dissolved.
Measure in the blueberry puree, lemon juice and bourbon.
Add the ice, shaking the cocktail in the shaker until everything is chilled and combined.
Serve in a favorite glass over ice, and enjoy immediately with a garnish of mint leaves and fresh blueberries.
Notes
This recipe can easily be doubled or tripled if you're making juleps for a crowd.
To make this a faster process, make a larger batch of blueberry puree and the mint syrup in advance. Blend additional blueberries in the blender for the puree, and instead of individually mixing the water with sugar and mint leaves in the cocktail shaker, do this in a saucepan on the stovetop. Heat the water until it's simmering, then add the mint leaves and sugar. Stir for a few minutes, then chill the mint syrup until it's time to mix the drinks. Make the juleps in batches as large as your cocktail shaker can hold.
I'm told that the secret to a great Julep is the ice. Do yourself a favor and use your blender to create fluffy, fine chunks of ice to add wonderfulness to this drink.
Recommended Products
As an Amazon Associate and member of other affiliate programs, I earn from qualifying purchases.
Nutrition Information:
Yield:
2
Serving Size:
1 drink
Amount Per Serving:
Calories:

283
Total Fat:

8g
Saturated Fat:

3g
Trans Fat:

0g
Unsaturated Fat:

4g
Cholesterol:

52mg
Sodium:

69mg
Carbohydrates:

17g
Fiber:

7g
Sugar:

7g
Protein:

19g
Nutrition facts are an estimate and not guaranteed to be accurate.