Mini Bourbon Chocolate Pecan Pies
Celebrate the Kentucky Derby this weekend in style with Mini Bourbon Chocolate Pecan Pies! Bourbon, chocolate and pecans make for a delightfully sweet filling inside a cream cheese crust. Paired with bourbon, these mini desserts are the perfect Derby Day treat!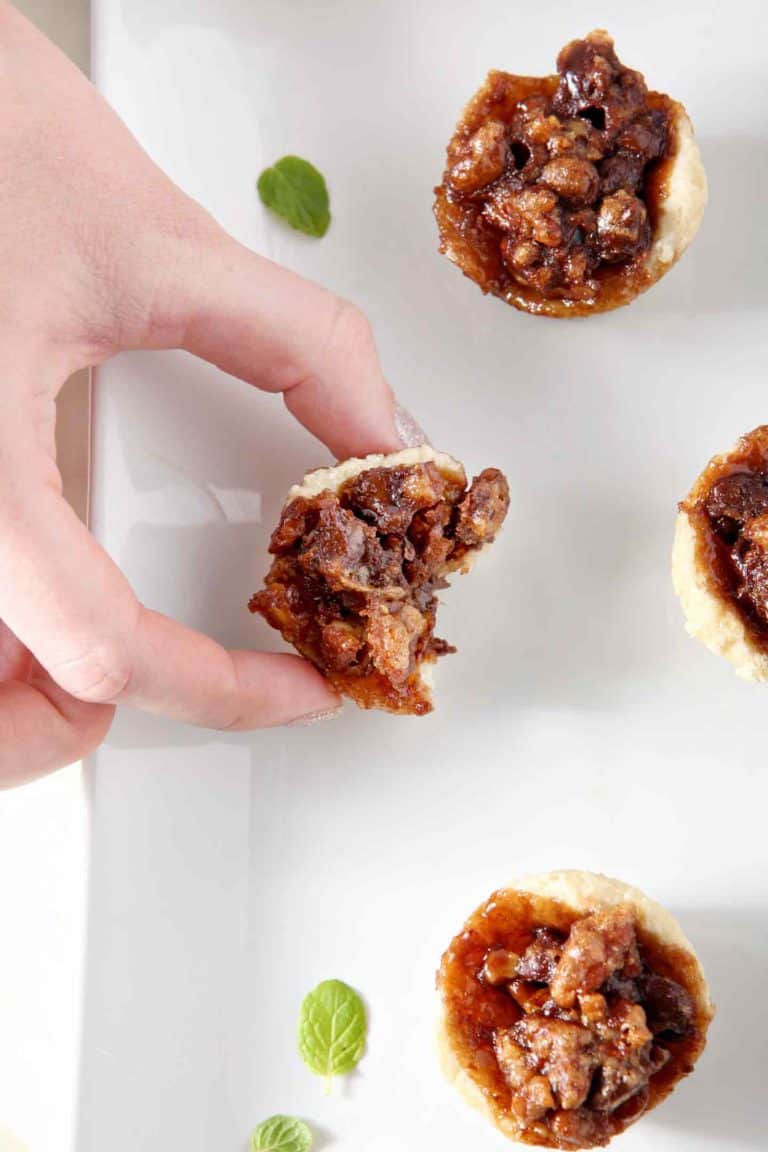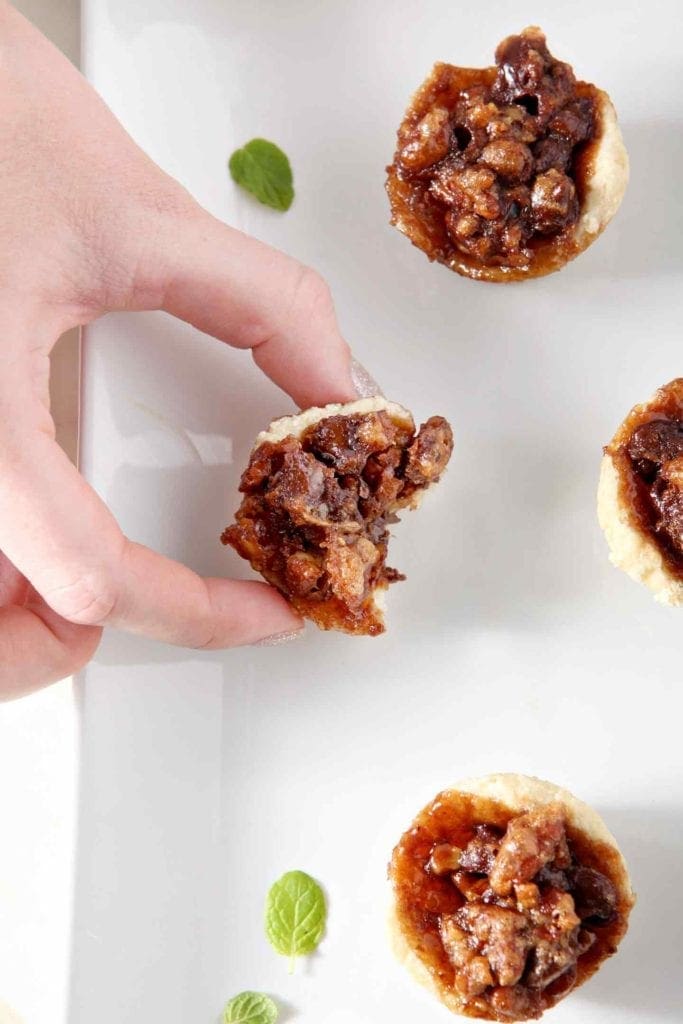 This post contains affiliate links. If you were to make a purchase through one, I would receive a small commission. For more information about the affiliate programs The Speckled Palate participates in, please refer to my disclosure page.
As a kid, I was a bit obsessed with horses.
All kinds and disciplines, really. They're beautiful creatures, and I was fascinated with everything about them.
I especially loved horse racing.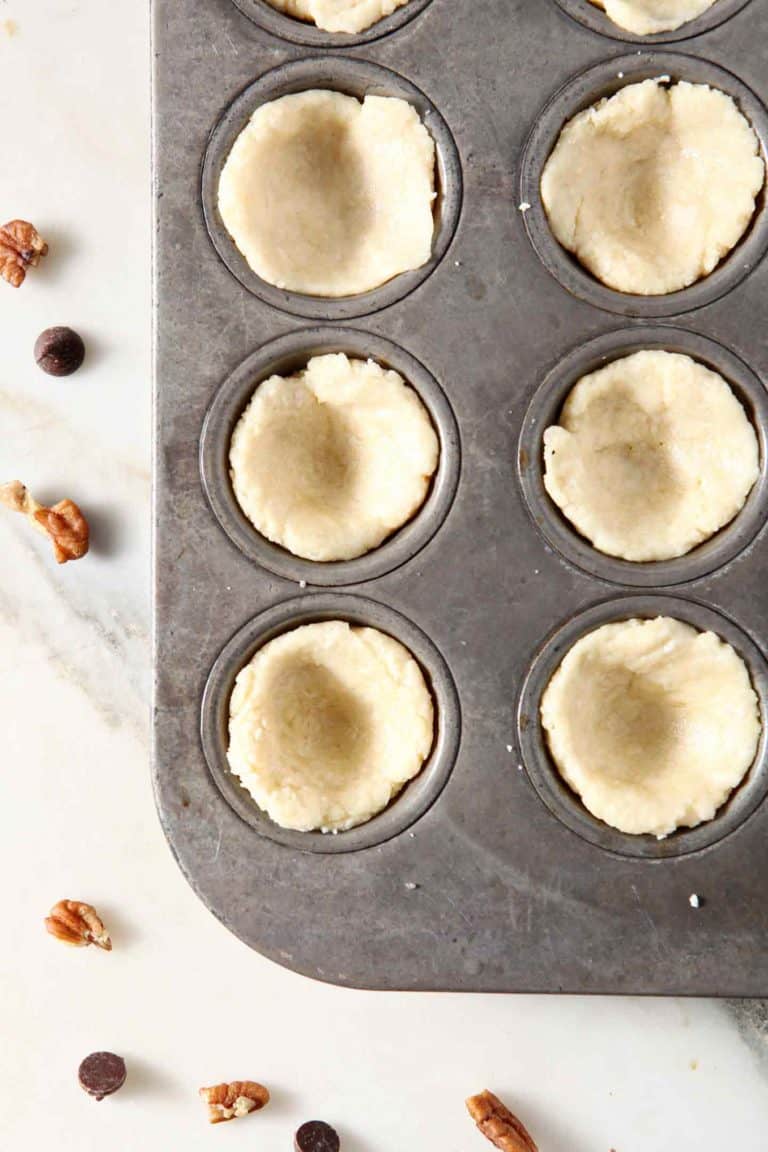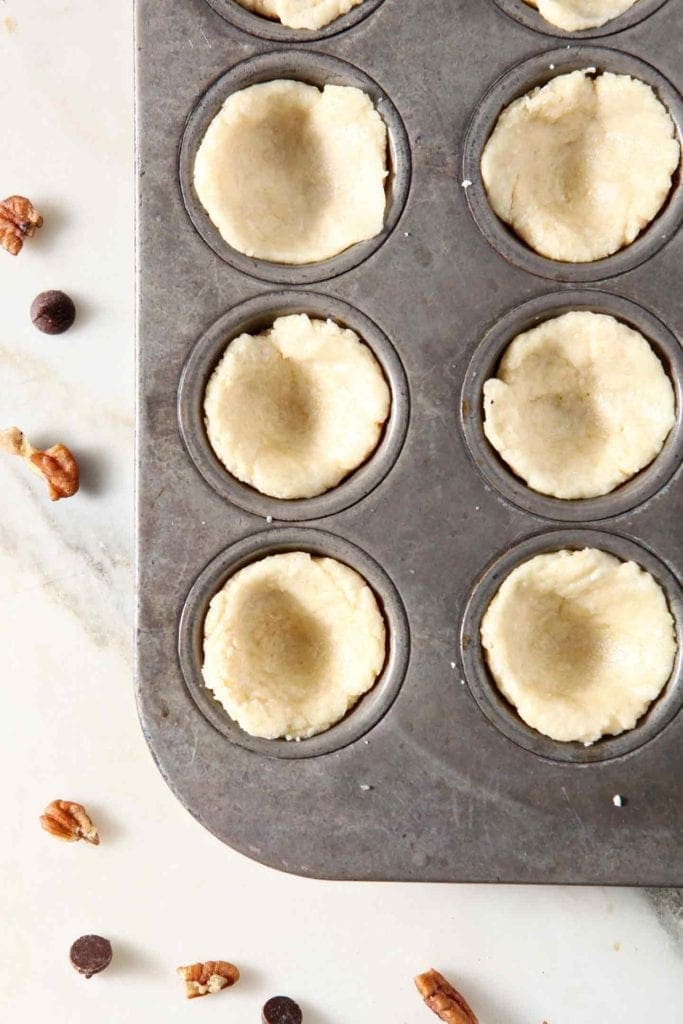 As a girl growing up in Tennessee, there weren't many opportunities for me to see races, though my family took a pit stop at Keeneland one summer when we were road tripping to visit family.
That was the closest I ever got to actual racehorses in the flesh until college.
So I was left to my own devices.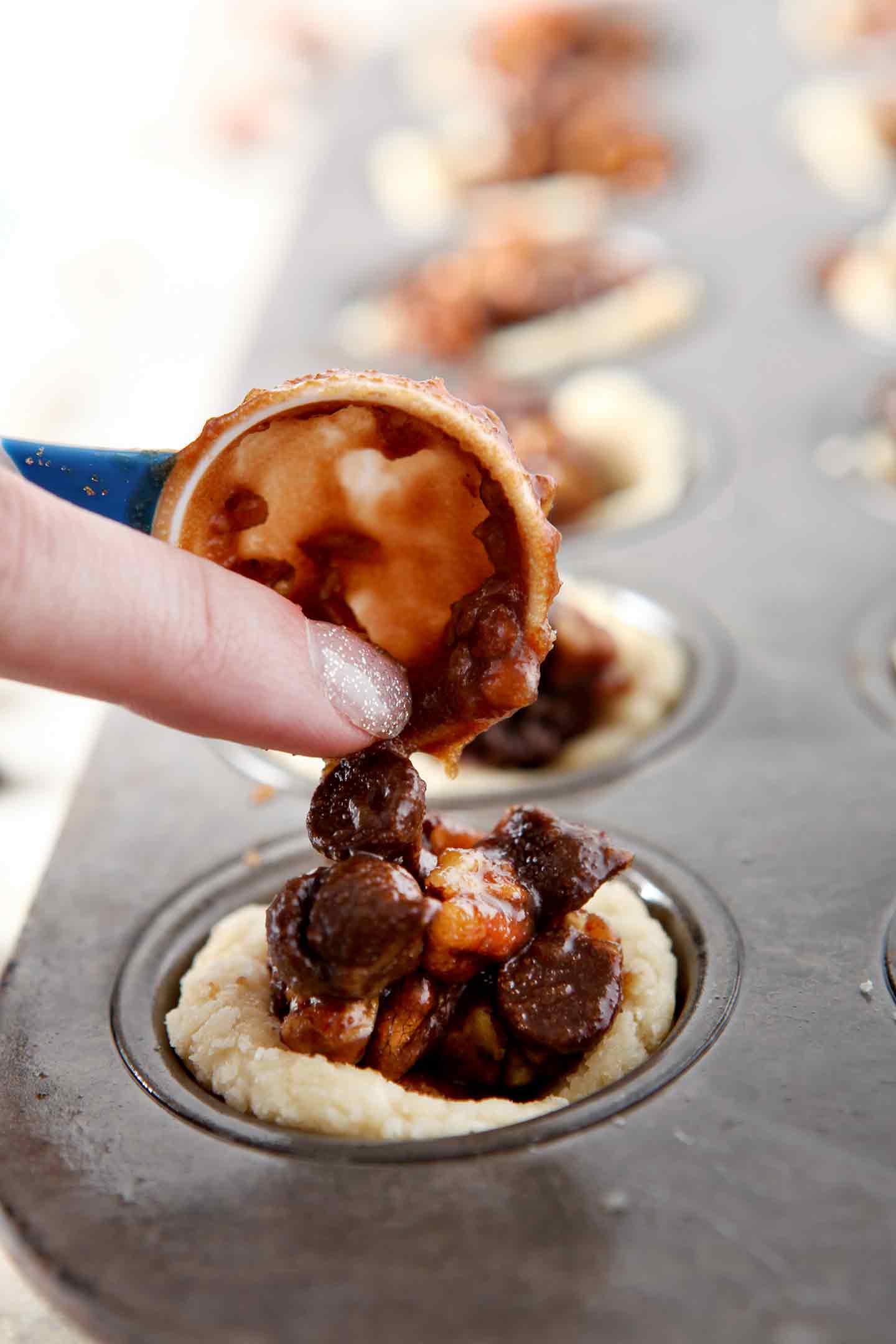 Like any child of the 90's, I was well-versed in programming our VCR to record various television programs.
And because I was all about horse racing and had no way to enjoy it in the flesh, I taped every event that was broadcast. Even though that I was often home to watch the events in real time.
I watched these tapes over and over again, enjoying the scenery, the commentary and the sport. I especially loved the coverage of big races–the stakes races leading up to the Triple Crown, the Breeder's Cup, and, of course, the Triple Crown, beginning with the Kentucky Derby.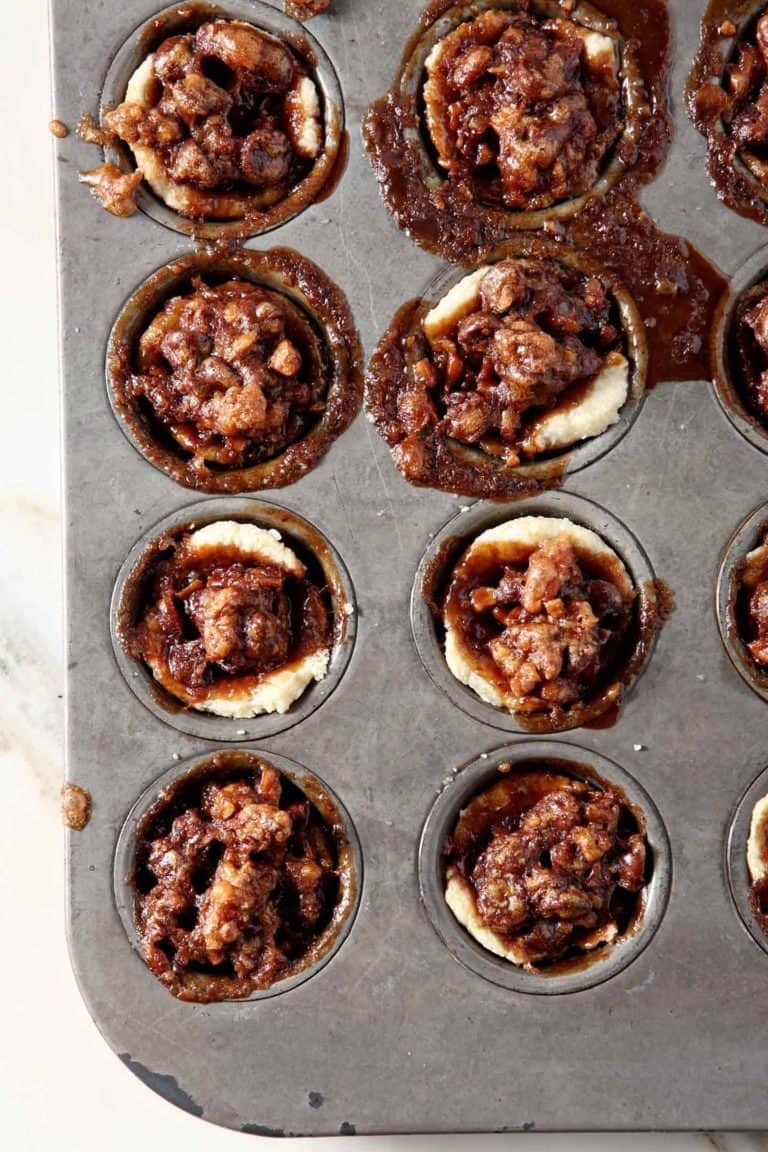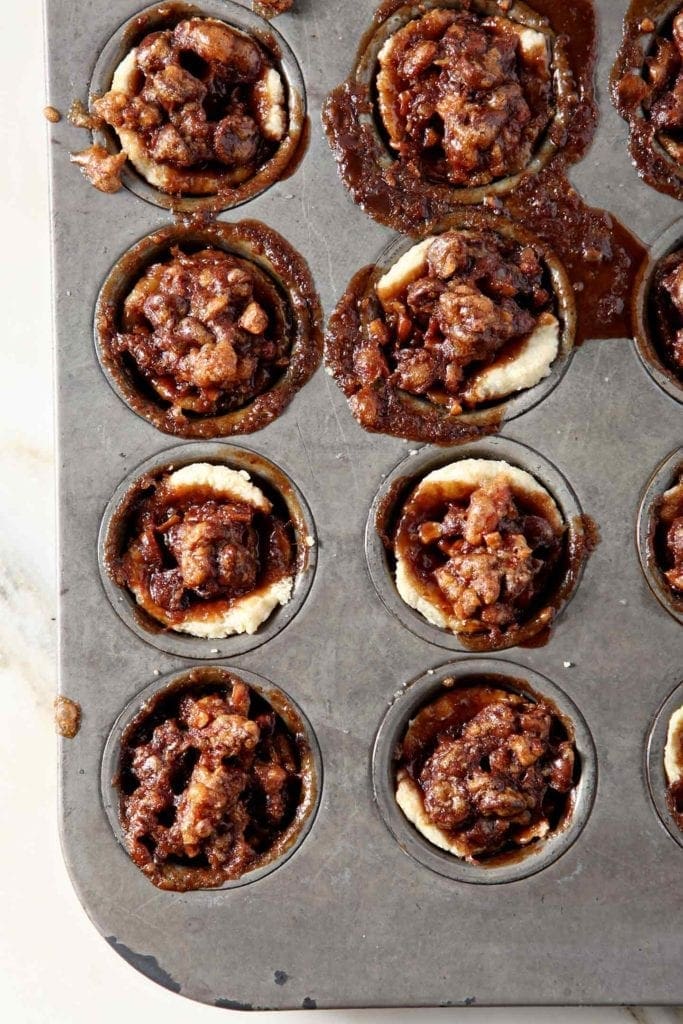 As an adult, I don't watch near as much horse racing as I did when I was a kid, but I love it all the same.
And since the Run for the Roses is this weekend, I thought it would be fun to make a sweet treat to celebrate this year's race.
My Mini Bourbon Chocolate Pecan Pies combine dark chocolate, pecans and Kentucky bourbon inside a decadent cream cheese crust. And while it might not be like the original pie, I find it hard to go wrong with anything that combines dark chocolate, pecans and bourbon.
Also? You can absolutely taste the bourbon. (And who doesn't love bourbon to drink for the Derby, whether it's in a Mint Julep or on the rocks?)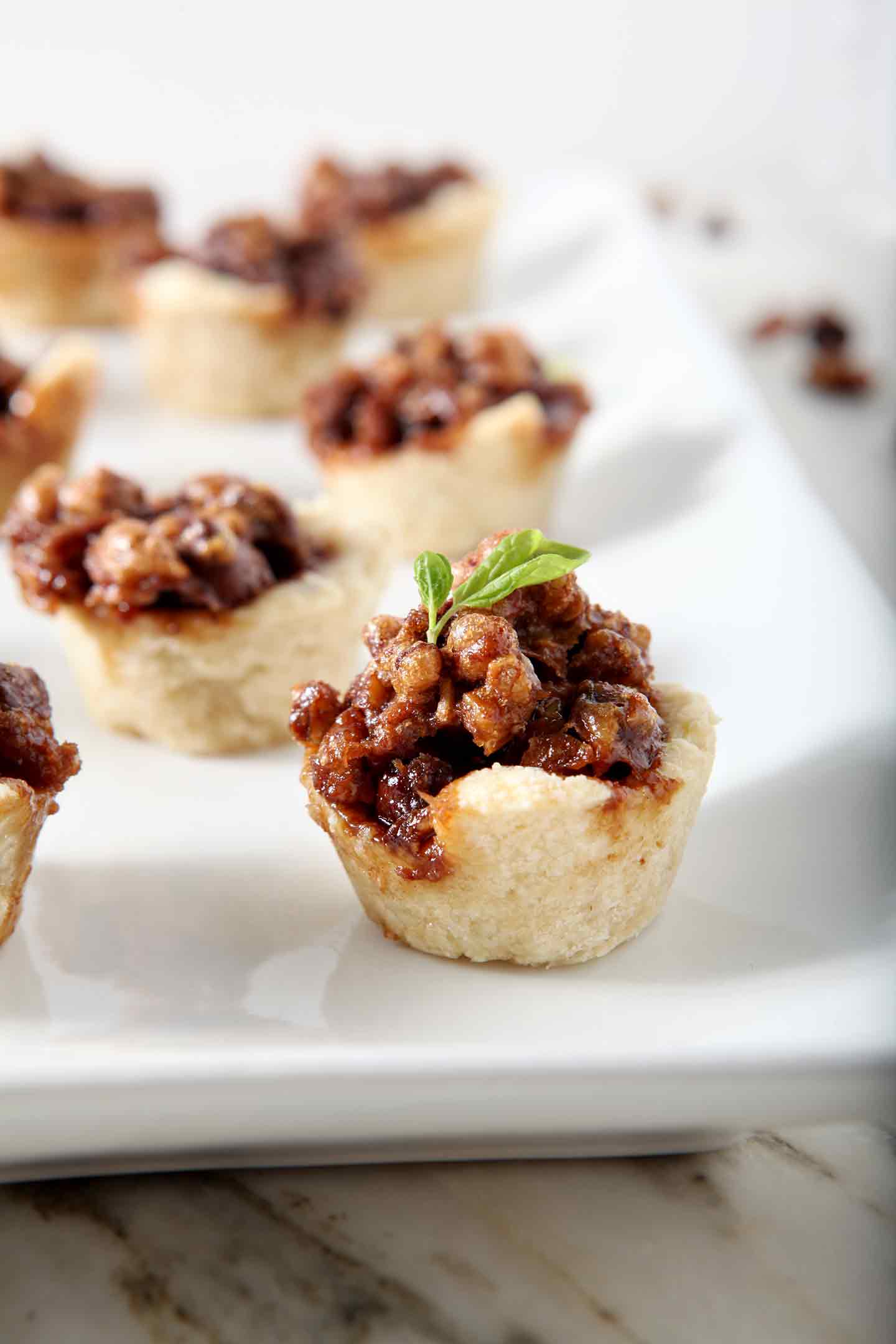 Mini Bourbon Chocolate Pecan Pie Essentials
Get the look!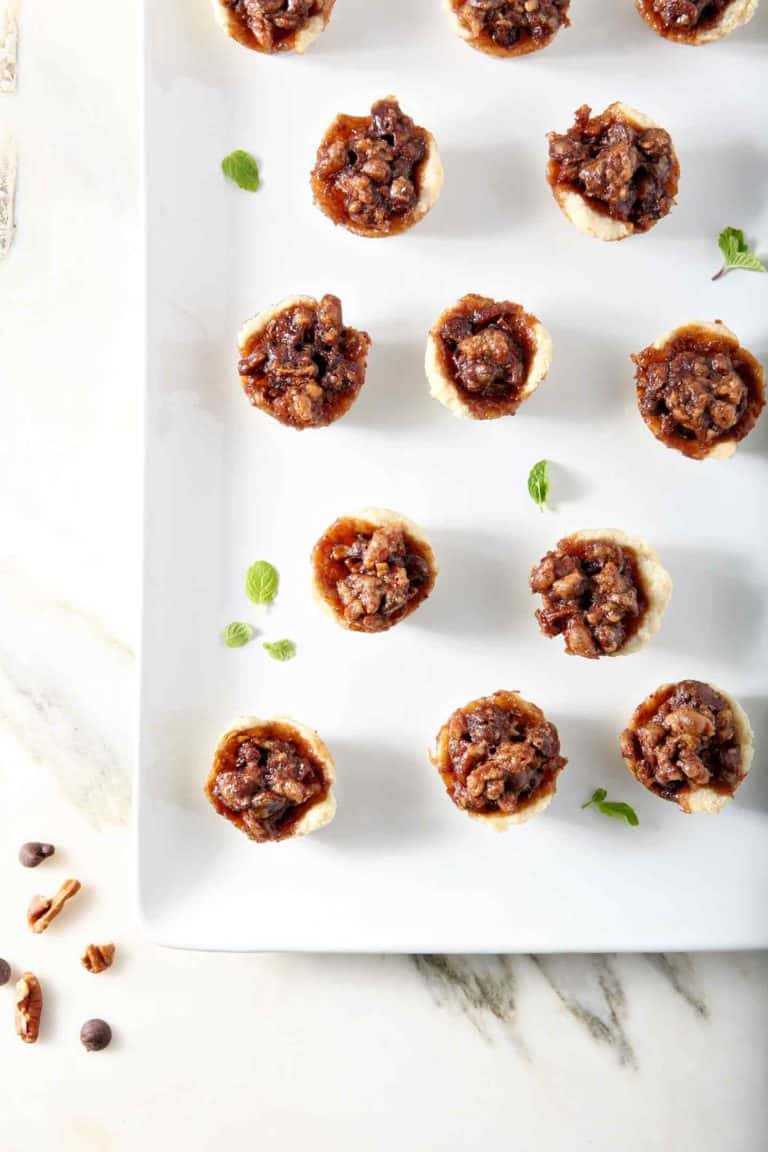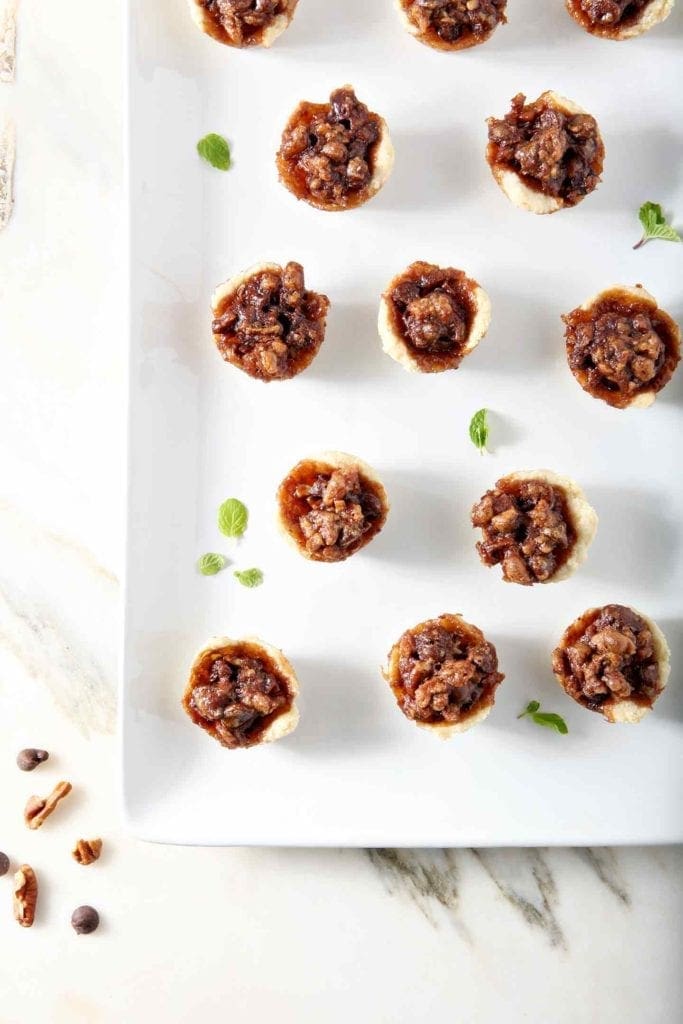 Tips and Tricks for making the BEST Mini Bourbon Chocolate Pecan Pies
This recipe calls for a homemade Cream Cheese Crust that comes together easily and quickly (and can be made in advance–more of this in the recipe), but you can swap out a store-bought crust if you're not into or don't have time to make your own.
Don't add more bourbon to the Mini Bourbon Chocolate Pecan Pies. I've done it, and while it's wonderful, it can be overwhelming. We've found the amount the recipe calls for is the perfect balance for bourbon lovers and those who aren't fans.
Be careful when you drizzle the filling into the crust. If you overfill them, they could bubble over and make your muffin tin sticky.
Make Ahead Tip: These beauties can last 1-2 days in the refrigerator after baking! Bake 'em a day or two before your party, and the day of, let them come to room temperature (or reheat in the toaster oven!) before guests arrive for the ultimate treat.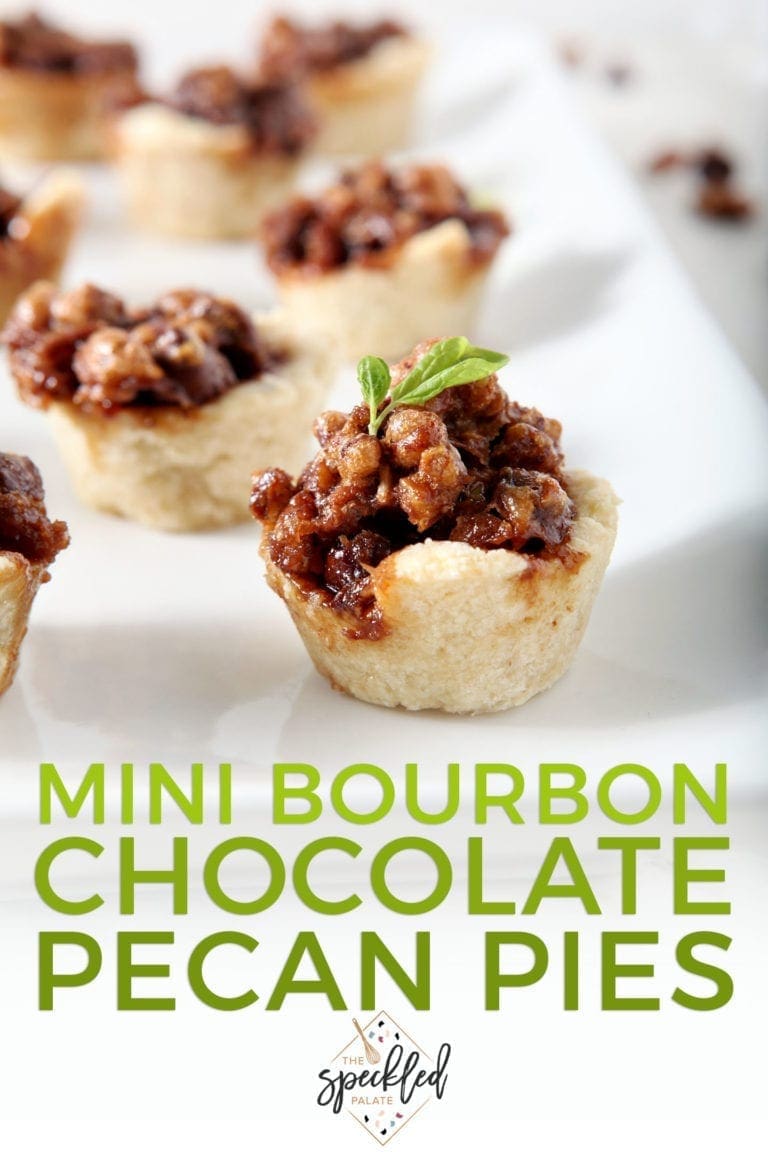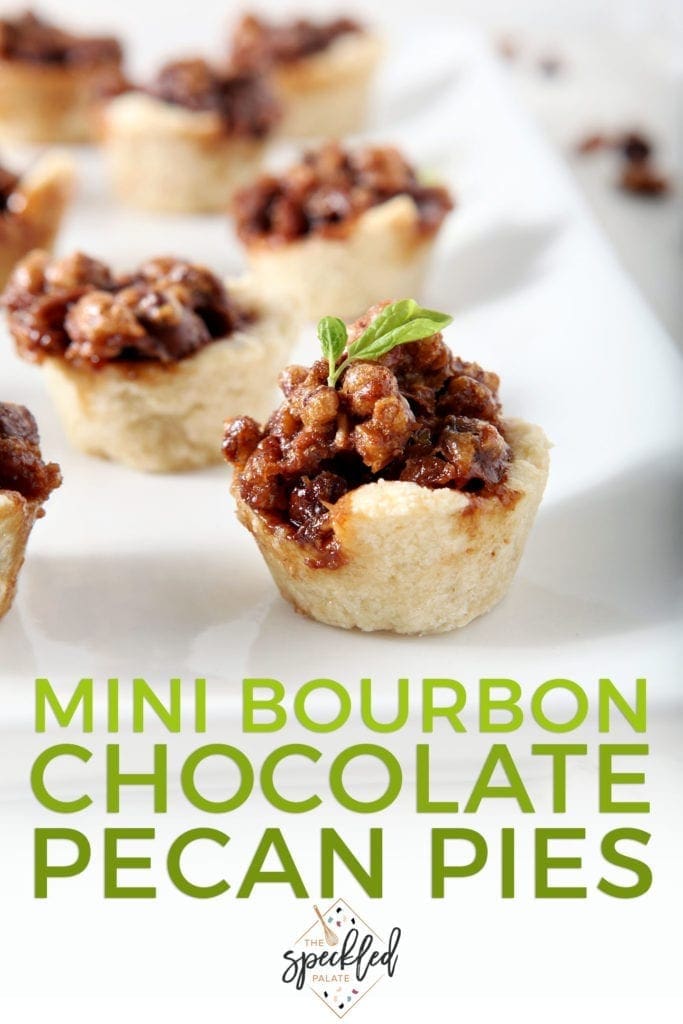 Other AWESOME Derby Day Treats
Just interested in these?
Here's how I made these beauts: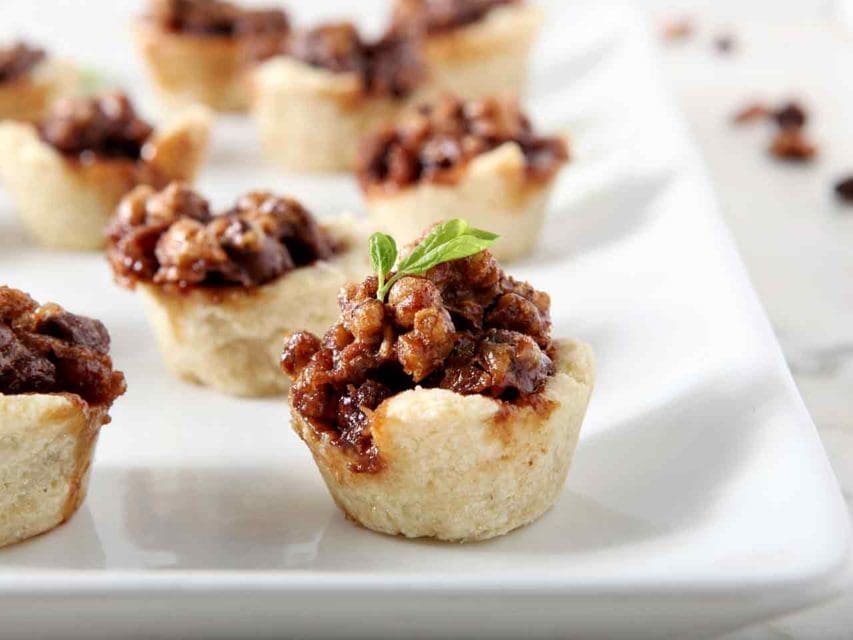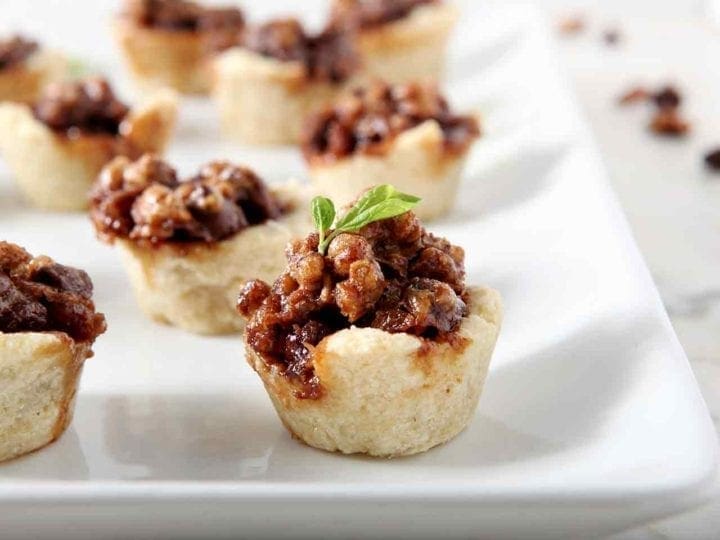 Yield:

24 mini pies
Mini Bourbon Chocolate Pecan Pies
Celebrate the Kentucky Derby this coming weekend in style with Mini Bourbon Chocolate Pecan Pies! Bourbon, chocolate and pecans make for a delightfully sweet filling inside a cream cheese crust. Paired with bourbon, these mini pies are the perfect Derby Day sweet!
Ingredients
Crust
4 oz. cream cheese, softened
1 ½ cups unbleached all-purpose flour
¼ cup granulated sugar
½ teaspoon kosher salt
¼ cup water, ice cold (plus additional, depending on how the dough comes together)
Filling
½ cup pecans, chopped
½ cup dark chocolate chips
6 tablespoons dark brown sugar
1 teaspoon pure vanilla extract
2 tablespoons unsalted butter, melted and cooled
2 tablespoons bourbon
Instructions
Preheat the oven to 350°F. Spray a mini muffin baking pan liberally with nonstick baking spray. Set aside.
Make the Crust
In a medium-sized bowl, measure out the flour, sugar and salt. Whisk until combined.
Using a pastry cutter, cut the cream cheese into the dry ingredients, mixing until the mixture looks like wet sand.
Slowly drizzle in the water, and stir together with a spoon, mixing until the ingredients just come together. Set aside.
Make the Filling
In a small bowl, combine the brown sugar, vanilla extract, butter and bourbon until combined. Add the pecans and chocolate chips. Set aside.
Prepare and Bake the Mini Pies
Scoop a tablespoon of the dough into your hand. Roll into a ball, then set in the prepared muffin tin. Using your thumb, create a large indention in the middle, making sure to let the dough climb the sides of the tin. Repeat until all of the crust has been used and is in place in the pan.
Carefully drizzle a tablespoon of the filling into the crusts. Be careful not to drizzle too much outside of the crusts, or it will become sticky and stick to the muffin tin.
When all the pies have been filled, place the mini muffin tin on a large baking sheet, and transfer into the oven.
Bake for 25 minutes, or until the tops have browned slightly, then remove from the oven and let cool before eating.
Enjoy with your beverage of choice!
Notes
Make Ahead Party Tip: These mini pies can be made 1-2 days in advance and kept in the refrigerator. Reheat (or let come to room temperature) before serving, and enjoy!
You can make the pie crust in advance, too. When it's made, wrap in plastic wrap and refrigerate. Let the dough warm up a little before rolling it into balls and shaping in the mini muffin tin.
Recommended Products
As an Amazon Associate and member of other affiliate programs, I earn from qualifying purchases.
Nutrition Information:
Yield:
24
Serving Size:
1 mini pie
Amount Per Serving:
Calories:

109
Total Fat:

5g
Saturated Fat:

2g
Trans Fat:

0g
Unsaturated Fat:

3g
Cholesterol:

8mg
Sodium:

61mg
Carbohydrates:

13g
Fiber:

1g
Sugar:

7g
Protein:

1g
Nutrition facts are an estimate and not guaranteed to be accurate.
Are you a big horse racing fan, too?
Do you have any specific plans to watch the Kentucky Derby this weekend?
…
The photos and recipe for these Mini Bourbon Chocolate Pecan Pies were originally published on April 27, 2015. The photographs, along with the text of this blog post, were updated and republished on April 30, 2018.