This post is sponsored by Sprouts Farmers Market. As always, all opinions, thoughts and recipes are my own.
Perfect for springtime gatherings, Avocado Deviled Eggs are a twist on the classic party food. Calling for five simple ingredients, these extra creamy deviled eggs are easy to make and share. Makes 16 deviled eggs, but can easily be doubled or halved.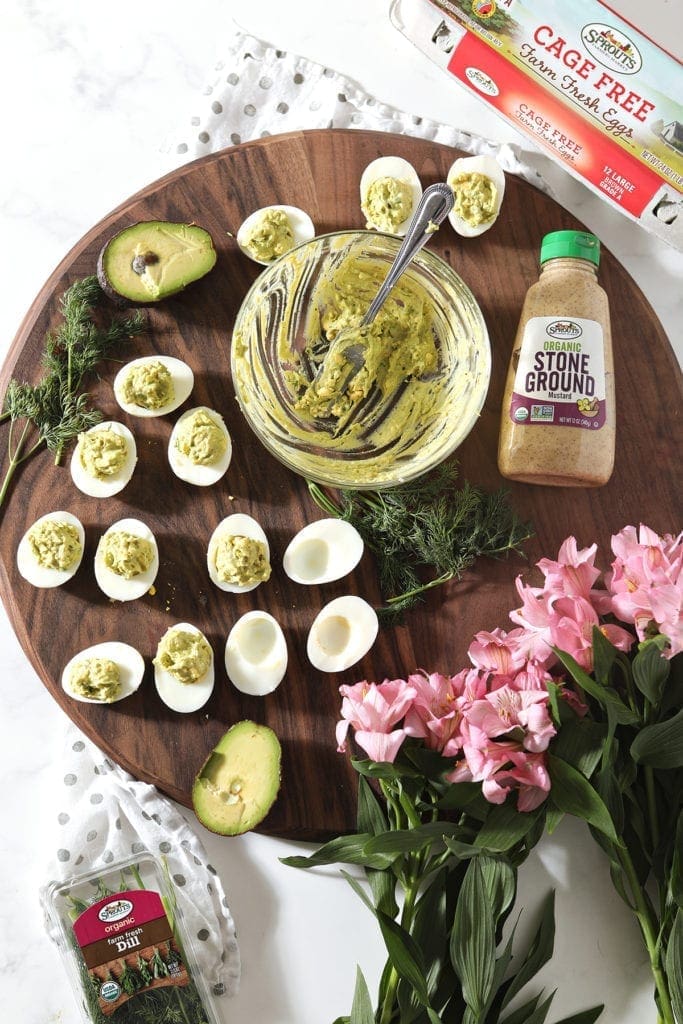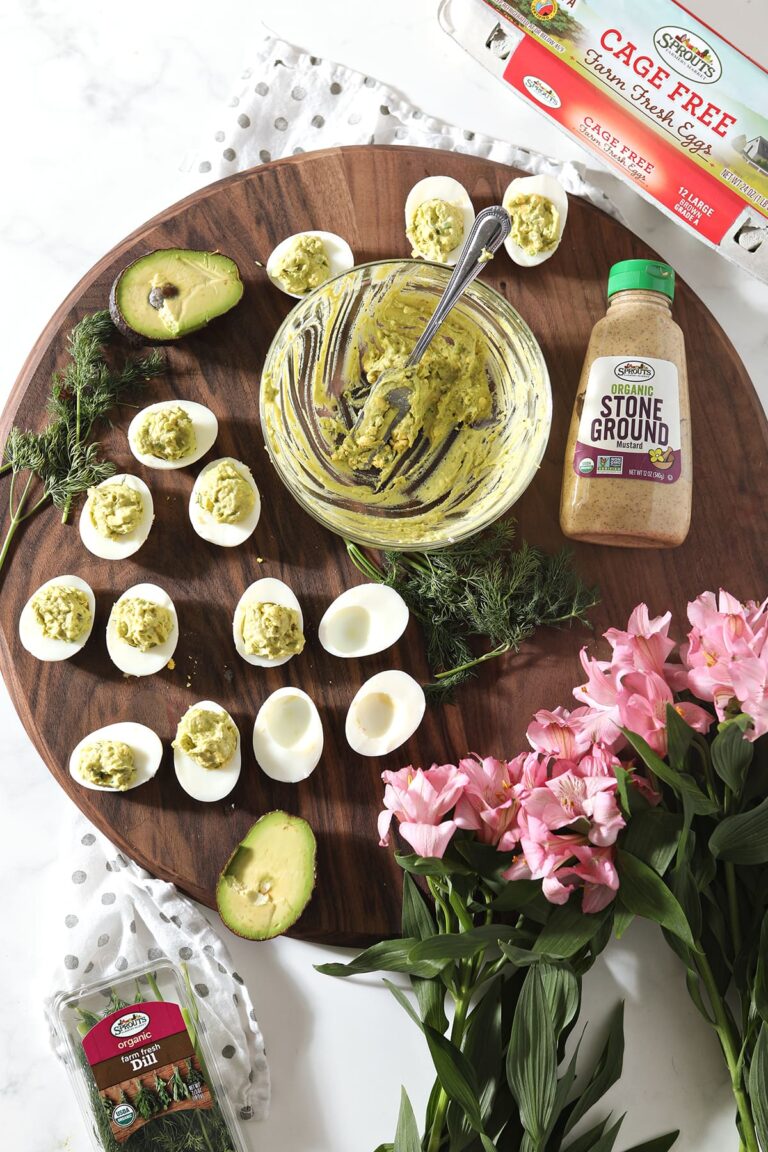 For someone who loves to entertain as much as I do, it's a shock that I don't have a very specific Southern entertaining staple in my recipe index yet.
I'm talkin' about Deviled Eggs, y'all.
Today, I'm bringing a fun twist to 'em, thanks to my friends at Sprouts Farmers Market! They challenged me to make an Avocado Deviled Egg for Easter. And oh boy, am I glad they did because this recipe is delicious.
Why I love this recipe:
What's NOT to love about this recipe? Deviled Eggs with Avocado are a delicious and decadent twist on the classic.
The fresh avocado adds flair and extra creaminess to the traditional recipe.
Also, these beauts come together so easily once you know what to do!
Whether you serve 'em at an at-home brunch or for Easter lunch, you're bound to get compliments!
More recipes for Easter and springtime: Easter Fruit Buns / Carrot Cake Dip with Cinnamon-Sugar Wontons / Deviled Egg Bruschetta / Easter Strawberry Champagne / Mediterranean Herb Crusted Beef Tenderloin
Need some Easter recipe inspiration? Head on over to my Easter Recipe Index for some ideas of what to serve.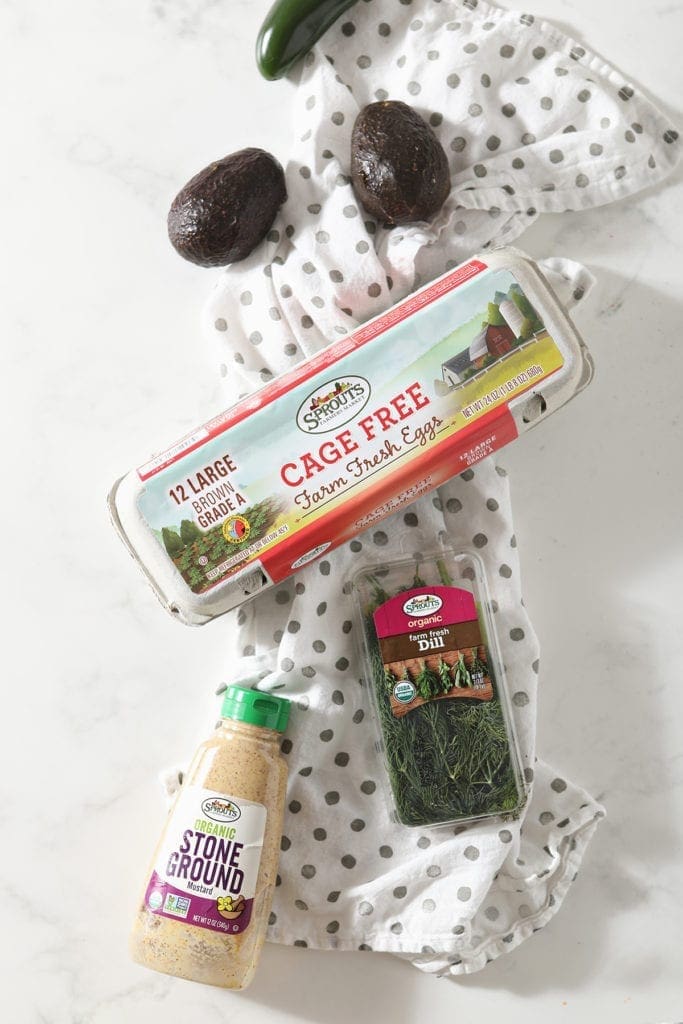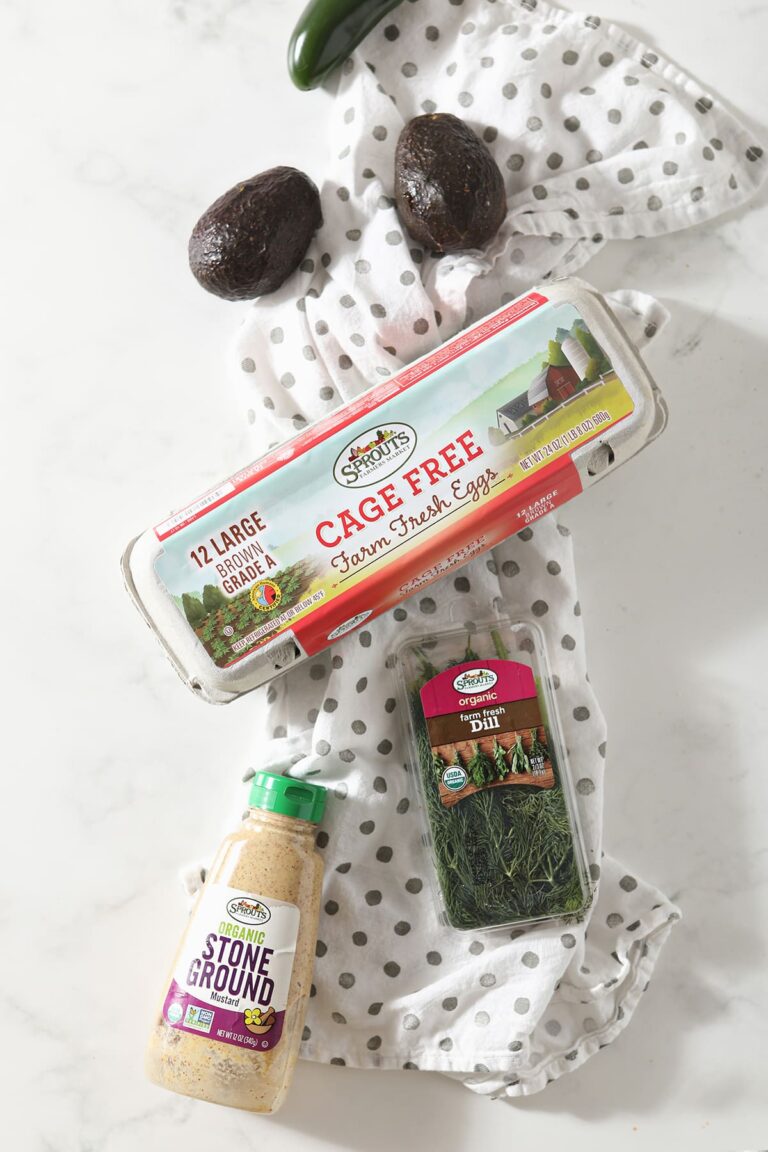 What you'll need to make this recipe:
The Speckled Palate participates in affiliate programs. As an Amazon Associate, I earn a commission from qualifying purchases. Please refer to my disclosure page for more information about these affiliate programs.
Sharp knife and a cutting board
A spoon
In addition to these tools above, you're going to need a few ingredients to make this deviled eggs recipe, too. Scroll all the way down to the recipe card at the bottom of this post to get exact measurements!
Eggs—we're using large chicken eggs. There is no substitution. Try to avoid smaller eggs because that makes for more work for you, even though they're bite-sized.
Avocado—we're using a medium-sized avocado. Be sure yours is fresh before you slice into it!
Stone Ground Mustard—or a Dijon mustard would be excellent, too. I personally like stone ground for its flavor and slight acidity.
Jalapeno pepper—this is adding a bit of heat to our spicy deviled egg. If you're hesitant about heat, consider using half of the pepper with the seeds removed.
Fresh dill—not only does the fresh dill add gorgeous color, but it also adds beautiful flavor!
Seasonings—we want to add kosher salt and black pepper until it tastes just right. Otherwise, these deviled eggs might fall a little flat.
If you're serving this to a crowd and want to ensure the avocado doesn't brown, add a little lime or lemon juice to the eggs before serving.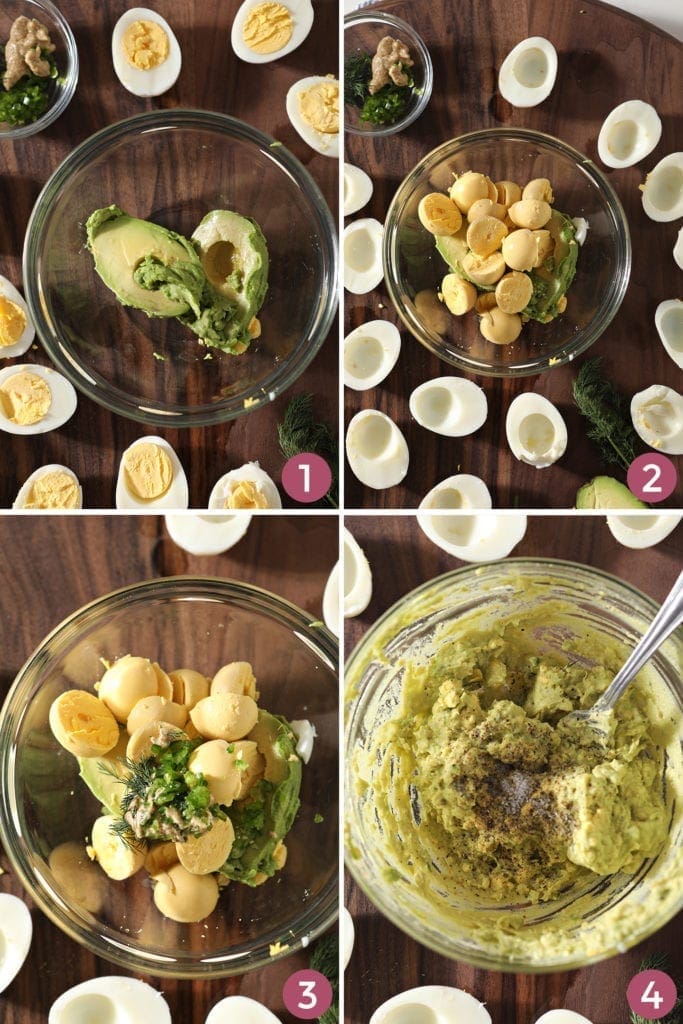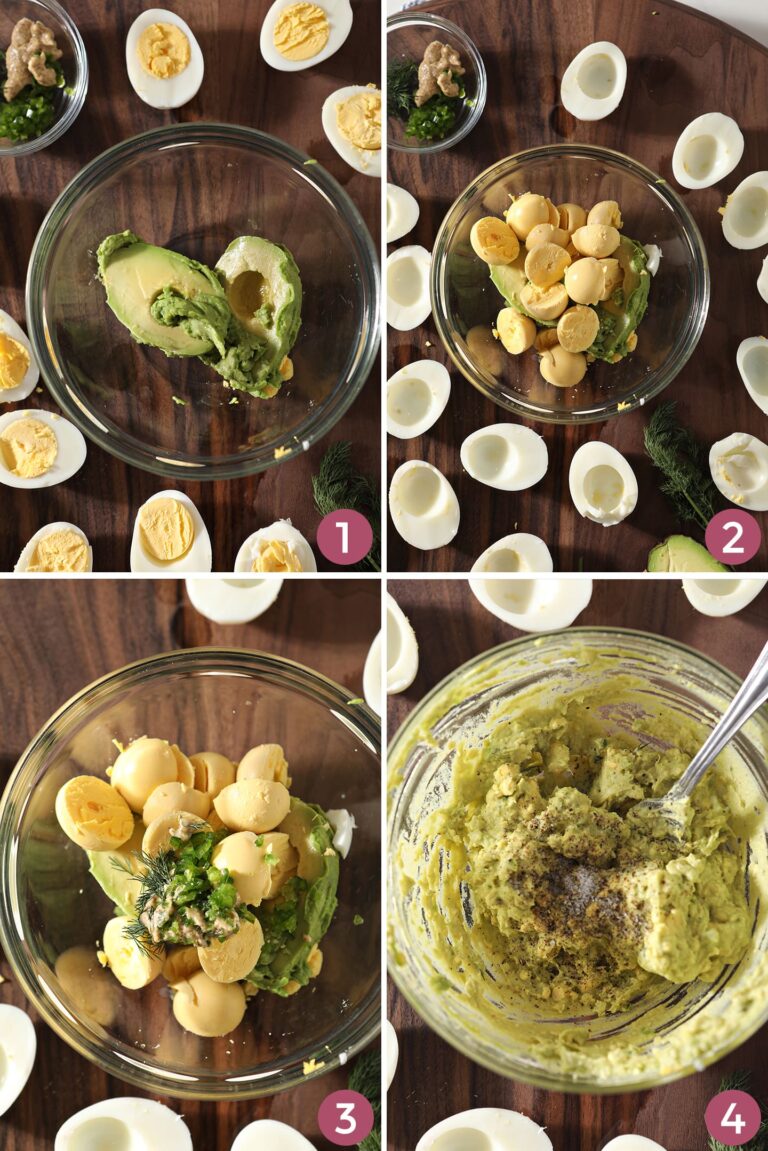 How to make Avocado Deviled Eggs
Hard boil the eggs. (Check out this post if you are unsure the easiest way to hard boil eggs or how to peel hardboiled eggs.)
Once the eggs are peeled and dry, make the spicy deviled eggs.
Slice each egg in half lengthwise. Pop the yolks out into a large bowl. They should be pretty easy to remove. If they aren't, use a small spoon to ease their way.
Use the same knife to half your avocado. Remove the seed, and scoop it into the same bowl as the egg yolks.
Smash the avocado and egg yolks together until combined. The yolk mixture will be a little lumpy, and that's OK.
Season the mixture with the mustard, jalapeno and dill. Don't forget the salt and pepper, too. Give it a taste.
You can also add ½ of a lime's juice to the mixture, too. This will help prevent oxidation. Since we're using avocados, though, time is of the essence when it comes to eating these beauties.
If you like your filling incredibly smooth, you can do this step in the food processor. Additionally, you can use a piping bag to pipe the avocado mixture into the egg whites.
Use a spoon to dollop about 1 tablespoon of the filling into the whites of the eggs.
Garnish the deviled eggs with extra jalapeno and dill. Serve on a serving platter and watch guests swoon over the combined flavors!
You can also add a sprinkling of smoked paprika or cayenne pepper on top of these bite-sized appetizers, too!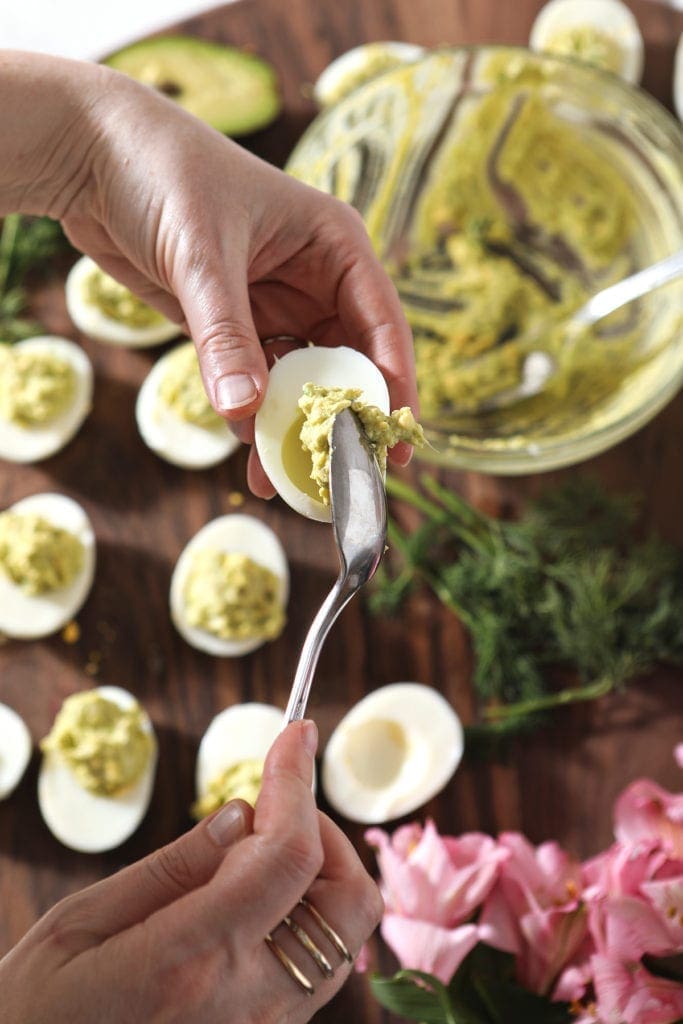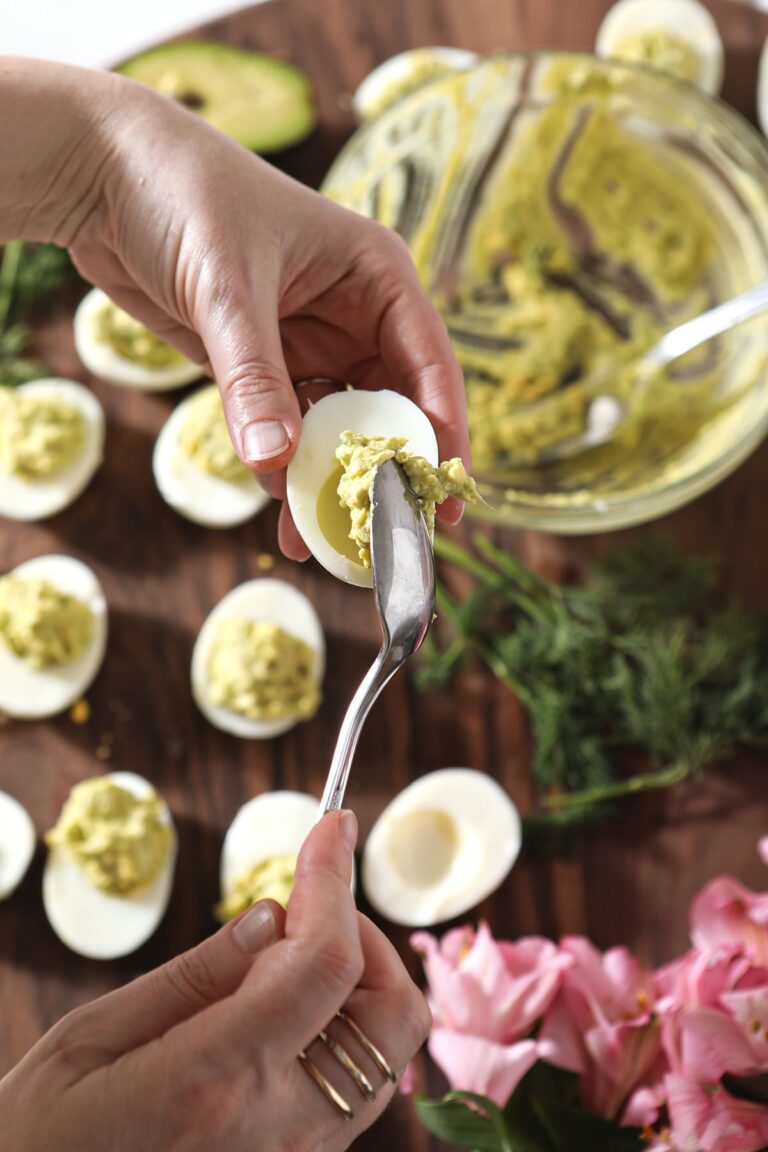 Erin's Easy Entertaining Tips
Avocado Deviled Eggs are the perfect finger food to serve for Easter or another springtime gathering. I can see these beauts being a centerpiece at a ladies' lunch or even a baby shower!
To make these deviled eggs in advance, here's what I recommend you do:
Hard boil the eggs a day in advance. Let them cool in an ice bath, and peel them before storing in an airtight food storage container in the fridge.
Prep the rest of your ingredients, too. The avocado will oxidize if you mix it too early, so scrub the outside of the avocado. Also, chop the jalapeno and dill.
Put them together an hour before your gathering, then squeeze lime juice over them so that the avocado will last longer.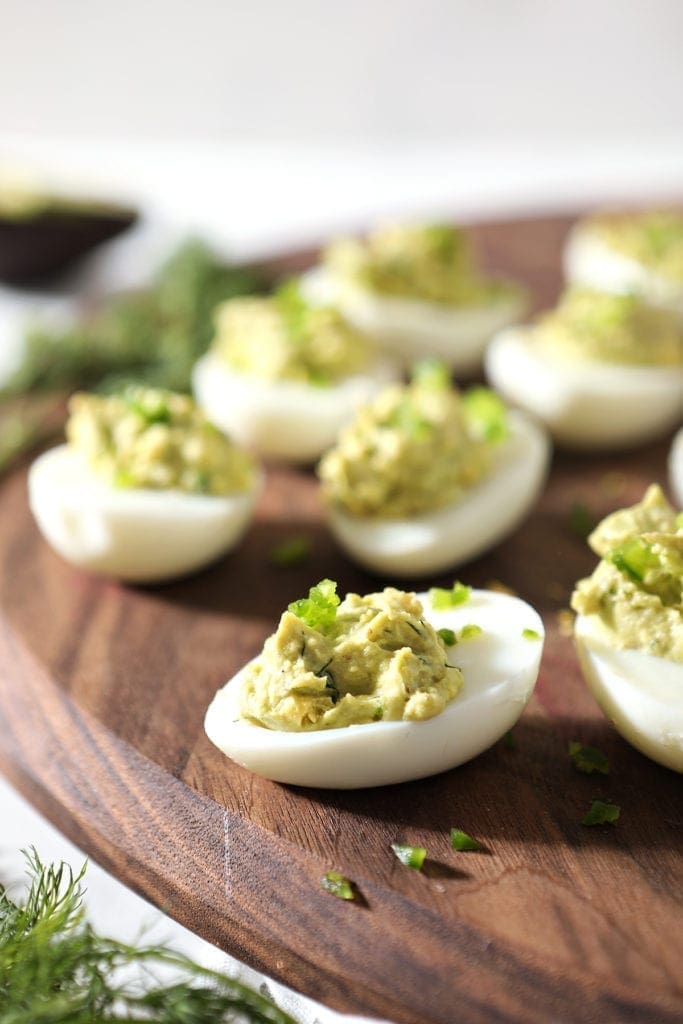 Frequently Asked Questions
Why did you shop at Sprouts for these ingredients?
I've been working with Sprouts for years. I'd be shopping at their store whether or not they were a client of mine because their products are awesome, their produce is super fresh and their prices can't be beat.

You can make a shopping list through their app and save coupons in it, too. And if that's not convenient, I don't know what is.
Can I double the recipe or half it?
Yes, you can! If you're entertaining, you should absolutely double the recipe.

When you double the recipe, use an extra avocado. (And double the rest of the ingredients, too.)

If you half the recipe, use half of an avocado instead while also halving the rest of the ingredients, too. This would be perfect for a single serving for your family instead of for a large crowd!
Can I make this recipe in advance?
You can make parts of this recipe in advance, but you cannot make the whole thing in advance.

You can hard boil the eggs in advance and also prep the rest of the ingredients. Before guests arrive, put them together.
Are these healthier than other deviled eggs?
Avocado is creamy and pairs beautifully with eggs! While I don't know if this recipe makes for a healthier deviled egg, it is flavorful.

It should be noted that this recipe leaves out some ingredients that traditional deviled eggs use—like yellow mustard and vinegar.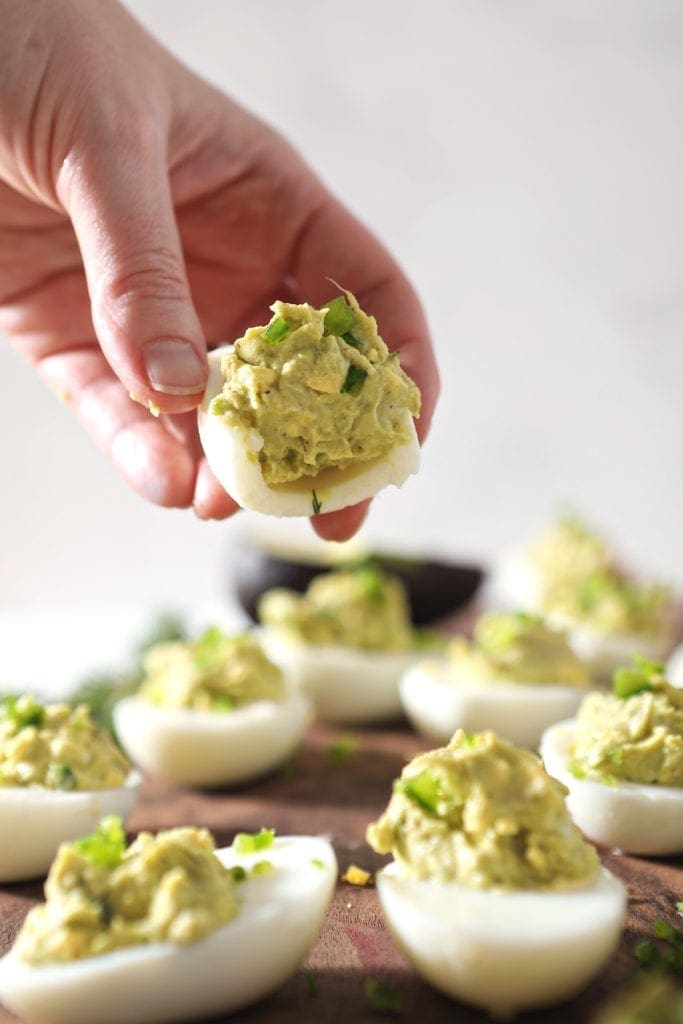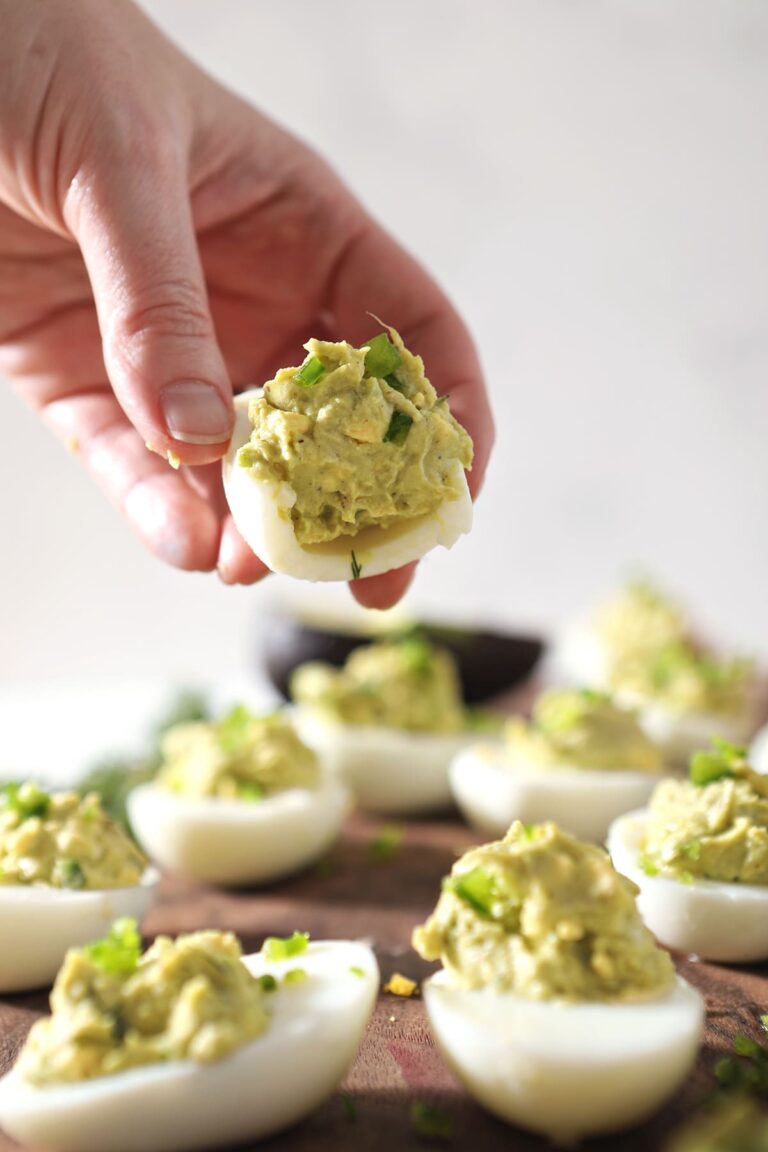 Quick tips for making Avocado Deviled Eggs
Double the recipe if you're serving a crowd and know they'll love it!
Skip the jalapeno if you don't like spice. (Alternately, if you dig spiciness, consider adding more!)
If you're bringing them with you to a gathering, do everything except fill the egg whites. To transport the ingredients, place the empty whites on a plate. Press plastic wrap on top of the filling mixture so that the avocado does not oxidize.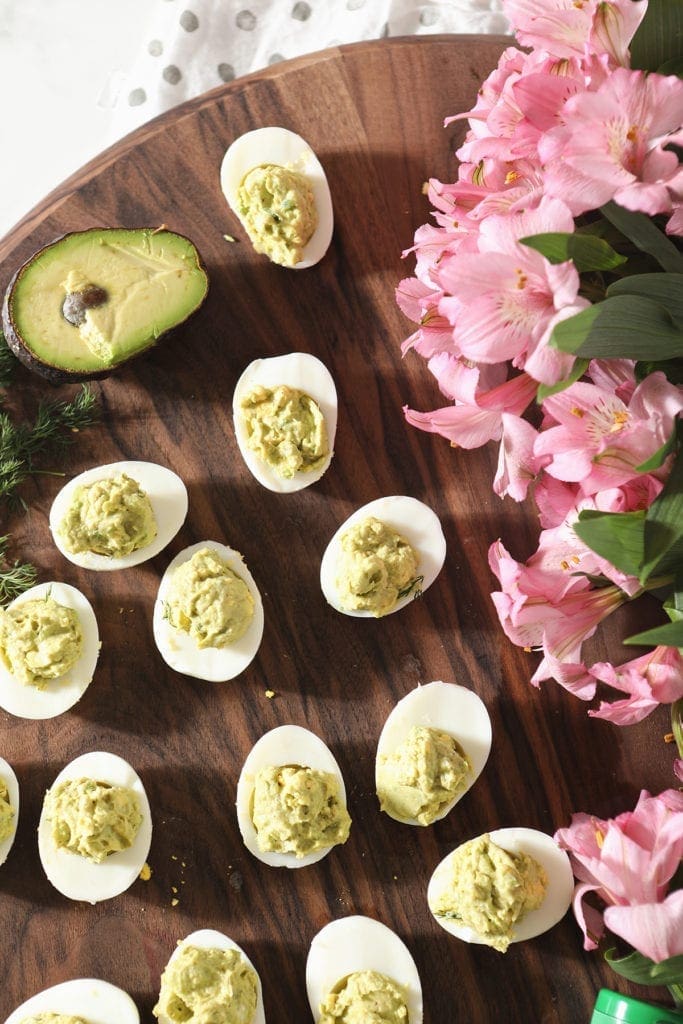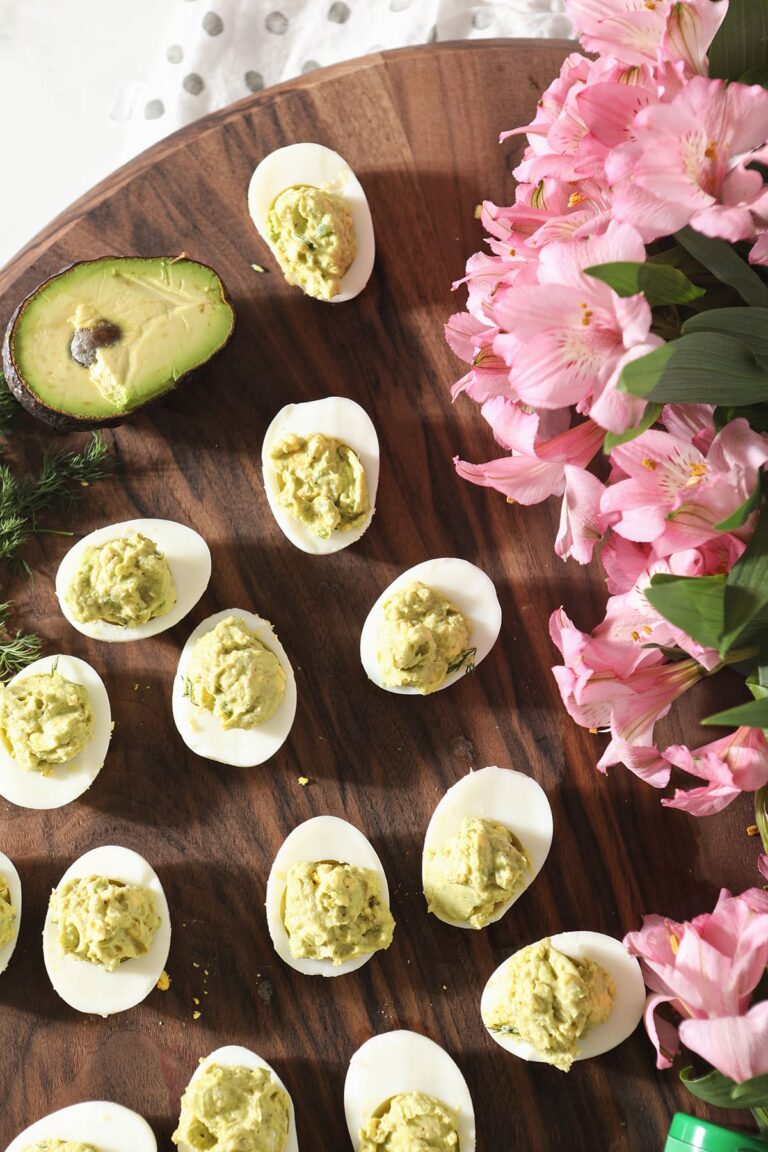 Other Easter appetizers to serve and enjoy: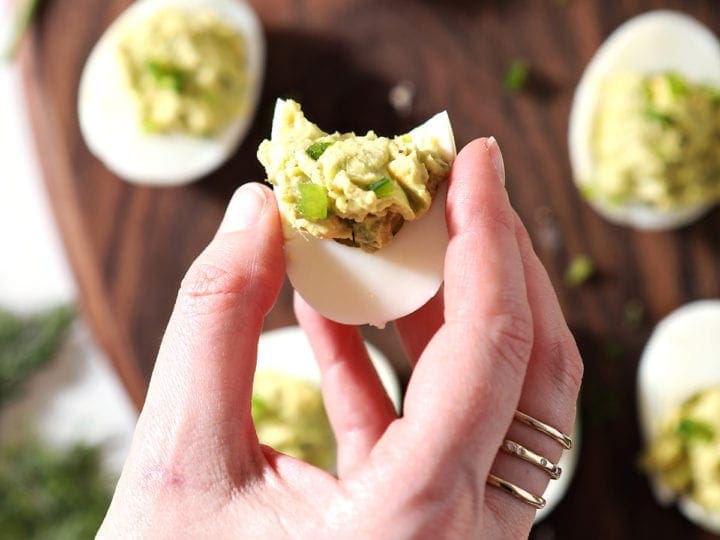 Yield:

16 bite-sized appetizers
Avocado Deviled Eggs
Perfect for springtime gatherings, Avocado Deviled Eggs are a twist on the classic party food. Calling for a few simple ingredients, these extra creamy deviled eggs are easy to make and enjoy.
Ingredients
8 large eggs
1 medium avocado
1 teaspoon Sprouts Stone Ground Mustard
1 teaspoon jalapeno pepper, finely chopped, plus more for garnish
1 teaspoon fresh dill, plus more for garnish
Salt and pepper, to taste
Instructions
Place eggs in a large saucepan. Cover with water, making sure there is at least 1" of water over the tops of the eggs.
Turn on the heat, and bring to a rolling boil.
Turn off the heat, and cover. Let sit for 12 minutes.
Remove from the water, and place in a bowl with ice cubes. Let cool for 10-15 minutes, or until no longer hot to touch.
Crack the eggs on the bottom, and peel carefully. If need be, rinse the eggs to remove all the shell from them before proceeding.
Slice each egg in half, and pop the yolks out into a large bowl.
Half the avocado, and remove the seed. Scoop it into the same bowl with the cooked egg yolks, and smash them together.
Season the egg yolk-avocado mixture with the stone ground mustard, chopped jalapeno and fresh dill. Season with salt and pepper, and taste to confirm they don't need more. Stir until combined. You can squeeze in ½ of a lime here if your deviled eggs might sit for an hour or two to prevent oxidation.
Use a spoon to dollop about 1 tablespoon of the egg-avocado mixture into the whites of the eggs.
Garnish with extra jalapeno and dill and serve immediately.
Notes
You can easily double or half this recipe, just depending on how many people you plan on serving.
Not a fan of the spiciness? Leave out the jalapeno, or use less.
Recommended Products
As an Amazon Associate and member of other affiliate programs, I earn from qualifying purchases.
Nutrition Information:
Yield:
16 deviled eggs
Serving Size:
1
Amount Per Serving:
Calories:

57
Total Fat:

4g
Saturated Fat:

1g
Trans Fat:

0g
Unsaturated Fat:

3g
Cholesterol:

93mg
Sodium:

55mg
Carbohydrates:

1g
Fiber:

1g
Sugar:

0g
Protein:

3g
Nutrition facts are an estimate and not guaranteed to be accurate.