Galia Melon Jamón Skewers (Whole30 Appetizer)
This post is sponsored by Sprouts Farmers Market. As always, all opinions, thoughts and recipes are my own.
Galia Melon Jamón Skewers make a perfect summertime app! This dairy free, gluten free and paleo-friendly Whole30 appetizer is a delicious start for any get-together. Makes 12 skewers.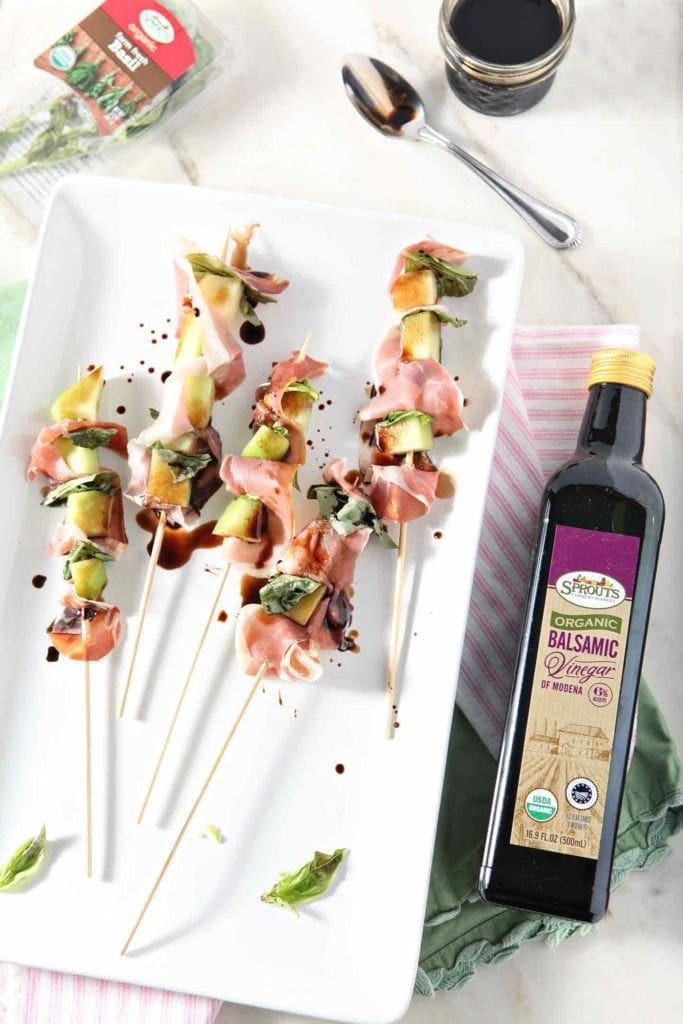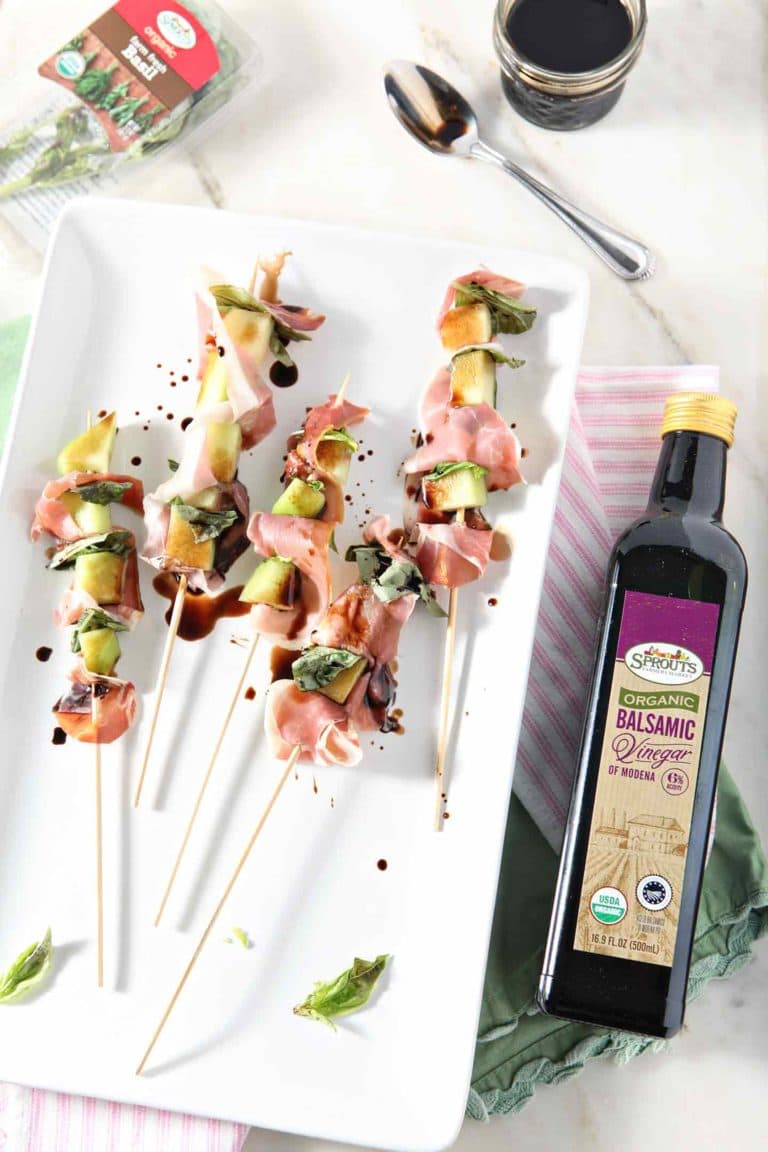 Summertime produce is abundant these days, and with that comes all the summer melons.
Watermelons, Cantaloupes, Honeydews…
And Canary, Casaba, Crenshaw, Galia, Hami, Lemon Drops, too.
There are so many melons that I had no idea so many existed.
Some Whole30 recipes you might want to check out: Whole30 Slow Cooker Pork Carnitas Plates | Whole30 Taco Zucchini Boats | Spinach Pistachio Pesto | Whole30 Bacon Apple Salad with Bacon Vinaigrette | Blackberry Ginger Lemon Whole30 Tea | Sweet Potato Bisque | Whole30 Steak Salad with Orange Vinaigrette | Vegan Potato Leek Soup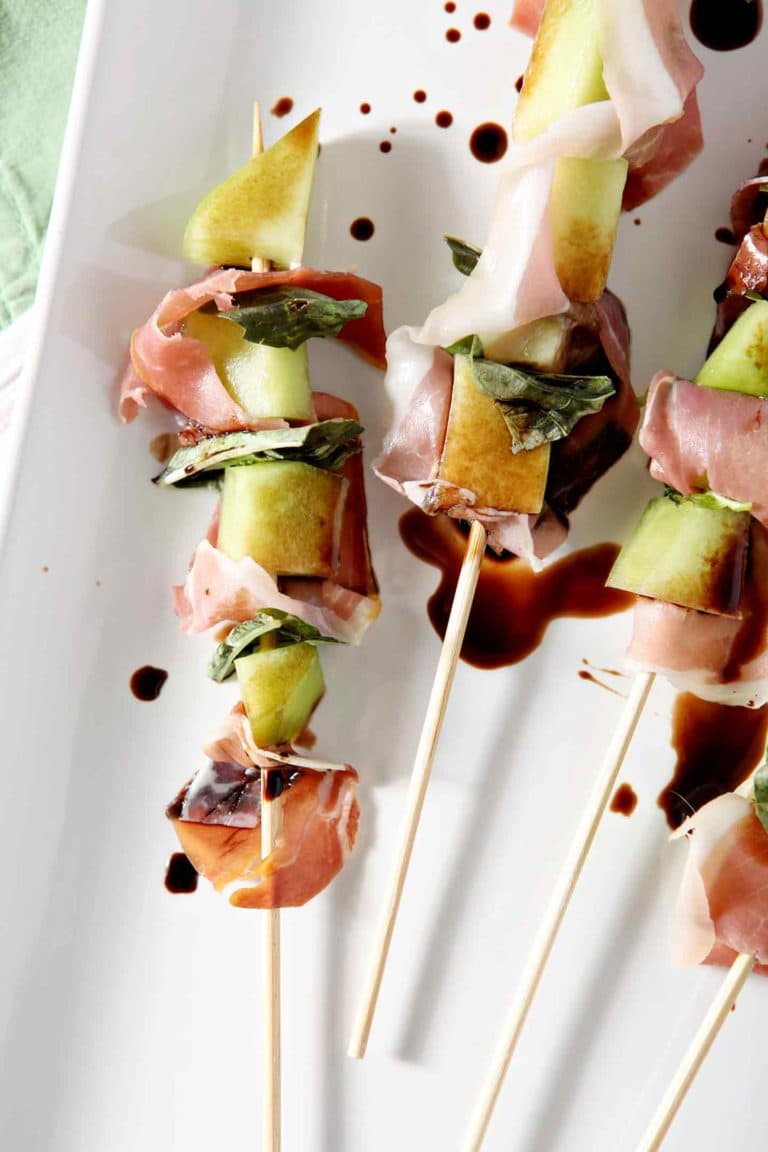 My friends at Sprouts Farmers Market are hosting Melon Mania, and they offer all these melons and more! I've also made this Strawberry Melon Salad for this collaboration!
And since they have an open tasting policy, you can let a team member know you want to try something and they will cut it open for you on the spot.
How cool is that?
So you can stop by and sample one or more of these gorgeous summer melons for yourself! Tell 'em I sent you. 😉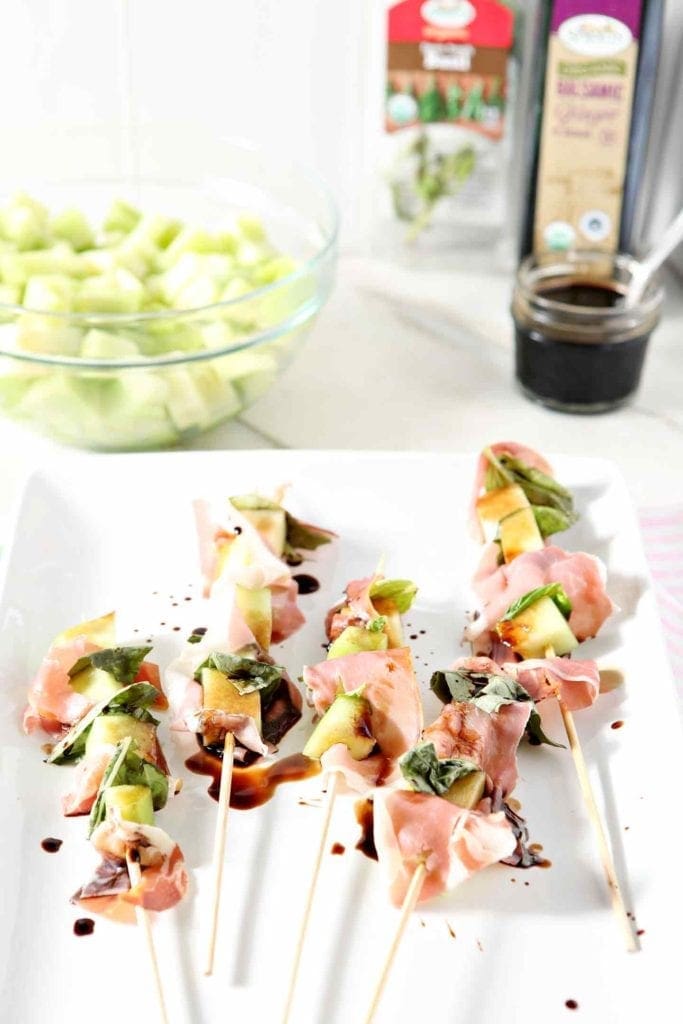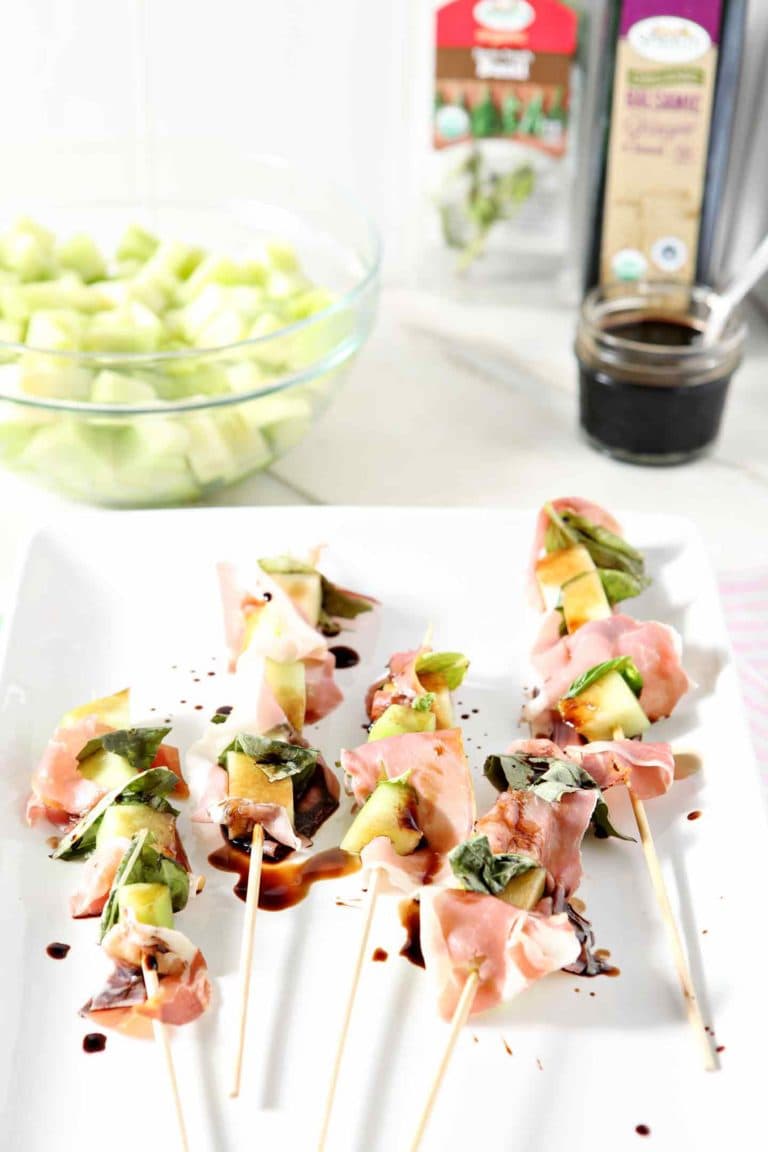 I chose the Galia melon to use in this Whole30 appetizer because my nose liked it the best.
Yes, I'm totally that person who walks around the produce section and sniffs everything. Feel free to chuckle as you envision me doing this because looks ridiculous. However, it comes in handy because our noses can tell us a lot about what we're picking to eat.
Galia melons are similar to a cantaloupe on the outside, though on the inside, they're similar to a honeydew.
Here's a helpful hint: The sugar content will be higher if the Galia melon is a deep orange color on the outside.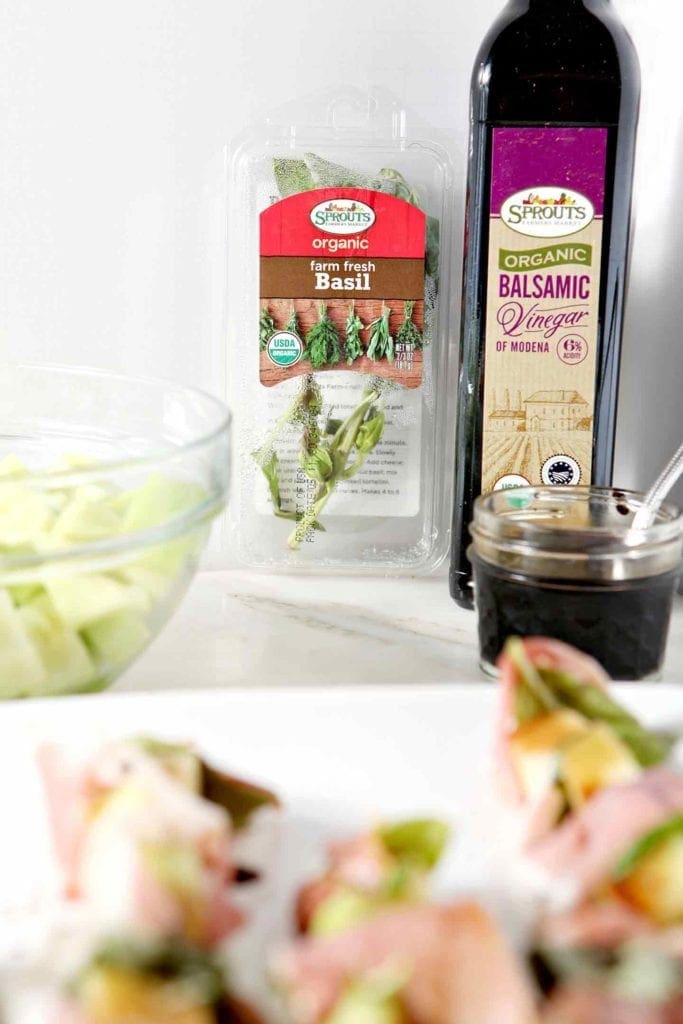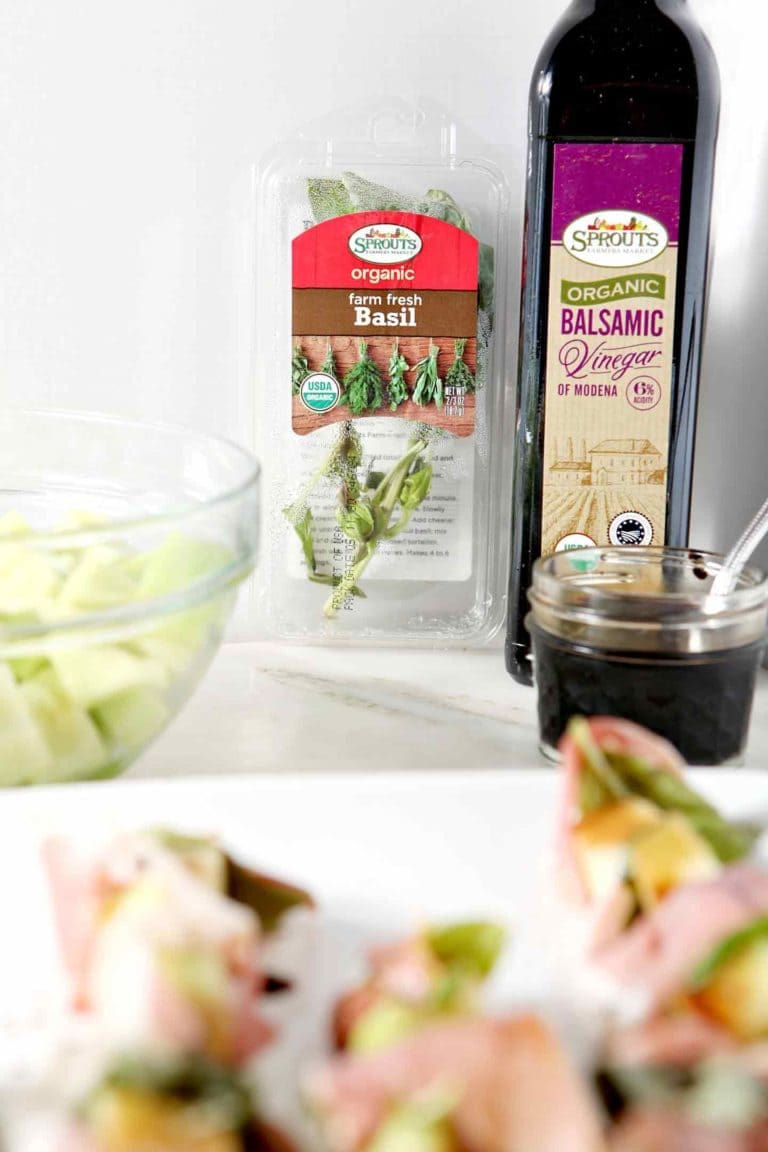 Also, these skewers were created when we were just finishing our first round of the Whole30.
I wanted to pair some sort of ham product with the melon to balance its sweetness with something more savory, and when I found Whole30-compliant Jamón Serrano at Sprouts, I knew I was in luck.
While there, I grabbed some Sprouts branded farm fresh basil to add to the skewers, then got a bottle of Sprouts branded balsamic vinegar for a reduction to top the skewers with.
Oh, I also picked up the Galia melon. Because that's our piece de resistance.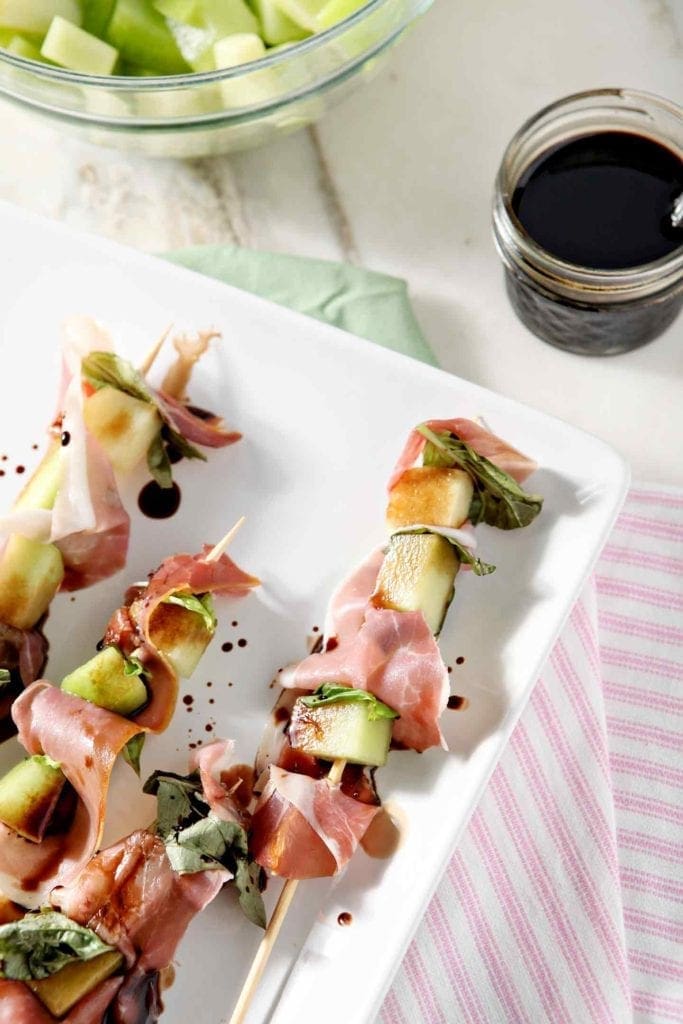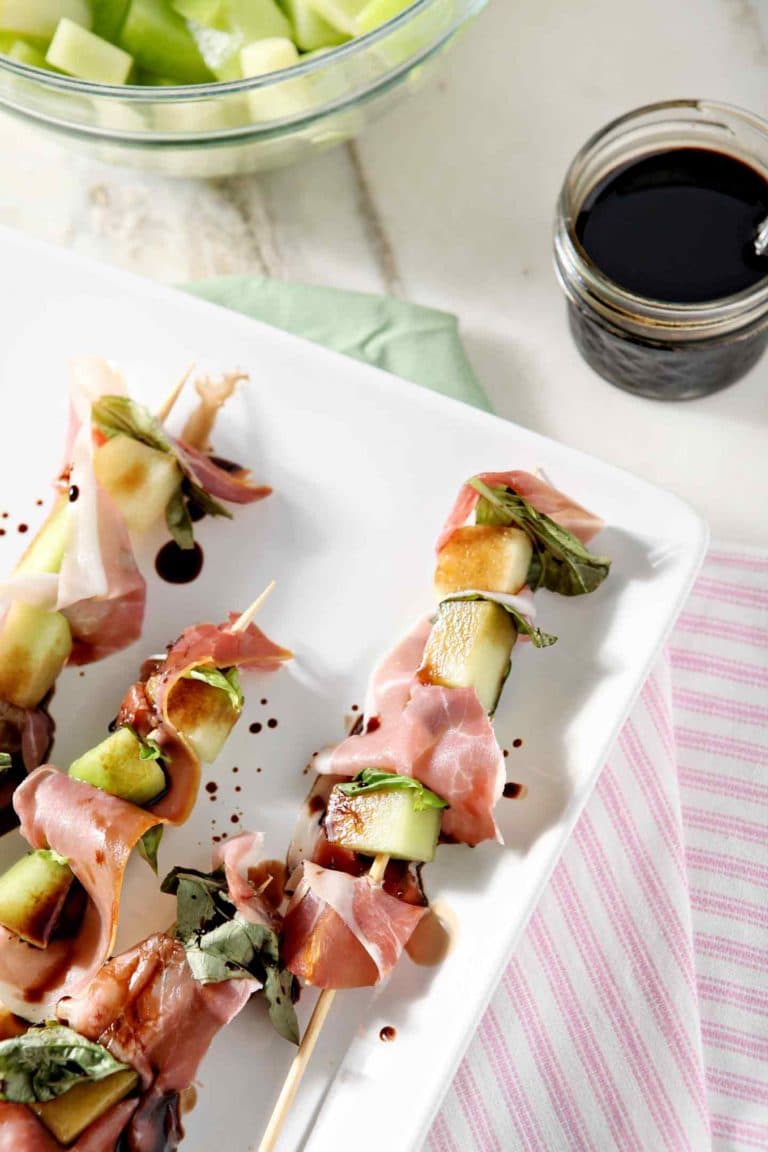 Obviously, this appetizer is Whole30-compliant.
You're welcome, Whole30 peeps.
And if you're not interested in Whole30, you can rest assured these skewers are still absolutely delicious.
How can you go wrong with an appetizer that balances summertime melon sweetness with the savory saltiness of ham?
In my opinion, you can't.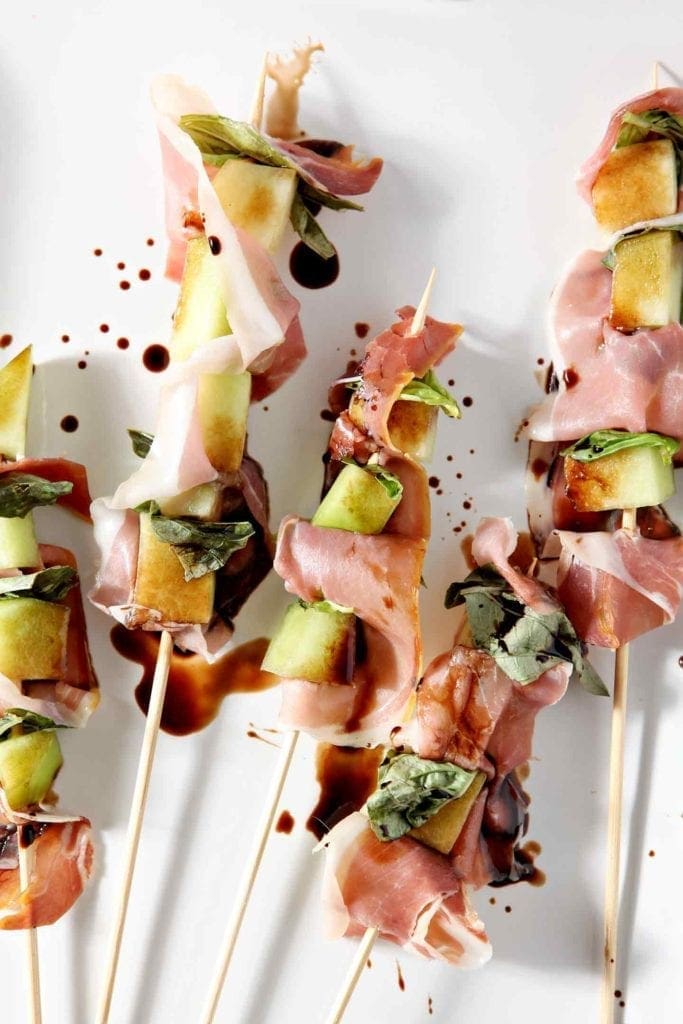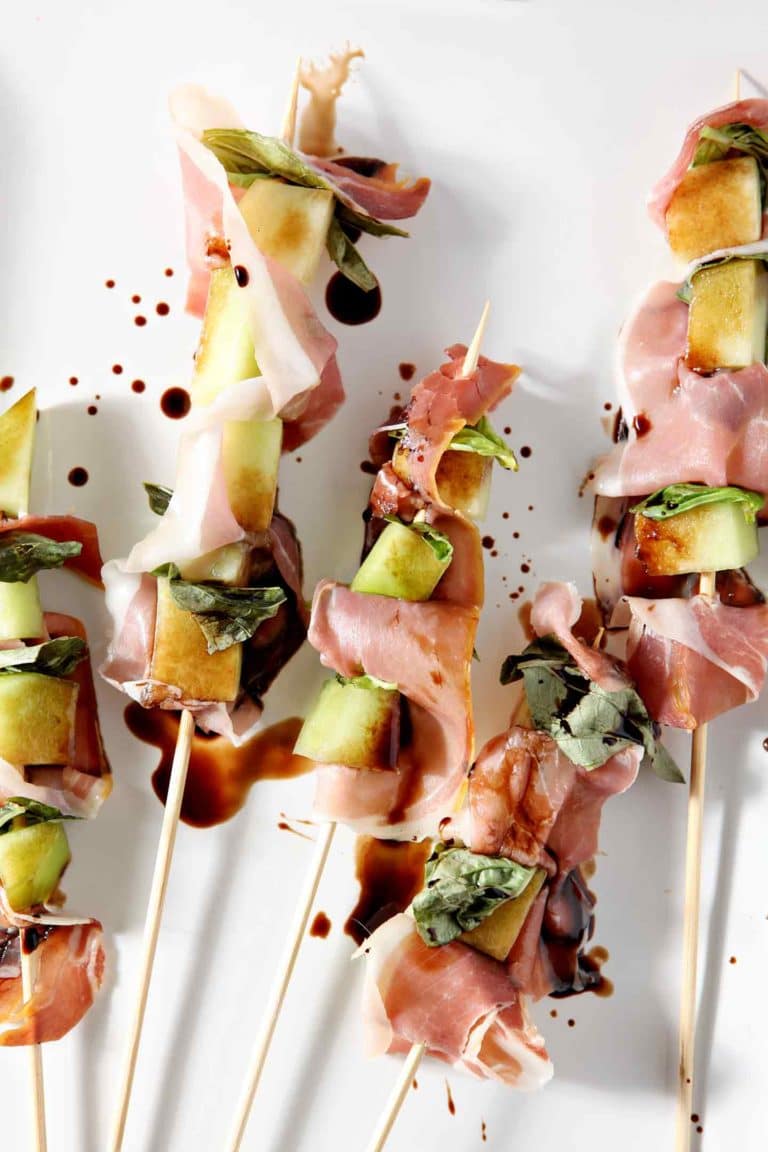 Galia Melon Jamón Skewers Essentials
Disclaimer: The links below are affiliate links. If you click through and take action, I will receive a small commission. Please refer to my disclosure page for more information about the affiliate programs The Speckled Palate participates in.
Get the look!
Are you drooling yet?
Prepare to wow your guests because here's how you can make this appetizer for your next get-together!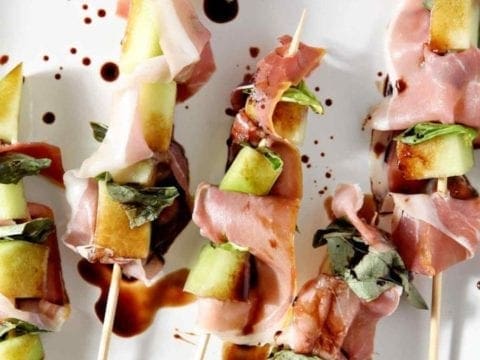 Yield:

12 skewers
Galia Melon Jamón Skewers
Galia Melon Jamón Skewers make a perfect summertime app! This dairy free, gluten free and paleo-friendly Whole30 appetizer is a delicious start for any get-together. This app balances the sweetness of the Galia melon with the saltiness of the jamón. Skewered together with fresh basil and drizzled with a balsamic reduction, these savory-sweet skewers are sure to become a seasonal favorite, whether or not you and your guests are doing a Whole30!
Ingredients
1 Galia melon, diced into 1" chunks
3 oz. Jamón Serrano
1 bunch fresh basil, torn
4 tablespoons balsamic vinegar
Instructions
Make the Balsamic Reduction
In a heavy-bottomed saucepan over low heat, warm the balsamic vinegar.
Bring to a gentle boil, and reduce by half.
When reduced and sticky, remove from the heat, and let cool.
Prepare the Skewers
Slice the Jamón Serrano down the middle so the slices are thinner. This will make them easier to wrap/weave through the skewers, as you will use one of these half slices of Jamón on each skewer.
Skewer the bottom of a slice of Jamón Serrano, then add a chunk of melon and a leaf of basil.
Using the same long slice of Jamón Serrano, skewer it again, then add another chunk of melon and a basil leaf.
Repeat multiple times until you run out of Jamón Serrano, then repeat for other skewers.
Finish with a drizzle of the balsamic reduction, and serve chilled!
Nutrition Information:
Yield:
12
Serving Size:
1 skewer
Amount Per Serving:
Calories:

46
Total Fat:

0g
Saturated Fat:

0g
Trans Fat:

0g
Unsaturated Fat:

0g
Cholesterol:

0mg
Sodium:

21mg
Carbohydrates:

11g
Fiber:

1g
Sugar:

10g
Protein:

1g
Nutrition facts are an estimate and not guaranteed to be accurate.
What is your favorite melon?
What melon would you like to try?