Last Updated on
Strawberry Scones, featuring fresh strawberries, are bursting with strawberry flavor, thanks to a secret strawberry ingredient! These scones, which are the perfect centerpiece to any homemade weekend brunch, are buttery, flavorful and disappear in no time.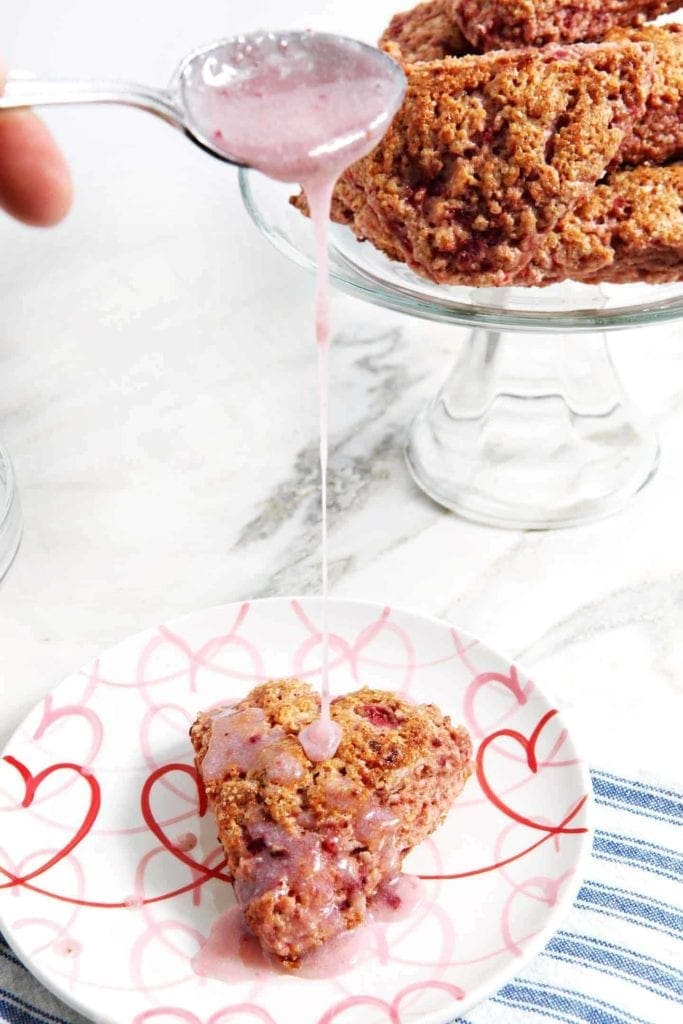 This post contains affiliate links. If you were to make a purchase through one, I would receive a small commission. For more information about the affiliate programs The Speckled Palate participates in, please refer to my disclosure page.
Strawberry season is passing us by, but I'm still adoring the summer fruit. I eat it in salads daily. I like it in my drinks. And I really love it at brunch.
It should come as no surprise that I've got yet another strawberry recipe for y'all before we move on to autumnal treats. Not that it feels like fall here… even though I heard a rumor — a rumor on a weather website, mind you — that the temps are going to fall today and tomorrow. I'm not holding my breath, but I'd be thrilled if they did.
Before it gets too cool, I wanted to share a final strawberry recipe for the season. Especially since I just recently got it right.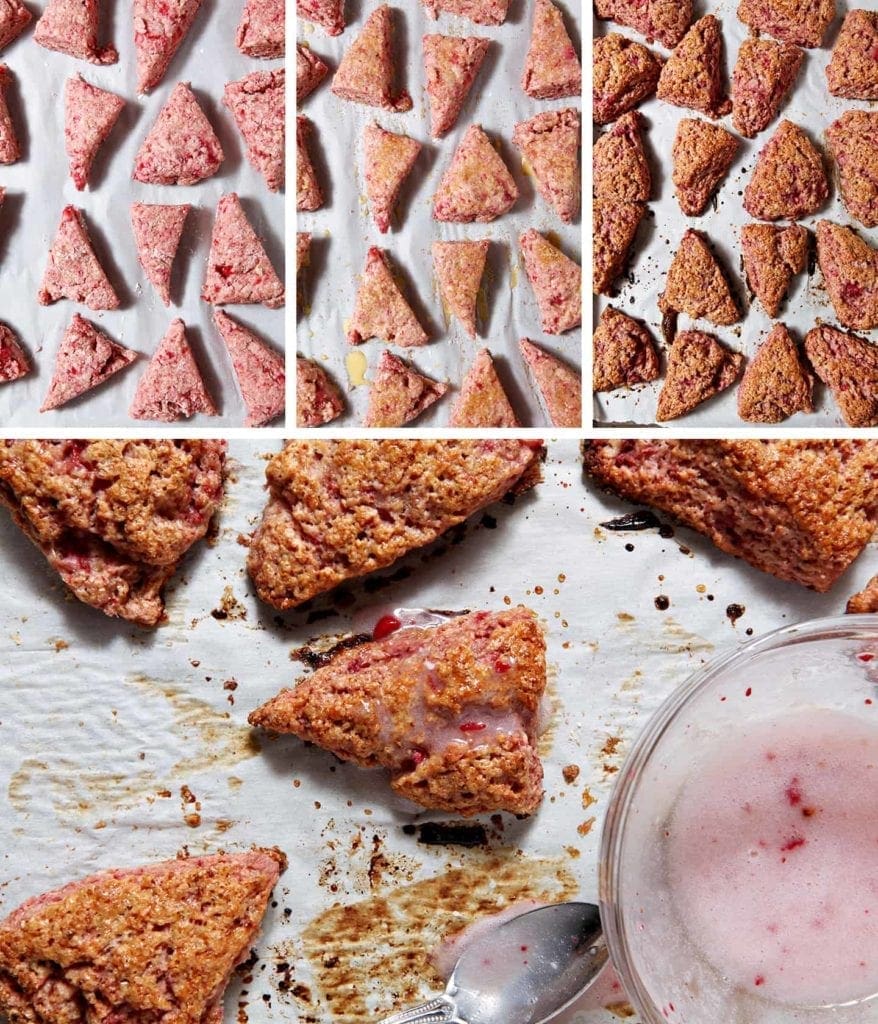 Sometimes, I nail a recipe on the first go.
Other times, it takes me several tries to make a recipe perfect. (AKA how I envision them in my head.)
This Fresh Strawberry Scone recipe? It's one of the latter, and I've been working on this since after Lady Baby was born. Soooooo it's taken me about six month to get these just right.
The good news? They've always tasted really good, even if their texture was a little off in the previous experimentations.
The bad news? I couldn't share these with y'all until now because they weren't 100%. And I don't like to share anything that's less than 100% here because I want y'all to feel confident that everything I'm sharing is well-loved in our home.
I may or may not have done a happy dance when these babies came out of the oven the last time because they were perfect, and I was beyond thrilled.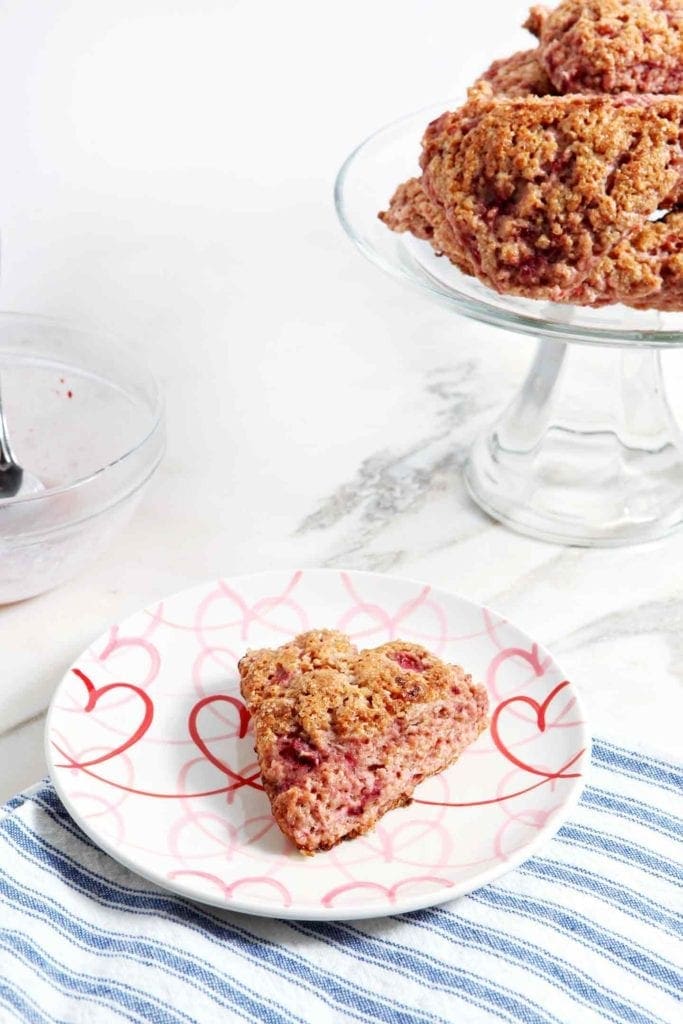 These scones are super strawberry-y, and it's not just because of the fresh strawberries used in the recipe. I learned through my experimentations over the years that too many fresh strawberries can be a bad thing… and your scones could turn out gloopy because of the moisture the strawberries add in if you're not careful.
Then I found my secret ingredient that makes these beauts sing.
Maybe you've heard of it?
Freeze Dried Strawberries. These things are brilliant and add tons of strawberry flavor without the added liquid.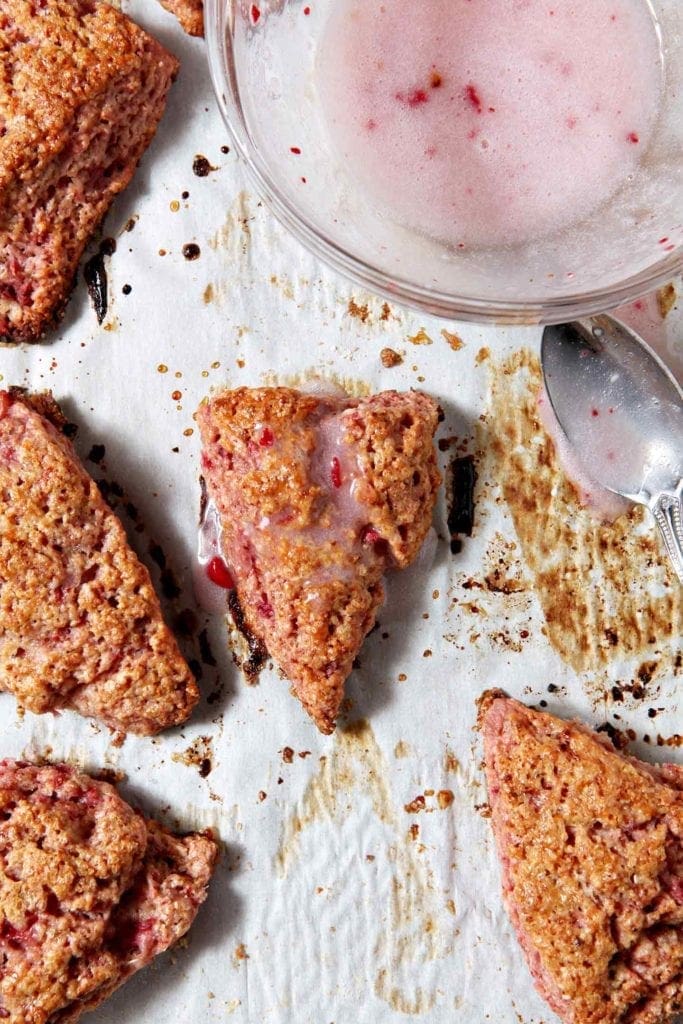 What do you do with 'em?
I'm glad you asked!
You grind these goodies up in your food processor and add them for that extra strawberry punch without watering down your scones with more fresh berries.
Bada bing, bada boom. 
So head on down to the store and pick up these ingredients before strawberries disappear from the shelves as fall becomes imminent. (Please, please become imminent, fall.)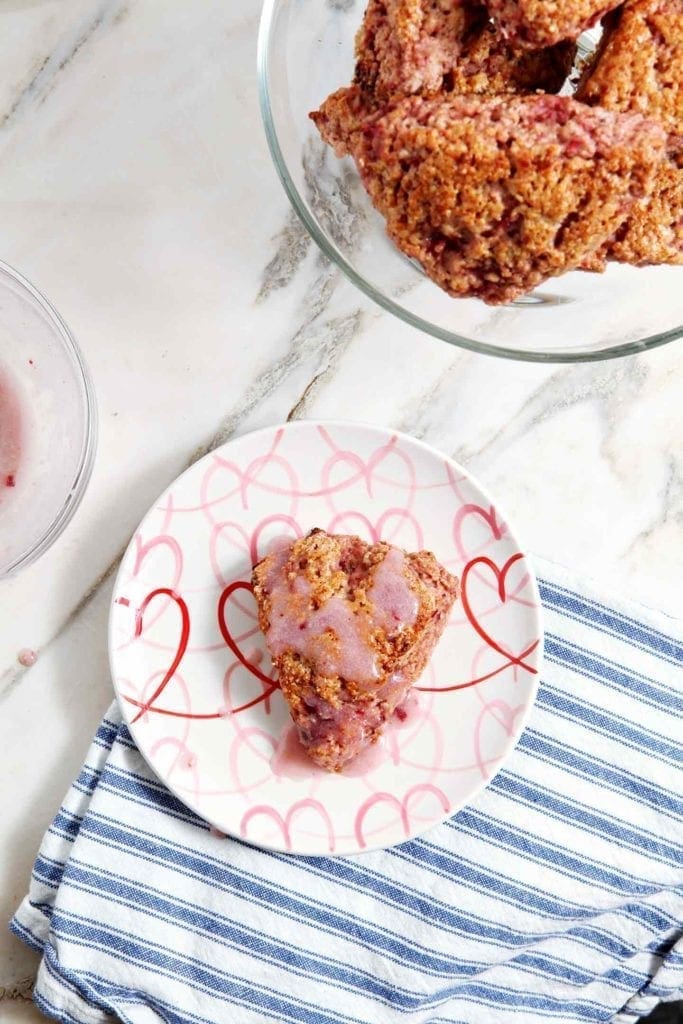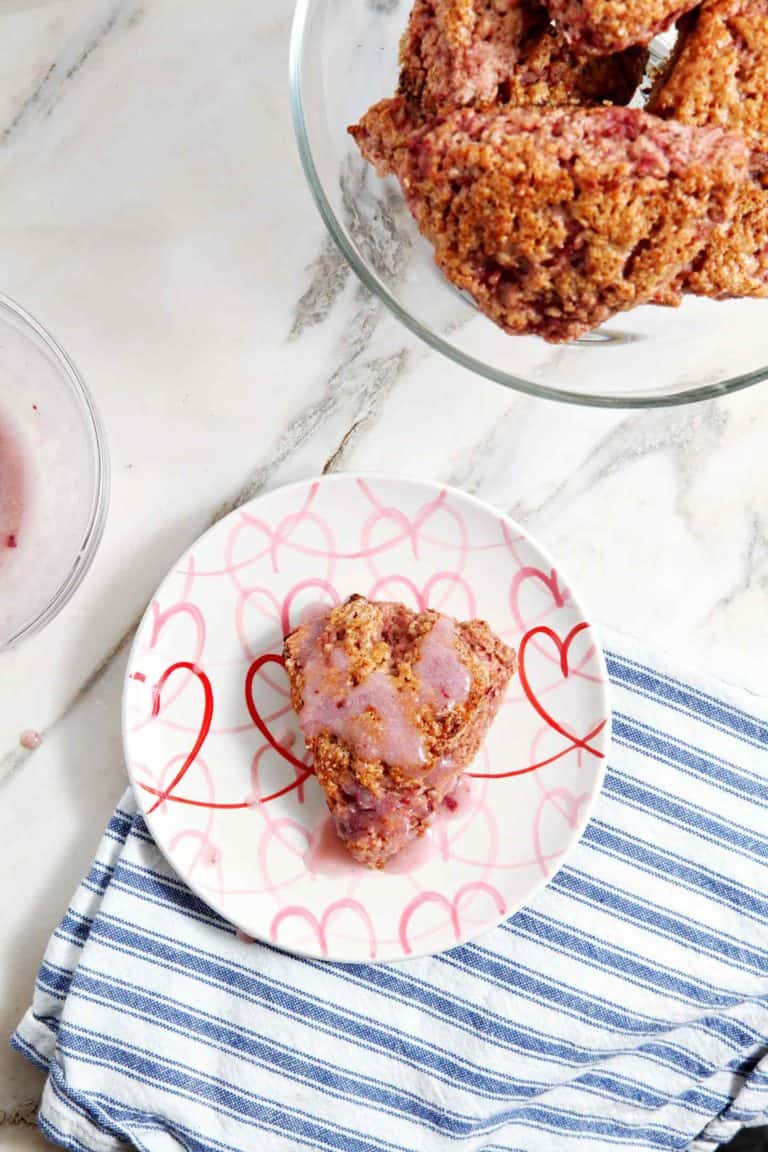 Essential Products/Tools for Fresh Strawberry Scones
Other Awesome Brunch Dishes
Interested in making this goodness? Scroll down to learn how easy these scones are to whip up for a crowd… or yourself… this weekend!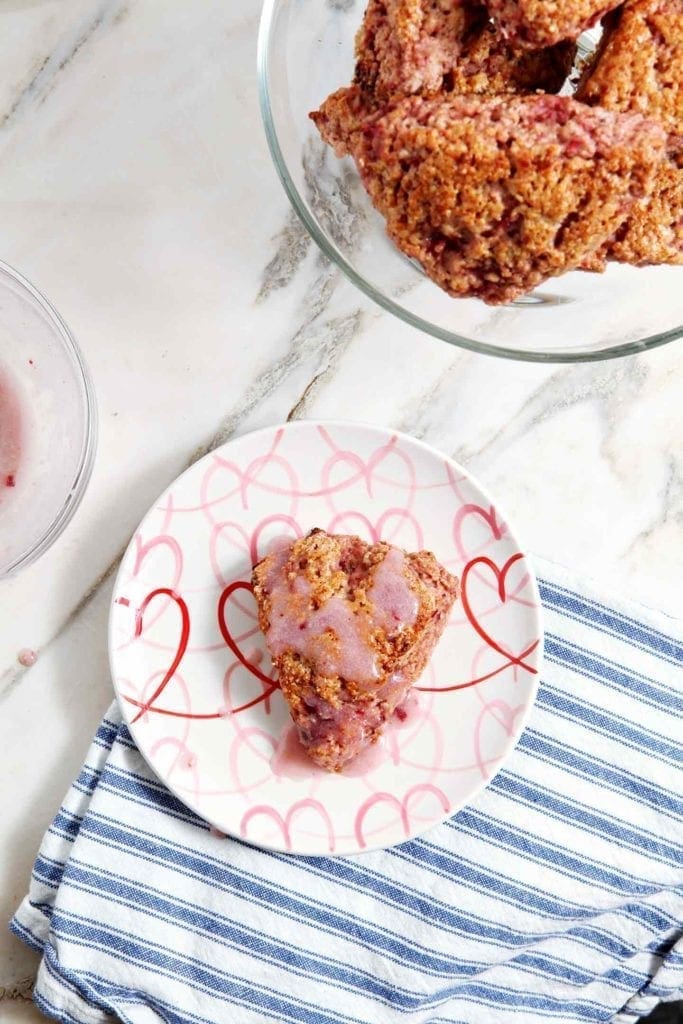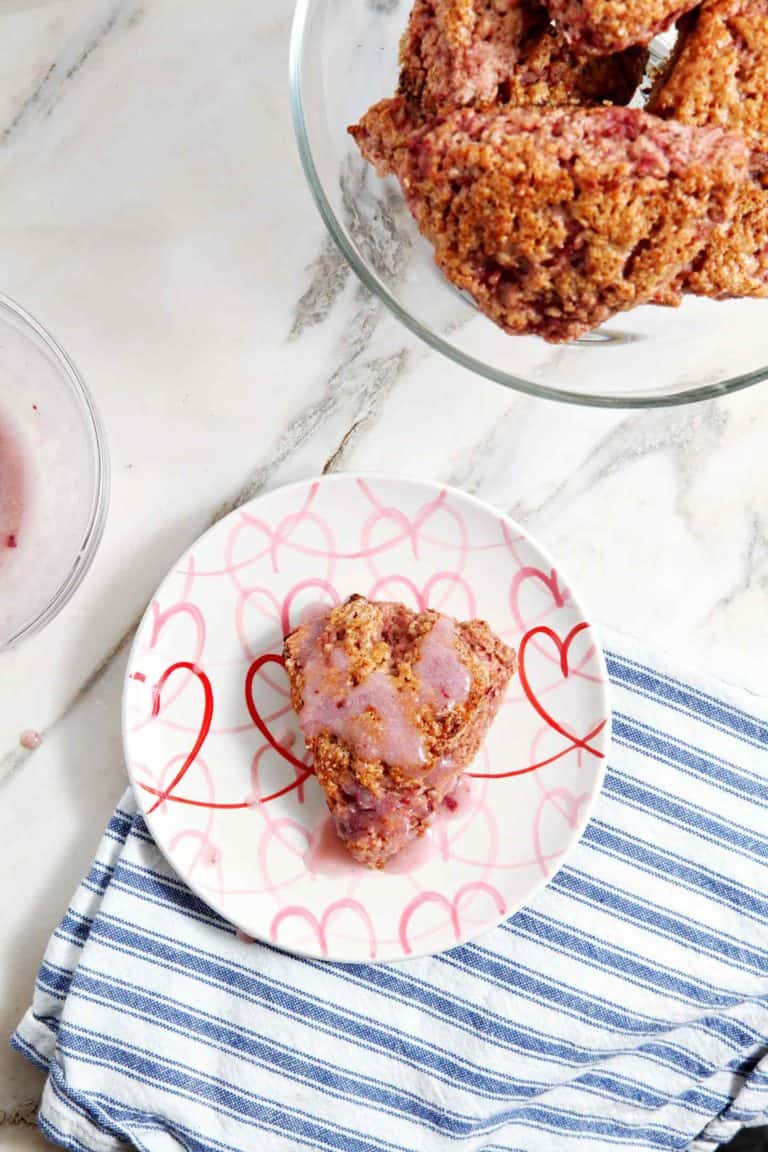 Fresh Strawberry Scones
Strawberry Scones, featuring fresh strawberries, are bursting with strawberry flavor, thanks to a secret strawberry ingredient! These scones, which are the perfect centerpiece to any homemade weekend brunch, are buttery, flavorful and disappear in no time.
Ingredients
Scones
2 1/2

cups

unbleached all-purpose flour

1/2

cup

unsweetened freeze-dried strawberries

, pulverized

3/4

cup

granulated sugar

2

teaspoons

baking powder

1/4

teaspoon

kosher salt

6

tablespoons

unsalted butter

, cut into 1/4" squares, cold

1 1/4

cup

fresh strawberries

, sliced

1

egg

, beaten

1

teaspoon

pure vanilla extract

2

tablespoons

milk

(dairy or non-dairy OK)

1

egg

, for egg wash

2

tablespoons

turbinado sugar

, for sprinkling
Instructions
Preheat the oven to 425°F. Line a baking sheet with parchment paper.

In a large bowl, combine the flour, freeze-dried strawberries, sugar, baking powder and salt.

With a pastry cutter, cut the cold, sliced butter into the flour mixture. Once this is complete, the mix will be coarse crumbles and look a little like wet sand.

Gently fold the berries into the dough.

In a smaller bowl, combine the beaten egg, vanilla and milk, then mix well.

Pour the wet ingredients into the dry ingredients. Stir until just combined. Do not overmix.

Turn the dough out onto a floured surface, and gently knead the dough, being careful of the berries.

Roll the dough into a rectangle that is about 1½" thick.

Cut the rectangle in half, length-wise, then make triangle wedges into each side.

Transfer the wedges to a prepared baking sheet; brush the tops with the additional egg, then sprinkle the raw sugar on top of them.

Pop the baking sheet into the freezer for 15 minutes.

When the scones are cold, transfer to the preheated 425°F oven, and bake for 20 minutes, or until browned on top.

While the scones bake, prepare the glaze in a small bowl, combining all the ingredients and whisking together until smooth. Set aside.

When the scones are baked and have cooled slightly, drizzle with the glaze, and enjoy immediately.
Nutrition Facts
Fresh Strawberry Scones
Amount Per Serving (1 scone)
Calories 212
Calories from Fat 45
% Daily Value*
Total Fat 5g 8%
Cholesterol 32mg 11%
Sodium 47mg 2%
Potassium 212mg 6%
Total Carbohydrates 38g 13%
Protein 2g 4%
* Percent Daily Values are based on a 2000 calorie diet.
What is your favorite summer fruit?
Have you spent a ton of time on a recipe like this? Did you finally perfect it?