Fresh Cherry Bread makes the PERFECT breakfast or sweet treat in the summertime! Easy to make and prepare, this dairy free quick bread is destined to become a classic. Makes 1 loaf.
Love quick summertime baked goods like this cherry bread? Be sure to check out Lemon Blueberry Bread, Blackberry Peach Hand Pies and Fresh Strawberry Scones.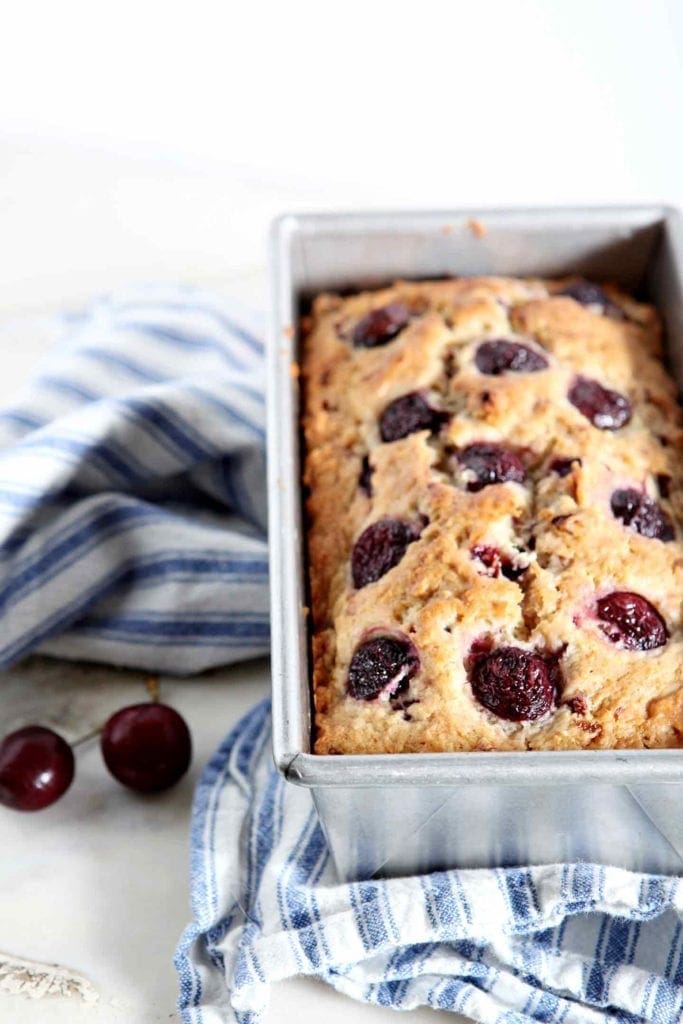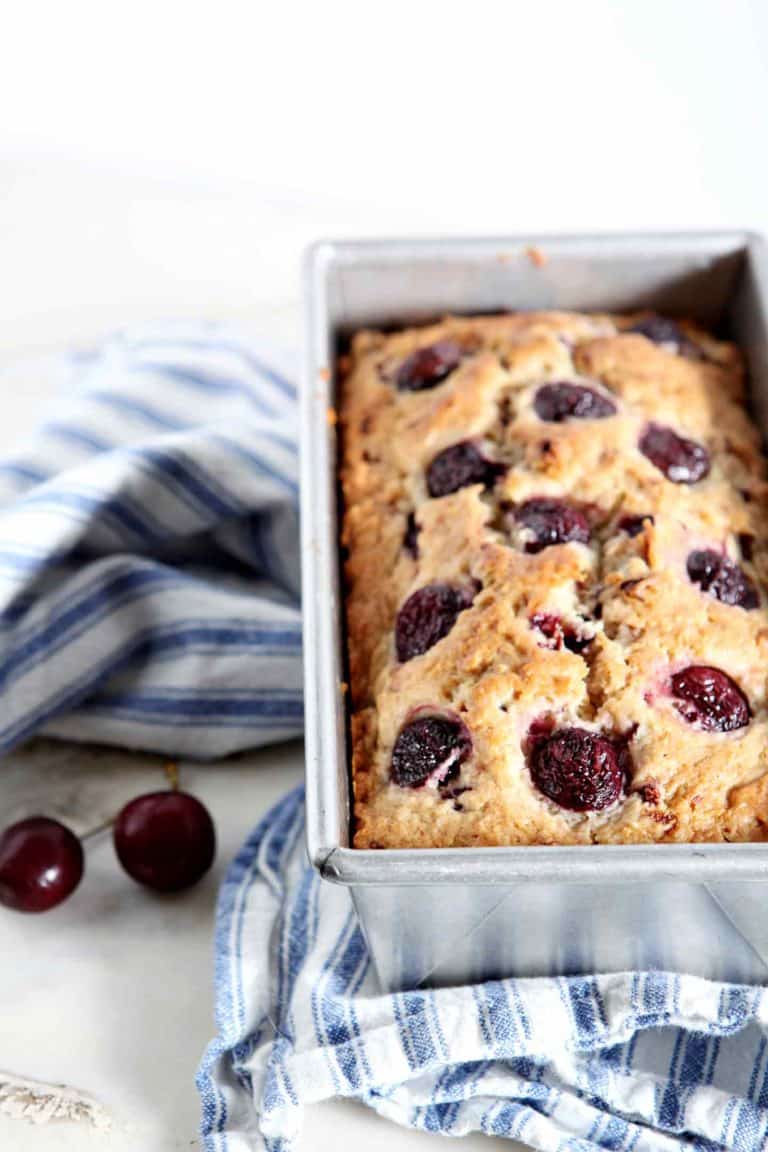 The photos and recipe for this Fresh Cherry Quick Bread were originally published on July 5, 2017. The images and text were updated and republished on August 3, 2020.
I never ate a fresh cherry until last summer, and it was all out of laziness.
I know. My laziness knows no bounds.
Let's be real: Pitting cherries is a time-consuming task, and it's messy to boot.
Since I love lots of other fruits, I just never took the time to give fresh cherries a go. After all, my favorite fruits require little-to-no hands on time, and I like it that way. #lazy
In fact, the only reason I tried cherries last summer was because my friend was pitting them for our children. (Because she's the good friend in this crowd.) And if Lady A is going to eat something, I want to know what it tastes like, too.
Once I bit into it, I knew I'd made a mistake in never trying fresh cherries before, and I quickly went about remedying that.
Other cherry recipes we love in the summertime: Cherry Bourbon Slush / Cherry Overnight Oats / Cherry Lemonade Margaritas / Mini White Chocolate-Cherry Bundt Cakes (Instant Pot Cake) / Honeysuckle Cherry Smash / Dr Pepper® Cherry Cupcakes with Grenadine Whipped Cream
Want more warm weather food inspiration? Check out my Summer Recipe Index.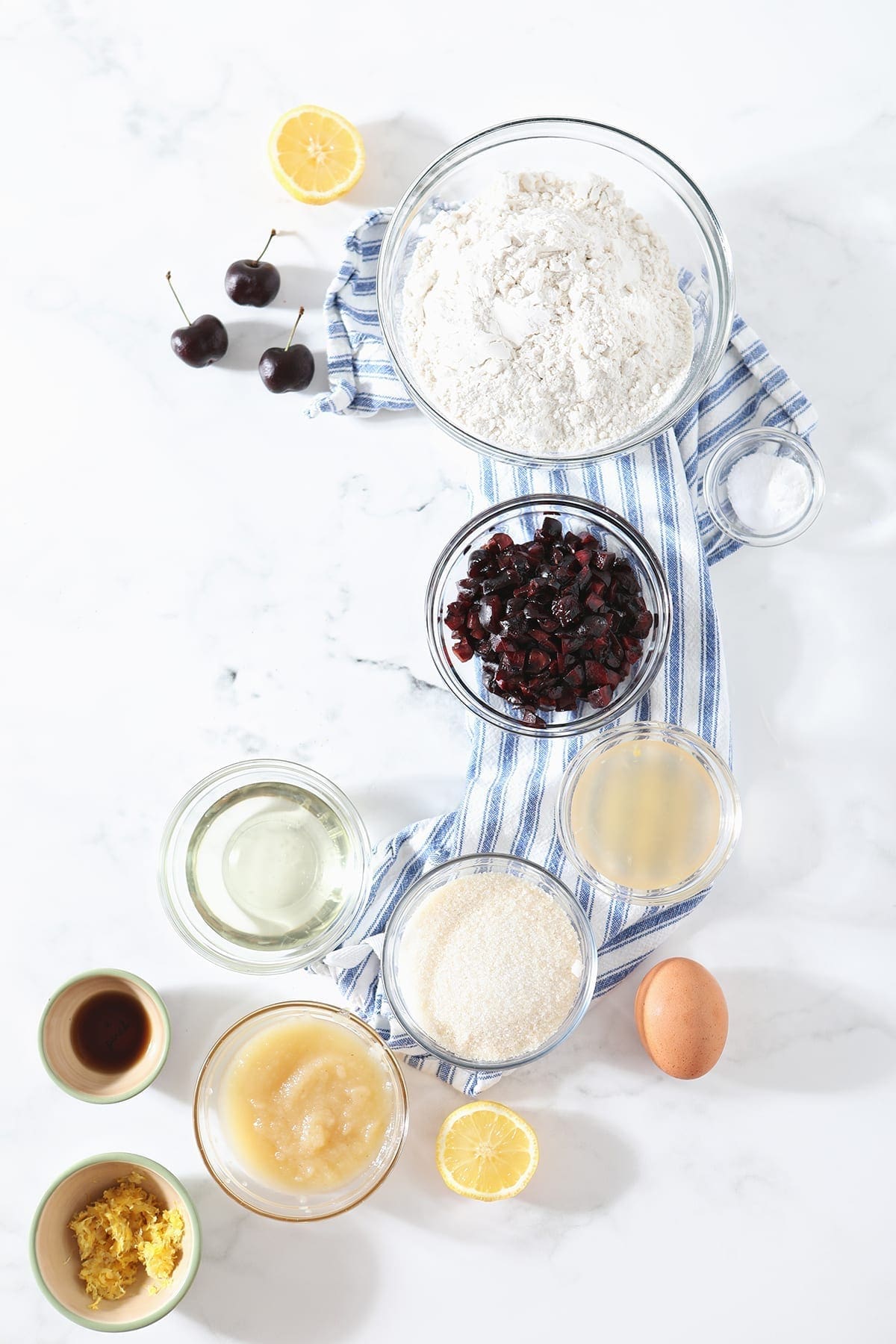 Fresh Quick Cherry Bread Essentials
The Speckled Palate participates in affiliate programs. As an Amazon Associate, I earn a commission from qualifying purchases. Please refer to my disclosure page for more information about these affiliate programs.
Let's talk ingredients!
In addition to the tools above, you're going to need some ingredients to make this recipe, too! Chances are, you might already have some of them in your fridge or pantry. Scroll down to the recipe card for the full measurements and instructions.
Here's what you need:
Fresh cherries — probably around half a pound to get the ¾ cup needed for the recipe, but I always err on the side of having too many. If you have extra, you can learn How to Freeze Cherries.
All-purpose flour — we keep unbleached flour in our house, but you can use the regular kind, too.
Baking powder and baking soda — these ingredients are going to give your bread its rise. Make sure yours are fresh.
A pinch of salt — medium-grain kosher salt is my go-to.
Coconut oil — or another light, unflavored oil. You can also use unsalted melted butter in its place.
Graulated sugar — also known as white sugar, this is our sweetener.
Egg — this provides some structure, as well as helps with the rise of the bread. There is no substitute.
Vanilla extract — the real stuff, please and thank you
Unsweetened applesauce — if you're not an applesauce fan, you can replace this with the same amount of oil or melted butter. I like how the applesauce keeps this bread light and fluffy while also wonderfully moist.
Lemons — we need them for both their juice and zest.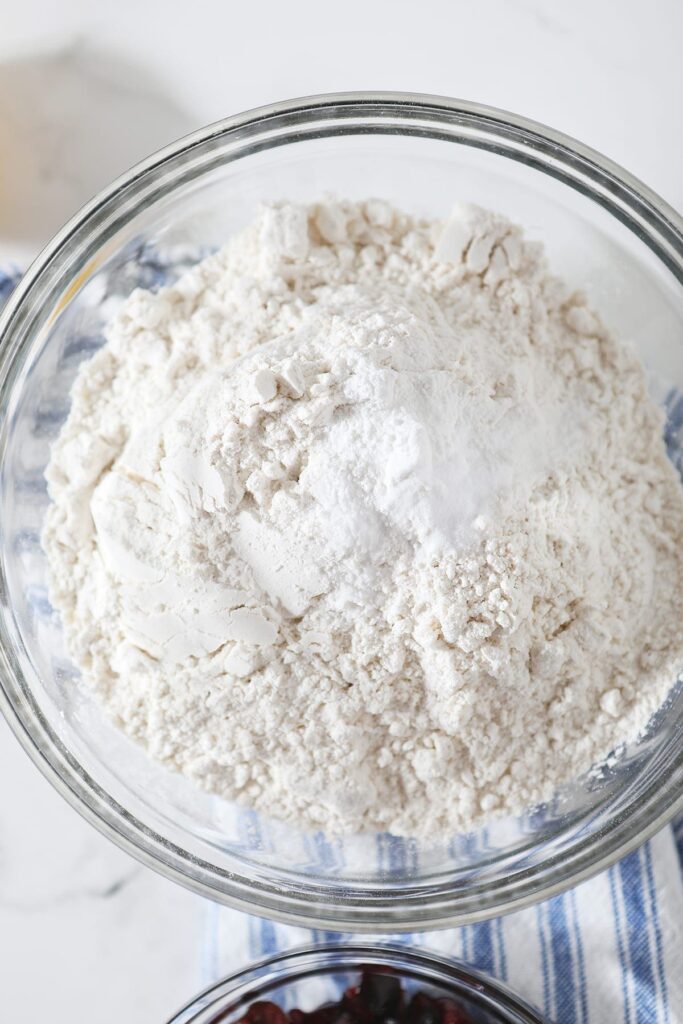 How to make Fresh Cherry Bread
Preheat the oven, and spray a loaf pan with nonstick baking spray. If you want to do this without the baking spray, you can line your loaf pan in parchment paper. It's kind of a pain, but it can be done!
If you haven't already, pit and dice the cherries. Place 'em in a bowl.
In another bowl, combine the dry ingredients. This means you're throwing in the flour, baking powder, baking soda and kosher salt. Whisk 'em together, and set aside.
Sorry, I know we're using a lot of bowls. I promise it's worth the hassle.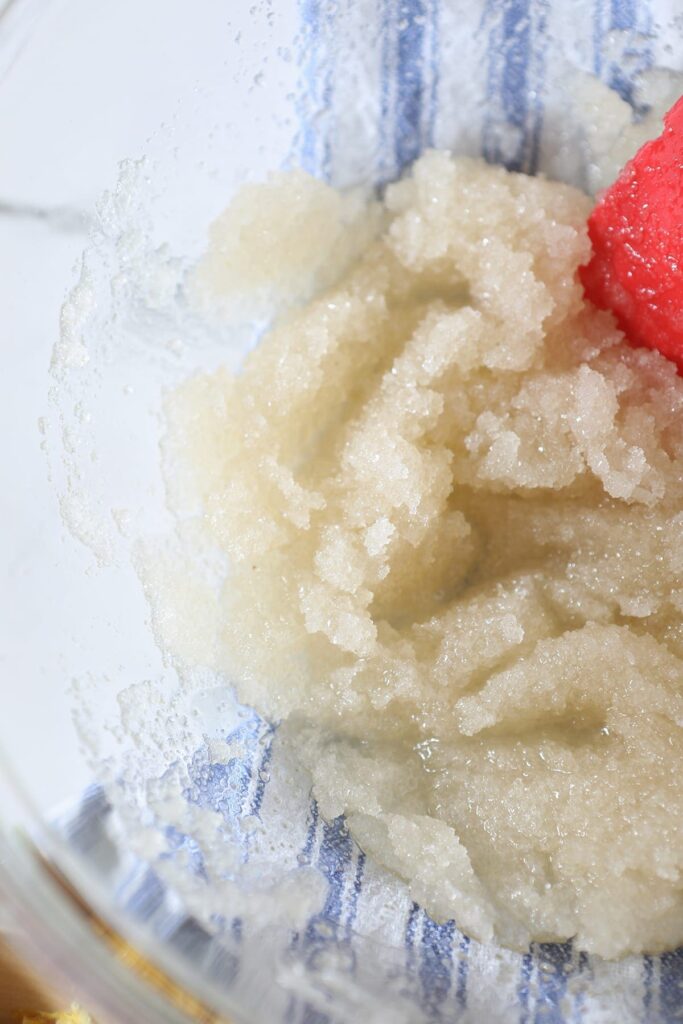 In another glass bowl, measure out the melted coconut oil and granulated sugar for the quick bread. Using a hand mixer or a rubber spatula, cream them together.
What does it mean to cream oil and sugar together? This is a method where you essentially mix the oil and sugar together really well. They'll look light and fluffy once you've finished.
Once the oil and sugar have been combined, add the egg. Beat the egg into the mixture until just incorporated, and then drizzle in the vanilla and applesauce.
Mix 'em some more, then in goes the lemon zest and lemon juice. Blend them together until smooth.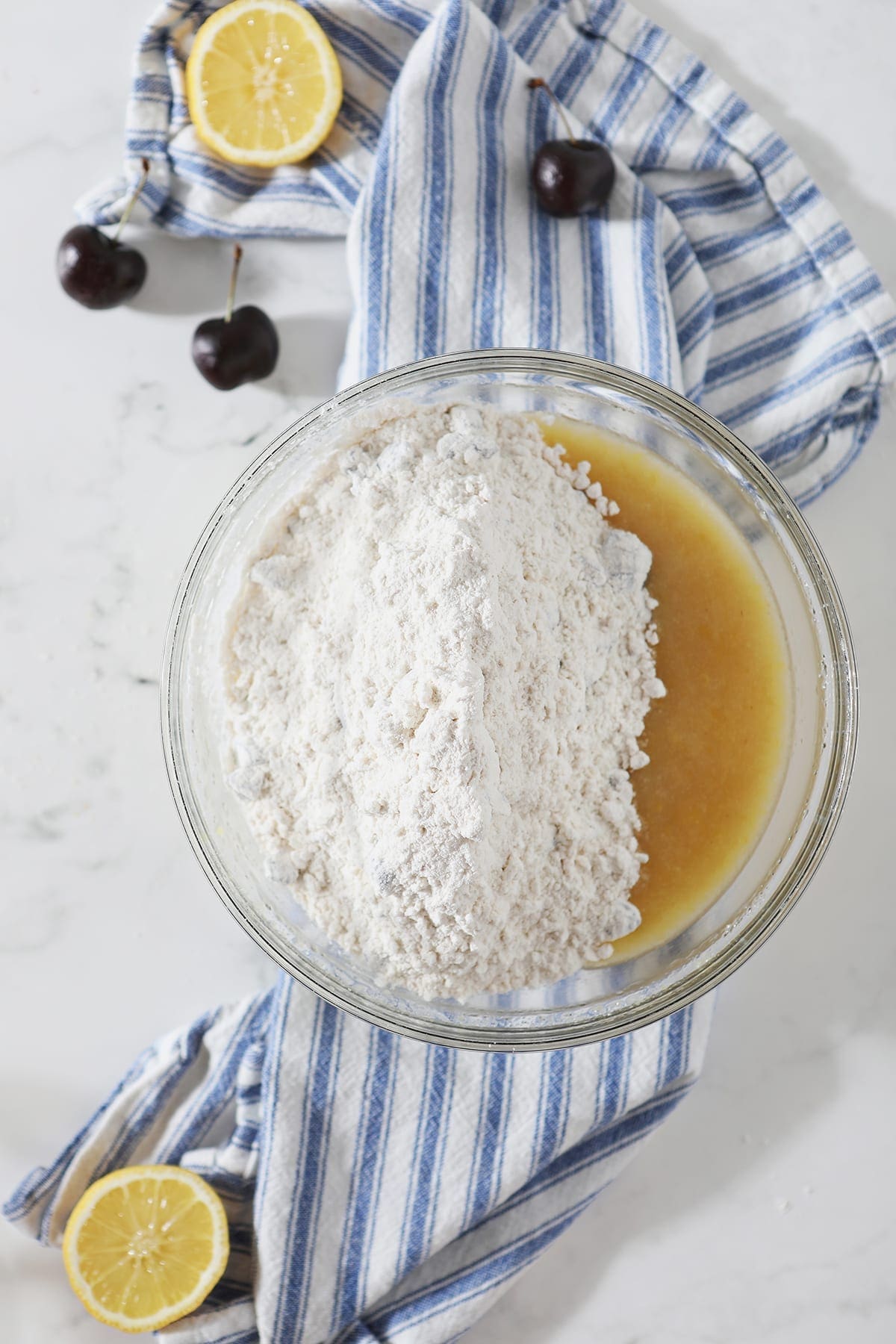 Now, it's time for the cherries to go into the dry ingredients. Stir until the cherries are coated so they don't all sink to the bottom of your baking dish.
Pour the dry ingredients into the wet ingredients. Use a rubber spatula to stir until they're just combined.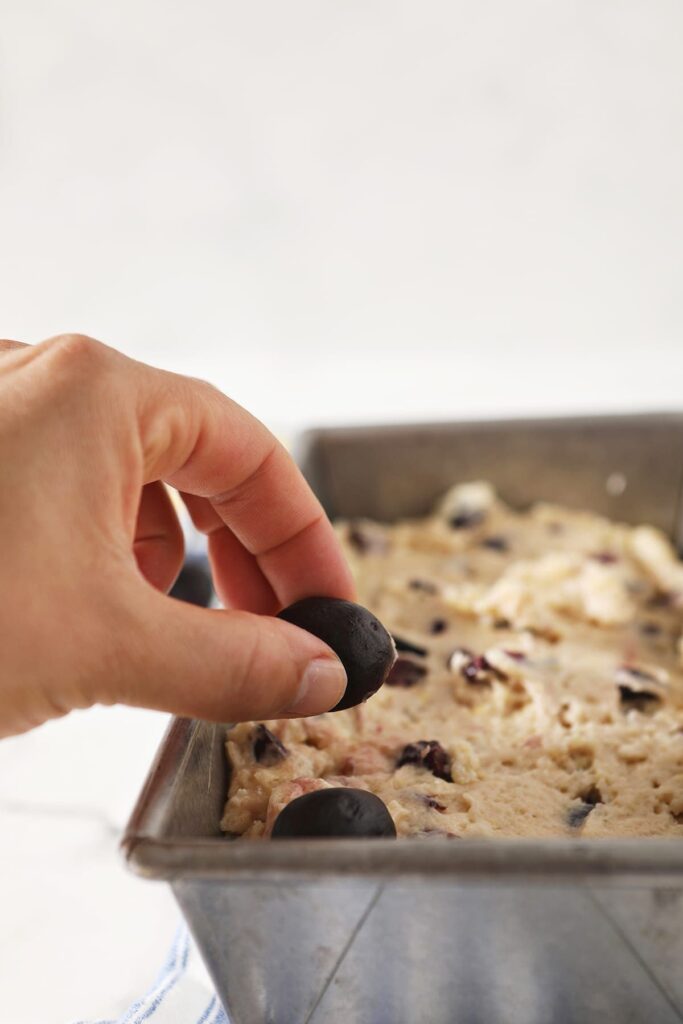 Once the batter is together, pour it into the prepared loaf pan.
Decorate the top with additional halved cherries before transferring to the oven.

Bake for 50-60 minutes, or until an inserted toothpick comes out clean.
Once out of the oven, let the loaf cool before slicing and enjoying!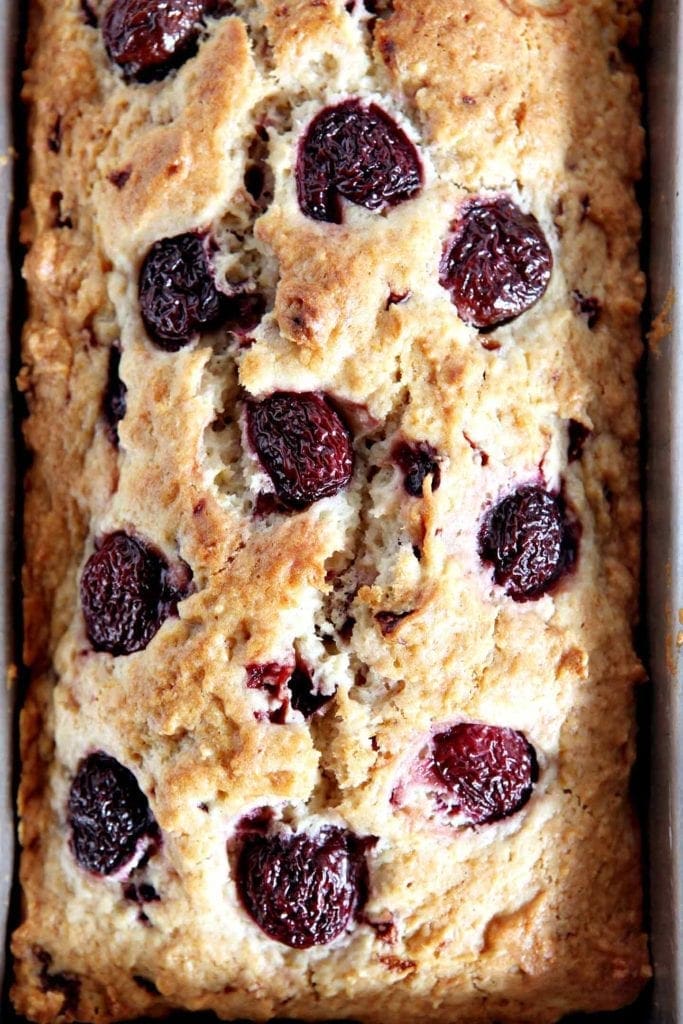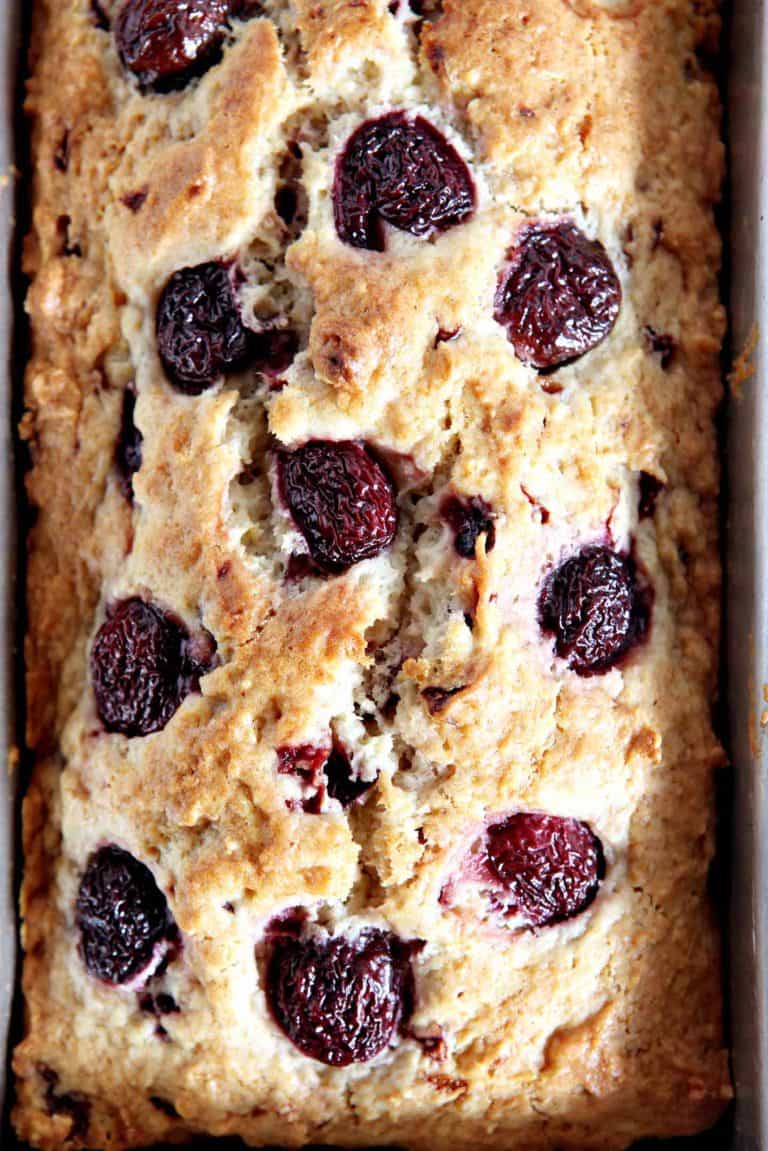 Erin's Easy Entertaining Tips
Fresh Cherry Bread is what summertime breakfast (and brunch) dreams are made of! This easy peasy bread is a wonderful baked good to share with others.
It's been the centerpiece of more than one at-home brunch of ours, and I suggest making it for yourself, too!
Here are some things you can do when using this quick bread recipe as an entertaining centerpiece:
Bake the bread in advance. If you're hosting folks relatively early in the morning, make the bread the night before. Before it's time to eat, slice the bread and toast in your toaster oven.
Double the recipe for a crowd! You'll need two loaf pans to make this happen if you want them to bake at the same time.
Serve it with a Mimosa Bar and other tasty brunch items, like this Brunch Salad, Fresh Fruit Salad, Everything but the Kitchen Sink Breakfast Casserole and more!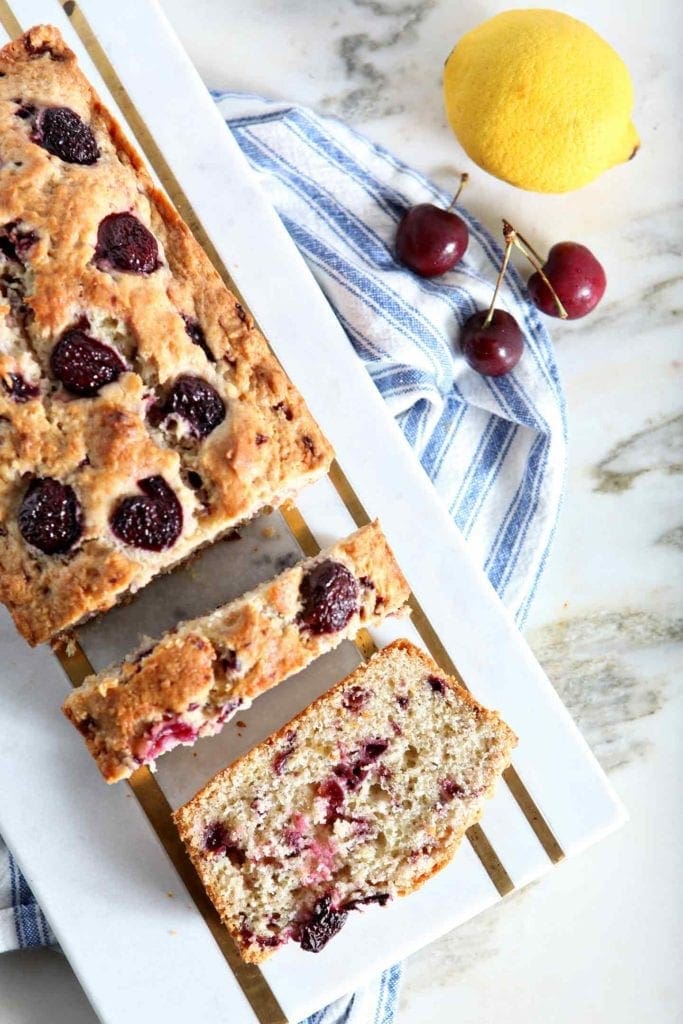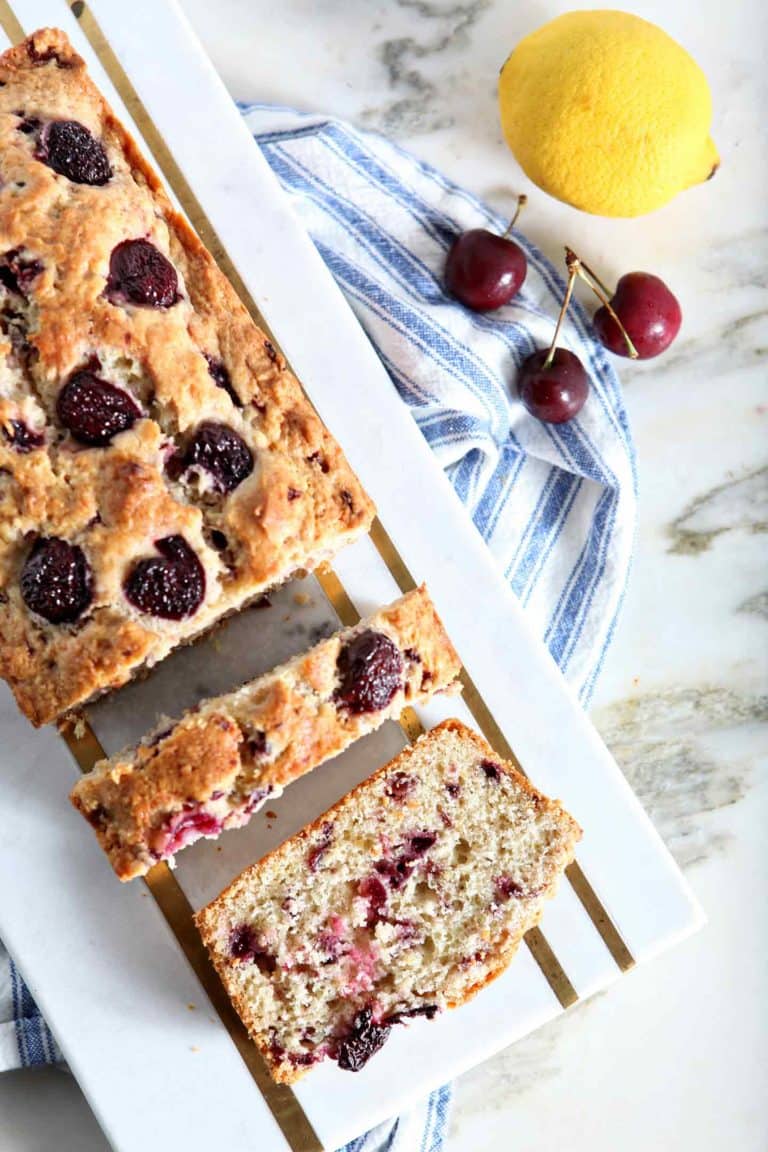 Frequently Asked Questions
Why should you try this fruit bread recipe?
The fresh cherries add a brightness to this quick bread and a lovely sweetness without being saccharine. And that's a win in my book.

Lemon zest and juice add gorgeous, acidic notes, balancing out the natural sweetness of the cherries beautifully.

And this bread? It's fluffy and light as all get out. The crust that forms on the outside has the loveliest crunch and mouth feel.

I want to eat this daily for breakfast. Honestly, that's something we should ALL do since it's cherry season!
What's the easiest way to pit cherries?
Cherries, as previously mentioned, are a hassle to pit and prepare. However, they're worth the hassle!

A cherry pitter will make your life a lot easier if you make lots of dishes with cherries during the summer months.
Why do you use applesauce in your recipe?
I use applesauce to add a little bit more moisture without adding additional fat. This is something I started doing years ago in an attempt to cut some of the fat out of recipes that seemed a little too decadent. (It tends to work well for baked goods, in my experience, so long as you don't replace all the fat with applesauce!)

That said, if you'd rather use oil in place of the applesauce or don't have applesauce on hand, you can, and there shouldn't be much of a difference in the final texture or flavor.
I don't like the taste of coconut oil. What can I use in its place?
Coconut oil can give the bread a slight coconut taste. If that's not your jam, you can use canola or vegetable oil instead.

If you're not dairy free or serving people who eat a dairy free diet, you can substitute butter in its place, too.
Can I use another stone fruit in this recipe?
I think another stone fruit like a nectarine or a peach would work beautifully in place of the cherries in this recipe, though I have not tried it. Nectarines and peaches are more soft than cherries, so it might change the texture of the bread.
Can I use dried cherries in this bread?
I would assume those would work, though I have not tried them in this recipe.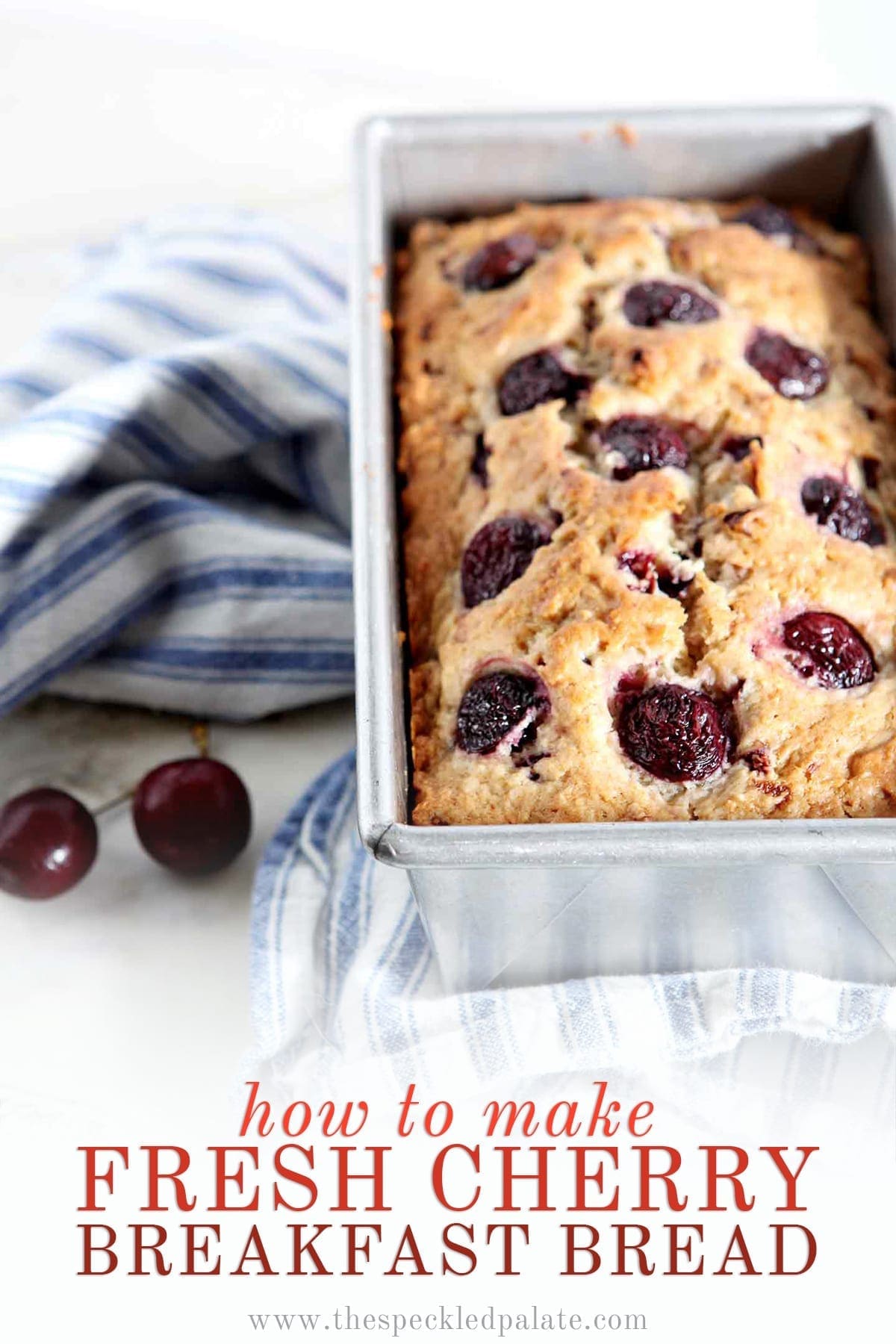 Now who's ready for a slice or two of this fresh cherry bread?
Scroll on down to learn how you can make it for yourself!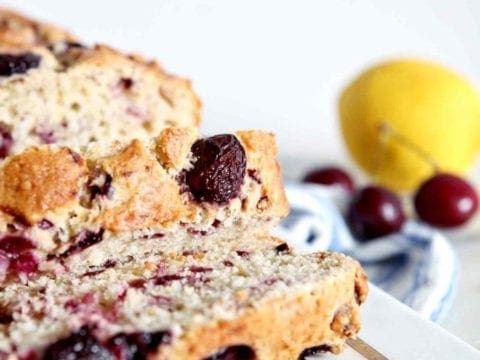 Yield:

1 loaf bread
Fresh Cherry Quick Bread
Total Time:
1 hour
30 minutes
Fresh Cherry Quick Bread makes the PERFECT breakfast or sweet treat in the summertime! Easy to make and prepare, this quick bread is destined to become a classic recipe. The pitted, fresh cherries are highlighted and balanced with lemon zest and freshly squeezed lemon juice. Between the crunchy crust, the bread's fluffy texture and the cherry-lemon flavors that sing inside the baked good, Fresh Cherry Quick Bread is sure to become a new favorite!
Ingredients
¾ cup cherries, plus extra halves for the top of the bread
1 ¾ cup unbleached all-purpose flour
½ teaspoon baking powder
¼ teaspoon baking soda
¼ teaspoon kosher salt
¼ cup coconut oil, melted and cooled slightly (can use the same amount of any other flavorless oil)
½ cup granulated sugar
1 egg
1 teaspoon vanilla extract
¼ cup applesauce (unsweetened, if possible)
1 lemon, zested (about 1 tablespoon zest)
3 tablespoons freshly squeezed lemon juice, from 1-2 lemons
Instructions
Preheat the oven to 375°F. Spray a loaf pan with nonstick baking spray, then set aside.
Pit and dice the cherries, then place in a glass bowl. Set aside. Make sure to have a few cherry halves to place on top of the bread before it bakes as a garnish.
In a large glass bowl, combine the flour, baking powder, baking soda and kosher salt. Whisk together until combined, then set aside.
In another large glass bowl, cream together the melted coconut oil and granulated sugar using a hand mixer.
Once the coconut oil and sugar are a smooth mixture, crack the egg into the mixture.
Pour in the vanilla and applesauce to the wet ingredients, too. Beat with the hand mixer until combined.
Add the lemon zest and freshly squeezed lemon juice, and mix with the hand mixer until combined.
Toss the pitted and diced cherries in the dry ingredients.
Pour the wet ingredients into the dry ingredients, gently stirring with a rubber spatula until just combined.
Carefully pour the batter into the prepared loaf pan. Use the additional halved cherry to decorate the top of the loaf, then transfer to the oven.
Bake at 375°F for 45-55 minutes, or until an inserted toothpick comes out clean.
Let the loaf cool for 15-30 minutes, then remove it from the loaf pan, and slice.
Enjoy at room temperature or toasted!
Notes
Adapted from my Dark Chocolate Chunk Muffins.
Acceptable substitutions:
Applesauce: You can use the same amount of mashed banana in place of applesauce if you don't have it on hand.
Coconut oil: Any unflavored oil would work here. You can also use melted unsalted butter, too.
Recommended Products
As an Amazon Associate and member of other affiliate programs, I earn from qualifying purchases.
Nutrition Information:
Yield:
10 slices
Serving Size:
1 slice
Amount Per Serving:
Calories:

194
Total Fat:

6g
Saturated Fat:

5g
Trans Fat:

0g
Unsaturated Fat:

1g
Cholesterol:

19mg
Sodium:

132mg
Carbohydrates:

31g
Fiber:

1g
Sugar:

12g
Protein:

3g
Nutrition facts are an estimate and not guaranteed to be accurate.
Do you like fresh cherries?
Would you like a slice of this lemony, cherry-y quick bread?