Start your morning with vegan, naturally sweetened Cherry Overnight Oats! These overnight oats, which call for SIX ingredients, make a delicious breakfast for all.
Overnight oats fan? Don't miss Strawberry Overnight Oats and Peach Overnight Oats!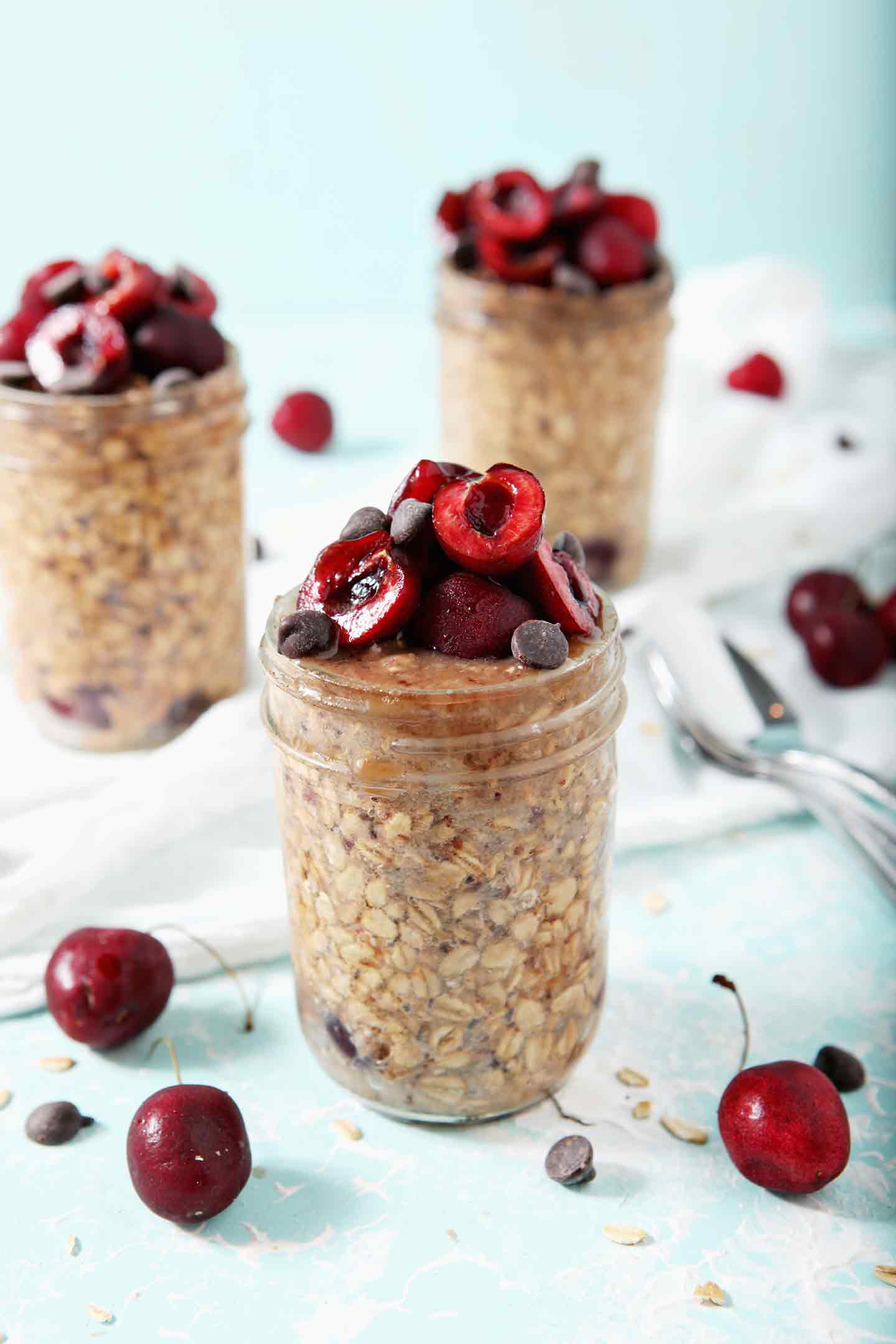 A typical breakfast at my house is an unsweetened cashew milk-blueberry-spinach-cocoa powder-rolled oat-maple smoothie.
But some mornings, you want something different than the same old-same old.
Sometimes, you gotta pull out the big guns… assuming you thought about it the night ahead and prepped.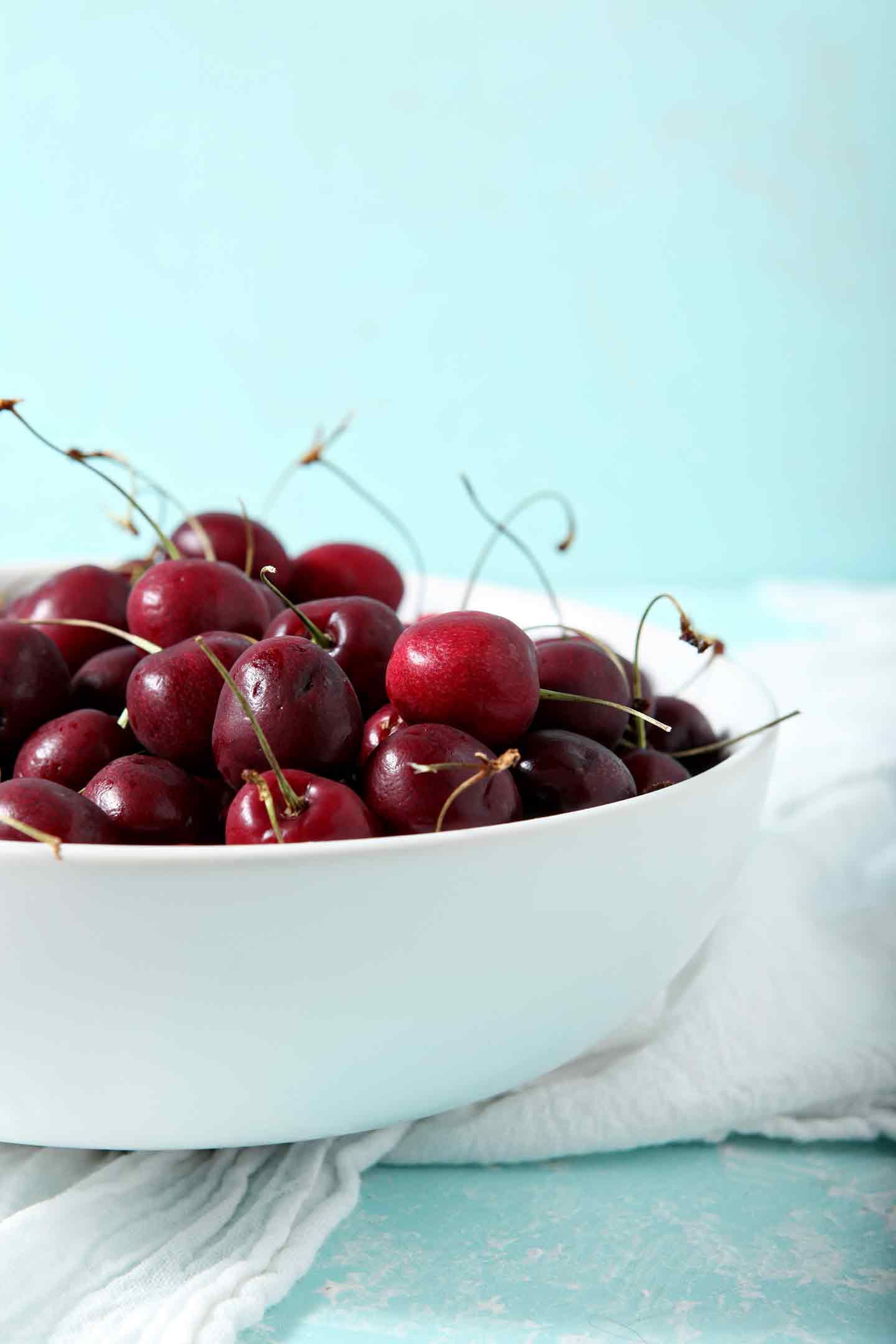 The big guns, of course, are overnight oats.
Have you tried them before?
They're a family favorite, adored by me, my husband and our 3-year-old, and they're sooooooo simple to put together.
That's a winning combination in my book!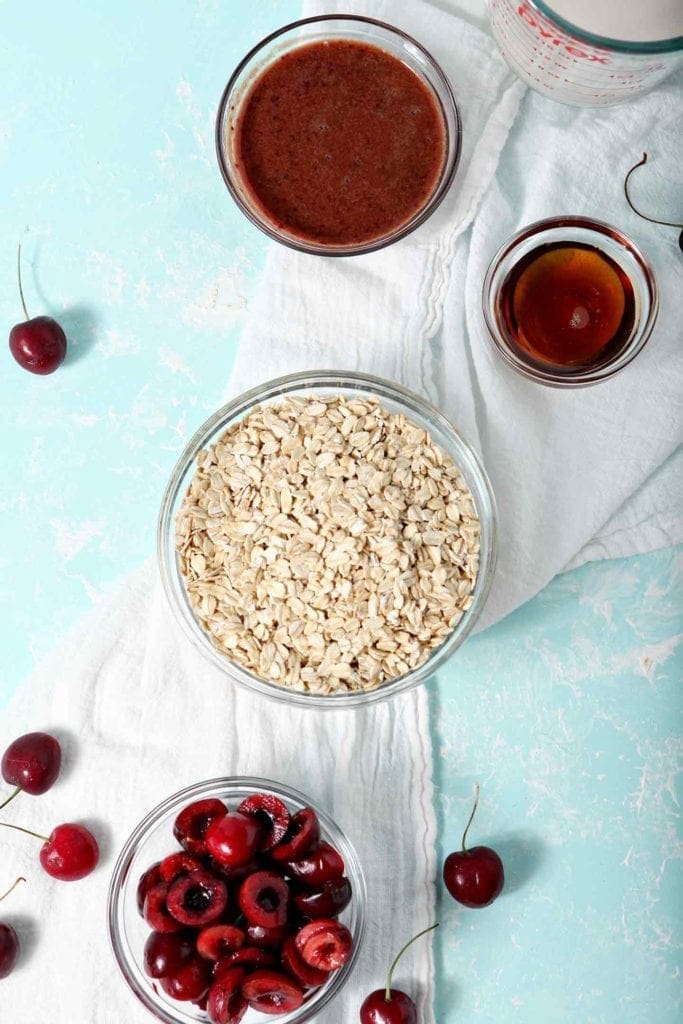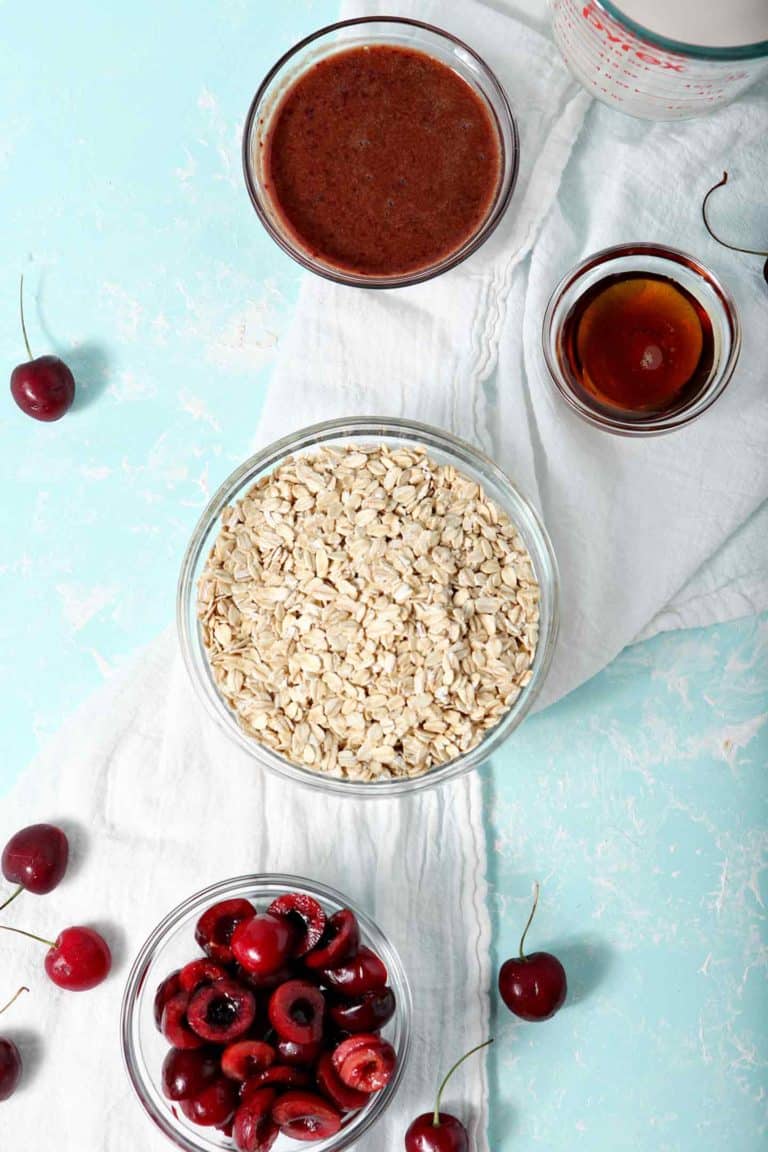 Since it's the summertime and fresh cherries are everywhere, I obviously harvested some of those beauties and threw them into this recipe.
The end result is a perfectly sweet-tart breakfast that can be eaten at the table, in the car or at work. Wherever you consume them, they're delish.
Also, I added dark chocolate chips to the final product because who doesn't love chocolate in breakfast? (You can totally skip this if it's not your thing.)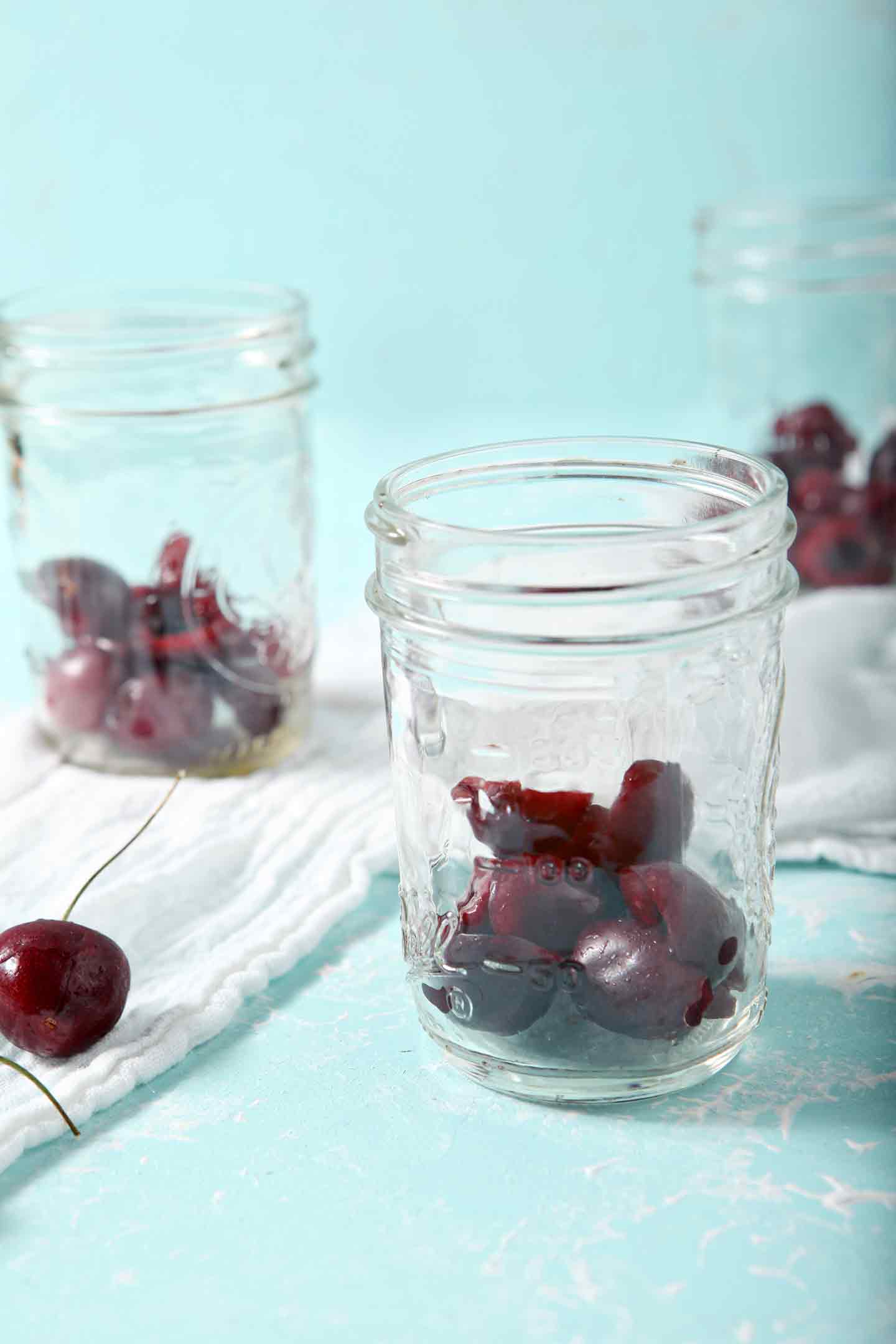 Can these overnight oats be made the morning of?
No.
You'll run into the problem of the oats being too hard and chewy to actually enjoy.
Make these the night ahead OR mix up a batch for the whole week on Sunday night, pop them in the fridge, then eat them throughout the week.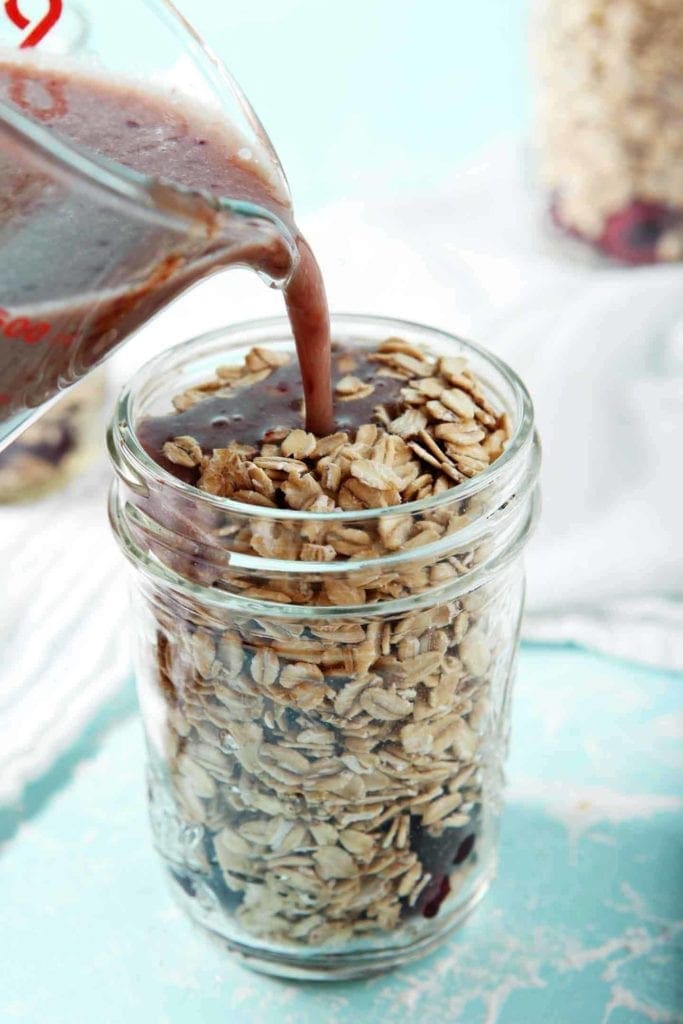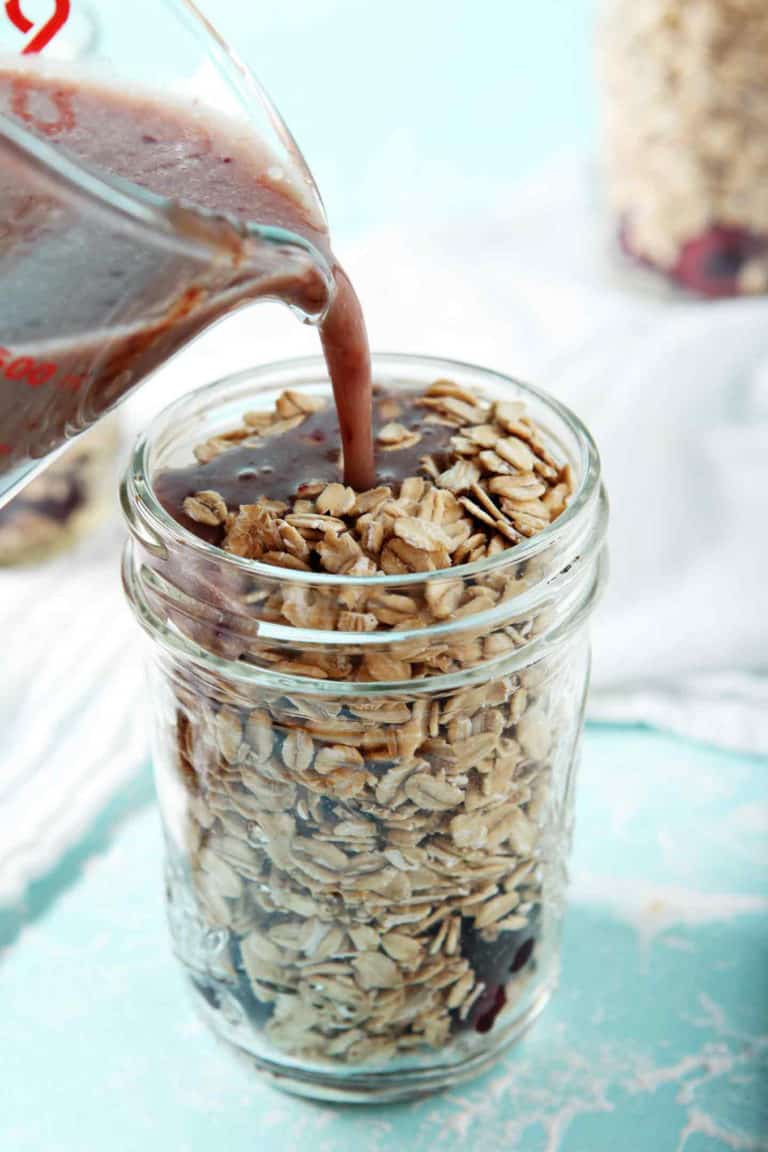 I'm not vegan, dairy free OR gluten free. Why should I try these overnight oats?
Short answer: They're freaking delicious!
Long answer: Overnight oats are an amazing way to start any morning because the oats are one of the healthiest grains on earth. They're heart healthy, among other health benefits. Also, I find that I don't get hungry as quickly if I have oats as a part of my breakfast.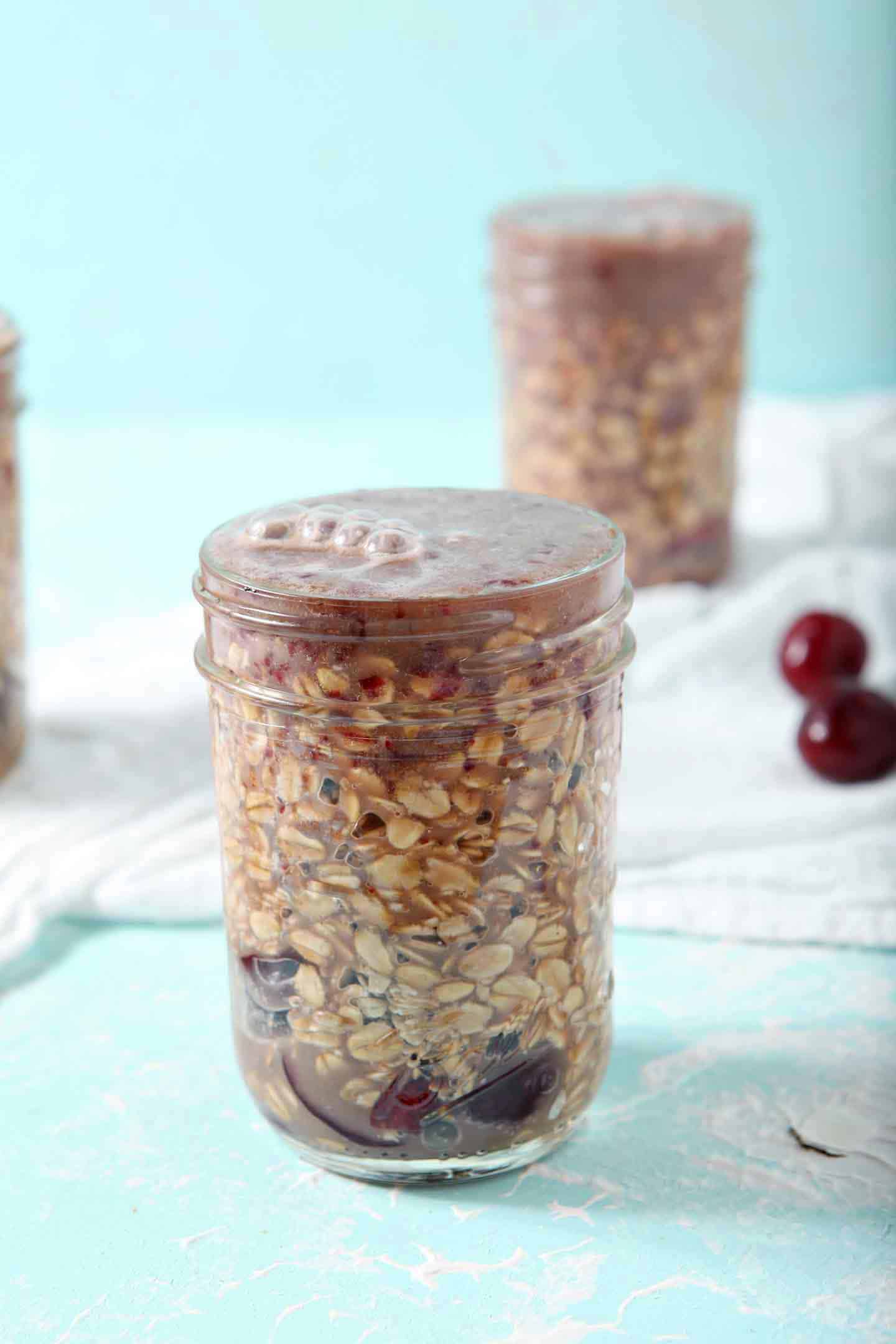 How can I customize these oats for myself?
Everyone's tastebuds are different, so you can definitely customize these.
If you're not vegan or dairy free, you can use regular milk.
If the cashew milk/cherry puree/maple syrup mixture isn't sweet enough, add a bit more maple. (Just use it sparingly because you don't want to over sweeten!)
If you're allergic to nuts, use nut-free milk. (Coconut milk, rice milk, dairy milk, etc.)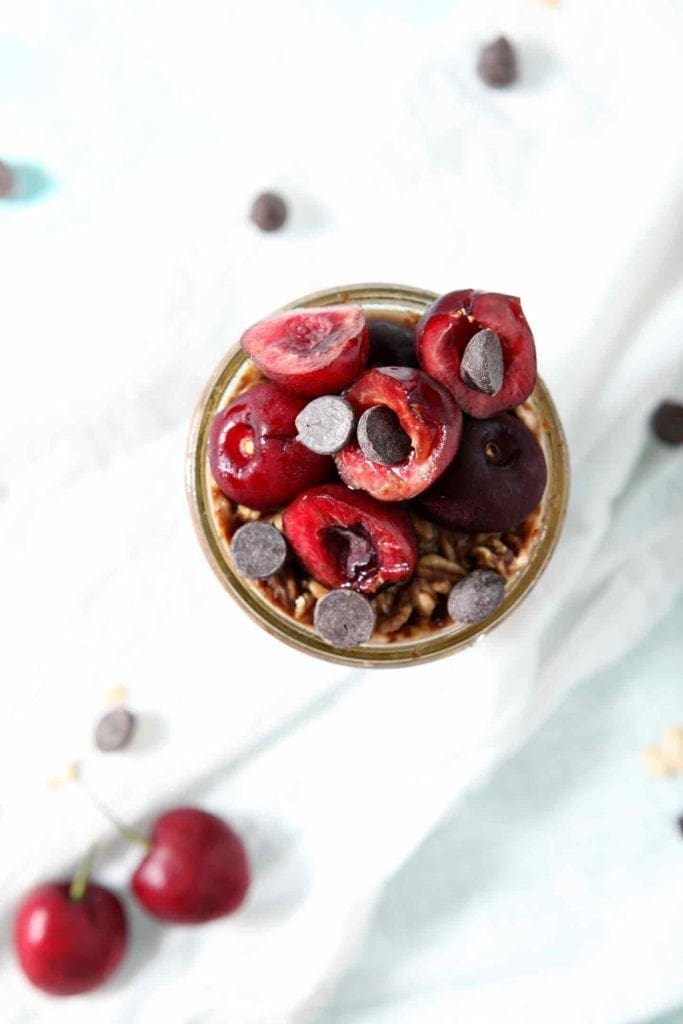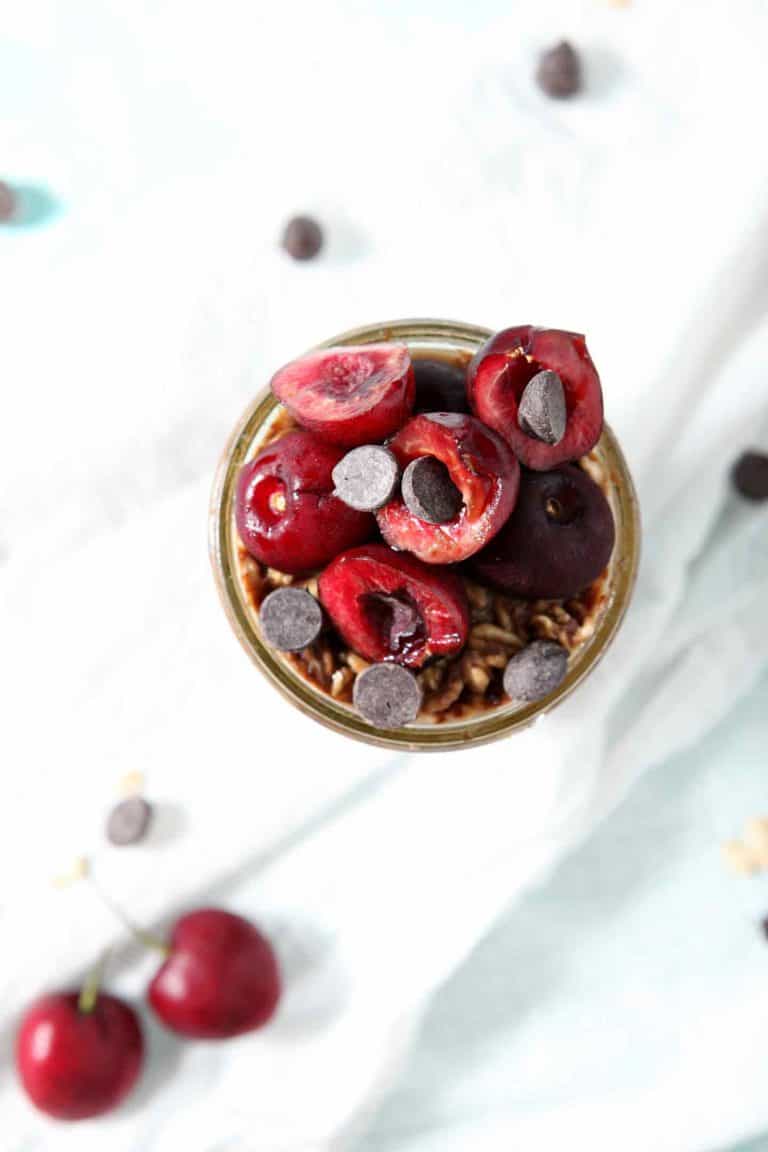 How long can these overnight oats last in the fridge until they turn to mush?
Ours lasted a week and were utterly delightful! I used the extra thick rolled oats * (affiliate link) because I love the texture those provide, and that made them last so long.
If you're using regular rolled oats, 2-3 days is your maximum limit.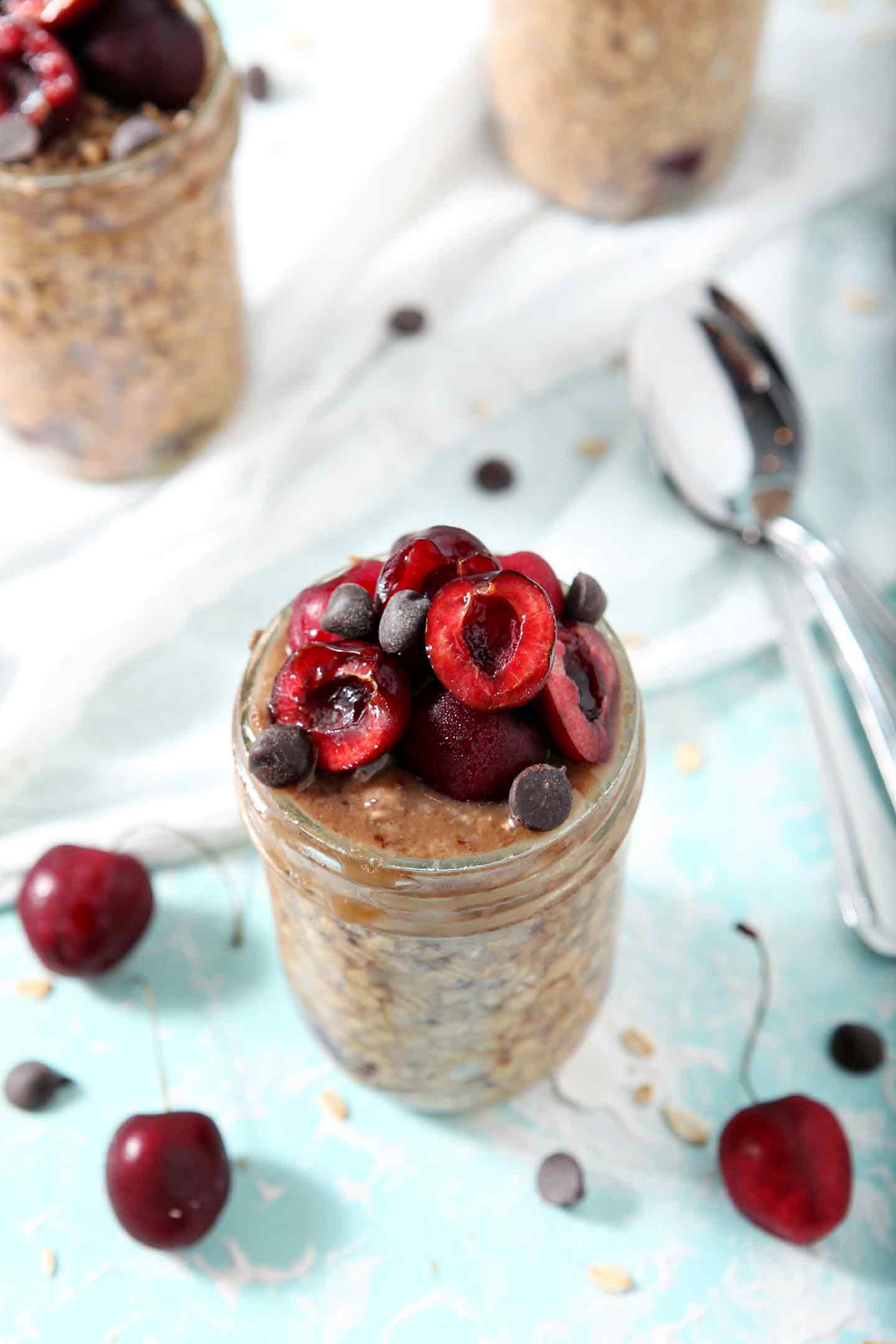 What do I need to make these Cherry Overnight Oats?
Disclaimer: The links below are affiliate links. If you click through and take action, I will receive a small commission. Please refer to my disclosure page for more information about the affiliate programs The Speckled Palate participates in.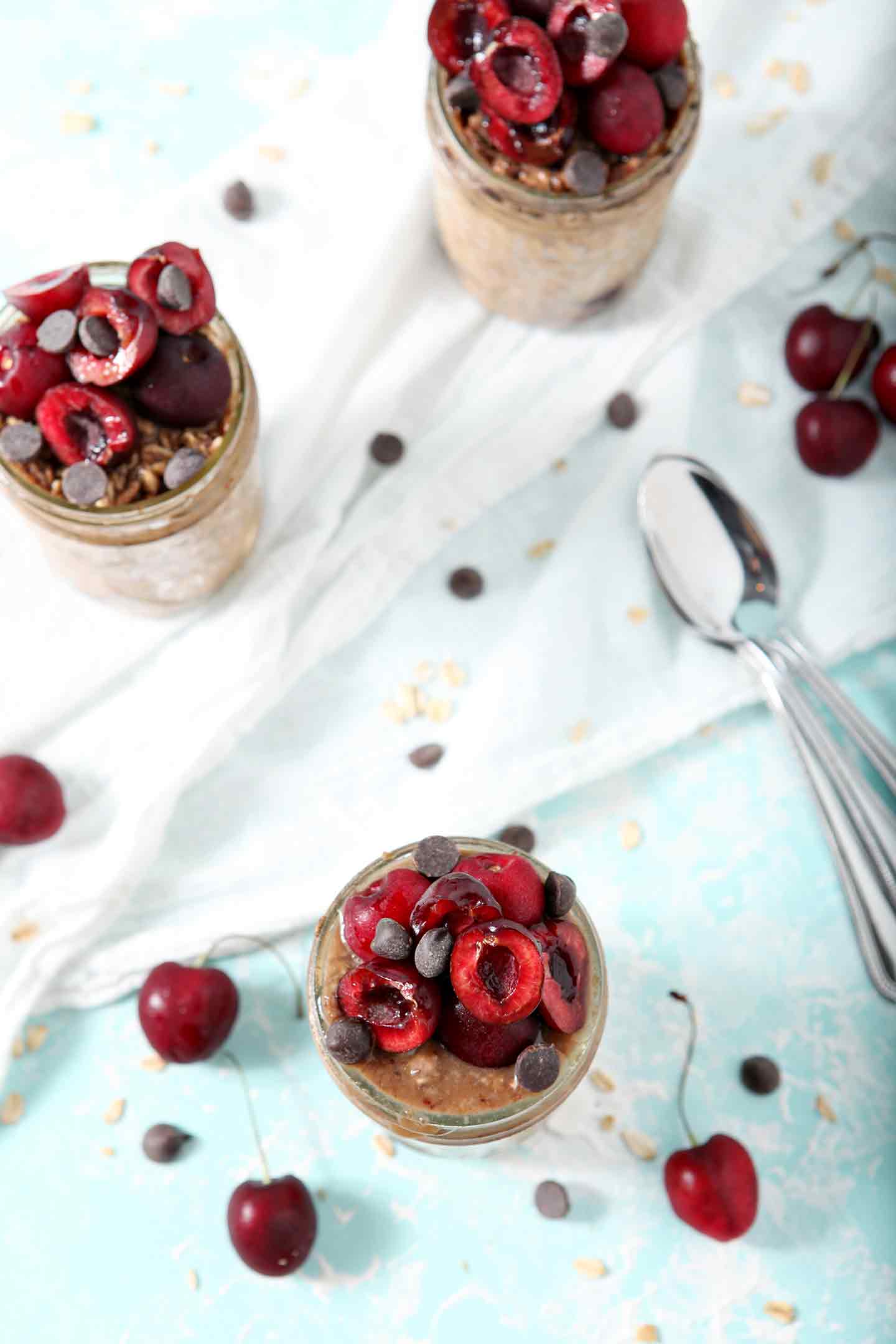 I'm not a cherry fan. What are some other overnight oat recipe I might enjoy instead?
If you're into cherries? You're gonna adore these sweet-tart overnight oats.
Scroll on down to learn how to make 'em…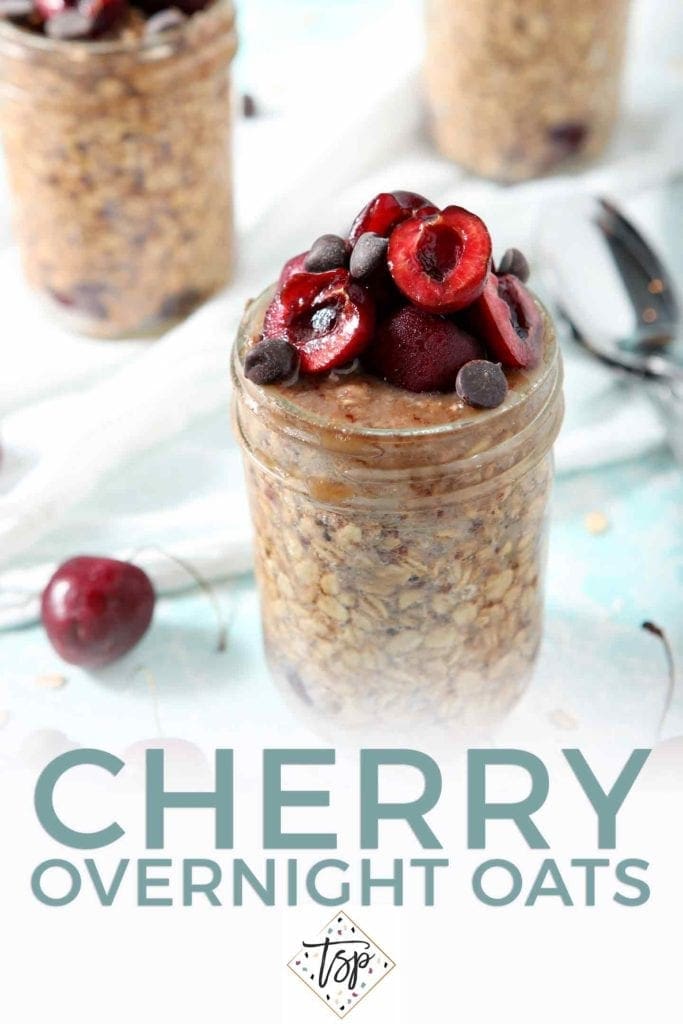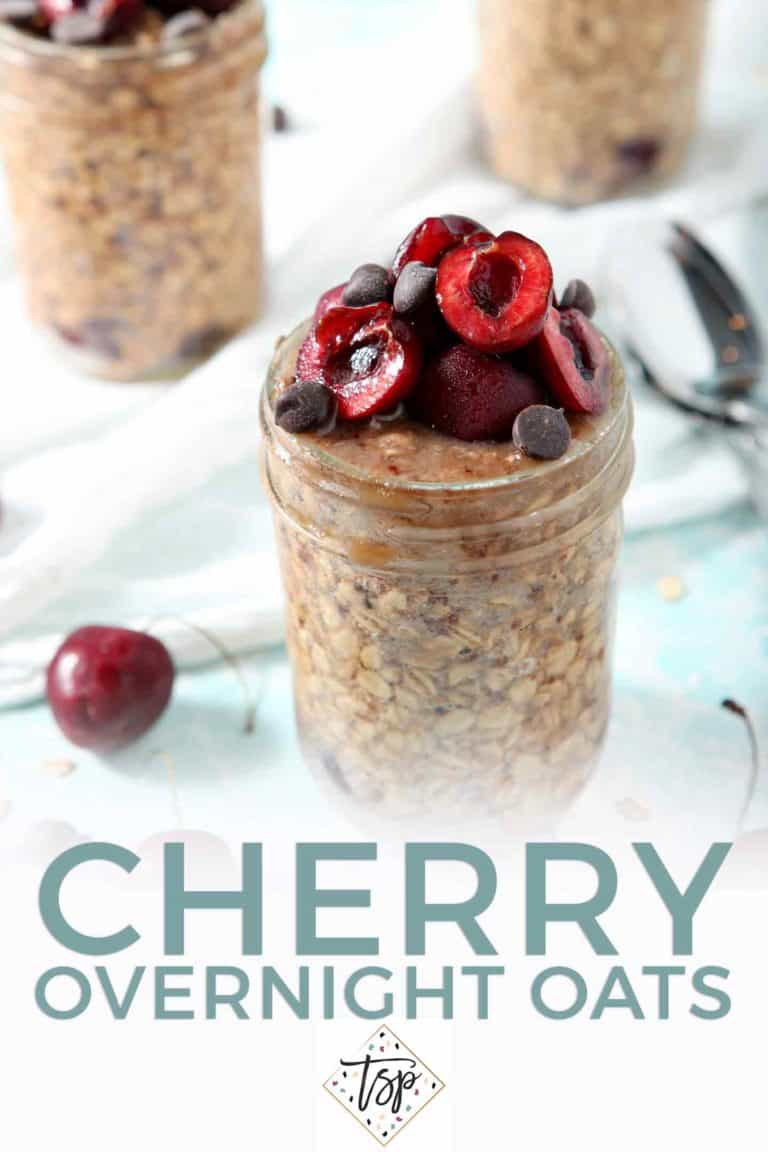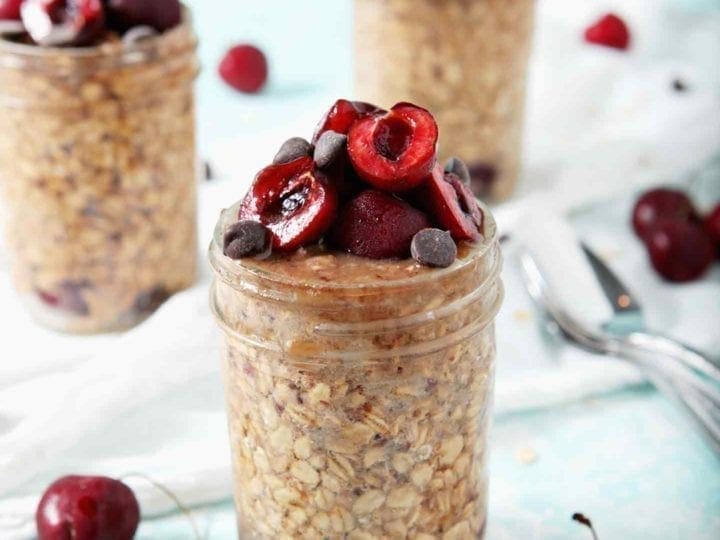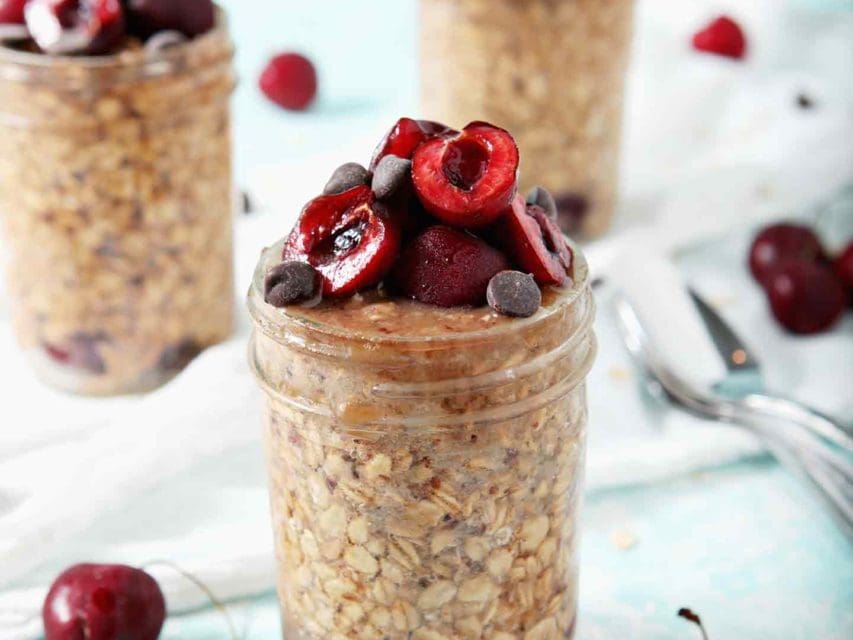 Yield:

3 servings (8 oz.)
Cherry Overnight Oats
Overnight Rest Time:
12 hours
Total Time:
12 hours
15 minutes
Start your morning with vegan, naturally sweetened Cherry Overnight Oats! These overnight oats, which call for SIX ingredients, make a delicious breakfast for all. Combine fresh cherries with non-dairy milk and maple syrup before pouring over thick cut rolled oats. Store 'em in the fridge overnight, then serve the next day with dark chocolate chips and additional cherries. The perfect summer breakfast, these Cherry Overnight Oats are a treat!
Ingredients
Overnight Oats
1 cup unsweetened cashew milk
½ cup cherry puree
2 tablespoons pure maple syrup
1 ½ cups rolled oats, extra thick (if possible)
½ cup cherries, halved and pitted
Toppings
Additional cherries, halved and pitted
Dark chocolate chips
Instructions
In a blender, combine the cashew milk, cherry puree and maple syrup.
Add halved cherries to the bottoms of the three mason jars.
Pour in ½ cup of the rolled oats into each jar.
Pour the wet ingredients into the jars, stirring with a spoon. (They will be VERY full.)
Cover, and refrigerate overnight.
Enjoy cold the next morning, topped with additional cherries and dark chocolate chips.
Notes
If you or your family are nut free, substitute coconut milk, rice milk or dairy milk in this recipe.
If you are making this recipe vegan, read the label of your dark chocolate chips to ensure they are vegan.
If you don't want to make a cherry puree by blending some halved, pitted cherries in the blender, you can substitute pure cherry juice instead.
Nutrition Information:
Yield:
3
Serving Size:
8 oz.
Amount Per Serving:
Calories:

316
Total Fat:

8g
Saturated Fat:

3g
Trans Fat:

0g
Unsaturated Fat:

4g
Cholesterol:

1mg
Sodium:

8mg
Carbohydrates:

56g
Fiber:

6g
Sugar:

24g
Protein:

7g
Nutrition facts are an estimate and not guaranteed to be accurate.
This post originally appeared on Julie's Eats and Treats, where I am a contributor.
What is your traditional breakfast?
Do you like overnight oats, too?