Freezer-Friendly Breakfast Tacos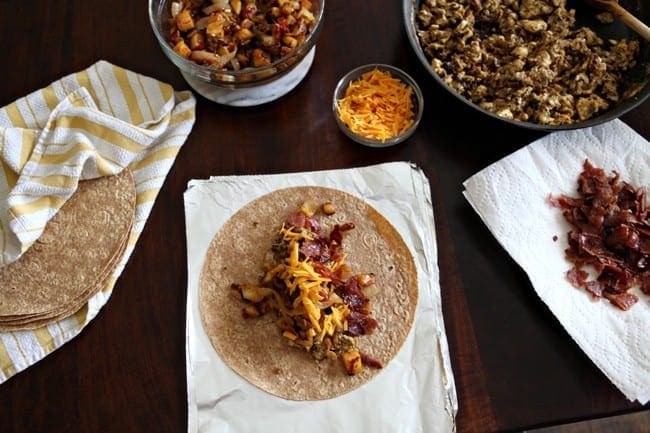 OK. So technically, this recipe could go one of two ways…
1. It gets made at home in advance, frozen, then reheated at the appropriate time. Since you probably won't have a microwave or oven at your tailgate, chances are pretty slim that it would be warmed up there, but you could totally scarf this down on your way to the stadium.
2. It gets made at your tailgate using a single skillet on top of a cooktop that attaches to the propane tank. Kind of like this one… because that's definitely what our friend had to make all the delicious food at previous tailgates.
Today, we're focusing on the whole make-as-you-go-and-enjoy path since it's Tailgate Thursday.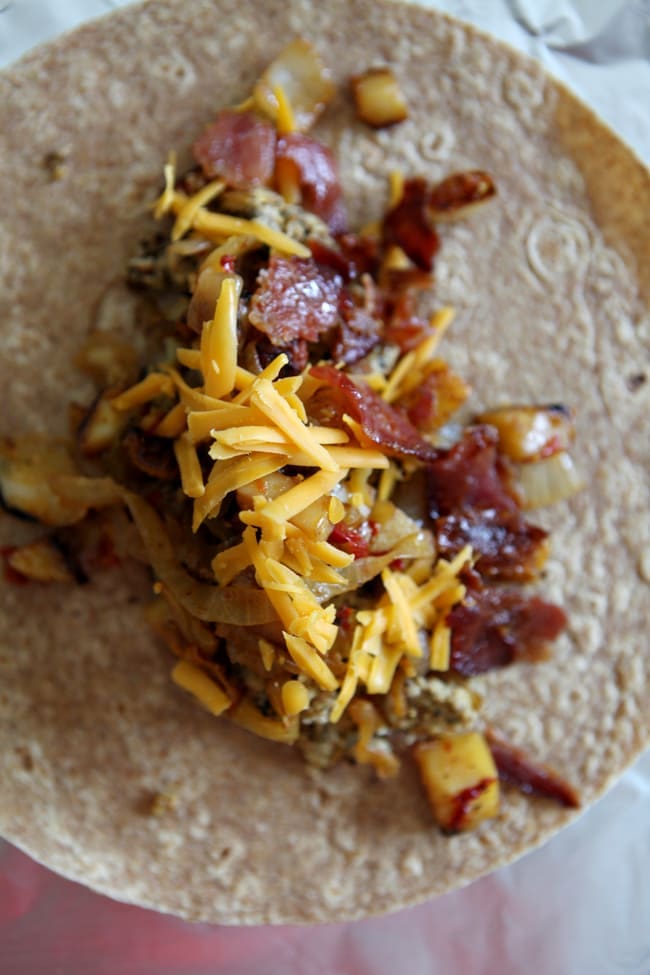 These breakfast tacos were inspired by that friend who was our cook the season we lived in Baton Rouge, and I sometimes have a hankering for a good breakfast taco now and then, especially since we live in Texas.
This is my spin on the traditional dish: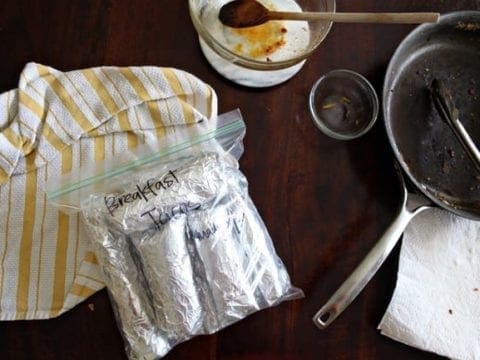 Yield:

20 tacos
Freezer-Friendly Breakfast Tacos
Freezer-Friendly Breakfast Tacos are a quick and delicious make-ahead breakfast that's easy to enjoy on the go! Stuffed with gold potatoes, bacon, onions, sweet peppers and scrambled eggs, these breakfast tacos are a filling meal and a wonderful way to start your tailgating morning off right!
Ingredients
½ lb. bacon
2 ½ cups gold potatoes, diced into ½" cubes
5 tablespoons extra virgin olive oil
1 teaspoon homemade taco seasoning
3 cups onions, sliced in strips
1 ½ cups sweet peppers, diced in strips
2 cloves garlic, minced
3 tablespoons extra virgin olive oil
12 eggs, beaten
4 tablespoons milk
1 teaspoon homemade taco seasoning
½ cup sharp cheddar cheese
20 fresh tortillas (corn or flour OK)
Instructions
Cook bacon in the oven (400°F for about 15 minutes) or on the cooktop.
Heat the olive oil over medium-high heat, then add in the potatoes and taco seasoning. When the potatoes are soft, add in the onions, sweet peppers and garlic, cooking until soft. Remove from pan once cooked.
In the same pan, pour in the additional EVOO and lower the heat to medium-low.
In the bowl with the eggs, add the additional milk and homemade taco seasoning. Stir together.
Add the egg mixture into the pan and slowly scramble the eggs.
Now, it's time to make the tacos: Layer the ingredients into each warmed tortilla, top with a little sprinkling of cheese.
Wrap the tacos in aluminum foil for freezing or consume immediately.
Nutrition Information:
Yield:
20
Serving Size:
1 taco
Amount Per Serving:
Calories:

366
Total Fat:

18g
Saturated Fat:

5g
Trans Fat:

0g
Unsaturated Fat:

12g
Cholesterol:

129mg
Sodium:

530mg
Carbohydrates:

37g
Fiber:

3g
Sugar:

2g
Protein:

14g
Nutrition facts are an estimate and not guaranteed to be accurate.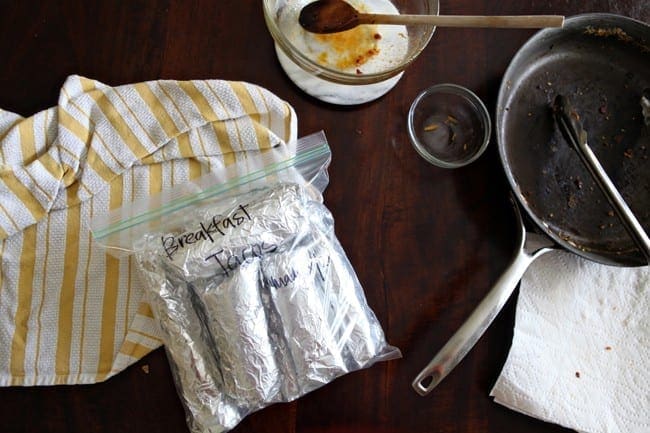 And if you've got any leftovers from your tailgate, just wrap 'em up, stick 'em in the cooler and once you get home from the game, pop them in the freezer, as seen above.
Not too shabby, huh?