Vegetarian Spinach Lasagna
Vegetarian Spinach Lasagna, made with store-bought tomato sauce, is a simple, delicious and balanced meal! This vegetarian lasagna recipe is the best kind of comfort food and can be made in advance for any evening or occasion.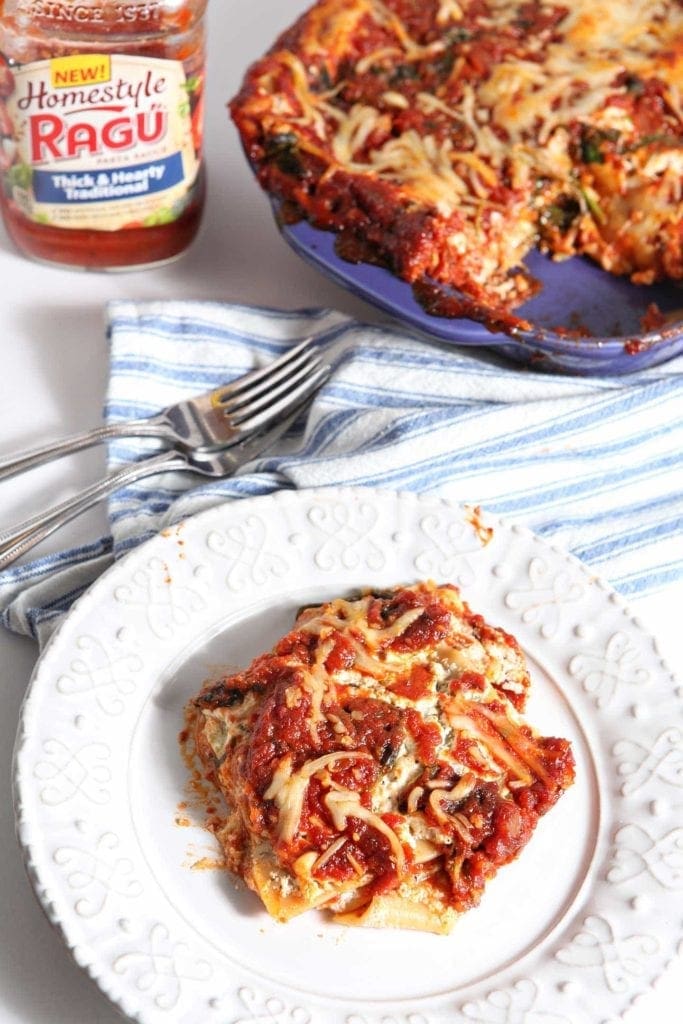 Homestyle.
It's a word I've used since I started cooking in college. I was obsessed with homestyle everything. And my definition of the word has changed throughout the years.
When I was in college, it meant making something for myself in my own kitchen instead of picking something up from the dining hall, the sorority house or a fast food restaurant. It didn't necessarily mean the dish was made from scratch… it simply meant I spent some time on it in my own home.
When we were newlyweds, homestyle translated to making an entire meal from scratch. It also meant spending several hours in the kitchen. One day, we made our own pasta and simmered a bolognese sauce on the stovetop for hours, occasionally checking in with the sauce to confirm things were coming together the way we imagined.
It was a delicious definition, but it wasn't sustainable.
Fast forward to today.
We have an active 14-month-old daughter, and we no longer have time to spend all day in the kitchen.
While Lady Baby enjoys food as much as we do, she has no interest in helping us cook yet.
Furthermore, when she's awake, we spend our time with her, so there's not time to run into the kitchen to complete any food-related tasks. Those are saved for her mealtimes or naptime.
Because of this, homestyle now means a delicious dish made with love.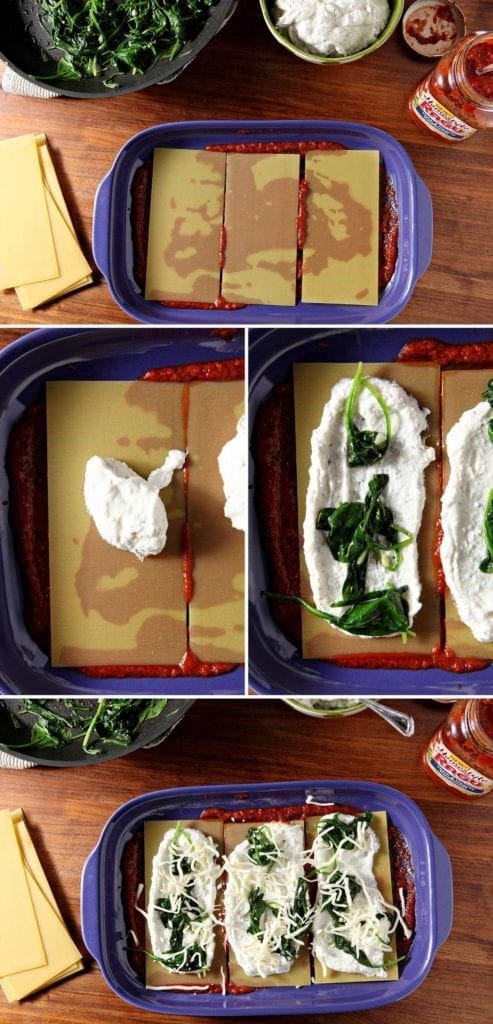 And today's recipe I have for y'all?
This Vegetarian Spinach Lasagna is a dish that can be pulled together in 30 minutes, thanks to a storebought tomato sauce.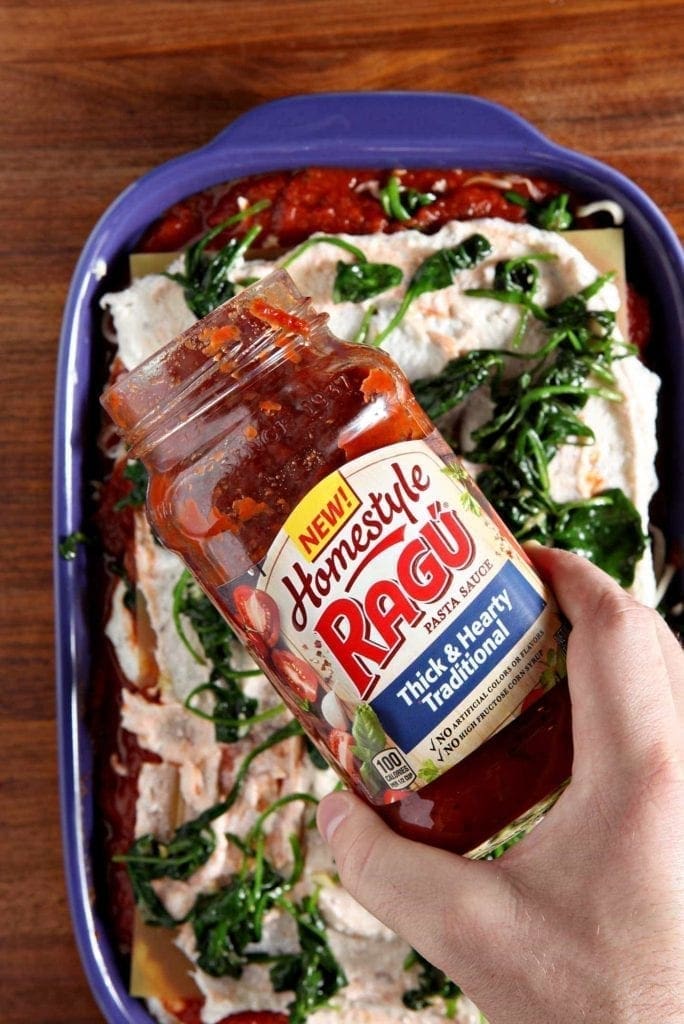 How to make this Vegetarian Lasagna recipe
First and foremost, sauté the spinach with garlic in a skillet.
And while the spinach is wilting, combine the cottage cheese and ricotta in the food processor, blending until smooth.
When the spinach is wilted, it's time to layer on the lasagna!
To start the layering process, you pour a little sauce onto the bottom of a baking dish.
Next, add the lasagne noodles. Smear the cheese mixture onto the no boil noodles, and top with the spinach and the shredded mozzarella cheese. Top this with more sauce, and repeat two more times. Sprinkle additional mozzarella on the very top, then cover and bake!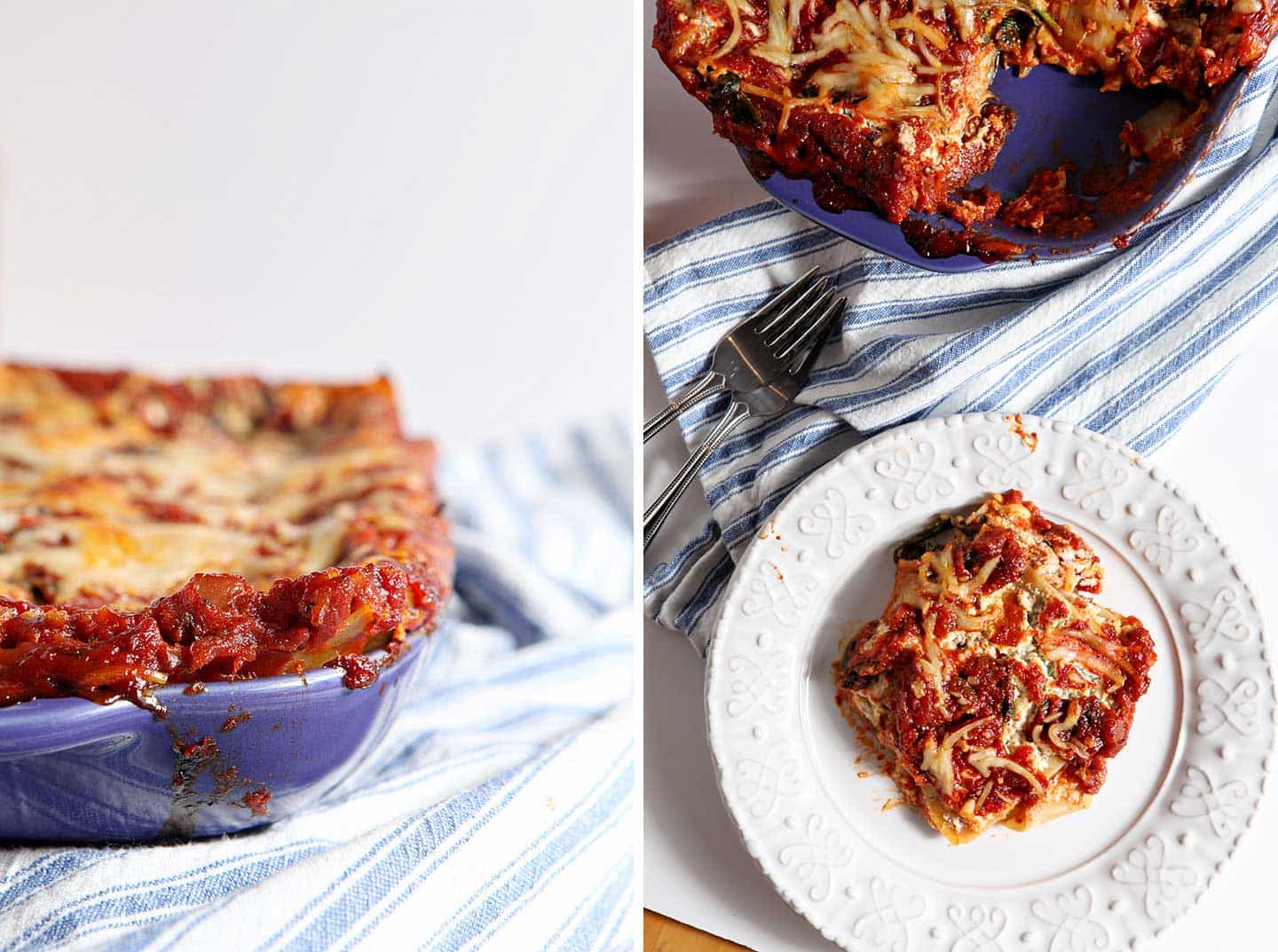 While you don't spend all day making this lasagna — and who has the time to spend all day slaving in the kitchen over lasagna these days — this dish is definitely homestyle.
Here's how I made it: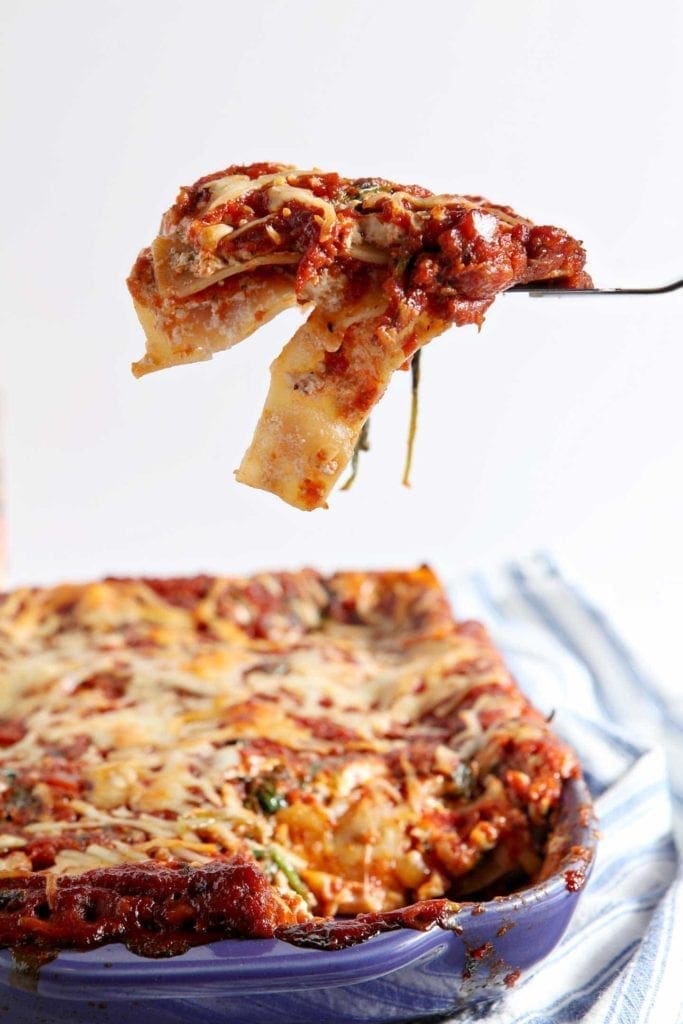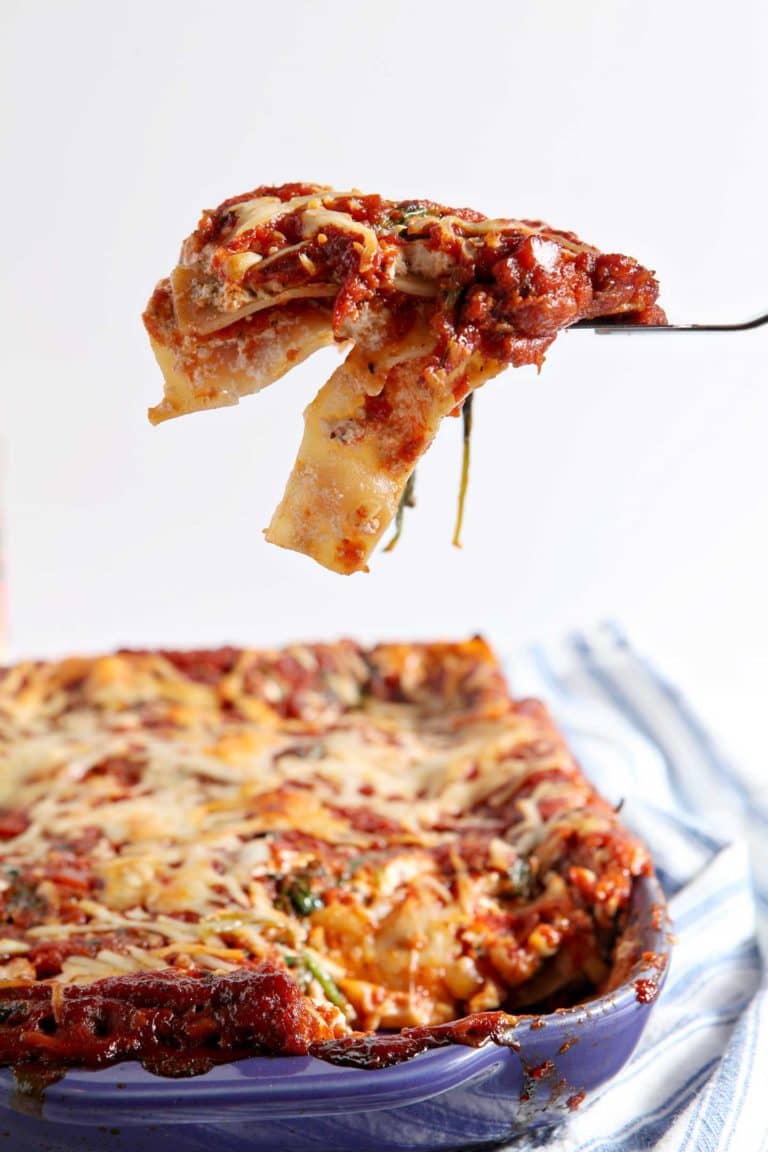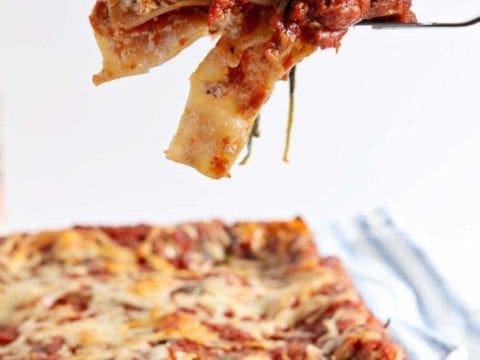 Yield:

8 servings
Vegetarian Spinach Lasagna
Total Time:
1 hour
15 minutes
Vegetarian Spinach Lasagna, made with store-bought tomato sauce, is a simple, delicious and balanced meal! This vegetarian lasagna recipe is the best kind of comfort food and can be made in advance for any evening or occasion.
Ingredients
Lasagna
46 oz. jarred tomato sauce
No Boil Lasagne Noodles
1 cup mozzarella, shredded
Spinach Layer
2 tablespoons extra virgin olive oil
5 oz. fresh baby spinach
4 cloves garlic, minced
Cheese Layer
1 cup ricotta
1 cup cottage cheese
1 teaspoon dried oregano or 2 teaspoons fresh oregano
½ teaspoon dried basil or 1 teaspoon fresh basil
¼ teaspoon black pepper
1/8 teaspoon red pepper flakes
Instructions
Prepare the Sautéed Spinach
In a large skillet of medium-high heat, heat the olive oil and add the minced garlic.
When the garlic is sizzling, add the spinach.
Cook the spinach until just wilted, then remove from the heat and set aside.
Prepare the Cheese Layer
In a food processor, combine the ricotta, cottage cheese, oregano, basil, black pepper and red pepper flakes.
Process until smooth and combined, then set aside.
Build and Bake the Lasagna
Preheat the oven to 400°F.
In a 9" x 13" baking dish, spread a spoonful of the tomato sauce onto the bottom of the baking dish.
On top of the tomato sauce, place three of the no boil lasagne noodles side by side, spreading across the dish.
Take 1/3 of the cheese mixture, and spread it on top of the noodles.
Sprinkle 1/3 of the spinach on top of the cheese mixture.
Add 1/3 of the shredded mozzarella on top of the spinach.
Top with more tomato sauce.
Repeat two more times until three layers of lasagna are built in the baking dish.
Sprinkle the rest of the mozzarella cheese on top of the tomato sauce.
Cover the lasagna with aluminum foil, then transfer to the preheated oven.
Bake 30 minutes, then remove the aluminum foil.
Turn up the oven to 425°F, and bake the lasagna for 15 more minutes, or until the cheese on top is slightly browned, melted, and the rest of the dish is bubbling.
Remove from the oven, and let cook for 15-20 minutes.
Cut the lasagna into eight equal servings, and enjoy warm!
Nutrition Information:
Yield:
8
Serving Size:
1 serving
Amount Per Serving:
Calories:

343
Total Fat:

17g
Saturated Fat:

6g
Trans Fat:

0g
Unsaturated Fat:

8g
Cholesterol:

46mg
Sodium:

1316mg
Carbohydrates:

29g
Fiber:

5g
Sugar:

13g
Protein:

19g
Nutrition facts are an estimate and not guaranteed to be accurate.