How to make Easy Marinara Sauce
Looking to make a homemade (and easy!) tomato sauce recipe? This Easy Marinara Sauce is it! Calling for simple ingredients, this sauce is perfect on pasta or pizza. Makes 8 servings, and stores well!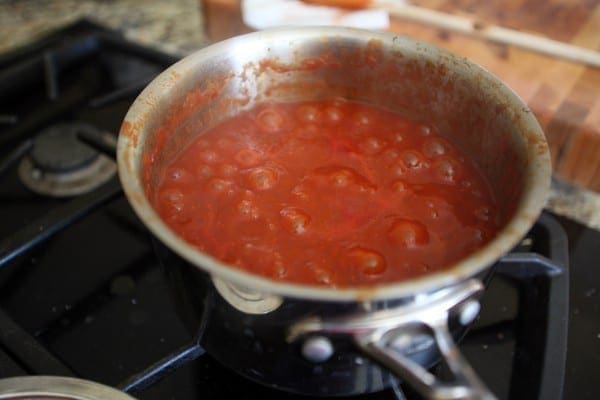 I'm the kind of girl who, when she has a bad day, either craves barbecue or Italian food. Why these two completely different food groups? I have absolutely NO idea, but you'd better believe that when I've had a rough day, I will be in the kitchen making one or the other… or attempting to convince my husband to take me out to one of these kind of restaurants.
In college, I realized that cooking was a fun thing to do and to share with others. My first real thing to make was my mom's spaghetti and meatballs. (If you haven't tried my mom's spaghetti and meatballs, you have not lived. True statement. It's that good.)
The thing is, though, that I don't have the kind of patience my mom has when it comes to making the meatballs. And since I'm a little lazy when it comes to some things, I have spent time perfecting a bastardized version of my mother's red sauce… without meatballs… or meat…
Hence this Easy Tomato Sauce recipe coming into being.
Why I love this recipe:
Simply put, it's amazing on everything I've tried it on.
It works perfectly as a homemade pizza sauce, and you can easily toss it with pasta, too, to transform it into a vegetarian spaghetti sauce. Serve it on top of Baked Eggplant Parmesan or Baked Turkey Meatballs because that's never a bad idea.
It takes just 11 ingredients to make, and chances are, you might already have them in your kitchen. It also stores really well, too!
Other easy Italian recipes to make: Tortellini Butternut Squash Pasta with Pancetta and Spinach | Cajun Chicken Alfredo | Spicy Sausage Ground Turkey Pasta Sauce | Chicken Pesto Pasta | Turkey and Broccoli Orecchiette
Need dinner inspiration? Head on over to my Dinner Recipe Index for more ideas.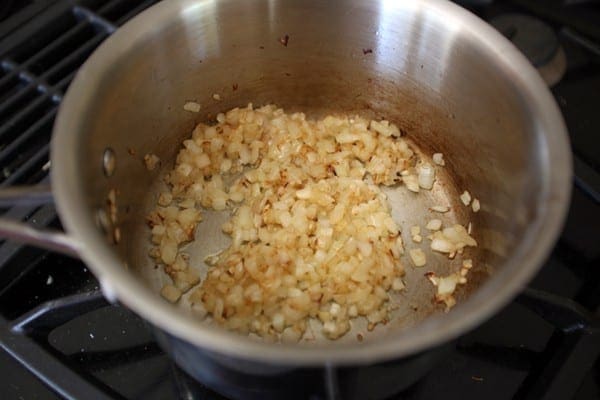 What you need to make this recipe:
The Speckled Palate participates in affiliate programs. As an Amazon Associate, I earn a commission from qualifying purchases. Please refer to my disclosure page for more information about these affiliate programs.
In addition to these few tools, you're going to need 11 ingredients, too:
Extra virgin olive oil—you could also use another unflavored oil, but I prefer EVOO here
Onion and garlic—for their flavor and their aroma!
Red wine—whatever drinkable kind you've got on hand works here. I like an Italian red, if I'm opening a bottle, to play with these ingredients, but use what you have. Just make sure it's not cooking wine, as that will make our sauce salty.
Tomato puree—while some tomato sauces call for fresh tomatoes, this is not one of them. Grab your favorite 29 oz. can of tomato puree (you can also use crushed tomatoes) to use.
Water—this thins out our sauce a bit. If you're making pizza sauce from this, you will need less than you do when making the pasta sauce.
Spices and herbs—salt and pepper are a must. We also add in red pepper flakes (also known as crushed red pepper) for a bit of spice and heat, then fresh basil and oregano, too. If you don't have fresh herbs, you can use dried herbs in their place, but use half of the suggested amount because dried herbs are stronger than fresh herbs.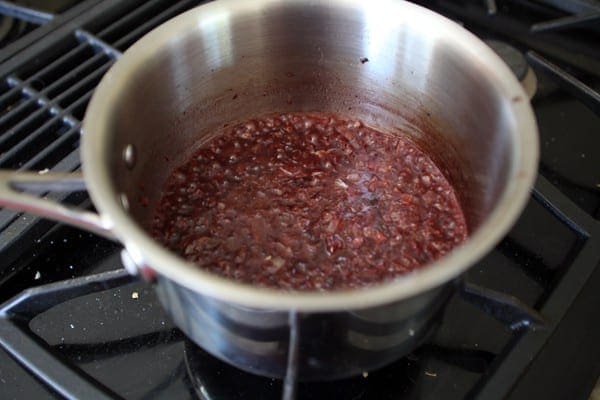 How to make this easy marinara sauce
You'll start off with some EVOO, a finely chopped onion and minced garlic. Heat your pan over medium heat, and sautee it up, baby.
Then you'll pour in some red wine and let that cook down until about half of it has boiled off.
Really take the time to sniff the wonderfulness of this combination. It's pretty magical, if you ask me.
And then you'll throw in the tomato puree and spices. Then let the mixture cook low and slow… for as long as you have. You can let it cook for as little as 15 minutes and for as long as you want. The longer it cooks, the more developed the flavors will become.
Serve over pasta or on a pizza, and enjoy!
Quick tips and tricks to the best tomato sauce recipe:
Let it simmer if you can. This sauce develops awesome flavors in less than 30 minutes, but those flavors will depend the longer it cooks.
Double the recipe. Since this keeps well in both the fridge and freezer, you can make a double batch in a larger saucepan (or a Dutch oven.)
How to store: Once the sauce is cooked, let cool. Transfer to a mason jar or another food-safe storage container, and keep in the refrigerator for up to a week.
How to freeze: If you want to freeze this sauce for later, that's a great idea because it keeps well. Transfer the cool sauce to a freeze-safe food container, and freeze until solid. It will keep for up to 6 months in the freezer. Defrost in the fridge, then toss with pasta or use as a sauce on pizza, etc.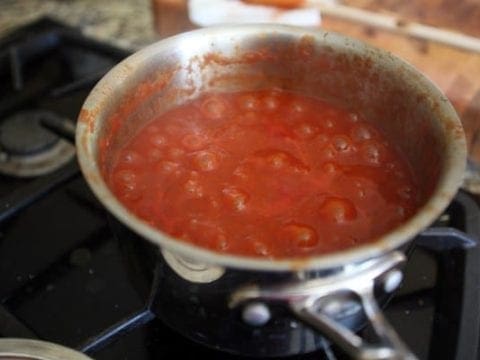 Yield:

8 servings
Homemade Marinara
This simple, spicy tomato sauce is perfect as a base for pizza or on top of pasta.
Ingredients
1 tablespoon extra virgin olive oil
1 small onion, diced finely
1 teaspoon garlic, finely minced
½ cup red wine
29 oz. tomato puree
1 ½ cup water
1 teaspoon salt
½ teaspoon black pepper
¼ teaspoon red pepper flakes
1 teaspoon fresh basil
2 tablespoons fresh oregano
Instructions
In a large saucepan over medium heat, pour in the olive oil.
Add the onion and garlic and sauté, stirring around the saucepan until softened and slightly browned.
Add wine to the onion and garlic, lowering the heat to the lowest setting. Simmer for about five minutes, or until the alcohol has cooked off.
Add the tomato puree and the water, then measure in the spices.
Let simmer for at least 30 minutes, then serve. The longer this simmers, the better, so you could literally let this sit on the stove all day and eat it at night, and it would be amazing.
Recommended Products
As an Amazon Associate and member of other affiliate programs, I earn from qualifying purchases.
Nutrition Information:
Yield:
8
Serving Size:
1
Amount Per Serving:
Calories:

74
Total Fat:

2g
Saturated Fat:

0g
Trans Fat:

0g
Unsaturated Fat:

2g
Cholesterol:

0mg
Sodium:

296mg
Carbohydrates:

11g
Fiber:

3g
Sugar:

5g
Protein:

2g
Nutrition facts are an estimate and not guaranteed to be accurate.