Vegetarian Shiitake Gyoza
Savory potstickers, chock full of shiitake, water chestnuts, carrot, bok choy, ginger and more, make the perfect appetizer (or entree!) with a delicious soy and rice wine vinegar dipping sauce. Cheryl from 40 Aprons shows how to make these beauties at home!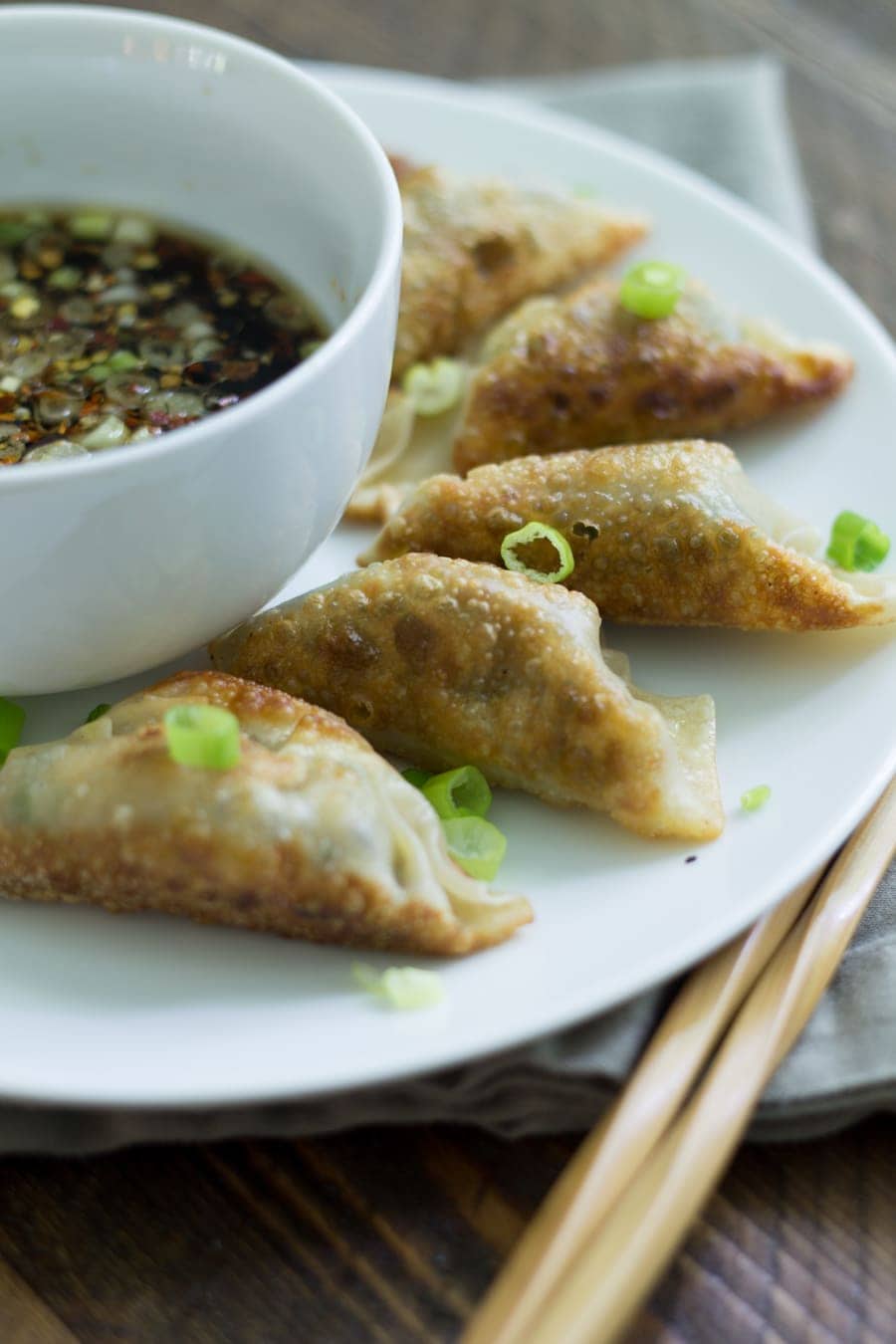 Within the last year, I met a blogger from my hometown. Cheryl and I bonded immediately, e-mailing back and forth about our Memphis experiences and the various ways our lives have intertwined but we never met until we were both blogging. She is sharing a recipe that I'd love to inhale right about now and has some thrilling news to share, too. Take it away, Cheryl!
Well, hello there! I'm Cheryl from 40 Aprons, and I'm making a guest appearance here at The Speckled Palate while Erin attends to all things supermama. Erin and I started following one another's blogs a while back and became friends when we realized we were both from the same hometown – small world, right? So when she asked me to provide a guest post during her maternity leave for her lovely readers, I jumped at the chance.
Especially since I'll expect her to do the same in, oh, six months when I take my own maternity leave! Yup, I'm pretty newly preggers, so my recipe for you guys means even more now! But you're not here to listen to me babble about pregnancy, are you? Because I could go on for days about the symptoms…. but no, you're here for the food — of course you are!
When O — that's my husband and my, oh yeah, baby daddy — and I go out for Asian food, he's drawn to the gyoza like a moth to the light. That man simply cannot not order a batch, no matter where we are, and no matter how badly I'm craving the mound of kimchi (this sort of thing happens a lot lately, people).. Nope, it's crispy fried potstickers with tender, savory filling all the way in this household.
Growing up, my mom would always buy one of those massive 45-pound bags of potstickers at Costco, which we would fry up almost nightly as teenagers and dunk ferociously in the salty dipping sauce, gorging on plates of 10, 12… 19 at a time. Why? Because we could! Don't you remember those days? I think I just gained another pound merely typing the words..
Fusing O's propensity towards filled-and-fried and my all-American memory of youth, I decided to whip up a batch of homemade vegetarian gyoza, which we could freeze and nibble on anytime! I packed them totally full of flavor — heady sesame and grounding ginger, oh man — and the shiitake blend inside keeps them so tender you'd never miss the meat.
O is all about it.
You'll love these because they're perfect for entertaining, just as well as they're perfect for a night in alone when your hubby heads off to the basketball game, and you act just a bit sad, but as soon as the door shuts, you rub your hands together like an evil queen and prance about the house in your manliest robe and most comfortable (and, necessarily, dorkiest) hair-do, gorging on gyoza and crying over episodes of The Mindy Project.
Like… just as an example, of course.
In addition to your weird habits, they're also excellent for mothers-to-be — so easy to freeze and throw in the fridge, then pop out and fry up quickly for a take-out upgrade or simple dinner alongside some miso soup and seaweed salad. Yay for quick and easy!
Make these – you'll love them!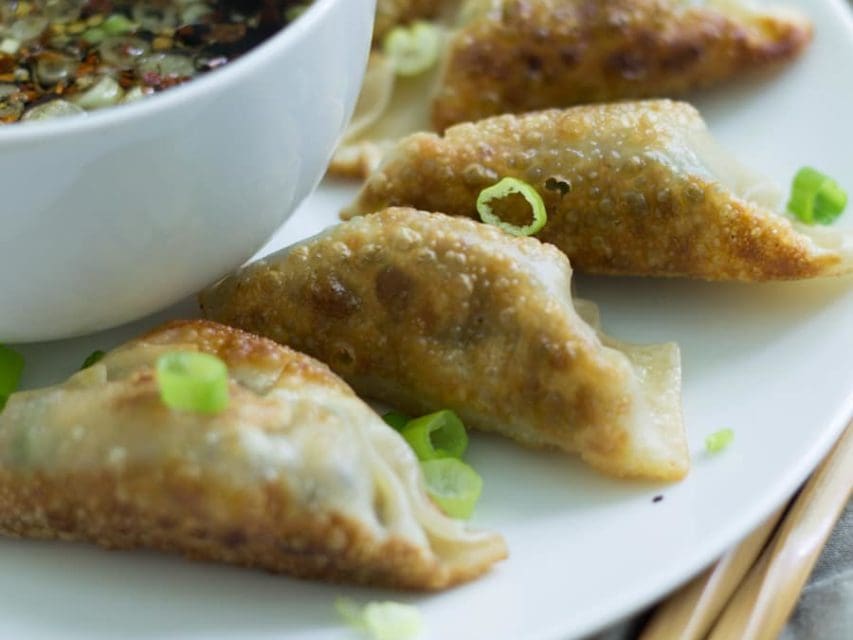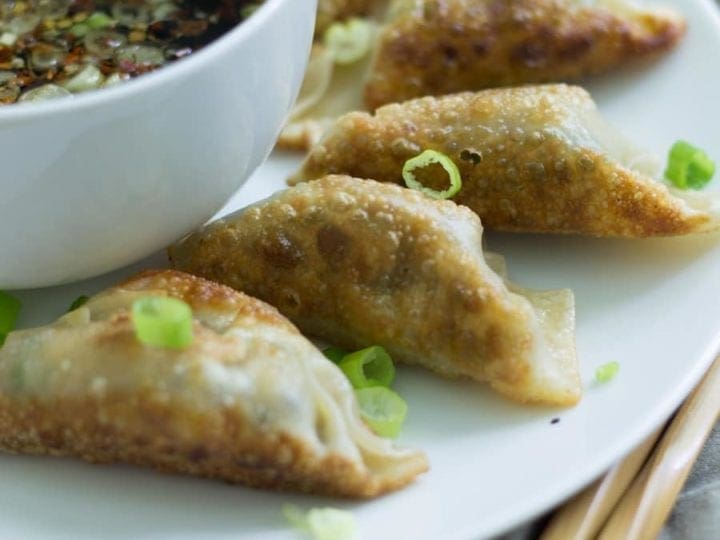 Yield:

30 potstickers
Vegetarian Shiitake Gyoza
Savory potstickers, chock full of shiitake, water chestnuts, carrot, bok choy, ginger and more, make the perfect appetizer (or entree!) with a delicious soy and rice wine vinegar dipping sauce.
Ingredients
Potstickers
4 teaspoons sesame oil, divided
1 ½teaspoon minced ginger
2 large cloves garlic, minced
6 ½ ounces fresh shiitake caps, chopped (about 3 cups)
8 oz. water chestnuts, chopped
1 carrot, shredded
1 ½ cups bok choy, chopped
1-2 green onions, chopped
1 teaspoon miso paste
A pinch of sugar
1 teaspoon rice wine vinegar
4 teaspoons organic soy sauce
1 package wonton wrappers, thawed if frozen
Refined coconut oil or other neutral heat-friendly oil, for frying
2 teaspoons sesame oil, for frying
Dipping Sauce
6 tablespoons soy sauce
3 tablespoons rice wine vinegar
1 green onion, sliced
Sriracha or sambal olek, optional
Sesame oil, optional
Instructions
Heat 2 teaspoons sesame oil in a large skillet over medium heat. Add garlic and ginger and cook for about 30 seconds, or until fragrant, stirring constantly. Add chopped shiitake, water chestnuts, and carrot. Cook for four minutes, stirring frequently.
Add bok choy, green onion and miso paste and cook for 90 seconds, stirring frequently. Remove skillet from heat and scrape content into a large heat-proof bowl. Stir in pinch of sugar, rice wine vinegar, soy sauce, and remaining 2 teaspoons sesame oil. Taste mixture and season to taste, adding more soy sauce, sesame oil, sugar, or rice wine vinegar if desired.
Set up your gyoza-filling area: open wonton wrappers and then cover with a damp tea towel to prevent drying out. Fill a small bowl with water and set near the wonton wrappers. Working with about 2-3 at a time, lay wonton wrappers flat on your work surface, spoon a small amount of wonton filling into the center--about 2 teaspoons or so, maybe a little less. Then, dip your index fingers in the bowl of water and wet the edges of the wonton wrapper. Meet edges of wrapper around filling together and pleat one side, then press edges together so filling is contained. Make sure you don't let any air into the gyoza! If you need a bit of guidance here, check out this great tutorial for filling and sealing gyoza. Repeat until all filling has been used.
When all gyoza are formed, heat a large skillet with a tight-fitting lid over medium heat. Add about 2 teaspoons coconut oil or other neutral heat-friendly oil and heat thoroughly. Carefully add as many gyoza as can fit the bottom surface of the skillet, pleated side up. Cook for about 3 minutes or until golden brown on the bottom. Next, carefully pour in 1/4 cup water, using the lid to shield yourself from the splatter. When the steaming and splattering has died down, drizzle in 1/2 teaspoon sesame oil around the edge of the skillet. Cover with the lid and then quickly lower heat to keep the liquid at a bare simmer.
Check gyoza after a couple minutes - if the wrappers look nearly translucent, then remove the lid and raise heat slightly. Continue cooking until all the water has evaporated and only the oil is left - about 2 minutes. Gyoza should slide about freely if they're browned enough, but if not, simply remove the skillet from the heat, cover, and let sit for a moment, then remove gyoza with a spatula. Cook remaining gyoza in the same method.
To make sauce, combine soy sauce, rice wine vinegar, and green onion. Add Sriracha and/or sesame oil to taste. Serve gyoza immediately, with sauce.
Notes
To freeze, simply assemble all gyoza and spread out evenly on a baking sheet. Freeze. Once totally frozen, remove from baking sheet and store in an airtight container. When ready to serve, thaw gyoza and proceed with directions #4.
Wrappers can be found in the refrigerated section of the grocery store or in any Asian market.
Nutrition Information:
Yield:
30
Serving Size:
1 potsticker
Amount Per Serving:
Calories:

31
Total Fat:

2g
Saturated Fat:

1g
Trans Fat:

0g
Unsaturated Fat:

2g
Cholesterol:

0mg
Sodium:

238mg
Carbohydrates:

2g
Fiber:

1g
Sugar:

0g
Protein:

1g
Nutrition facts are an estimate and not guaranteed to be accurate.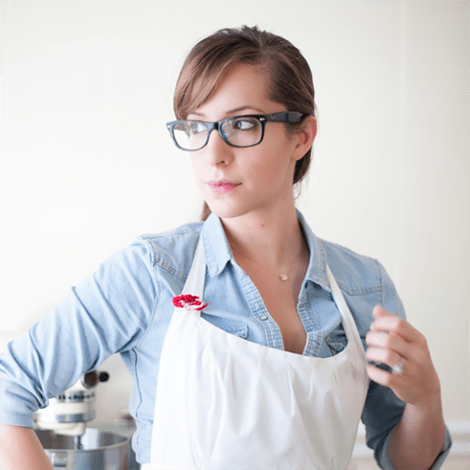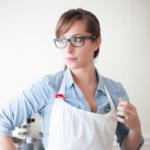 Cheryl Malik is the author of 40 Aprons, a food blog with multiple personality disorder. She freelances as a web designer, food photographer and recipe developer and lives in Memphis, Tenn. with her husband and their accidentally tiny dog, Magnolia. She loves travel, is surprised by her affection for sports and thinks it's perfectly cool to watch TV.