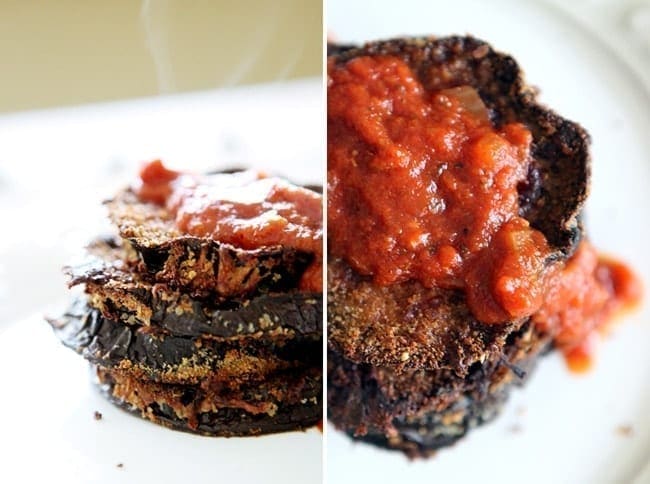 Confession time: I never tried eggplant until I lived in Italy. And even then, I was majorly skeptical. It was basically unavoidable, as the purple veggie was bountiful in my Tuscan town, and it was a large part of several meals we were served. And then I was surprised that I liked it.
When I got home from my summer abroad, I asked my mom about why we never ate eggplant and why I was under the impression that I didn't like the vegetable. She revealed that she wasn't big on eggplant or zucchini when we were growing up, so she never incorporated it into our meals. … However, she really enjoys both now.
Fair enough.
However, since the summer of 2006, I have enjoyed experimenting with eggplant, and this recipe is no different. And like most of the recipes featured here, it was created after I just had to have it and the world might end if I didn't. Because, clearly, that's how I roll.
Recently, I've craved Eggplant Parmesan on several occasions and instead of ordering this dish from one of my favorite Italian/European restaurants, I've learned how to make it by myself.
It hasn't disappointed one of my random cravings yet.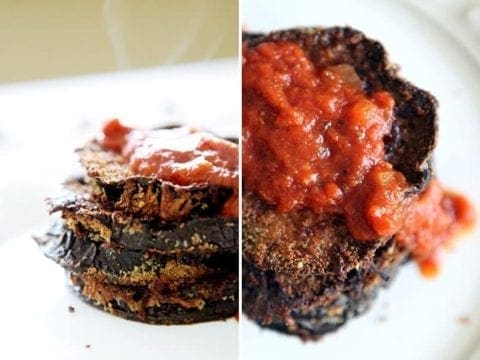 Yield:

4 servings
Baked Eggplant Parmesan
Instead of frying your eggplant parmesan tonight, bake it instead! The eggplant is prepared the same exact way: dipped in a mixture of milk and eggs, then coated with a mixture of breadcrumbs, parmesan, black pepper, oregano and salt. Instead of throwing it into the fryer, though, you'll place the eggplant onto a prepared baking sheet and bake for 25 minutes, or until the Baked Eggplant Parmesan is golden brown and delicious! Serve with tomato sauce, and enjoy warm!
Ingredients
1 large eggplant, sliced in ½" rounds
½ cup breadcrumbs
¼ cup parmesan, shredded
¼ teaspoon black pepper
¾ teaspoon dried oregano, (or 1 ½ teaspoons fresh oregano)
¼ teaspoon kosher salt
2 eggs
2 tablespoons milk
Instructions
Preheat the oven to 375°F. Line a baking sheet with parchment paper or a nonstick baking mat.
Slice the eggplant into 1/2" rounds. Sprinkle both sides with salt. Set aside for 15 minutes. (This is going to pull out extra water from the eggplant.)
While the eggplant slices are sitting, break the eggs and combine them with the milk, whipping them together in a bowl. Set this bowl aside.
On a large plate, combine the bread crumbs, parmesan, black pepper, oregano and sea salt. Using a fork, combine the ingredients.
Using a paper towel, blot both sides of each eggplant slice to remove the liquid that came to the surface.
Dip the eggplant slice into the egg mixture, then transfer it to the bread crumb and spice mixture.
Coat the slice on both sides, then transfer to a greased baking sheet.
Bake for 25 minutes, or until light brown and crispy.
Serve warm with Simple Red Sauce, and enjoy!
Recommended Products
As an Amazon Associate and member of other affiliate programs, I earn from qualifying purchases.
Nutrition Information:
Yield:
4
Serving Size:
1
Amount Per Serving:
Calories:

174
Total Fat:

5g
Saturated Fat:

2g
Trans Fat:

0g
Unsaturated Fat:

3g
Cholesterol:

97mg
Sodium:

357mg
Carbohydrates:

26g
Fiber:

5g
Sugar:

6g
Protein:

9g
Nutrition facts are an estimate and not guaranteed to be accurate.
Do you have a certain food that you once thought you hated, only to learn that you actually love it?