Need an easy, flavorful meal that the whole family will enjoy? Baked Steak is a favorite entree that requires very little hands-on time and can cook on the stovetop OR in the oven until perfectly cooked. Including an excellent pan gravy, this beef meal is best served with rice and green beans for an easy weeknight meal! Makes 4 servings.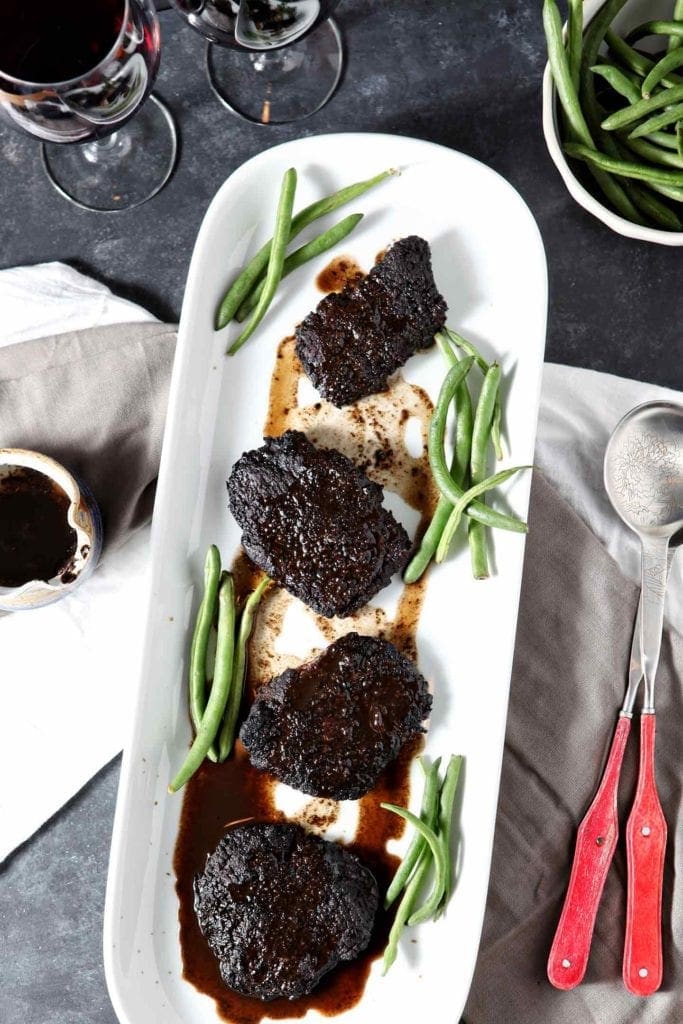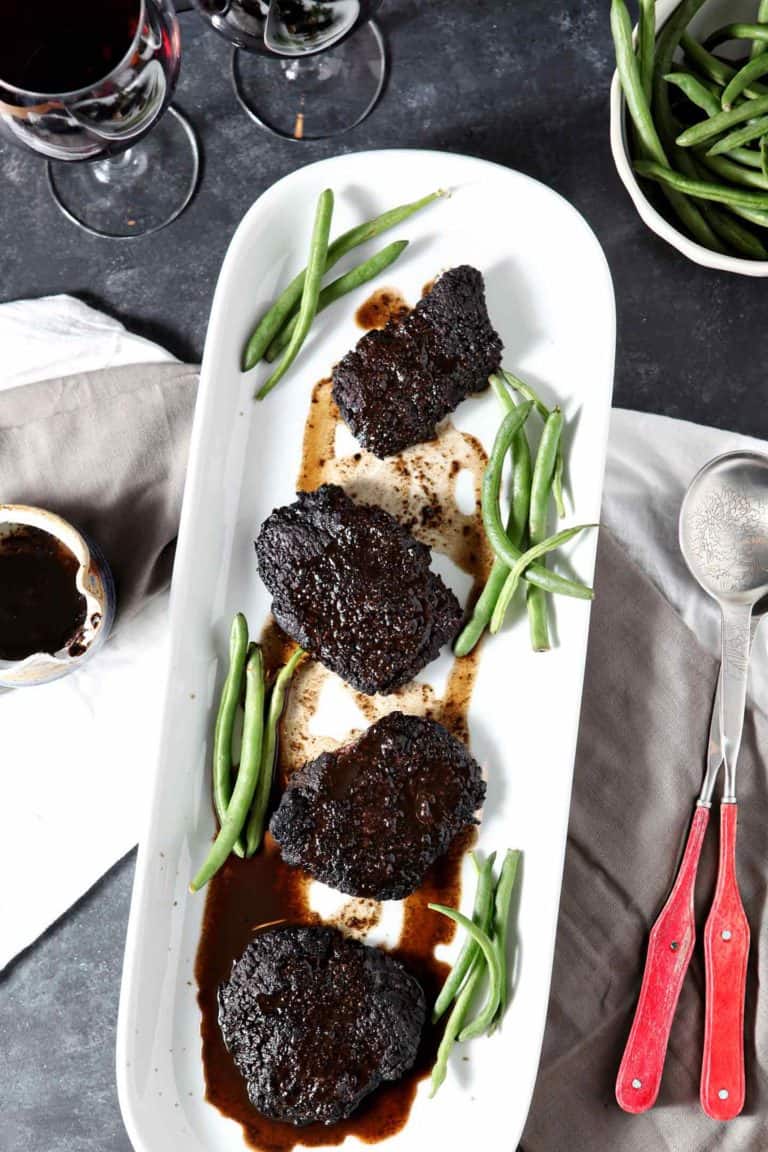 Honesty, y'all, I have no idea where this recipe came from.
Also, I have no idea why we imply this is an oven baked cube steak because my rendition of this recipe does not call for baking ANYTHING.
Turns out, my dad bakes the cube steak after searing it on the stovetop.
You can do this, too!
My parents know how to make this recipe—and both love it—and they passed that love down to my sister and I. Leigh and I have had entire conversations about this dish and our love for it.
Over the years, we each have added our own variations to the recipe to accommodate our personal tastes.
This smothered cube steak recipe is a delicious weeknight meal. And it is pretty perfect served over some potatoes… or rice, if you're my husband and/or are from Louisiana/Alabama/the Deep South and were raised with rice instead of potatoes.
More beef recipes to try on any given weeknight: Steak Alfredo | Ground Beef Tacos | Beef Taco Pasta Salad | Pan Fried Hamburgers | Easy Steak Salad with Orange Vinaigrette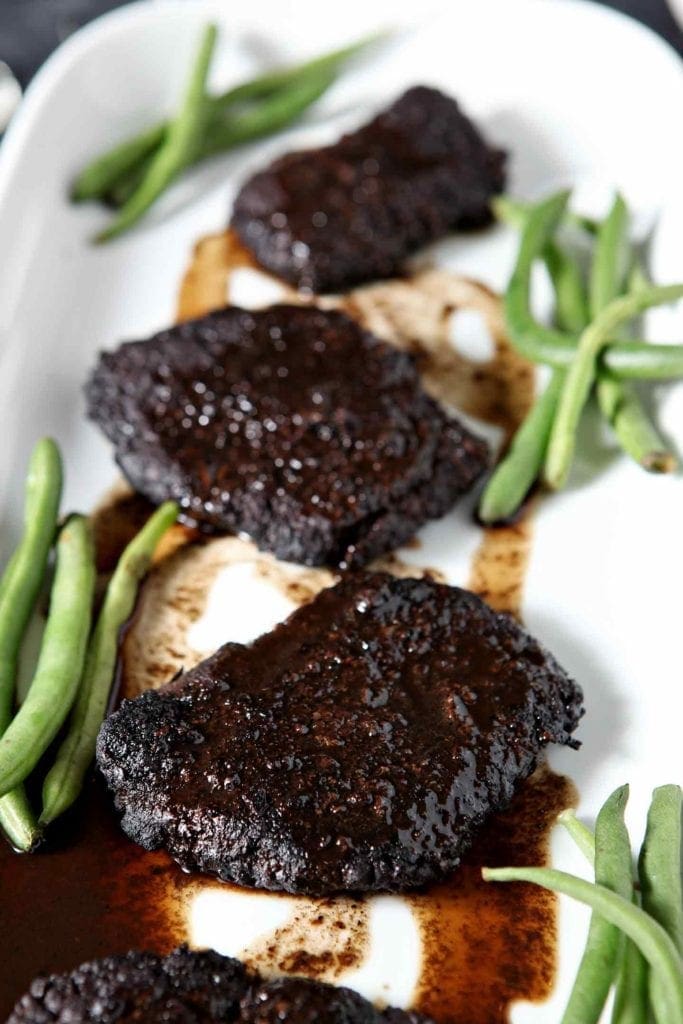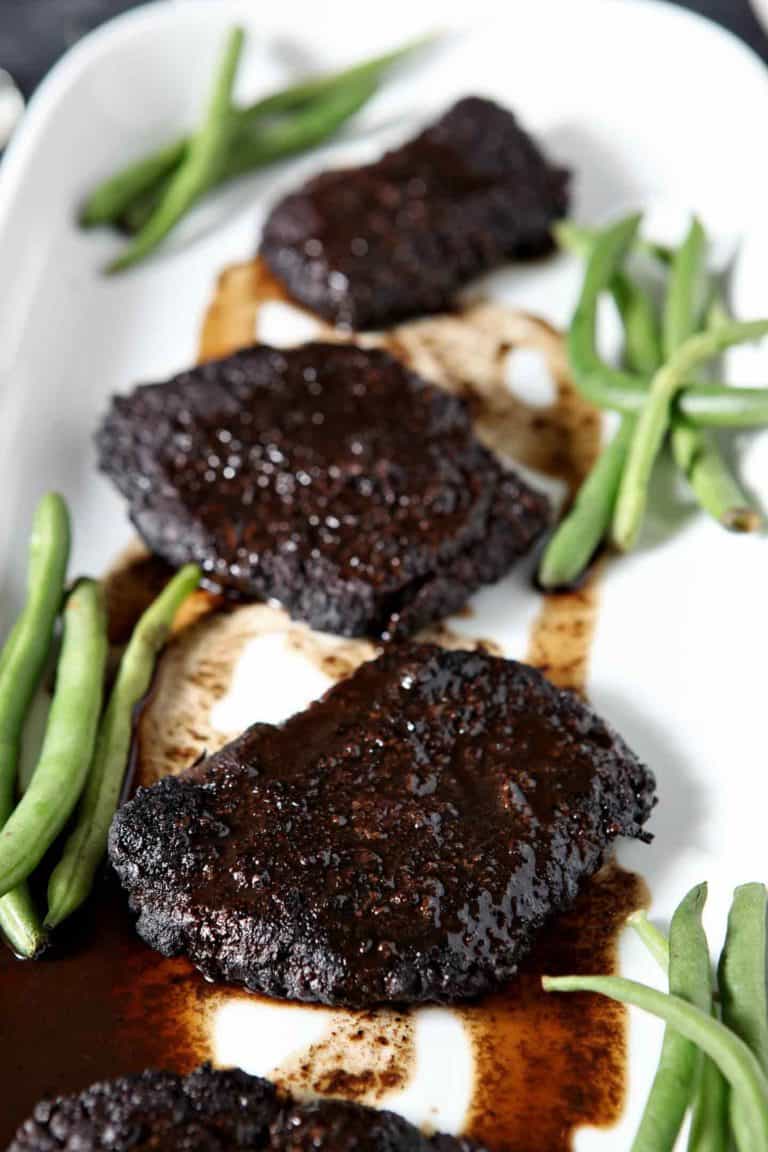 What you need to make this recipe:
The Speckled Palate participates in affiliate programs. As an Amazon Associate, I earn a commission from qualifying purchases. Please refer to my disclosure page for more information about these affiliate programs.
Let's talk ingredients!
In addition to the tools above, you're going to need some ingredients to make this recipe, too! Chances are, you might already have some of them in your fridge or pantry. Scroll down to the recipe card for the full measurements and instructions.
Cube steak — it's sometimes referred to as cube steak or minute steak. It's a pretty inexpensive cut of meat that has been tenderized.
Olive oil — or another neutral oil to cook the cubed steak in
Spices — we use a simple combination of black pepper and kosher salt in this recipe.
Red wine — you want to use something that you enjoy drinking. I recommend using something that's not super expensive or fancy but has good taste. (Pro tip: Serve the wine alongside the final dish!)
Broth — we're using a combination of chicken broth and beef broth. You could use one or the other if you prefer, though I like the combo because the chicken broth lightens it up while the beef adds some heft.
Water — this adds more liquid to the mixture, which is necessary!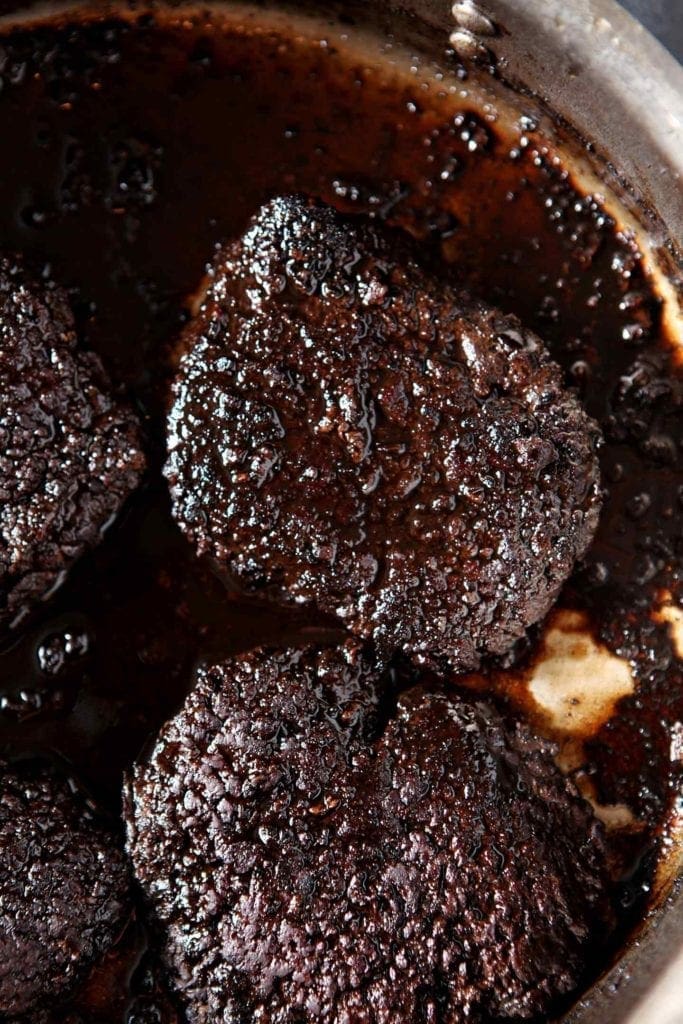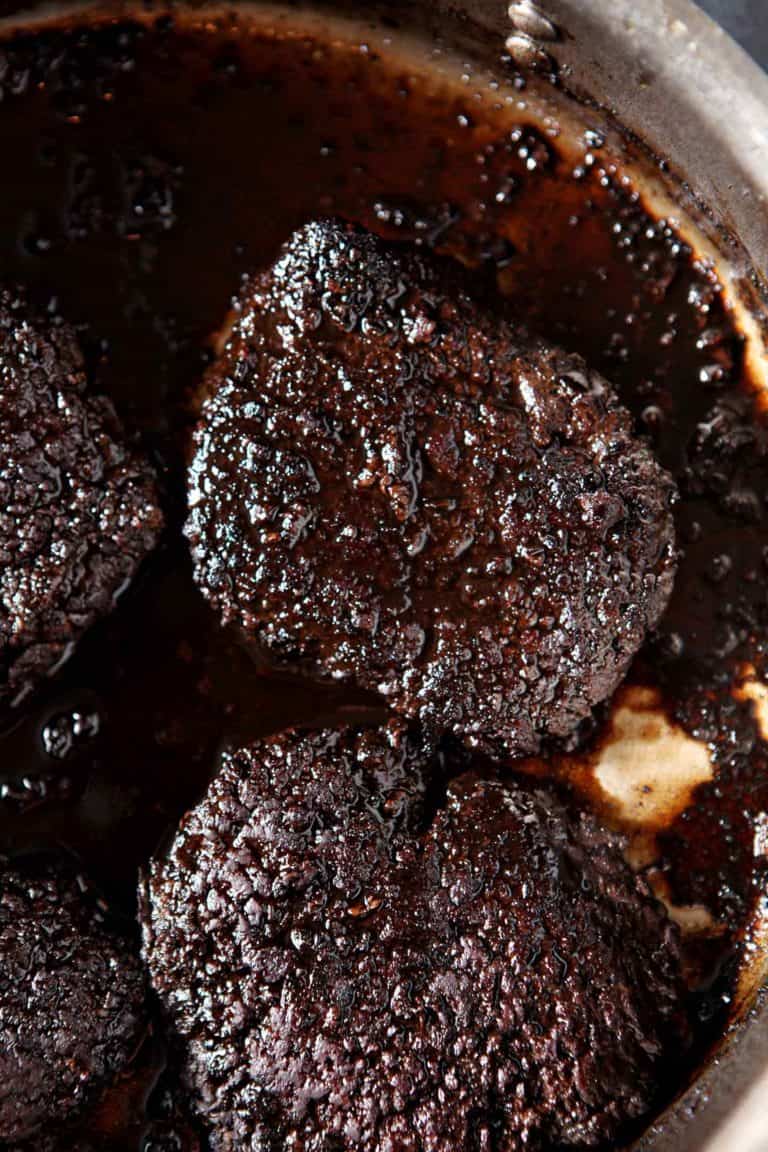 How to make this Cube Steak recipe
You'll start out with a pound of cube steak. I didn't snap an image of it, but it basically looks like hamburger meat, but it has clearly been run through the tenderizer.
You can find cube steak at your grocery store's meat department. Ask someone there. They should be able to help.
Season the steak, and then toss it into a hot pan to sear both sides of it.
Once the meat has been seared on both sides, pull it out of the pan and place on a plate. You can dab it with a paper towel to soak up any unnecessary grease from it, too.
Add the wine to the pan, and make sure to scrape up any blackened bits of flavor from the bottom of it. Trust me when I say this is fantastic and will only add to the wonderfulness of this gravy you're making.
Once the wine has cooked down, add the steak back into the pan.
Then pour in the chicken and beef broths.
Bring to a boil, then lower the heat and simmer low and slow for at least an hour. Check on it, then add the water. Stir a little bit. Cover the pan again. And let it cook for some more.
Pro tip!
At this point, you can continue cooking the cube steak on the stovetop OR you can transfer it to a baking dish and toss it in a 350F oven, covered in foil, for another 45-55 minutes.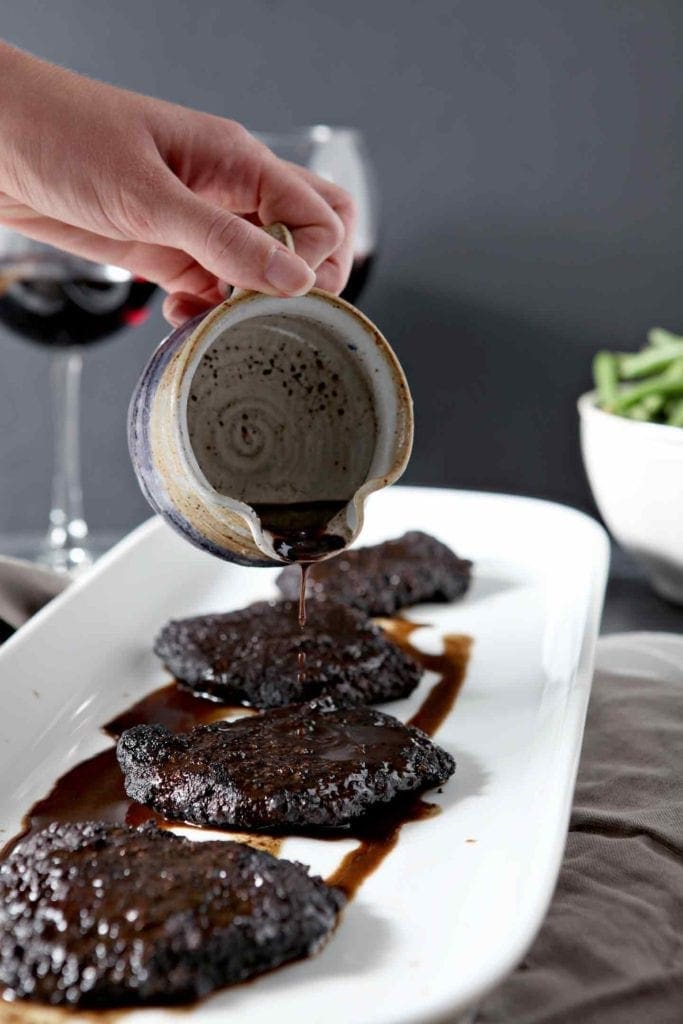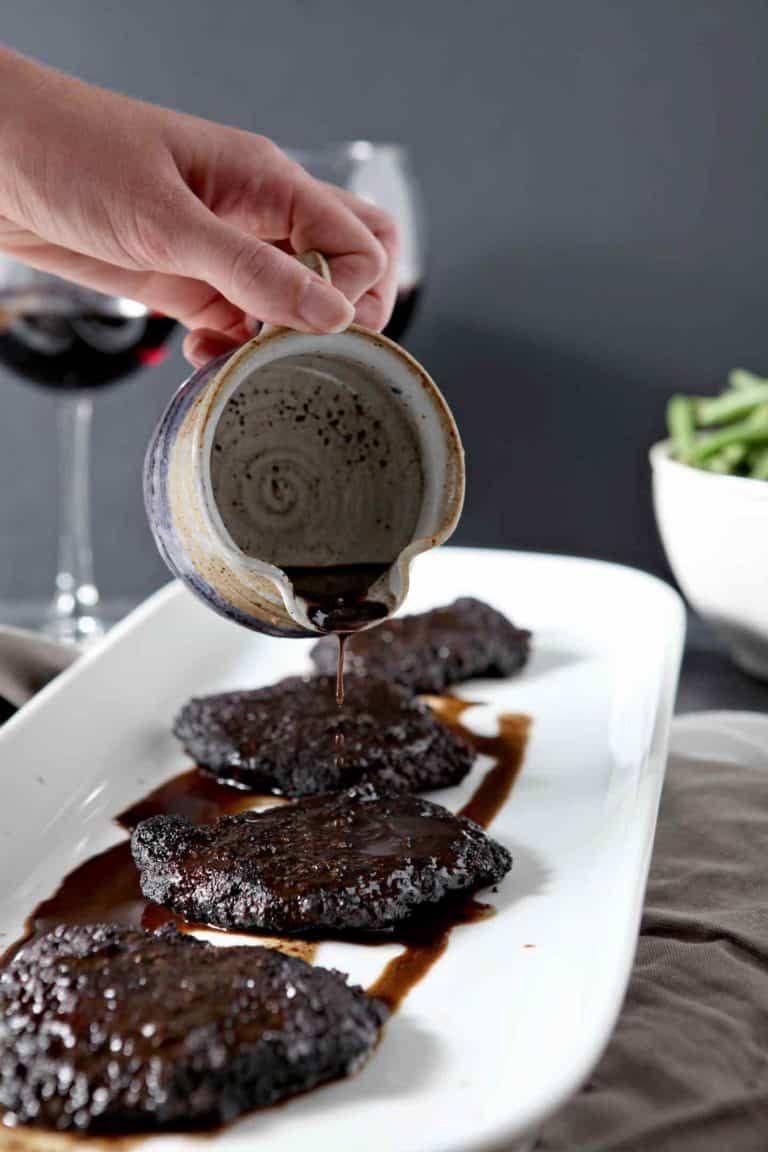 You could let this dish cook for hours over low heat, occasionally stirring and making sure the gravy hasn't gotten too thick/low. Always make sure that the meat is covered when you're cooking this gravy down because if it isn't, the steak will dry out. And nobody wants dry baked steak.
On the days where I have the time to do this, I let it go on the stovetop because the longer it cooks, the more tender the meat becomes and the more flavorful the gravy is.
You'll know this dish is done when you can touch your fork to the meat, and it falls apart.
Then you serve it up with your favorite green side and some potatoes (or rice!), and enjoy!

What should I pair with this baked cube steak recipe?
Simply interested in the recipe?
Scroll on down and learn how simple this goodness is to make at home!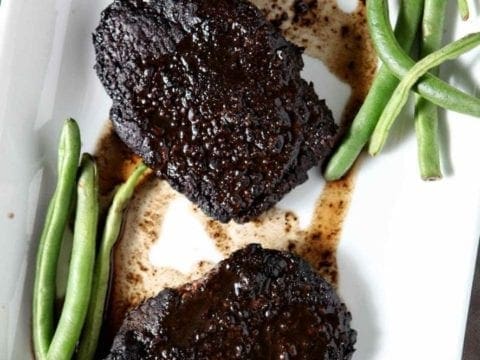 Yield:

4 servings
Baked Steak
Total Time:
3 hours
5 minutes
Need an easy, flavorful meal that the whole family will enjoy? Baked Steak is a favorite entree that requires very little hands-on time and can cook on the stovetop OR in the oven until perfectly cooked. Including an excellent pan gravy, this beef meal is best served with rice and green beans for an easy weeknight meal!
Ingredients
1 tablespoon extra virgin olive oil
1 lb. cubed steak
½ teaspoon black pepper
¼ teaspoon kosher salt
½ cup drinkable red wine
1 ½ cups chicken broth
½ cup beef broth
2 cups water
Instructions
Season the cubed steak with salt and pepper on both sides.
Heat the olive oil in a large skillet or a saute pan(with a lid). Make sure sides are deep since the entire mixture will be cooking in here.
Sear the cube steak over medium-high heat in the pan, browning on both sides.
Pull the steak from the pan, patting with a paper towel to soak up any extra oil.
Pour the wine into the pan and deglaze. Scrape any browned bits from the pan using a wooden spoon. Continue cooking until the wine has almost completely evaporated.
Pour the chicken and beef broth into the pan, and stir using the wooden spoon. Carefully place the cubed steak back into the pan, too.
Bring the ingredients to a boil, then lower the heat to LOW and cover, letting the mixture simmer. You may also do this in the oven in an oven-safe container.
In about an hour, add the two cups of water. Stir mixture and cover slightly, allowing room for steam to escape the pan.
Let the mixture cook down until it is thick and the steak cuts easily when touched with a fork.
Serve over mashed potatoes (or rice) with plenty of the gravy and enjoy!
Recommended Products
As an Amazon Associate and member of other affiliate programs, I earn from qualifying purchases.
Nutrition Information:
Yield:
4
Serving Size:
1
Amount Per Serving:
Calories:

339
Total Fat:

20g
Saturated Fat:

7g
Trans Fat:

0g
Unsaturated Fat:

10g
Cholesterol:

106mg
Sodium:

660mg
Carbohydrates:

1g
Fiber:

0g
Sugar:

1g
Protein:

32g
Nutrition facts are an estimate and not guaranteed to be accurate.
The photos and recipe for this Baked Steak recipe were originally published on November 14, 2011. The photographs, along with the text of this blog post, were updated on October 13, 2017. The post was republished on October 19, 2017.