In search of a vegan, grain-free Thanksgiving side? Look no farther than this simple, but incredibly flavorful Garlicky Spaghetti Squash. Spaghetti squash is baked, then shredded and sautéed with red pepper flakes and tons of garlic.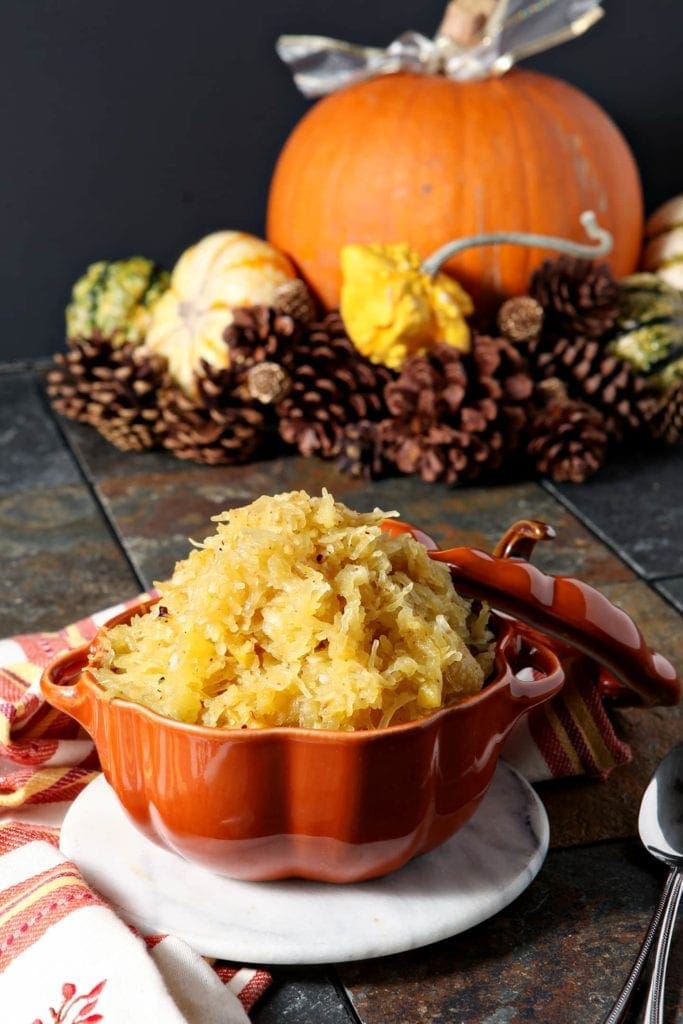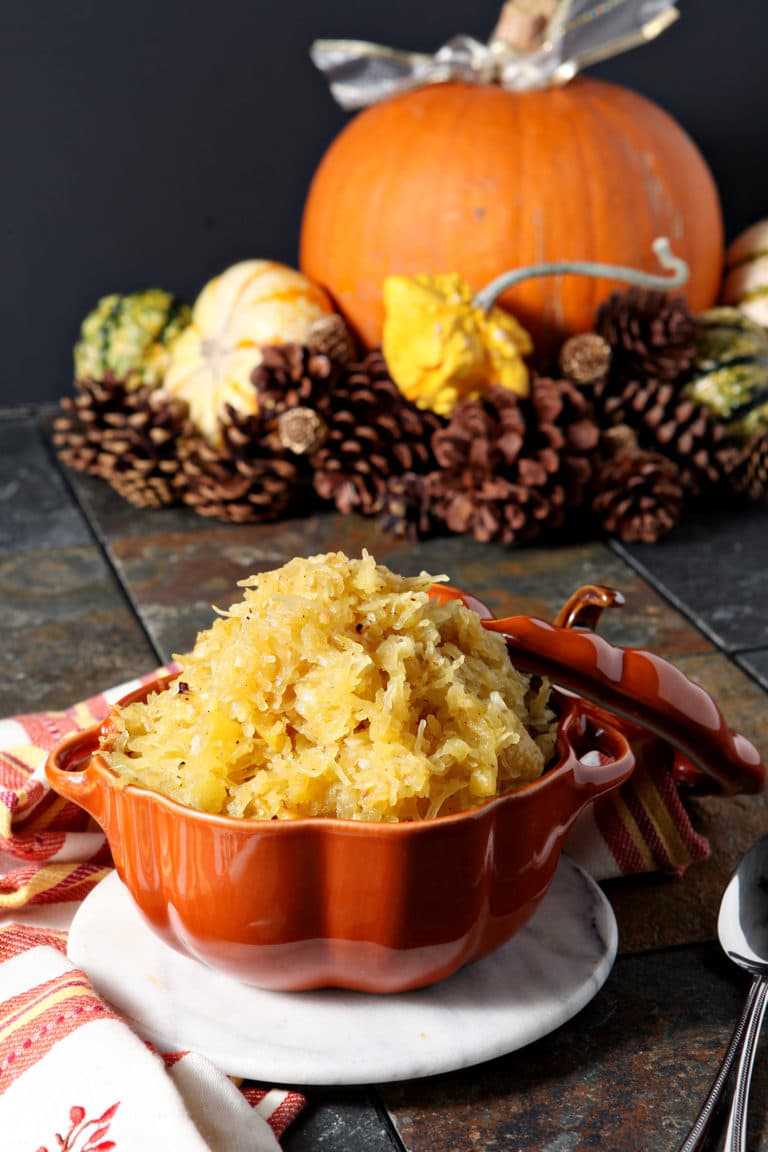 This post contains affiliate links. If you were to make a purchase through one, I would receive a small commission. For more information about the affiliate programs The Speckled Palate participates in, please refer to my disclosure page.
In an attempt to try something different this year, I have all side dishes for y'all as Thanksgiving inspiration. I'm the kind of girl who enjoys her turkey, but I always keep coming back to the sides, whether it's our first meal or we're eating leftovers.
With that in mind, I've created some vegetarian and vegan-friendly recipes. This one is also grain-free, and it's allllll kinds of good.
Or maybe I should specify: it's allllll kinds of good if you like garlic.
If garlic's not your thing? I'd suggest trying another recipe instead.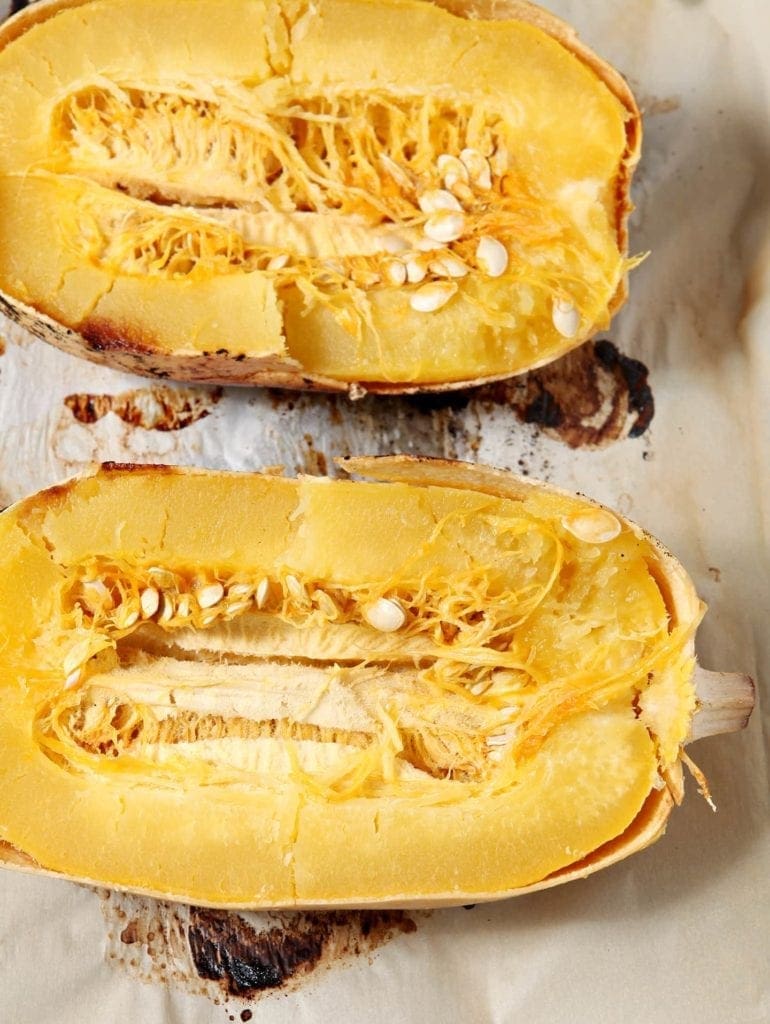 Spaghetti squash is a new vegetable to me, even though I've known about it for years. I distinctly remember my friend Doniree telling all about it when she visited me in Nashville years ago, but I never made any moves to make it on my own.
I didn't even try spaghetti squash until a sweet friend brought some over for us to enjoy after Lady Baby was born.
I, obviously, loved it. So did Winston.
So we went in search of it at the grocery store shortly after and have been making it ever since.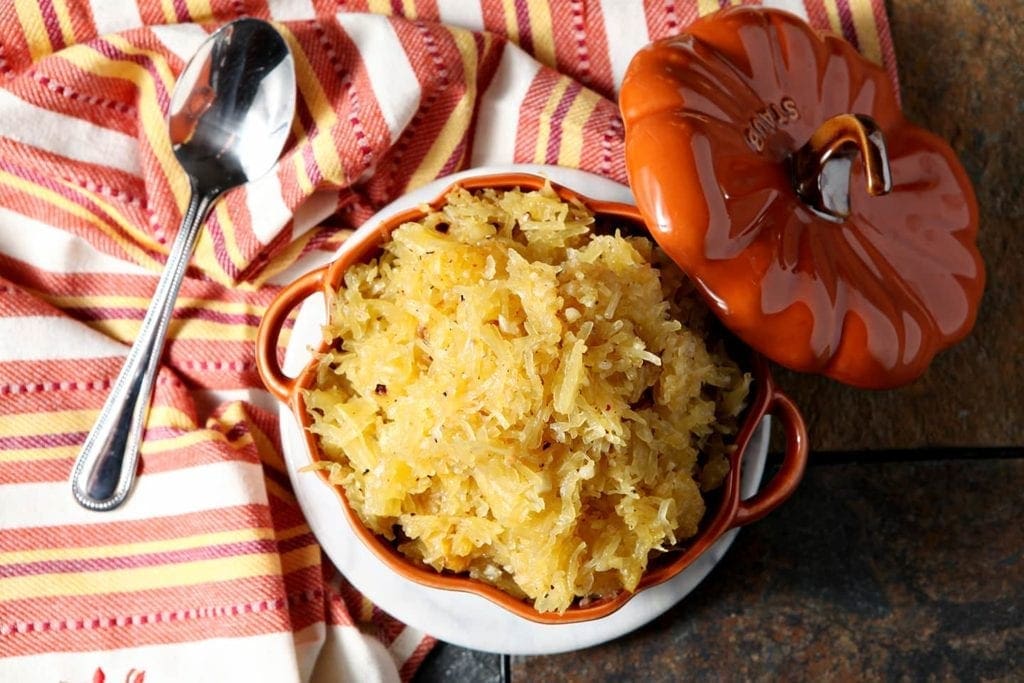 This "recipe," if you could even call it this, is incredibly simple.
The part that takes the longest is actually roasting the spaghetti squash, which will depend on how large the spaghetti squash you have is. Ours–a 4-pound monstrosity–took almost an hour and 45 minutes roasting.
Once it cooled a little bit, and I shredded it up, it was easy to get this side on the table.
I minced a ton of garlic, then threw it in a nonstick frying pan with some olive oil and red pepper flakes. Then I added the shredded spaghetti squash, mixed everything together, and voila! Garlicky Spaghetti Squash.
This is a great weeknight recipe, but it would also be the perfect Thanksgiving side because it adds a unique flavor and texture. It's also great for any dinner guests who want a grain-free or vegan option for their dinner. And it's loved by people who don't eat grain-free or vegan diets, so everyone can enjoy this.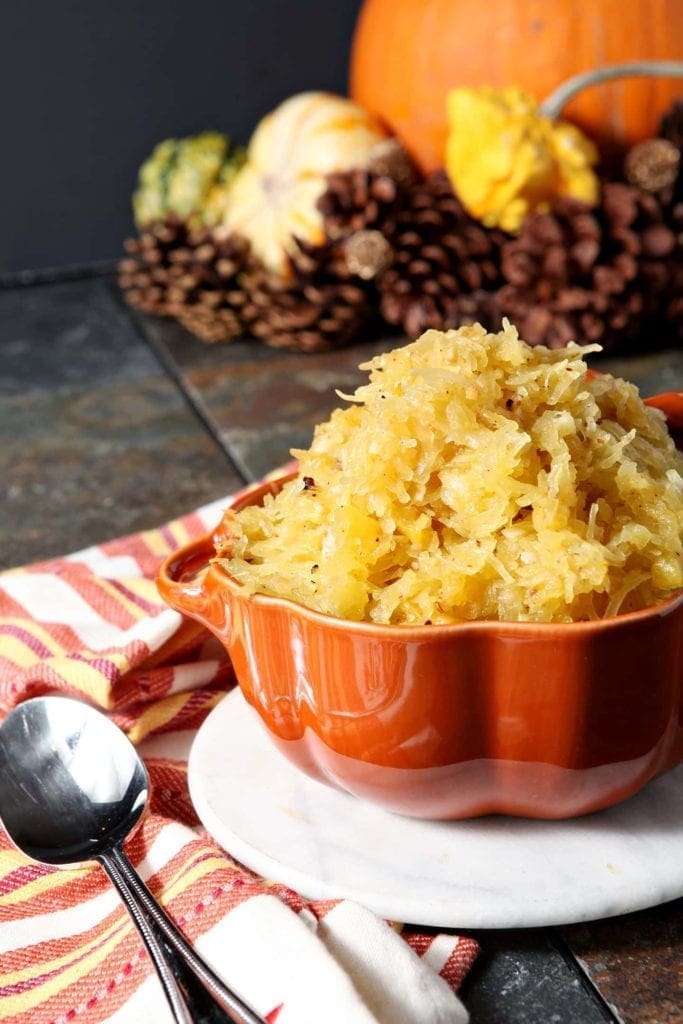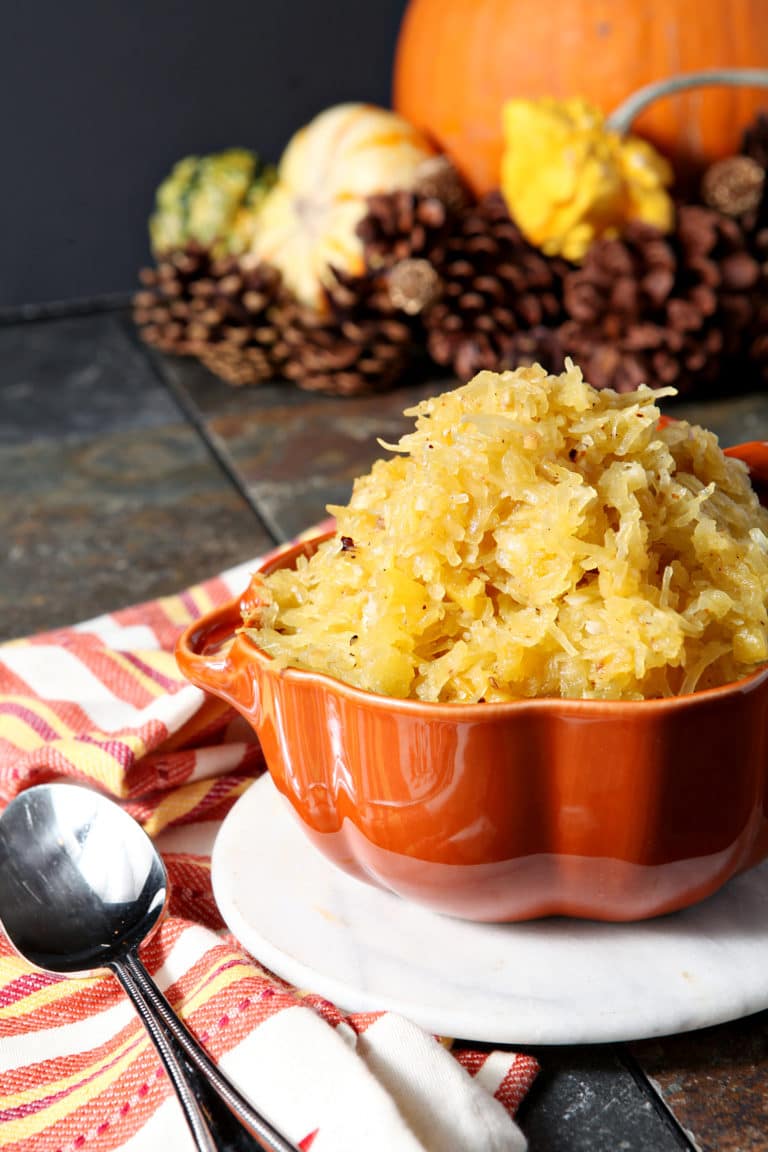 Garlicky Spaghetti Squash Essentials
Get the look!


Thanksgiving is all about family, friends and delicious food. Luckily, the food blogging community is allabout these things, as well. To celebrate the holiday, Meghan from Cake 'n Knife and Susannah from Feast + West are hosting Blogsgiving Dinner. And this year, there are more than 60 blogs sharing recipes this week!
The idea is based on an old-fashioned potluck dinner party.
Each blogger is bringing one or more dishes to the party, so be sure to stop by each one and get some ideas for your own Thanksgiving meal. We'll be posting to social media with the hashtag #blogsgivingdinner, but you can see all the whole menu in Part 1 and Part 2 of the recipe round-up.
Scroll on down to get my recipe and enjoy all the holiday goodness!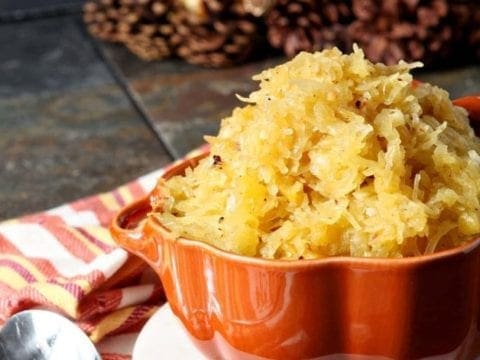 Yield:

6 servings
Garlicky Spagetti Squash
Total Time:
2 hours
5 minutes
In search of a vegan, grain-free Thanksgiving side? Look no farther than this simple, but incredibly flavorful Garlicky Spaghetti Squash. Spaghetti squash is baked, then shredded and sautéed with red pepper flakes and tons of garlic.
Ingredients
4 lb. spaghetti squash
10 garlic cloves, minced
3 tablespoons extra virgin olive oil
¾ teaspoon freshly ground black pepper
½ teaspoon kosher salt
½ teaspoon red pepper flakes
Instructions
Preheat the oven to 400°F. Line a baking sheet with two layers of parchment paper.
Using a sharp knife, pierce the skin of the spaghetti squash several times so moisture has a way to escape during the cooking process.
Bake the spaghetti squash for 1 hour and 45 minutes, or until the squash's skin has softened and can easily be cut into.
When the squash is soft, remove from the oven, and let cool for 10 minutes.
Cut the squash length-wise, and scoop out the seeds.
Using a fork, shred the squash and form the spaghetti. When everything has been shredded, set aside.
In a large skillet over medium-high heat, add the olive oil.
When the oil is hot, add the garlic and the red pepper flakes. Cook for two minutes, then add in the spaghetti squash, stirring in until the garlic and seasoning is spread throughout.
Season with the salt and pepper, then serve.
Nutrition Information:
Yield:
6 servings
Serving Size:
1 serving
Amount Per Serving:
Calories:

150
Total Fat:

8g
Saturated Fat:

1g
Trans Fat:

0g
Unsaturated Fat:

6g
Cholesterol:

0mg
Sodium:

232mg
Carbohydrates:

21g
Fiber:

4g
Sugar:

8g
Protein:

2g
Nutrition facts are an estimate and not guaranteed to be accurate.
What kind of sides do you like to serve at your Thanksgiving table?