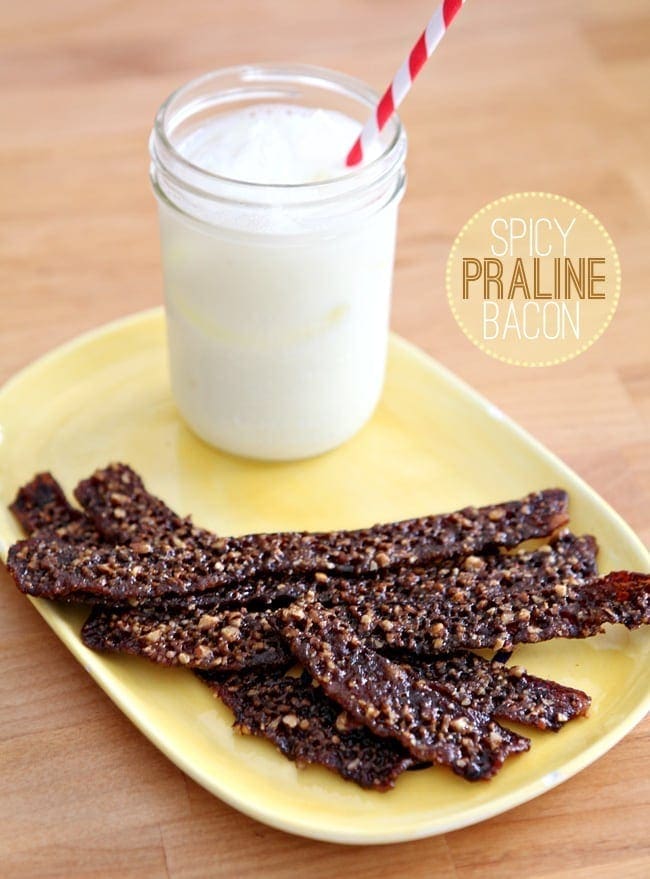 You know that moment when you stumble upon the perfect balance of sweet and salty, all in the same bite?
This happened to me last summer at a little restaurant called The French Press in my husband's hometown of Lafayette, Louisiana.
We were at brunch for Mother's Day, and Winston's grandfather mentioned that we had to try the Praline Bacon offered on the menu because it was something ever person needed to try at least once. I remember dragging my feet a little, skeptical that bacon topped with praline was the best idea. Pa went ahead and ordered us a side of the decadent pork, not accepting my skepticism and telling me it was worth a try.
When our dish of Praline Bacon was delivered to the table, I took a bite, and my mind was blown. Not only was the bacon salty and sweet, but there was a hint of spice in it, as well. And any doubts I might have had about the dish vanished… and I became a Praline Bacon convert.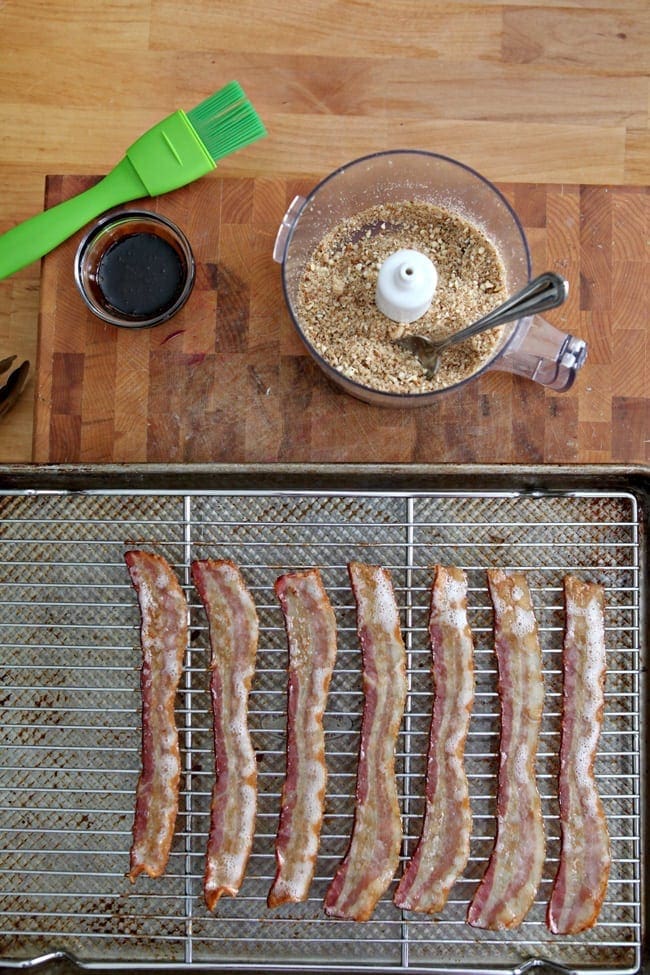 So you must be wondering why I decided to give this dish a shot in my own kitchen, right?
Why not just go back to The French Press and indulge myself every time we visit family in Louisiana?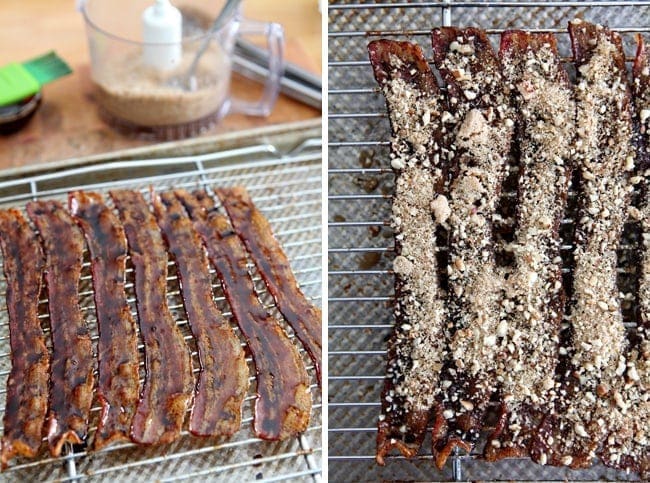 I was struck by a moment of inspiration last week, and it had to do with the James Beard Foundation.
Yes, you heard me right. And no, I don't normally follow what's going on at the James Beard Foundation… but I fell down a rabbit hole last week, and I am so happy I did.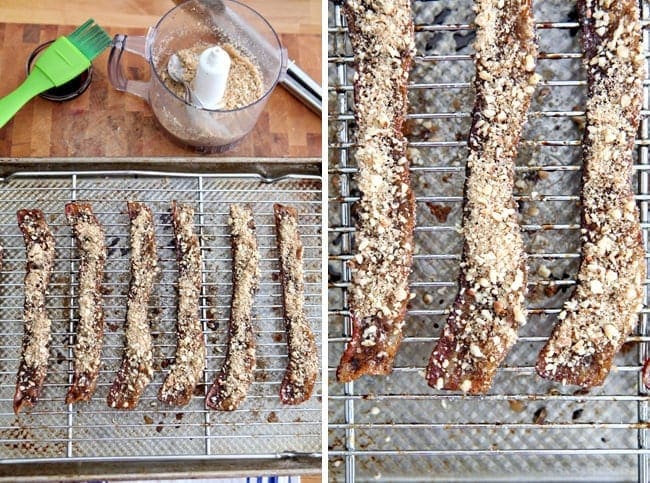 Last week, the 2013 James Beard Foundation Restaurant and Chef Award Semi-Finalists were announced, and I was thrilled to learn that Justin Girouard, the chef at The French Press, is a semi-finalist for Best Chef in the South.
And I started thinking about that Praline Bacon I ate last year.
And then I realized I had a package of bacon in the fridge.
And then I realized I had all the other toppings to make pralines in my pantry.
And then, the idea snowballed, and I was making my own Praline Bacon. Because that is how my brain works, folks.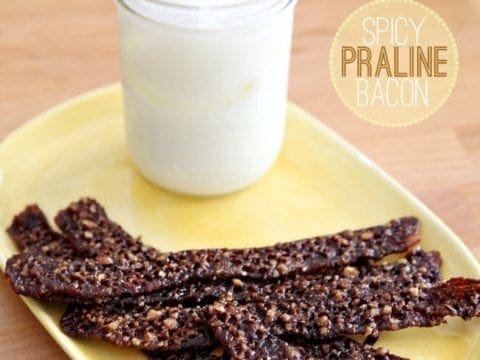 Yield:

4 servings
Spicy Praline Bacon
Sweet, salty and slightly spicy bacon is topped with a decadent brown sugar-pecan praline topping. Spicy Praline Bacon makes a delightful addition to any brunch get together.
Ingredients
½ pound thick-cut bacon
3 tablespoons pecans
2 tablespoons light brown sugar
1 tablespoon molasses
A dash of cayenne pepper
Instructions
Preheat the oven to 375°F.
Toast the pecans for about 8 minutes or until just golden brown. Do not overcook the pecans here, as they will be in the oven roasting again before this dish is completed.
Once the pecans are toasted and cooled, combine with the brown sugar in a food processor, chopping and mixing the ingredients together.
Place the bacon on a wire baking rack atop your baking sheet, and bake for 15-20 minutes or until the bacon is partially cooked through. (You want the bacon to be about 3/4 of the way done at this point, but you don't want it to be browning already.)
Push the bacon close together on the rack using tongs and brush the slices with the molasses. The molasses is going to mix with the fat that has bubbled on the top of the slices, so this may look a little funny. Just brush the molasses on each strip until every one is coated.
Using a spoon or your fingers, sprinkle the sugar-pecan topping onto the slices of bacon, patting them down slightly.
Sprinkle the cayenne pepper on top of each slice. This should be a light dusting and will add a little kick to the bacon.
Bake for an additional 5-10 minutes or until the topping is bubbly, and the bacon is brown and cooked through. Keep an eye on your bacon for this, as you do NOT want the topping to burn! I'd start it out at 5 minutes and check, then add additional time if necessary. (I baked mine for around 20 because my oven is sad and slow... and I really like crispy, unburnt bacon, so I took the risk.)
Let cool, then enjoy these chewy breakfast treats!
Nutrition Information:
Yield:
4
Serving Size:
1 serving
Amount Per Serving:
Calories:

335
Total Fat:

23g
Saturated Fat:

7g
Trans Fat:

0g
Unsaturated Fat:

15g
Cholesterol:

56mg
Sodium:

958mg
Carbohydrates:

11g
Fiber:

0g
Sugar:

9g
Protein:

20g
Nutrition facts are an estimate and not guaranteed to be accurate.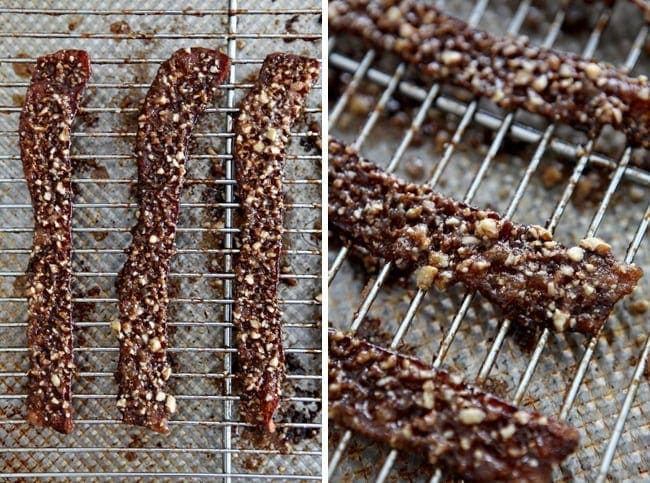 Have you ever tried Praline Bacon? Are you as crazy about it as I am? Would you try it now?