Take your cocktail mixing skills to the next level by learning to mix a Cadillac Margarita. Made with premium ingredients, this Cadillac Margarita recipe is easy to make at home and utterly delicious. Makes 1 top shelf margarita, but can easily be doubled.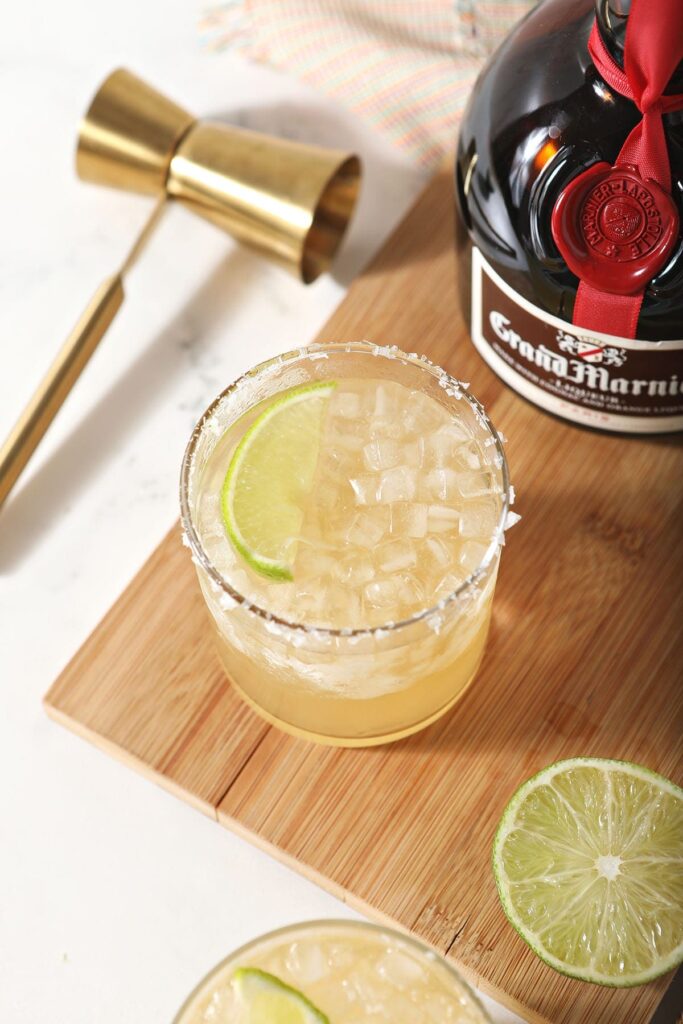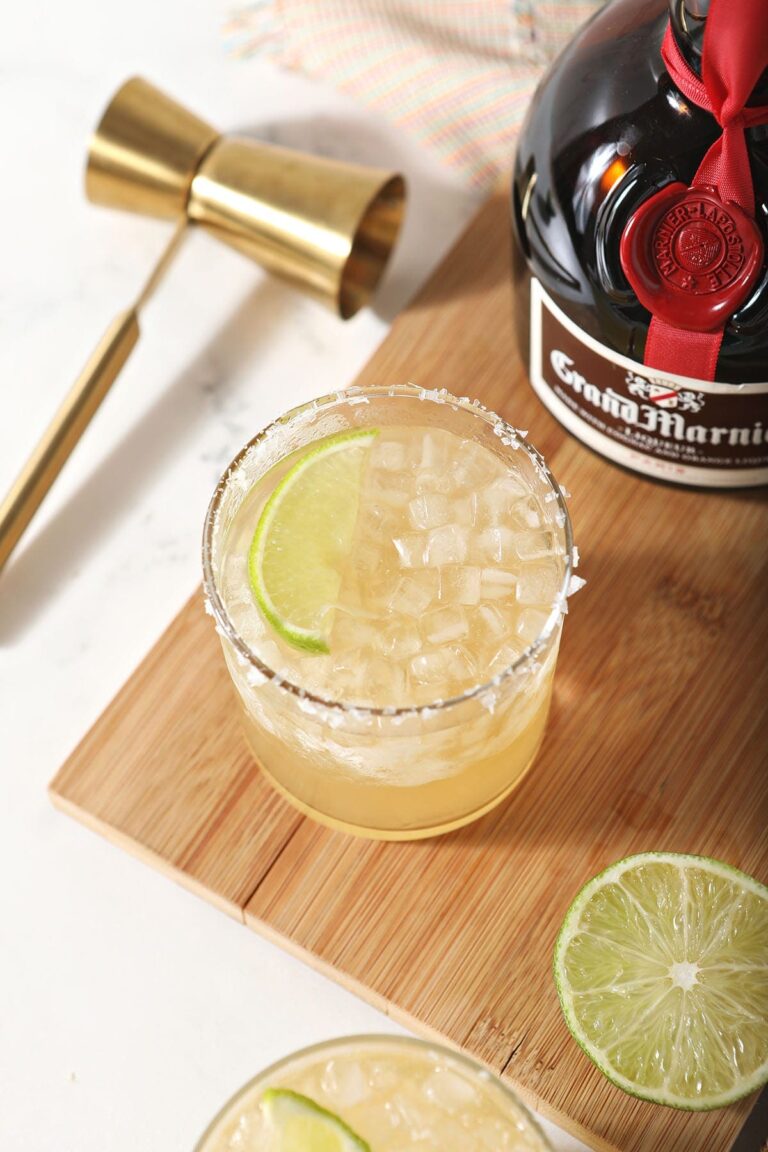 Our year of the margarita continues today with this (fancy pants) Cadillac Margarita.
Think of this as the classic Cointreau margarita, but elevated. This top shelf margarita recipe calls for FOUR quality ingredients.
It's really delicious and well-balanced, so you don't get a punch in the face from the tequila like you do in some margaritas.
It's nice and smooth, so you can sip it easy!
What makes this top shelf margarita recipe special
Unlike a classic margarita, which calls for silver tequila and triple sec, this Cadillac Margarita recipe elevates it by using premium tequila and Grand Marnier. (You could also call this a Grand Marnier Margarita.)
Top shelf silver/blanco tequila is what this recipe calls for. Use the best tequila you can afford because better ingredients makes for a better overall drink.
Some Cadillac Margarita recipes recommend using a reposado tequila or Añejo tequila, which is tequila that's been aged and is older than blanco (also called joven (young) tequila.)
Whatever tequila you purchase, just be sure that it's labeled 100% blue agave and not a blend.
There are lots of tequilas that fall under this "top shelf" umbrella. Mostly, this depends on your tastebuds and budget. Whatever you consider a premium tequila, use that!
Grand Marnier is a top shelf orange liqueur. It offers a more complex depth of flavor than traditional triple sec or Cointreau, and you'll taste hints of vanilla and oak along with the orange burst of flavor.
These two ingredients really take the classic margarita and elevate it to the "top shelf" experience.
Other margaritas you might want to test out: Frozen Strawberry Margarita | Apple Cider Margaritas | Cherry Lemonade Margaritas | Strawberry Margarita | Cantaloupe Mint Margarita | Cucumber Margarita | Pineapple Margarita
In the market for a new drink to mix? Check out my Cocktail Recipe Index for inspiration!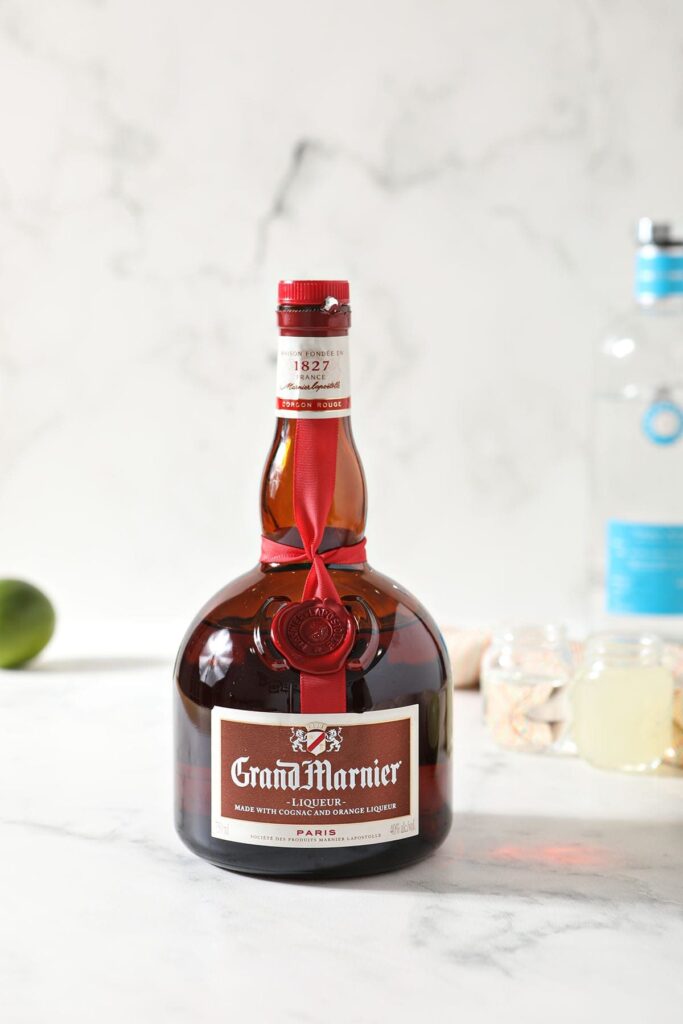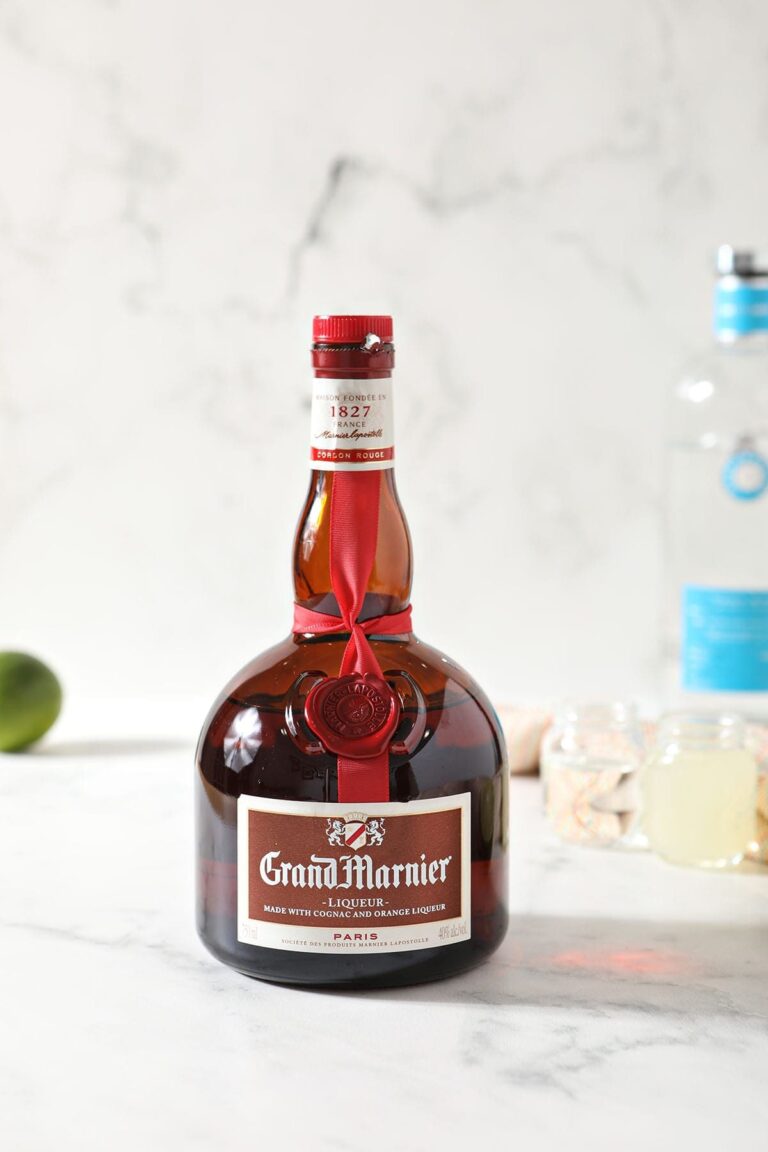 What you'll need to make a Cadillac Margarita
The Speckled Palate participates in affiliate programs. As an Amazon Associate, I earn a commission from qualifying purchases. Please refer to my disclosure page for more information about these affiliate programs.
Let's talk ingredients!
In addition to the tools above, you're going to need some ingredients to make this recipe, too! Chances are, you might already have some of them in your fridge or pantry. Scroll down to the recipe card for the full measurements and instructions.
Here's what you need:
Premium tequila — I use a silver or blanco tequila in this recipe for its light flavor and brightness
Grand Marnier — there is no substitute for a Cadillac Margarita.
Fresh lime juice — I purchase cold pressed lime juice from the refrigerated section at the grocery store. It's with the pre-chopped fruit and is worth the splurge. However, you can purchase limes and squeeze 'em yourself if that's what you'd rather do.
Simple syrup — you can make it at home or you can purchase it from the store or online
What type of tequila should I use?
I touched on it above, but I recommend using whatever premium, top shelf tequila you can afford in this recipe.
Some Cadillac Margarita recipes use aged tequila, such as reposado or Añejo. These tequilas have more depth of flavor, as they're aged for a period of time in wooden casks, much like bourbon, whiskey and wine.
However, I prefer the brightness of a blanco tequila overall when paired with the vanilla and oak notes from the Grand Marnier, so that's what I use in this Cadillac margarita recipe.
If you want to mix in your favorite reposado or Añejo tequila, have at it! Just be sure that whatever you use is labeled 100% blue agave.
If you're looking for brands in particular that I enjoy, here are a few:
Herradura Silver — this is our "house tequila" and we've used it with all our margaritas recently because it's smooth, not too expensive and tasty!
Espolòn Tequila Blanco — much like the Herradura Silver, this is a smooth, tasty tequila that's definitely on the more affordable end of the spectrum
Casa Dragones Blanco — we fell in love with this brand when we visited San Miguel de Allende last year. This brand and product is a total splurge, and while I used it to take these photos, it's certainly not a requirement for a good top shelf margarita.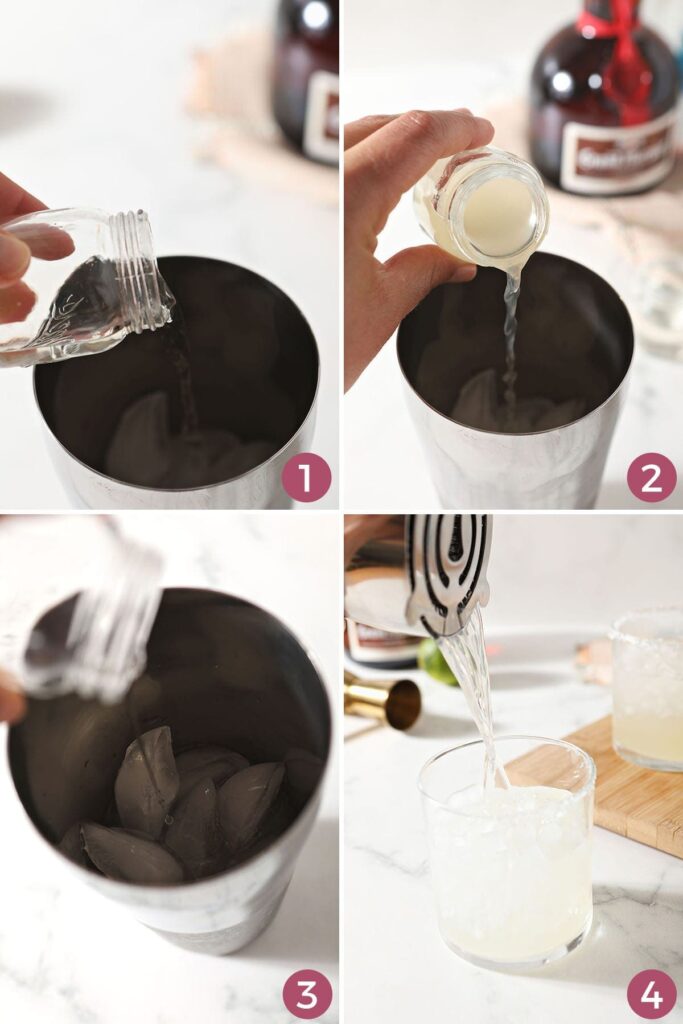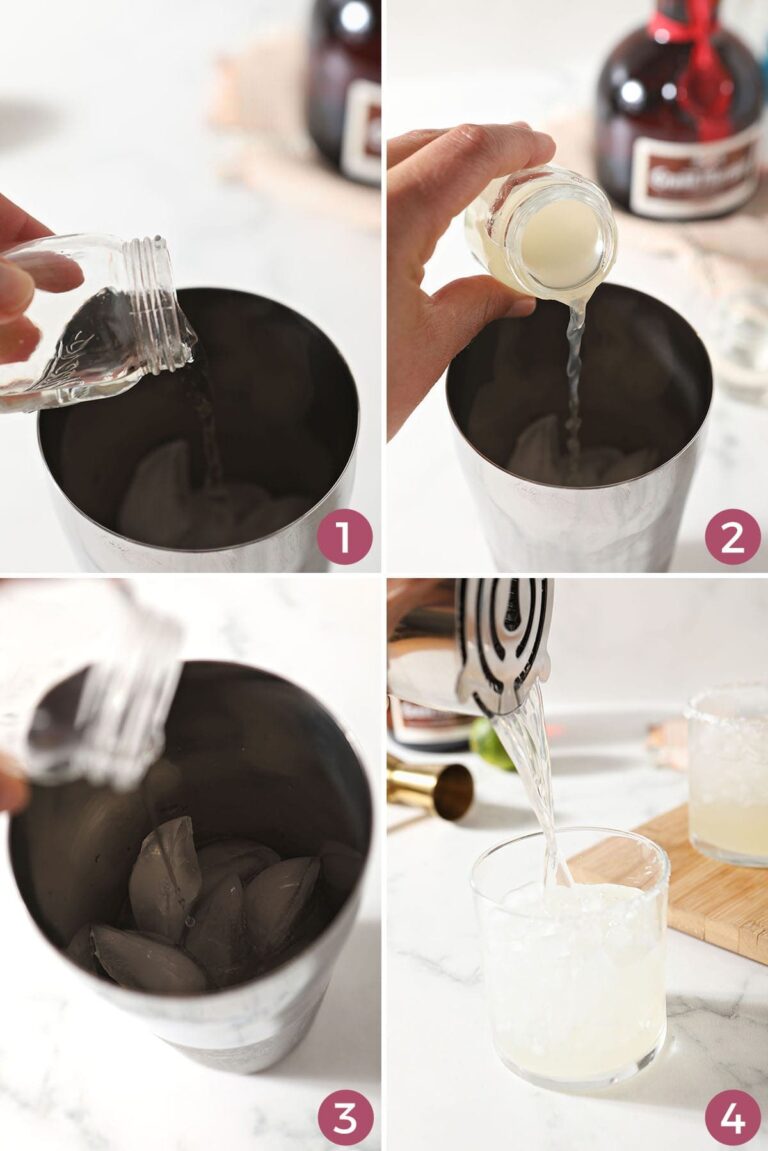 How to make this Cadillac margarita recipe at home
First and foremost, juice your limes. I typically do this over a liquid measuring cup* (affiliate link) with a fine mesh strainer on top of it to keep pulp and seeds out of the final juice.
Pro tip!
You'll get more juice from your limes if they're room temperature. If you keep 'em in the fridge, pop them into the microwave for 20-30 seconds to get those juices flowing!
Also, you'll want to rim your margarita glass (or regular 'ol cup) with salt if you're into that at this point. You can also add ice to the glass, as well, if you want your margarita on the rocks to be extra cold.
Once your limes are juiced and other ingredients are acquired, fill a cocktail shaker with ice. Measure in the tequila, simple syrup and lime juice.
Give it a good shake until the metal of the cocktail shaker is extremely cold, then strain and pour into your prepared margarita glasses.
Pour the Grand Marnier over the top of the margaritas. Either let it float on top, creating a beautiful ombre effect, or stir it in.
Garnish with a lime, and enjoy immediately.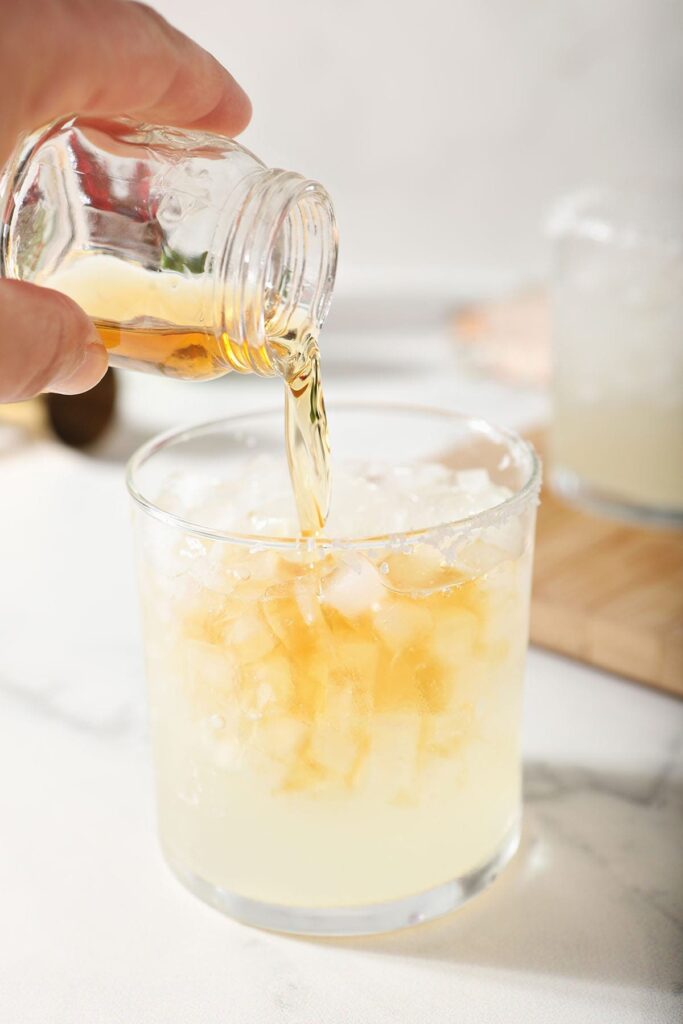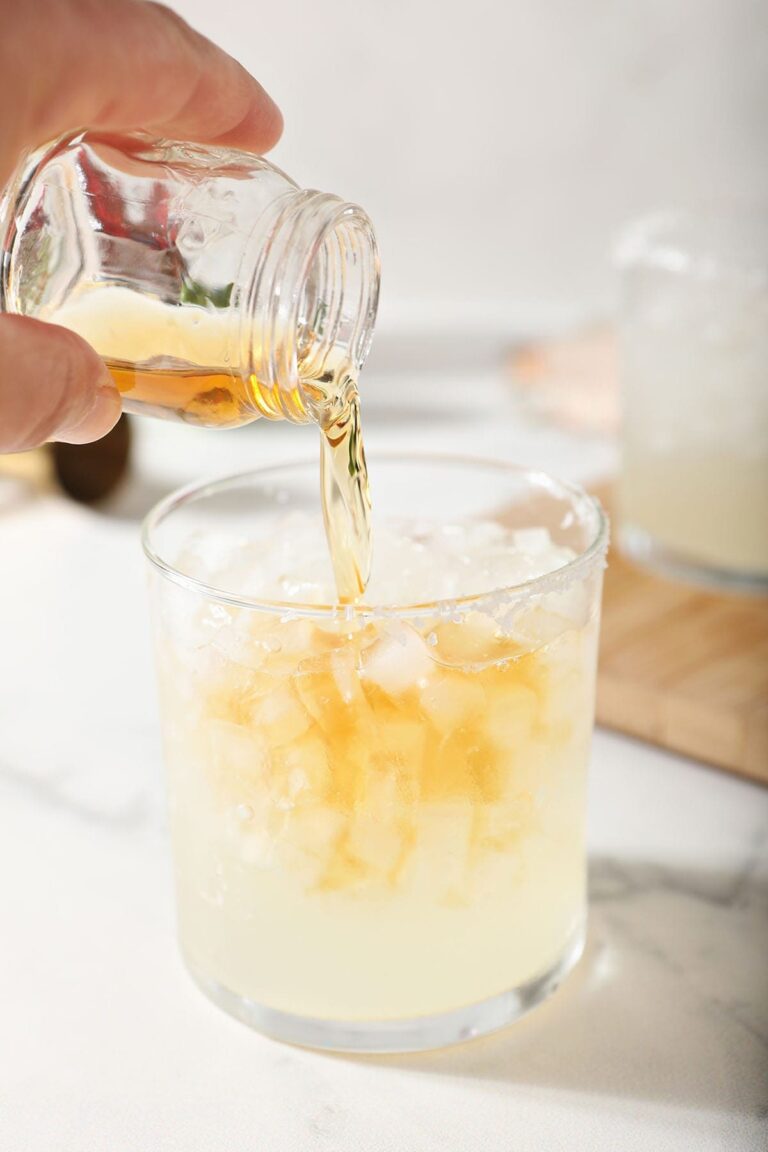 Erin's Easy Entertaining Tips
Hi, hello. Who hasn't made or drank a margarita at a happy hour, a homemade Mexican dinner party or even a Cinco de Mayo gathering?
For me, a Cadillac Margarita is a celebration unto itself! Margaritas at home are so simple because they require few ingredients and even less time to put 'em together! And this margarita recipe is absolutely worth mixing up to share.
Here are a few tips and tricks to make it as easy as possible:
Make your simple syrup 1-2 days in advance. Let it hang out in the fridge, and make a lot of it, depending on how many friends are joining you.
Squeeze the limes an hour or so before guests arrive—or take the store-bought shortcut. Just be sure to get the fresh-squeezed lime juice instead of the shelf-stable kind. It makes all the difference.
Turn it into a pitcher! If you're hosting several friends, you might as well make a pitcher so you're not mixing up margaritas by request throughout the evening. I have details about how to do this in the recipe card below.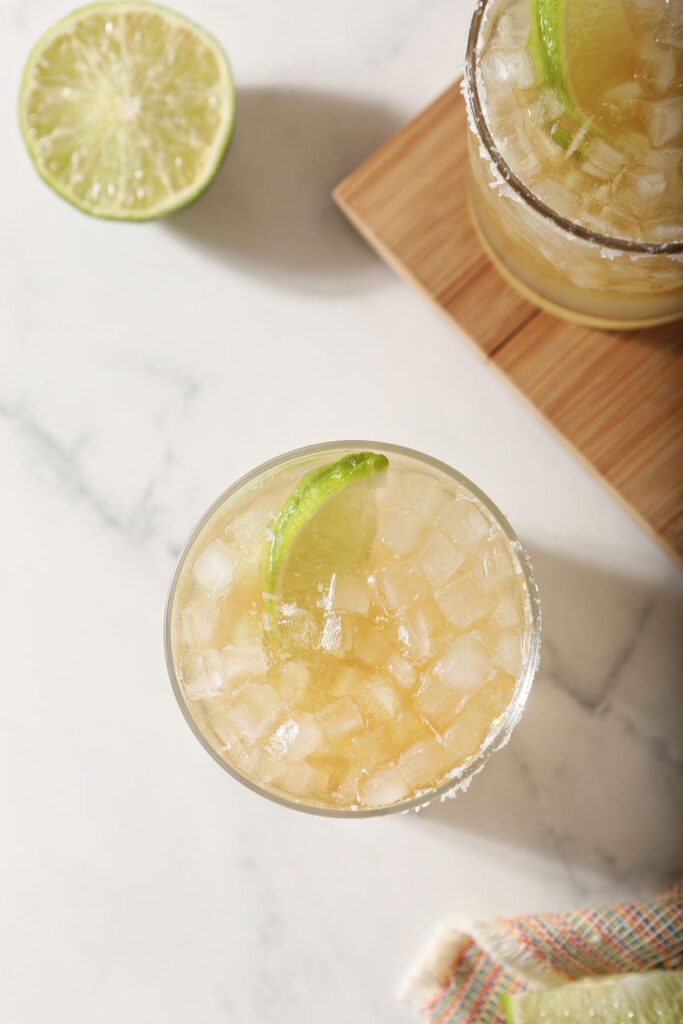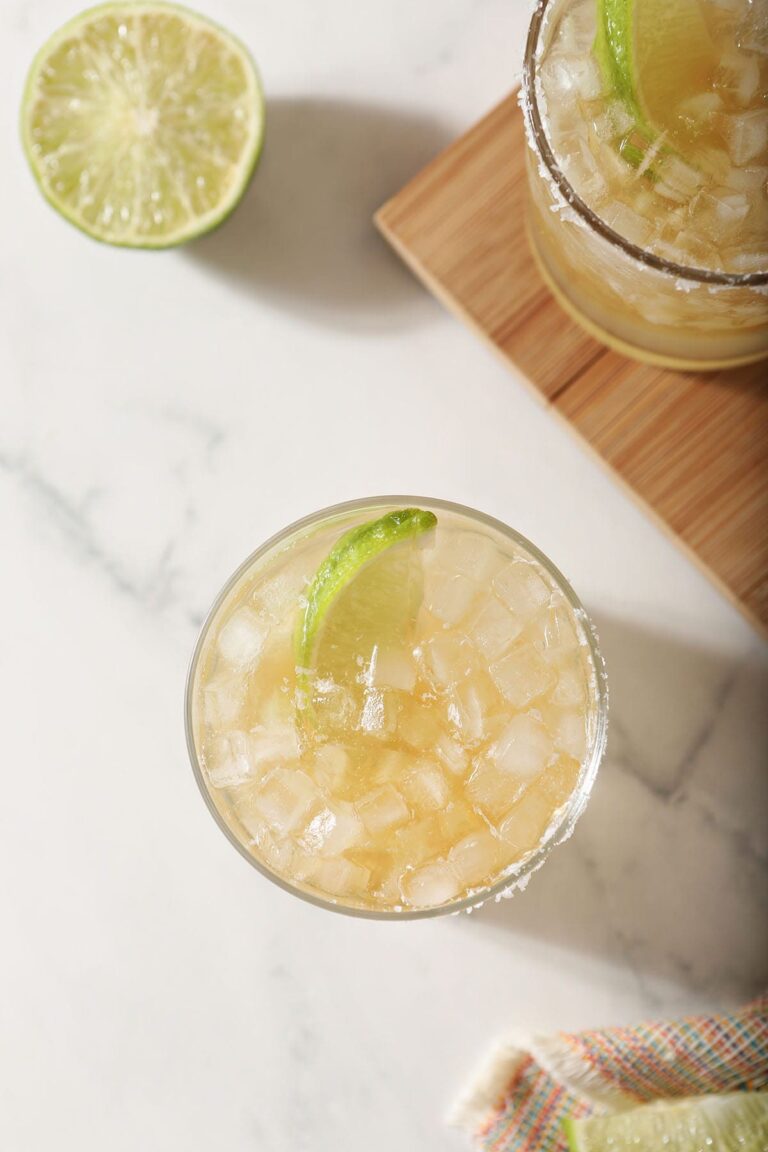 Frequently Asked Questions
What is the difference between a margarita and a Cadillac margarita?
A Cadillac margarita is regular margarita, but with higher quality ingredients.
Why is it called a Cadillac margarita?
Much like the luxury car brand, a Cadillac Margarita is considered top of the line. This is also considered and called a top shelf margarita.
Which is better for Margarita Cointreau or Grand Marnier?
It depends on what type of margarita you're making. I use Cointreau in all my "regular" margaritas because I love the flavor it imparts, but for a Cadillac Margarita like this one, Grand Marnier is really the ingredient that pushes it over the top.
What is the difference between Cointreau and Grand Marnier?
Both orange liqueurs, which come in at around 40% ABV, provide lots of flavor to drinks. However, Grand Marnier, which is made with cognac, is considered the top shelf orange liqueur. It's got more depth of flavor and speaks to the flavors of orange, vanilla and light oak and has a darker color than Cointreau, which is a clear alcohol.
How do you rim a glass with salt?
Take a lime wedge and run it around the edge of the glass. You want there to be enough liquid to where the salt will stick, but that the juice doesn't run down the side of your glass. (If it does, no big deal—that'll just add a little extra lime juice to your margarita.) Pour salt onto a small, and gently press the glass into the salt, until salt coats the rim.
How can I make this Cadillac Margarita into a margarita pitcher?
Take the following measurements and pour, stir and chill them together in a pitcher for a 6-drink margarita pitcher:

9 oz. silver tequila
9 oz. lime juice
6 oz. Grand Marnier
6 oz. simple syrup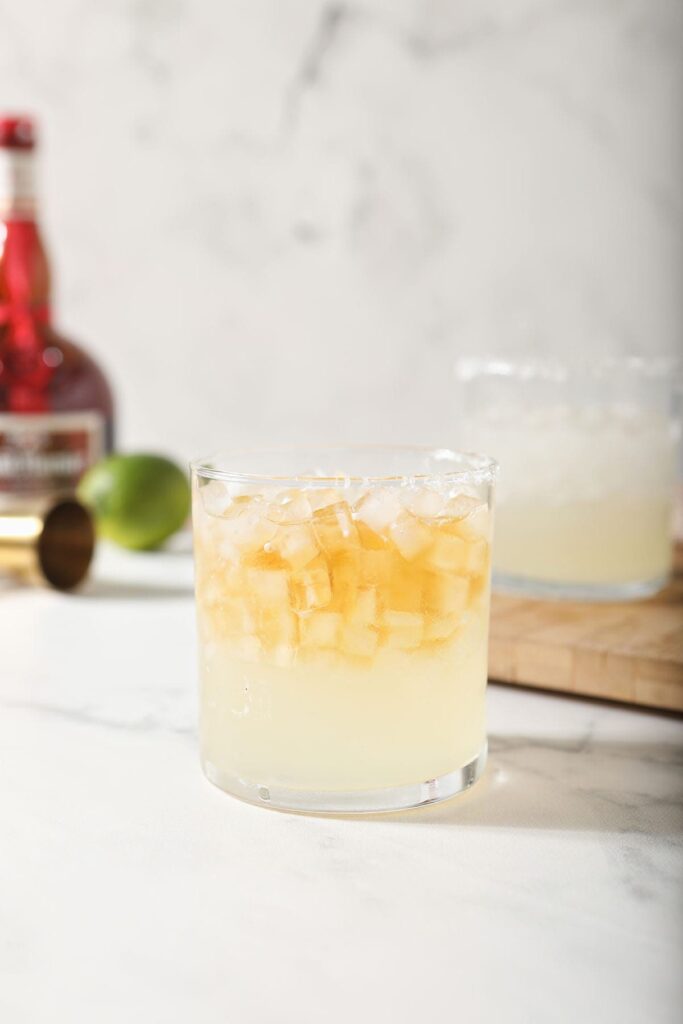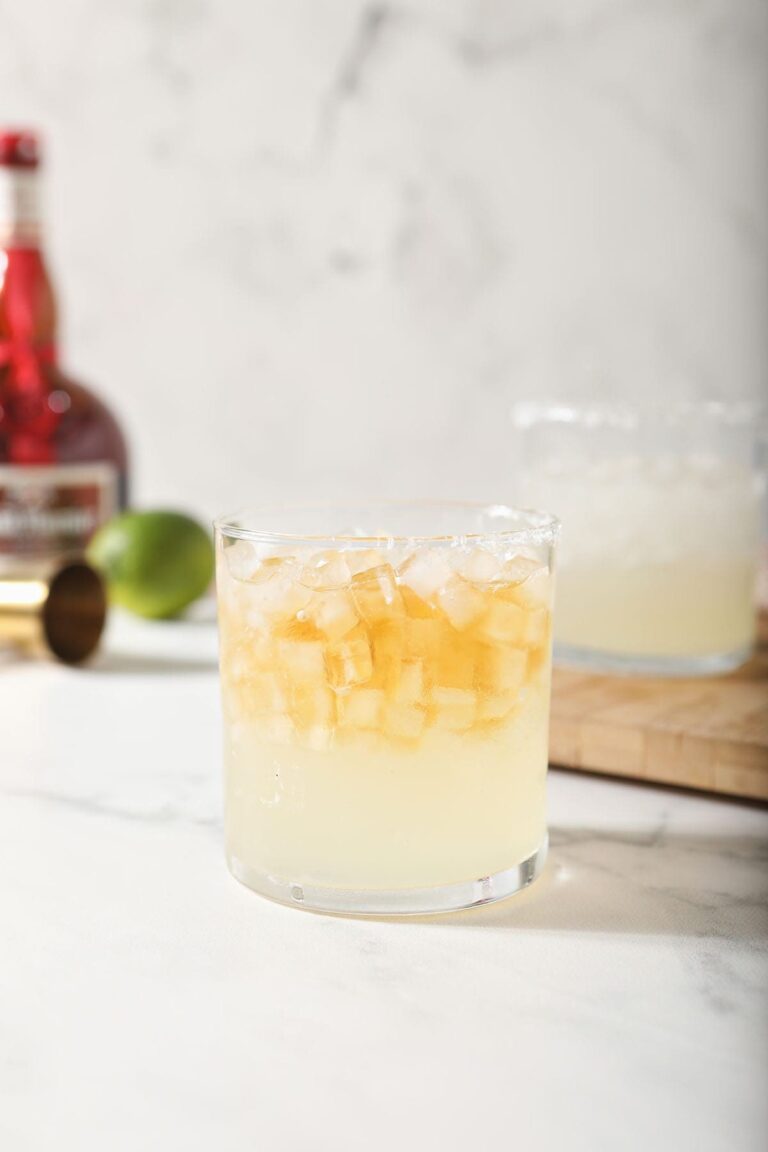 Quick tips and tricks for making the best homemade margaritas
Prep your ingredients before mixing your drink. That means juicing your limes ahead of time and making that simple syrup, too.
Don't skimp on the ingredients. That means investing in the Grand Marnier and the top shelf tequila of your choice to make this a true, tasty Cadillac Margarita.
Turn it into a pitcher drink! Quadruple the recipe (or multiply it by six) to turn this drink into a Top Shelf Margarita Pitcher.
Purchase good lime juice. The shelf stable bottled stuff won't cut it for a Cadillac Margarita, plain and simple.
Shake it up! If you don't have a cocktail shaker, pour the ingredients into a mason jar, cap and shake.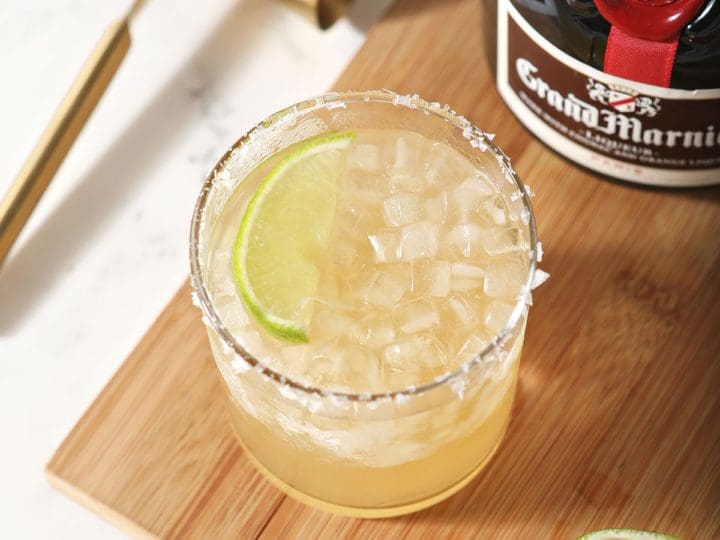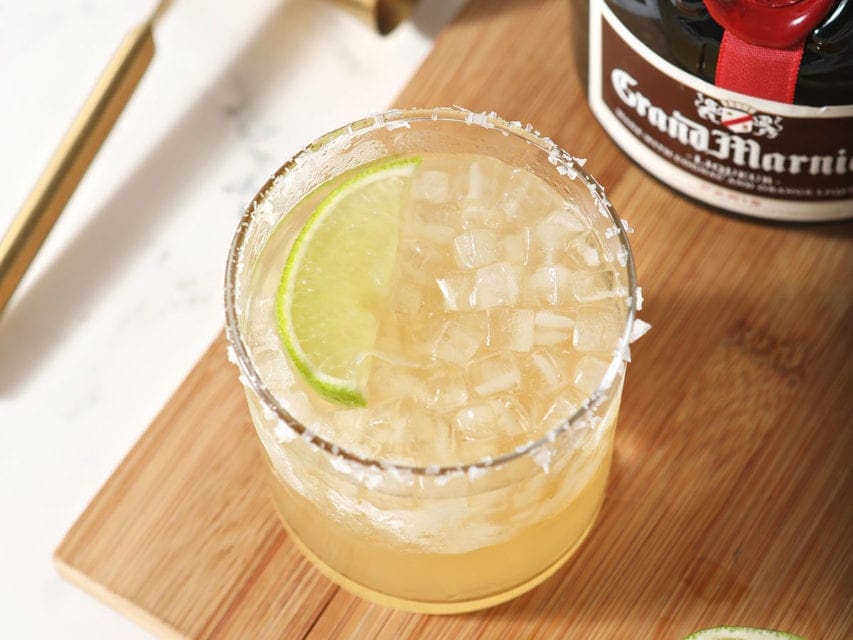 Yield:

1 margarita
Cadillac Margarita
Take your cocktail mixing skills to the next level by learning to mix a Cadillac Margarita. This 4-ingredient Cadillac Margarita recipe is easy to mix at home and utterly delicious.
Ingredients
1 ½ oz. silver tequila
1 ½ oz. lime juice, freshly squeezed
1 oz. simple syrup
1 oz. Grand Marnier
Salt, to rim the glass(es) with
Lime wedges or twists, for garnish
Instructions
If desired, rim your margarita glasses with salt, and set aside.
Combine the tequila, lime juice and simple syrup in a cocktail shaker filled with ice.
Shake the ingredients until ice cold, then pour into a margarita glass filled with ice and rimmed with salt.
Pour the Grand Marnier on top of the margaritas, letting it float on top to create a beautiful ombre effect, or stir in.
Garnish with a lime wedge, and enjoy immediately.
Notes
This recipe makes a single margarita, but it can easily be doubled or tripled if you're pouring margaritas for a crowd.
To make a Cadillac Margarita Pitcher for 6:
9 oz. silver tequila
9 oz. lime juice
6 oz. Grand Marnier
6 oz. simple syrup
Combine all the ingredients in a pitcher, stir and then chill before serving over ice with lime garnishes.

Recommended Products
As an Amazon Associate and member of other affiliate programs, I earn from qualifying purchases.
Nutrition Information:
Yield:
1 drink
Serving Size:
1
Amount Per Serving:
Calories:

178
Total Fat:

0g
Saturated Fat:

0g
Trans Fat:

0g
Unsaturated Fat:

0g
Cholesterol:

0mg
Sodium:

584mg
Carbohydrates:

24g
Fiber:

2g
Sugar:

15g
Protein:

1g
Nutrition facts are an estimate and not guaranteed to be accurate.