Heirloom Tomato Bruschetta
Celebrate the warm months with this super quick, easy Caprese Bruschetta with Heirloom Tomatoes. Calling for heirloom tomatoes, fresh mozzarella and fresh basil, this appetizer recipe sings of the flavors of the season and is so incredibly easy to make for any occasion.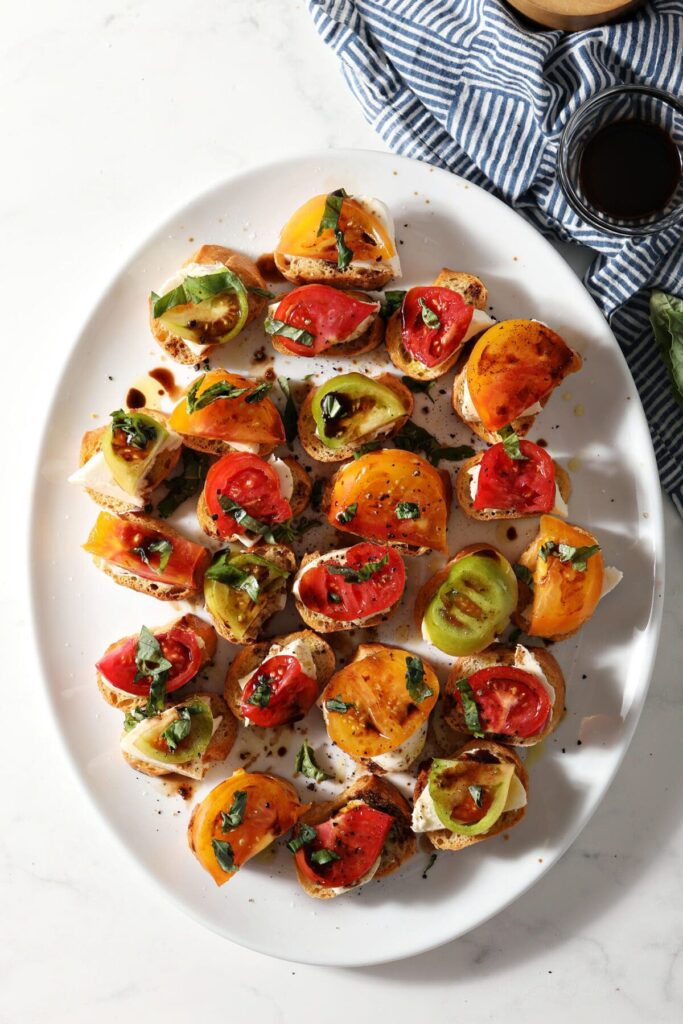 2023 Update: This recipe was originally shared in August 2013. This post has been updated to include new photos, as well as many more tips and tricks. I hope you love this appetizer!
I made this recipe for game day eating and at-home tailgating, but I'm here to tell you this is the most easy bruschetta recipe that can be enjoyed all summer long!
So whether you're looking for something to serve guests or an excellent light lunch, THIS IS IT.
Why I love this recipe:
I originally called this an Heirloom Tomato Bruschetta… because it involves heirloom tomatoes, but really, this is an easy CAPRESE Bruschetta recipe.
It involves elements of both famous Italian appetizers: classic bruschetta and caprese salad.
It brings classic caprese flavors of tomato, mozzarella, balsamic and basil and marries them with the crunchy toastiness of a classic bruschetta, which involves toasty bread rubbed with garlic clove, diced tomato and basil.
It's got a little something extra for both of the traditional apps, and the flavors are just SO dang good.
Whether you're serving this as a snack for a gathering at home or bringing it on the road for a tailgate (or any other occasion), this recipe is easily prepped beforehand.
All you need is a grill (or an oven) so you can toast the bread when you arrive at your place. Keep the rest of the elements (the sliced tomatoes, the mozzarella, the fresh basil and the balasamic) in airtight containers in a cooler until you're ready to arrange it.
More easy summertime appetizers: Cucumber Bruschetta (Easy Cucumber Appetizer) | Caprese Skewers | Cotija Corn Avocado TRISCUIT Crackers | Cucumber Caprese Salad | Roasted Garlic White Bean Hummus | Caramelized Onion Guacamole | Bruschetta Pinwheels and Pesto Sun-Dried Tomato Pinwheels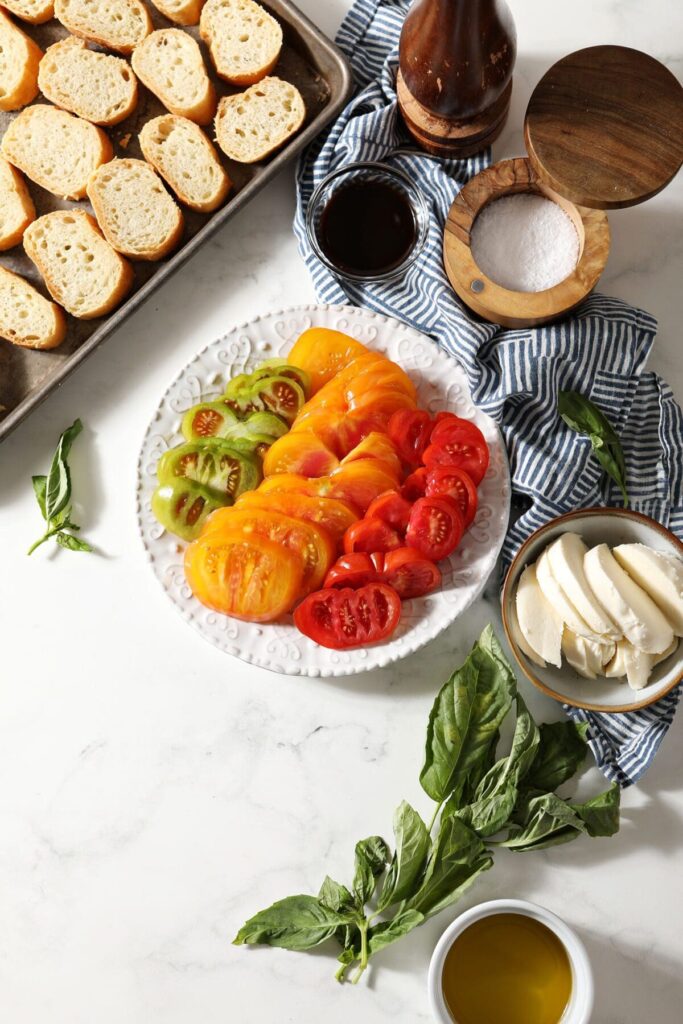 What you need to make this recipe:
The Speckled Palate participates in affiliate programs. As an Amazon Associate, I earn a commission from qualifying purchases. Please refer to my disclosure page for more information about these affiliate programs.
Let's talk ingredients!
In addition to the tools above, you're going to need some ingredients to make this recipe, too! Chances are, you might already have some of them in your fridge or pantry. Scroll down to the recipe card for the full measurements and instructions.
​Here's what you need:
Baguette — use your favorite kind of crusty bread that can be sliced. I got a take-and-bake kind from my local grocery.
Extra virgin olive oil — for brushing the bread and drizzling on top
Fresh tomatoes — you'll need about ¾ lb. I got multicolored heirloom tomatoes, but you can get your favorite kind, as well. If you'd prefer roma tomatoes, grape tomatoes or even ​cherry tomatoes, you may use those, too!
Fresh basil leaves — I grow these in my garden, but you can purchase them in a clamshell in the fresh section at the grocery or at a farmer's market, too.
Fresh mozzarella cheese — I used a ball of buffalo mozzarella that was fresh-made at the grocery store.
Toppings — I love to sprinkle medium-grain kosher salt and freshly ground black pepper on top of these bruschetta. Add a drizzle of balsamic vinegar or a balsamic glaze for garnish, too, as well as additional olive oil.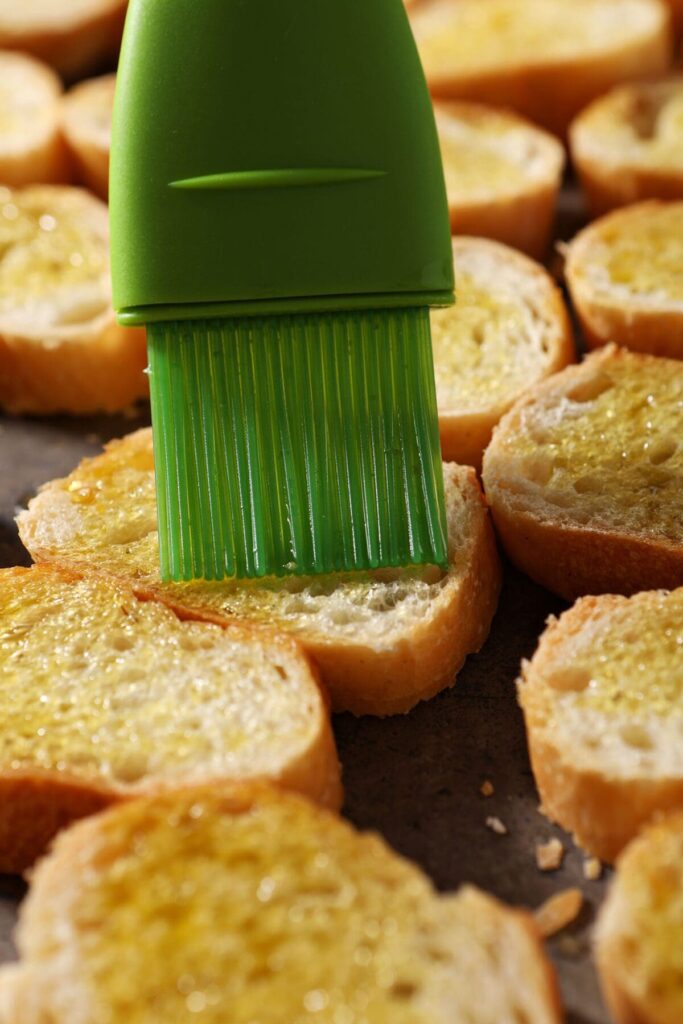 How to make the BEST Caprese Bruschetta
Slice the baguette into even rounds. Mine were about 1″ thick.
Brush the sliced bread with the olive oil using a pastry brush.
Toast the bread rounds on a HOT grill for 5 minutes or toast in the oven at 400F for 7-10 minutes.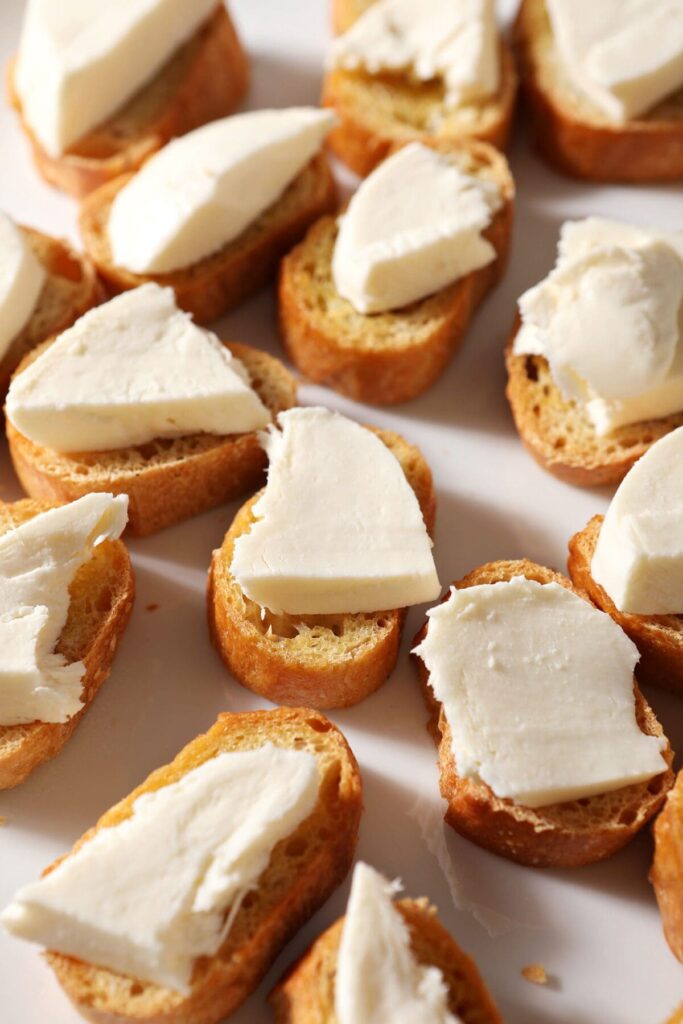 When the bread is golden brown and toasted, layer with the cheese, tomatoes and fresh basil.
Top each slice with a drizzle of olive oil and balsamic vinegar (or a balsamic reduction), then add a little salt and pepper to finish each.
For best results, enjoy immediately!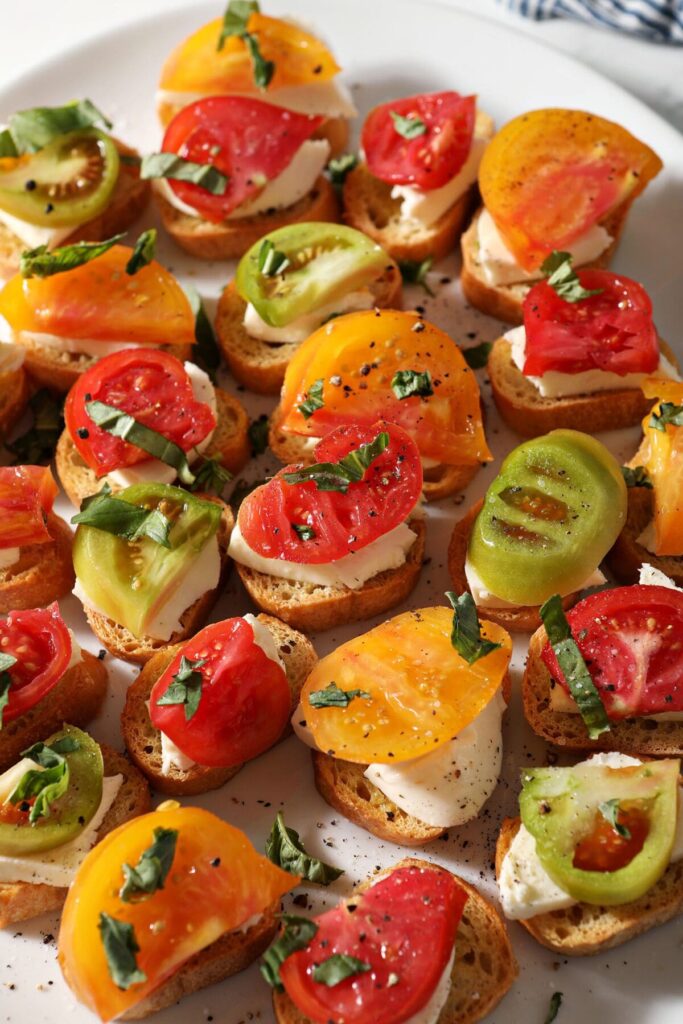 Frequently Asked Questions
What's the difference between bruschetta and caprese?
Bruschetta is a dish served on toasted bread while caprese is a salad that includes fresh tomatoes, mozzarella balls and basil.
How do you keep bruschetta from getting soggy?
The toasting helps prevent it from becoming soggy.
What type of tomato is best for caprese?
The best tomato for caprese or bruschetta is the freshest tomato you can get your hands on. Freshness is key in this easy recipe because these simple ingredients all work together to shine.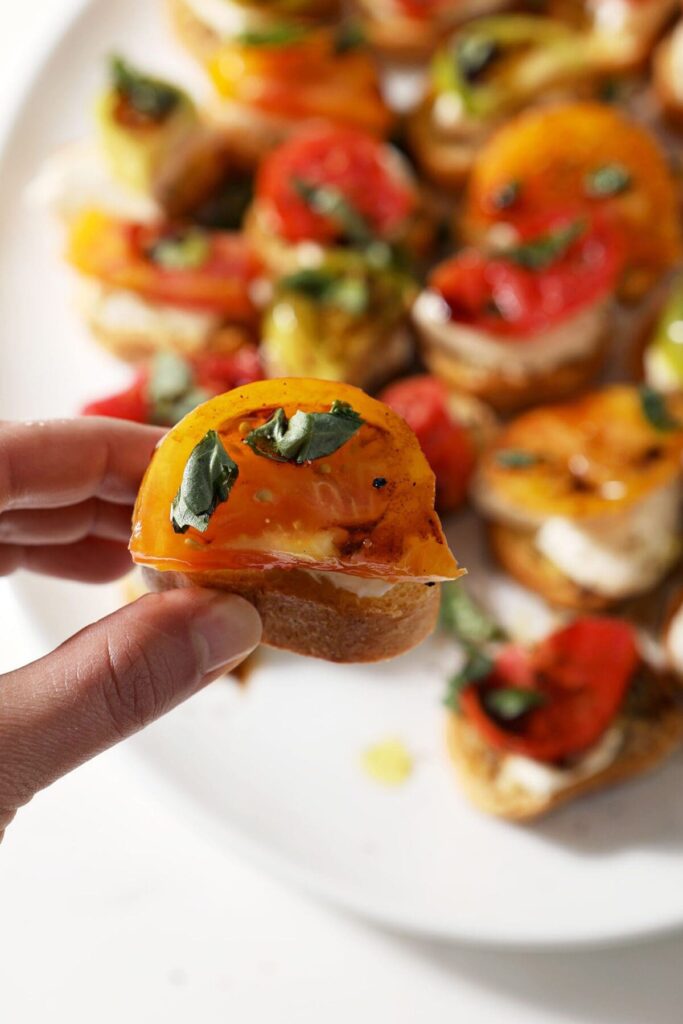 Erin's Easy Entertaining Tips and Tricks
This is an excellent app for the summer months because you can use home grown garden tomatoes and fresh basil from your herb garden.
After all, summer time is tomato season, and the tomatoes are the star of this delicious appetizers.
Here's how I'd serve this for sharing:
Double or triple the recipe for a crowd. Since this is an easy appetizer, you can make a large batch of it for sharing!
Toast the bread in advance. It doesn't have to be HOT before arranging the bruschetta toppings on it.
Slice the whole tomatoes and buffaloin advance, and keep them in separate containers before arranging.​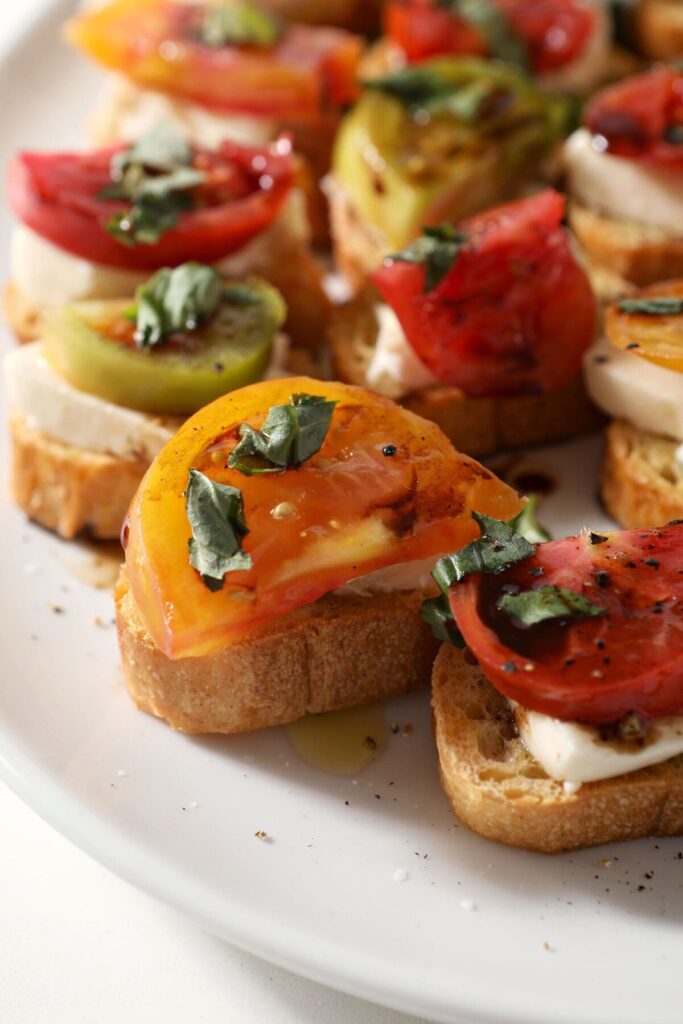 Quick tips and tricks to the best Bruschetta Caprese
Don't skip toasting the bread. ​It adds extra flavor and crunch to this easy appetizer recipe!
Use ripe tomatoes! Fresh ingredients are the key to the BEST bruschetta. The tomatoes are meant to shine!
Rub the bread slices with fresh garlic. Classic bruschetta involves bread that is rubbed with fresh garlic and toasted.
More bruschetta and crostini recipes:
Here's how you make it: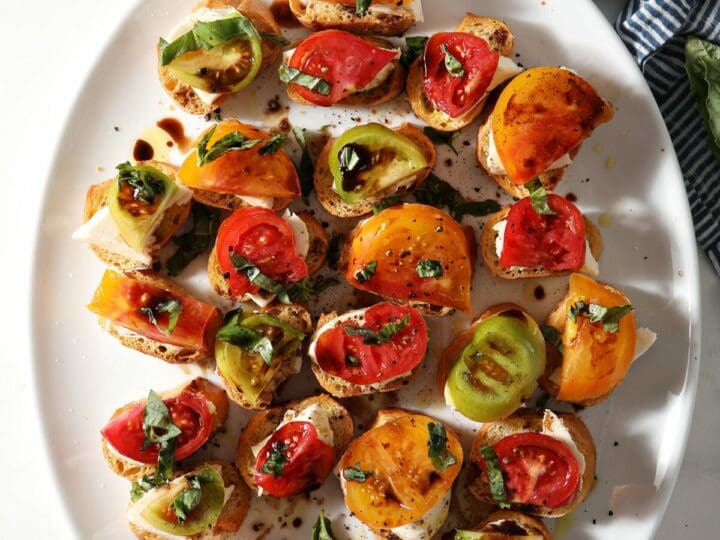 Yield:

12 servings
Heirloom Tomato Bruschetta
Before the summer ends, celebrate the season with this super quick and easy Heirloom Tomato Bruschetta. Slice four ripe heirloom tomatoes, and place them on top of French bread slices and fresh mozzarella slices to make this beautiful appetizer.
Ingredients
1 baguette, sliced into 24 rounds (12 oz.)
2 tablespoons extra virgin olive oil
3 heirloom tomatoes, sliced (about ¾ lb.)
10 fresh basil leaves, torn
8 oz. buffalo mozzarella ball, sliced into 24 rounds
Kosher salt and freshly ground black pepper, to taste
Balsamic vinegar, for garnish
Additional extra virgin olive oil, for garnish
Instructions
Slice the baguette into even rounds.
Brush the bread with the olive oil using
Toast the bread rounds on a HOT grill for 5 minutes or toast in the oven at 400F for 7-10 minutes.
When the bread is golden brown and toasted, layer with the cheese and tomatoes. Add the basil.
Top each slice with a drizzle of olive oil and balsamic vinegar, then add a little salt and pepper to finish each.
Enjoy immediately!
Notes
When we initially tried this, our mozzarella was SMOKED. You can jazz it up in this regard if you want to, but classic mozzarella is always tasty, too!
Recommended Products
As an Amazon Associate and member of other affiliate programs, I earn from qualifying purchases.
Nutrition Information:
Yield:
12
Serving Size:
1 serving
Amount Per Serving:
Calories:

182
Total Fat:

6g
Saturated Fat:

3g
Trans Fat:

0g
Unsaturated Fat:

3g
Cholesterol:

15mg
Sodium:

381mg
Carbohydrates:

23g
Fiber:

1g
Sugar:

3g
Protein:

9g
Nutrition facts are an estimate and not guaranteed to be accurate.