Roasted Garlic White Bean Hummus
Creamy, garlicky and nutty hummus is perfect for dipping vegetables and chips. Roasted Garlic White Bean Hummus is the ultimate game day appetizer!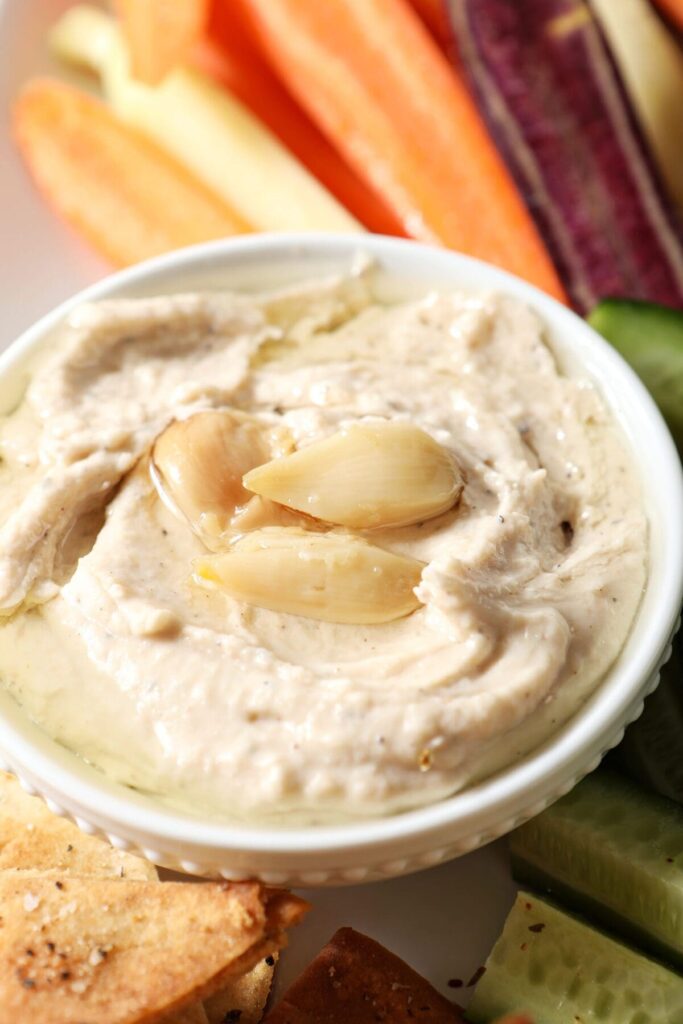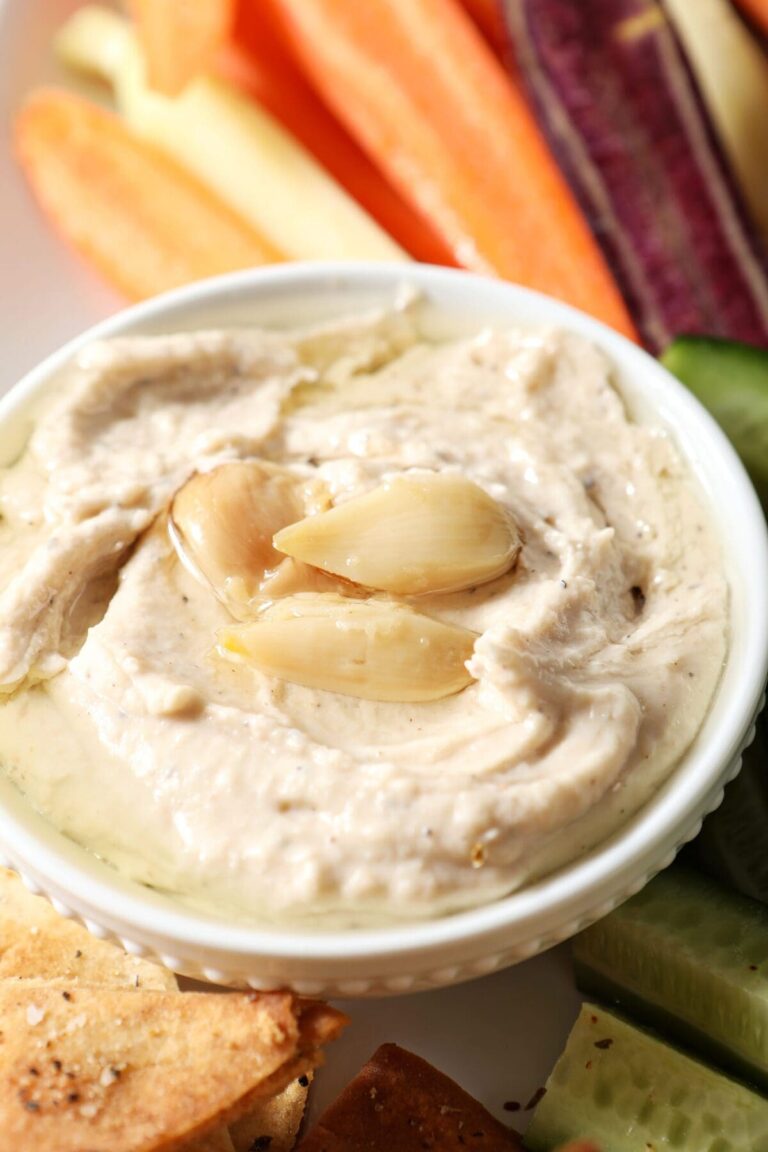 This post contains affiliate links.
2023 Update: This recipe was originally shared in January 2014. I have added more details to this recipe, including how to roast garlic. The post has been updated to include new photos, as well as more tips and tricks. I hope you love this hummus!
Roasted Garlic and White Bean Hummus Recipe
Ever since I lived in South Louisiana, I like my hummus garlicky. Like, out of control garlicky.
One of my favorite recipes to make for football-centric festivities is this delightfully garlicky homemade hummus recipe because it calls for freshly roasted garlic cloves and white beans instead of the usual chickpeas.
The garlic flavor is way mellower in this recipe because it is roasted. (Read: my kids will actually eat it!. That's a huge win for this mama.)
This Roasted Garlic and White Bean Hummus is perfect for a crowd — assuming your crowd is like me and enjoys all the garlic.
This is a very easy recipe. It's great for entertaining or just making to serve your kids as a snack because it's protein-heavy. You can serve it with chips or veggies or both.
If you love traditional hummus over the kind with white beans, check out this garlic hummus made with garbanzo beans.
Why I love this recipe:
This is one of our favorite recipes for quick and easy entertaining. Here are a few reasons you are going to love this white bean hummus recipe:
The flavors in this hummus are perfectly balanced and, honestly, the roasted garlic sets it over the top. Instead of punch-you-in-the-face garlic, it's milder and caramelized and utterly DELICIOUS.
This white bean hummus is great for sharing and has a fun twist on the more traditional hummus recipe made with chickpeas.
It's made with simple ingredients and is far more flavorful than any store-bought versions.
And it's FAST. There's no soaking of the beans necessary because we're using a can! The only thing that's time consuming is the roasting of the garlic, but it's easy-peasy.
Hummus is absolutely fabulous for gatherings that have lots of people. I like to bring it to parties when I'm asked to bring an appetizer because it is the PERFECT dip.
We make it for football-related events (such as an at-home tailgate party) because everybody loves a dipper.
Better yet, it's vegan, dairy-free and gluten-free (if you have gluten-free dippers that is). That means it's perfect for everyone at your event no matter what dietary restrictions they have.
More easy appetizer recipes to try: Hot Spinach Artichoke Dip | Garlic Herb Cream Cheese Dip | BBQ Nachos | Pretzel Cheese Dip | Pepperoni Dip
What are white beans?
White beans are a type of legume that are white in color. They have light-colored casings, starchy interiors and a soft texture.
There are a few types of white beans, including:
Navy beans or pea beans
Great northern beans
Cannellini beans or white kidney beans
Baby lima beans or butterbeans
This recipe uses a can of Great Northern Beans but if they are very similar to Cannellini Beans and Navy Beans, so if you have one of those in your pantry feel free to substitute it.
Lima beans are from a different plant than the others, with a slightly more green color and a thicker texture, so I wouldn't recommend them for this recipe.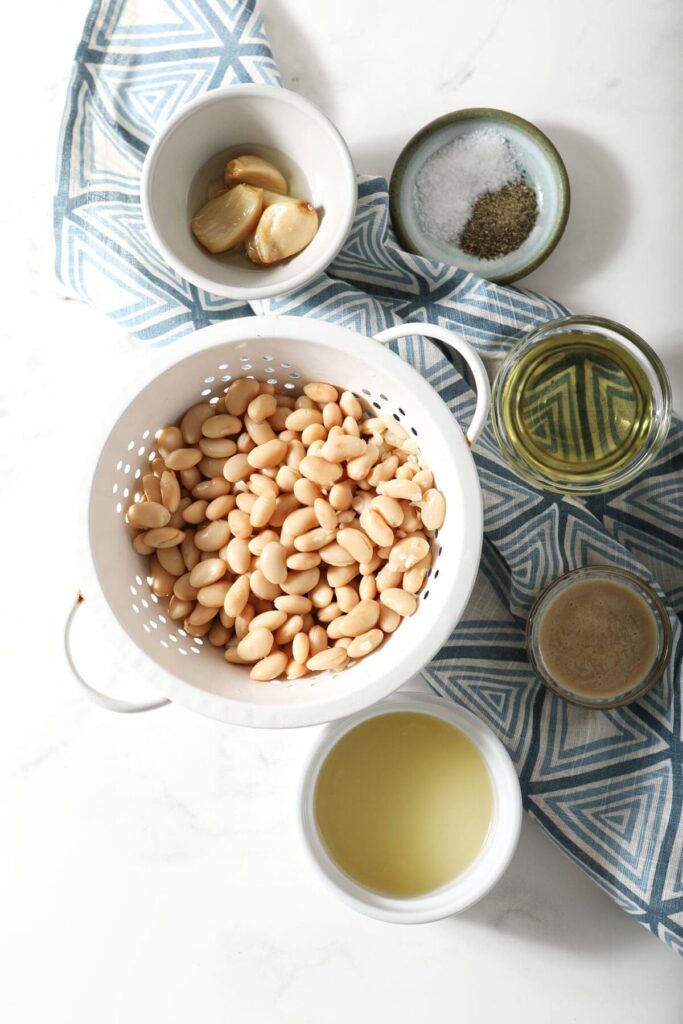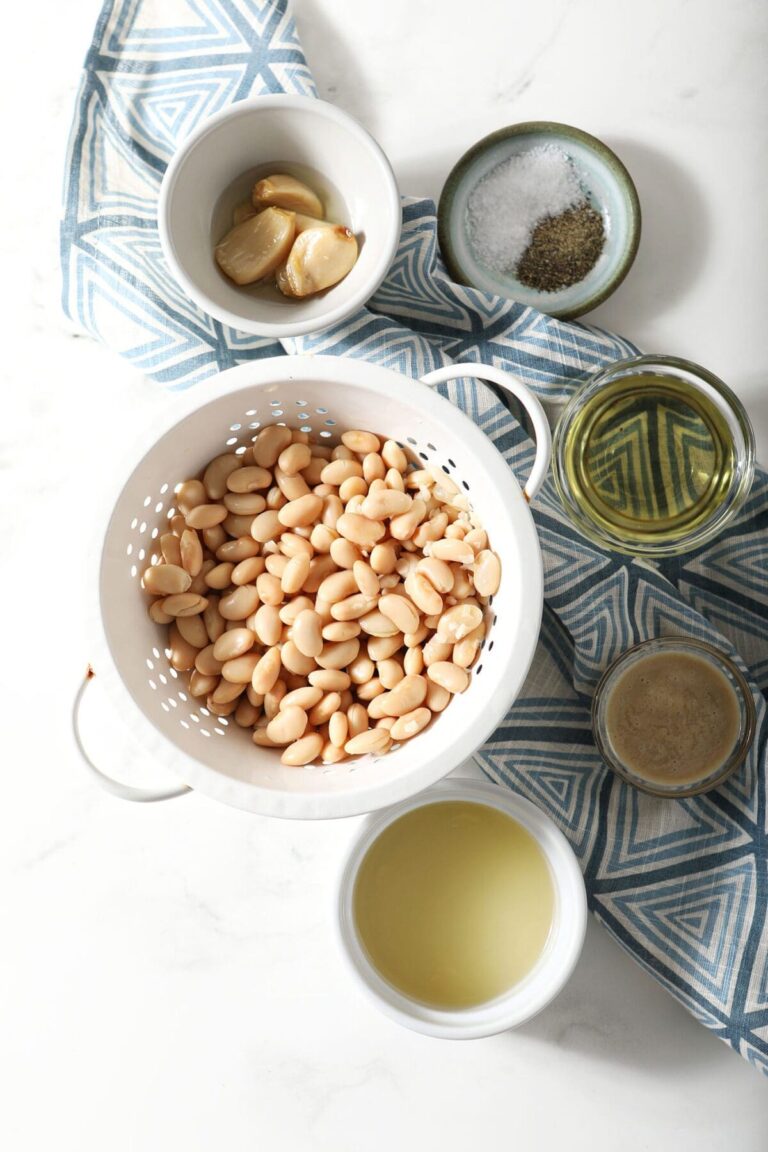 What you need to make this recipe:
The Speckled Palate participates in affiliate programs. As an Amazon Associate, I earn a commission from qualifying purchases. Please refer to my disclosure page for more information about these affiliate programs.
Let's talk ingredients!
In addition to the tools above, you're going to need some ingredients to make this recipe, too! Chances are, you might already have some of them in your fridge or pantry. Scroll down to the recipe card for the full measurements and instructions.
Here's what you'll need to grab from the grocery store.
Great northern beans – you want a regular sized can of these or another white bean, like navy beans or cannellini beans
Roasted garlic cloves – I'll show you how to roast garlic yourself with fresh garlic! It's easier to just roast a whole head or a few heads of garlic.
Olive oil – classic OO works, though you can use any neutral-tasting oil like extra virgin olive oil or avocado oil, too.
Lemon juice – freshly squeezed is KEY. That said, I won't fault you for using bottled concentrate if it's what you have on hand.
Tahini – tahini is sesame paste made from ground sesame seeds and is a must for hummus.
Kosher salt – medium-grain is my go-to, but a fine sea salt will also work. Just start with a small amount and adjust to taste based on your tastebuds.
Black pepper – we like to crack our own, but you can use the store-bought kind, too.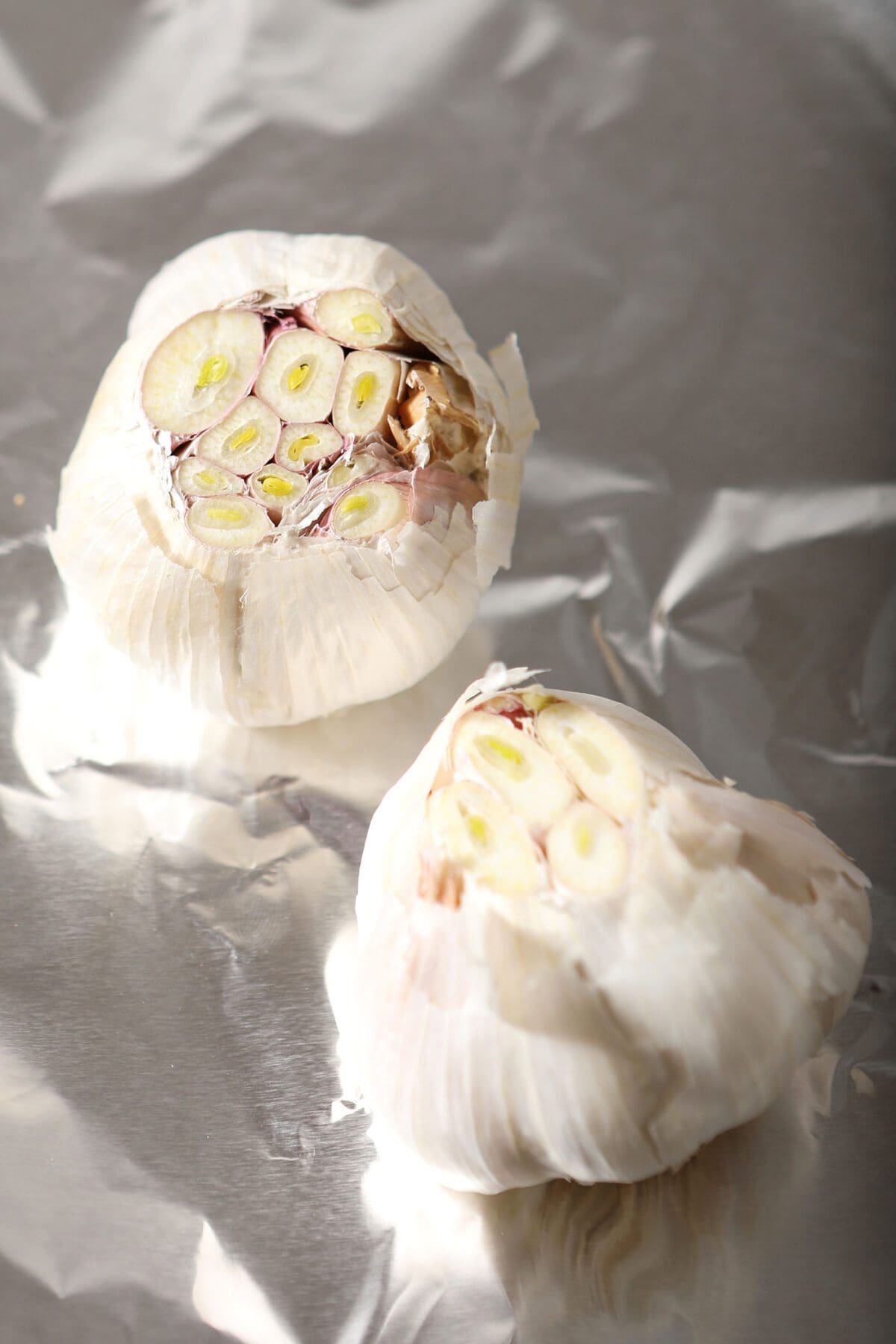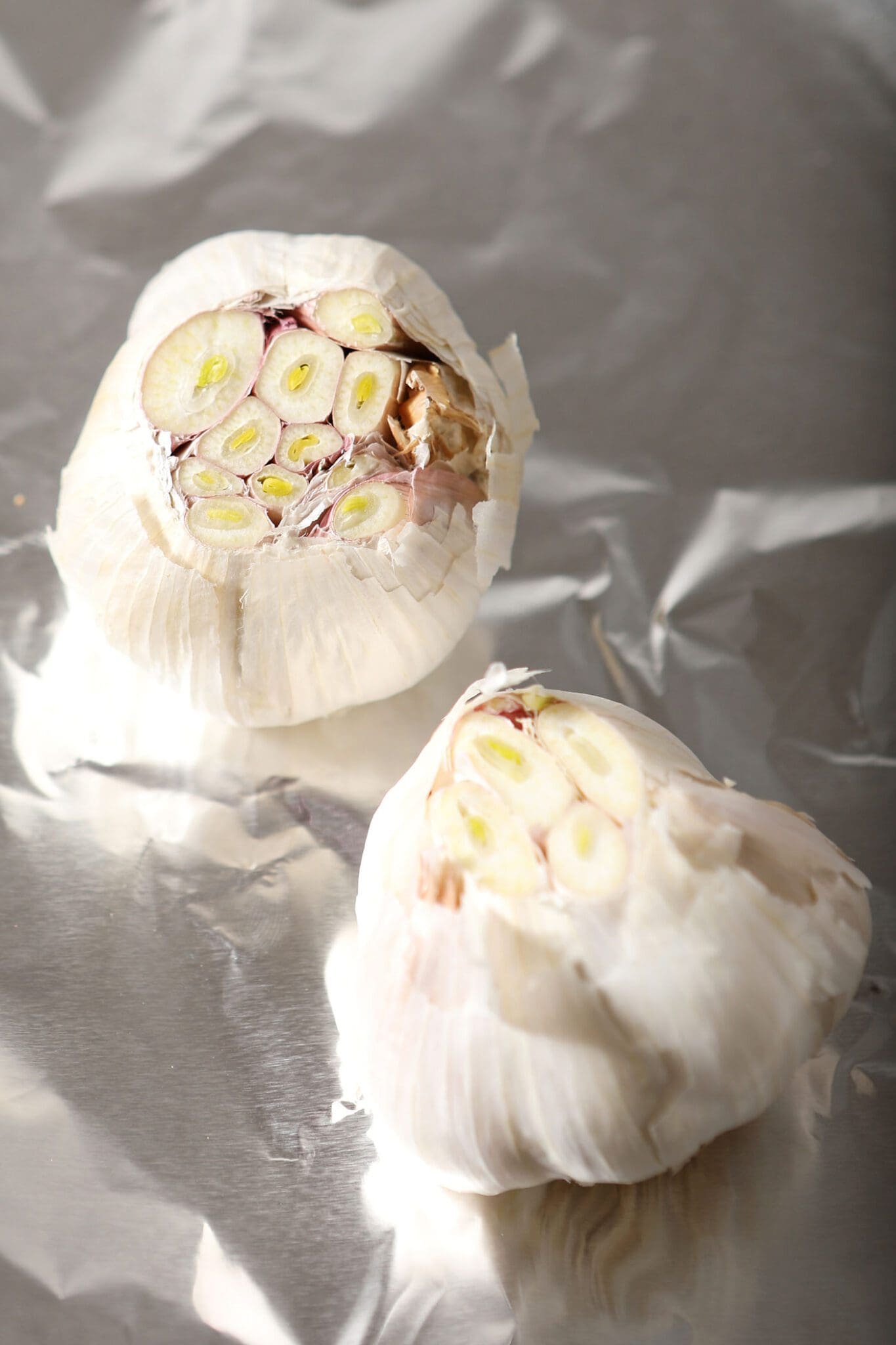 How to Roast Garlic
Bonus points for this recipe go to the roasted garlic cloves because they add such divine flavor to this dip without being overpoweringly potent.
(I know raw garlic can cause problems for some folks, so roasting it is a nice middle ground.)
Yes, I know this takes extra time and adds on to the total recipe time… but this is a favorite way of mine to include garlic in a recipe.
To roast garlic, start by preheating the oven to 375°F. You may also roast garlic in the air fryer if you prefer.
Get out a fresh head or two of garlic. Chop off the top of the garlic heads with a sharp knife.
Roll out a piece of foil on the counter and hold the garlic in one hand while you use the other to drizzle the chopped bulb with oil. The foil will catch any extra.
Then wrap the bulb in aluminum foil, pressing down on the bottom a little to make a little stand so it won't fall over.
You may place it on a small baking dish or a sheet pan. It can also go straight into the oven like this, so long as you've sealed it well.
Roast at 375°F for 45(ish) minutes or until it smells amazing and the garlic is SOFT.
Let it cool off, then remove from the foil and squeeze it out of the head of garlic into the food processor or blender for your hummus. You can also use your fingers to individually remove the garlic from the pods, if you want them to keep their shape.
If making it later, squeeze the cloves of garlic into an airtight container and store it in the fridge.
Feel free to roast a few heads at a time and then use it in recipes like garlic herb butter, roasted garlic spread or roasted garlic guacamole.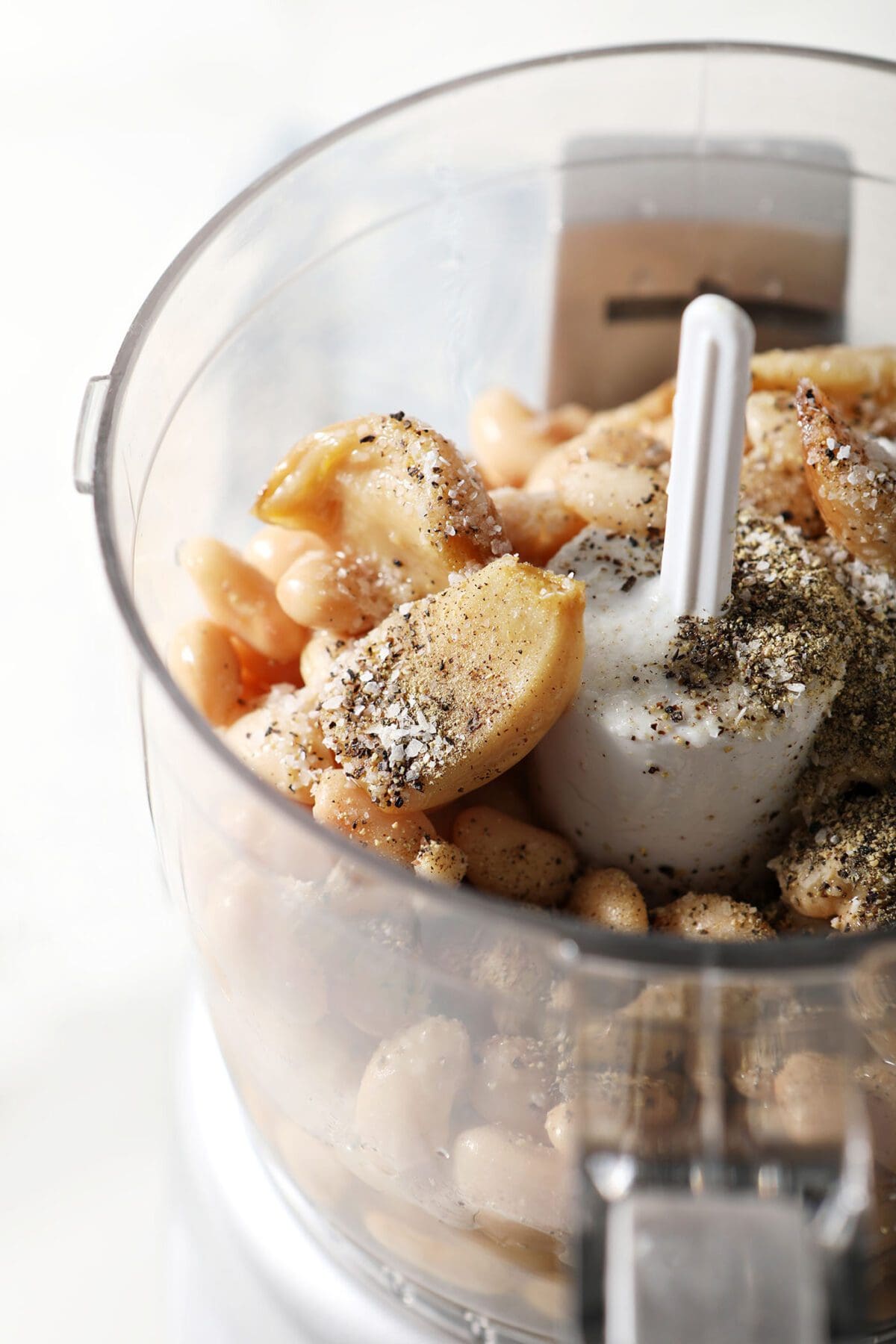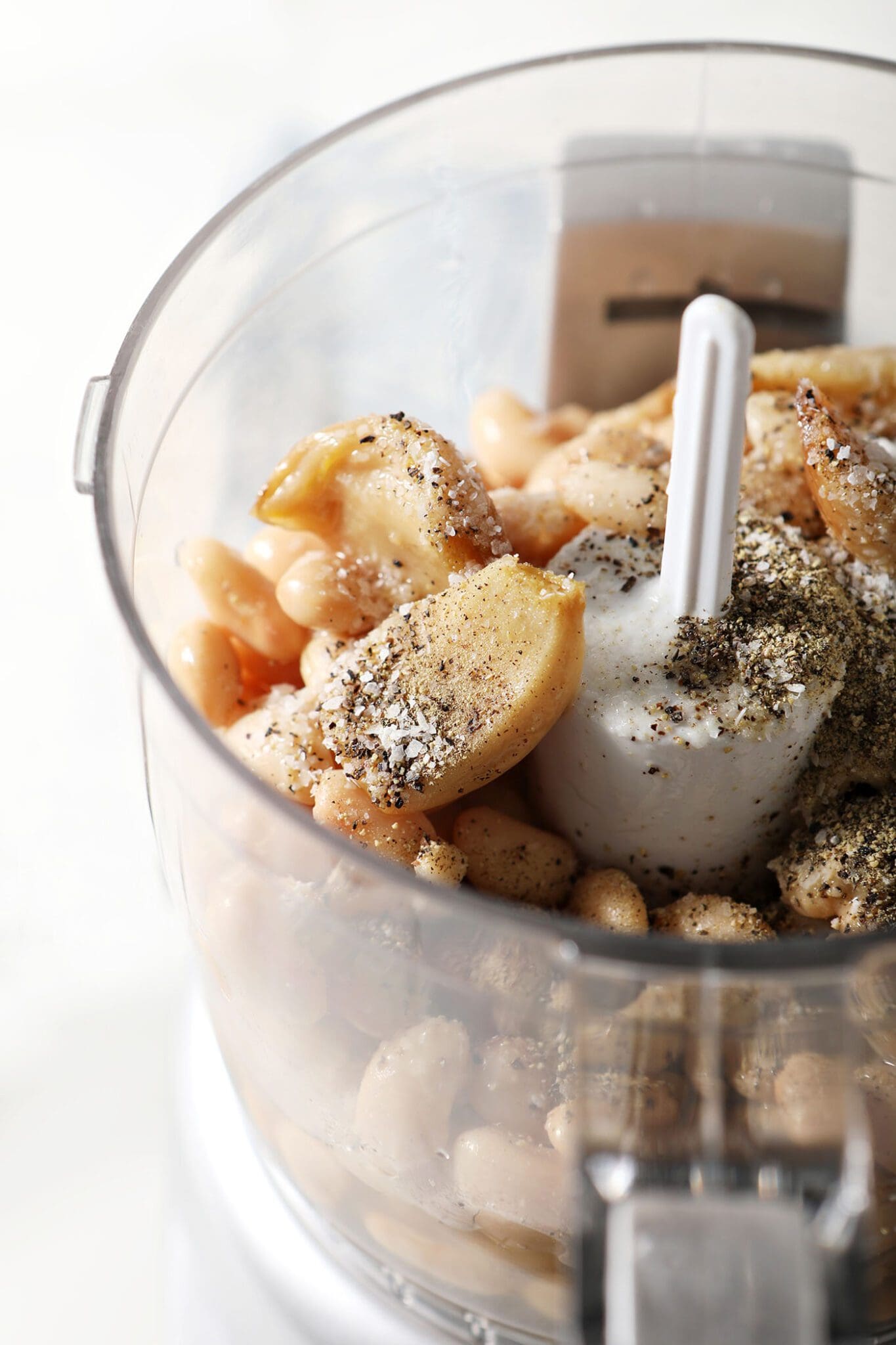 How to make Roasted Garlic Hummus recipe
This easy Roasted Garlic Hummus with white beans is pretty simple to make, and once the heads of roasted garlic do their thing, all you do is combine the ingredients in a food processor, and let them go.
Let's take it step by step.
First, drain and rinse the beans in a colander.
Then combine all the ingredients in the bowl of a food processor or a blender.
Run the food processor until all elements are combined and smooth.
Taste and add more salt and pepper, if desired.
Transfer the hummus to a bowl or plate and serve with warm pita bread, carrots, cucmbers or celery.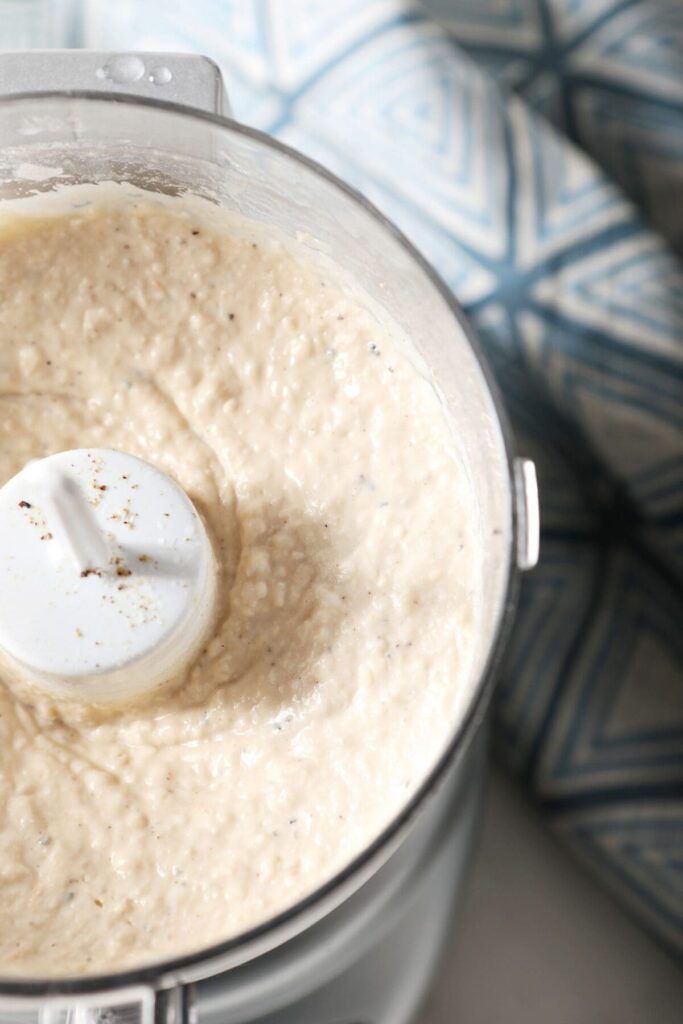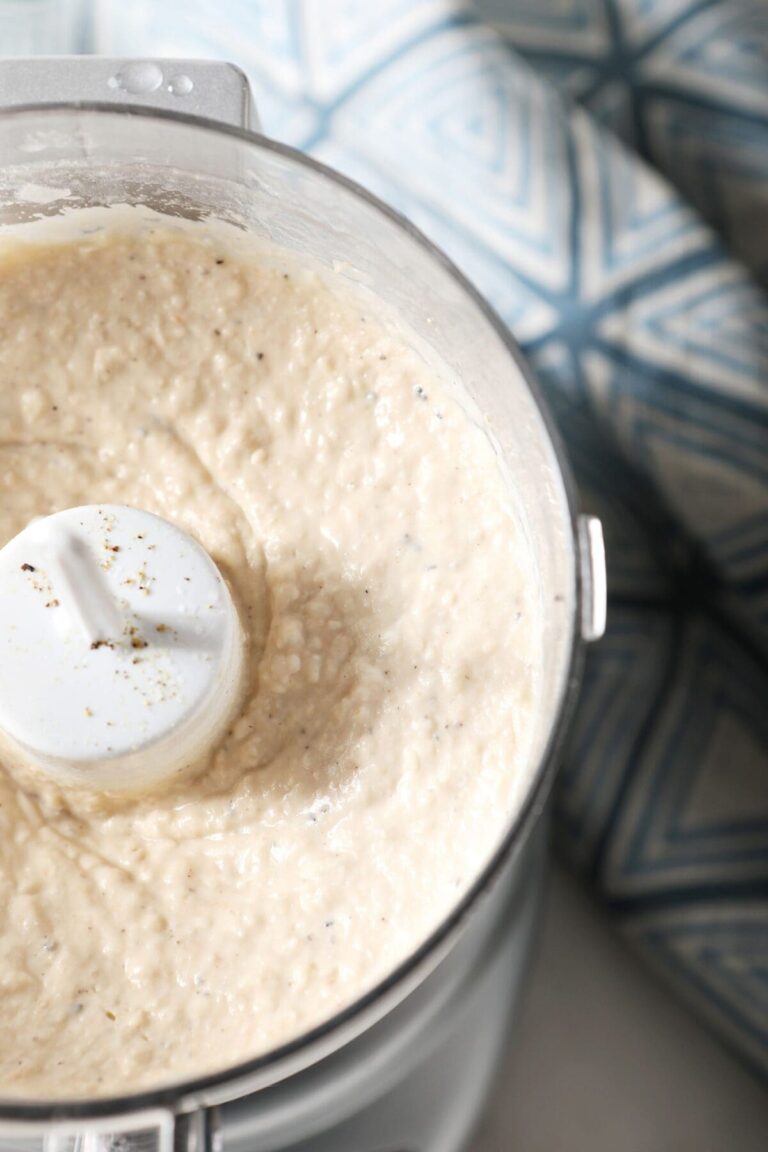 What to serve with hummus
Hummus is so good by the spoonful, but it's an incredible dipper. You can also spread it on sandwiches and wraps.
Fresh pita bread is classic. If you like things crunchy, you can buy pita chips or make your own by toasting fresh pita bread. Cut it into triangles and brush it with a little oil and sprinkle with salt and pepper before toasting it once or twice until crispy.
Here are a few other ideas for hummus dippers:
Cucumber slices
Carrot sticks
Sliced bell peppers
Celery sticks
Broccoli florets
Cherry tomatoes
Pretzel sticks
Sliced baguette
Fresh pita bread
Pita chips
Crackers
How to store hummus
Hummus can be stored in an airtight container in the fridge. It should be enjoyed within 1 week.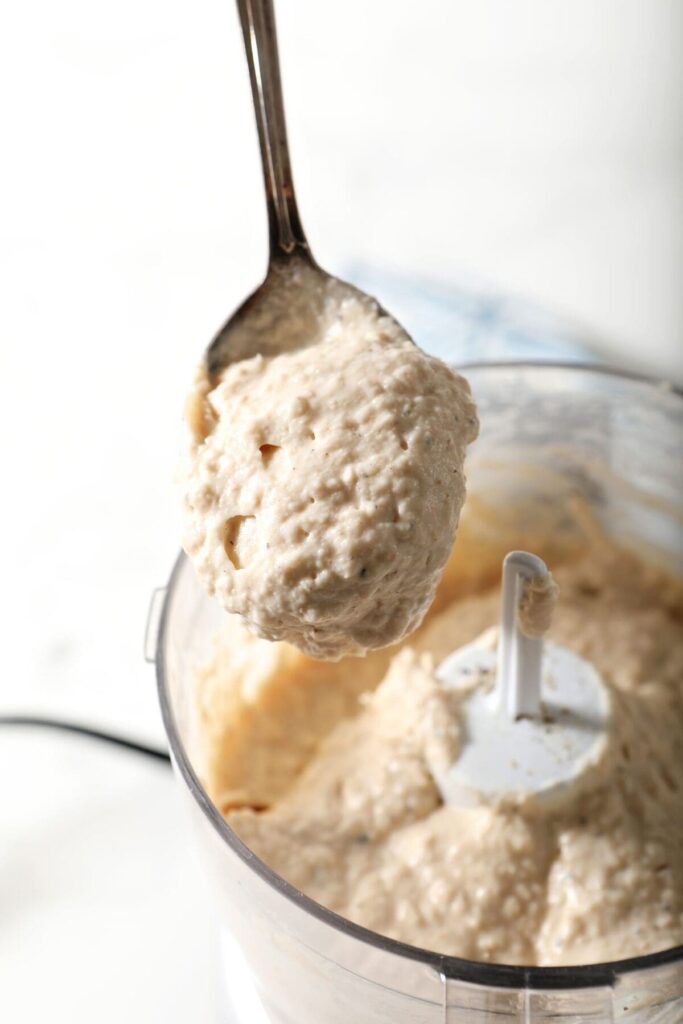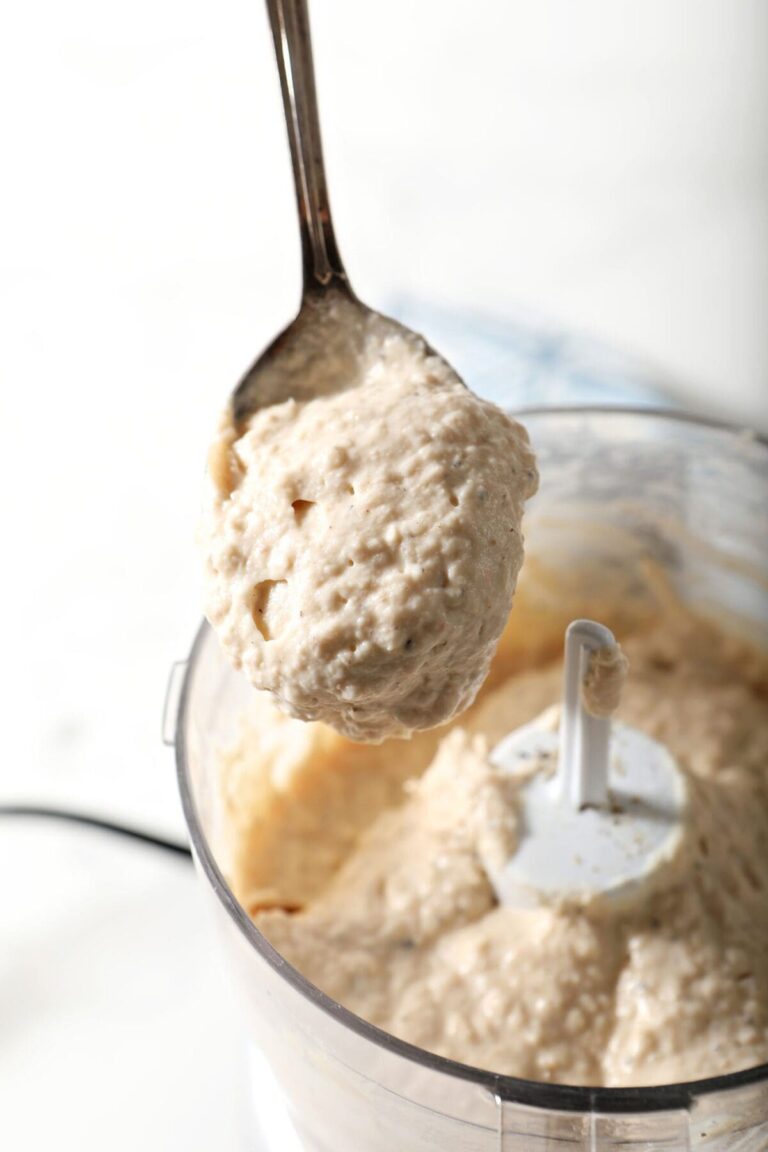 Erin's Easy Entertaining Tips
Serve hummus in a bowl with a serving spoon for anyone who wants to scoop some on their plate.
Drizzle the bowl with a little olive oil and garnish with more roasted garlic cloves. You could also add fresh parsley and some olives for a pop of color!
Set some gluten-free crackers aside (AKA not touching any gluten ones) for anyone who might have an allergy or sensitivity.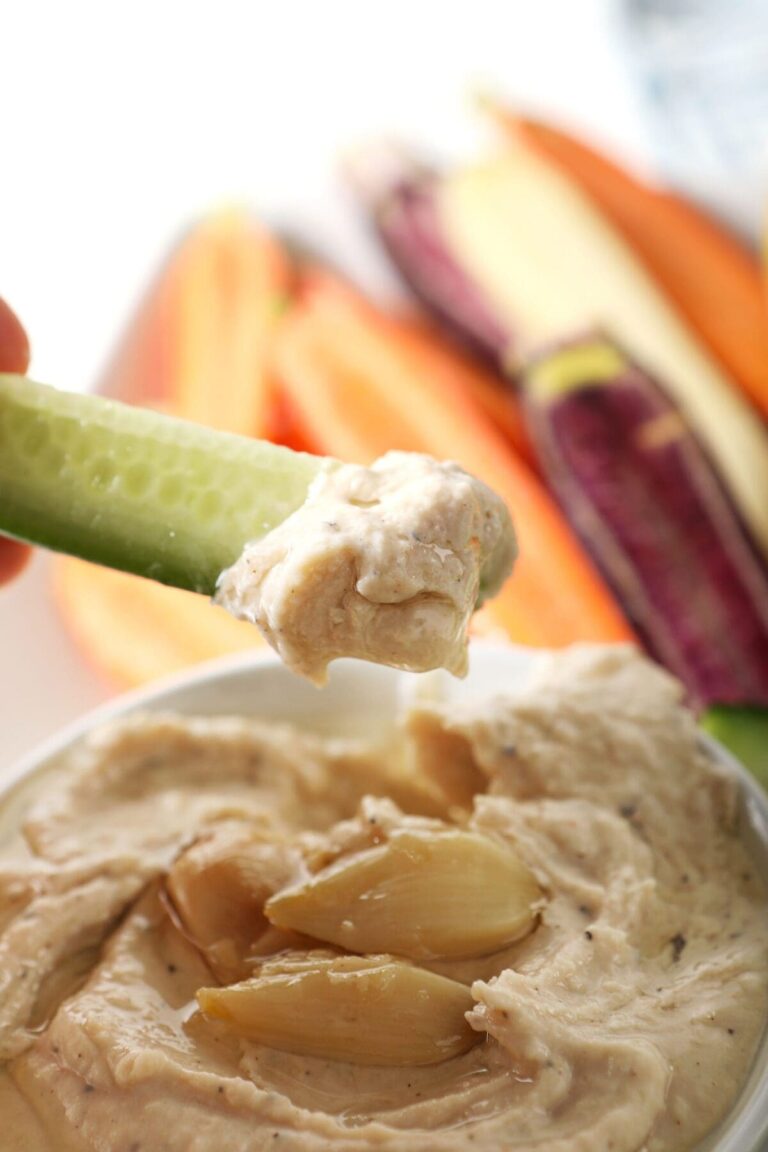 Frequently Asked Questions
What goes with garlic hummus?
Serve garlic hummus with pita bread or pita chips as well as fresh veggies like sliced cucumbers, celery stalks and carrot sticks.

If you're serving it at a party, be sure to offer some non-garlicky dips for anyone who might be sensitive to the flavor of garlic.
What is garlic hummus made of?
Garlic hummus is made with chick peas or white beans, fresh or roasted garlic, olive oil, lemon juice and tahini, plus salt and pepper.
Can I substitute white beans for chickpeas?
Yes! White beans like cannellini beans, great northern beans and navy beans can be great substitutes for chickpeas, especially in a recipe like hummus where the beans are blended.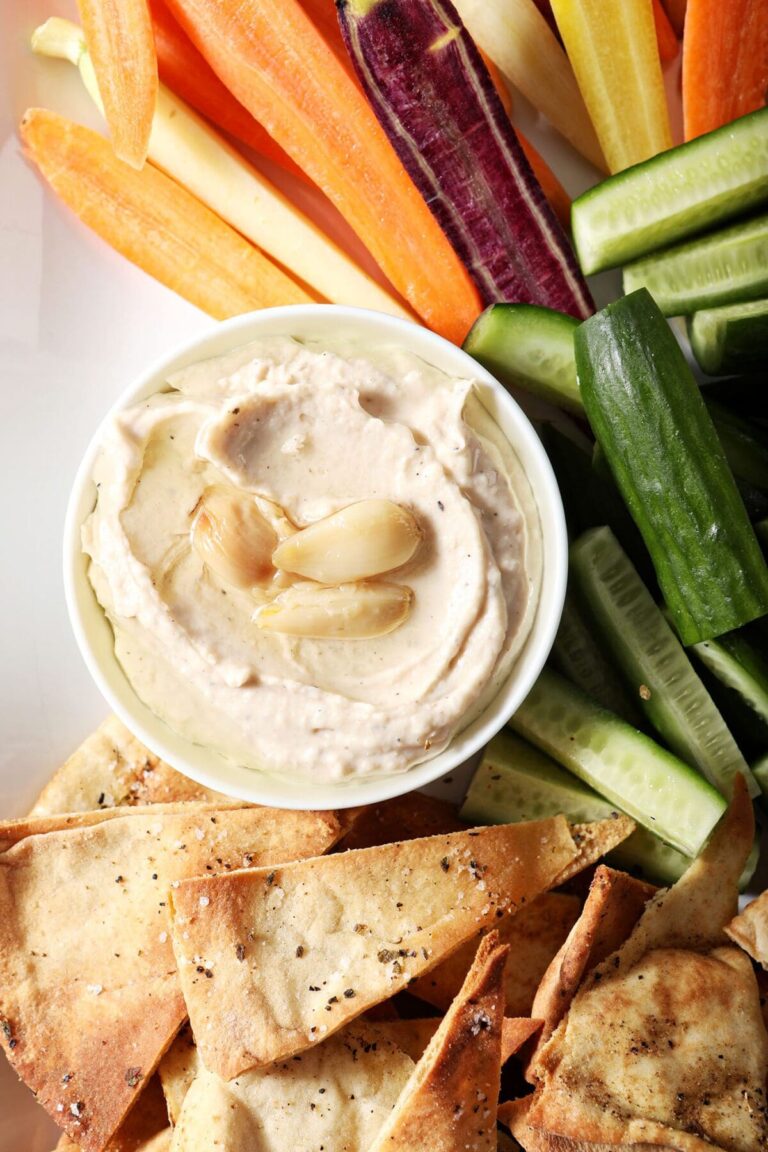 Quick tips and tricks to making this easy roasted garlic hummus recipe:
When roasting the garlic, make sure it is neatly wrapped in foil so you don't get an oily mess all over your pan or oven. Press down with the foil to create a "base" or "stand" that won't tip over.
Use fresh-squeezed lemon juice for the most balanced flavor.
Check your tahini for its expiration date. It does go bad and won't taste good!
More hummus recipes: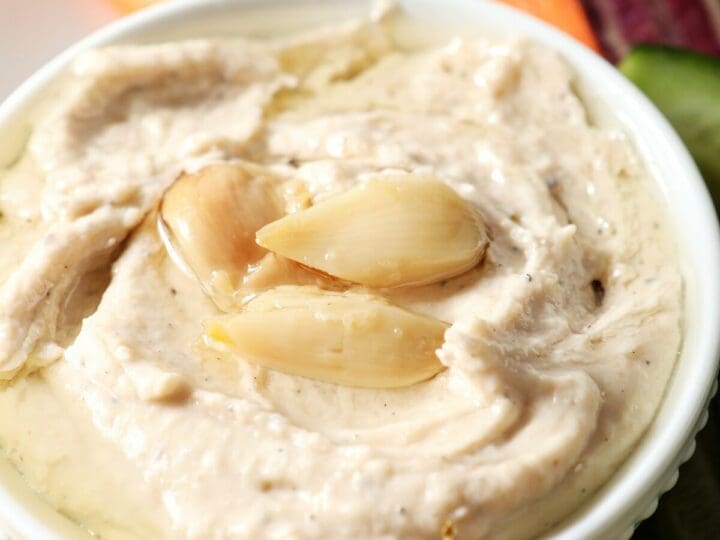 Yield:

8 servings
Roasted Garlic and White Bean Hummus
This creamy, garlicky and nutty hummus is perfect for dipping vegetables and chips. Roasted Garlic White Bean Hummus is the ultimate gameday appetizer!
Ingredients
15.8 oz. can of Great Northern Beans, drained and rinsed
5 roasted garlic cloves
2 tablespoons olive oil
3 tablespoons freshly squeezed lemon juice
1 tablespoon tahini
1/2 teaspoon kosher salt
1/2 teaspoon freshly ground black pepper
Instructions
Combine all the ingredients in a food processor.
Run the food processor until all elements are combined and smooth.
Taste and add more seasoning, if desired.
Transfer the hummus to a plate and serve with warm pitas, carrots and celery.
Notes
Hummus can be stored in an airtight container in the fridge. It should be enjoyed within 1 week or sooner!
Recommended Products
As an Amazon Associate and member of other affiliate programs, I earn from qualifying purchases.
Nutrition Information:
Yield:
8
Serving Size:
1
Amount Per Serving:
Calories:

111
Total Fat:

5g
Saturated Fat:

1g
Trans Fat:

0g
Unsaturated Fat:

4g
Cholesterol:

0mg
Sodium:

260mg
Carbohydrates:

13g
Fiber:

4g
Sugar:

0g
Protein:

5g
Nutrition facts are an estimate and not guaranteed to be accurate.