Winston's Garlic Hummus pairs perfectly with pita chips or sliced vegetables. This garbanzo bean dip, heavy on the garlic flavor, is bound to be a favorite appetizer at any get-together!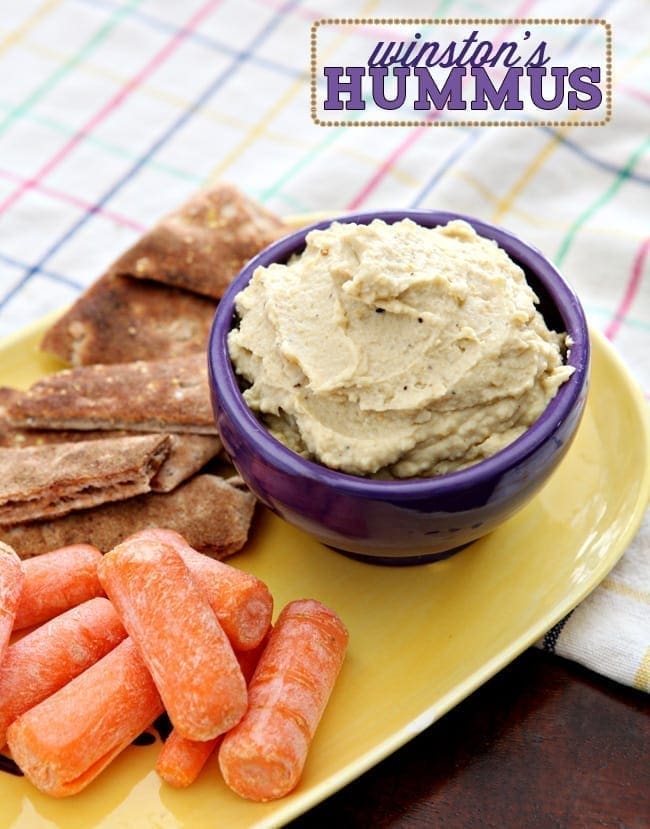 This is another one of those dishes that I never tried because I was, not surprisingly, I was terrified of the name… or the ingredients… or a combination of all of the above.
In fact, I might not have tried this dip until I was, umm, in my mid-20's.
Clearly, I am a recovering picky eater. I'm working on it, y'all.
Other dips we love: Shrimp Spinach Artichoke Dip / Raspberry Yogurt Fruit Dip / Black Eyed Pea Dip / Carrot Cake Dip with Cinnamon-Sugar Wontons / Crunchy Green Bean Casserole Bites with Creamy Dipping Gravy / Olive Oil Parmesan Spice Dipping Sauce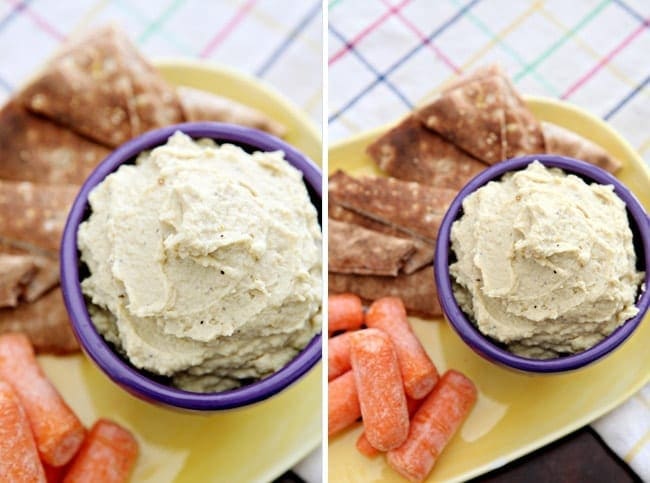 I am pleased to say that this garlic hummus is one of my favorite appetizers now, delicious with pita chips or vegetables.
In fact, I like to snack on this with carrots during the weekdays if I need a little extra protein. I've found it really comes in handy on long run days, and I've craving substance and don't want to fill up on junk.
My husband has adapted this lovely recipe over the years, and I am thrilled to share it with y'all because it is wonderfully garlic-y, nutty and a perfect way to start an evening with friends.
Yield:

10 servings
Winston's Hummus
Garlic-y, nutty garbanzo bean dip pairs perfectly with pita chips or sliced vegetables. Winston's Hummus is bound to be a favorite appetizer at any get-together!
Ingredients
15. oz. chickpeas, rinsed and drained
3 cloves garlic, minced (about 1 ½ teaspoons)
2 tablespoons extra virgin olive oil
3 tablespoons lemon juice, freshly squeezed
1 tablespoon tahini
Salt and pepper to taste
Instructions
Open the can of chickpeas, and pour them into a colander. Drain and rinse thoroughly before proceeding.
Combine all the ingredients in the food processor. (You don't need to de-shell the beans, though if you want to do this, feel free. We've found it adds a lot more work, and we cannot really tell a difference after everything is blended.)
Blend until smooth, or the consistency of your liking.
Consume immediately with vegetables and pita chips, or transfer to a food-safe storage container and store in the refrigerator for 2-3 days.
Recommended Products
As an Amazon Associate and member of other affiliate programs, I earn from qualifying purchases.
Nutrition Information:
Yield:
10
Serving Size:
1
Amount Per Serving:
Calories:

105
Total Fat:

5g
Saturated Fat:

1g
Trans Fat:

0g
Unsaturated Fat:

4g
Cholesterol:

0mg
Sodium:

34mg
Carbohydrates:

13g
Fiber:

3g
Sugar:

2g
Protein:

4g
Nutrition facts are an estimate and not guaranteed to be accurate.
—
What is a dish that you were scared to try, but it turned out to be delicious? … Or are you an adventurous eater and haven't met a dish you wouldn't try? (Any advice for this recovering picky eater?)