This flavorful Garlic Hummus pairs perfectly with pita chips or sliced vegetables. This garbanzo bean dip, which is wonderfully garlicky, is a favorite appetizer for any get-together! Makes 5-6 servings, though the recipe can easily be doubled or tripled.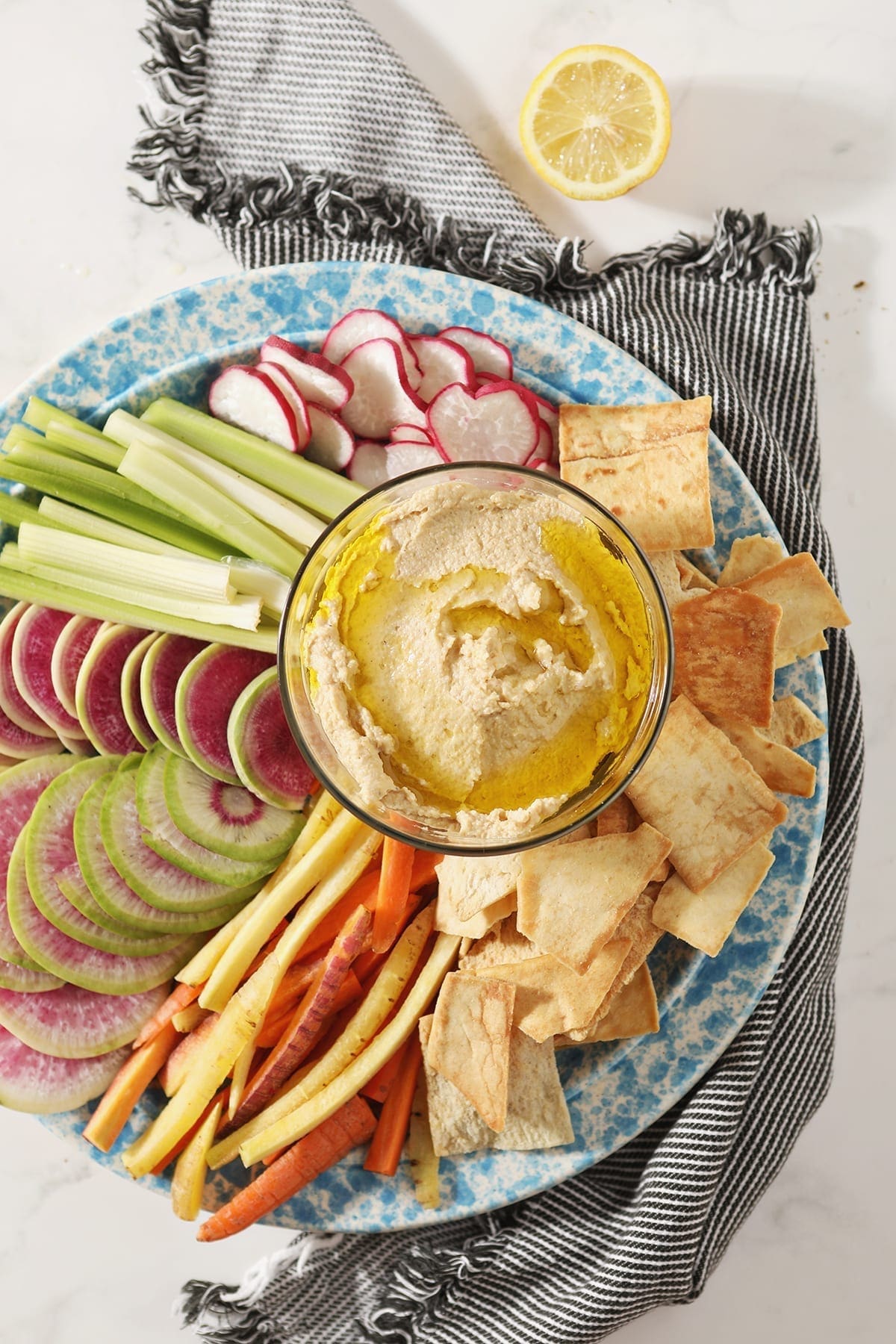 Growing up in Memphis, I don't recall ever going to a Middle Eastern restaurant or trying hummus.
My introduction to hummus was during my first (solo) weekend in Baton Rouge.
I didn't know anyone when I decided to attend college in Louisiana and fatefully, made a few friends through a camp and mutual friends the summer before my freshman year. That weekend, I was invited by the friend of a friend to join him for church and lunch after with other people our age.
We ended up at a Lebanese restaurant—and I had never eaten that food, let alone knew anything about the food or the culture.
As someone whose food worldview was pretty small at 18, I was super intimidated while reading the menu because I had no clue what I would like.
The friend of a friend recommended chicken shawarma, one of my favorite to this day, and the table got an order of hummus and baba ghanoush.
It was love at first bite, y'all. And now, whenever we visit family in Louisiana, Lebanese food is our first ask because we cannot get the stuff we know and love here in Dallas.
Since we can't get the super garlicky hummus in Dallas, my husband has adapted this recipe throughout the years to fit our tastes. I am thrilled to share it with y'all because it is wonderfully garlic-y, nutty and a perfect way to start an evening with friends.
Other dips we love: Shrimp Spinach Artichoke Dip / Raspberry Yogurt Fruit Dip / Black Eyed Pea Dip / Carrot Cake Dip with Cinnamon-Sugar Wontons / Crunchy Green Bean Casserole Bites with Creamy Dipping Gravy / Olive Oil Parmesan Spice Dipping Sauce
Looking for another appetizer, but don't know where to begin? Check out my Appetizer Recipe Index for recipe inspiration!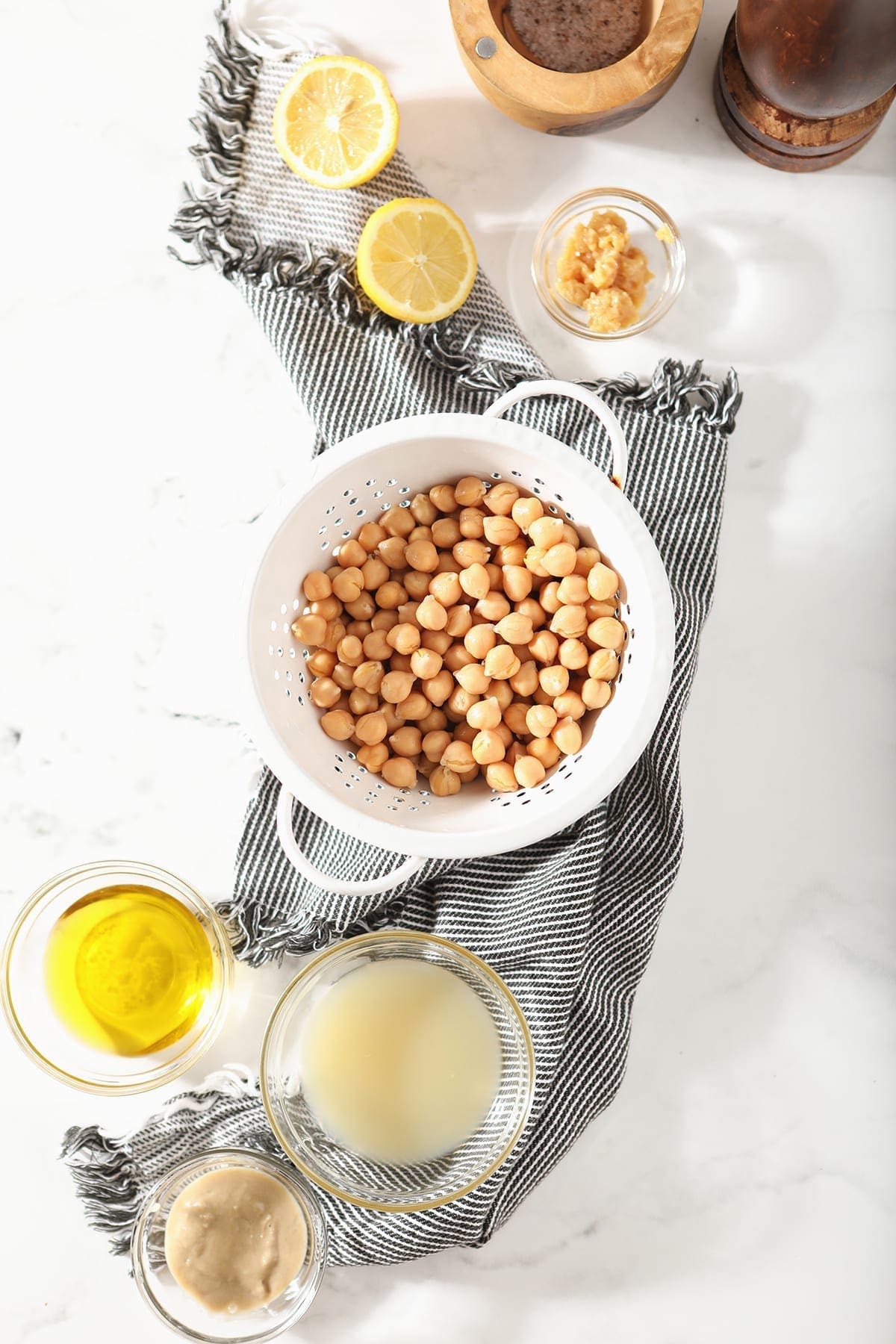 What you need to make homemade Hummus
This garlic hummus recipe is insanely easy to make, assuming you have the right equipment.
You'll need the following to make this:
A colander to drain and rinse the chickpeas in

A sharp knife to chop your garlic

If you don't want to use fresh lemon juice, you can certainly use the jarred or fresh-squeezed stuff from the store.
How to Make Homemade From-Scratch Garlic Hummus
First and foremost, open that can of chickpeas. Pour 'em into a colander. You want to drain and rinse them thoroughly before doing anything else.
Some homemade hummus recipes swear by de-shelling the garbanzo beans/chickpeas, but it's a lot of work. Also, we have never found it to make the biggest difference, so long as you blend your final hummus dip to your desired consistency.
When the chickpeas are clean, add them along with the chopped garlic, olive oil, lemon juice and tahini to the food processor. Blend until smooth.
Taste the hummus, and season with salt and pepper. If you want it, you could also add a little more EVOO or lemon juice, depending on your tastebuds. That said, this combination is the one that we like the best.
Scoop the hummus out of the food processor base and into a serving bowl.
Serve it with pita chips and fresh veggies immediately, and enjoy!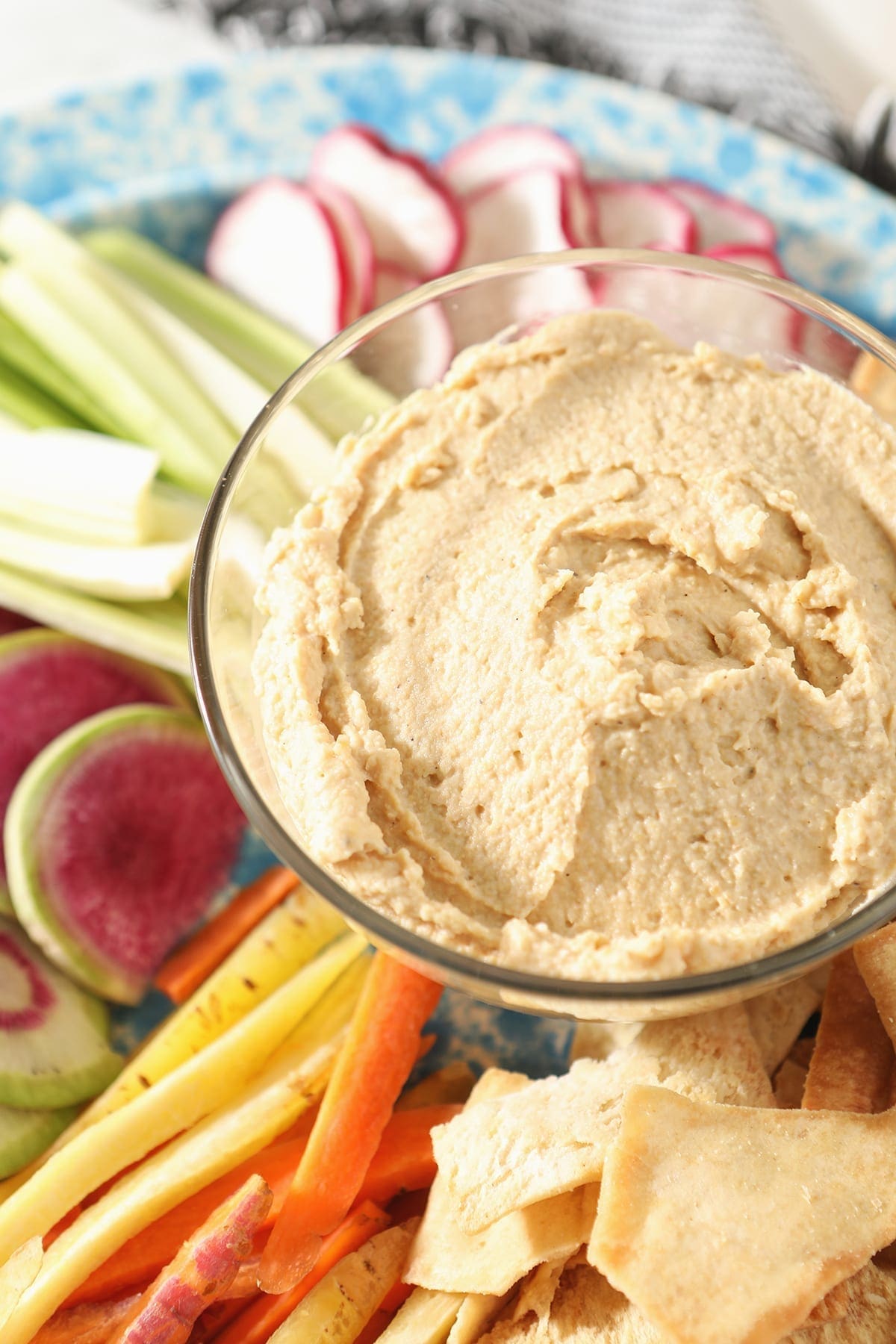 Erin's Easy Entertaining Tips and Tricks
This Garlic Hummus recipe is one we've been making for years and it's a mainstay at any gathering we host at our home.
Why? It's really simple to put together, and that makes it easy on me whenever I'm entertaining.
Here are some other things that you can do with this hummus recipe!
Make the hummus in advance. Transfer it to a serving dish, and cover with plastic wrap to keep it in the fridge. You can do this 1-2 days early.
Double the recipe. If you're hosting a large gathering and know your people enjoy homemade hummus, be sure to make extra so there's enough for all the dipping!
Offer a variety of dippers. While pita chips are awesome (hello, we love carbs in this house), offering things like baby carrots (or halved large carrots), radishes and celery add a nice veggie crunch that pairs beautifully with a garlic hummus.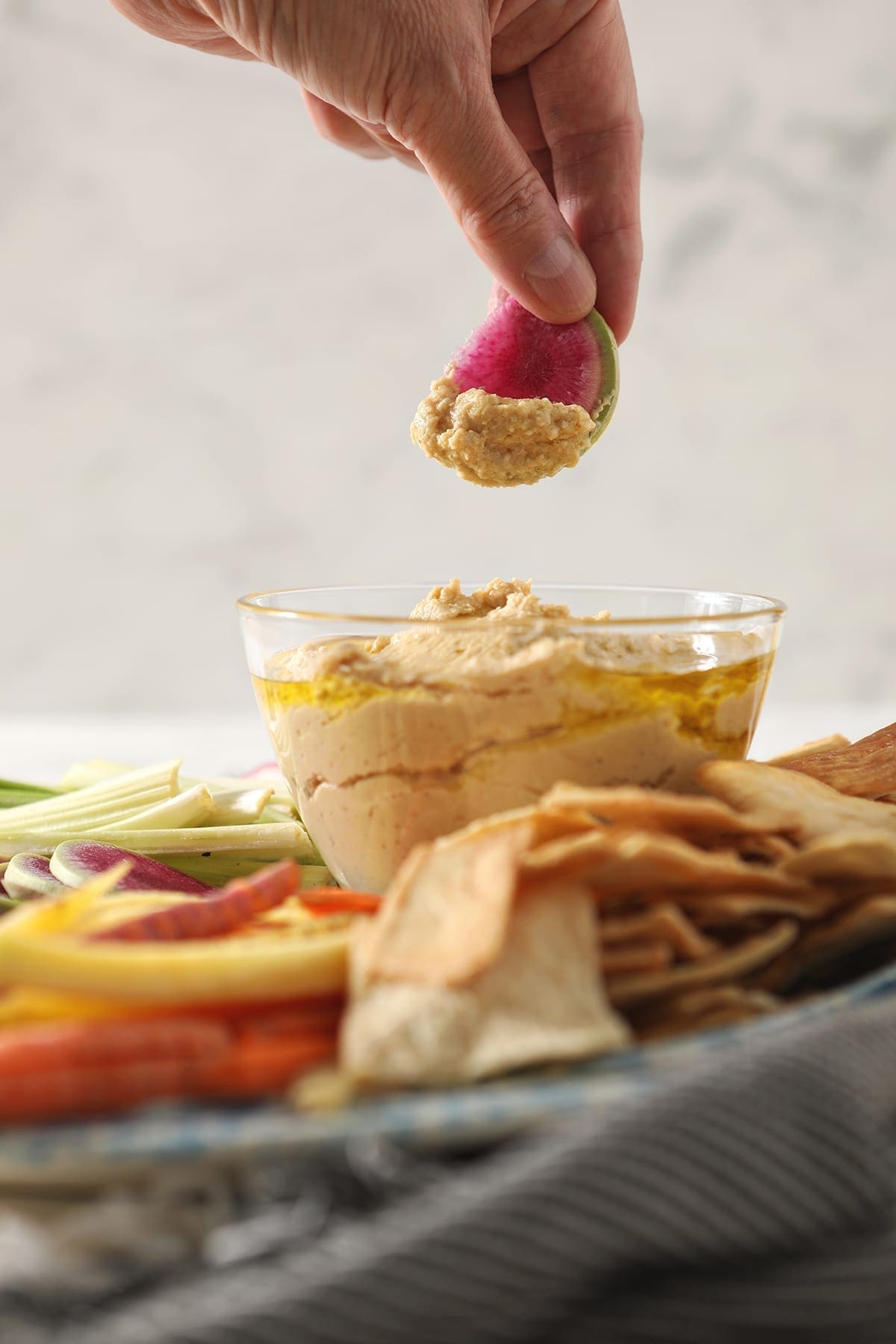 Frequently Asked Questions
What is hummus?
Hummus is a dip that combines the beloved chickpea/garbanzo bean with sesame (tahini), olive oil and more. While the origin of hummus has been debated (because many think it came from Egypt originally, but Greece offers hummus, as well), it is a popular Middle Eastern dish that has spread around the globe.
Fun fact: Hummus translates to chickpea in Arabic.
Obviously, different people from different places make their hummus different ways, so I don't want to make it seem like this is a one-size-fits-all dip because it's insanely versatile.
I will say that this homemade hummus recipe is inspired by the Lebanese hummus I enjoyed while we lived in South Louisiana. (Fun fact: South Louisiana has a lot of residents with Lebanese roots, and their food is wonderfully flavorful and garlicky!)
What does garlic hummus taste like?
You know the nutty, creaminess of regular hummus? This recipe is exactly like that, but it has a kick because of the raw garlic used in it!
If you're not the biggest raw garlic fan because it's too strong for you, you can very easily saute the garlic along with the olive oil before tossing it into the food processor with the rest of the ingredients.
What is tahini?
Tahini is sesame seed paste that's popular in Middle Eastern and Mediterranean cuisine.
I've found tahini on the dry good shelves of my grocery store. Normally, it's in the aisle where you can find other ingredients from around the world, but if you can't find it at yours, ask someone who works there to point you in the right direction.
Why do you use fresh lemon juice in this recipe?
The lemon juice adds a nice zip of acid to pair beautifully with the creaminess of the chickpeas and the tahini.
Truly, we think the lemon juice addition just makes the hummus taste so fresh and delicious.
How long does this hummus recipe keep?
In a food storage container in the refrigerator, it'll keep for 3-4 days easily.
What else can I use this hummus for if I don't want to dip everything in it?
I love to smear hummus on a sandwich in place of mayonnaise. (You could use it in place of the creamy feta dip situation on these Cucumber Sandwiches.)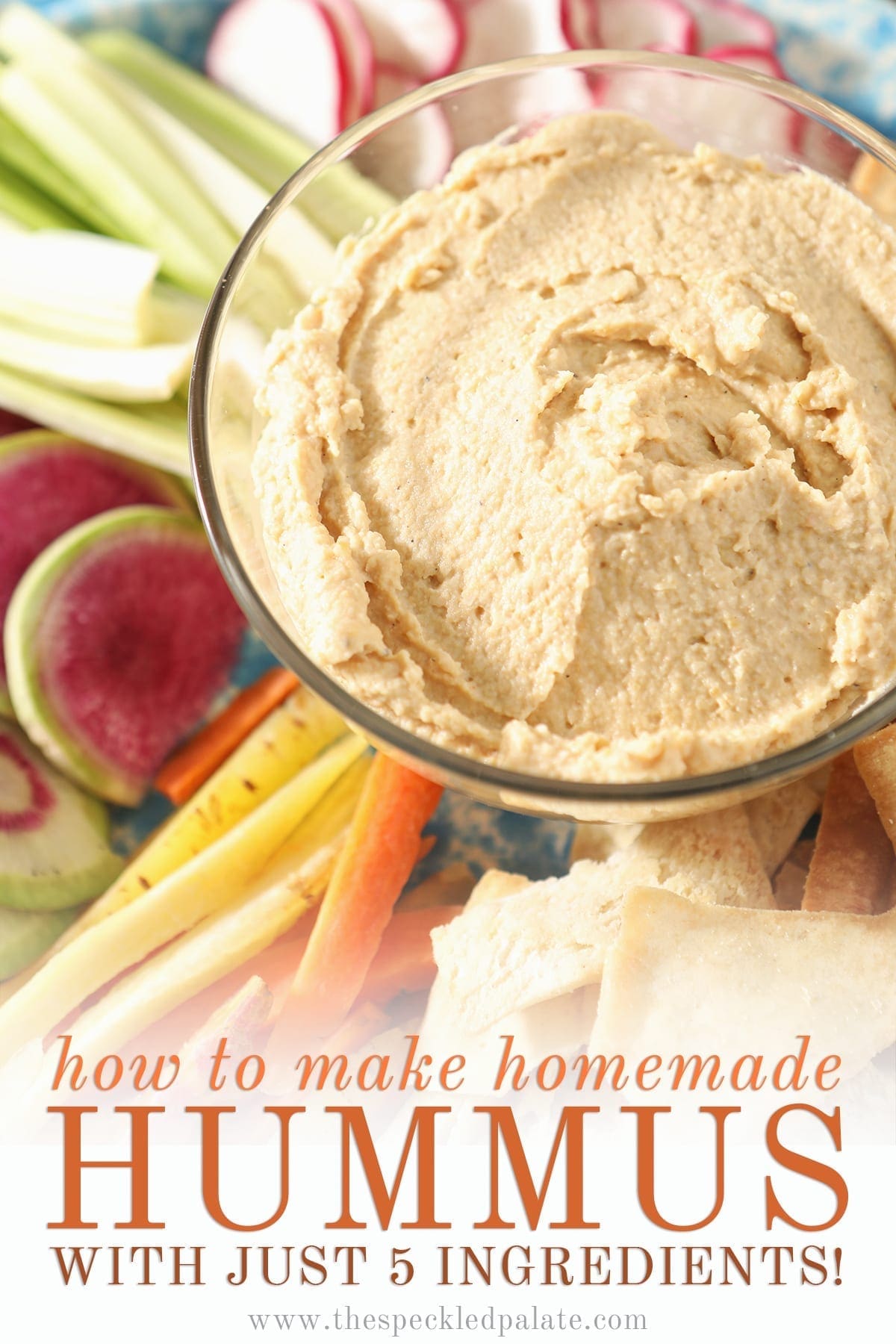 Quick Tips and Tricks for the Best Hummus
Hummus is made from garbanzo beans, which are also sometimes called chickpeas. If you can't find one on the canned aisle, look for the other!
Hummus keeps in the fridge for 3-4 days when in a food safe storage container. We've also stored ours in the serving dish while covered in plastic wrap, though I don't recommend letting this last 3-4 days in the fridge.
Not a big raw garlic fan? Throw the olive oil and garlic in a pan together to cook it to make the flavor a bit more mild.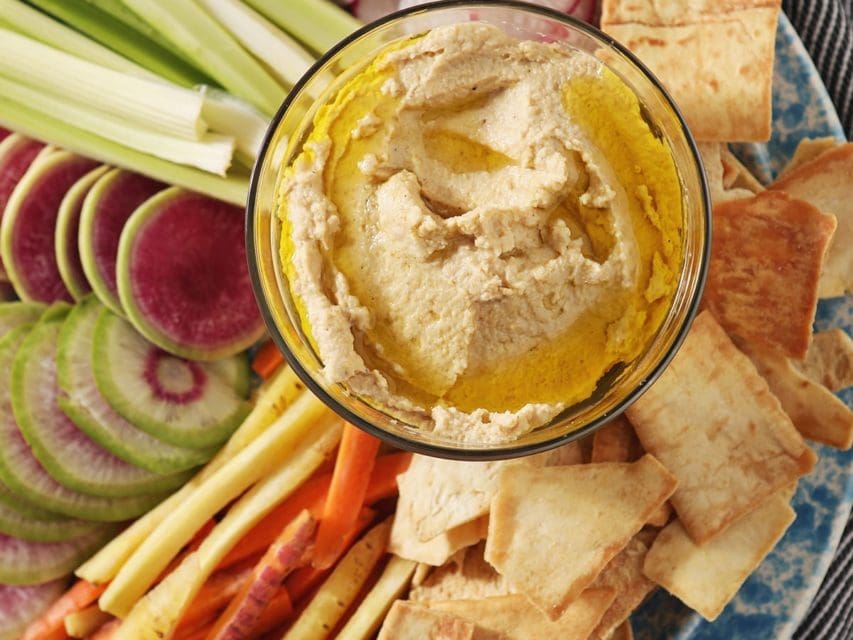 Yield:

5 servings
Winston's Hummus
Garlic-y, nutty garbanzo bean dip pairs perfectly with pita chips or sliced vegetables. Winston's Hummus is bound to be a favorite appetizer at any get-together!
Ingredients
15 oz. chickpeas (canned), rinsed and drained
3 cloves garlic, minced (about 1 ½ teaspoons)
2 tablespoons extra virgin olive oil
3 tablespoons lemon juice, freshly squeezed
1 tablespoon tahini
Salt and pepper, to taste
Dippers
Carrots, halved (or baby carrots)
Pita chips
Watermelon radishes
Celery sticks
Instructions
Open the can of chickpeas, and pour them into a colander. Drain and rinse thoroughly before proceeding.
Add the chickpeas, garlic, extra virgin olive oil, lemon juice and tahini to the food processor. You don't need to de-shell the beans, though if you want to do this, feel free. We've found it adds a lot more work, and we cannot really tell a difference after everything is blended.
Blend until smooth, or the consistency of your liking.
Taste, then season with salt and pepper to your taste.
Consume immediately with vegetables and pita chips, or transfer to a food-safe storage container and store in the refrigerator for 2-3 days.
Notes
Please note that this recipe calls for canned, already cooked chickpeas/garbanzo beans. If you have dried ones, you can soak them overnight and then cook until soft, then use them to make this recipe. (Though that takes a lot more time!)
This recipe can be easily doubled or tripled. Unless you have a huge food processor, I suggest making it in batches so you don't overflow or overwhelm yours.
Recommended Products
As an Amazon Associate and member of other affiliate programs, I earn from qualifying purchases.
Nutrition Information:
Yield:
5 servings
Serving Size:
1 serving
Amount Per Serving:
Calories:

209
Total Fat:

9g
Saturated Fat:

1g
Trans Fat:

0g
Unsaturated Fat:

7g
Cholesterol:

0mg
Sodium:

69mg
Carbohydrates:

25g
Fiber:

7g
Sugar:

4g
Protein:

8g
Nutrition facts are an estimate and not guaranteed to be accurate.
The photos and recipe for this Homemade Hummus were originally published on January 30, 2013. The photographs, along with the text of this blog post, were updated on June 29, 2020.