Boozy Stracciatella and Raspberry Gelato
Dark chocolate, raspberry and bourbon, oh my! This Boozy Stracciatella and Raspberry Gelato is the perfect combination of decadent flavors and scoops up beautifully for a summer dessert. Not a bourbon fan? Skip it completely or add spiced rum for a different flavor!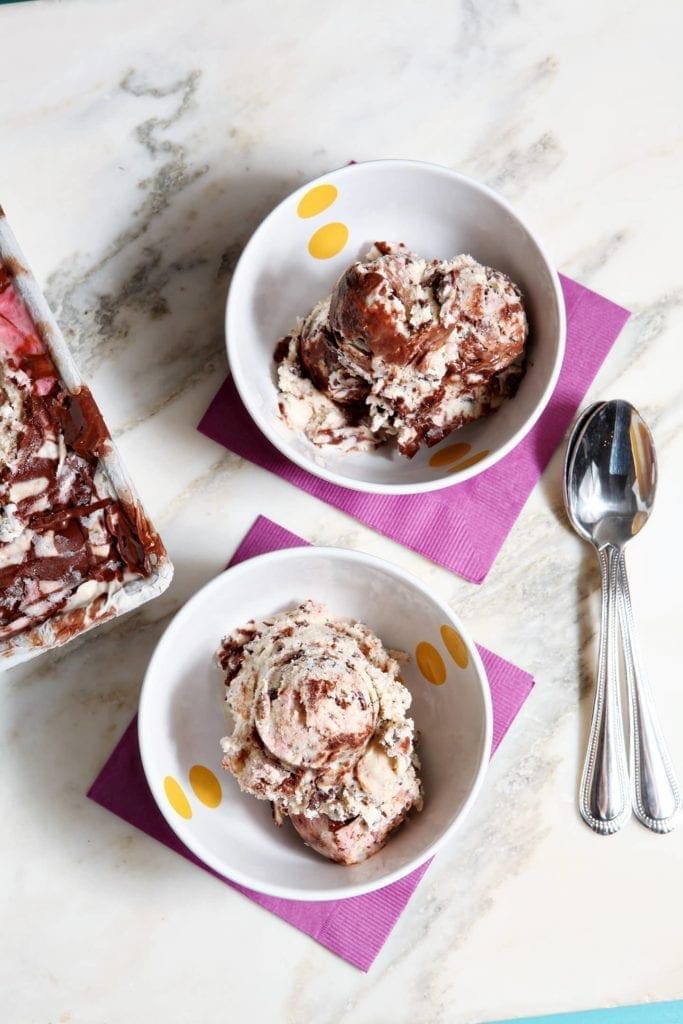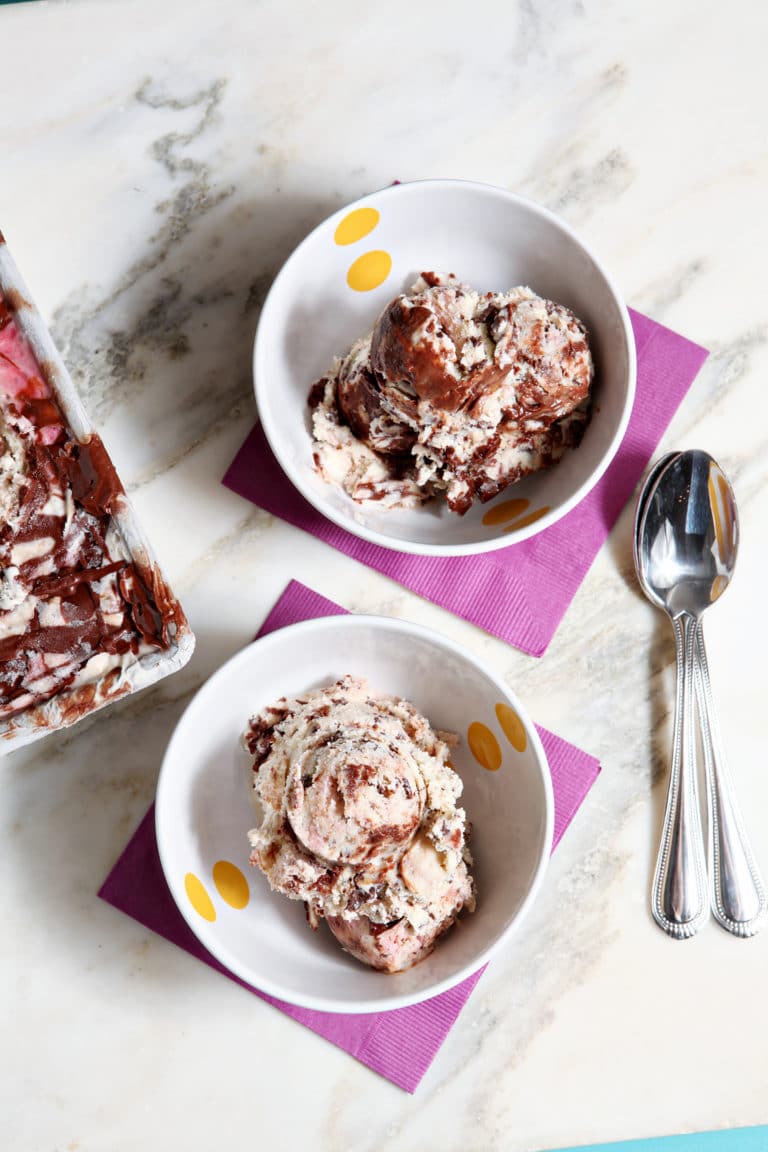 *sports announcer voice* Iiiiittttttttttttt's Ice Cream Sundae Week!
Who's excited?
Are you excited?
You should be!
I'm teaming up with eighteen — yes, 18! — other bloggers to bring you some new and innovative ice cream recipes this week, as well as a fabulous ice cream lover giveaway! (More on this a bit further into the post.) Needless to say, I am thrilled to be sharing this recipe because, well, it's got a story.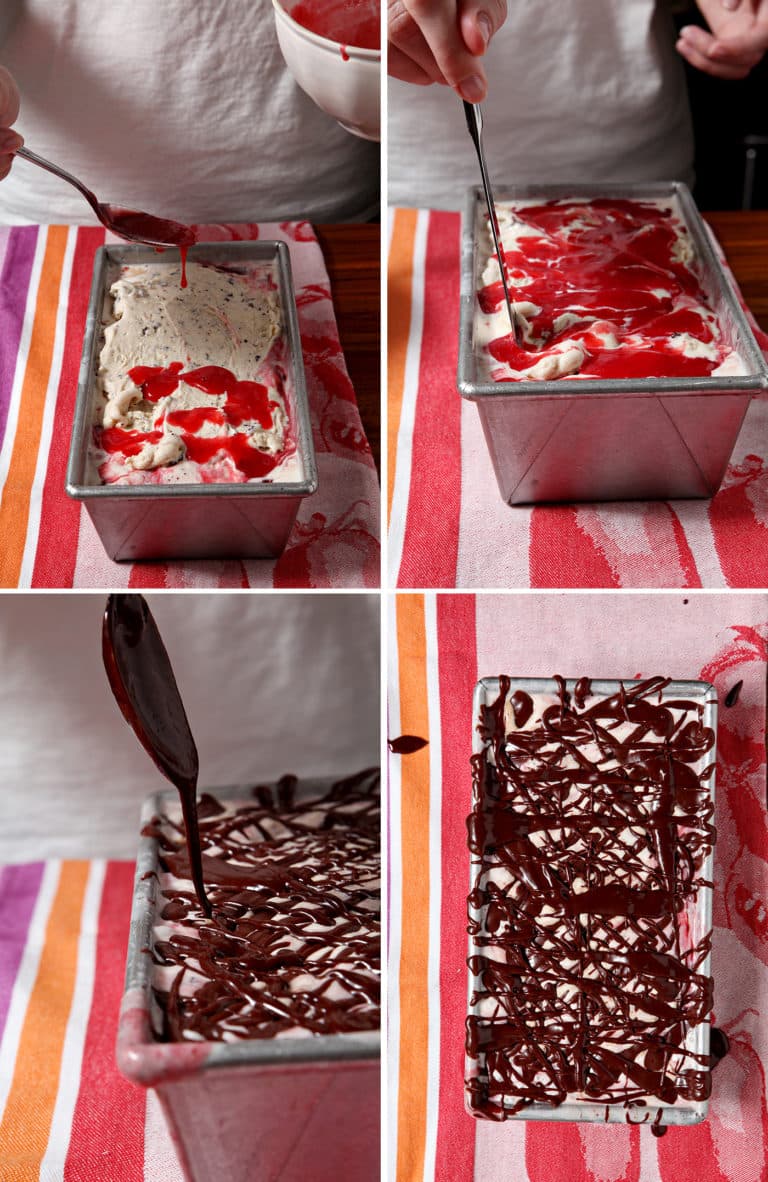 Nine years ago, I spend my summer studying art in Italy. I lived in a small Etruscan town; the one where Under the Tuscan Sun was filmed; and spent my days making portraits, painting still lifes, studying art history and walking up and down a ginormous hill, which my fellow students and I lived atop.
It was a glorious summer. It was a summer of learning; it was a summer of rekindling my love for portraiture; it was a summer of indulgence.
When I say I ate gelato every day, I legit mean EVERY. day.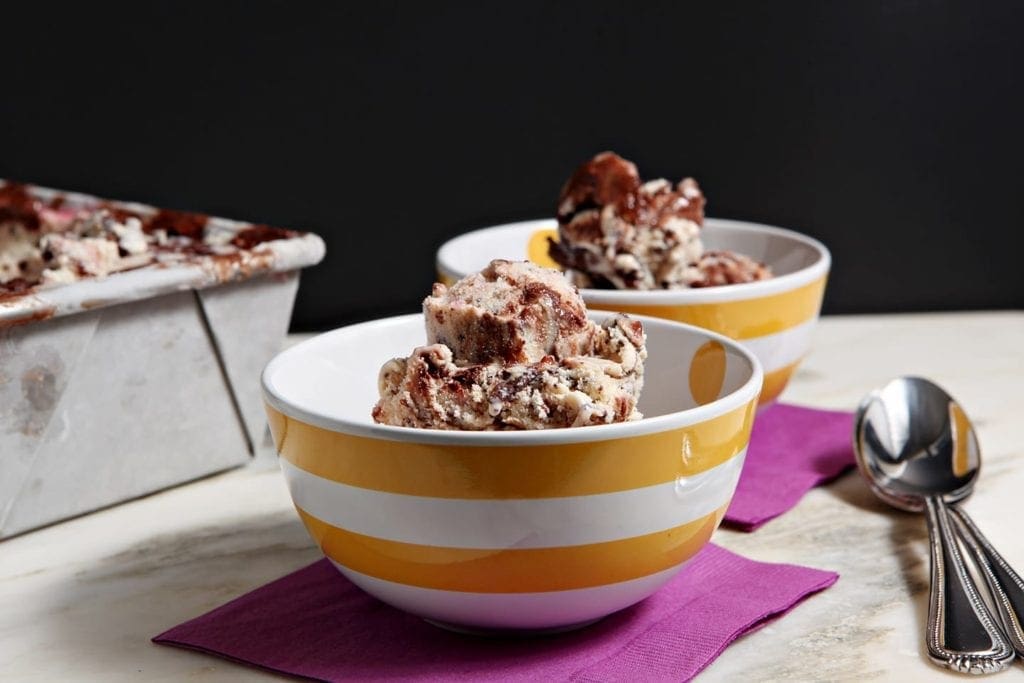 The little gelateria in town served the best stracciatella gelato, and I normally purchased my daily quantity after dinner.
Stracciatella means "a little shred" in Italian and is used to describe three different foods. The stracciatella I'm talkin' about is the milk-based gelato that is filled with fine chocolate flakes.
That was my jumping off point for Ice Cream Week.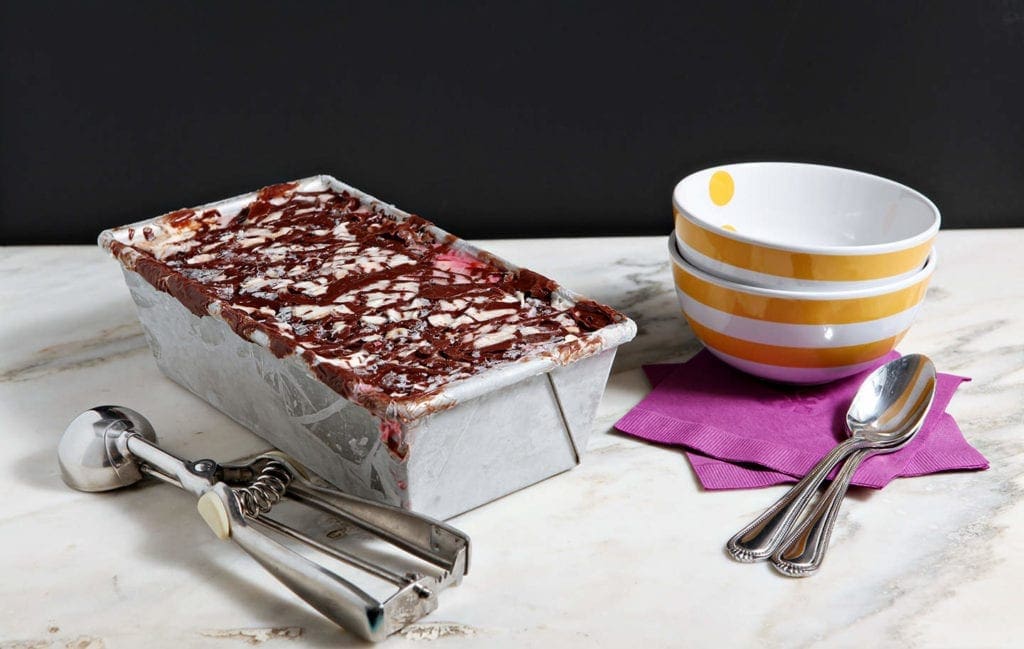 Then when I was purchasing ingredients for this gelato, I stumbled upon a really good raspberry deal and couldn't not purchase a few pints of the summer berries.
So it was going to be dark chocolate and raspberries infused in this gelato.
Aaaaaaaand then I got home and thought it might be delicious to add bourbon. As one does.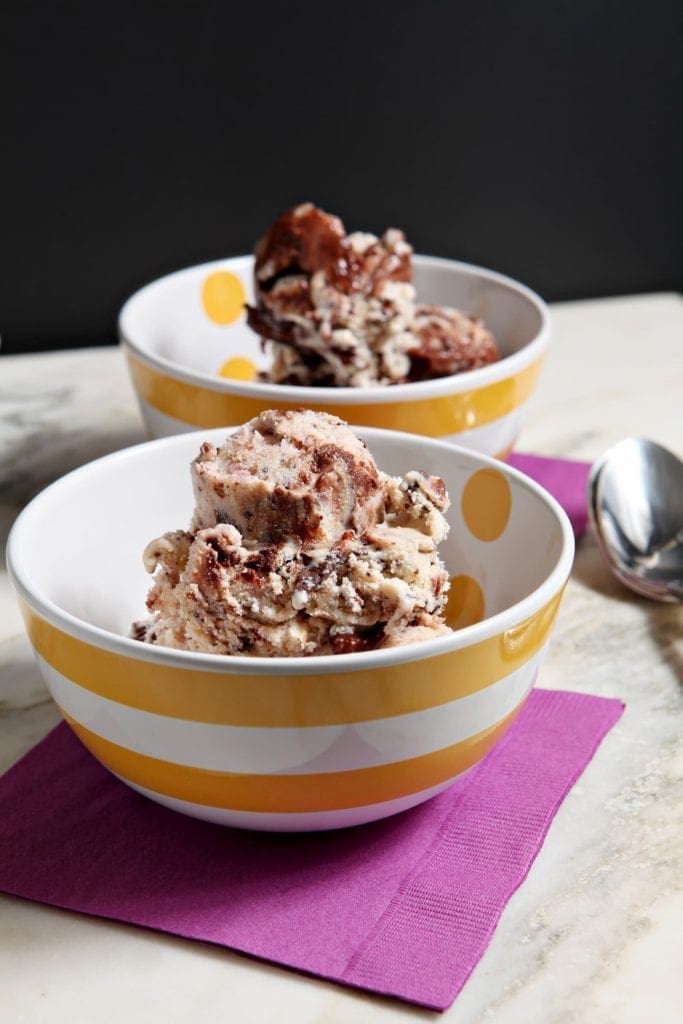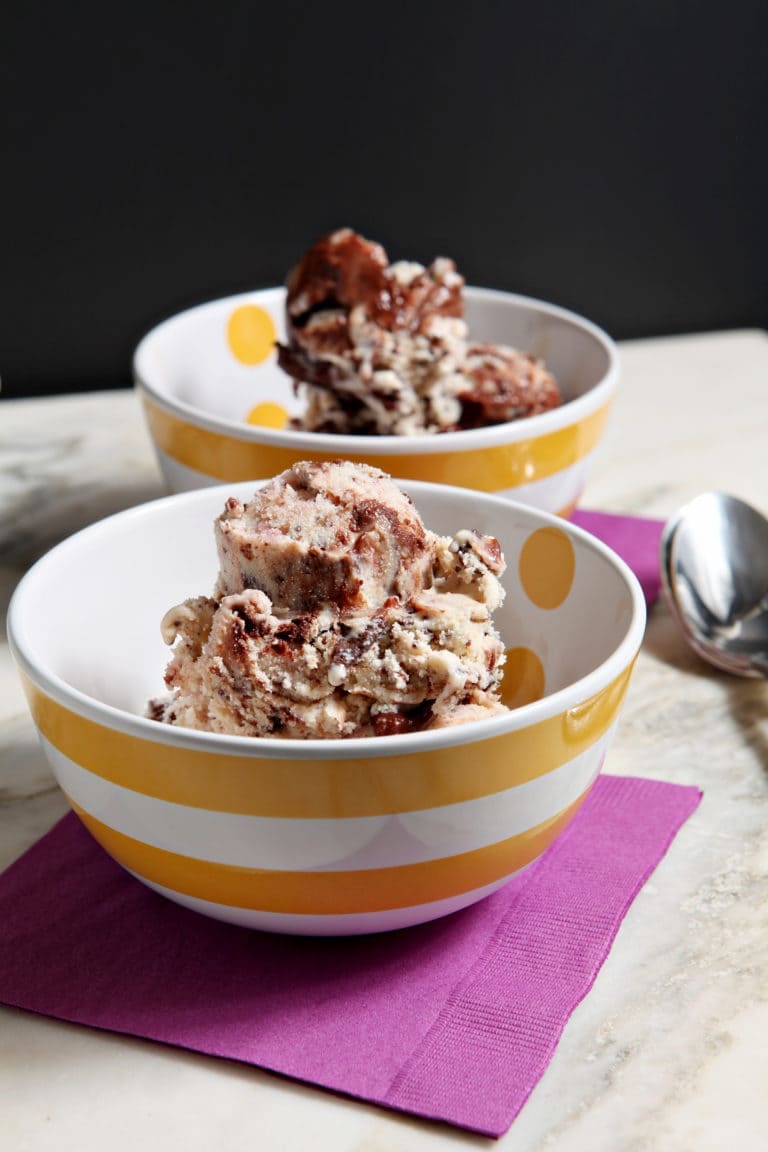 So, basically, I bastardized a traditional Italian gelato, and it could've gone either way. Except it turned out to be really ridiculously delicious.
It's also versatile.
If you're not a bourbon fan, sub spiced rum instead for a different flavor.
If you're not into alcohol at all, just add a tablespoon or two of bourbon or vodka to the ice cream base to help it freeze smooth.
And if you're into boozy ice cream? Let me tell ya exactly how I made this: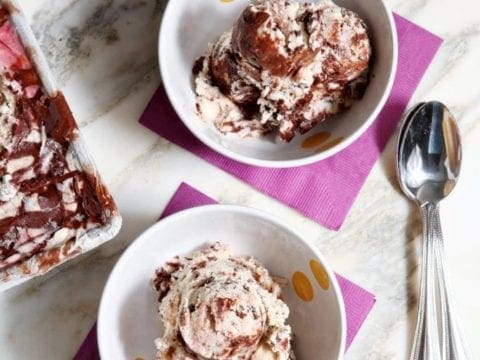 Yield:

8 servings
Boozy Stracciatella and Raspberry Gelato
Total Time:
18 hours
30 minutes
Dark chocolate, raspberry and bourbon, oh my! This Boozy Stracciatella and Raspberry Gelato is the perfect combination of decadent flavors and scoops up beautifully for a summer dessert.
Ingredients
Custard
2 cups whole milk
1 cup heavy whipping cream
½ cup granulated sugar
6 egg yolks
1 tablespoon pure vanilla extract
3 oz. bourbon
Stracciatella
6 oz. dark chocolate chips, melted
1 tablespoon unsalted butter
1 tablespoon bourbon
Raspberry Swirl
1 pint raspberries
5 tablespoons granulated sugar
¼ cup water
Instructions
The day/night before
In a large saucepan, whisk the milk and 1/2 cup of the heavy whipping cream together. Add the sugar. Turn on the heat to medium-low, and stir slowly. Do not turn the heat up, as you do not want to scald the milk in this stage!
Separate the egg yolks from the egg whites. Toss the egg whites. Place the egg yolks in a bowl, and add the additional 1/2 cup of heavy whipping cream. Using a whisk, stir until combined.
When the milk and cream are just bubbling around the sides of the saucepan and the middle has a faint ripple, temper the egg yolk mixture.
Once the yolks are tempered, begin whisking the mixture on the stovetop and slowly pour the yolk mixture in. Whisk constantly until the mixture has thickened.
Remove the saucepan from the heat, and stir in the vanilla and whiskey, whisking until incorporated.
Using a fine mesh strainer, strain the custard base to remove any lumps from the mixture. Pour into a glass or metal container to store overnight, and place a piece of plastic wrap on the surface of the custard. (Do not stretch it over the bowl, as a film will form on top of the custard.)
Refrigerate the custard overnight.
The day of
In the microwave, melt the dark chocolate with the butter. Stir every 30 seconds until smooth. Pour in the bourbon, then set aside.
On the stovetop, make the raspberry swirl. Bring the raspberries, water and sugar to a boil. When the sugar has dissolved, pour the mixture into a mixer. Mix until combined, then strain with a fine mesh strainer to remove all seeds.
Pour half the raspberry mixture into the chocolate mixture. Set aside.
Make the ice cream: Follow your ice cream maker's manufacturer's instructions.
When the ice cream has thickened, slowly drizzle in half of the chocolate mixture. Be sure to do this slowly and with a light drizzle, as you don't want big chunks of chocolate in the ice cream.
When the ice cream is finished in the ice cream maker, pour half of the mixture into a frozen loaf pan.
Drizzle the raspberry mixture, then the chocolate mixture over it.
Cover these with the other half of the ice cream, and top with more raspberry drizzle.
Use a knife to swirl the raspberry into the ice cream.
Finish the ice cream with the rest of the dark chocolate mixture drizzled on top of it.
Cover well with plastic wrap, and freeze for 4-6 hours, or until it is frozen solid.
Serve cold, and enjoy!
Nutrition Information:
Yield:
8
Serving Size:
1
Amount Per Serving:
Calories:

439
Total Fat:

24g
Saturated Fat:

14g
Trans Fat:

0g
Unsaturated Fat:

9g
Cholesterol:

184mg
Sodium:

47mg
Carbohydrates:

42g
Fiber:

4g
Sugar:

36g
Protein:

6g
Nutrition facts are an estimate and not guaranteed to be accurate.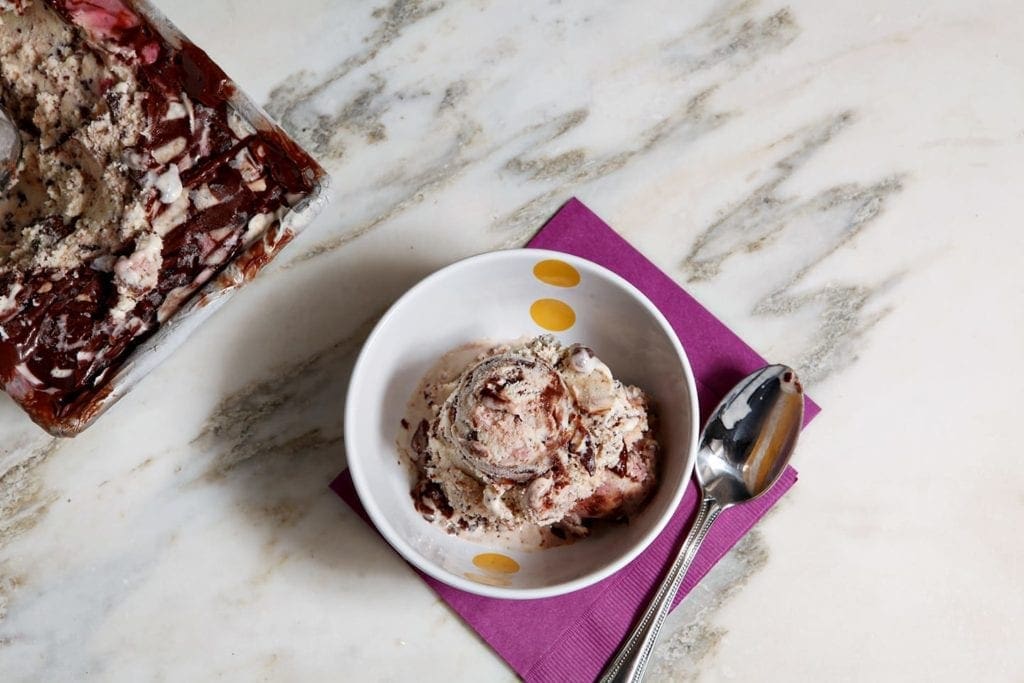 I teamed up with 18 other bloggers to share innovative ice cream recipes with you and to bring you a delectable ice cream making giveaway, which is now closed.
We're using the hashtag #weekofsundaes on social media this week. Check out our blogs to see all of our ice cream recipes throughout the week:
Ashley at Spoonful of Flavor // Madison at Wetherills Say I Do // Julia at Tag & Tibby // Nick at Macheesmo // Meredith at Meredith Noelle // Heather at Sugar Dish Me // Linda at Brunch with Joy // Katie at Twin Stripe // Beth at bethcakes // Meghan at Cake 'n Knife // Dan at The Food in my Beard // Cate at Chez CateyLou // Susannah at Feast + West