Apple Cinnamon Muffins make for a delicious breakfast that tastes like classic apple pie. Full of chopped apples and topped with a light oatmeal crisp, this easy apple muffin recipe is perfect for any morning. Makes 18 apple oatmeal muffins.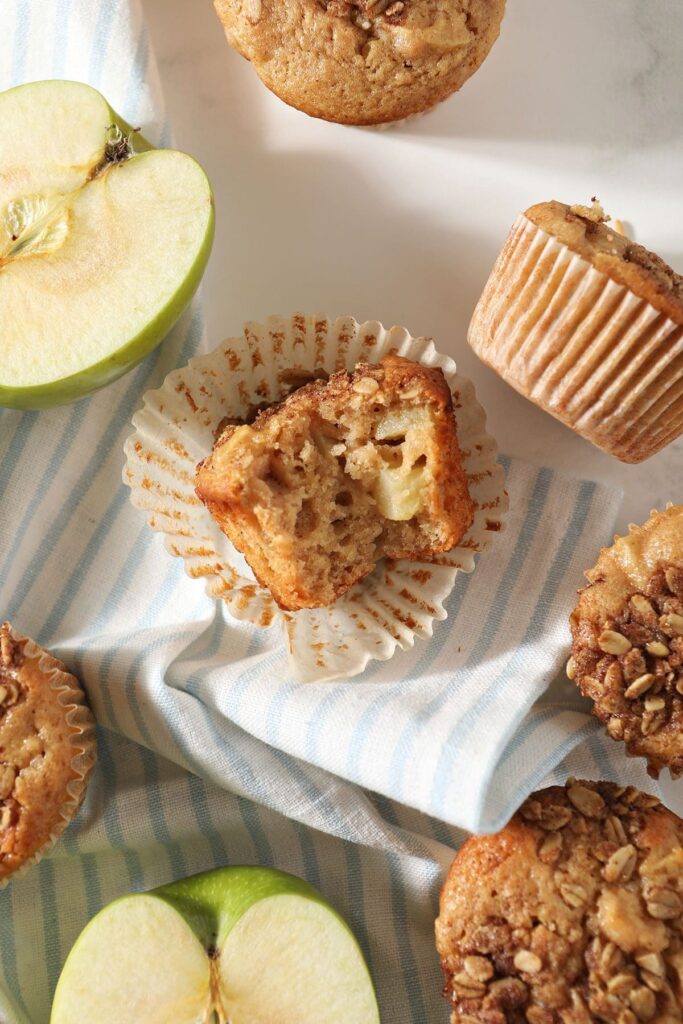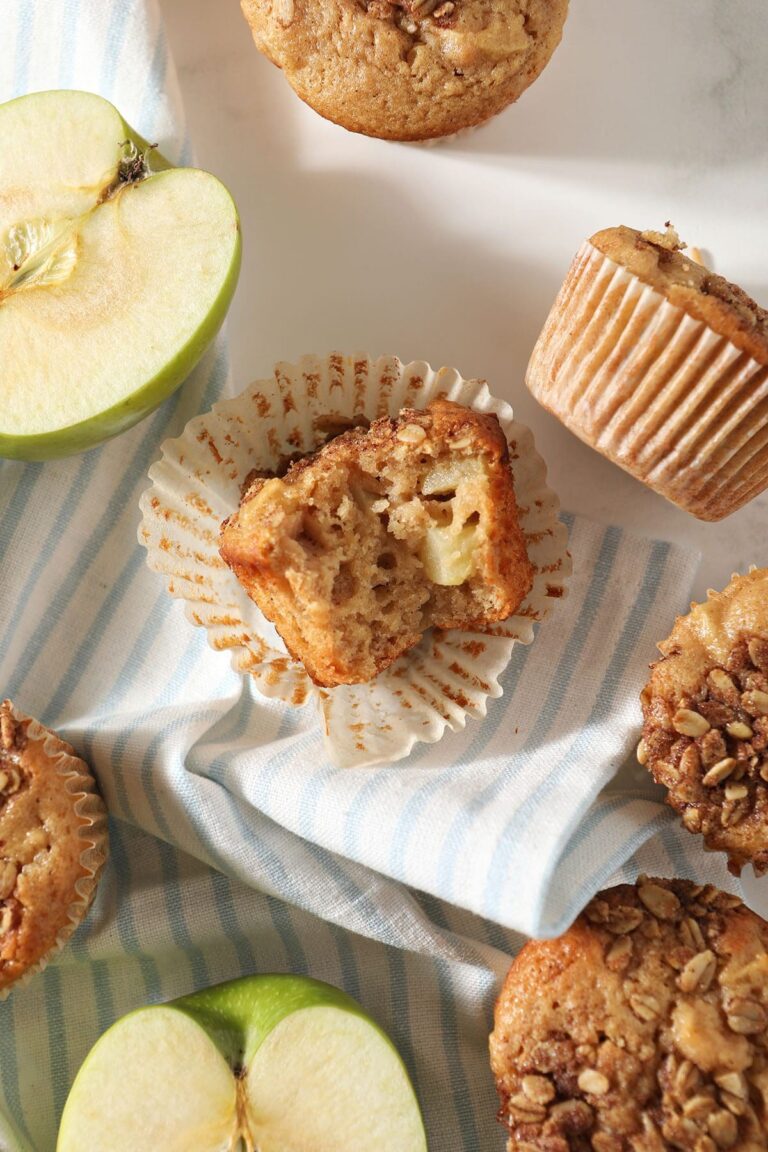 I've always been a big breakfast fan.
Most of the time, I will choose breakfast if it's offered offered any time of day at any given restaurant.
I'm all about sweet, savory and in between. Because they are all delicious.
So one lazy Saturday a few months ago, I was inspired. I hadn't had an apple pie in a long time, but we needed to eat breakfast.
So I created a recipe that allowed me to enjoy the best of both worlds.
Why I love this recipe:
These Apple Cinnamon Muffins are wonderfully moist and bursting with apple and cinnamon flavors.
They're hard not to love, and they're something my entire family swoons over.
While this recipe calls for more bowls than I would normally want to use, it's worth the extra dishes.
Why? These apple oatmeal muffins disappear quickly once they cool off.
They've also been requested multiple times by all my family members, too, which means they are a great recipe.
Other muffin recipes you should try: Coffee Cake Muffins | Vegan Pumpkin Muffins | Vegan Banana Chocolate Chip Muffins | Blueberry Lemon Crumble Muffins | Strawberry Lemonade Muffins
Breakfast lover? Head on over to my Breakfast and Brunch Recipe Index for more ideas.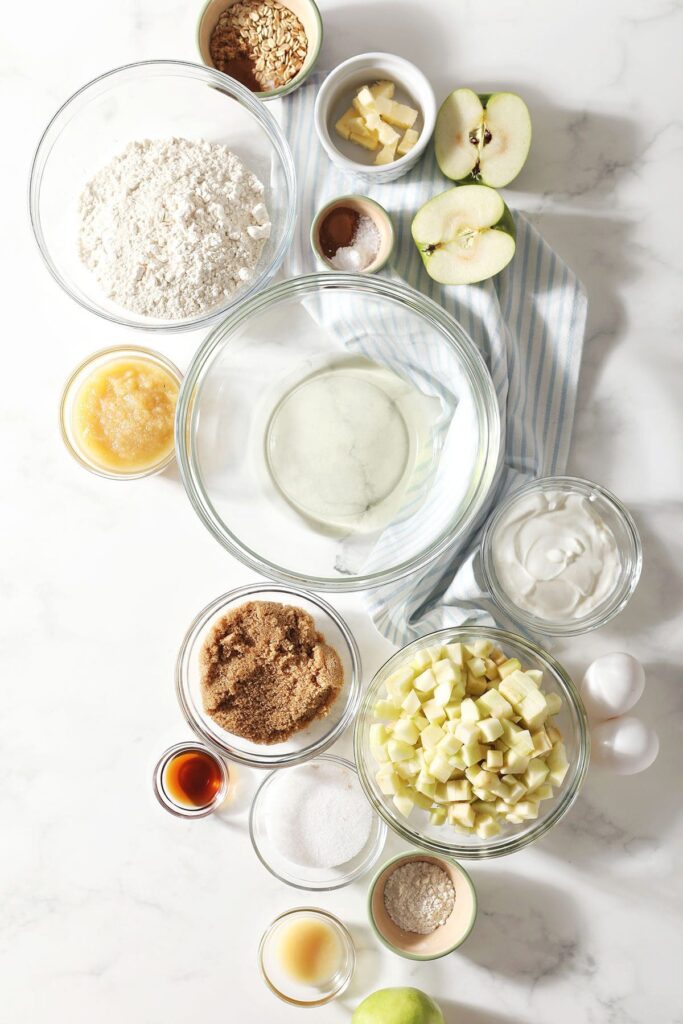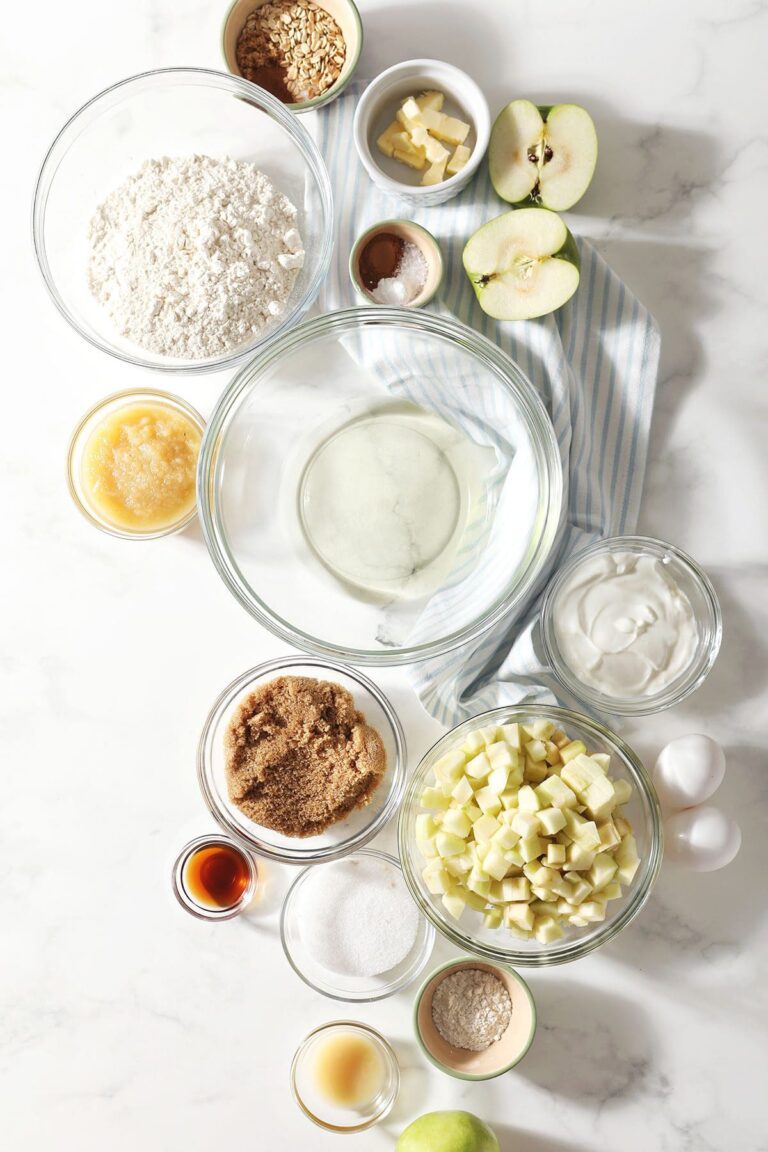 What you need to make this muffin recipe:
The Speckled Palate participates in affiliate programs. As an Amazon Associate, I earn a commission from qualifying purchases. Please refer to my disclosure page for more information about these affiliate programs.
Let's talk ingredients!
In addition to the tools above, you're going to need some ingredients to make this recipe, too! Chances are, you might already have some of them in your fridge or pantry. Scroll down to the recipe card for the full measurements and instructions.
Here's what you'll need:
Granny Smith apples—these are my favorite apples for any kind of baking because they're nice and tart. They also hold their shape while baking, which is a plus. Make sure to remove the skin with a vegetable peeler.
Lemon juice—freshly squeezed, if possible. We toss the apples in this so they don't oxidize and brown.
All-purpose flour—we keep unbleached AP flour at our house, but the regular kind works here, too. I've never successfully made a gluten free muffin with this recipe, so please don't substitute the flour.
Baking powder—this is going to give our muffins rise!
Ground cinnamon—we need some for the muffins, as well as their topping. There is no substitute.
Kosher salt—I use a medium-grain kosher salt. You could swap this with sea salt, too. If your salt is a finer salt, use a little less so your muffins aren't too salty.
Unsweetened applesauce—this adds apple flavor to our muffins, as well as gives them some moisture. I suggest purchasing apple sauce that's labeled unsweetened because sweetener is added to most applesauces on the market these days.
Canola oil—you can also use another unflavored oil, like vegetable oil or even a refined coconut oil if you'd rather.
Vanilla yogurt—grab your favorite brand at the store!
Dark brown sugar—I personally love this because of the deep caramel flavors you get from the dark brown sugar. However, you can use light brown sugar if that's what you've got in your house.
Granulated sugar—also known as white sugar, there's not really a substitute for this sweetener in this recipe. You need some for the muffin batter, as well as the topping.
Eggs—these will help our muffins rise, along with the baking powder. They also provide structure in the batter.
Vanilla extract—for a nice touch of vanilla flavor to the batter! The real deal is really worth the splurge.
O

ld-fashioned oats

—these are sometimes known or labeled as rolled oats. You want to avoid quick-cooking oatmeal because they will not hold their shape.
Salted butter—just a little bit for the oatmeal topping
Substitutions:
Apples: if you don't have Granny Smith apples, Braeburn apples or Honeycrisp apples would work beautifully in this recipe since both hold up to baking.
Yogurt: use your favorite plain yogurt if flavored yogurts aren't something you keep in your house. It will work beautifully. I will caution against using Greek yogurt because it is thicker and will change the texture of the muffin batter.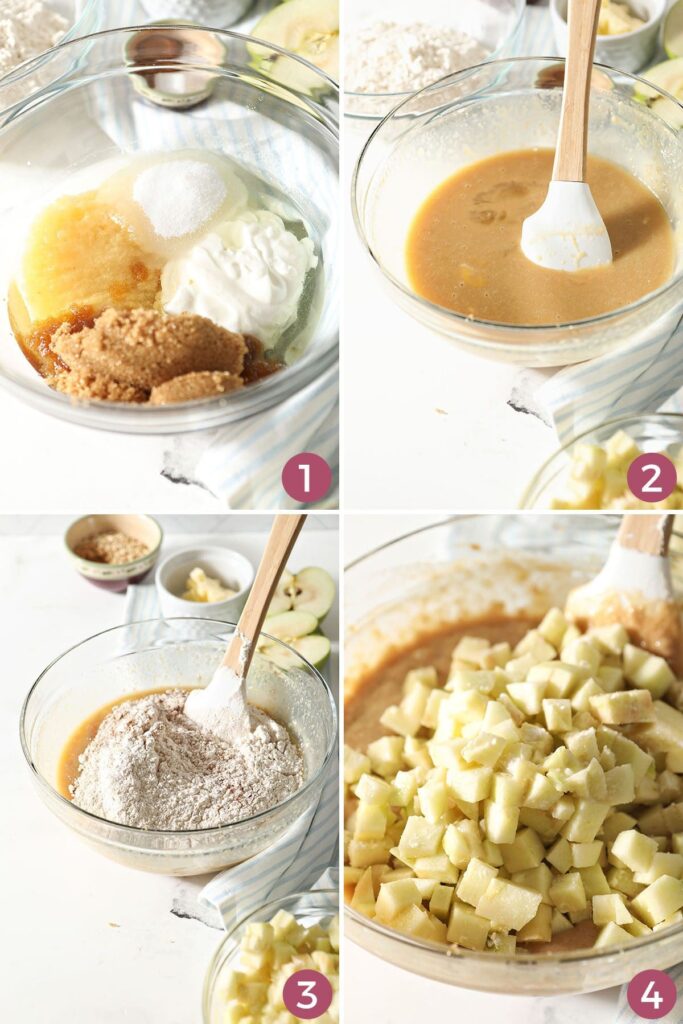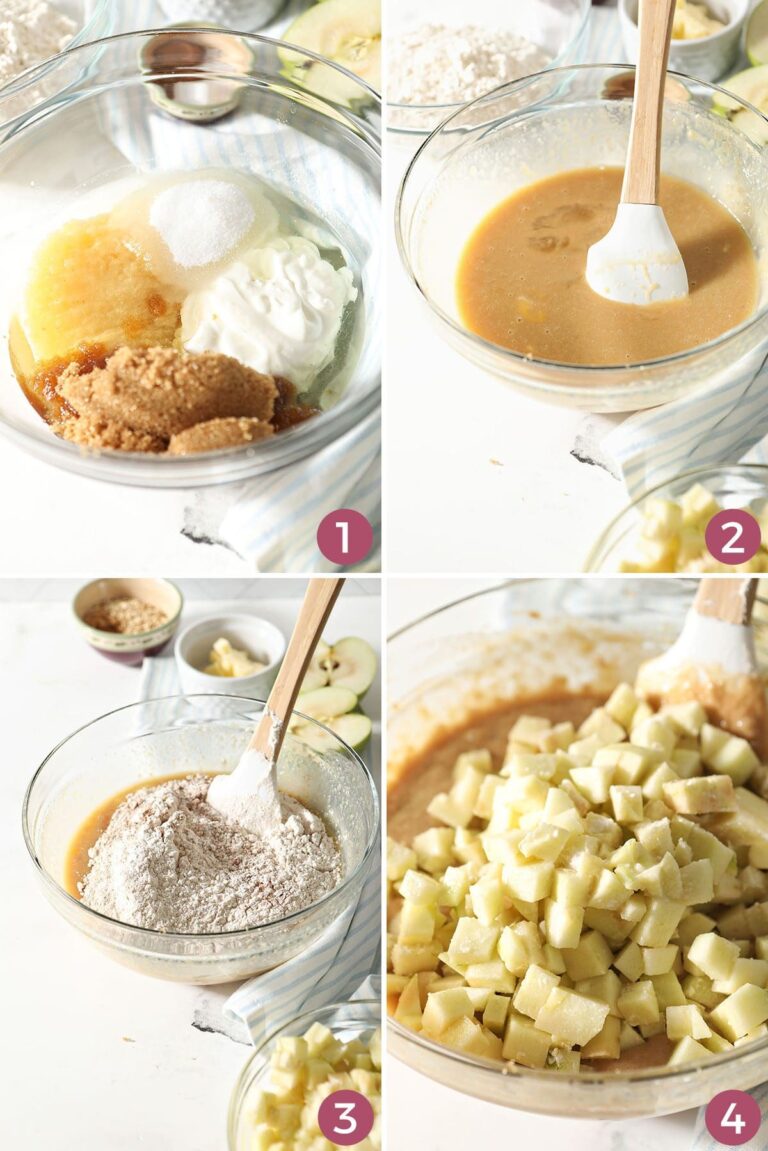 How to make Apple Cinnamon Muffins
First and foremost, preheat the oven. Line your muffin cup(s) with parchment muffin liners.
If you're not using parchment liners, spritz them with nonstick baking spray so that your muffins don't stick.
Remove the apple peels, then chop. Dice them finely because nobody wants a huge chunk of apple in their muffin.
Toss the apples with flour and lemon juice. The flour will keep them from sinking to the bottom of your muffins. The lemon juice will ensure they don't brown before they're baked. Set aside.
Mix the dry ingredients. You're going to toss the flour, baking powder, salt and cinnamon into a medium bowl. Whisk until combined, and set 'em aside.
Mix the wet ingredients. Combine the applesauce, brown sugar, granulated sugar, eggs, vanilla extract and yogurt. Stir until combined.
Pro tip: Do this in your largest bowl because everything is eventually going into here.
Make the crisp topping. Mix the oats, granulated sugar, brown sugar and the cinnamon together in a small bowl. Add the chopped salted butter to this, mixing until this is chunky and combined.
Mix the ingredients. Pour the wet ingredients into the dry ones, stirring until just combined. Add the apples to this mixture, and stir until they're incorporated.
Scoop the muffins into the prepared muffin tins using a 2-tablespoon cookie scoop or a 1/4 cup measuring spoon. I used 4 tablespoons per muffin. Top with the oat topping.
Bake the muffins for 20-25 minutes. They'll rise and turn golden brown. Obviously, your kitchen will also smell delicious.
How to check when your muffins are done:
Insert a toothpick into the center of one. If it comes out clean, you're good to go. If it doesn't, pop them back into the oven and bake for longer. Set a timer for a few minutes so you don't overbake them.
Let the muffins cool, then pop then out of the muffin tin and enjoy!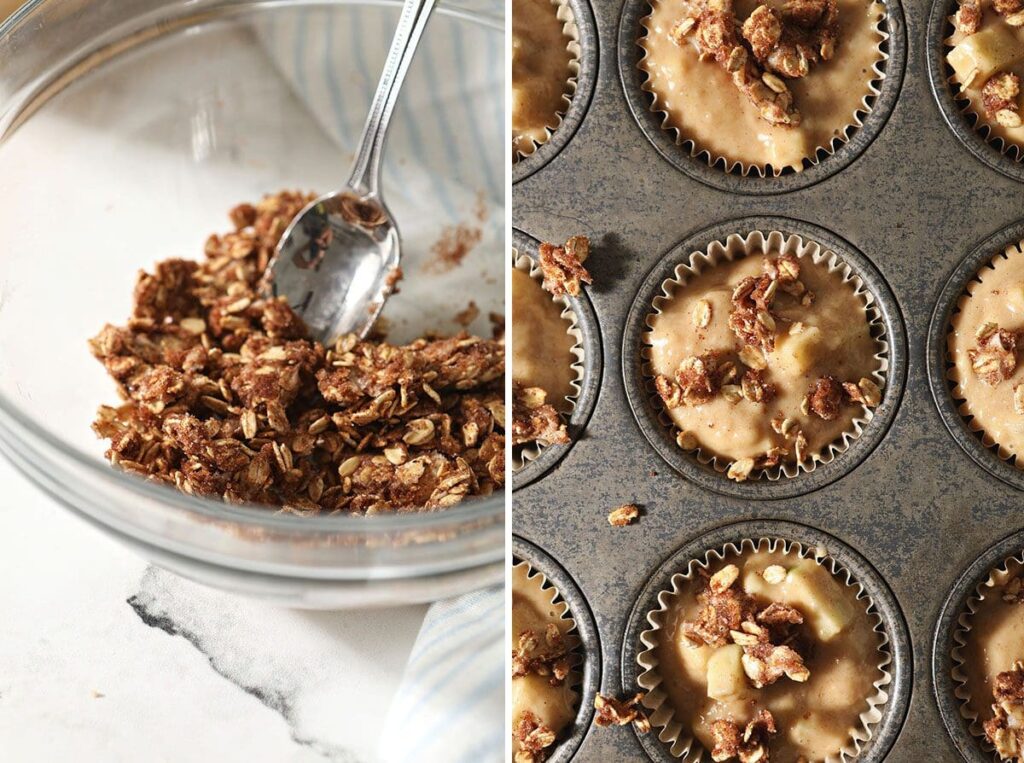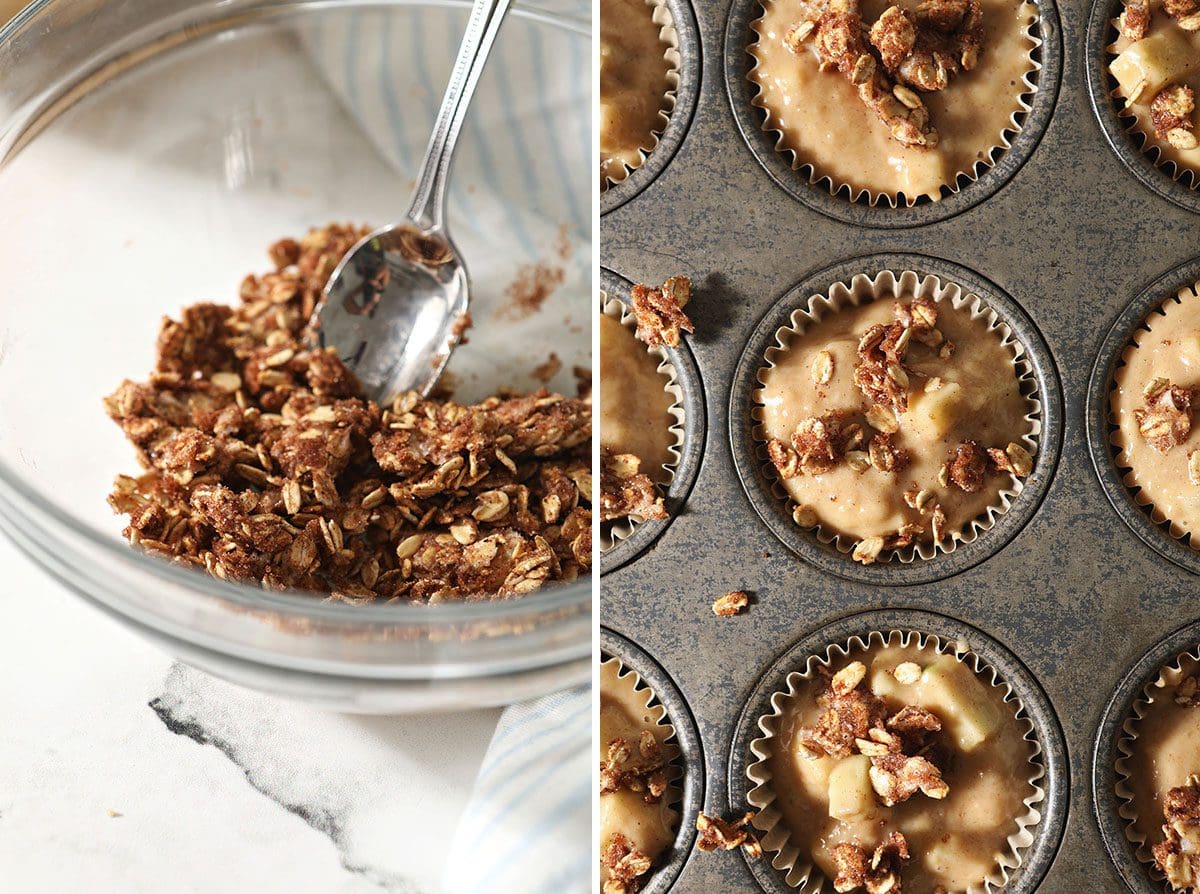 Frequently Asked Questions
What kind of apples are best for muffins?
Personally, I think Granny Smith apples are the best kind of apples for these apple oatmeal muffins. They're not overly sweet, they hold their shape when baked and their tartness is lovely when paired with other ingredients.

Braeburn or Honeycrisp apples would make OK substitutes, too.
How can I make my muffins lighter and fluffy?
You need a leavener in your muffins to make it light and fluffy. We use a combination of eggs and baking powder.

How much cinnamon is in muffins?
That depends on the muffin. We don't need a ton for this recipe because a little goes a long way.
How do you make muffins moist?
We're using applesauce in these muffins, which gives them incredible moisture when paired with the oil and fresh apple chunks.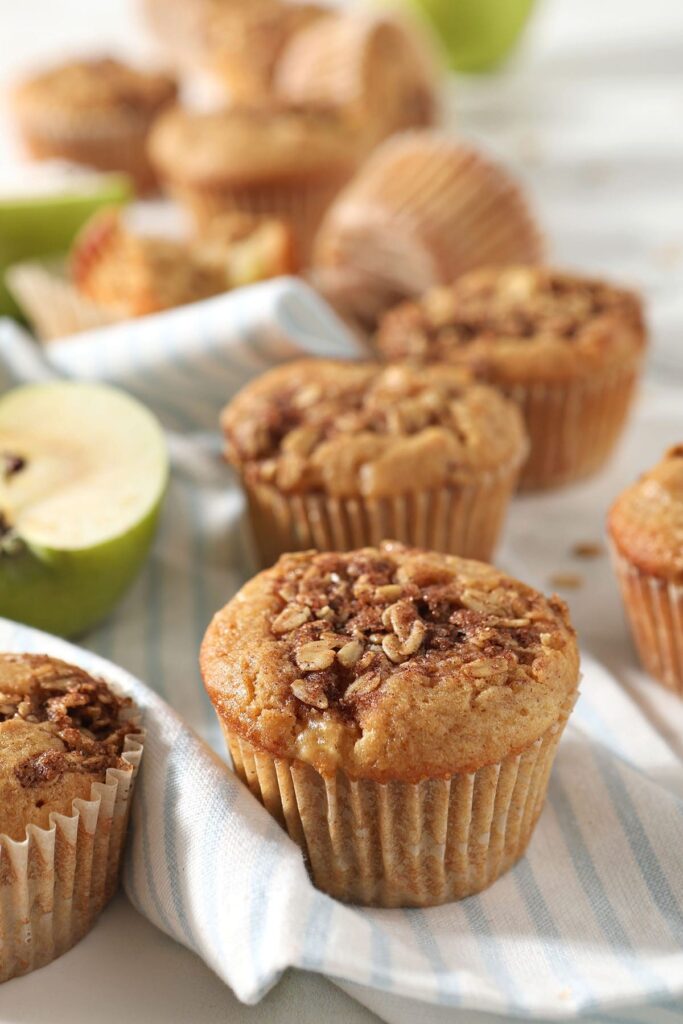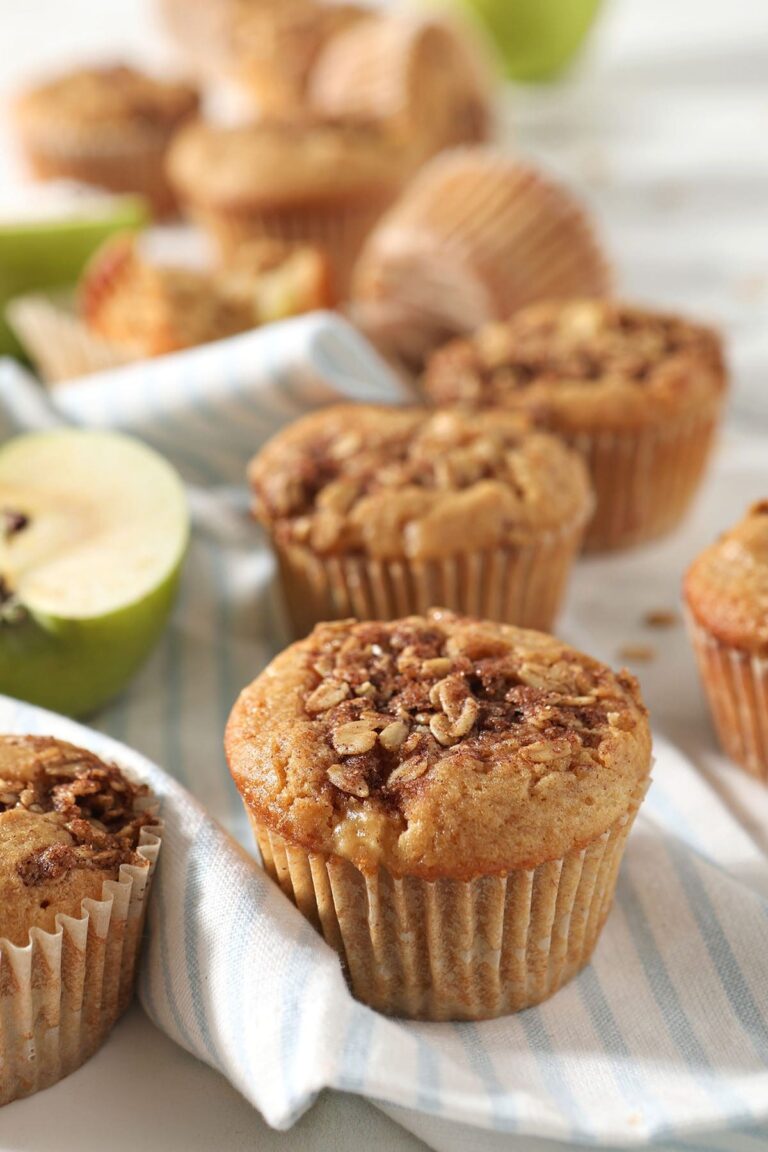 Quick tips and tricks to the best muffins
Store leftover Apple Cinnamon Muffins on a plate wrapped in plastic. Keep in the fridge for 2-3 days.
How to freeze: Place the cooled muffins on a baking sheet, and transfer to the freezer. Freeze for 4-6 hours, or until frozen solid. Transfer to a plastic bag and keep frozen for up to 3 months.
Acceptable substitutes: Instead of Granny Smith apples, use Braeburn apples or Honeycrisp apples. You can substitute your favorite plain yogurt, too, if that's more your speed.
Other fall-flavored muffin recipes to try:
Curious about making these apple oatmeal muffins?
Check out the recipe below: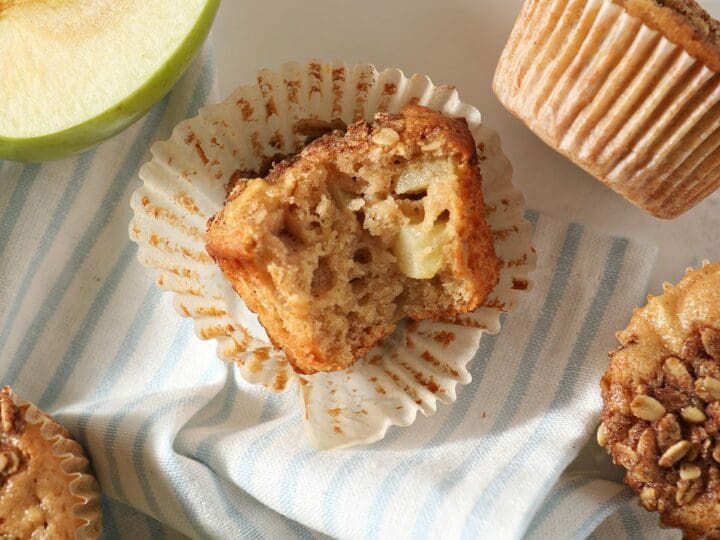 Yield:

18 muffins
Apple Pie Muffins
Apple Cinnamon Muffins make for a delicious breakfast that tastes like classic apple pie. Chock full of chopped apples and topped with a light oatmeal crisp, this easy apple muffin recipe is perfect for any morning.
Ingredients
Muffins
3 small Granny Smith apples, about 2 ½ cups (350g) diced
1 tablespoon (18g) lemon juice, freshly squeezed
2 cups (240g) + 1 tablespoon (9g) all-purpose flour, divided
1 ½ teaspoons (7g) baking powder
1 teaspoon (3g) ground cinnamon
½ teaspoon (4g) kosher salt
½ cup (133g) unsweetened applesauce
½ cup (112g) canola oil (or another unflavored oil)
½ cup (136g) vanilla yogurt
¾ cup (165g) dark brown sugar
¼ cup (64g) granulated sugar
2 eggs
2 teaspoons (9g) vanilla extract
Crumble Topping
3 tablespoons (30g) old-fashioned oats
2 teaspoons (10g) granulated sugar
1 teaspoon (7g) dark brown sugar
½ teaspoon (1g) ground cinnamon
2 tablespoons (25g) salted butter, cold
Instructions
Preheat the oven to 375°F. Place muffin liners in a muffin tin, and spritz with nonstick cooking spray. Set aside.
Remove the apple peels. Dice apples in quarter inch cubes. The thinner, the better. Mix with one tablespoon of flour and lemon juice so they do not brown. Set aside.
Combine the 2 cups of flour, baking powder, cinnamon and salt in a medium-sized bowl. Whisk until combined, and set aside.
In another bowl, combine the applesauce, oil, yogurt, brown sugar, granulated sugar, eggs and vanilla extract. Stir until combined with a whisk or rubber spatula.
Pour the flour mixture on top of the wet ingredients, and stir until just combined.
Place the chopped apples into the batter and stir until the apples and just coated with the batter.
In a small separate bowl, mix the topping, combining the oats, sugars and the cinnamon. Cut the butter into them to create a crumble topping.
Spoon batter into muffin tins and top with the oat-sugar-cinnamon mixture. I used a 2-tablespoon scooper for the muffins and used 4 tablespoons of batter per muffin.
Bake for 20-25 minutes or until the tops of the muffins are browned and an inserted toothpick comes out clean.
Let cool for 5-10 minutes and then enjoy!
Recommended Products
As an Amazon Associate and member of other affiliate programs, I earn from qualifying purchases.
Nutrition Information:
Yield:
18 muffins
Serving Size:
1 muffin
Amount Per Serving:
Calories:

144
Total Fat:

8g
Saturated Fat:

1g
Trans Fat:

0g
Unsaturated Fat:

6g
Cholesterol:

24mg
Sodium:

101mg
Carbohydrates:

17g
Fiber:

1g
Sugar:

15g
Protein:

1g
Nutrition facts are an estimate and not guaranteed to be accurate.