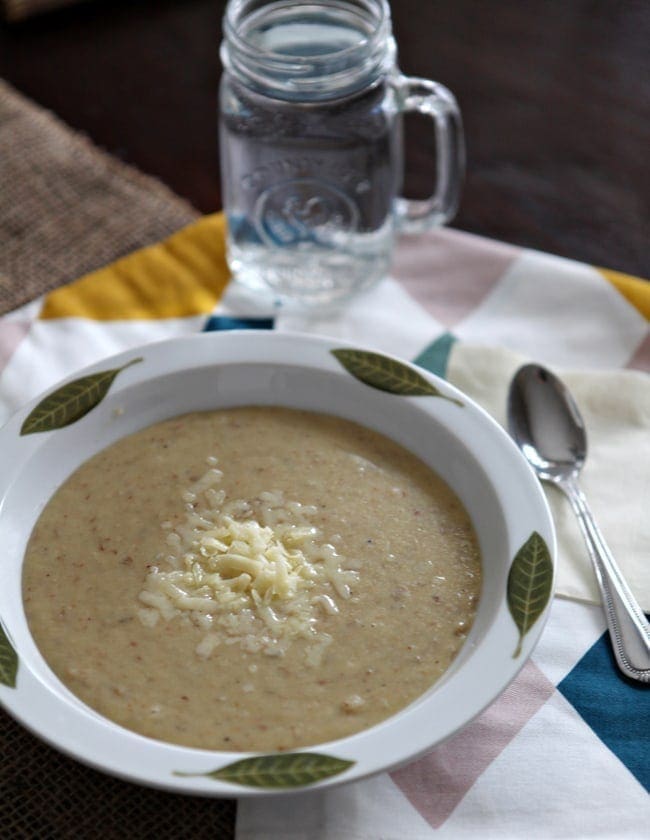 My dad is currently in town, and we've spent the weekend working in the yard, doing various house projects, cooking and drinking beer. (I've shared some of the latter two on my Instagram feed.) Because that's what you do when your landscape architect of a father is in town.
We've had a blast, and when brainstorming about what I was going to share with y'all today, I realized I wanted to go with something comforting and delicious, especially because all of this yard work has made me both achey and hungry…
While this Potato and Leek Soup isn't anything fancy, it's certainly delicious and wonderfully filling and perfect for dinner after a long day of any kind of physical labor, a long run or even a day at the office.
Other soup recipes we love: Chicken Tortellini Soup | Fresh Cream of Tomato Soup | Instant Pot French Onion Soup | Turkey Taco Soup | Broccoli Cheddar Soup
Here's how you can make your own: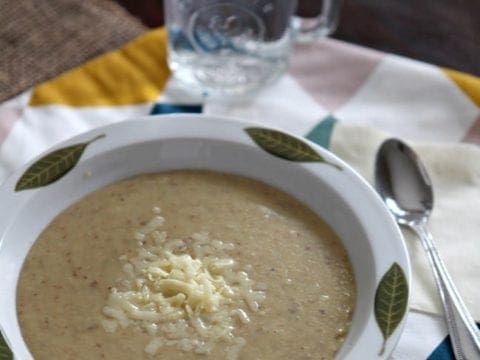 Yield:

8 servings
Potato and Leek Soup
The weather has been chilly recently, so let's warm up with a wonderful bowl of Potato and Leek Soup. It's healthy, full of veggies and is filling, too!
Ingredients
3 large leeks, about 5 cups when chopped
2 tablespoons unsalted butter
3 strips bacon, chopped
1 ½ cups dry white wine
4 ½ cups chicken stock
4 medium-sized russet potatoes, about 6 ½ cups when diced
1 ½ teaspoons kosher salt
¾ teaspoon freshly ground black pepper
2 bay leaves
½ teaspoon ground thyme
1/3 cup sour cream
2 tablespoons fresh chives, chopped
Instructions
Trim the green portions of the leeks. Using a sharp knife, half the white part of the leek lengthwise and rinse well under cold running water to rid the leek of any sand. Slice thinly crosswise and set aside.
In a large soup pot over medium heat, melt the butter and add the bacon. Cook for 5 to 6 minutes, stirring occasionally, until the bacon is browning and has rendered most of its fat.
Add the chopped leeks and cook until wilted, about 5 minutes, then add the wine and bring to a boil.
Add the bay leaves and thyme, then the chicken stock, potatoes, salt and pepper. Bring to a boil.
Reduce the heat to a simmer and cook for 30 minutes or until the potatoes are falling apart.
Remove the bay leaves and puree the soup in a food processor or blender.
Stir in the sour cream and add additional salt and pepper, if necessary.
Serve immediately with some of the chives (or cheese or sour cream!) sprinkled over the top of each bowl of soup.
Notes
If you want to reheat this soup, be prepared to add additional stock or water to it when heating, as the soup will harden and thicken when cooled.
Adapted from Emeril Lagasse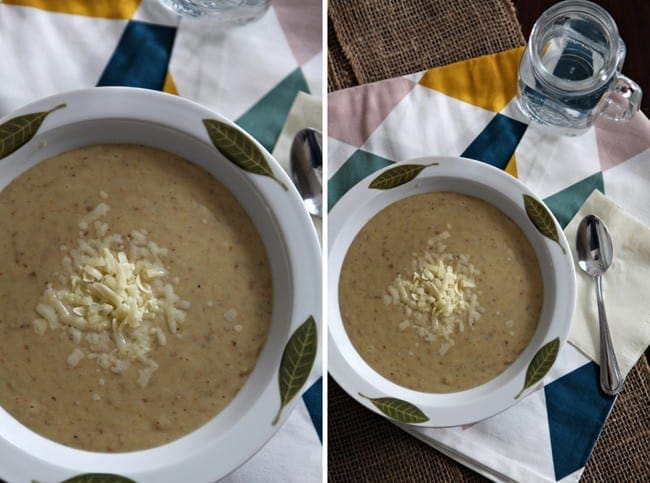 What do you normally do when your parents are visiting you?
Are you a Potato and Leek Soup fan?