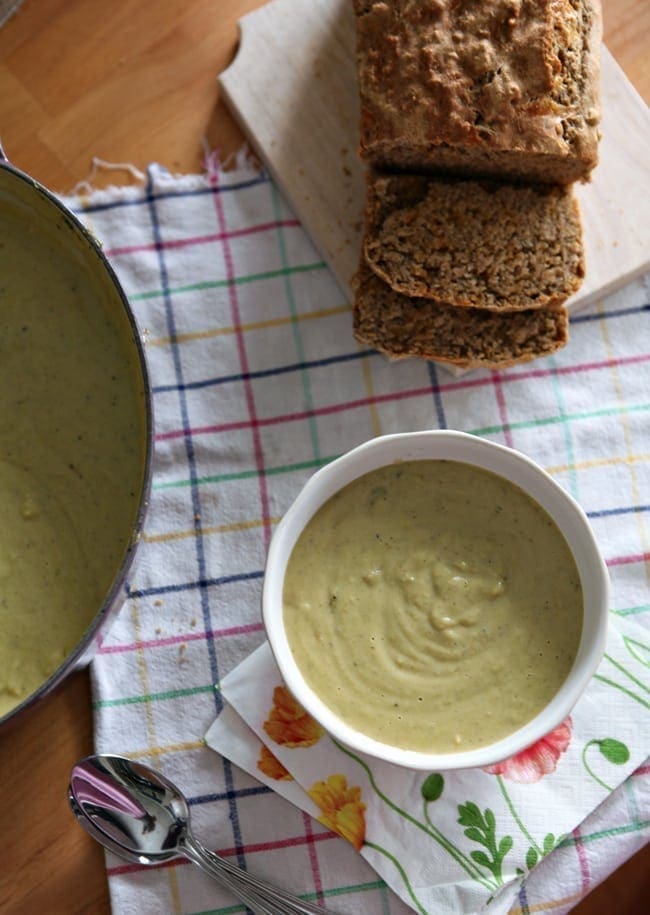 It's going to be 80° F today, but I'm sharing soup with y'all anyway.
It's kind of absurd, really, but I've been told this is what Texas weather is like for most of the year… which definitely explains why we might be having a "winter storm" starting tomorrow and bleeding into the weekend, if the weathercasters are to be believed.
I grew up in Memphis, and as a Memphis girl, I have a deep skepticism of what weathermen/weatherwomen say.
I know, that sounds kind of absurd, but I have my reasons. Mainly because the weatherfolks would get everyone riled up during the wintertime about "an ice storm coming across Arkansas," telling us to run out to the grocery store to get bread and milk. (Because those are the foods you'd want during an ice storm, right? Uh…) And inevitably, this horrible ice storm that was clearly going to debilitate the city for days would either pass north or south of the city or just dissipate in the middle of Arkansas, leaving us all with questioning looks on our faces and an abundance of milk and bread that needed to be consumed before they expired.
My experience has taught me to doubt, which makes me really sad because I know some wonderful weathercasters and meteorologists who should be believed because they DO know what they're talking about.
So I've made this soup today just in case the weather gets bad tomorrow, and I need something warm to eat while it ices outside. Not that I believe it's gonna get bad, but because I like to be prepared… even if I don't subscribe to the idea that purchasing a gallon of milk (that I can no longer drink) and a loaf of bread are all you need to weather a winter storm, which was strongly supported by the local weatherpeople of Memphis during my childhood.
Other soup recipes we love: Mushroom Soup| Potato and Leek Soup | Chicken Tortellini Soup | Fresh Cream of Tomato Soup | Instant Pot French Onion Soup | Turkey Taco Soup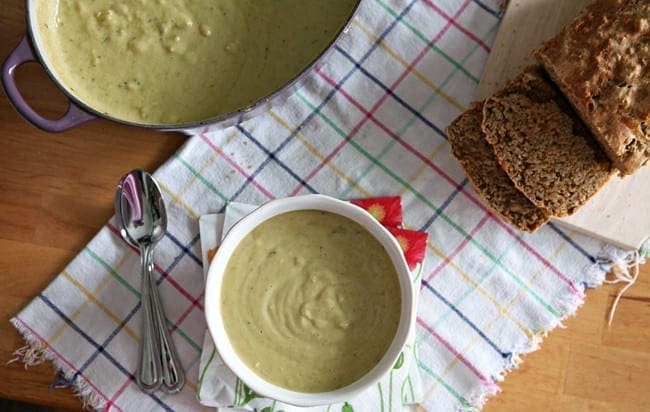 The making of this soup is pretty traditional, as far as Broccoli Cheddar goes, and it's scrumptious. It's more heavy on the vegetable part of the soup than the dairy, which makes me happy, and it works well as a leftover. I know this because I may have eaten this soup for several days after it was initially conceived back in the fall.
Here's how you can make your own. You know, if you're potentially going to be waiting out a "winter storm" like we are here, and you want some home-y recipe to get you through the chilliness: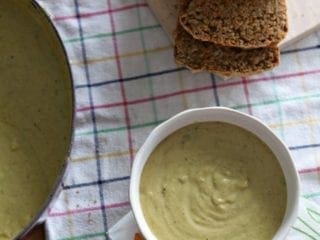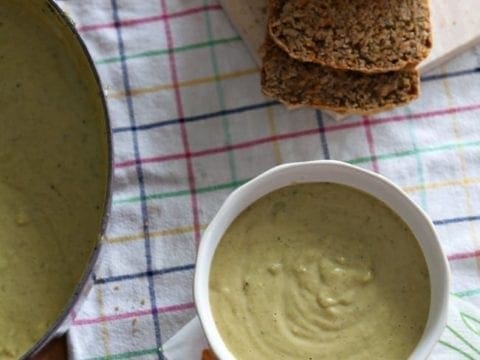 Yield:

8 servings
Broccoli Cheddar Soup
Total Time:
1 hour
10 minutes
Broccoli Cheddar Soup is the ultimate wintertime comfort food! Cook up a pot of this luxurious soup to combat the winter blues and the cold temperatures tonight.
Ingredients
3 tablespoons extra virgin olive oil
1 ¾ cups yellow onions, diced
¾ teaspoon kosher salt
1 teaspoon freshly ground black pepper
2 cloves garlic, minced (about 1 ½ teaspoons)
½ teaspoon fresh thyme
3 tablespoons unbleached all-purpose flour
3 ¾ cups vegetable stock
2 heads broccoli, roughly chopped (about 5 cups)
¼ cup half-and-half
1 ¼ cups extra sharp white cheddar cheese
Instructions
In a large Dutch oven, warm the olive oil over medium-high heat.
Add the onions, salt and pepper and saute until soft while stirring constantly. (This took around 10 minutes for me, but my stovetop is sometimes less-than-effective.)
Add the garlic and thyme, then cook until fragrant. (This should take a few minutes, but be sure to watch it, as you don't want burned garlic.)
Add the flour, stirring until the mixture is well blended and smells fragrant.
Slowly pour in the chicken stock, whisking constantly to avoid lumps, and bring to a boil. Reduce the heat and simmer until thickened.
Add the broccoli and cook until tender while stirring constantly.
Remove the pot from the heat and puree with either a hand-held immersion blender or in a food processor, then return to the pot.
Add the cream and bring to simmer to heat through.
Add the cheese and cook over low heat, stirring, until melted.
Remove from the heat, and serve warm with fresh bread. Enjoy!
Nutrition Information:
Yield:
8
Serving Size:
1 serving
Amount Per Serving:
Calories:

175
Total Fat:

12g
Saturated Fat:

5g
Trans Fat:

0g
Unsaturated Fat:

7g
Cholesterol:

22mg
Sodium:

646mg
Carbohydrates:

10g
Fiber:

1g
Sugar:

3g
Protein:

6g
Nutrition facts are an estimate and not guaranteed to be accurate.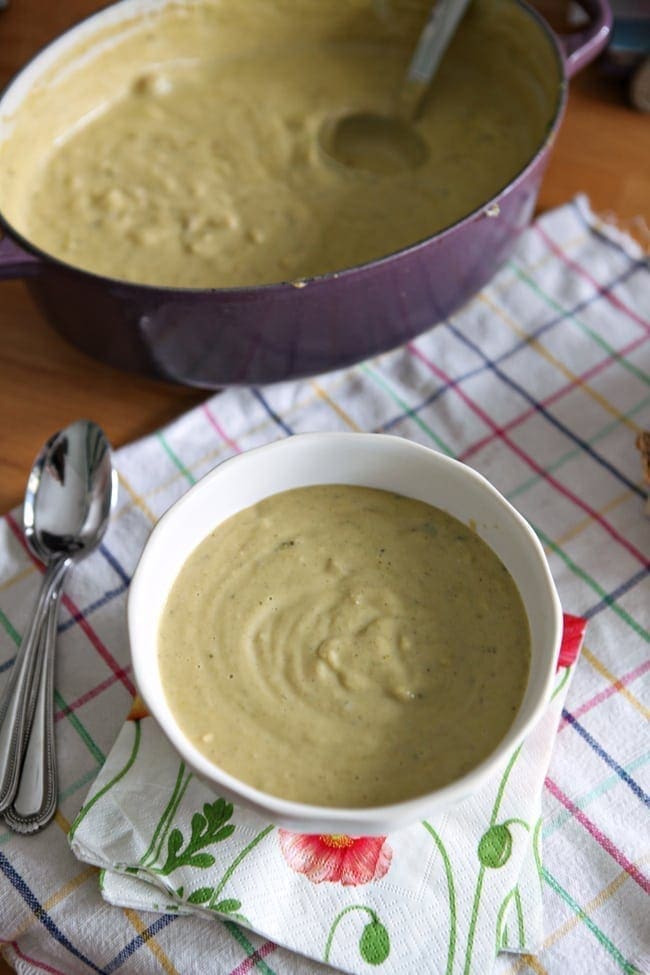 What is your winter weather essential food to get through a potential storm?