Chicken Spaetzle Soup is a perfect comfort food for a chilly day. Classic chicken soup with onions, carrots and celery is filled with spaetzle, German egg noodles, to create this comforting twist on a classic.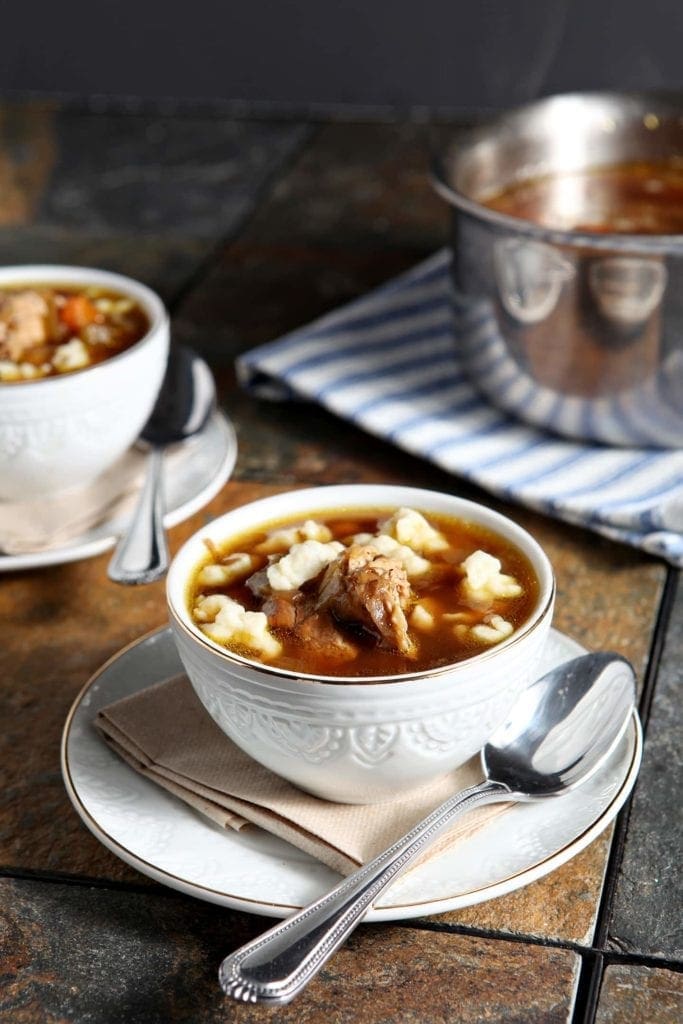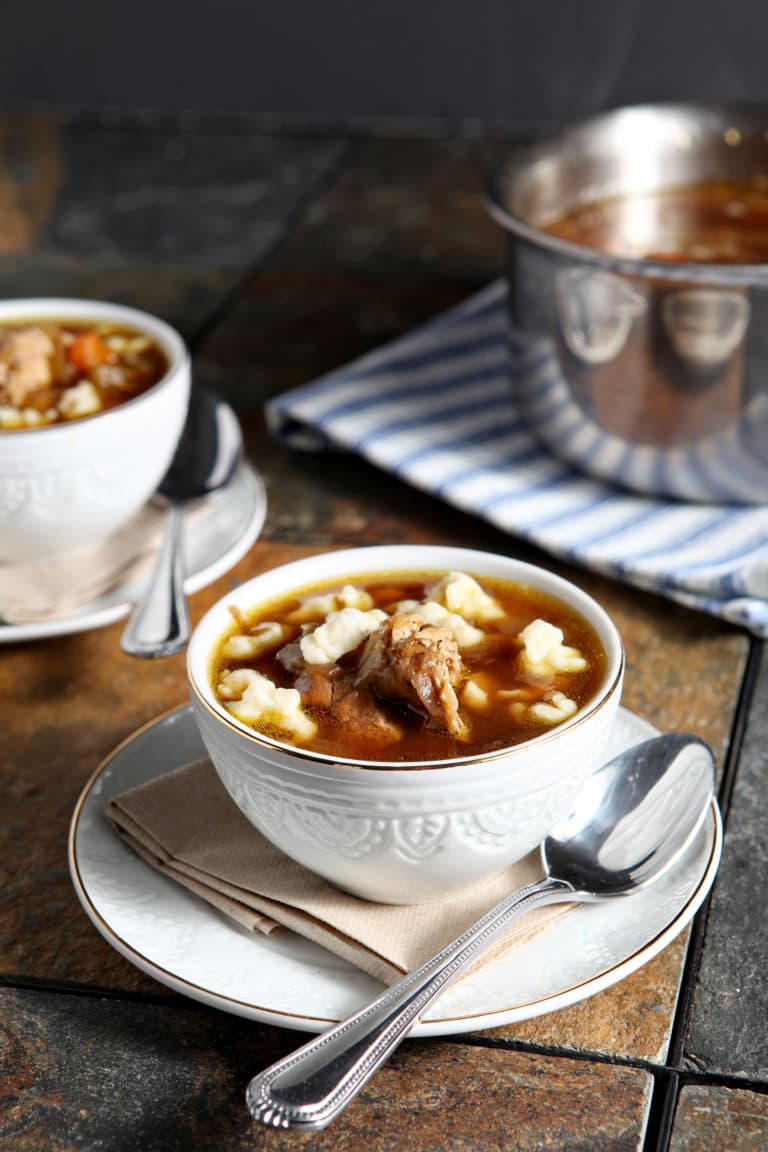 This post contains affiliate links. If you were to make a purchase through one, I would receive a small commission. For more information about the affiliate programs The Speckled Palate participates in, please refer to my disclosure page.
My daughter and I were down and out for most of last week with the plague. AKA a double ear infection for her (made super fun because her original antibiotics did not work and gave her a rash) and an upper respiratory infection for me.
It was kiiiiiind of miserable.
Also, if you have a kid and you've been sick when your kid has been sick, you know how it goes… and basically, our entire week was shot.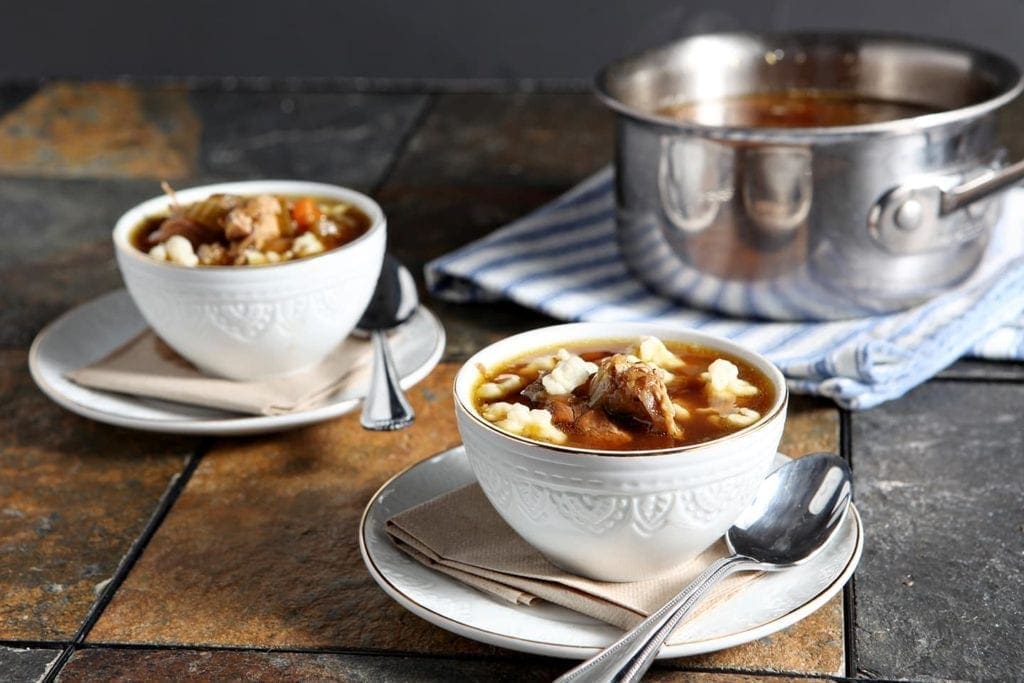 Last week, Lady Baby and I really needed some of this soup.
Chicken Spaetzle Soup is classic chicken noodle soup made with thicker, homemade noodles. It's comforting. It's tasty. It's perfect for a cold winter's day… or perfect for a winter day that's somehow in the 70's if you're feeling under the weather.
My grandmother was German. Whenever I make these little German egg noodles, I think of her, even though I have no recollection of her making spaeztle for me.
Funny how memory works.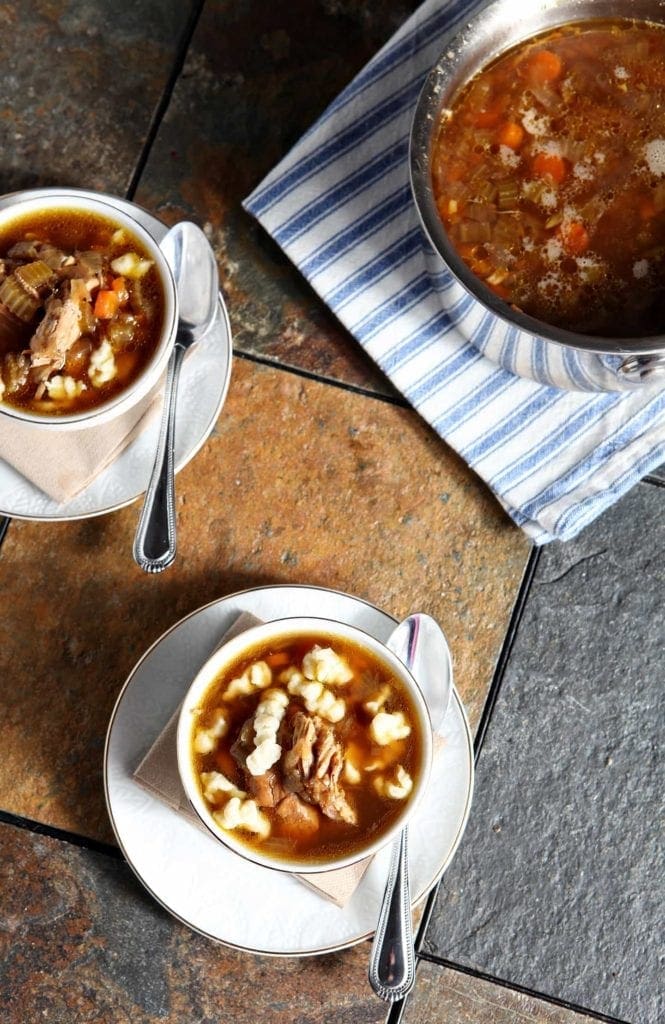 This recipe comes together fast, too, so if you're cooking for yourself (and your sick child), it won't take much fuss.
Basically, you make the chicken soup first.
Then you make the spaeztle separately.
I realize it sounds weird, but trust me here. The spaeztle soaks up all the chicken goodness when it's put in the soup, which is awesome, except if you don't eat the entire pot of it on the first go-round, your spaeztle gets soggy. Which is why you cook 'em and store 'em separately: so they're the perfect al dente noodle to go in your perfect chicken soup.
This takes a little more work than a one-pot wonder dish, but it's well-worth the additional dirty pot.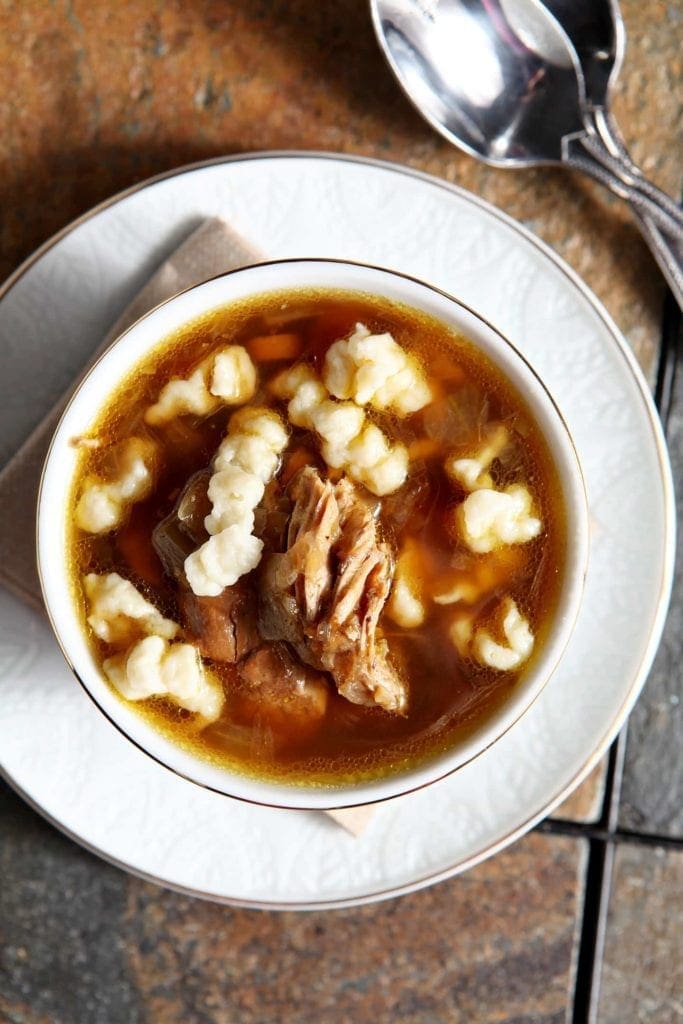 Chicken Spaetzle Soup Essentials + Get the Look

Sounds comforting, right?
We've also been fans of this Spicy Tomato Soup, Roasted Cauliflower Cheddar Soup and Turkey Taco Soup this week, too.
Here's how I made it: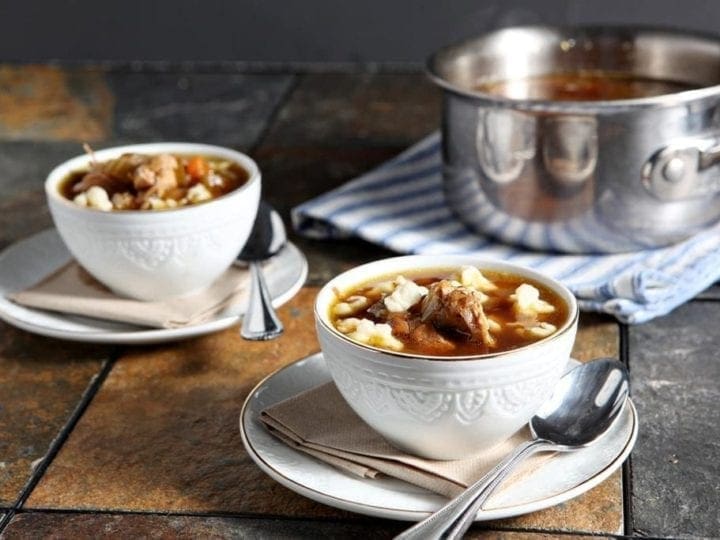 Yield:

6 servings
Chicken Spaetzle Soup
Chicken Spaetzle Soup is a perfect comfort food for a chilly day. Classic chicken soup with onions, carrots and celery is filled with spaetzle, German egg noodles, to create this comforting twist on a classic.
Ingredients
Chicken Soup
2 tablespoons extra virgin olive oil
1 ¼ lbs. chicken breasts
2 onions, minced
4 celery stalks, diced
1 cup baby carrots, diced
64 oz. unsalted chicken stock
Salt and pepper, to taste
Spaetzle
1 egg
¼ cup milk
¼ cup water
1 ¼ cup unbleached all-purpose flour
½ teaspoon kosher salt
Instructions
Make the soup
In a large saucepot, heat the olive oil over medium-high heat.
When the olive oil is simmering, add the chicken breasts. Cook until browned on all sides. Remove from the pan.
Add the onions, celery and carrots to the pot. Cook until softened.
Pour in the unsalted chicken stock. Add the chicken back to the pot.
Simmer for 30 minutes, or until the chicken pulls apart easily.
Make the Spaeztle
Place a large pot of water over high heat. Add a generous amount of salt. As you make the dough, let this come to a boil.
In a glass bowl, whisk the egg until the yolk is broken.
Pour in the water and milk, stirring until the wet ingredients have mixed together and are incorporated.
Measure the flour and salt into the wet ingredients, stirring until just combined.
Using a spaetzle maker or a colander (with a rubber spatula pushing the dough through), create the egg noodles and let them fall directly into the pot of boiling water.
Boil the spaeztle for 3-4 minutes, or until the noodles have cooked through. Remove from the heat, and drain, keeping separate until the soup is done.
Make a bowl of soup
Add spaetzle to a bowl, then pour the chicken soup on top.
Top with more freshly-made spaeztle.
Enjoy warm.
Notes
Store the spaeztle separately from the soup for the best results.
To reheat, pour the desired amount of soup in a bowl and top with spaeztle, then heat in the microwave for 2-3 minutes.
Nutrition Information:
Yield:
6 servings
Serving Size:
1 serving
Amount Per Serving:
Calories:

374
Total Fat:

10g
Saturated Fat:

2g
Trans Fat:

0g
Unsaturated Fat:

7g
Cholesterol:

130mg
Sodium:

440mg
Carbohydrates:

28g
Fiber:

2g
Sugar:

4g
Protein:

41g
Nutrition facts are an estimate and not guaranteed to be accurate.
Do you connect a certain dish to family member, even when you don't have memories of them making it for you?
What kind of food do you want to eat when you've been sick?