Looking for a soup to warm your soul as winter loosens its grasp on our country? Try this Spicy Tomato Soup, a heat-filled and warming soup for a cold day.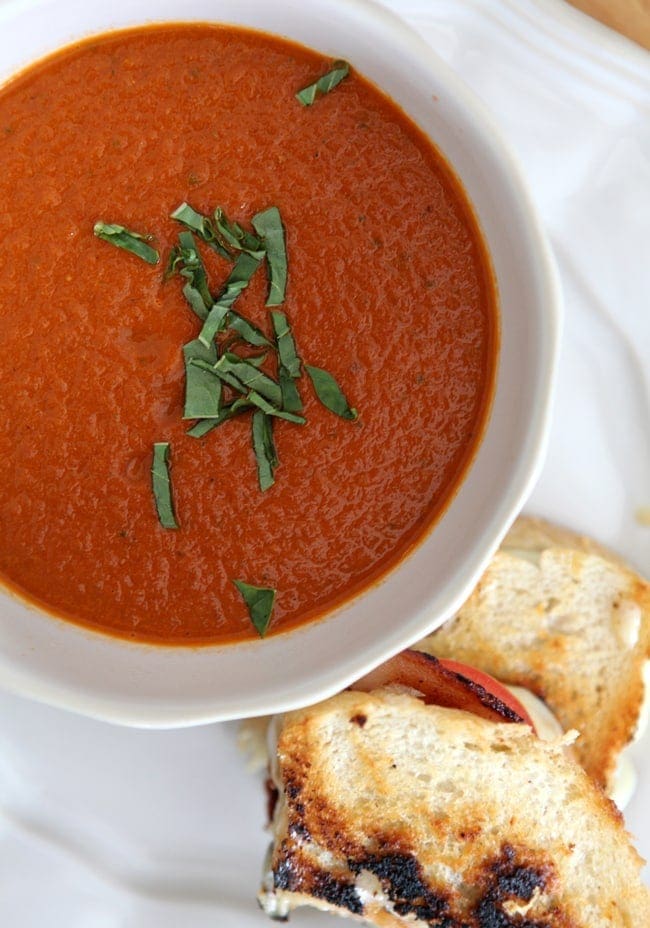 The weather in Texas has been a little crazy recently, bouncing between the 30's and the 70's pretty regularly, and it's been making me a bit tired. I realize the temperatures are more extreme in other parts of the country, but I think we can agree that this wishy-washiness that always starts off spring is a challenge for everyone.
So, while winter just barely holds on, let's make a spicy soup that will warm our bodies and souls.
It should come as no surprise that as a Tennessee girl, I wasn't raised loving all kinds of spicy foods, and I wasn't really into trying them, either, even though they were certainly available. This drew quite a bit of commentary when I trekked down to Louisiana for college, and people would gather around when I was introduced to a new dish, especially if it included a bit of heat.
I've slowly built up my tolerance over the years, and I credit this largely to my husband, who enjoys adding hot sauce to most everything. My exploration of spicy foods started off as me wanting to make a meal flavorful (read: HOT) enough for him, but not so spicy that my tastebuds would be rendered useless for the rest of the day.
The good news: My taste has slowly evolved! And while I still can't take nearly as much heat as he can, he's adding less hot sauce to the meals we make at home these days.
This Spicy Tomato Soup is a new favorite, and I made it with Winston's love of hot sauce in mind. Not only is it a quick meal to whip up, but it's quite delicious, and it packs a punch of heat, too.
I'll admit that I have to drink a LOT of water with this soup, as the heat sneaks up on you as you're eating, but it's well worth it because the flavors meld together wonderfully… and go fabulously with a grilled cheese sandwich that you dip into the soup every so often.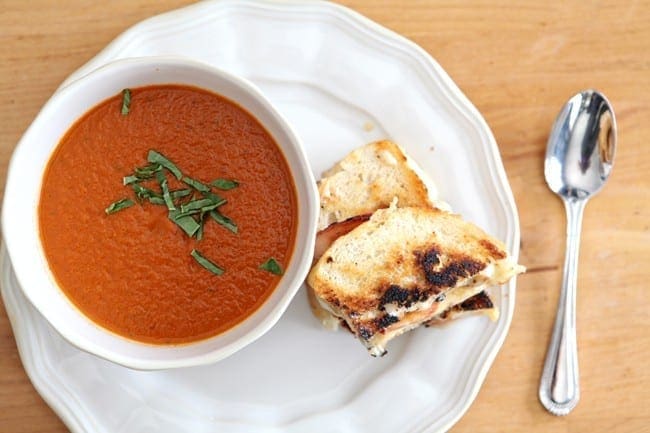 Here's how you can make your own: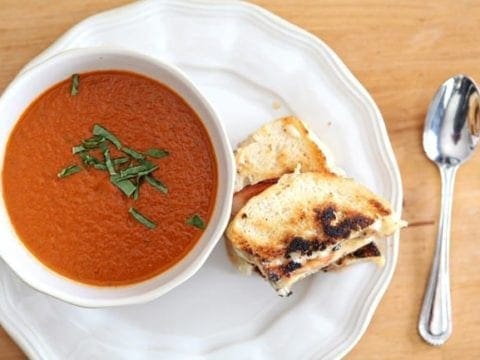 Yield:

6 servings
Spicy Tomato Soup
Looking for a soup to warm your soul as winter loosens its grasp on our country? Try this Spicy Tomato Soup, a heat-filled and warming soup for a cold day.
Ingredients
2 tablespoons extra virgin olive oil
1 large onion, diced
4 garlic cloves, minced
28 oz. tomato puree
2 cups vegetable broth
1 teaspoon kosher salt
1 teaspoon black pepper, freshly ground
½ teaspoon red pepper flakes
2 tablespoons fresh basil, (or 1 tablespoon dried basil)
2 teaspoons hot sauce
¼ cup heavy whipping cream
Instructions
Heat the olive oil in a large saucepan over medium-high heat. When shimmering, add the onion and garlic cloves, sauteeing until transparent.
Add the tomato puree and broth, and bring to a boil. Season with the salt, black pepper, red pepper flakes, basil and hot sauce.
Remove from heat, and transfer into a blender. (If you have one, use a hand blender.) Blend the ingredients together, then pour in the heavy whipping cream.
Julienne another fresh basil leaf, topping the soup with the herb, and enjoy warm with a grilled cheese sandwich!
Nutrition Information:
Yield:
6
Serving Size:
1
Amount Per Serving:
Calories:

142
Total Fat:

9g
Saturated Fat:

3g
Trans Fat:

0g
Unsaturated Fat:

5g
Cholesterol:

11mg
Sodium:

657mg
Carbohydrates:

16g
Fiber:

3g
Sugar:

8g
Protein:

3g
Nutrition facts are an estimate and not guaranteed to be accurate.
Are you a fan of spicy foods?