Quick and Easy Chicken Noodle Soup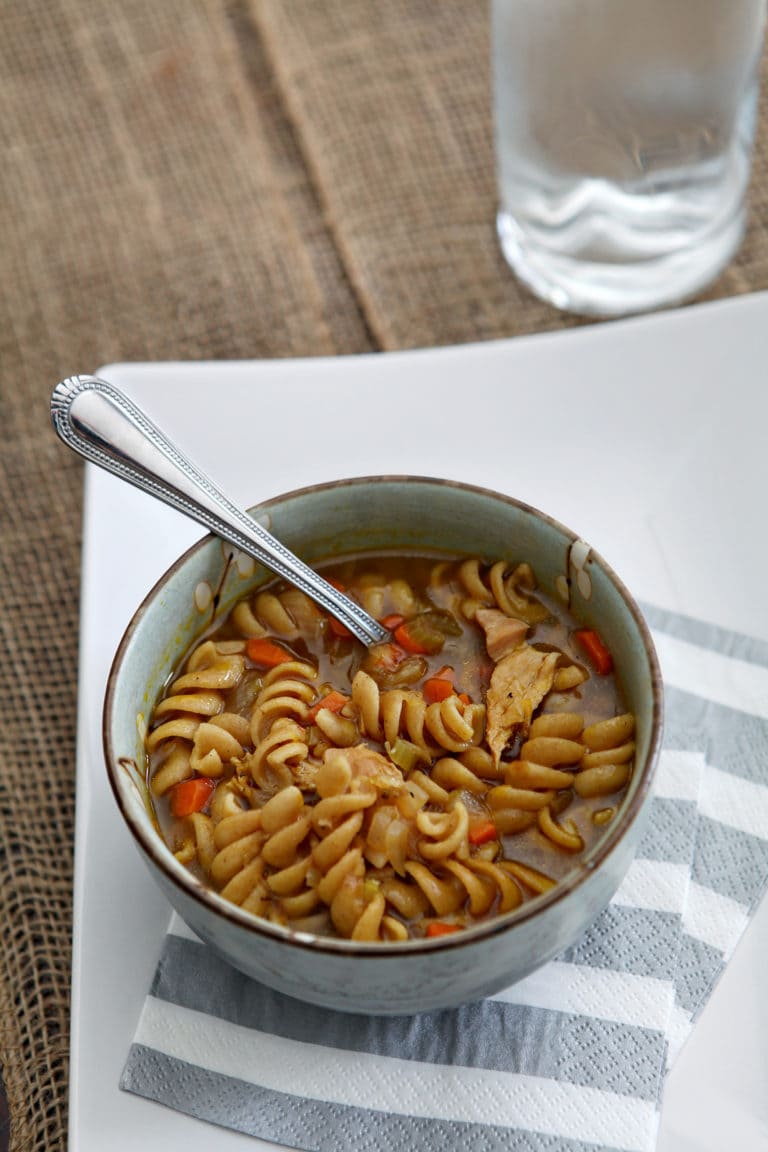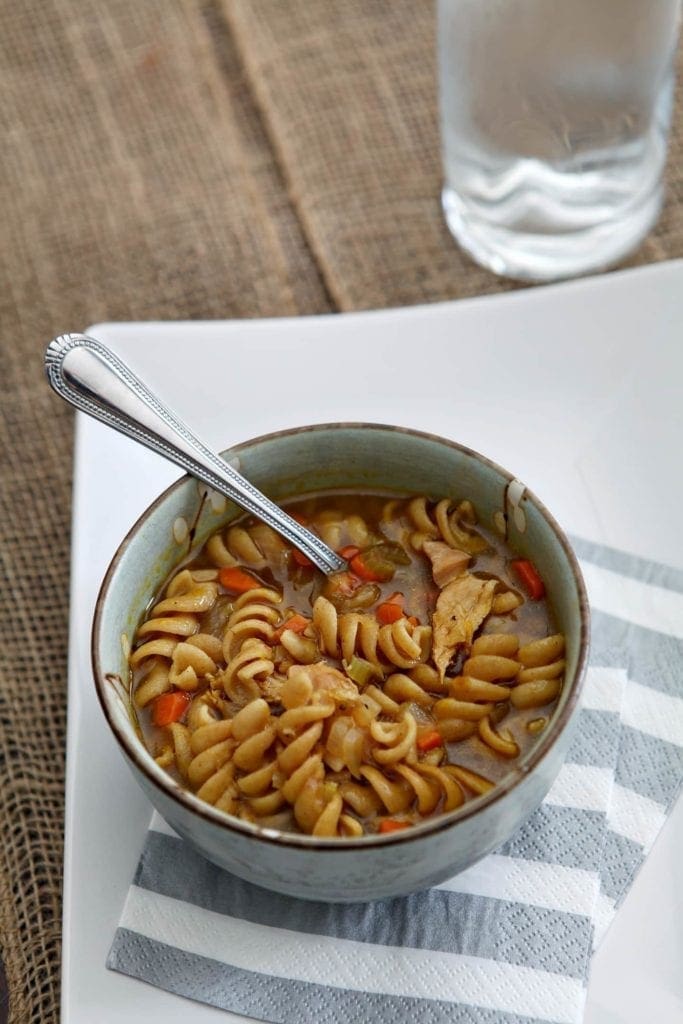 I spent Sunday afternoon on the couch, lounging, prepping (final hospital bag organization for the win!) and watching movies.
I stumbled upon Father of the Bride II when searching for something to watch while folding laundry, and I'm so glad I did. I don't know about y'all, but I remember adoring that movie when I was a kid. Obviously, I decided to watch it.
If you haven't seen the movie, the basic premise is Annie, the Banks family's child who got married in the previous movie, is pregnant… and her mom finds out that she's pregnant shortly after her daughter. The two babies are due a month apart, and the movie is all about the families prepping for their new family members in hilarious fashion and ending with both babies' arrival.
It got me crazy excited about Lady Baby, even though I'm fairly positive some depictions in the movie were way off. Like needing the A/C so low in the summertime that our home was an igloo and my husband was running around in a winter coat. Granted, I wasn't 8-9 months pregnant during the summer, so I can't attest to how this would be, but even during the dog days, I was cold.
In fact, I've been perpetually cold throughout pregnancy.
And because of this, I've been making all kinds of warm, fulfilling soups and stews. Even during the summer.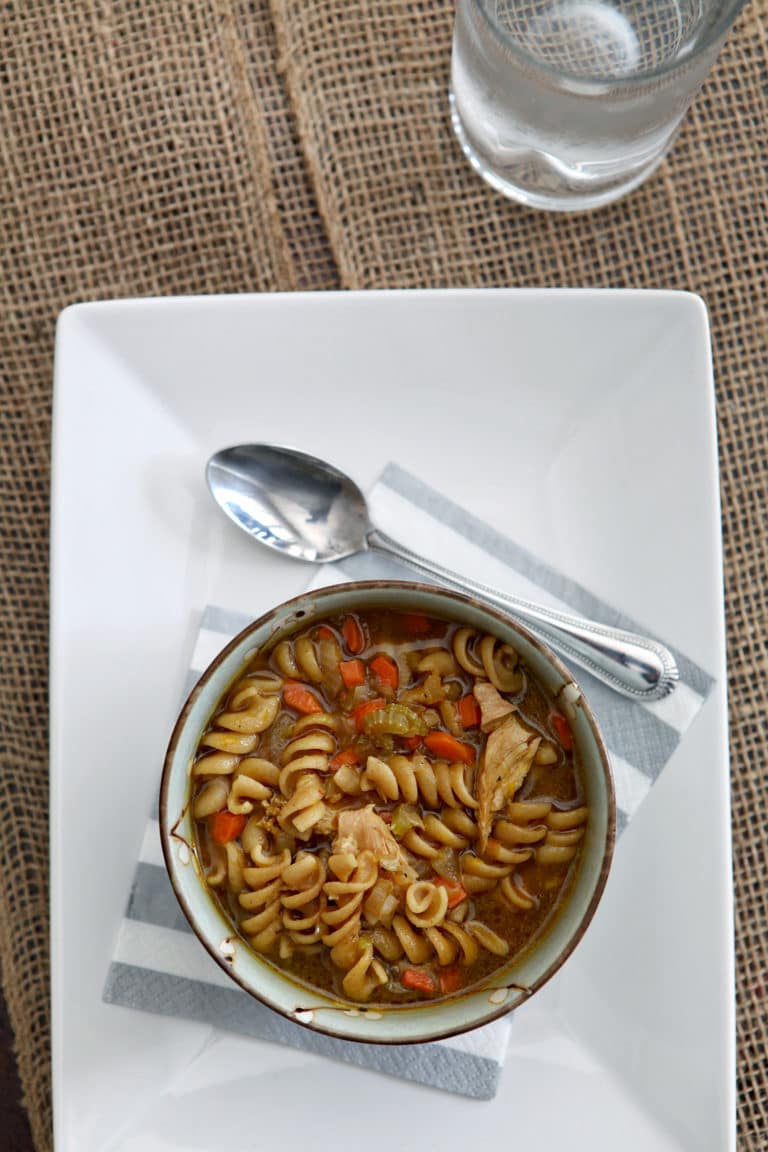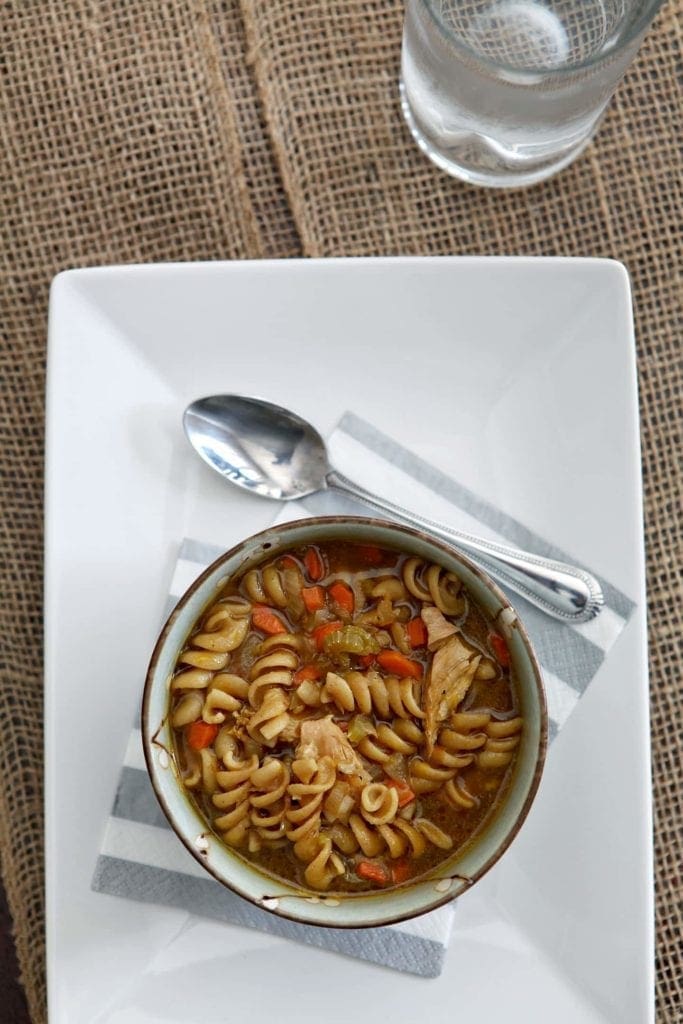 Chicken Noodle Soup.
It's the ultimate comfort food, and it's something that I have desperately wanted various times throughout this pregnancy, even though the weather hasn't really reflected normal Chicken Noodle Soup weather.
Winter has been strange in Texas this year. We've had days that were close to 80°F, only to have temperatures fall below freezing the next day.
It makes no sense, and this week has been one of those weeks where the weather has been a bit schizophrenic.
And because of this? I want soup.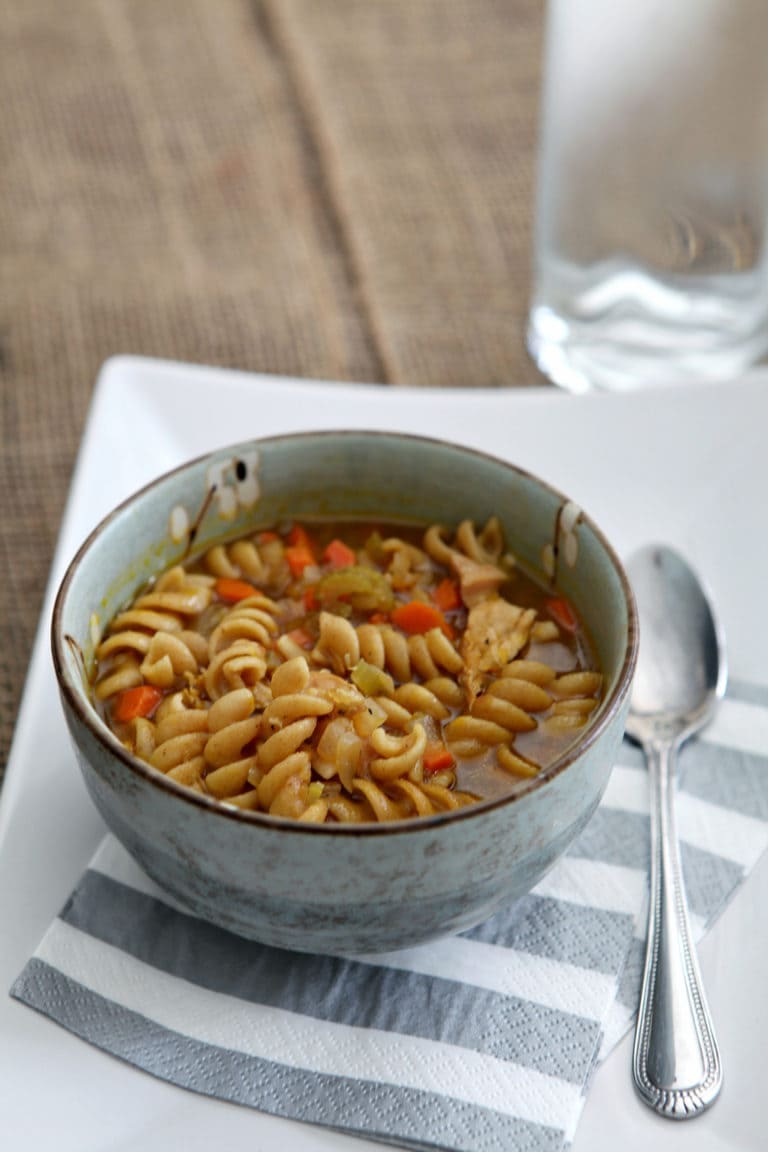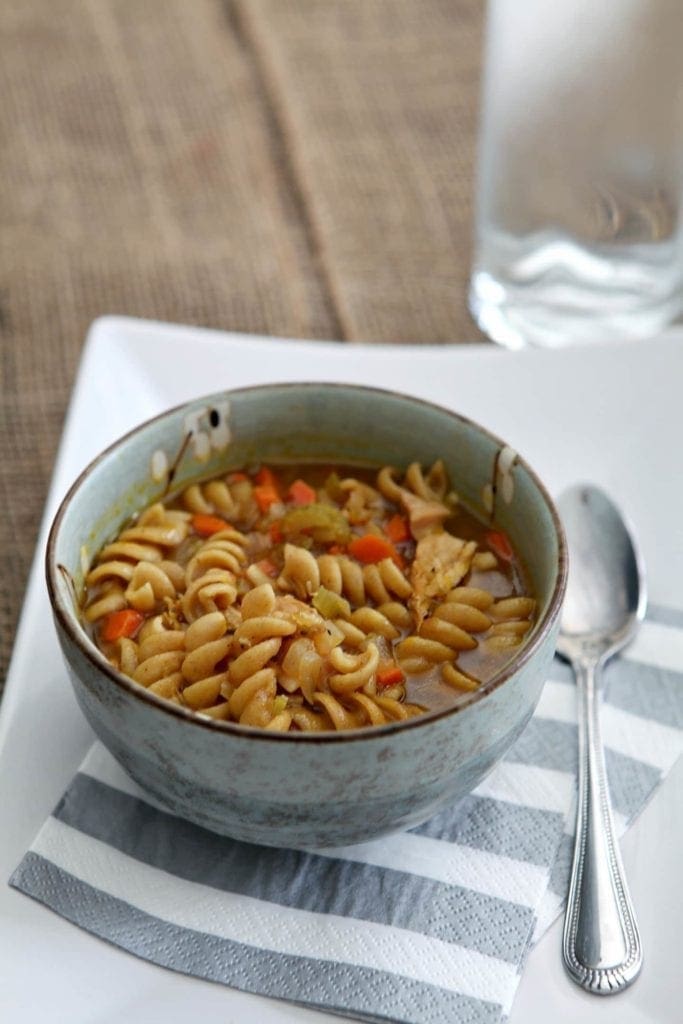 This recipe was originally thrown together one day when we had various things happening. I made it on the stovetop, though I'm sure you could do the searing and sautéing on the stovetop, then move it all to the slow cooker and simply throw in the noodles right before you were ready to eat.
It's a dish that you can make on the fly and that's ready pretty quickly without needing a ton of work or babysitting. In fact, the most work you'll do is chop the veggies and cook the chicken before throwing everything into the same pot and letting it simmer.
Sound good to you?
Here's how I made it: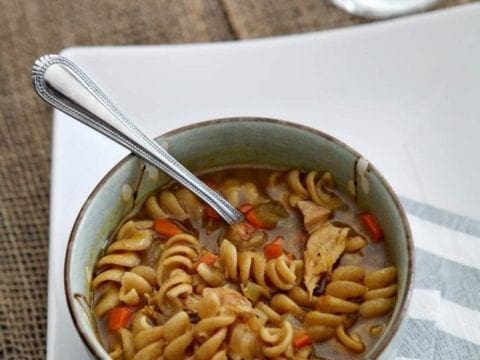 Yield:

6 servings
Quick and Easy Chicken Noodle Soup
Nothing beats a bowl of homemade soup when you're craving comfort food. Whether you're feeling under the weather or just needing something warm and cozy, this Chicken Noodle Soup cooks up fast and hits the spot!
Ingredients
1 lb. chicken tenderloins
2 tablespoons extra virgin olive oil
1 ½ cups onions, chopped
1 cup carrots, chopped
1 cup celery, chopped
8 cups unsalted chicken stock
2 ½ cups rotini, cooked via the packaging's instructions to al dente
Salt and pepper, to taste
Instructions
In a large Dutch oven over medium-high heat, heat a tablespoon of the olive oil.
Season the chicken tenderloins with salt and pepper, then sear until the outsides are browned. Remove from the pan.
Add the additional olive oil, and sauté the vegetables until soft. Season with salt and pepper.
Add the chicken back to the pan, then pour in the chicken stock.
Bring the stock to a simmer, then lower the heat to low.
Cover the Dutch oven, simmering for 30 minutes to an hour.
When ready to eat, add the rotini, and enjoy immediately!
Nutrition Information:
Yield:
6
Serving Size:
1 serving
Amount Per Serving:
Calories:

324
Total Fat:

9g
Saturated Fat:

2g
Trans Fat:

0g
Unsaturated Fat:

6g
Cholesterol:

82mg
Sodium:

234mg
Carbohydrates:

26g
Fiber:

3g
Sugar:

5g
Protein:

34g
Nutrition facts are an estimate and not guaranteed to be accurate.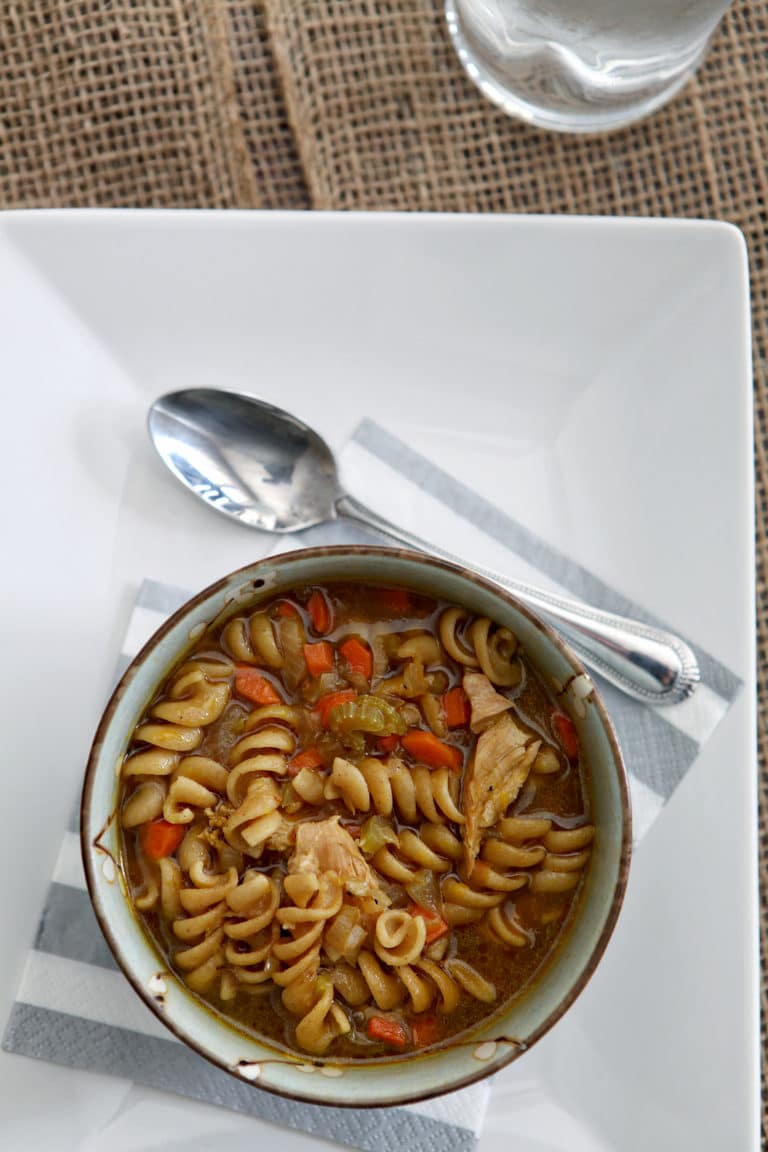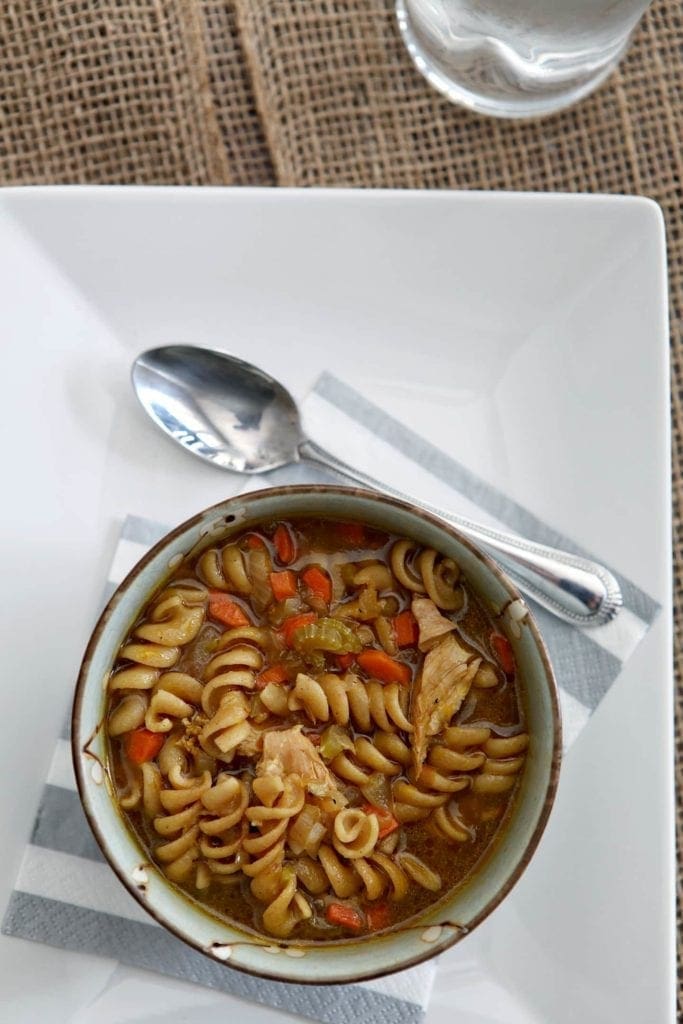 What kind of food do you crave when the weather is crazy like it's been here?