You are going to flip for these Homemade Pita Chips! They are so easy and so flavorful to make at home. Dip these crispy chips in hummus or tapenade, crumble them over a Greek salad or serve alongside your favorite Mediterranean foods.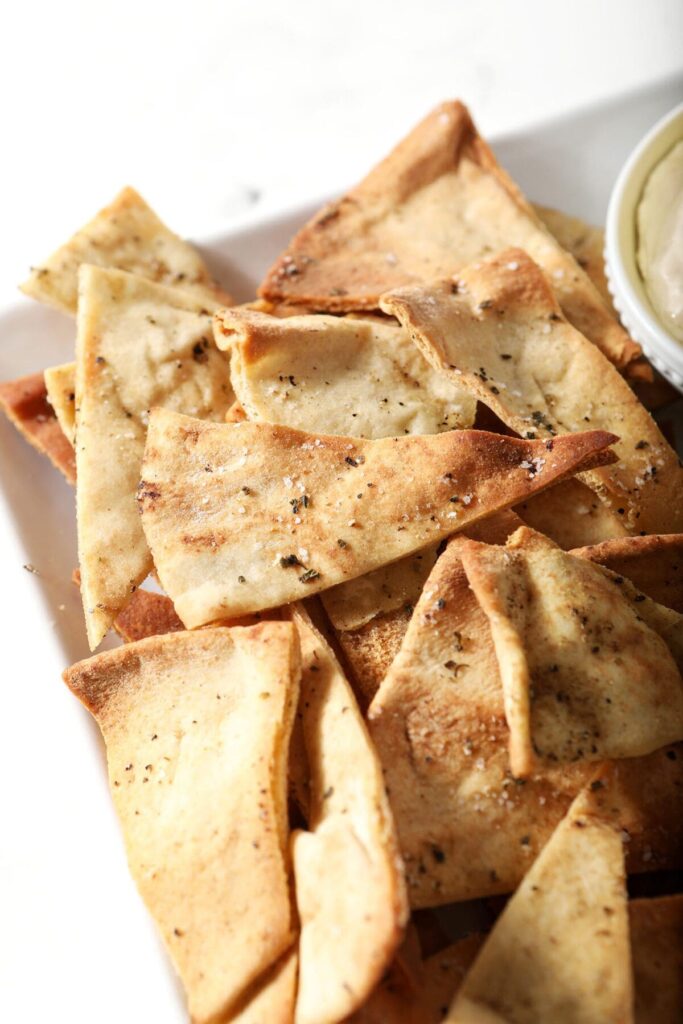 This post contains affiliate links.
Homemade Pita Chips Recipe
Hummus is one of my go-to dips for parties. It's winner for all kinds of diets: vegan, gluten-free, dairy-free… Also, very few people can turn down hummus!
While I'm happy to show you how to make things homemade as often as I can (hello, garlic hummus), I'm not afraid to pick up a store-bought dip once in a while.
Hey, when you need easy entertaining, you really need it to be EASY.
But a great way to upgrade a store-bought appetizer spread is by adding something homemade to the mix. Homemade pita chips are so flippin' easy and make delicious dippers for hummus, tzatziki, tapenade and more.
This recipe is inspired by the pita chips we get from a vendor at our local farmers' market in Dallas. They make the BEST pita chips EVER.
I made mine bigger, but I especially like theirs because they're coated in seasonings and are just fantastic when paired with basically anything.
Why I love this recipe:
Making homemade pita chips is such a great way to upgrade dips and Mediterranean dishes. You're going to love them because…
Making pita chips at home is SO EASY, and the result is so freaking good!
Feel free to make these with different types of pitas, like gluten-free or whole wheat.
Making things from home is always nice because you know (and can control) exactly what's going into the chips themselves.
You can try them with the recipe I have here or use your favorite spice blends. You can also go plain Jane with a simple coating of sea salt, and they're still excellent.
More Mediterranean (and Mediterranean-inspired) recipes to try: Mediterranean Cucumber Salad | Mediterranean Scalloped Potatoes | Mediterranean Herb Crusted Beef Tenderloin | Cucumber and Feta Salad | Whipped Feta Dip
Pita bread vs. Pita chips
Pita bread is a simple, round flatbread found in Mediterranean and Middle Eastern cuisines, but pitas are now enjoyed all around the world. You might know it as the bread used in gyro wraps!
You can find pita bread at most grocery stores or you can bake pita bread at home.
On the other hand, pita chips are fried or baked pieces of pita bread. Pita chips have a cracker-like texture and are typically used for dips like hummus or as an alternative to tortilla chips.
To make pita chips, pitas are cut down into squares or wedges and seasoned with oil, salt and spices, then crisped to perfection. Below is a recipe for baked pita chips.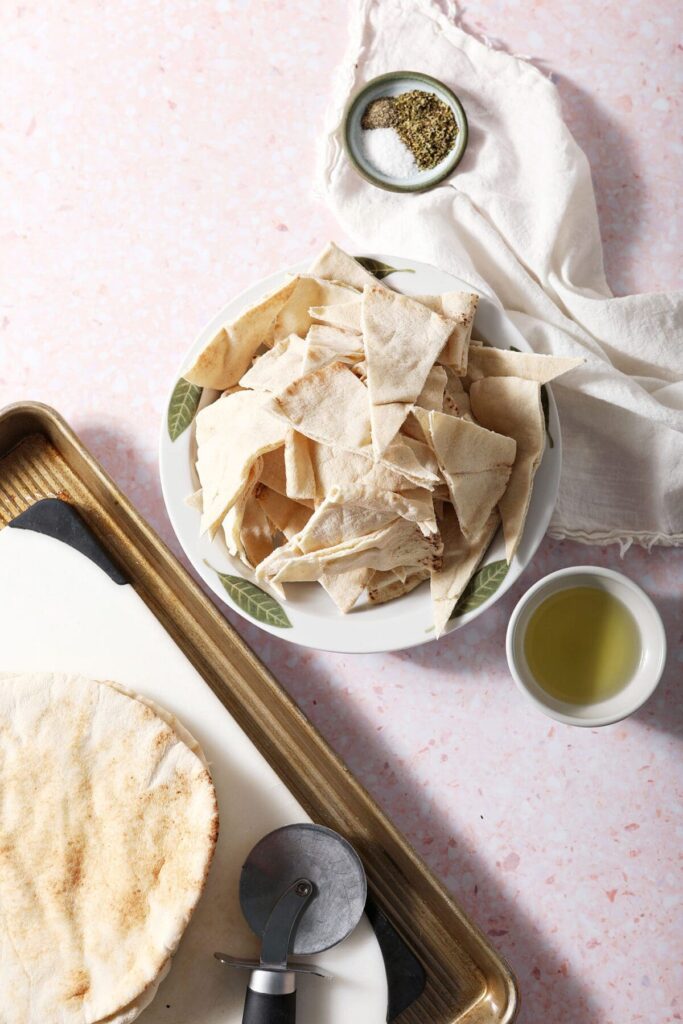 What you need to make this recipe:
The Speckled Palate participates in affiliate programs. As an Amazon Associate, I earn a commission from qualifying purchases. Please refer to my disclosure page for more information about these affiliate programs.
Let's talk ingredients!
In addition to the tools above, you're going to need some ingredients to make this recipe, too! Chances are, you might already have some of them in your fridge or pantry. Scroll down to the recipe card for the full measurements and instructions.
Here's what you'll need:
Pitas — you can use flour, whole wheat or gluten-free pitas. Up to you!
Olive oil — olive oil is most authentic oil for pita chips, but feel free to substitute any other neutral-tasting oil, like avocado oil. You may also use extra virgin olive oil, if you prefer.
Kosher salt — sea salt works, too. Table salt isn't as ideal because it has more iodine and makes the salt have a stronger taste.
Black pepper — freshly cracked has tons of flavor, but the already ground kind works too.
Seasonings of your choice — more on this in the next section!
Seasonings for Pita Chips
The recipe below is a Mediterranean-style pita chip. I use a bit of dried oregano and a sprinkling of Greek seasoning, which typically contains dill weed, thyme, oregano and mint.
If you'd like to use Middle Eastern flavors for your pita chips, za'atar seasoning is delicious. It's typically made with dried oregano, thyme, marjoram, sumac and toasted sesame seeds.
There are lots of other ways you can flavor your pita chips.
Here are a few ideas:
Fresh rosemary
Fresh thyme
Lemon zest
Garlic salt or garlic powder
Onion powder
Sesame seeds
Smoked paprika
Taco seasoning (especially if you serve with salsa or guac)
Cajun seasoning or Creole seasoning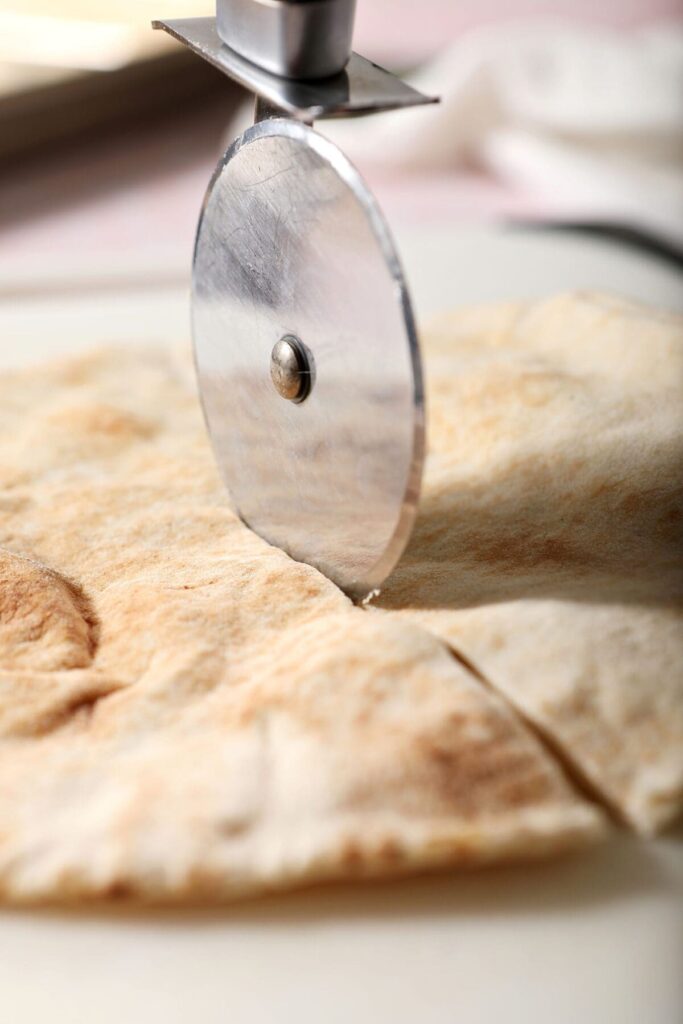 How to make Homemade Pita Chips
Making pita chips is pretty simple, and I know you can do it!. Let's take it step by step.
First, preheat the oven to 425°F. Get out a large rimmed baking sheet, too. No need to line it.
Cut the pitas into chips using a pizza cutter or a sharp knife. I like to cut mine into smaller triangles, but you can slice them into strips, if desired.
One thing to note is that pitas have two layers. (They are, after all, pita pockets.) When you cut them, you can separate the two layers if you like, which will result in thinner chips, and you'll get twice as many.
If you do this, you'll need an extra baking sheet (or you can work in batches), and you'll need to reduce the baking time because they will crisp up faster.
If they are too crispy, they will be brittle and can break. (I did not separate mine, because I like a thicker chip with a lovely little chew in the middle.)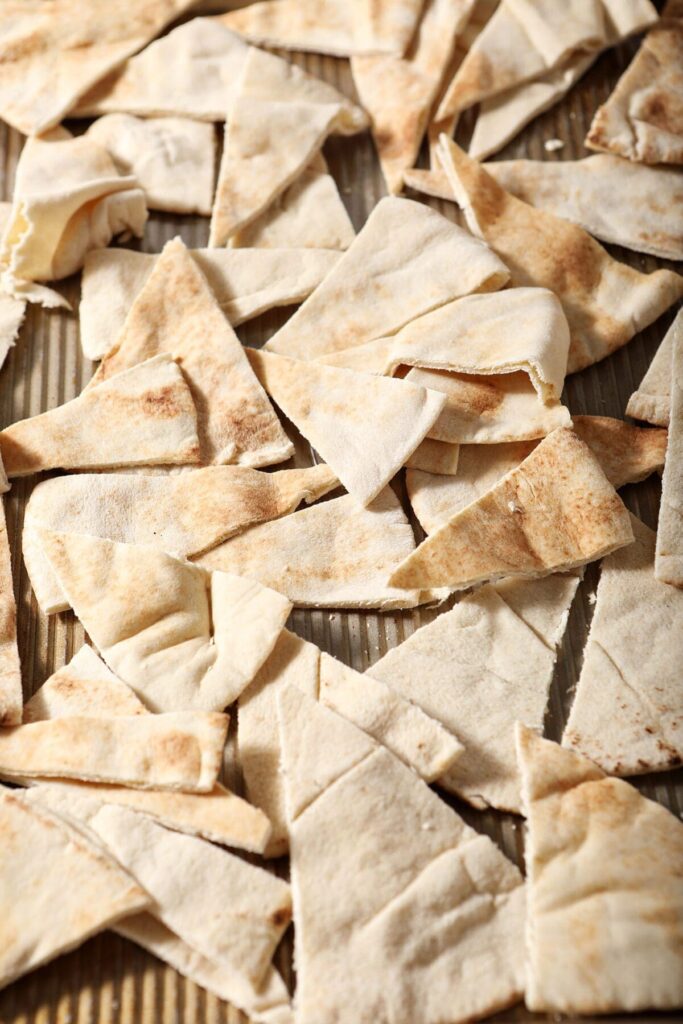 Place the pita pieces on the baking sheet. Drizzle with olive oil.
Season the pita triangles with dried oregano, salt, pepper and Greek seasoning (or whatever seasonings you'd like).
Toss them with tongs or your hands until all the pitas are coated. You can also use a pastry brush but it will take a little longer.
Spread them out evenly in a single layer, if possible. A little overlap is okay but you don't want them to be layered on top of each other. You want the heat to touch as much of each chip as possible.
Bake in the preheated oven for 15-18 minutes or until golden brown and crisp. (If you broke your chips into thinner pieces, you should reduce the cooking time or they will be too brittle.)
Let those crunchy pita chips cool before enjoying!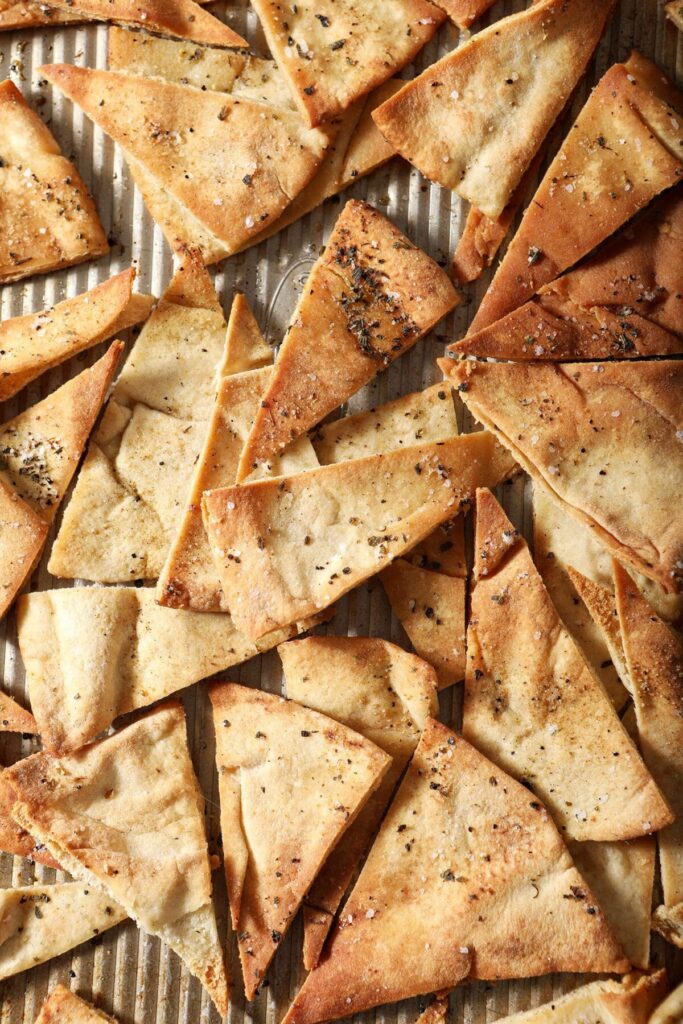 How to store
Pita chips will taste best the day you make them, but they can keep for a few days.
Store your pita chips in an airtight container at room temperature for up to 5 days. You may need to pop them in the toaster oven or oven to re-crisp them.
What to serve with pita chips
Pita chips are so good with so many things and make a great snack! They are most often used for simple dips, so let's start there.
Try pita chips with:
They'd also be delicious as Greek nachos with any of those dips spooned over them, plus cheese, olives and gyro meat.
You can also crumble crispy chips over salads, like this chicken shawarma salad, or serve them on inside of a sandwich, like this turkey shawarma wrap.
Pita chips would also make a great base for my Greek Bruschetta appetizer as an alternative to baguette slices. Or add them to a cheese board or snack board as a cracker option.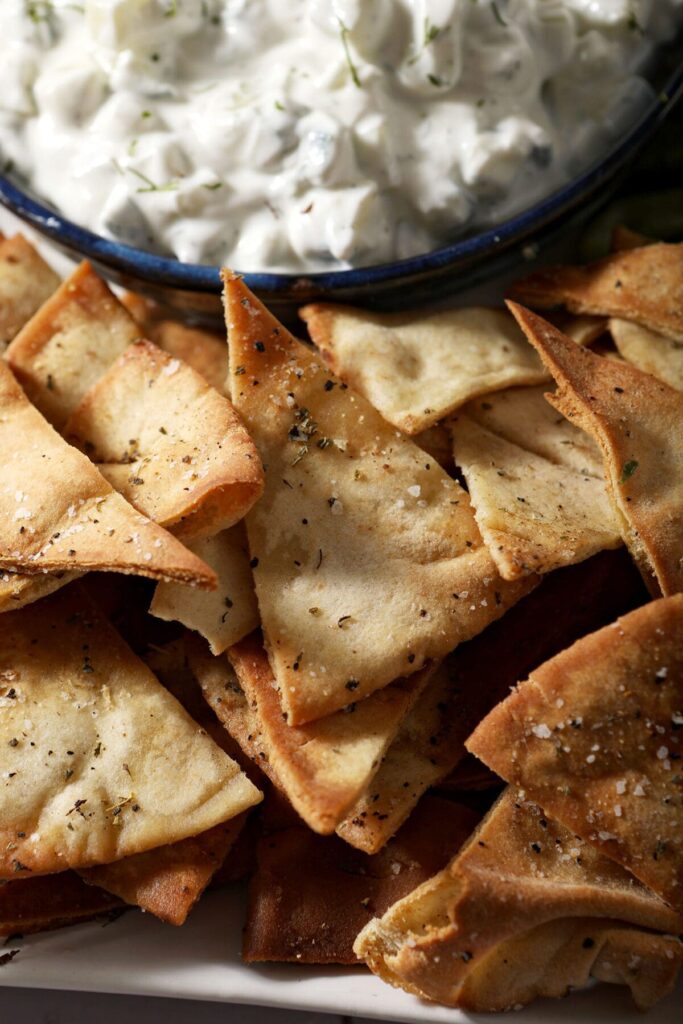 Erin's Easy Entertaining Tips
These homemade pita chips are the PERFECT appetizer to make to serve to impress friends… even if you're serving store-bought dips!
Here are some ideas for making this recipe for a crowd:
Double and triple this recipe for a big party. Make it early so you don't have to watch it bake while hosting guests in your home!
Instantly upgrade a boring serving bowl or basket with a colorful kitchen towel draped inside. Place the chips on top. When the party's over, toss it in the wash (and spray any grease stains immediately).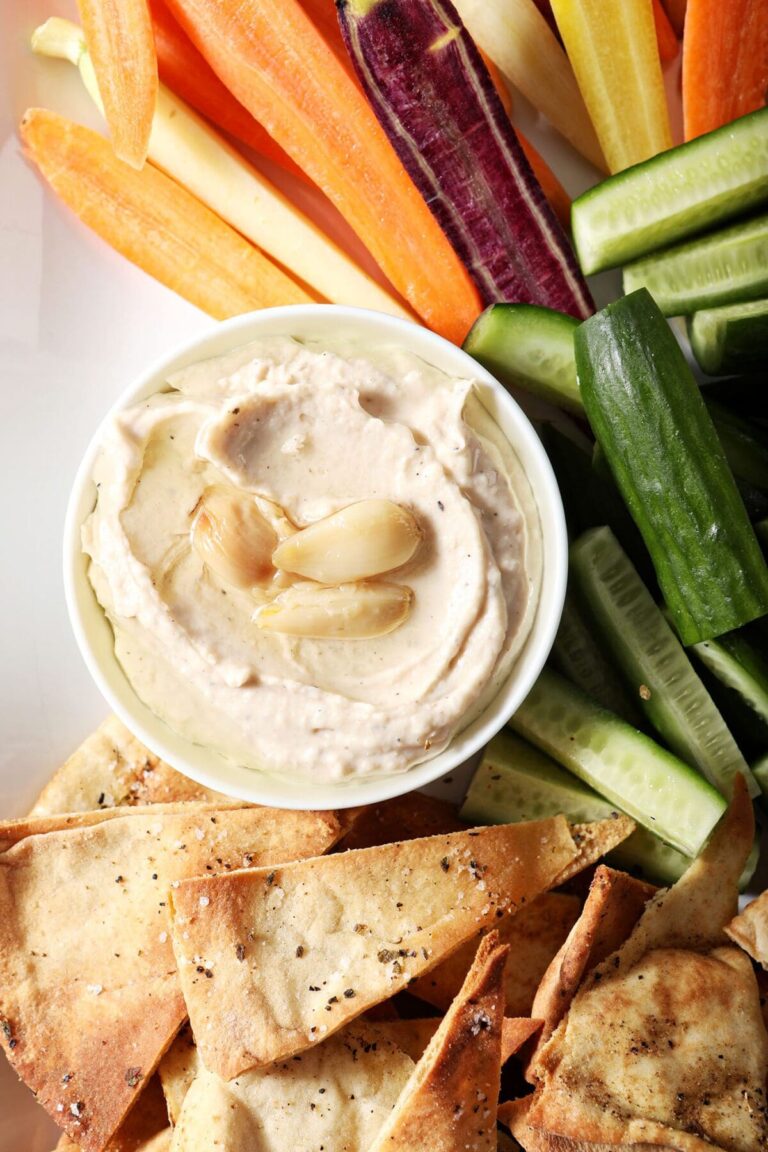 Frequently Asked Questions
What's the difference between pita bread and pita chips?
Pitas are a fluffy flatbread. Pita chips are made by frying or baking slices of pita until crisp.
Are baked pita chips healthy?
Because baked pita chips are not deep-fried, they might be considered healthier. However, even when baked they are still made of bread and tossed in oil, although less oil than with frying.
What are pita chips made from?
Pita chips are made by frying or baking slices of fresh pita bread. The result is a crispy chip with the texture of a cracker.
Quick tips and tricks to making the best homemade pita chips
Decide if you want thinner or thicker chips. If you want thinner chips, you can cut apart the layers of the pita chips. You will want to reduce the cook time and you will probably need another baking sheet (or to work in batches) to cook them all evenly.
Try out different spices. This easy homemade pita chips recipe is great because you can adapt it to your tastebuds and what sound good to you!
Make sure every piece of pita bread is coated in the oil and spices. This will help them to be crisp all over.
Make them the day you plan to serve them for the freshest taste and crispiest texture.
More appetizer recipes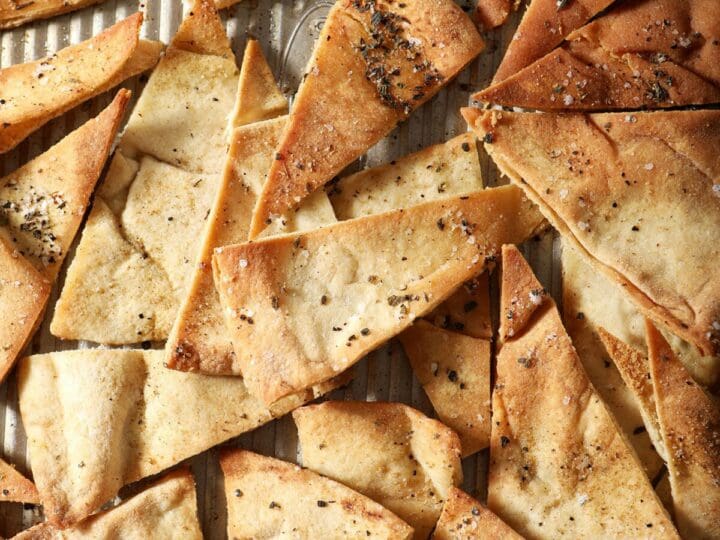 Yield:

6 servings
Baked Pita Chips
You are going to love these Homemade Pita Chips! They are so easy and so flavorful. Dip them in hummus or tapenade, crumble them over a Greek salad or serve them alongside your favorite Mediterranean foods.
Ingredients
4 pitas (10 oz.)
4 tablespoons olive oil
1 teaspoon dried oregano
½ teaspoon kosher salt
¼ teaspoon black pepper
Instructions
Preheat the oven to 425°F.
Cut the pitas into chips using a pizza cutter or a sharp knife. I like to cut mine into smaller triangles, but you can make them into strips, if desired.
Place the pitas on a large baking sheet (unlined) and drizzle with olive oil.
Season with the dried oregano, salt, pepper and Greek seasoning.
Toss using tongs or your hands until all the pitas are coated.
Spread them out evenly in a singular layer, if possible.
Bake in the preheated oven for 15-18 minutes or until golden brown and crisp.
Let cool before enjoying!

Notes
Variations:
Can be made with white or whole wheat pitas
Add your favorite Mediterranean seasonings or Greek seasoning blend. We like Cavender's, but you could use any brand. Watch the salt content of the seasoning, though, and add less salt initially if you're adding this.

Recommended Products
As an Amazon Associate and member of other affiliate programs, I earn from qualifying purchases.
Nutrition Information:
Yield:
6
Serving Size:
1
Amount Per Serving:
Calories:

191
Total Fat:

9g
Saturated Fat:

1g
Trans Fat:

0g
Unsaturated Fat:

8g
Cholesterol:

0mg
Sodium:

383mg
Carbohydrates:

23g
Fiber:

1g
Sugar:

1g
Protein:

4g
Nutrition facts are an estimate and not guaranteed to be accurate.