This Feta Dip recipe first appeared on Savory Experiments, where I am a contributor.
Whipped Feta Dip is an excellent starter for any occasion! Made with just 4 ingredients and a few spices, this creamy dip recipe is simple to make and great for sharing.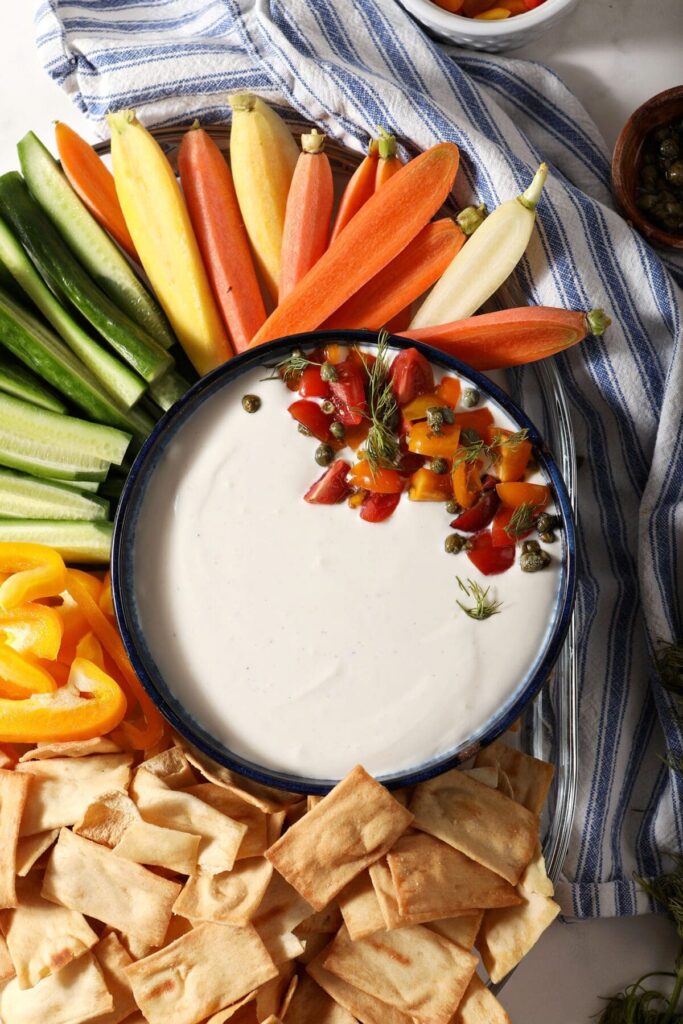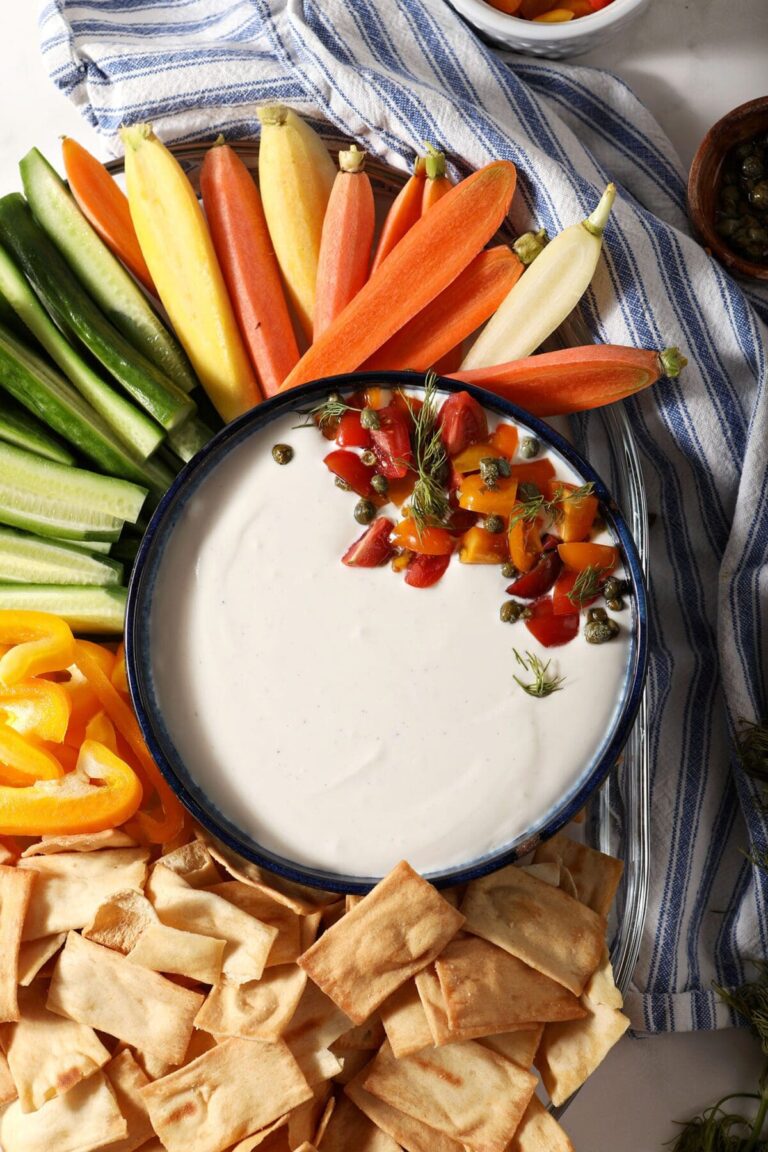 This post contains affiliate links.
Easy Whipped Feta Dip
Dips are one of our favorite things… and this creamy feta dip is one of the BEST there is!
Whether you like to dip it with pita chips or warm pita bread, slather it on a sandwich or a wrap OR enjoy it with your favorite fresh vegetables, it's amazing and pairs beautifully with so many things.
It also stands alone as an easy appetizer, which is one of my favorite ways to enjoy it.
At your next party, you could pair it with other dips, like Roasted Garlic Hummus, to make a dip platter!
This dip recipe is great for entertaining because it takes very little time to make and garnish.
You can also dress it up, as shown in these pictures. I'll explain how to do that below!
Why I love this recipe:
Honestly, as someone who adores feta, this Creamy Feta Dip is one-of-a-kind.
It's got salty feta goodness. There's the creamy tartness of Greek yogurt. We brighten it up with a little lemon juice. And the combination is just… so satisfying.
Here are some more things I adore about this smooth and creamy easy dip recipe:
It makes a large batch, so it's the perfect party appetizer.
It's versatile. While it was made to be a dip, you can slather it on sandwiches or wraps. It's also scrumptious on warmed naan!
It strikes a balance. This recipe is all about balancing the tart-creamy-saltiness of the ingredients. And there's a way to customize it to your tastebuds if it tastes too bitter to you.
You can make it thicker or thinner, depending on how much you blend it.
No matter how you look at it, this Homemade Chocolate Fudge Sauce is a simple treat to make at home!
More dips and appetizers to serve for any occasion: Hot Spinach Artichoke Dip | Caramelized Onion Guacamole | Baked Jalapeno Poppers | Garlic Herb Cream Cheese Dip | Homemade Loaded Queso | Beer Cheese Dip for Pretzels | Classic Cheese Dip for Pretzels
Need more starter ideas? Check out my Appetizer Recipe Index for more dishes to try!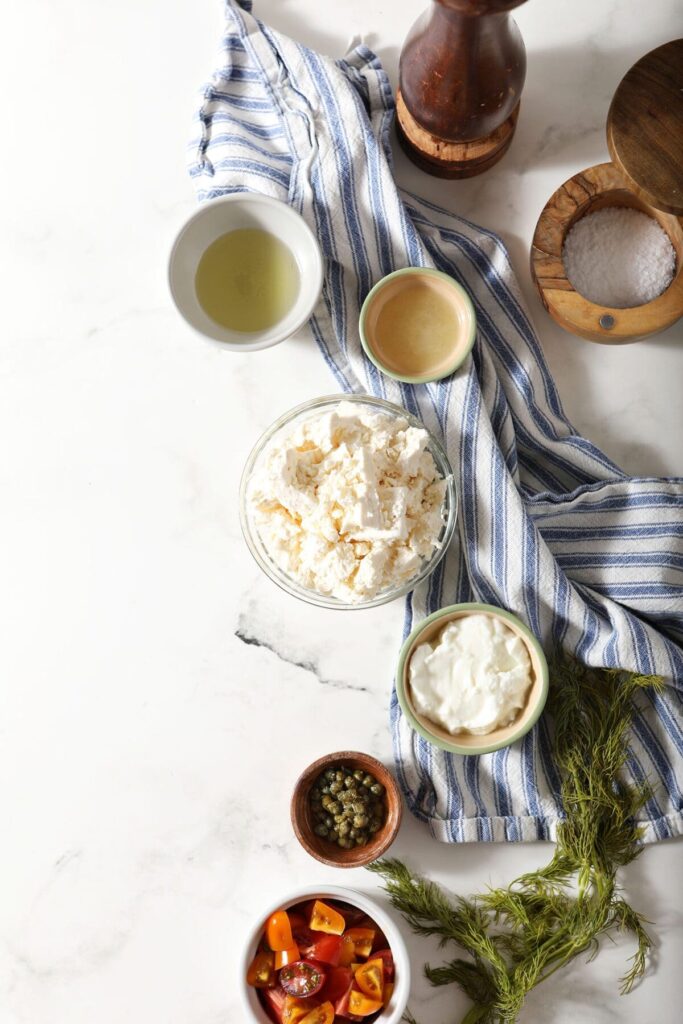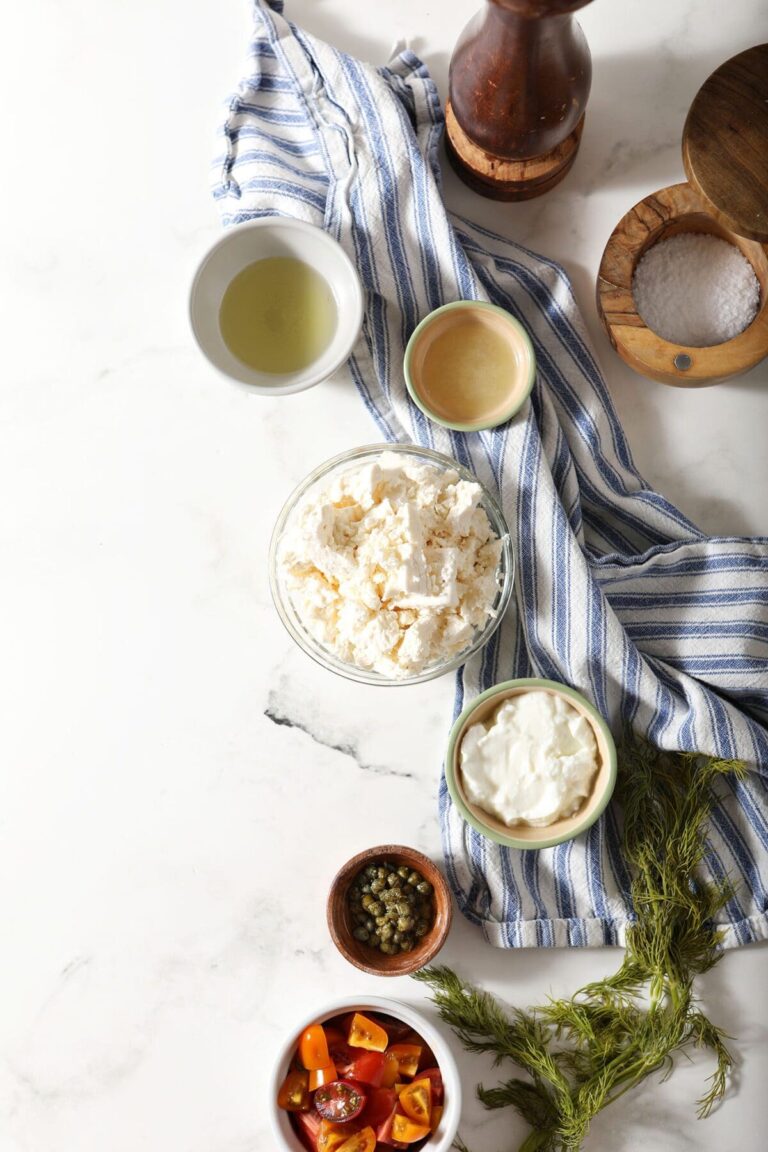 What you need to make this recipe:
The Speckled Palate participates in affiliate programs. As an Amazon Associate, I earn a commission from qualifying purchases. Please refer to my disclosure page for more information about these affiliate programs.
Let's talk ingredients!
In addition to the tools above, you're going to need some ingredients to make this recipe, too! Chances are, you might already have some of them in your fridge or pantry. Scroll down to the recipe card for the full measurements and instructions.
Here's what you need:
Feta cheese — this is the most important ingredient of the dip. There is no replacement. You can purchase a block of feta cheese or the crumbled kind. If you purchase it in brine, take the cheese out of the brine and pat it dry with a paper towel. I do not recommend using lower fat or nonfat feta cheese.
Olive oil — or extra virgin olive oil, if you prefer
Plain Greek yogurt — this adds some creamy tartness to the dip. Do not use traditional yogurt because it will affect the texture.
Lemon juice — freshly squeezed is best.
Seasonings —kosher salt and freshly cracked black pepper add extra flavor to this dip after it has been made. Season to taste. If the dip is bitter to your tastebuds, add ½ teaspoon of honey after tasting to balance. You could also add a pinch of red pepper flakes if you like a little kick.
Garnish the dip with your favorite toppings.
As you can see here, I sliced heirloom grape tomatoes in half and added capers, as well as a drizzle of olive oil and fresh dill, but you can garnish it any way you see fit!
What should I pair with this creamy whipped feta dip?
This dip pairs with so many different items.
Here are a few suggestions of what to serve alongside it:
Pita chips (homemade or store bought)
Cut veggies, like carrot sticks, celery sticks, mini cucumbers and bell pepper slices
Sugar snap peas
Tomatoes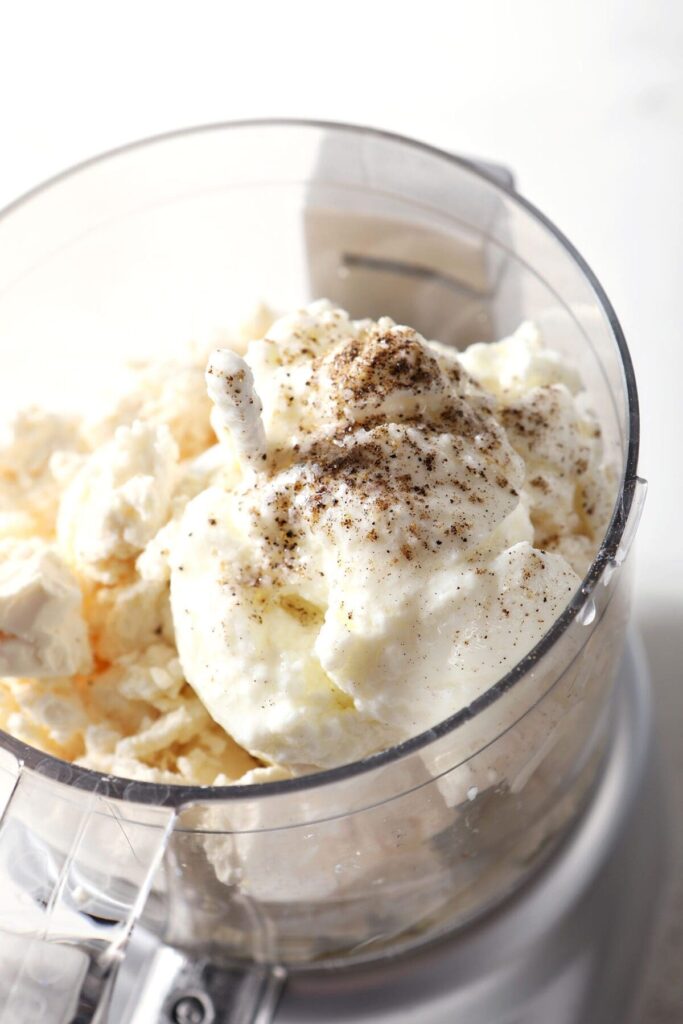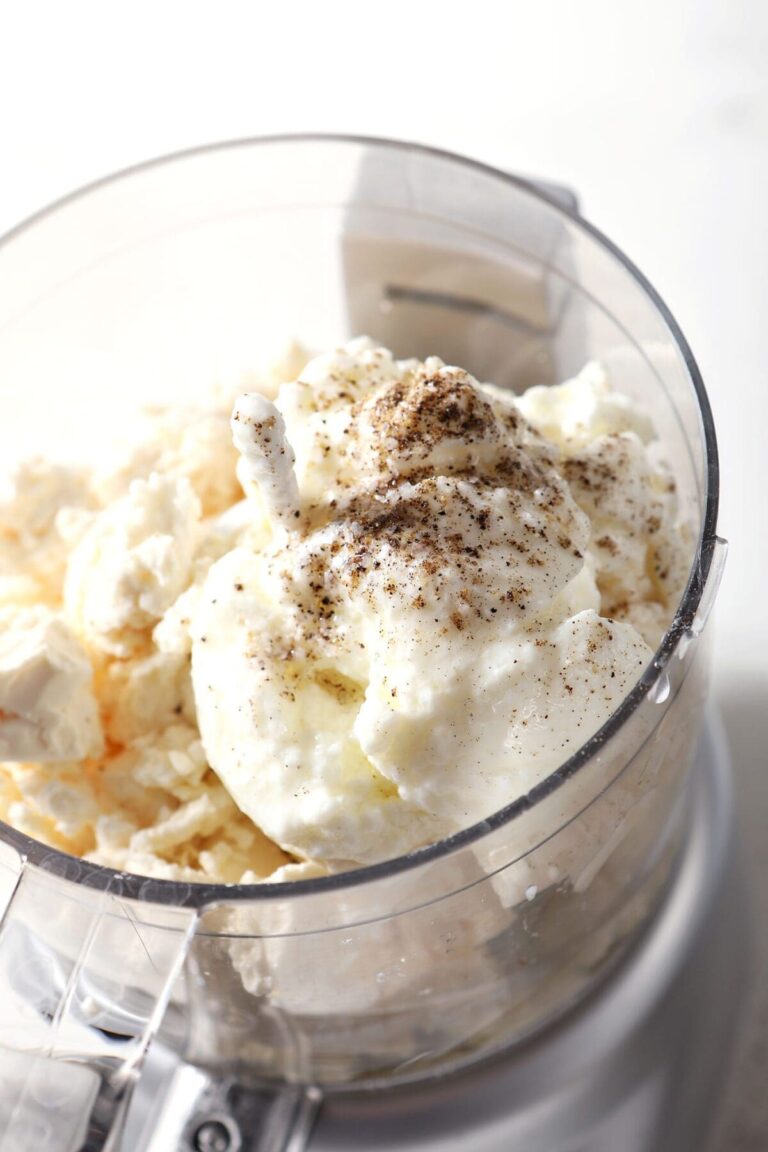 How to make this Feta Dip recipe:
Combine feta cheese with olive oil, yogurt and lemon juice in the food processor or in a blender,
Blitz the ingredients until just combined.
Blending the dip for too long can result in a runnier dip, which is equally as delicious but it does not dip as well. You can see how I blended mine more for these photos to be extra smooth.
Give the dip a taste and season with salt and pepper, if desired.
Pro tip!
If the feta dip is a little bitter for your likings, add ½ teaspoon of honey and blitz again. Give it another taste, and add more honey, if necessary.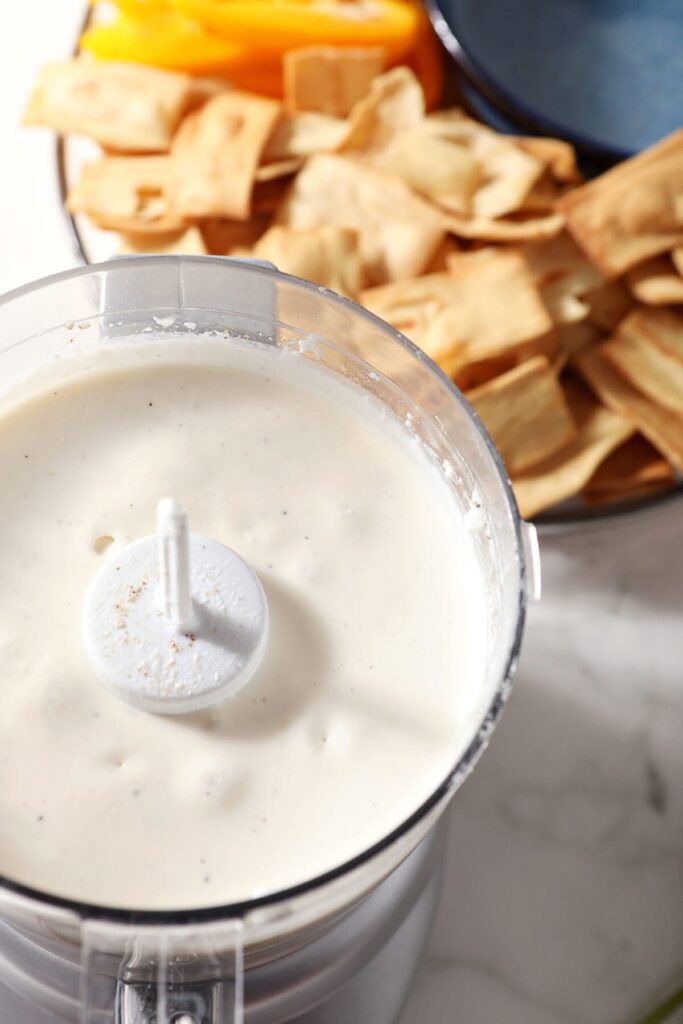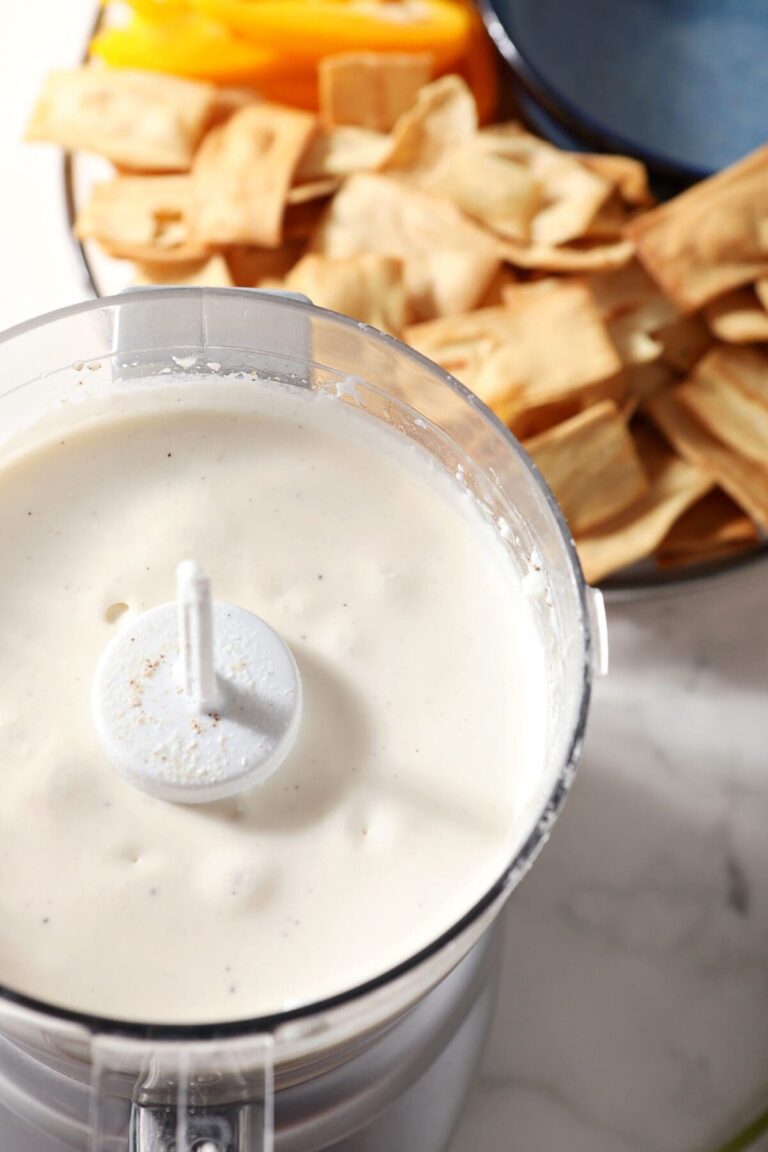 How to garnish:
Pour the dip into a shallow bowl for serving. I recommend using one that is wider than it is deep to where you have a large surface area to garnish.
Slice cherry tomatoes (or your favorite tomatoes) into bite-sized pieces. Sprinkle those along one side of the dip in a crescent moon shape.
Sprinkle capers on top of the tomatoes.
Drizzle with olive oil, and add fresh dill leaves for garnish before serving with your favorite dippers. You can also add other fresh herbs, like parsley, to the garnish, as well as lemon zest.
How to store leftovers
Store the dip in an airtight container in the refrigerator for up to a week.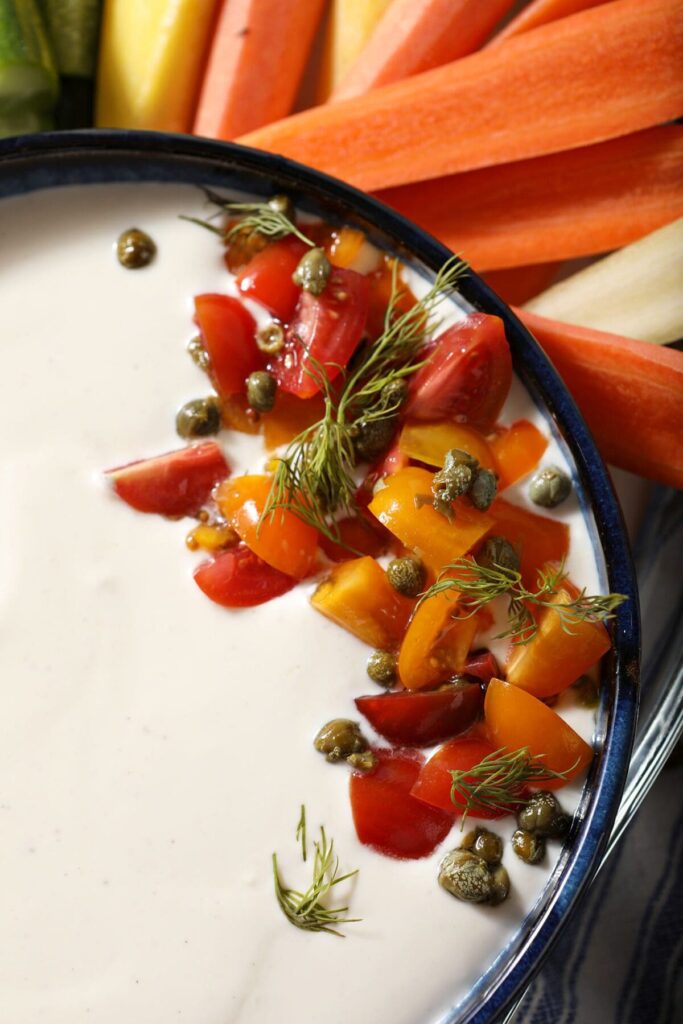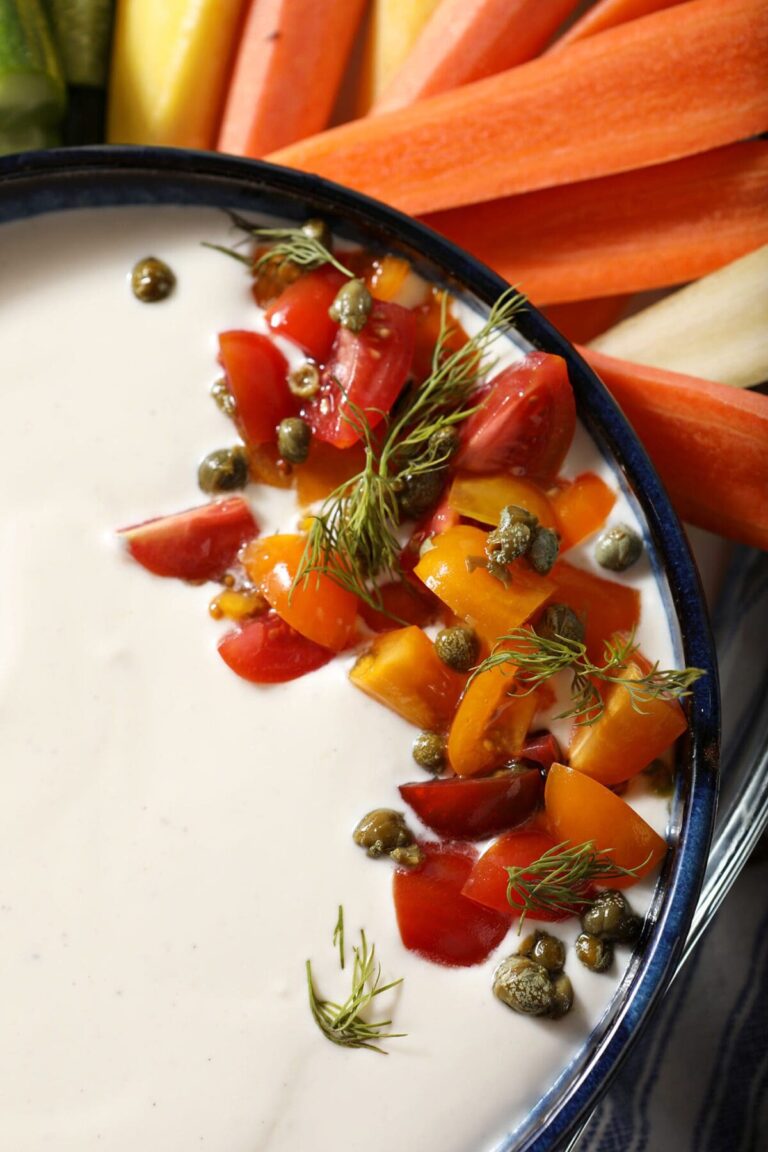 Frequently Asked Questions
What is feta cheese dip made of?
This recipe combines feta cheese with Greek yogurt, olive oil and lemon juice.
What does feta cheese go with?
It goes with a lot of things, like pita chips, sandwiches or wraps and raw vegetables, like carrots, celery, cucumbers and more.
Should you rinse feta cheese?
No. It does not need to be rinsed. That would also introduce more liquid to the dip, which we do not want.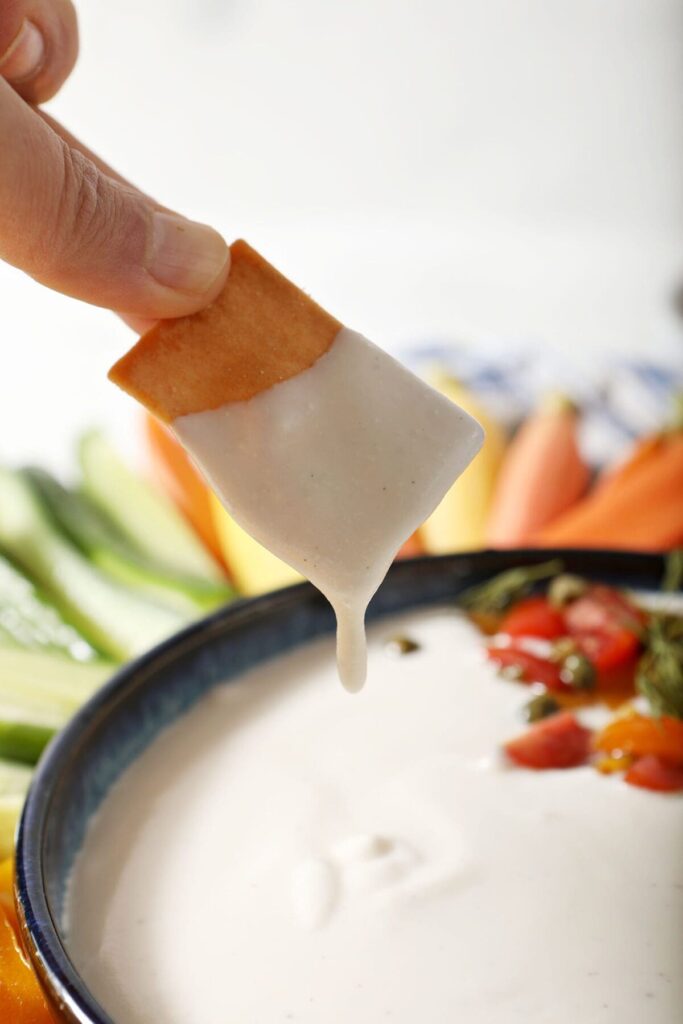 Quick tips and tricks to the best feta spread:
This recipe makes a lot! It's great for sharing! However, if you're making it for a small crowd, half the recipe so you don't have a ton of leftovers.
Blending the dip for too long will make it runny. Only blend until the ingredients are just combined. If the dip is runny, add more feta cheese and give it a taste. Adjust the seasonings, if necessary.
If the dip gets too stiff, add a drizzle of olive oil to thin it out.
If the dip is too bitter, add a drizzle of honey to balance it out.
Make variations on it. We use salt and pepper in this recipe, but you could very easily add fresh dill, paprika, za'atar and more spices to add different flavors.
Serve it alongside other Mediterranean dips, like hummus and tzatziki, to make a dip platter with fresh veggies and other dippers.
Want to learn how to make this amazing appetizer? The full recipe is below…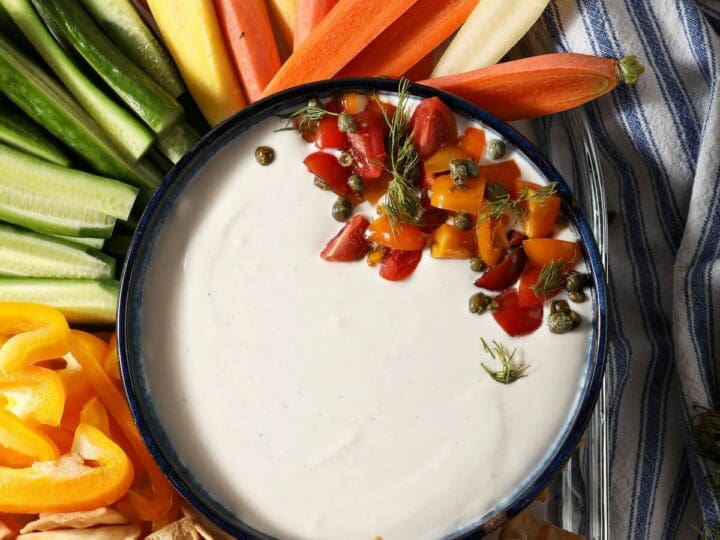 Yield:

8 servings
Whipped Feta Dip
Whipped Feta Dip is an excellent starter for any occasion! Made with just 4 ingredients and a few spices, this creamy dip recipe is simple to make and great for sharing.
Ingredients
8 oz. (2 cups) crumbled feta cheese
½ cup Greek yogurt
2 tablespoons olive oil
1 tablespoon freshly squeezed lemon juice
Kosher salt and black pepper, to taste
Garnishes
½ cup chopped cherry tomatoes
1 tablespoon capers
Olive oil, for drizzling
Fresh dill fronds
Dippers
Pita chips
Carrot sticks
Celery
Mini cucumber slices
Raw vegetables, like sugar snap peas and bell pepper slices
Instructions
Combine the feta, yogurt, olive oil and lemon juice in the base of a food processor or a blender.
Blitz until smooth and combined.
Taste and season with salt and pepper, if desired.
If the dip is too bitter for you, consider adding ½ teaspoon of honey to balance it out. (Add it to taste, so add a little, taste, then add more if desired.)
Pour into a serving bowl.
Garnish with the chopped tomatoes and capers. Drizzle with olive oil and add fresh dill for display, then enjoy with your favorite dippers!
Notes
How to store: Transfer to an airtight food storage container and keep in the refrigerator for up to a week.
The nutrition calculate does not include the toppings or dippers. It is just for a serving of the dip itself.
Recommended Products
As an Amazon Associate and member of other affiliate programs, I earn from qualifying purchases.
Nutrition Information:
Yield:
8
Serving Size:
1
Amount Per Serving:
Calories:

114
Total Fat:

9g
Saturated Fat:

5g
Trans Fat:

0g
Unsaturated Fat:

4g
Cholesterol:

26mg
Sodium:

305mg
Carbohydrates:

2g
Fiber:

0g
Sugar:

2g
Protein:

6g
Nutrition facts are an estimate and not guaranteed to be accurate.