Creamy Honey Mustard Dressing
Creamy and tart Honey Mustard Dressing, perfectly paired with any of your favorite salads. Goes wonderfully on Avocado and Panko-Crusted Chicken Cobb Salad.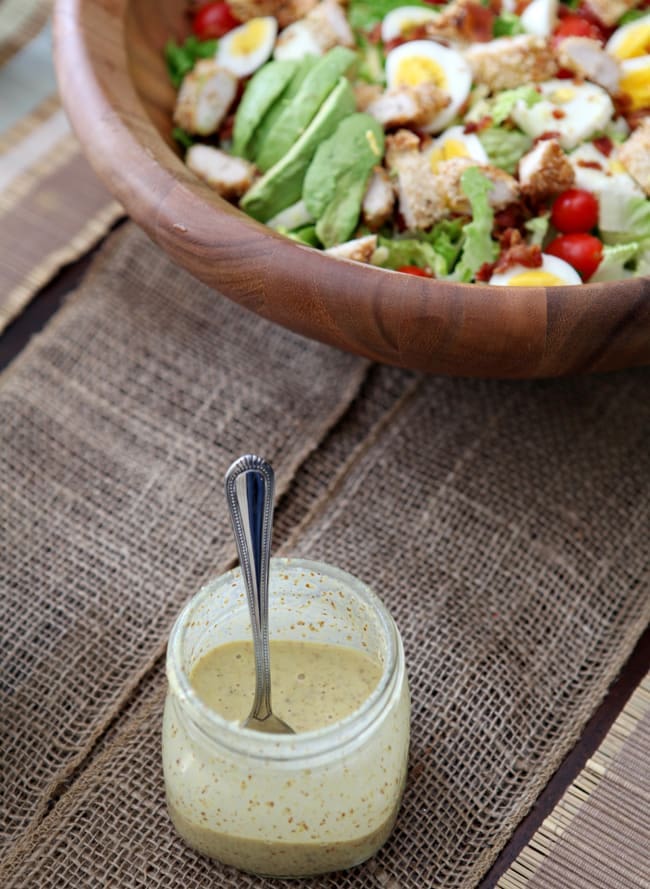 Mustard and me… we have a tumultuous past.
So tumultuous, in fact, that I wasn't into mustard like everybody and their mom until I was in my 20's.
Honestly, I blame it on a bad sandwich experience when I was a kid, and I stayed away from the stuff afterwards, not wanting to unknowingly singe off my tastebuds again after mistakingly assuming the condiment on my turkey-and-swiss was run-of-the-mill yellow mustard, not spicy mustard. Yow. (We've all made this mistake… some of us just recover differently.)
Oh, goodness, I can hear you saying right now. Here she goes again. She's telling another story about not liking some kind of food. She's really picky and weird for a food blogger. Why should I trust her opinion, anyway?
All I can say is, I know. And I promise that part of this food blogging fun is my taste buds are ever evolving, so I'm learning I like (and dislike) new foods all the time, so they'll keep us endlessly entertained.
It's ridiculous that I was a mustard hater for a really long time. In fact, wouldn't even give honey mustard a chance, and we all know that I love sweet stuff.
What changed my mind? All it took was a simple, well-dressed salad… and that's all she wrote. That fateful day, I realized that Honey Mustard was actually incredible stuff, and ever since, I've taken baby steps to adding mustard into dishes that I cook. While it's still not my favorite sandwich condiment, I'm cool when mustard shows up in a dish, and I no longer run away from it, even if I do sometimes encounter the spicy kind.
Today, I'm sharing a quick, flavorful salad dressing with y'all that will accompany Monday's post, and I'm really excited about both of these because (1) I'm sharing a salad, (2) this Creamy Honey Mustard Dressing is ah-mazing and (3) it's all super simple to make… and you've probably got the ingredients in your fridge right now!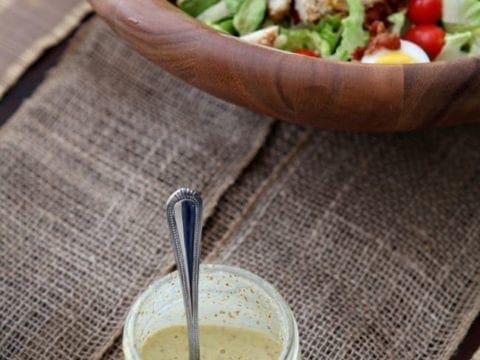 Yield:

8 servings
Creamy Honey Mustard Dressing
Ingredients
1/4 cup spicy brown mustard
1/4 cup grainy dijon mustard
3 tablespoons locally-sourced honey
2 tablespoons plain Greek yogurt
1/3 cup water
Instructions
In a mason jar, combine the ingredients, stirring until mixed.
Serve on the side or pour on top of your salad, mixing until the dressing is coating all the ingredients, and enjoy.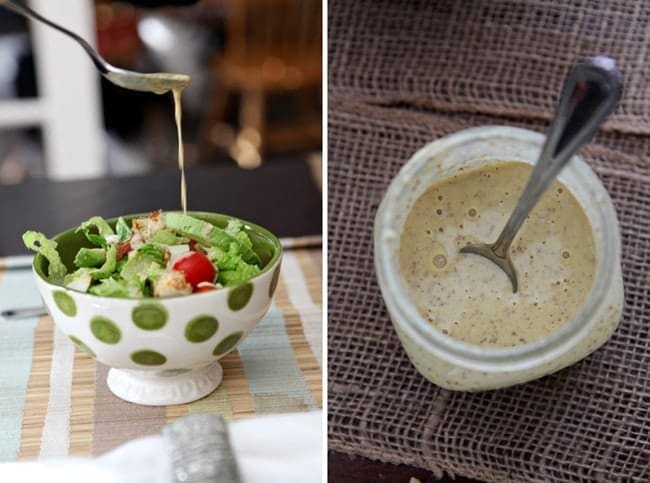 Are you a mustard hater like I was, or are you somebody who is well-versed in the wonders of mustard?