Parsnip Fries with Tahini Sauce
Make fries… without the potatoes! Kelly from Hidden Fruits and Veggies shows how to transform parsnips and carrots into delicious oven-baked fries with a decadent tahini dipping sauce.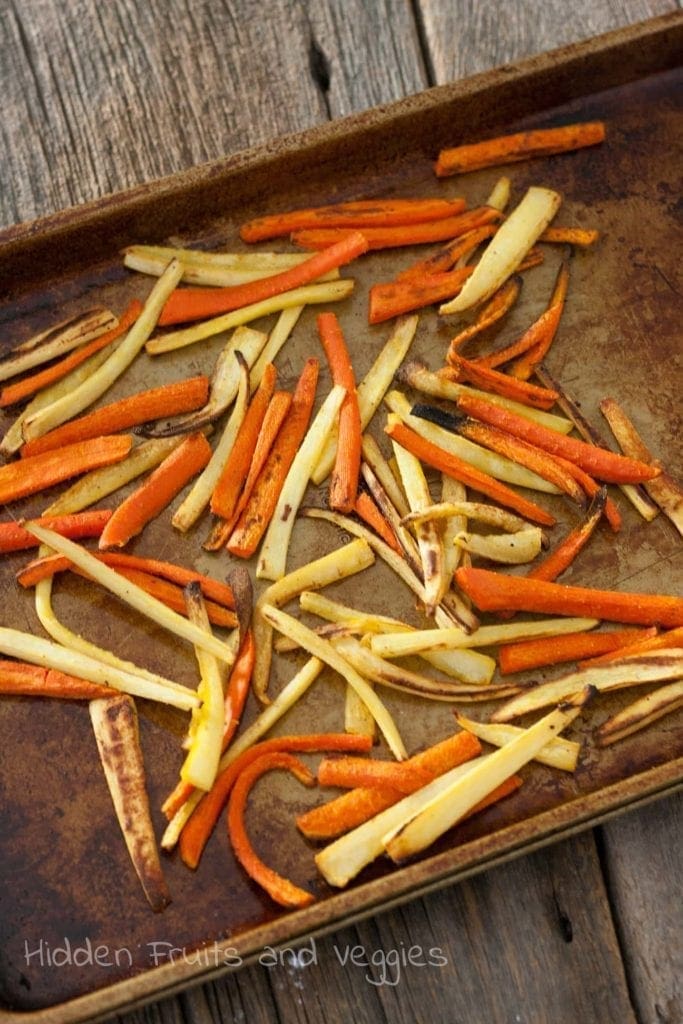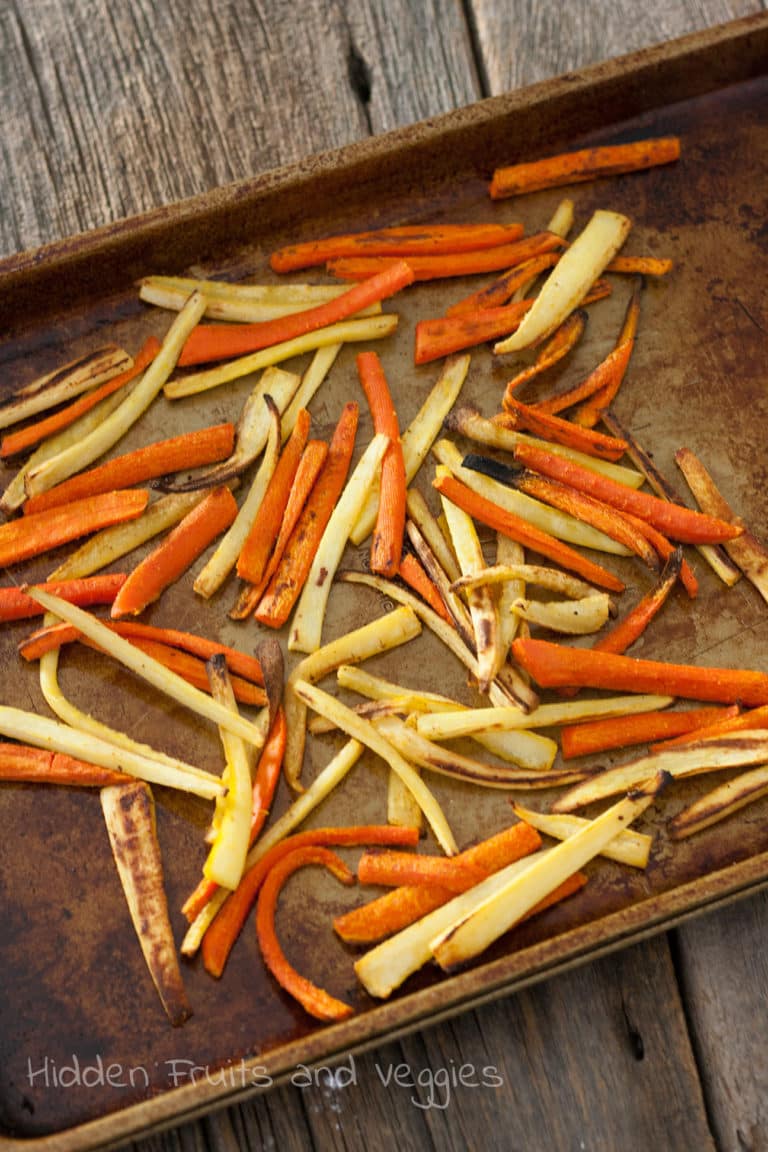 Back in December, I wrote a guest post for Kelly. We connected through our blogs a while back, though I couldn't tell you exactly ho we met, and I always enjoy her recipes because she adds fruits and veggies into (most) everything. She's returning the guest posting favor today, and I'm drooling over these brilliant "fries!"
Hi everyone! Kelly here from Hidden Fruits and Veggies. I'm so happy to be here guest posting for Erin while she's busy with Lady Baby, especially after the mouthwatering guest post (Cheddar Biscuits!) she did for me in December.
If you can't tell from the name, my blog is usually about getting in extra veggies (and less often fruit – I'm so bad about eating fruit!) wherever I can.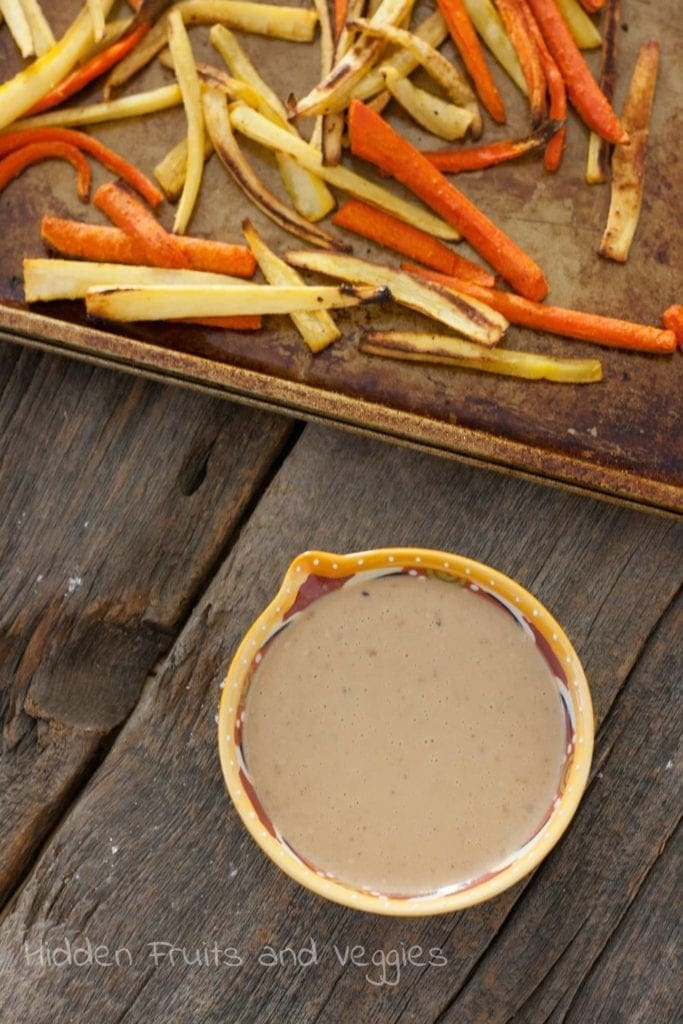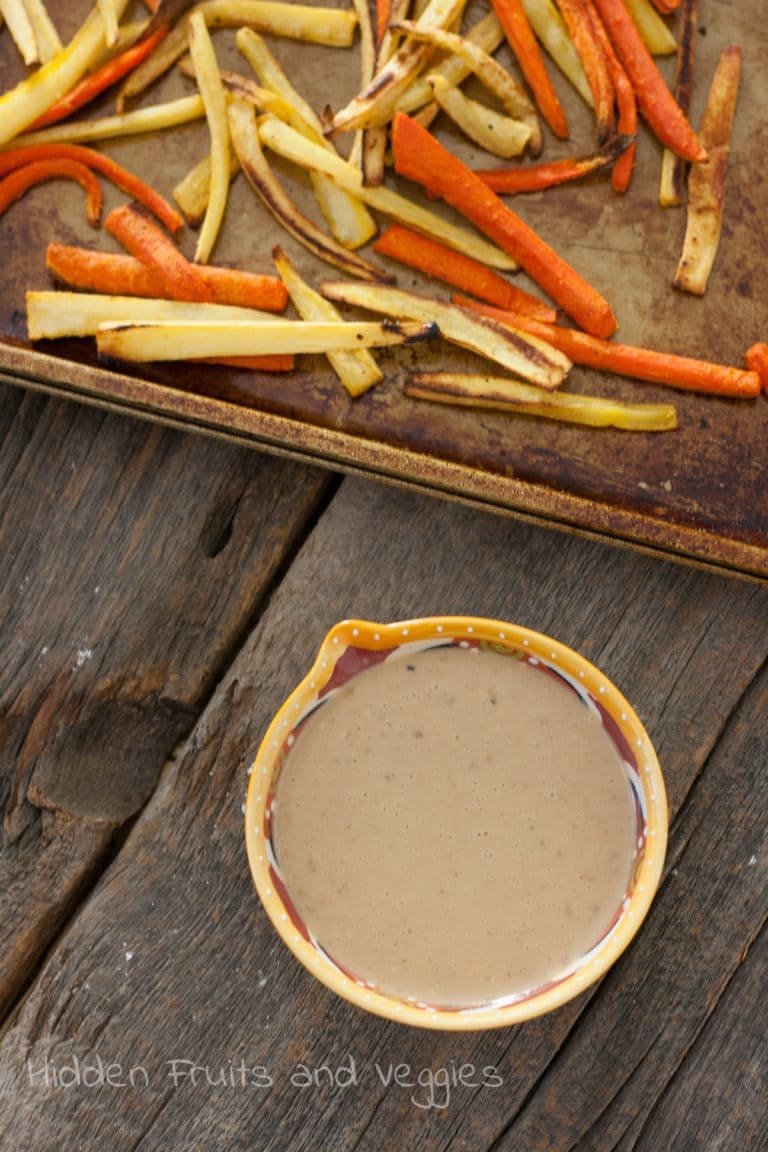 So here we have these fries. Well, kind-of fries.
Can we call them fries even if they're 100% veggie and 0% potato? And if they're not fried?
Nothing wrong with potatoes, but I eat more than enough of them and not nearly enough carrots or parsnips. Plus, swapping them out for less carby, higher fiber veggies makes me feel like I can more readily justify this tahini sauce. Because woah, that tahini sauce.
I'll say it right now – somehow, I'm late to the tahini game. I'm probably the last person in the world to decide I want to drizzle it all over everything, but I DO. And I will. With a hint of garlic and a little salt, please.
If turning your vegetables into crispy fries didn't make them more appealing, I guarantee this sauce will.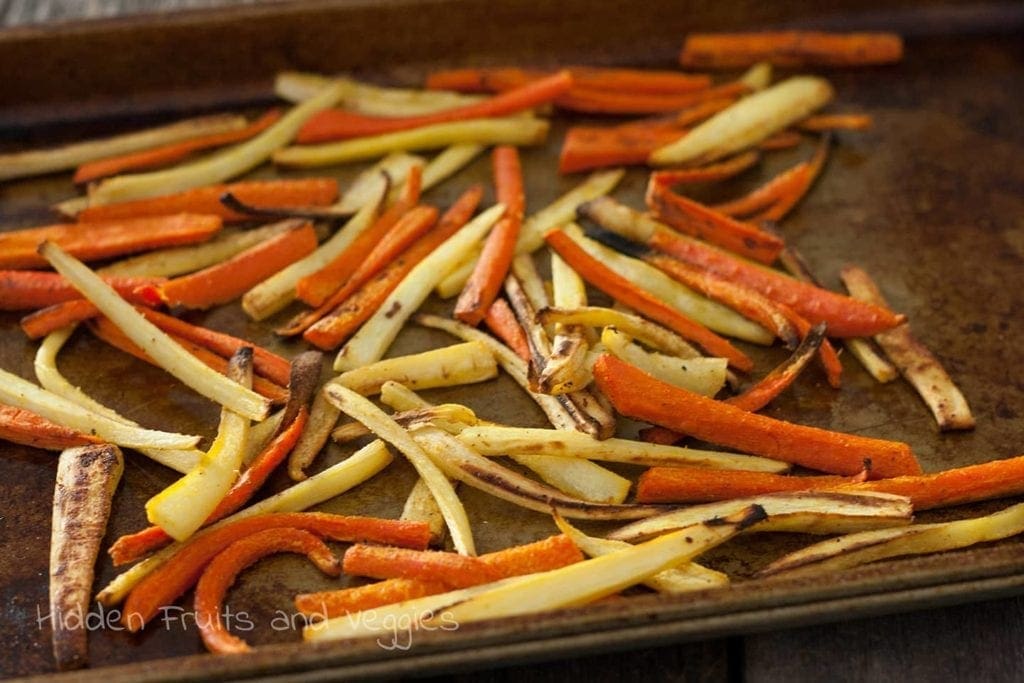 Here's how you make them: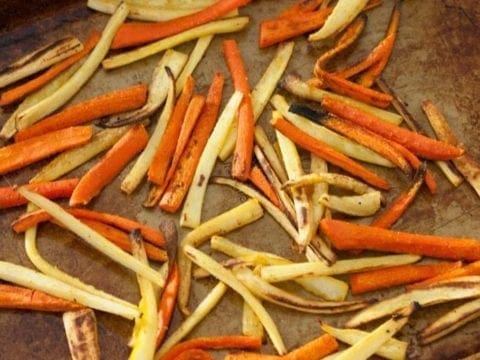 Yield:

4 servings
Parsnip Fries with Tahini Sauce
Make fries... without the potatoes! Transform parsnips and carrots into delicious oven-baked fries with a decadent tahini sauce.
Ingredients
Parsnip Fries
2 large parsnips
6 carrots
Nonstick spray
2 teaspoons sesame oil
¼ teaspoon garlic powder
Salt, to taste
Tahini Sauce
2 tablespoons Tahini
1 ½ tablespoons soy sauce (low sodium or GF are fine)
½ teaspoon garlic powder
1 tablespoon mirin
2 tablespoon Greek yogurt
1 tablespoon honey or agave nectar
½ teaspoon sesame oil (optional for more sesame kick)
Instructions
Preheat your oven to 425°F.
Peel your parsnips and carrots. Cut into sticks (around the size of your standard fast food french fry).
In a large bowl, toss your sticks with the remaining fries ingredients, spritzing liberally with nonstick spray.
Spread in a single layer on a large baking sheet or two medium sized baking sheets. Bake for 25 – 30 minutes, flipping halfway, until browned. They'll shrink while cooking and crisp up a little more after being taken out of the oven.
Whisk together all of the sauce ingredients and set aside while fries bake.
Serve fries hot with a drizzle of sauce or a side of it for dunking.
Notes
Don't use the sad veggies from the bottom of your crisper drawer. If your carrots are bendy, they won't crisp up as nicely (though they'll still taste just as delicious).
Nutrition Information:
Yield:
4
Serving Size:
1 serving
Amount Per Serving:
Calories:

190
Total Fat:

7g
Saturated Fat:

1g
Trans Fat:

0g
Unsaturated Fat:

6g
Cholesterol:

0mg
Sodium:

528mg
Carbohydrates:

29g
Fiber:

5g
Sugar:

14g
Protein:

4g
Nutrition facts are an estimate and not guaranteed to be accurate.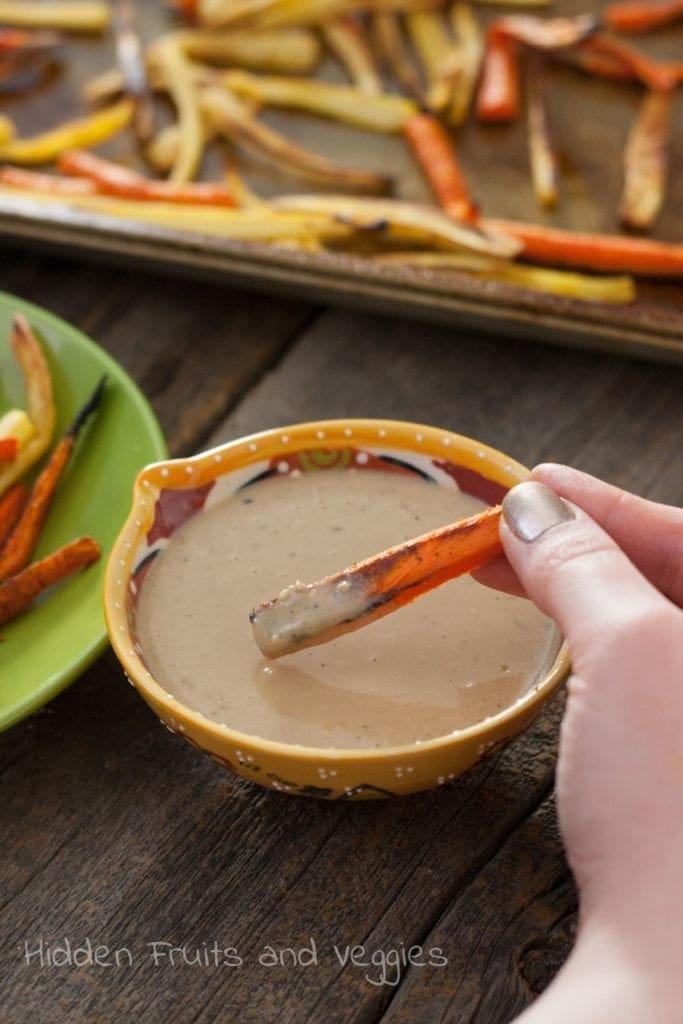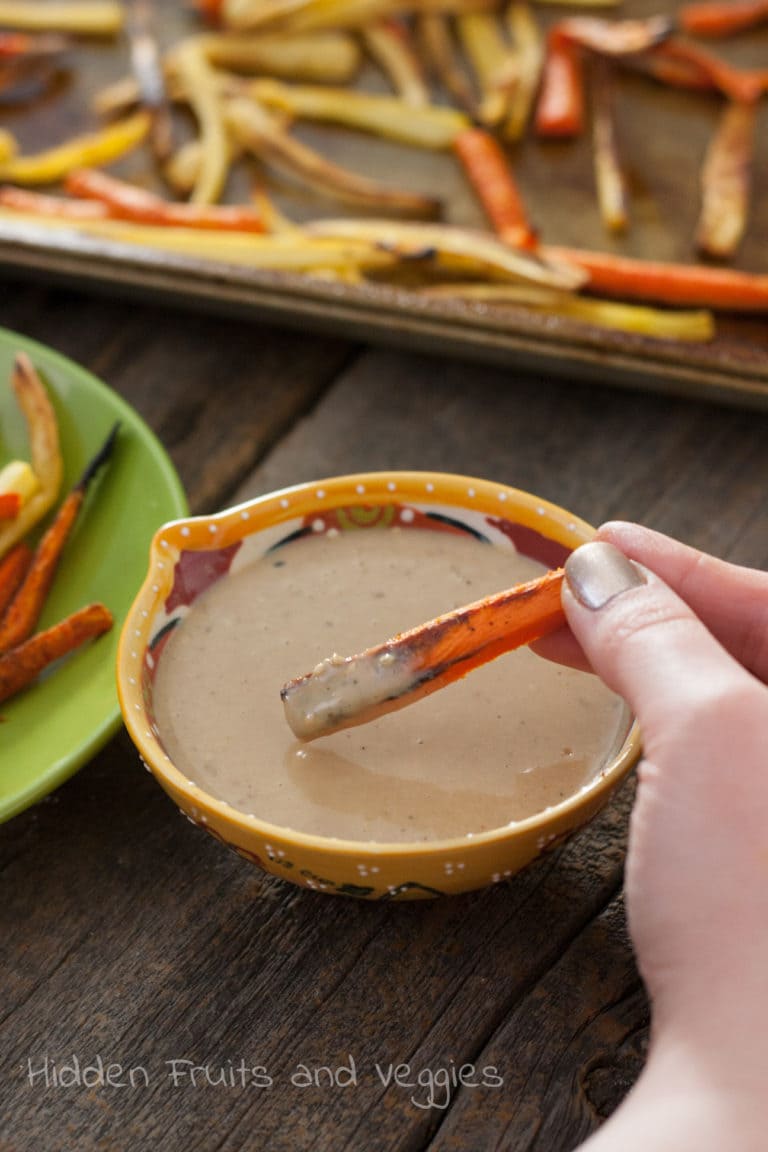 Thanks for having me, Erin! I love your blog, and it's fun to come share your space for the day!
—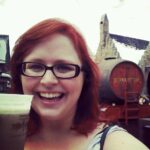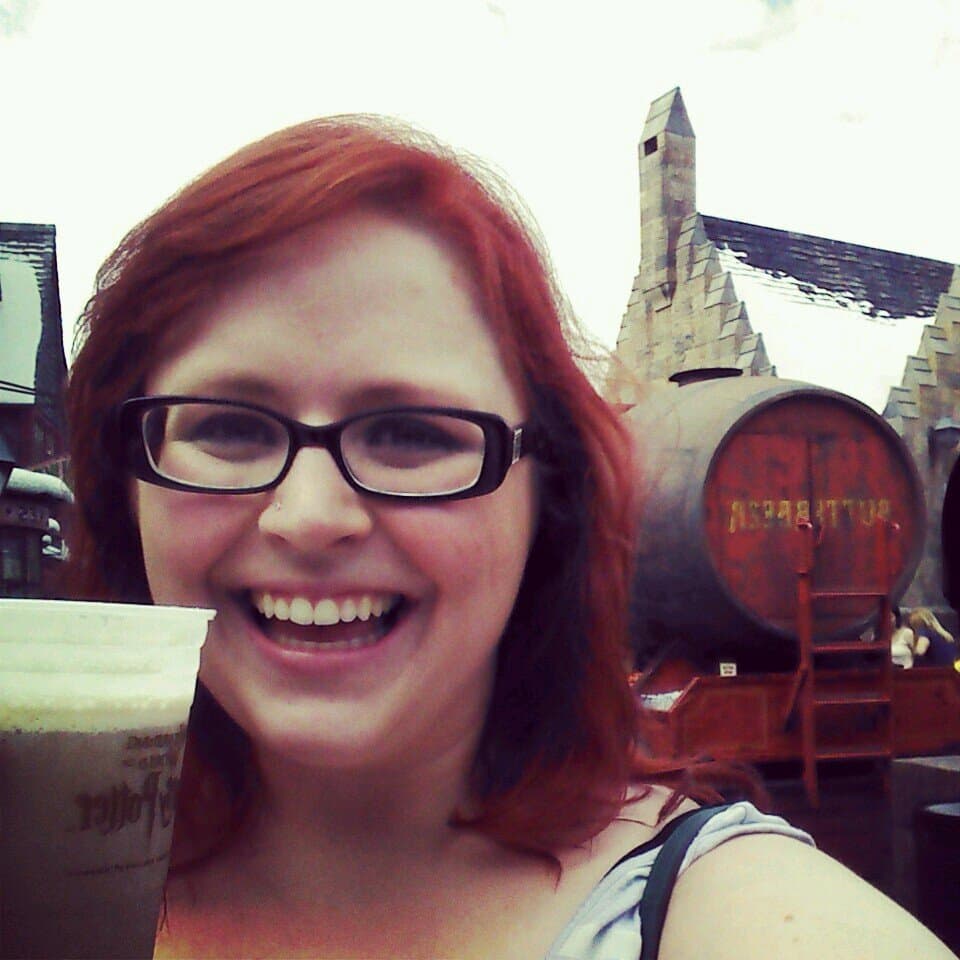 Kelly is the home cook behind Hidden Fruits and Veggies. Though she enjoys most veggies (she's a vegetarian, after all), her cooking and blogging styles revolve around giving food an extra nutritional push whenever she can, while maintaining tasty, comforting flavor. Her favorite ingredients include cheese, broccoli, beer and peanut butter, though she always wants to try new things. She has a bachelor's degree in biomedical science, and by day, she's an environmental toxicologist — nerd alert! — but she aspires to one day fully lean in to my crazy cat lady calling and be a stay-at-home-kitty mom with her three beautiful boys: Peter, Chester, and Charlie.