Bourbon Sweet Potato Casserole
Knock the socks off your guests with this slightly sweet Bourbon Sweet Potato Casserole, covered with a crunchy streusel topping. The bourbon sings, the sweet potatoes are light and creamy, and the pecan streusel adds texture to this twist on a Thanksgiving classic. Makes 8 servings.
Love make-ahead Thanksgiving casseroles? Be sure to check out Creamed Cornbread Casserole, Spinach Madeline and Garlic Parmesan Mashed Potato Casserole!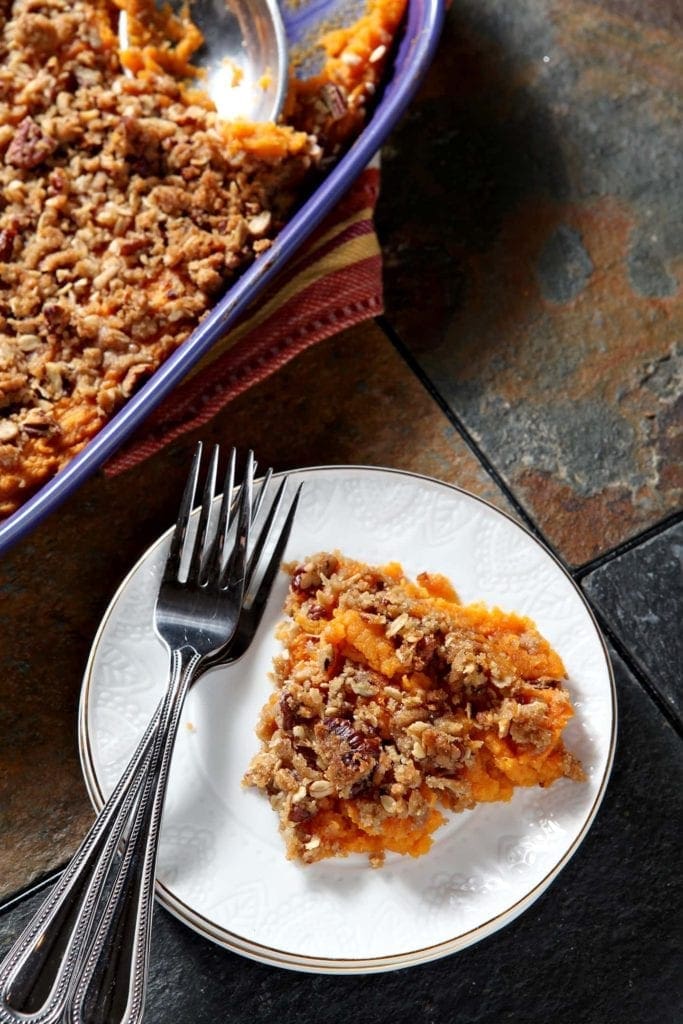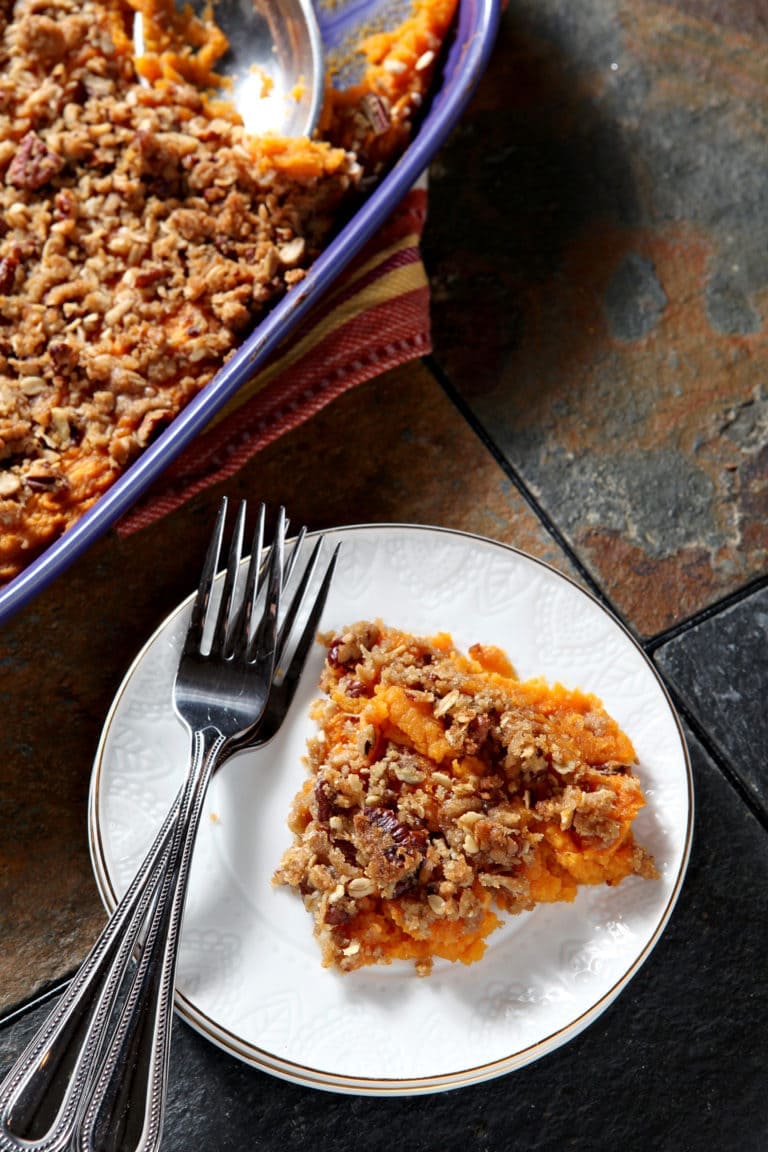 2023 Update: This recipe was originally shared in November 2015. The post has been updated to include new photos, as well as more tips and tricks. I hope you love this!
I've been making renditions of Bourbon Sweet Potato Casserole for years around the holidays.
It might be my favorite side dish on the Thanksgiving table, thanks in part to my love of bourbon, sweet potatoes and casseroles that veer toward sweet. (But not too sweet.)
This recipe was developed because I wanted to make twist on a traditional sweet potato casserole with pecans using less sugar since sweet potatoes are naturally pretty sweet.
So you'll see this recipe calls for maple syrup mixing with the sweet potatoes and just a scant ¼ cup of brown sugar for the crunchy pecan topping. This is not your classic sweet potato casserole with mini marshmallows, and I'm OK with that. (But if that's what you are looking for, this is not it.)
Gone are the days of excessively sweetened sweet potato casserole! And this recipe is a total crowdpleaser.
Why I love this recipe:
Buttery sweet potatoes with a splash of bourbon, sweetened with maple syrup, and covered with a crunchy pecan-oat topping?
Yeah, it's pretty darn dreamy, and it's a family favorite recipe because we all love this combination of flavors.
Plus, this homemade sweet potato casserole tastes decadent without feeling like a dessert.
It's an easy recipe to make in advance AND to bring on the road with you. Whether you're attending something like a traditional Thanksgiving gathering, a potluck, Friensgiving or a #blogsgivingdinner, like my friends Meg and Susannah put together years ago!
More Thanksgiving dishes you need to see to believe: Thanksgiving Cheese Board | Garlicky Spagetti Squash | Bourbon Butter Sweet Potatoes | Fresh Green Bean Casserole from Scratch | Hasselback Sweet Potatoes
Need holiday food inspiration? Check out my Thanksgiving Recipe Index to see what we love to serve!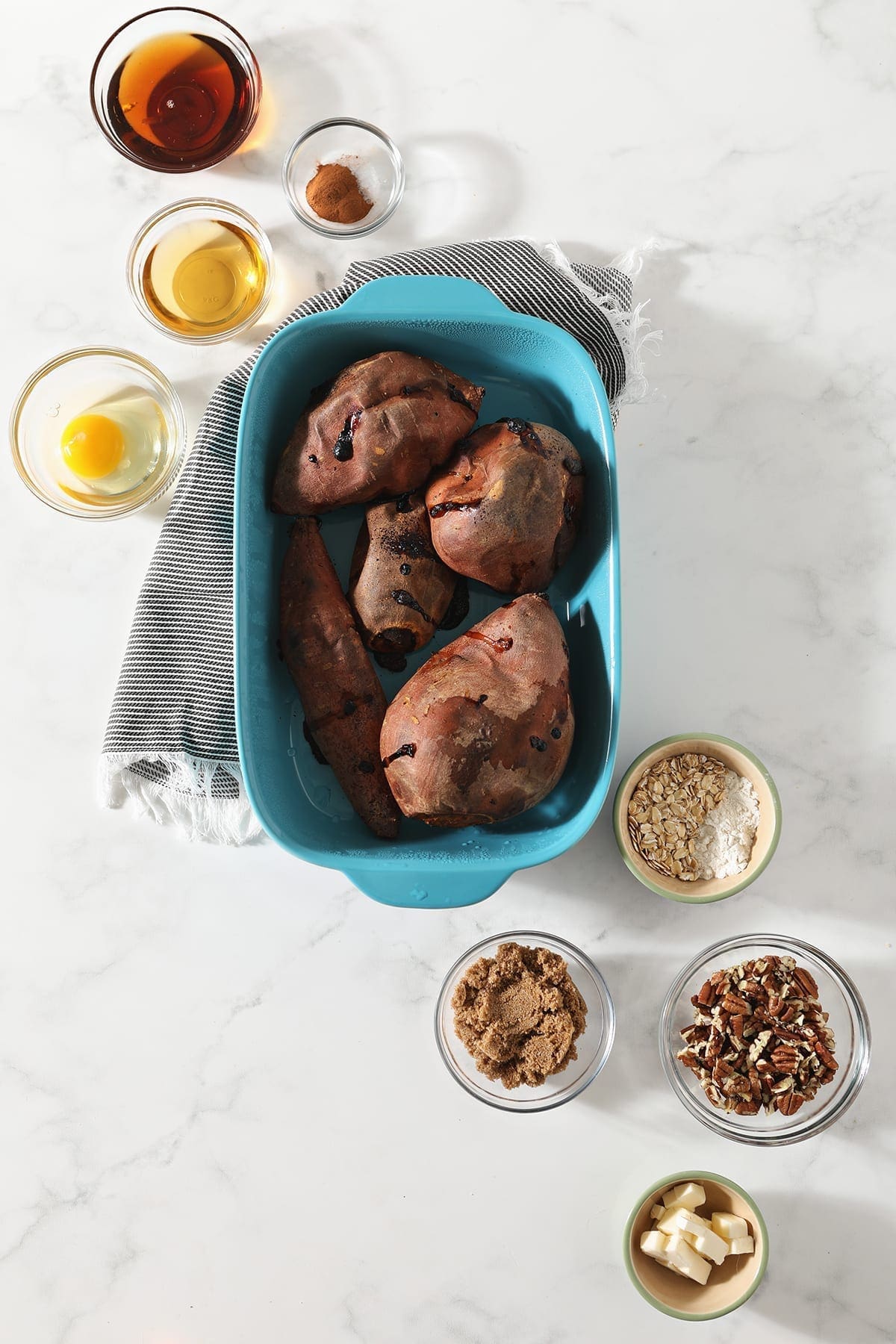 What you need to make Bourbon Sweet Potato Casserole
The Speckled Palate participates in affiliate programs. As an Amazon Associate, I earn a commission from qualifying purchases. Please refer to my disclosure page for more information about these affiliate programs.
Baking dish — at least 1.9 qt.
Nonstick baking spray
Glass bowls — you need a large bowl and a medium bowl
Hand mixer, potato masher or food processor
Dough blender or a fork
Let's talk ingredients!
In addition to the tools above, you're going to need some ingredients to make this recipe, too! Chances are, you might already have some of them in your fridge or pantry. Scroll down to the recipe card for the full measurements and instructions.
Here's what you'll need:
Sweet potatoes — we need 4.5 lbs. of 'em. I recommend using fresh sweet potatoes, not the canned variety. I like to purchase ones that are uniform in size, but any sweet potatoes will work.
Pure maple syrup — not imitation maple. This adds such a lovely natural sweetness that compliments the sweetness of the sweet potatoes.
Bourbon — or your favorite whiskey. It should be flavorful and drinkable, but you do not need to use your fancy sipping bourbon. Maker's Mark is a favorite brand for this.
Egg — this serves as a binder for the sweet potatoes.
Salt — I like to use a medium grain kosher salt for recipes like these. You could use a medium grain sea salt, too.
Ground cinnamon — because this adds such lovely warmth.
All-purpose flour—I prefer unbleached, but you can use the regular kind if that's what you've got on hand
Rolled oats—not the instant variety because their texture won't hold up
Light brown sugar—or dark brown sugar, if that's what you've got on hand. The molasses undertones pair beautifully with the sweet potatoes.
Chopped pecans — these add such a lovely crunch and nuttiness to the topping!
Unsalted butter — for the streusel topping. I do not recommend using oil in place of it.
Substitutions:
Add additional fall spices, like pumpkin pie spice, nutmeg, allspice and ginger.
Leave out the bourbon ​to make this a more kid-friendly recipe.
Use gluten free oats and flour blend​ in place of the AP flour to make this gluten free.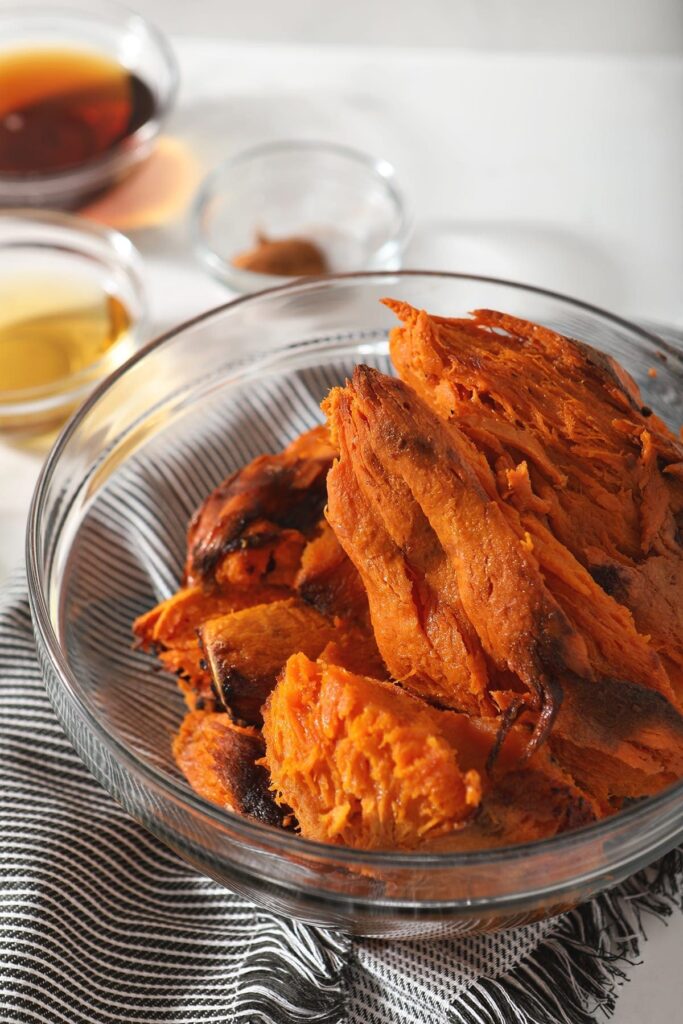 How do you make Sweet Potato Casserole?
First and foremost, cook the sweet potatoes!
How to cook sweet potatoes
I'm partial to baking them in the oven at 400°F for about an hour if I've got the time earlier in the day that I'm making the casserole.
Use a fork to poke through the skin a few times before baking so they don't explode in the oven.
When they're done, you want them to be fork tender. Then let 'em cool completely.
You can also boil them or cook them in the microwave them if that is more convenient for you.
This can be done days in advance. Keep the sweet potatoes in an airtight container in the refrigerator after cooling.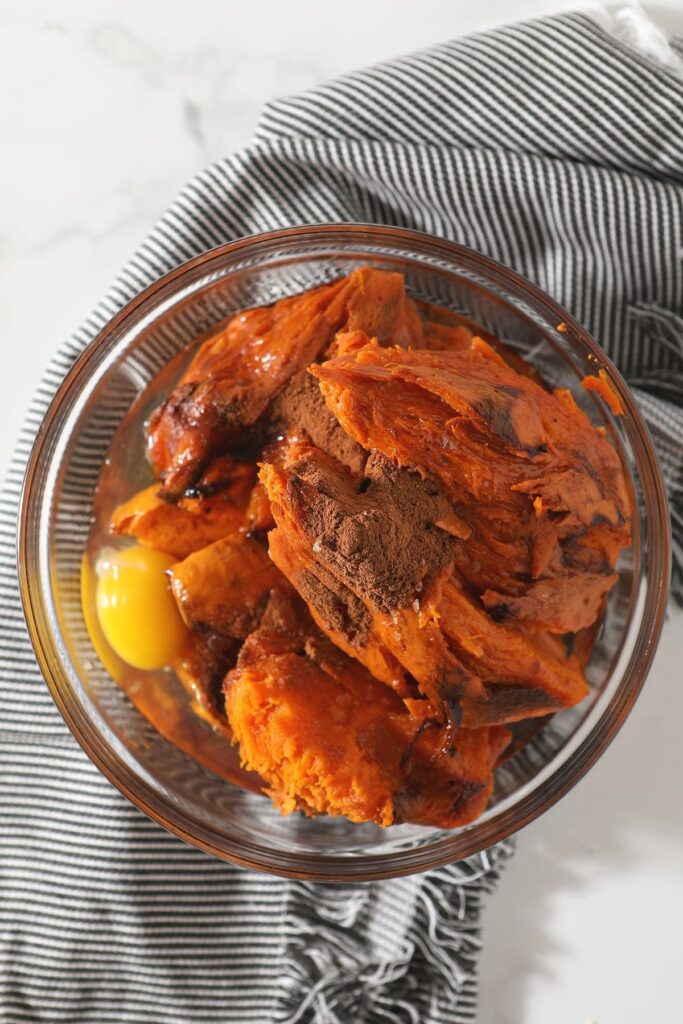 Make the Casserole
Preheat the oven. Spray a 1.9 qt. (or larger) casserole dish with nonstick cooking spray, and set it aside.
Scoop the flesh of the sweet potato into a large mixing bowl. Measure in the maple syrup, bourbon, egg, salt and cinnamon.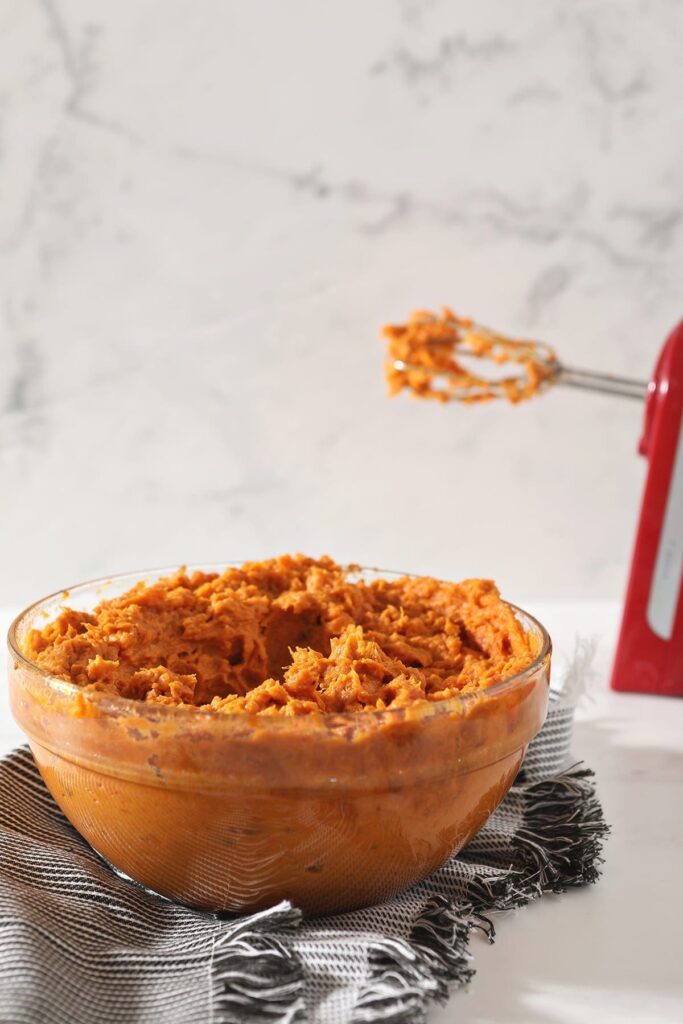 Use a hand mixer to blend the ingredients together until smooth. You could also use a potato masher. This might take a few minutes because the sweet potatoes can sometimes be a little chunky.
Once blended, scoop the sweet potato mixture into the prepared baking dish. Set aside.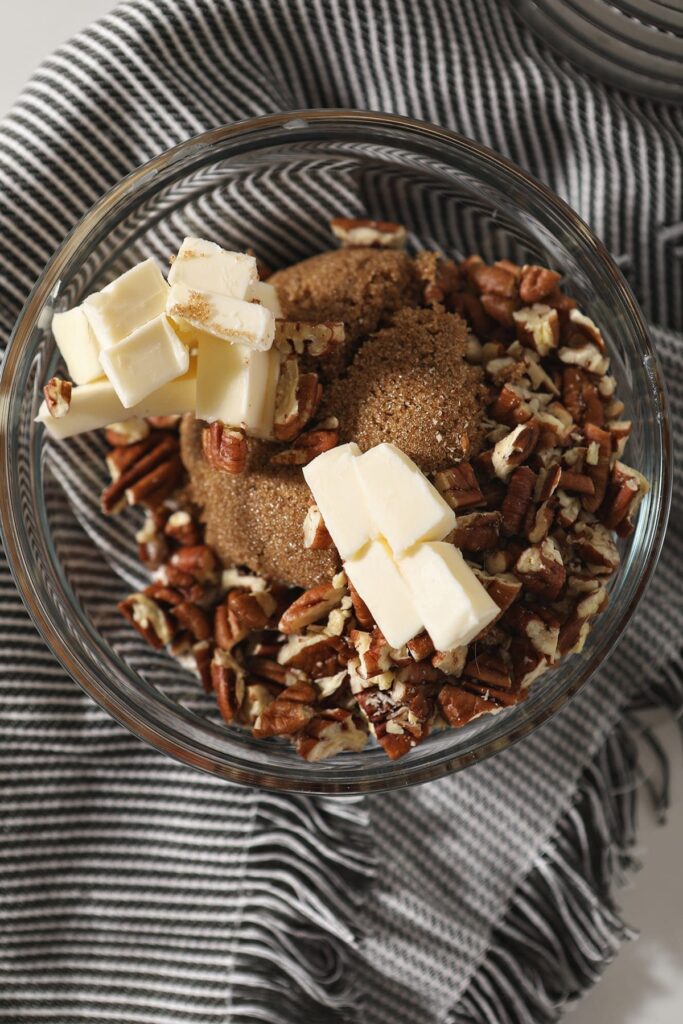 Make the Sweet Potato Casserole Streusel Topping
Make sure your pecans are chopped. If they aren't, it will be a little more challenging to get a consistent crumb to this topping.
Measure out the flour, oats, brown sugar and pecans into a medium mixing bowl. Use a fork to mix until combined.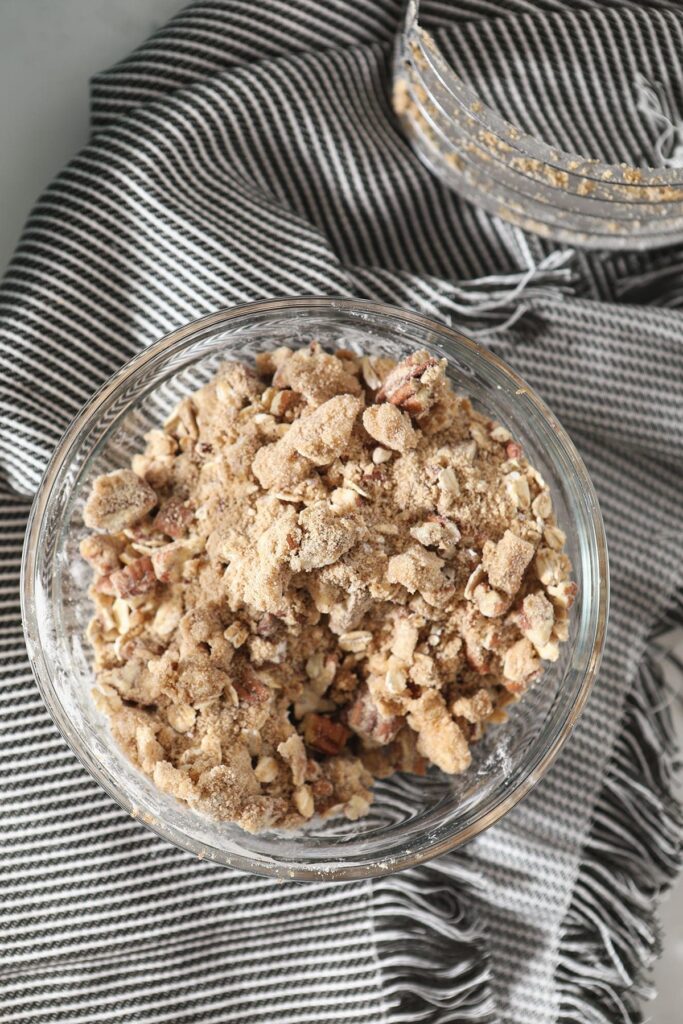 Slice the chilled butter into small pieces, then cut it into the streusel topping using a pastry cutter or a fork. You want the topping to resemble the texture of wet sand.
Sprinkle the streusel topping onto the creamy sweet potatoes already in the pan.
Pro tip!
If you are making your casserole in advance, stop here. Wrap the casserole in plastic wrap, and store it in the fridge for up to 3 days before baking and serving.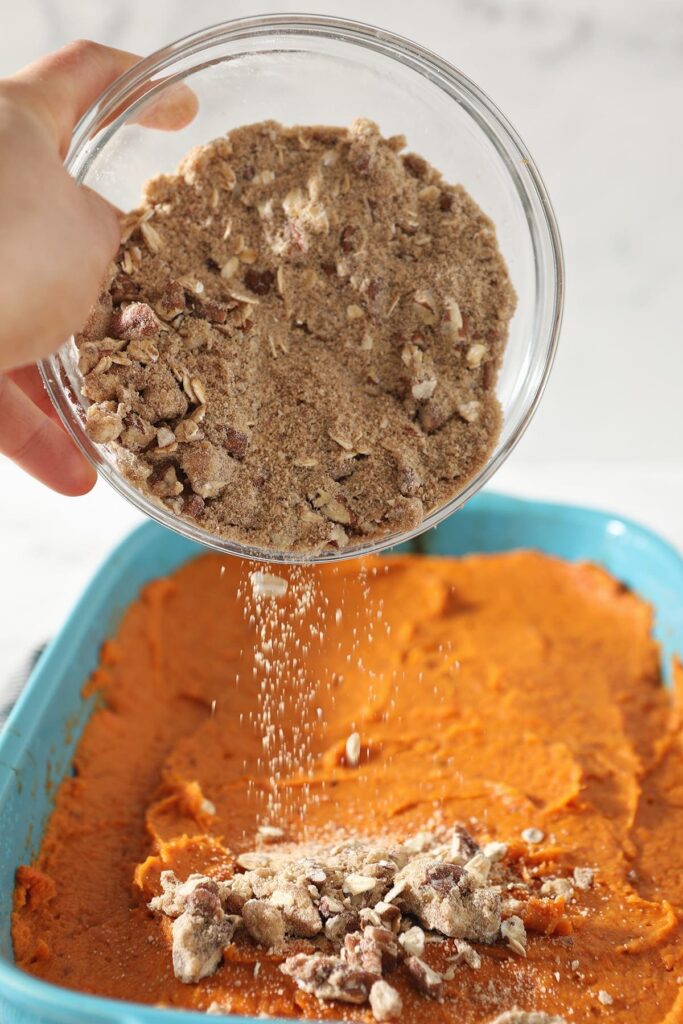 Bake the Casserole
Transfer the casserole dish into the preheated oven.
Bake for 35-40 minutes, or until the streusel topping is browned and crispy.
Keep an eye on it as it bakes because mine has burned before when I wasn't been paying close attention.
Once baked through, remove, and serve warm.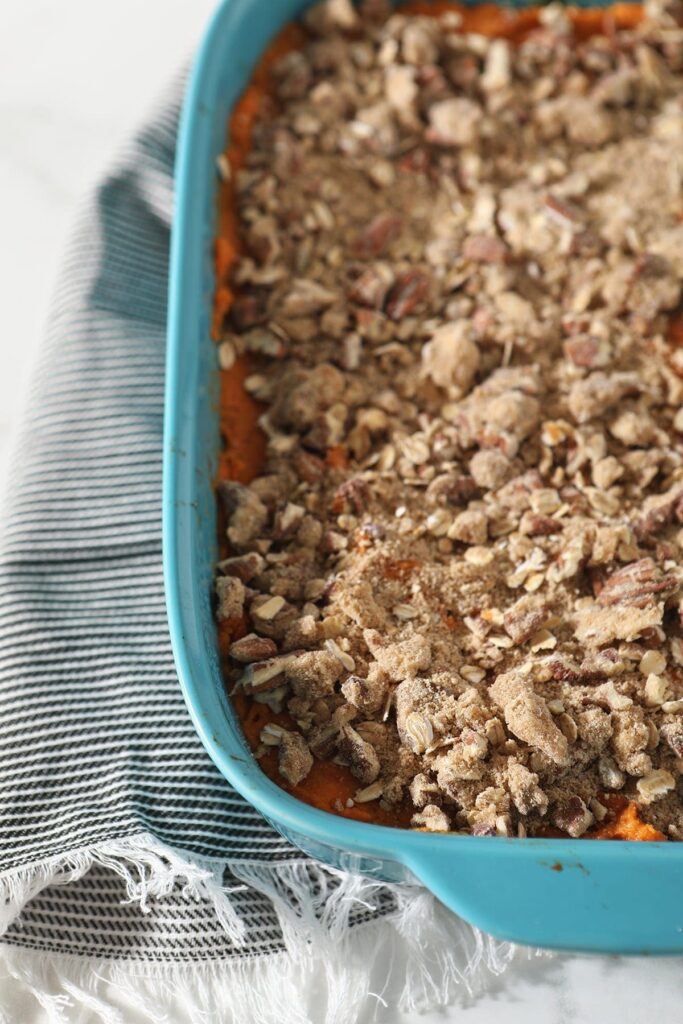 How to store:
If you have a huge amount of leftover sweet potato casserole, keep it in the baking dish and wrap in plastic wrap. Refrigerate for 4-5 days.
If you have a smaller amount of casserole, transfer to a food storage container and refrigerate for 4-5 days.
How to reheat sweet potato casserole
If the casserole is still in its baking dish, reheat in the oven for 20-30 minutes, or warmed through.
Reheat smaller portions of the casserole on a microwave-safe plate in the microwave until warmed through.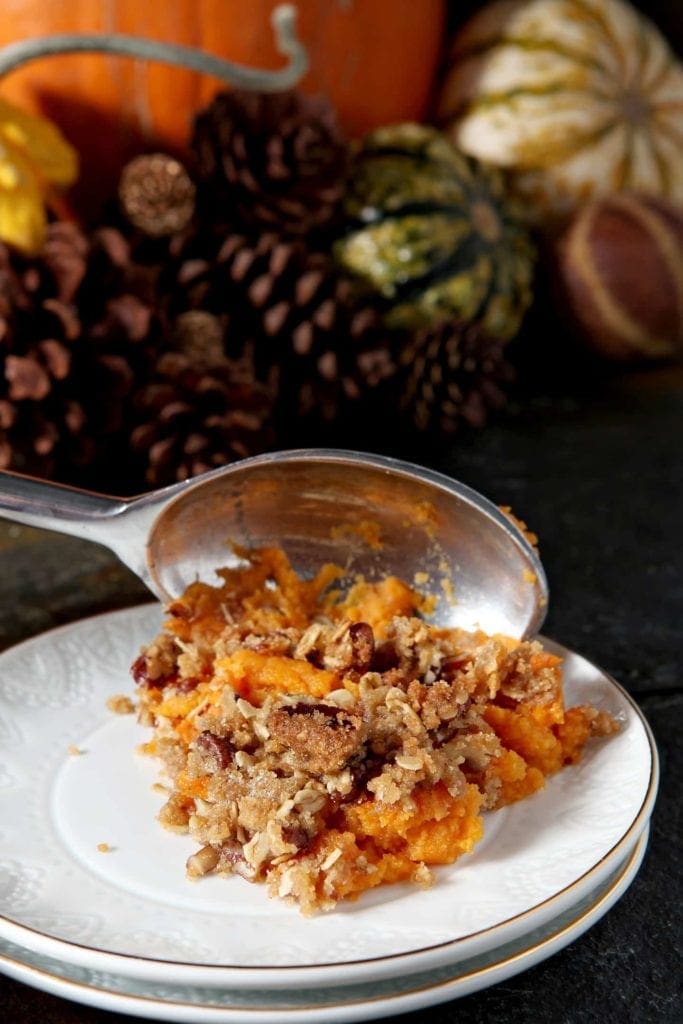 Erin's Easy Entertaining Tips
If you're hosting Thanksgiving, Friendsgiving, Christmas or any other holiday meal, I implore you to make this bourbon sweet potato casserole!
Not only is it delicious and a crowd pleaser, but you can make it in advance to ensure you're not frantically cooking as guests are about to arrive.
Here are some of my easy entertaining tips that you can use while making this:
Put together the casserole early. Bake the potatoes. Make the filling. Make the streusel, and sprinkle that on top. Store it in the fridge until before your meal, when it will be ready to bake.
Similarly, you can put this together in pieces! I've made this where one day, I bake the potatoes, then store those in the fridge. The next day, I put together the casserole, then stored it in the fridge again. And then the following day, I baked and served it.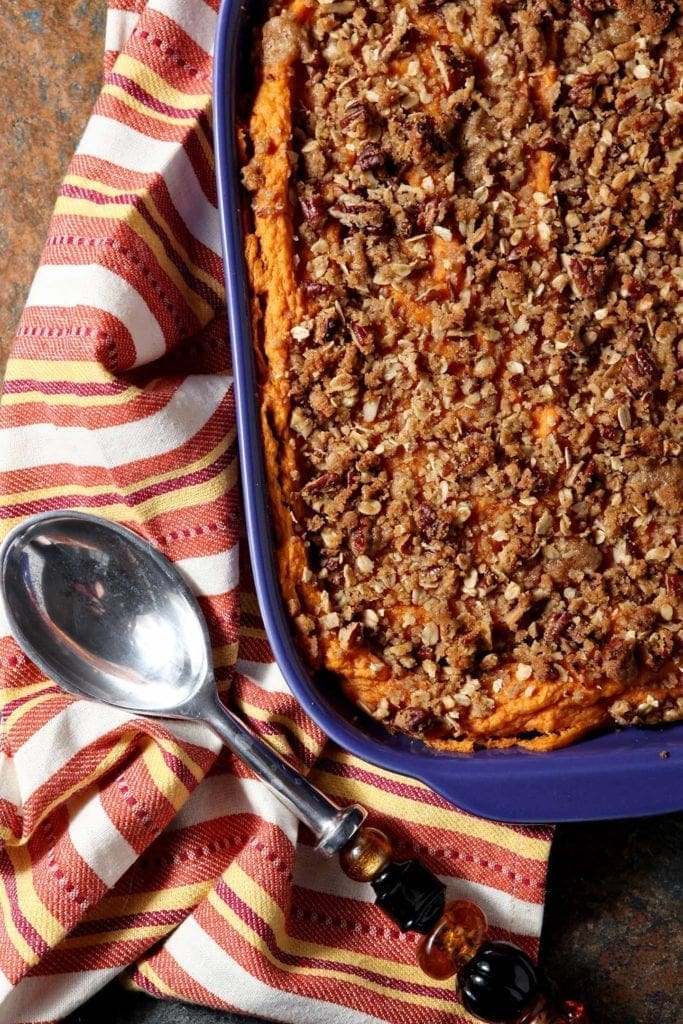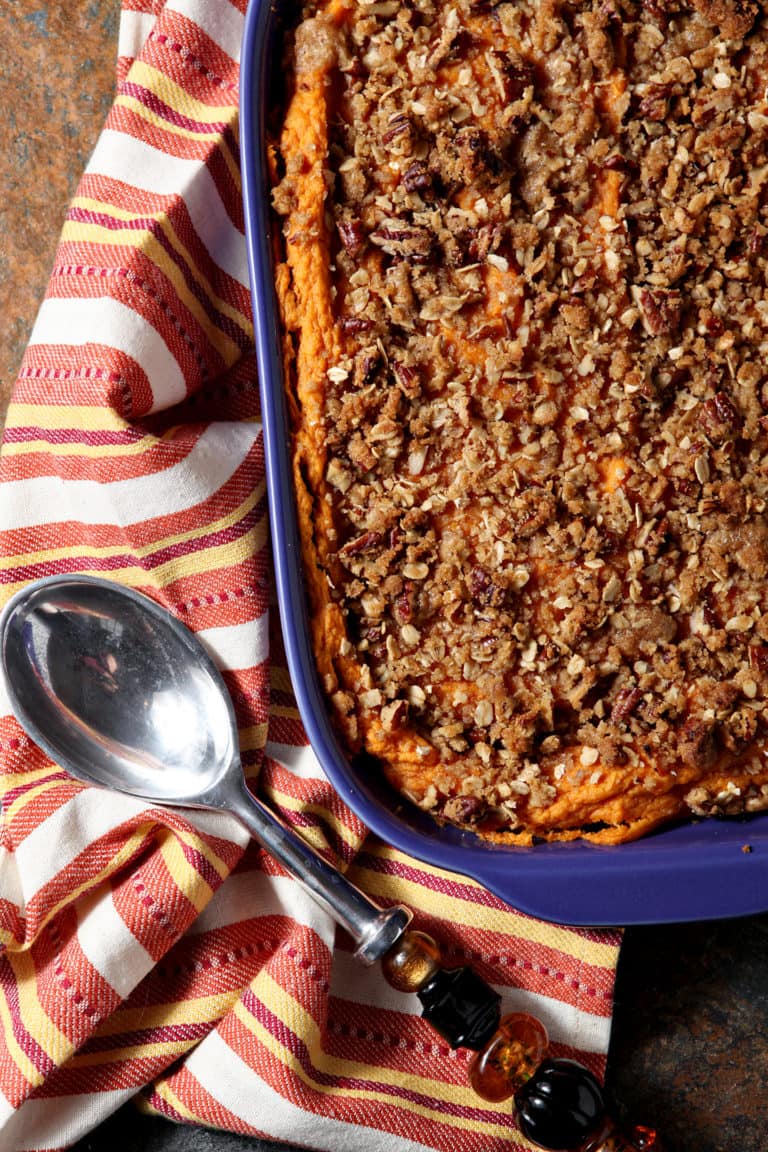 Frequently Asked Questions
Is sweet potato casserole healthy?
I don't know if I'd call this casserole a health food, but it certainly could be less healthy. This particular Bourbon Sweet Potato Casserole recipe calls for maple syrup instead of granulated sugar, and it also has some oats and pecans.
Is it better to boil or bake sweet potatoes?
I don't think there's a better way to make sweet potatoes, and in this recipe, I've discussed cooking yours in the oven, boiling and microwaving them. Do whatever is easiest for you.
How do you thicken up sweet potato casserole?
The sweet potatoes are already pretty luxurious and creamy, and the egg helps fortify them in this recipe, too.
How long can sweet potato casserole sit out?
Up to 2 hours, though I really recommend getting it off the table and back into the fridge by that point.
Can you leave sweet potato casserole out overnight?
No. It is not safe to leave this casserole out at room temperature overnight.
Can you use walnuts in sweet potato casserole?
Yes. If you prefer walnuts to pecans, you can swap them out here.
Can you freeze sweet potato casserole?
Yes… part of it. You can make the sweet potato base mixture and freeze it for a few months before defrosting it in the fridge and then making the topping and baking it.
Can sweet potato casserole be made ahead?
YES. Make this casserole up to 3-4 days in advance, and keep it covered in the fridge before baking it.
What type of bourbon should I use in this casserole?
We don't have a specific brand that we use in this recipe, but I do recommend staying away from bourbons that are blends (and bottom shelf bottles.) You'll get hints of the taste of bourbon throughout this casserole, so you want it to be GOOD. But, like, not Pappy Van Winkle good. 😉
Can my kids eat this bourbon sweet potato casserole?
Short answer: Yes, they can.

Long answer: While the bourbon cooks out of the sweet potatoes as this casserole bakes, it won't be completely gone. (So yes, there is lingering alcohol… but not a ton.) There are 2 oz. in this entire casserole dish, which feeds 8-10 people.

If you're concerned about your children eating this dish, just omit the bourbon and make it a classic streusel topped sweet potato casserole. The casserole will still taste delicious, even if it doesn't have the lingering bourbon flavors.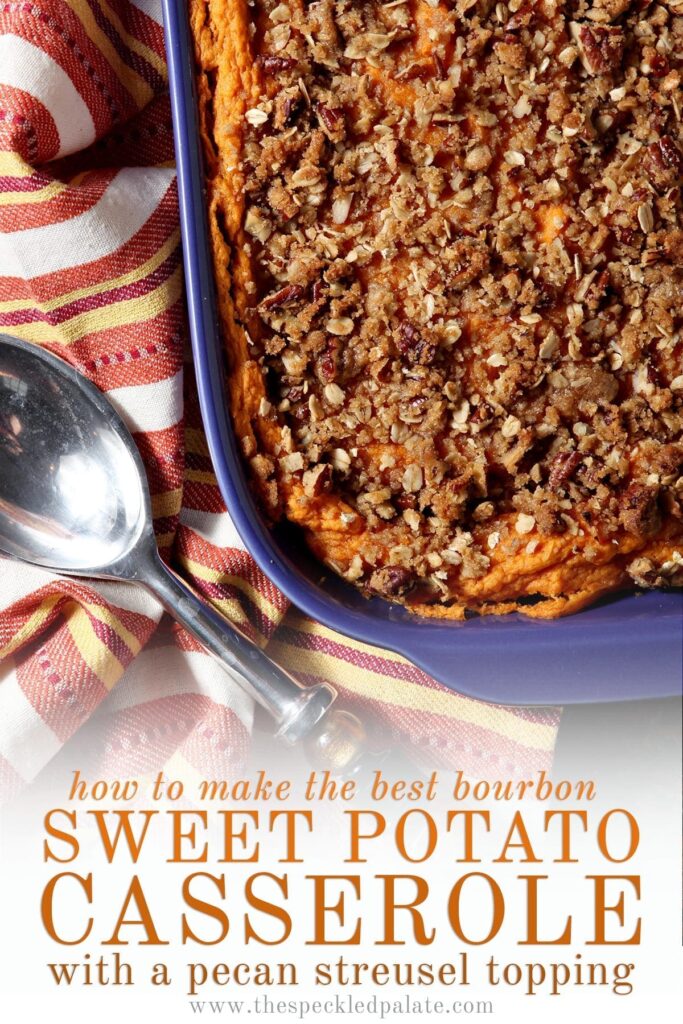 Quick tips and tricks for the best Sweet Potato Casserole with Pecan Streusel topping
Put it together early. I've found when I rush this dish, the sweet potatoes take particularly long to cook, and I get antsy and then burn my fingers trying to mash them. If you make this a day or two before you plan to consume it, you won't have to worry about burning your fingers in order to get it onto the table in time.
Bake it an hour before you're going to serve it. This means pulling it out of the fridge and popping it into the hot oven and serving shortly afterward.
Swap out the nuts! Walnuts would be lovely in this dish, too, if you have those on hand.
Just interested in this bourbon-y, sweet potato dish for Thanksgiving dinner?
Scroll on down to learn how simple it is to make at home!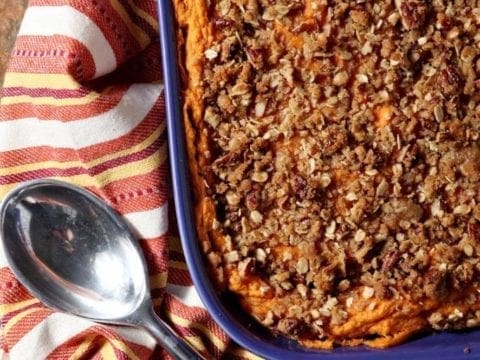 Yield:

8 servings
Bourbon Sweet Potato Casserole
Knock the socks off your guests with this slightly sweet Bourbon Sweet Potato Casserole, covered with a crunchy streusel topping. The bourbon sings, the sweet potatoes are light and creamy, and the streusel topping adds texture to this take on a Thanksgiving classic.
Ingredients
Bourbon Sweet Potato Casserole
5 sweet potatoes, regular-sized (4.5 lbs), baked, peeled and spooned into a bowl (at room temperature)
7 tablespoons pure maple syrup
2 oz. bourbon
1 egg, beaten
¼ teaspoon kosher salt
1 teaspoon ground cinnamon
Streusel Topping
2 tablespoons unbleached all-purpose flour
2 tablespoons rolled oats
¼ cup light brown sugar
6 tablespoons pecans, chopped
2 tablespoons unsalted butter, cold, cubed
Instructions
Preheat the oven to 375°F. Spray a baking dish with nonstick cooking spray, and set aside.
In the bowl with the cooked sweet potatoes, add the maple syrup, bourbon, egg, salt and cinnamon (if you're using cinnamon!)
Blend the ingredients together using a hand mixer, mixing until smooth.
Pour and spread the sweet potato casserole into the prepared baking dish, and set aside.
In a medium-sized mixing bowl, combine the flour, oats, brown sugar and pecans, mixing with a fork until combined.
Cut the chilled butter into the streusel topping using a pastry cutter (or a fork if you're old school), cutting the ingredients until they resemble wet sand.
Sprinkle the streusel topping onto the sweet potato filling.
Transfer the casserole into the preheated oven, and bake for 40 minutes, or until the streusel topping is browned and crispy.
Remove from the oven, and serve warm.
Notes
Please note that the total time does NOT include baking the sweet potatoes (and the subsequent time it take to let them cool, then peel and place in a bowl.)
Recommended Products
As an Amazon Associate and member of other affiliate programs, I earn from qualifying purchases.
Nutrition Information:
Yield:
8 servings
Serving Size:
1 serving
Amount Per Serving:
Calories:

475
Total Fat:

8g
Saturated Fat:

2g
Trans Fat:

0g
Unsaturated Fat:

5g
Cholesterol:

31mg
Sodium:

190mg
Carbohydrates:

93g
Fiber:

11g
Sugar:

40g
Protein:

7g
Nutrition facts are an estimate and not guaranteed to be accurate.