Oven Roasted Tomatoes with Parmesan and Herbs
Beat the winter tomato blues with Feast and Farm's brilliant side dish: Oven Roasted Tomatoes with Parmesan and Herbs. These Roma tomatoes, coated in parmesan and herbs, are sure to win over even the most picky eater.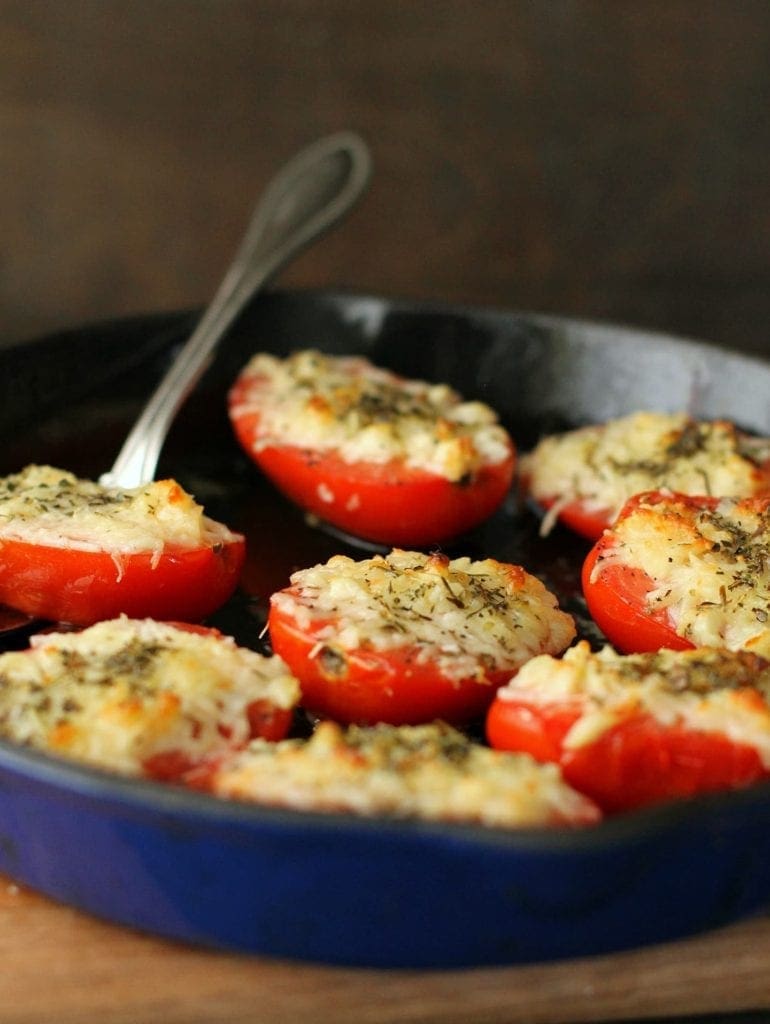 We're kicking off a month of guest posts with a recipe from my friend, Rachel. I asked her a long time ago if she'd be down for writing a post for me when the baby came along, and she's come through with this brilliant dish that makes me, the most wishy-washy tomato eater, want to give them a try. So, without further ado, here's Rachel!
Do you know what tomatoes in winter are like?
They don't fall too far on the disappointment scale from the time I bought The Neverending Story for my kids a few years ago.
I thought back to the awesomeness of that movie. I remembered how I watched it — rapt with joy when that flying dog thing took that boy (what was his name?) soaring over the bullies. I cried when Atreyu watched his horse sink. I wanted my kids to feel it too.
Until I watched it again. And man. It was as bad as a winter tomato.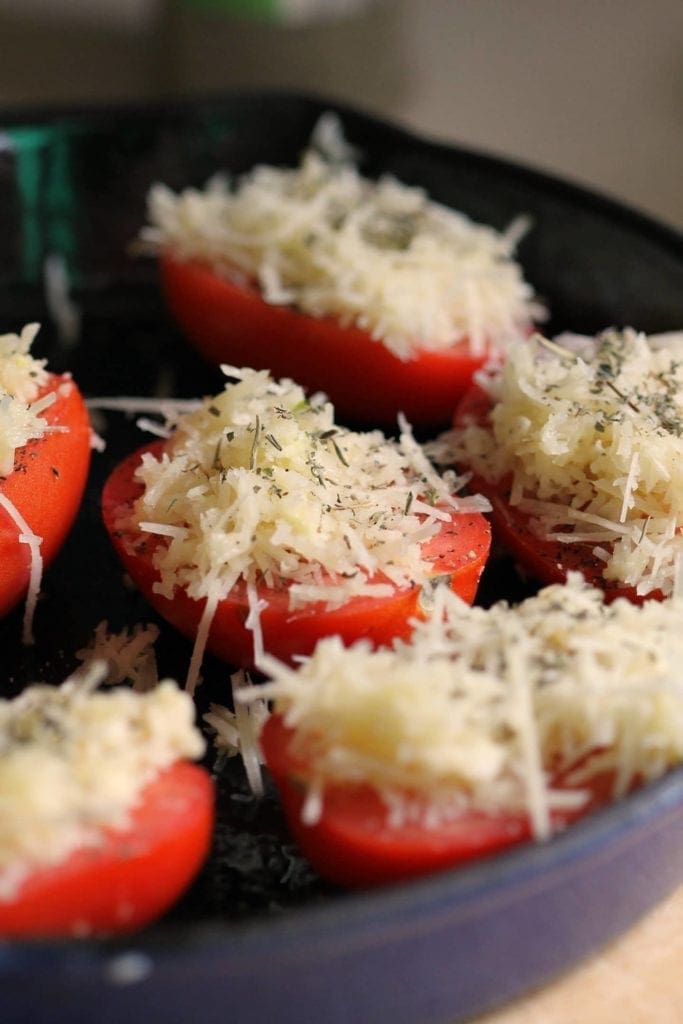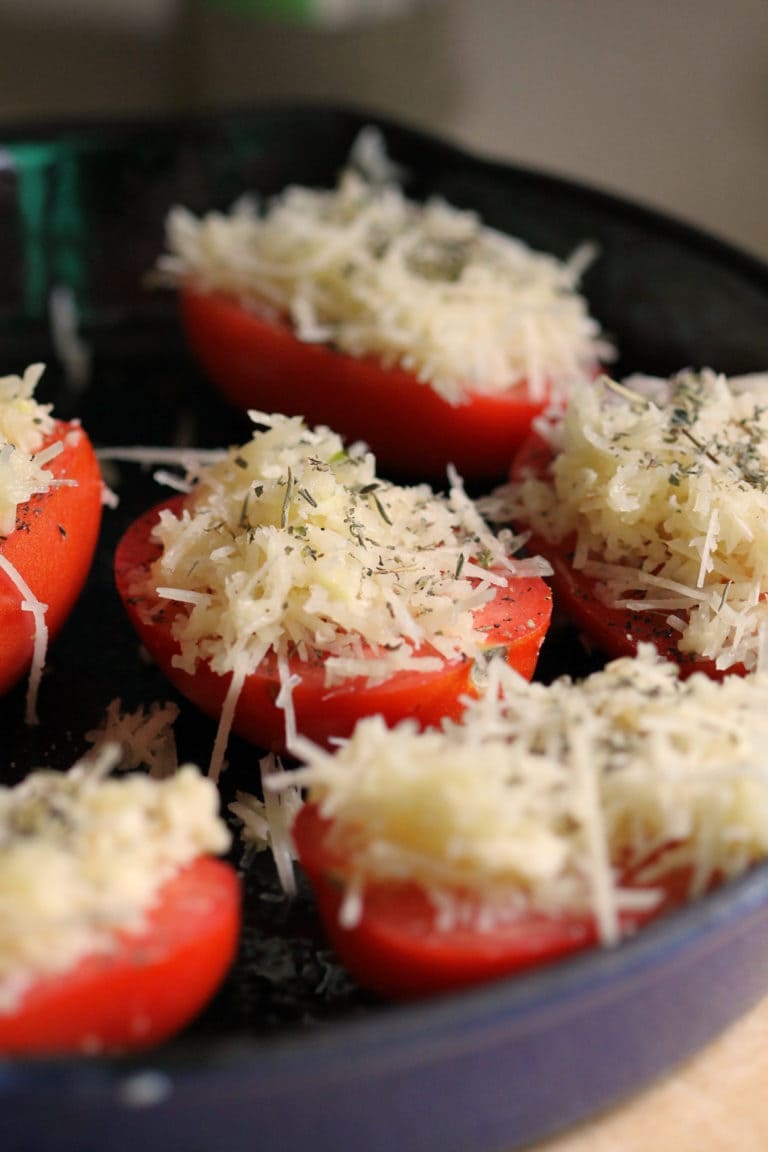 Did you know that dragon's mouth doesn't even move with the words?
Yeah — okay — so it had been a "couple" of decades since that movie ranked high on my awesomeness scale. Apparently, I needed to get my 6-year-old self out of the house more.
Needless to say, the idea I had in my mind of what was once totally magical was really a great big old flop. Ask any 30-something adult today if they loved that movie, and I'd guarantee at least 99.9% will say yes followed by some sort of dreamy-eyed look and a sigh. Then you should get them to watch it again. Sad. I say just leave those happy memories intact and let the kids make new ones. Why mess with a good thing? My Neverending Story love is toast. Poof.
Bad movie, bad tomato (Can I really connect these? Watch me!)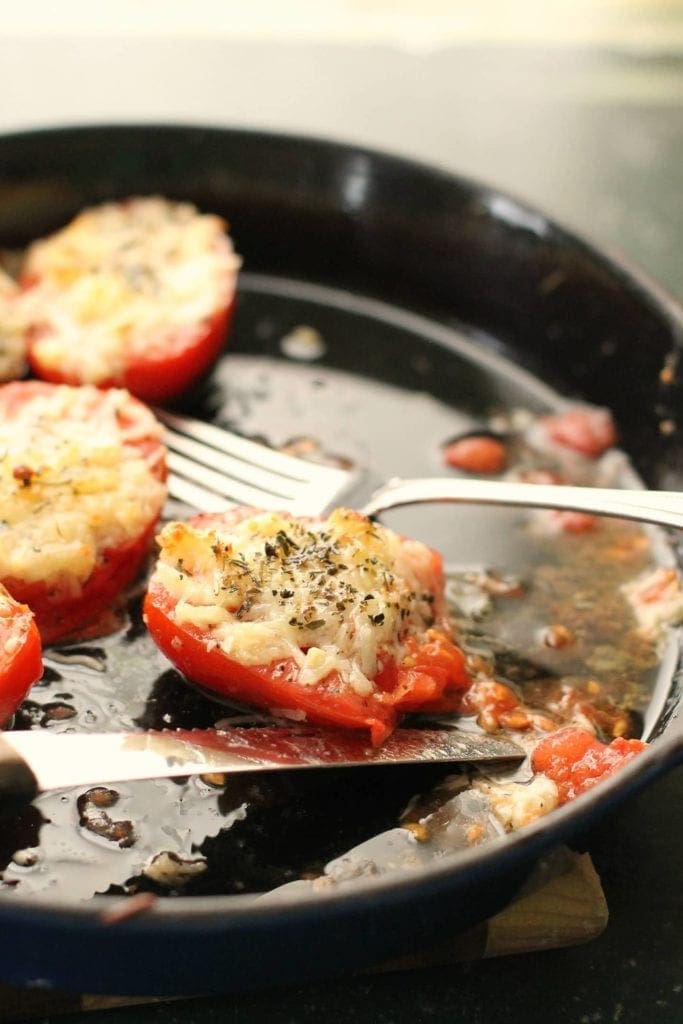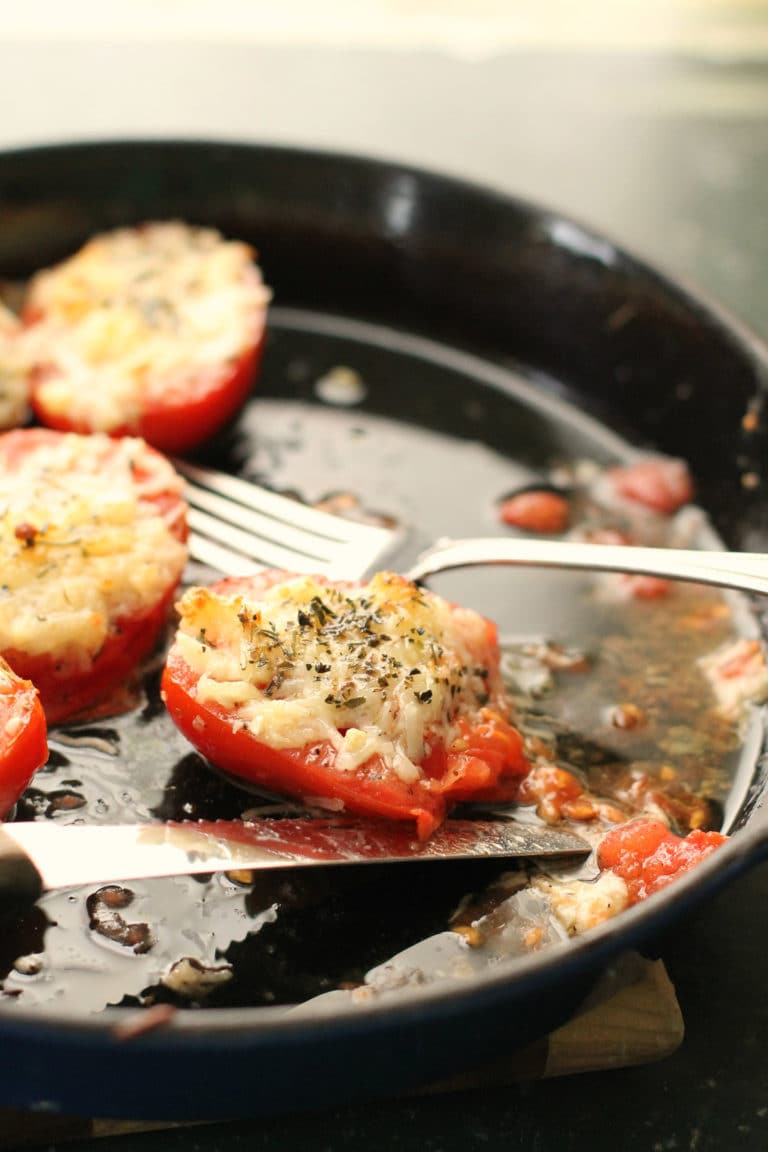 So that's about how disappointing a winter tomato can be. It looks good from the outside until you get it home and try it — and wow. It's pretty flavorless. So how do you make a bad thing better? In this case, you roast it.
Being a farmer, there's nothing better in a Kentucky summer than a big heirloom tomato straight from the vine. That flavor is unbeatable. In winter, we don't have that option, and when I'm craving a tasty tomato, I do one of two things: I fill up on tiny grape tomatoes (they're better than nothing) or I roast up some larger ones so their flavors will concentrate and I trick myself into making it till summer gives me something better.
But you won't have to work hard to trick yourself with these tasty, easy roasted tomatoes with parmesan and herbs. My first bite made me think I was a lot closer to summer because even these ho-hum tomatoes were juicy and totally flavorful right from the oven. My kids even ate a few and declared them "delicious".
For the best results, try to use Roma tomatoes. They are the oval-shaped ones, about 3 or 4 inches long. Roma's have a thicker skin and pulp and less seeds and liquid inside and in my opinion are better for roasting. Just give them a slight squeeze over a bowl before loading them with toppings to remove any extra seeds.
You can serve these with just about any main dish. They are best when eaten warm and go great with fish, baked chicken, or just about any other meat. Add a side of quinoa or couscous and you're good to go.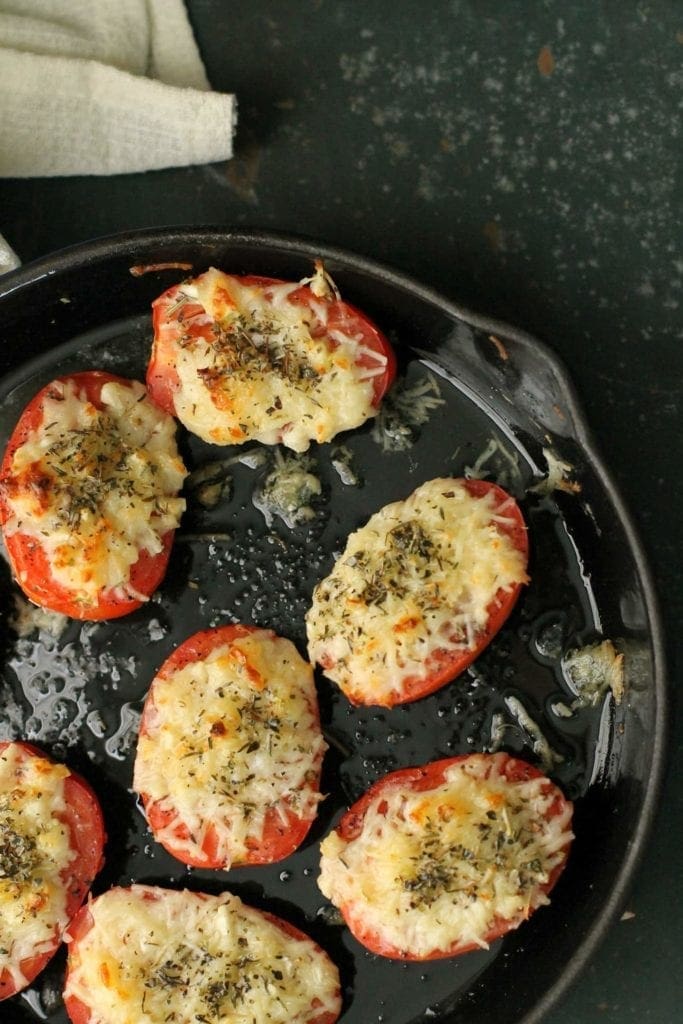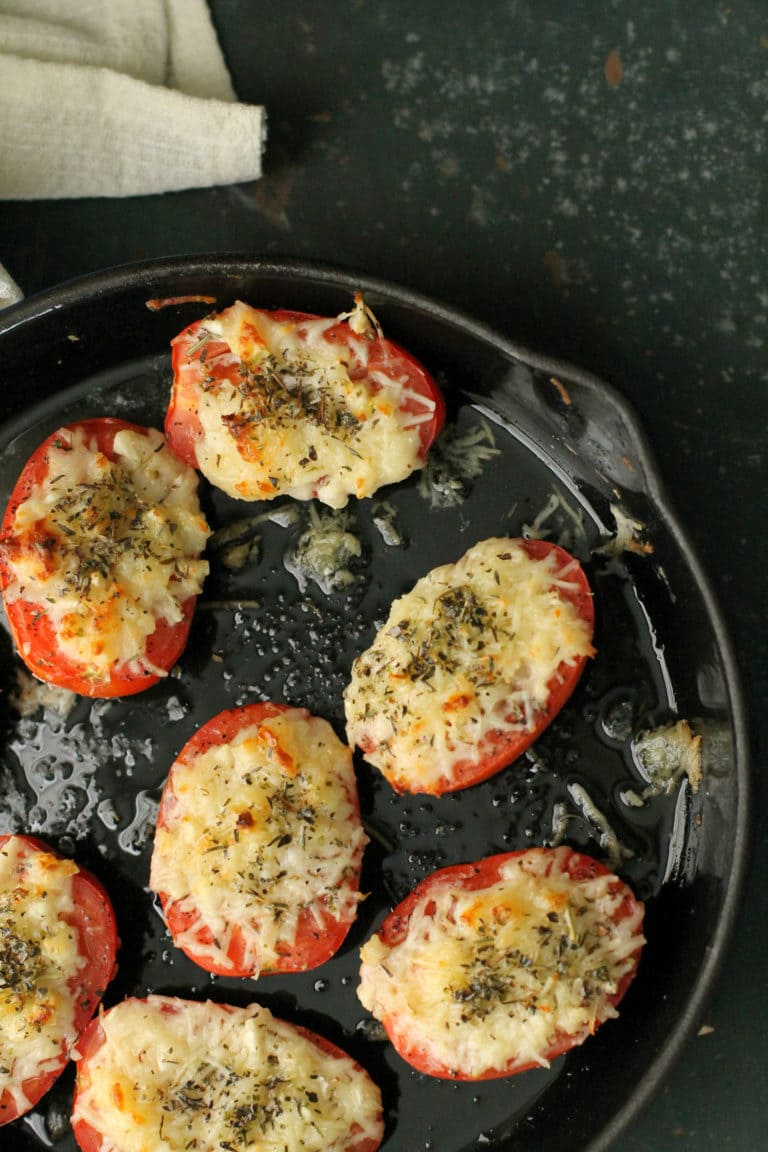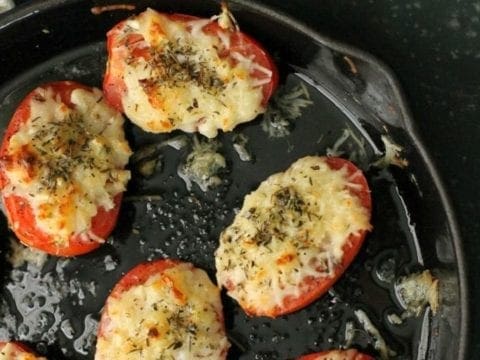 Yield:

4 servings
Oven Roasted Tomatoes with Parmesan and Herbs
Oven Roasted Tomatoes with Parmesan and Herbs: These Roma tomatoes, coated in parmesan and herbs, are sure to win over even the most picky eater.
Ingredients
4 Roma tomatoes, , washed and sliced in half lengthwise
¾ cup Parmesan cheese, shaved (none of that powdered stuff in the can if you can help it)
3 tablespoons olive oil
½ teaspoon Italian seasoning
¼ teaspoon garlic powder, (optional)
2 tablespoons fresh parsley, chopped
Salt and pepper to taste
Instructions
Preheat the oven to 400°F.
Working with one half of a tomato at a time, turn the tomato over and give it a gentle squeeze to remove just a few of the seeds and wet pulp.
Transfer to a baking dish, cast iron skillet or rimmed baking dish, cut side up.
Sprinkle each tomato with salt and pepper.
In a small bowl, mix the cheese, oil, Italian seasoning, garlic powder, and parsley.
Place about 1 -1 ½ tablespoons of the cheese mixture on each tomato.
Bake until just softened and juicy and the cheese is melted, about 12-14 minutes or so. To brown the tops, place the tomatoes under the broiler for a minute if necessary.
Nutrition Information:
Yield:
4
Serving Size:
1
Amount Per Serving:
Calories:

181
Total Fat:

15g
Saturated Fat:

4g
Trans Fat:

0g
Unsaturated Fat:

10g
Cholesterol:

16mg
Sodium:

417mg
Carbohydrates:

5g
Fiber:

1g
Sugar:

2g
Protein:

6g
Nutrition facts are an estimate and not guaranteed to be accurate.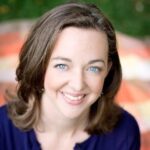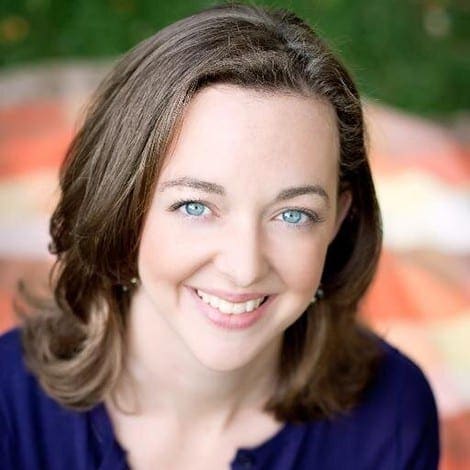 Rachel Ballard is a farmer and professional food photographer located in Central Kentucky. Her food blog, The Country Contessa, features traditional recipes with familiar flavors for beginner and accomplished home cooks with a slice of humorous country life thrown in. Follow her on Facebook, Twitter, Pinterest and Google+.