Pregnancy Update: 40 Weeks!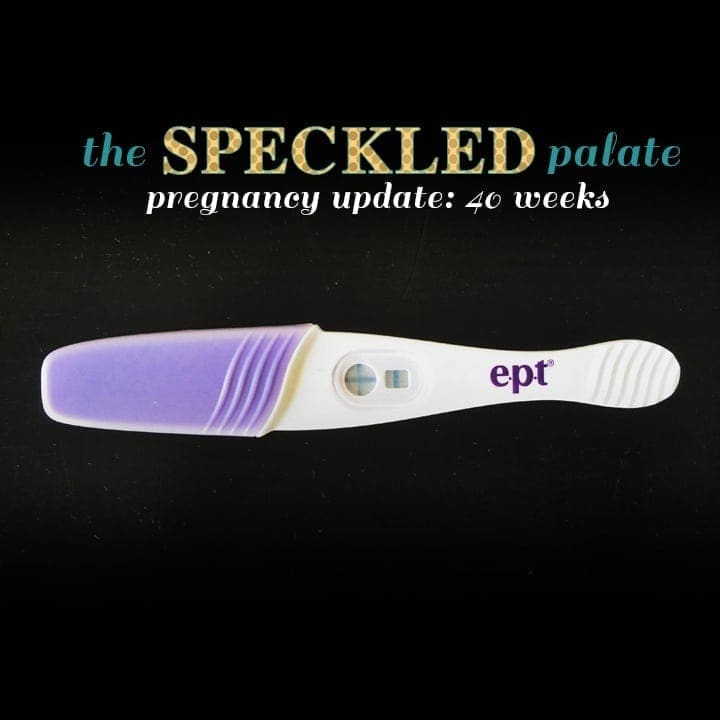 Well, we're officially past my due date.
There is still no baby. (As of Sunday evening, when this post was scheduled.)
The countdown is on for this girl to arrive… by her own volition or by induction on March 8.
Want to hear more about my last month of pregnancy?
Let's do this thing!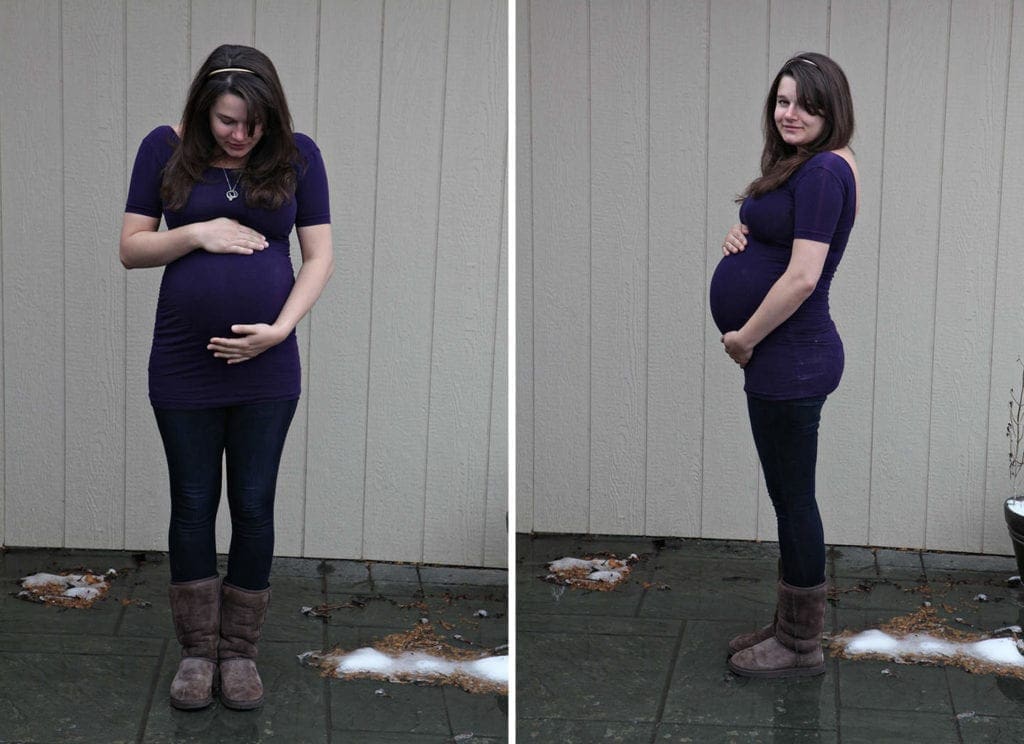 Hopefully my last weekly belly photos, taken this past weekend!
How far along? 40 weeks, 2 days.
How big is baby? According to What to Expect, Lady Baby is the size of a watermelon. Which is freakin' huge.
Total weight gain: ~38 lbs
Updates? Nesting is officially underway. The nursery is completely finished. (Heck, we've even done work in other rooms, too!) All Lady Baby's clothes are washed and ready to go, too.
Symptoms? I look and feel pregnant. Need I say more?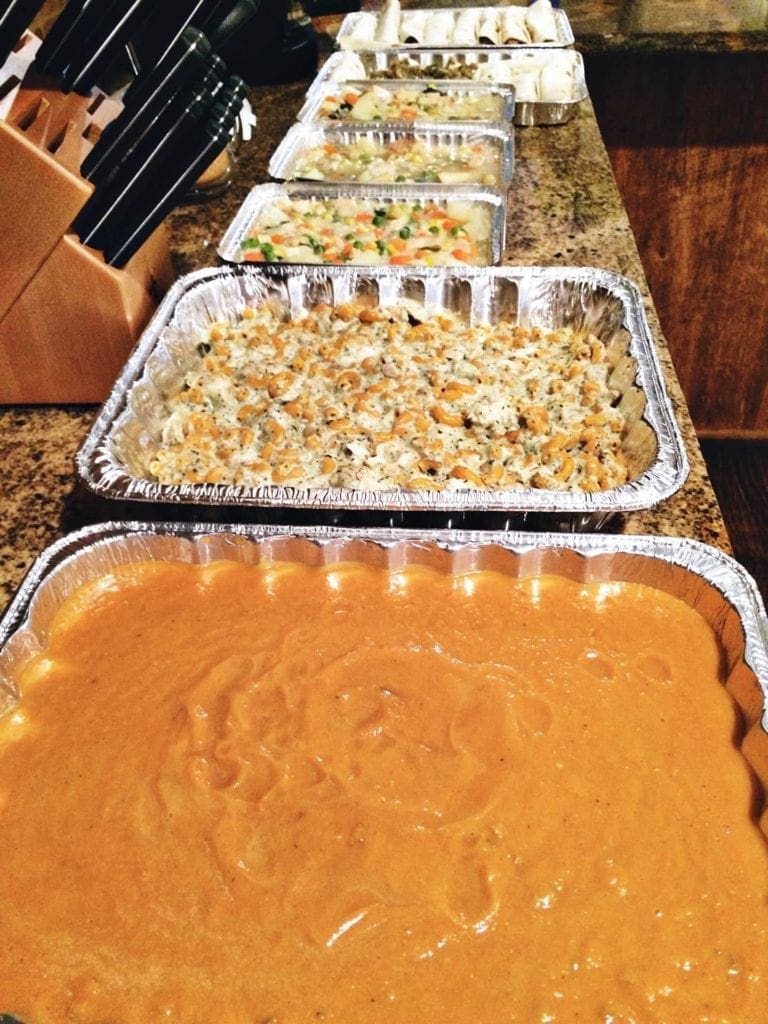 Last Sunday, I wrapped up pre-baby cooking and put a ton of meals in the freezer for when we're too tired to cook for ourselves. The menu includes Sweet Potato Bisque, Chicken and Zucchini Enchiladas, Simple Red Sauce (with pasta!), Chicken Pot Pie and more!
Missing… Feeling like myself. I've felt so lucky this entire pregnancy and am thrilled that it's gone so well with my body… but I miss being able to sleep on my stomach and bending over without getting a stomachache, among other non-pregnancy things I never thought I'd miss.
Feeling… All things considered, I'm feeling well. Sure, there are days where I feel better than others, but I can't complain.
Exercise? I don't know if our walks would count as "exercise" at this point since it takes me so long to waddle around the block, but Lu, Lady Baby and I are still walking… slowly.
Sleep? It's hit or miss. Some nights, I sleep through without an issue. Other nights, I'm up 4-5 times and have trouble going back to sleep… so I've been doing more late night reading.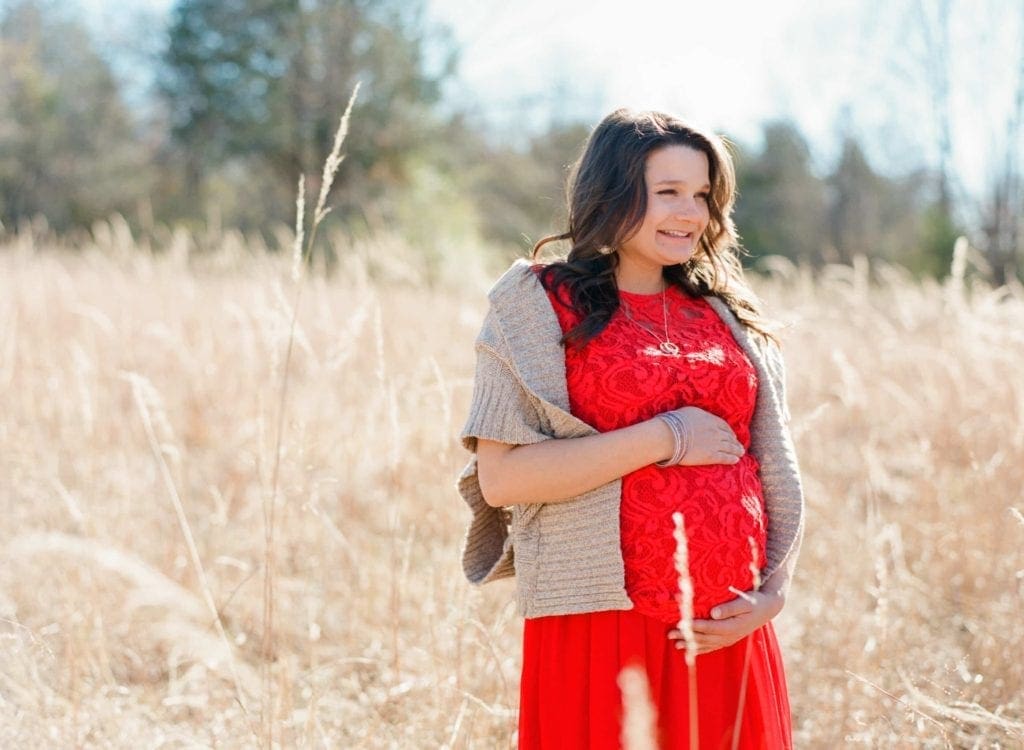 One of our gorgeous maternity photos by Jenny McCann. I'm seriously so in love with them, and I printed several for our home and Lady Baby's nursery.
Movement? Baby girl knows how to move… and she's got more of a schedule these days. I can expect for her to break it down when I'm lying in bed at night, as well as early in the morning when I wake up. She also enjoys the post-lunch hour and moves a ton as she gets her fill of whatever I ate.
Food cravings? Sweets. Strawberries. Salads that feature fruit and really good dressing. White grape juice.
Aversions? Eggs. Spearmint. And that's about it.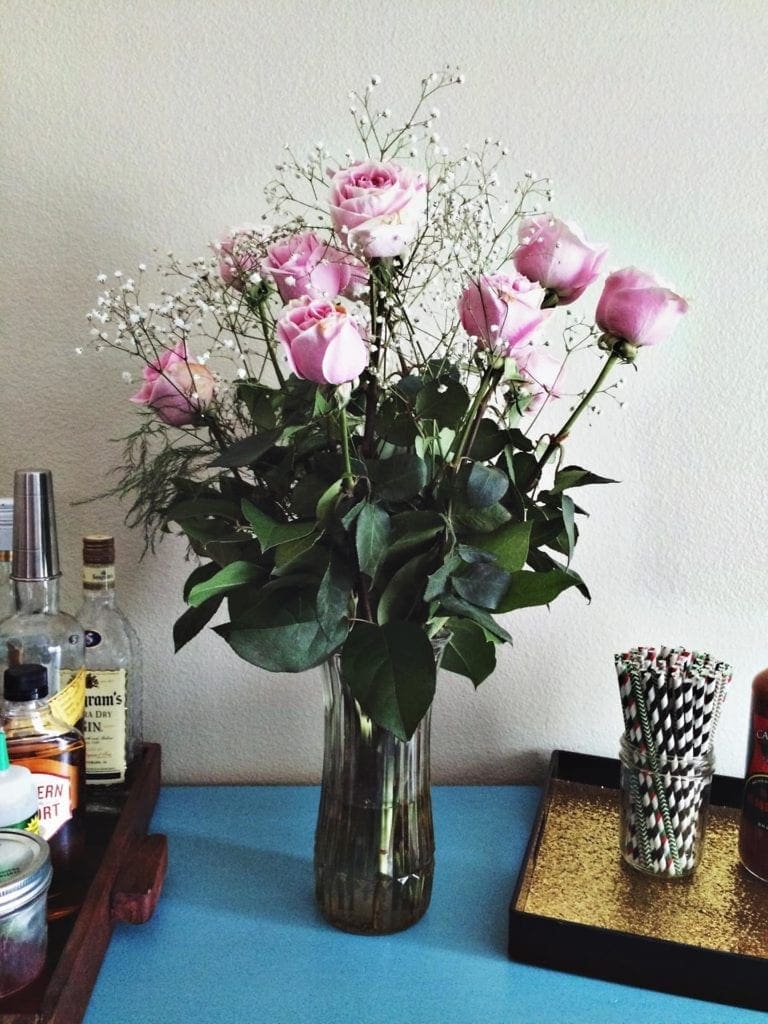 The most swoon-worthy roses, sent to Lady Baby and me for Valentine's Day. I can't stop looking at them!
Anxious about… When labor will happen. I'm trusting my body will know what it needs to do when it needs to be done… and hopefully, it will get to work sometime soon.
Excited about… Meeting our girl, holding her in my arms and getting to spend all the quality time with her, as well as seeing her with our friends and families.
What I'm loving… I'm trying to cherish these last days of pregnancy and taking it as easy as possible. Pampering myself.
What I'm looking forward to… Is it bad if I say, "Getting this show on the road?" Because all this waiting around is k-i-l-l-i-n-g me!
—
And that's all I got for y'all today. Come back Wednesday to get started on the fabulous guest posts I've got lined up for this month!
Interested in following along? Here are all of my pregnancy updates to date: 20 weeks | 25 Weeks | 29 Weeks | 32 Weeks | 36 Weeks | 40 Weeks