Making Pulled Pork at home couldn't be easier! You only need TWO ingredients and 5 minutes to get this Memphis-Style Slow Cooker BBQ Pulled Pork recipe going for the perfect at-home barbecue! Serve on a sandwich with slaw or a plate with your favorite barbecue sides, BBQ sauce and extra dry rub! Makes 8 servings, but can easily be halved or doubled.
Love easy pulled pork recipes? You've got to check out Apple Cider Pulled Pork with Apple Coleslaw and Pumpkin Pulled Pork Bowls!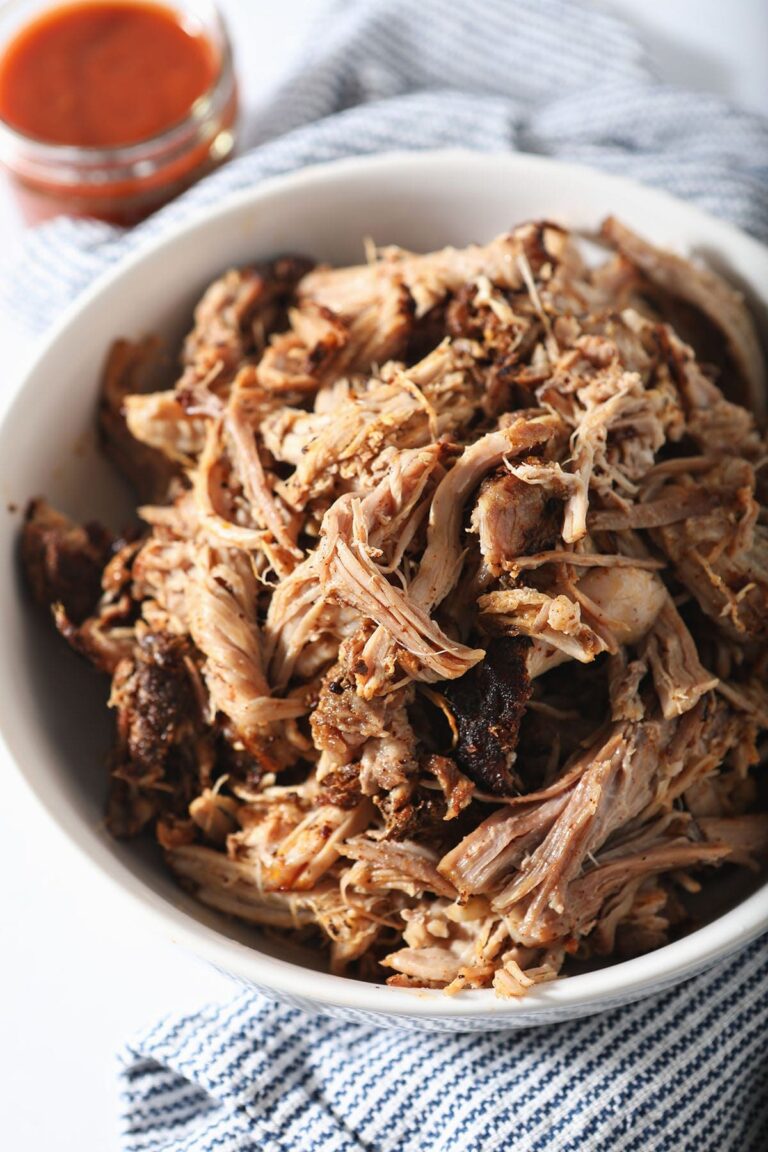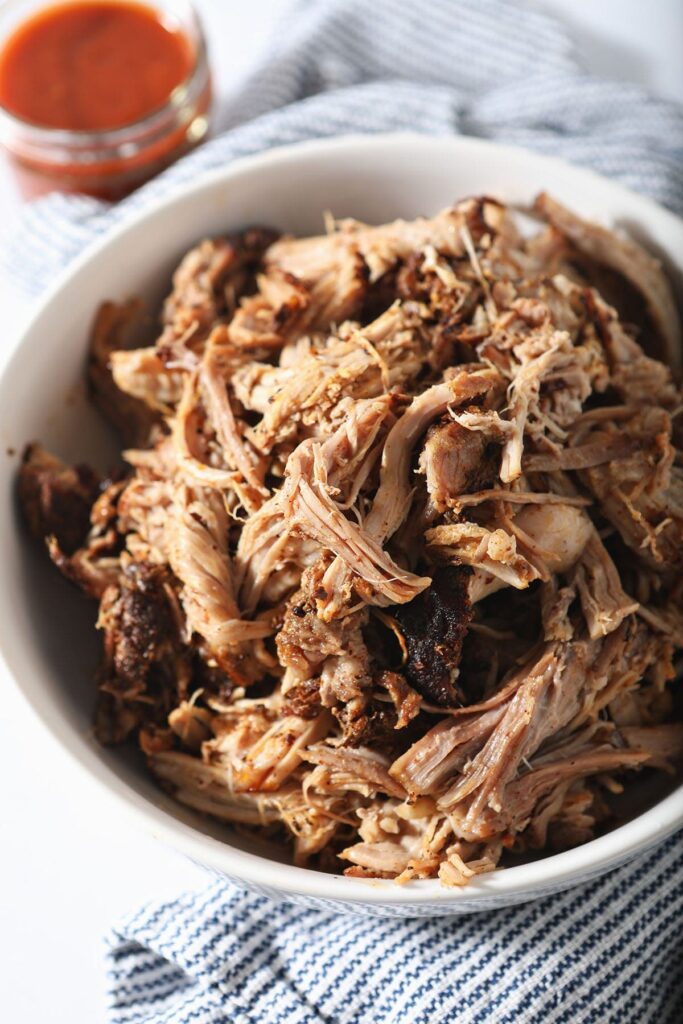 This Slow Cooker Pulled Pork recipe was originally published on August 31, 2011. The text and images were updated and republished in May 2021.
Barbecue at home is such a fun thing to make during the summer months, and it doesn't have to require fancy equipment, like a smoker.
As a native Memphian, I never had a reason to make my own BBQ pulled pork until I lived outside of the state of Tennessee. And this recipe, originally developed in the summer of 2011, was for a feast to celebrate my husband's completion of the bar exam with friends and my sister, who came to visit us in Baton Rouge before she and I drove across the country to Colorado.
Not only does this pulled pork recipe remind me of home, but it's also something that is incredibly simple to make whenever I have a craving. (And obviously cannot get my hands on Memphis barbecue here in Texas.)
Why I love this recipe:
This Memphis style Pulled Pork tastes like the real deal, but it doesn't require a smoker or any fancy equipment. In fact, all you need are a slow cooker and tongs to make this recipe in your home.
This easy pulled pork recipe is something we've been making for years because it's easy to make for a crowd (hello, backyard entertaining season), but also no more work to make for just ourselves for a simple weeknight meal. Why? It's hands-off and super simple to make. In fact, I think the simplicity is the charm of this recipe because the combination of time and flavors really lets the pork sing.
You should know that this Slow Cooker Pulled Pork Shoulder is a nod to Memphis-style pulled pork. It's not doused in sauce or liquids as it cooks. In fact, it's also not doused in those after it cooks, either.
All you need is the meat itself and some dry rub, which you can make at home or purchase from the store.
I'm breaking down all my tips and tricks for this delicious slow cooker pulled pork in this post, so read through 'em and learn how to make this for your crew this year!
Other barbecue dishes we love: Memphis Style Ribs (Dry Rub Oven Baked Ribs Recipe) | BBQ Chicken Burger Bites with Avocado Slaw | Memphis-Style Barbecue Turkey Burgers | Pear BBQ Pulled Pork Sandwiches with Pear Slaw | Slow Cooker BBQ Chicken Sandwiches with Mustard Coleslaw
Looking for some more dishes to serve at a backyard barbecue? Check out my BBQ Recipe Index for ideas.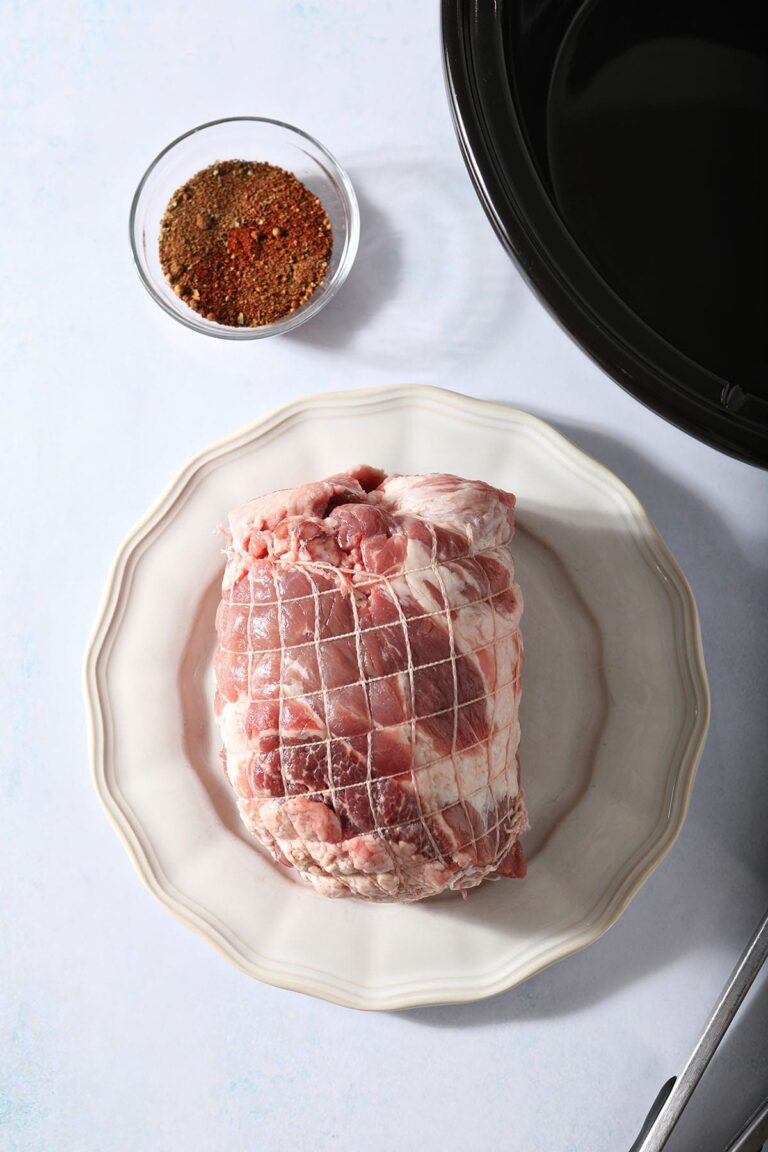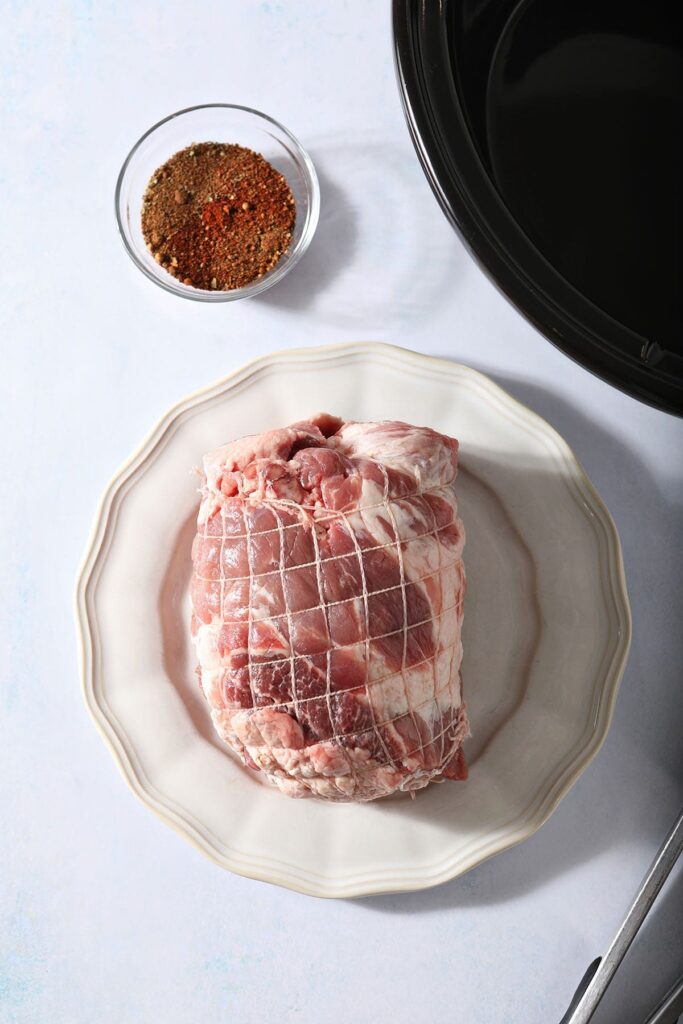 What you need to make Slow Cooker Pulled Pork
The Speckled Palate participates in affiliate programs. As an Amazon Associate, I earn a commission from qualifying purchases. Please refer to my disclosure page for more information about these affiliate programs.
In addition to the tools above, you're going to need a few ingredients to make this barbecue pork recipe:
And then once the BBQ Pulled Pork has been made, you'll need a few other things before serving this goodness: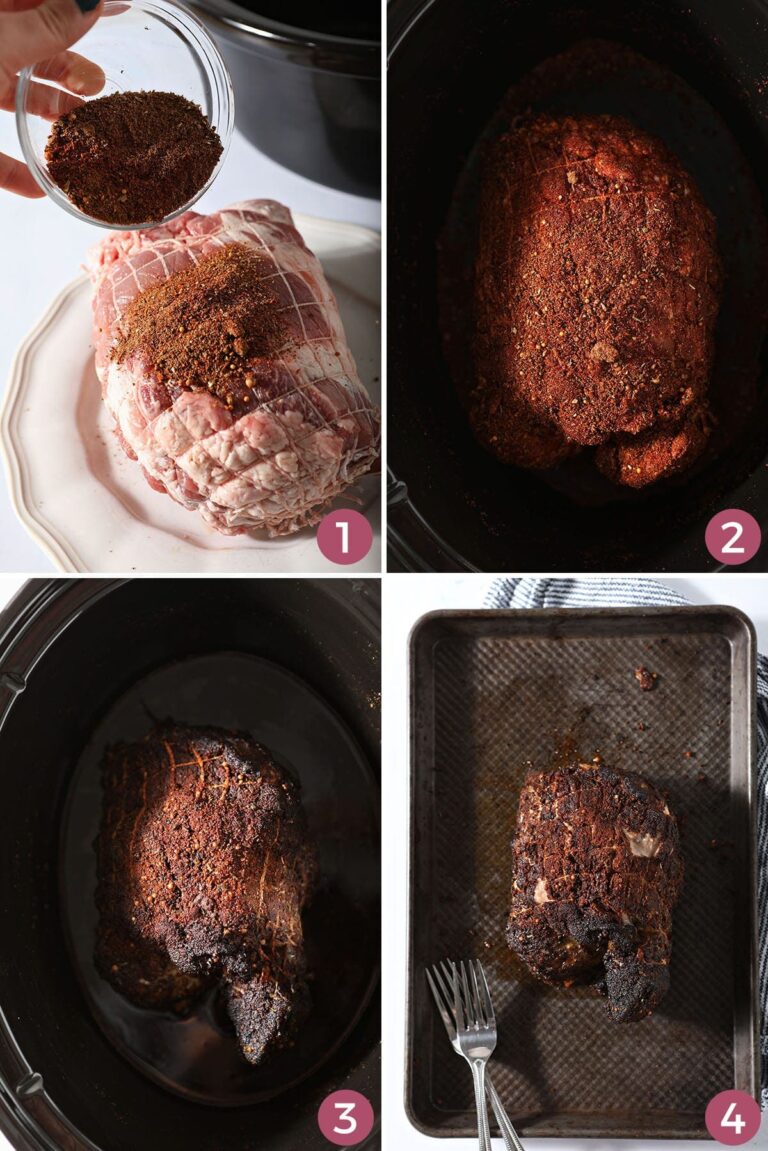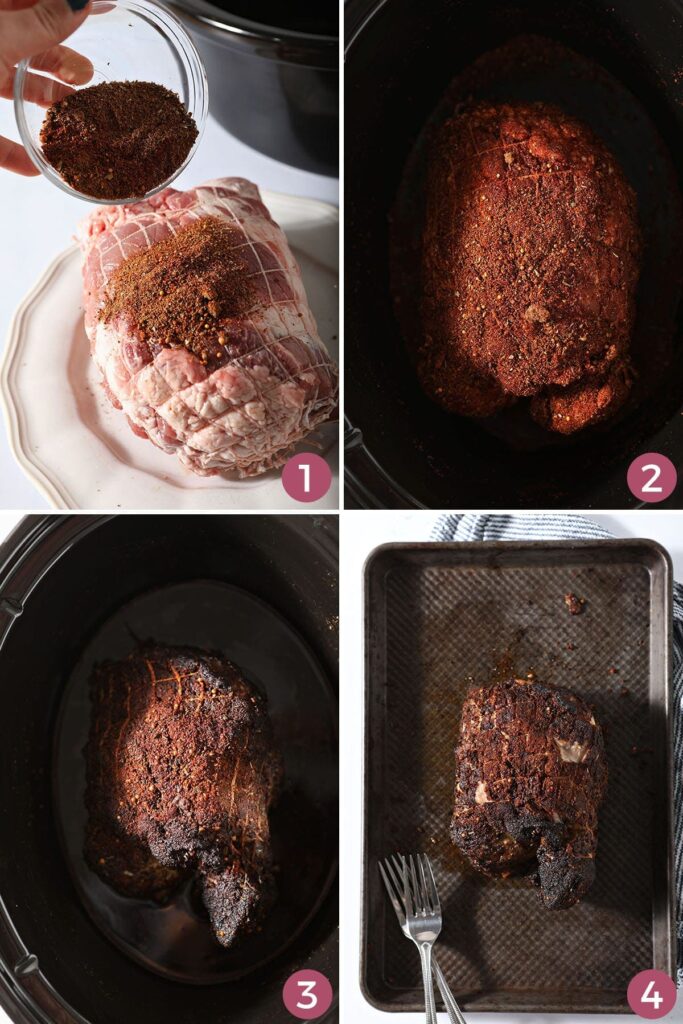 How to make this BBQ Pulled Pork Recipe
Use a paper towel to pat the pork shoulder dry after taking it out of its packaging. Trim off any excess fat, if necessary. The pork having extra fat will mean it'll release more juices in the slow cooker, which isn't necessarily a bad thing, but could cause it to have a greasy mouth feel.
Liberally season the pork shoulder with the barbecue dry rub on all sides. The entire exterior of the meat should be coated. As a rule, I use about 1 tablespoon of rub per pound of meat.
Place the pork into the slow cooker and cook on low for 7-8 hours, until the pork is fall-apart tender.
How do you know if it's ready? When you stick a fork or tongs into the pork, it should fall apart. If it does not, it's not ready, so let it cook for longer. I've read that the meat's internal temperature should read 180°F-190°F for it to be pull-apart tender. However, I never use my meat thermometer with pulled pork and go by the feel of the meat itself.
How to shred pork shoulder
Remove the pork from the slow cooker, and place it on a cutting board/large platter/baking sheet.
If your meat was tied, snip the ties off before proceeding.
Then use two forks or a set of tongs to gently pull the pork apart. You can leave it in larger chunks or pull it into smaller ones, so do whatever feels best for you. We tend to shred ours into smaller ones because of our kids.
Fun fact: In Memphis, you can have your pork chopped or shredded. If you want to try a chopped pork sandwich, instead of shredding it, roughly cut the meat into bite-sized chunks, and serve it!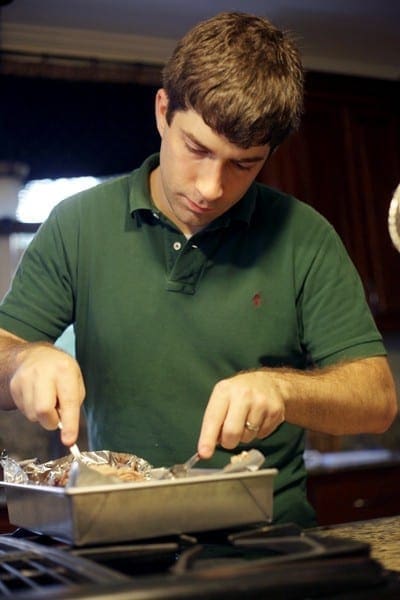 How to serve Slow Cooker BBQ Pulled Pork
There are lots of ways you can enjoy this barbecue pulled pork!
Leftover pulled pork recipes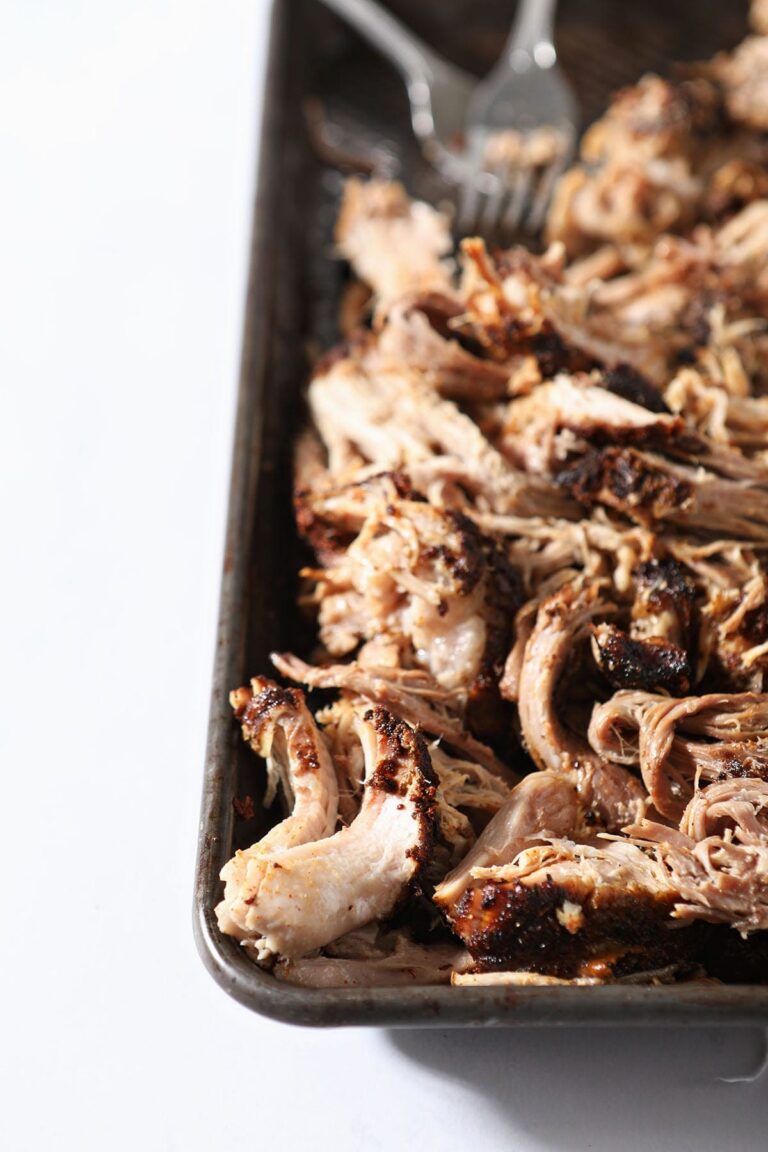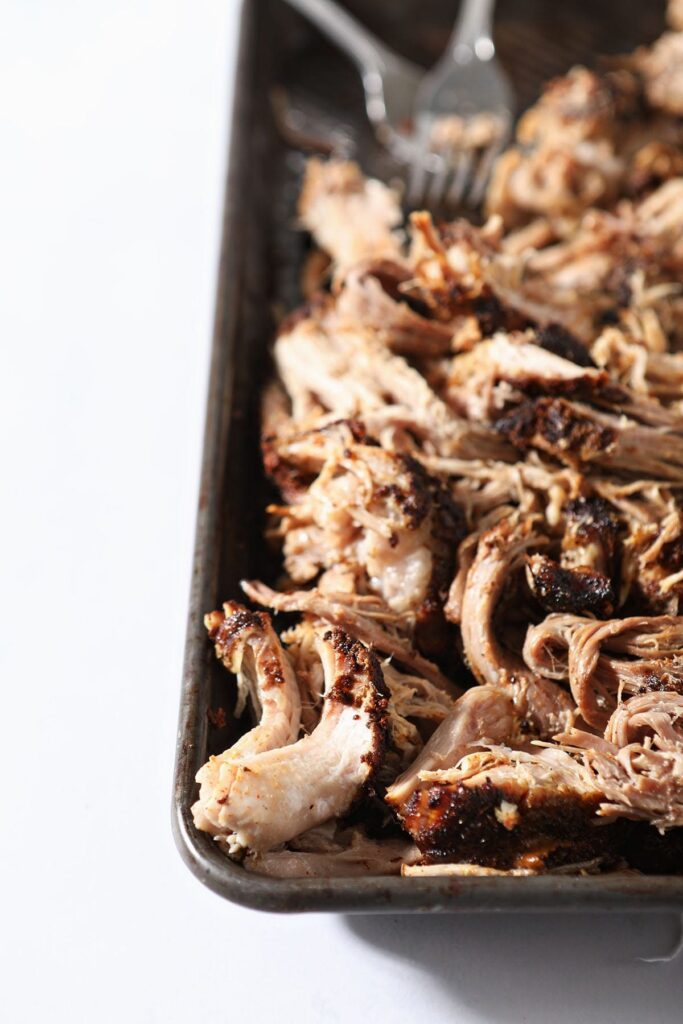 Erin's Easy Entertaining Tips
BBQ Pulled Pork is the perfect recipe for a backyard barbecue! And no, it doesn't require you to have a smoker since we're making this goodness in the slow cooker.
Here are a few tips and tricks to making this Easy Pulled Pork for a crowd:
Frequently Asked Questions
Do you need liquid in slow cooker for pulled pork?
Nope. We're using a dry rub to give this slow cooker pulled pork a ton of flavor. We don't need to add liquid to the slow cooker for this.
Can you put raw pork in a slow cooker?
Yes! So long as you're turning on the slow cooker immediately, place the raw pork into it, and let it do its thing.
Can you cook pulled pork too long in slow cooker?
Yes, you can. I've found that 8 hours tends to be the perfect amount of time for a pork shoulder in the slow cooker, but you need to keep an eye on yours, especially if you're using a smaller piece of meat or a different cut that's a little leaner. The pork will become mushy if it overcooks.
Can you leave pork in slow cooker overnight?
No, I do not recommend cooking your pulled pork in the slow cooker overnight.
What cut of pork should I use for pulled pork?
I recommend using a pork shoulder or a pork butt for this BBQ pulled pork recipe because they both have a good amount of fat and marbling, which makes excellent candidates for slow cooking. I caution against using a pork tenderloin in this recipe because it will dry out.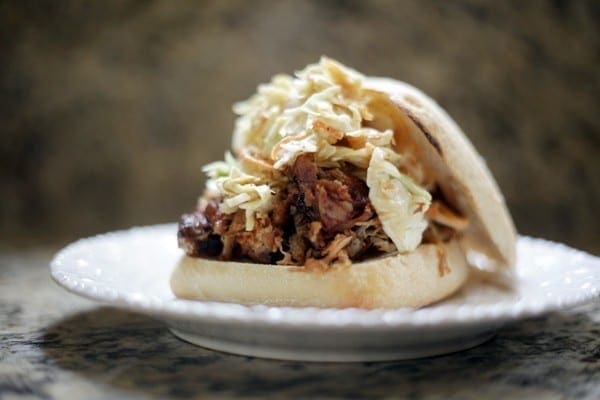 Tips and tricks to the Best Pulled Pork
Our favorite pulled pork sides: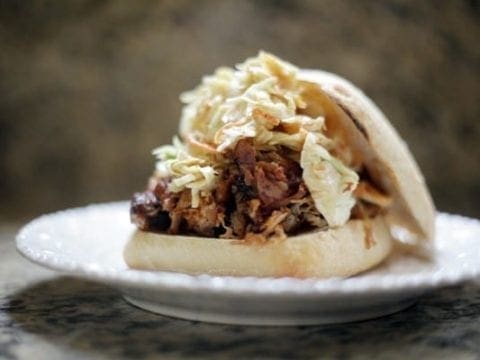 Yield:

8 servings
Slow Cooker BBQ Pulled Pork
Total Time:
8 hours
5 minutes
Knock the socks off guests with this Memphis-style Pulled Pork Shoulder, cooked in the slow cooker, then finished in oven. Once the pork shoulder is falling apart, shred it, then serve on a sandwich with slaw for the perfect summertime dinner!
Instructions
Use a paper towel to pat the pork dry after taking it out of its packaging.
Liberally season the pork with the barbecue dry rub. The entire exterior of the meat should be coated.
Place the pork into the slow cooker and cook on low for 7-8 hours. (To test to see if the pork is done, gently insert a fork or a knife into the meat, and see if it pulls apart. If it does this easily, it's done.)
Pull pork out of its juices and place on a cutting board/platter/baking sheet.
Shred the pork using tongs or forks.
Serve warm with coleslaw, a drizzle of BBQ sauce and your favorite sides.
Notes
You can use this recipe for bigger or smaller cut of pork. I use about 1 tablespoon of rub per pound of meat, so adjust accordingly.
You can use bone-in or boneless meat. Just be sure to purchase a pork butt or a pork shoulder to get the optimal flavors.

Tips and tricks to the Best Pulled Pork
Use the right cut of meat. There's no such thing as "healthy pulled pork," so please, use a pork shoulder or a pork butt in this recipe to get the right flavor profile. Please.
Trim off the excess fat from your pork butt or pork shoulder. This extra fat will make for more juices, which isn't necessarily bad, but could cause for the meat to taste a little "greasy" if there's a lot of it.
Shred it... or chop it. When the meat is fall-apart tender, remove it from the
Serve it with coleslaw and a drizzle of BBQ sauce. And with your favorite BBQ side dishes, too.
Store it in an airtight food storage container in the fridge for 4-5 days. You can freeze it for up to 2 months like this, too.
Recommended Products
As an Amazon Associate and member of other affiliate programs, I earn from qualifying purchases.
Nutrition Information:
Yield:
8 servings
Serving Size:
1
Amount Per Serving:
Calories:

691
Total Fat:

51g
Saturated Fat:

19g
Trans Fat:

0g
Unsaturated Fat:

27g
Cholesterol:

213mg
Sodium:

161mg
Carbohydrates:

0g
Fiber:

0g
Sugar:

0g
Protein:

55g
Nutrition facts are an estimate and not guaranteed to be accurate.