Sweetened with honey and barbecue sauce, spiced with Bloody Mary Mix and Sriracha, these Sriracha Baked Beans are a tasty side dish for any summertime get-together.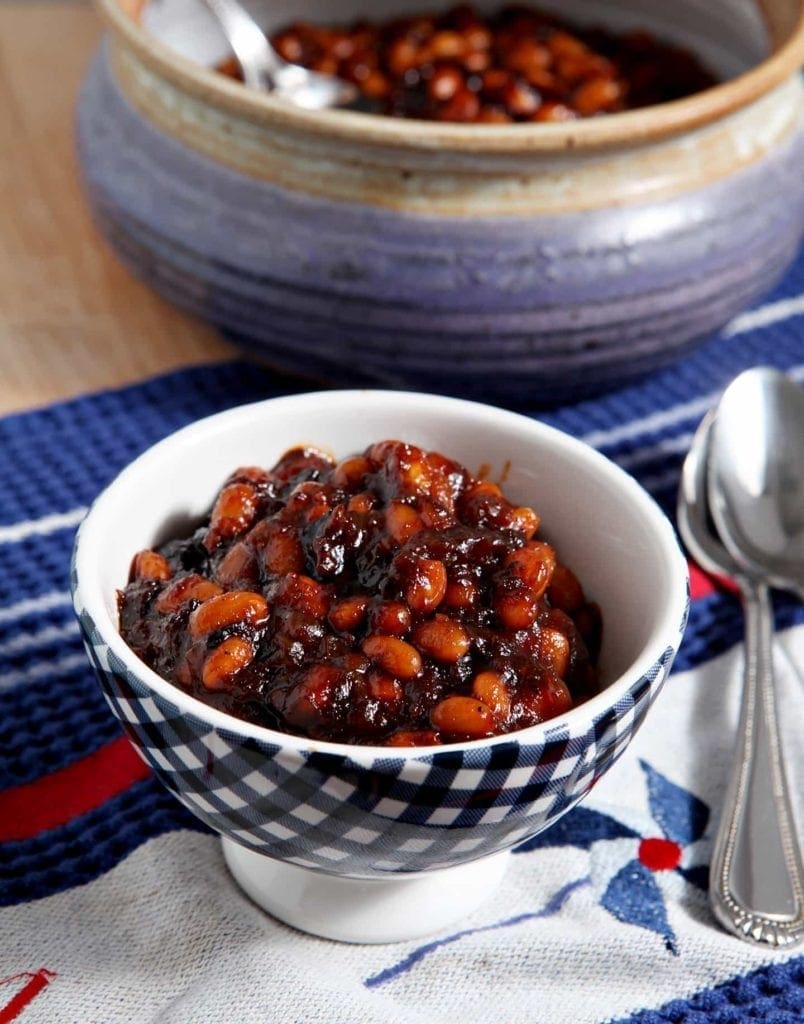 I'm a Memphis girl, and I love me some barbecue, as well as all the "traditional" barbecue sides that come with it.
"Traditional sides?" you ask.
Yes. There are certain side dishes, to me, that you cannot enjoy a barbecue meal without. In Memphis, the side dishes that come to mind are baked beans and coleslaw. For me, they've gotta be done right to round out that perfect barbecue feast and potentially be added on top of a pulled pork sandwich for good measure.
Since moving to Texas, the land of beef barbecue, I've learned about some new barbecue sides. They're all delicious, and I certainly won't complain when served fried okra or macaroni and cheese with my barbecue… but I like what I grew up with.
And whenever I think about making barbecue at home, I gravitate to those sides from my past.
However, that doesn't mean we've gotta make them the same ol' same ol' way they've always been made.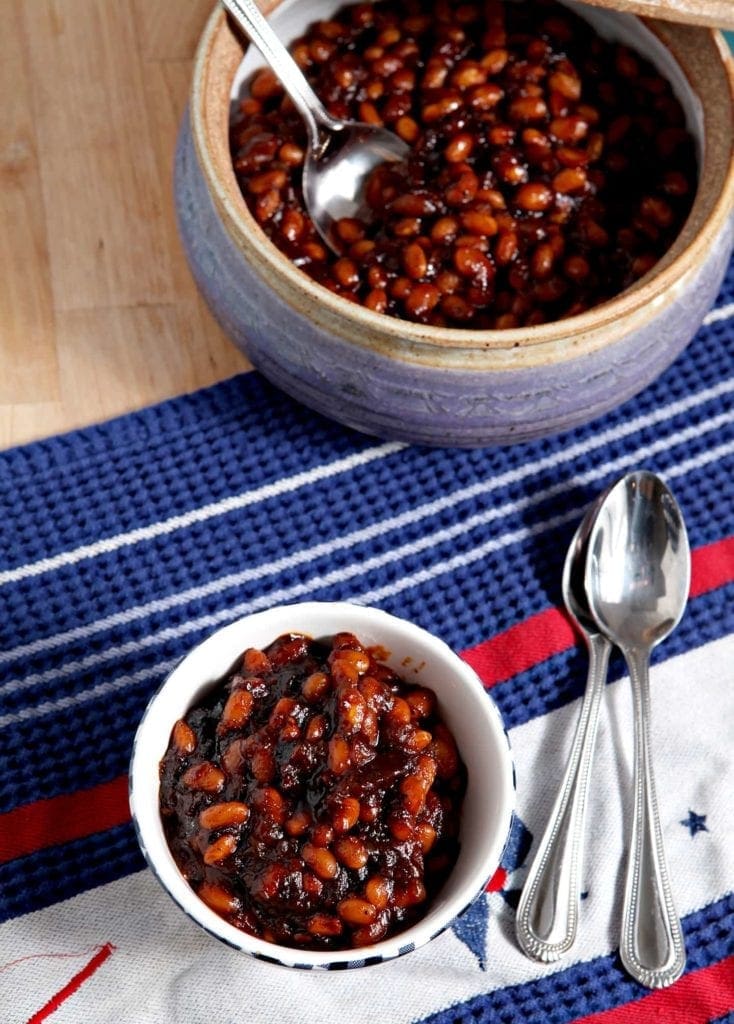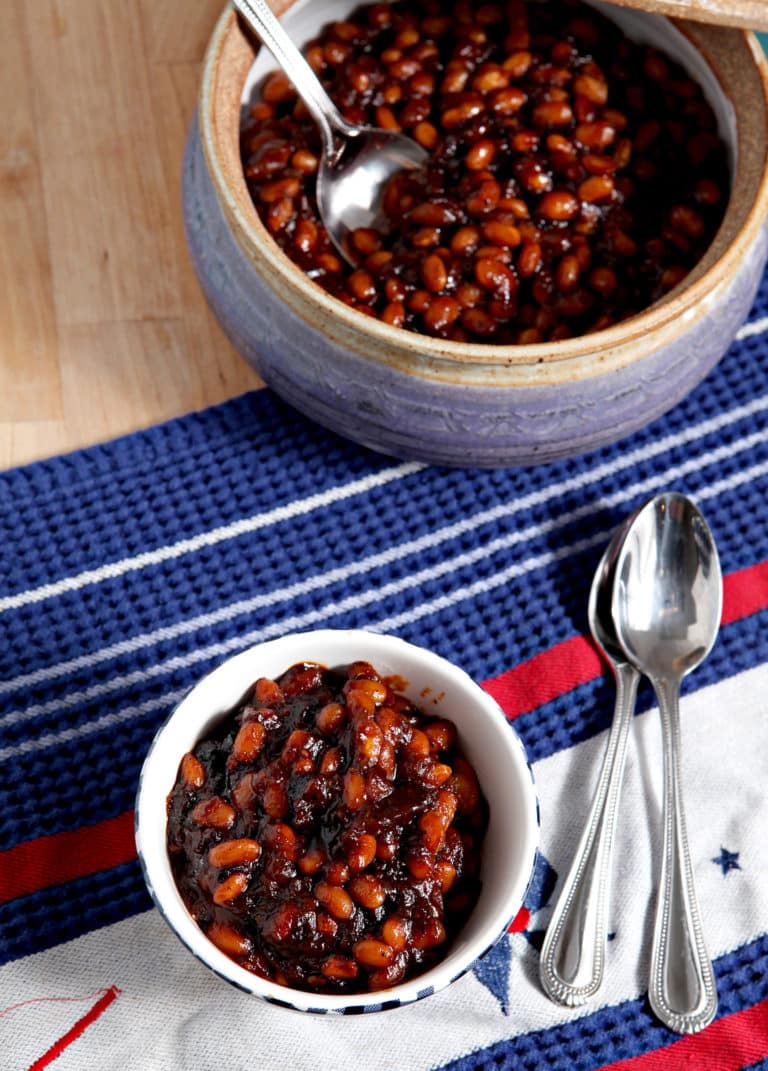 A few years back, I was horrified to learn that baked beans are full of — you guessed it — sugar. Like, more sugar than some baked goods.
And while I still enjoy baked beans, when I'm making them at home, I try to make them a little better for me. So this version? It's sweetened with barbecue sauce — which calls for quite a bit of sugar — but also gains some sweetness from honey.
Once the sweetness was on point, I poured in Bloody Mary Mix to add some tanginess and spice, then some Sriracha… because why not?
The end result is baked beans that are not too sweet and pack a major punch of heat.
Here's how you make 'em: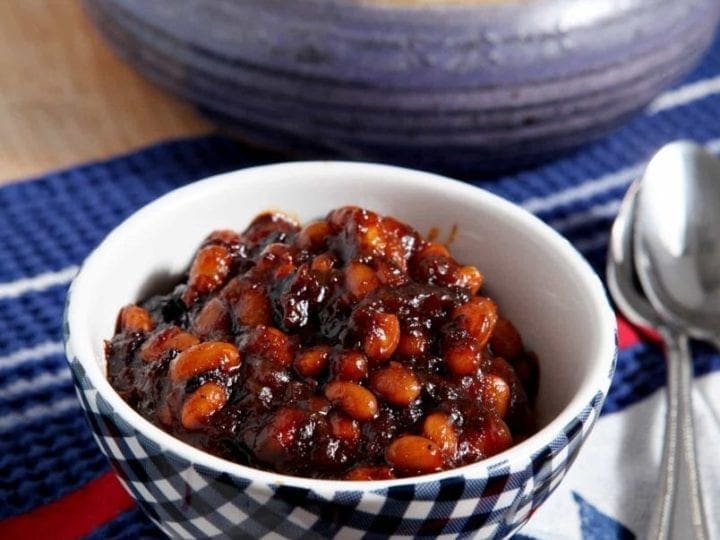 Yield:

4 servings
Sriracha Baked Beans
Sweetened with honey and barbecue sauce and spiced with Bloody Mary Mix and Sriracha, these Sriracha Baked Beans are a tasty side dish for any summertime get-together.
Ingredients
Beans
1 cup dried navy beans, soaked overnight and drained
6 cups water
1 teaspoon kosher salt
Baked Beans
4 slices peppered bacon
2 white onions, diced
2 garlic cloves, minced
1 cup Bloody Mary Mix
½ cup barbecue sauce
¼ cup honey
2 tablespoons Sriracha sauce
1 tablespoon dijon mustard
1 tablespoon Worcestershire sauce
Instructions
In a large saucepan, boil the soaked beans in the water, which has been seasoned with salt.
Boil over high heat until the beans are tender, then drain and set aside.
In a Dutch oven, cook the peppered bacon down, then remove from the drippings. Leave the drippings in the pan.
Heat the pan to medium-high and add the onions and garlic to the bacon drippings, cooking until soft.
Pour in the Bloody Mary Mix, barbecue sauce, honey, Sriracha sauce, mustard and Worcestershire sauce, stirring and bringing to a boil.
Lower the heat, and add the beans, stirring until incorporated.
Preheat the oven to 350°F.
Cover the Dutch oven with its lid, and transfer it into the preheated oven.
Bake the beans for 60 minutes covered, then remove the cover for an additional 30 minutes.
Serve warm!
Nutrition Information:
Yield:
4 servings
Serving Size:
1 serving
Amount Per Serving:
Calories:

366
Total Fat:

4g
Saturated Fat:

1g
Trans Fat:

0g
Unsaturated Fat:

3g
Cholesterol:

9mg
Sodium:

1453mg
Carbohydrates:

64g
Fiber:

10g
Sugar:

35g
Protein:

12g
Nutrition facts are an estimate and not guaranteed to be accurate.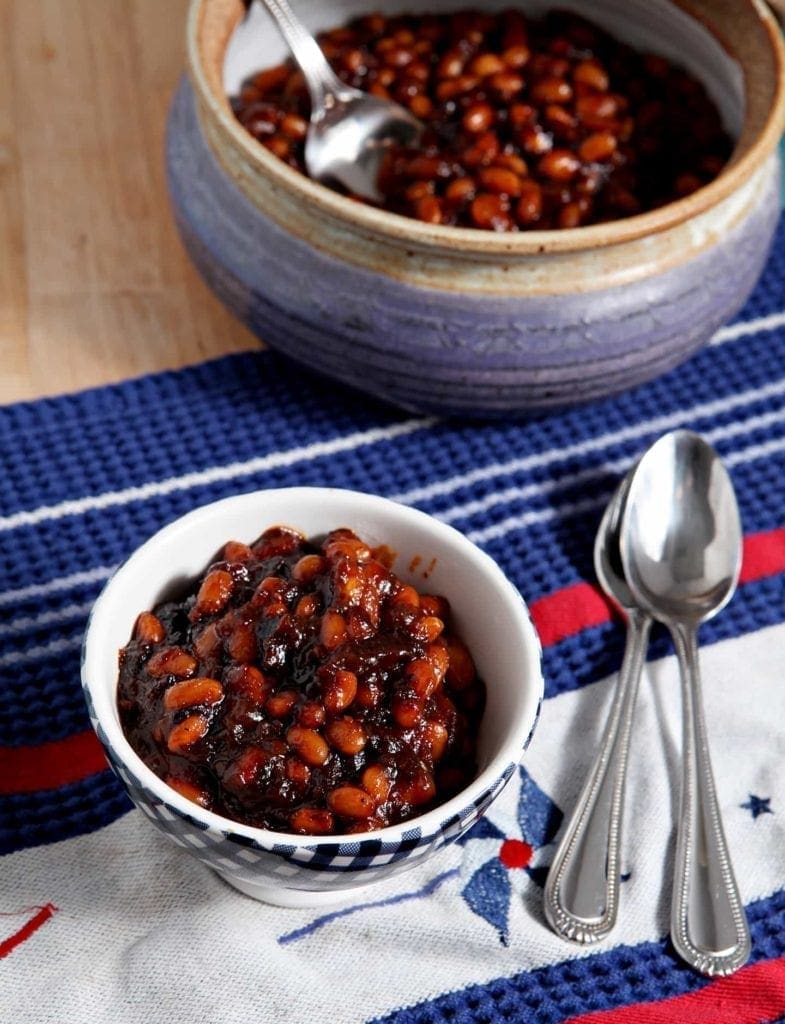 What are the "traditional" barbecue sides where you come from?
How do you like your baked beans?