Spicy Baked Beans with Bacon are a fun twist on the classic barbecue side dish. Make these baked beans in the oven for any type of gathering! Makes 4 servings, but can easily be doubled.
Love baked beans with a classic backyard barbecue? You've got to pair 'em with Instant Pot BBQ Brisket and Oven Fried Okra!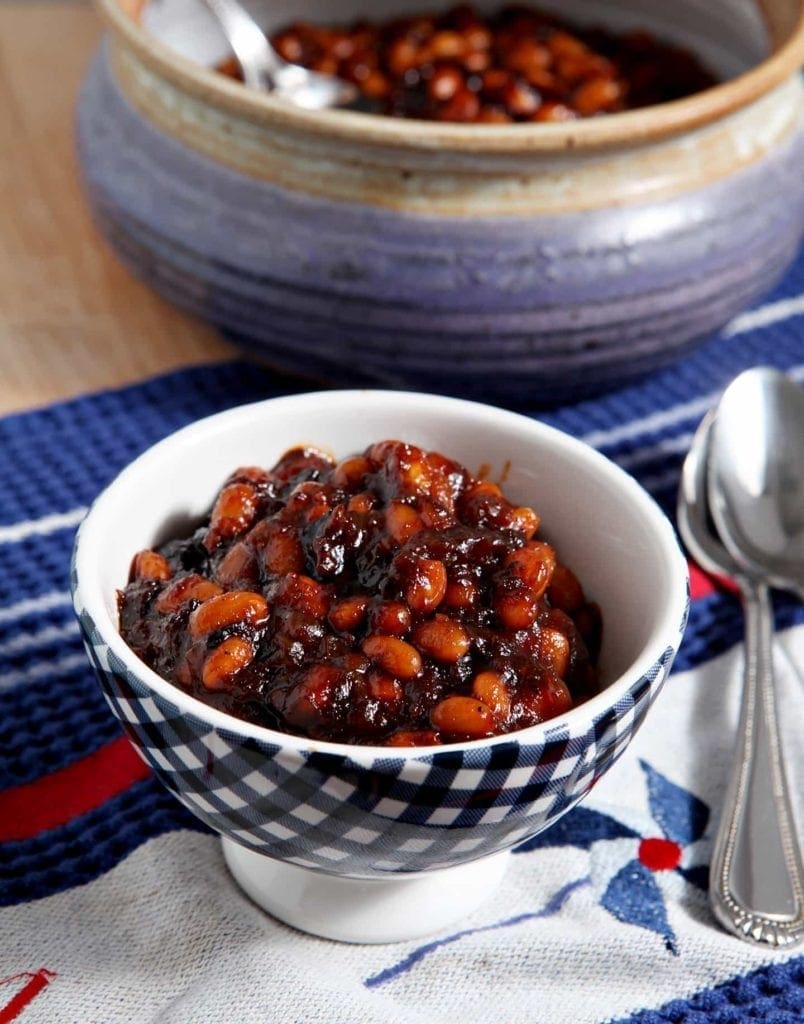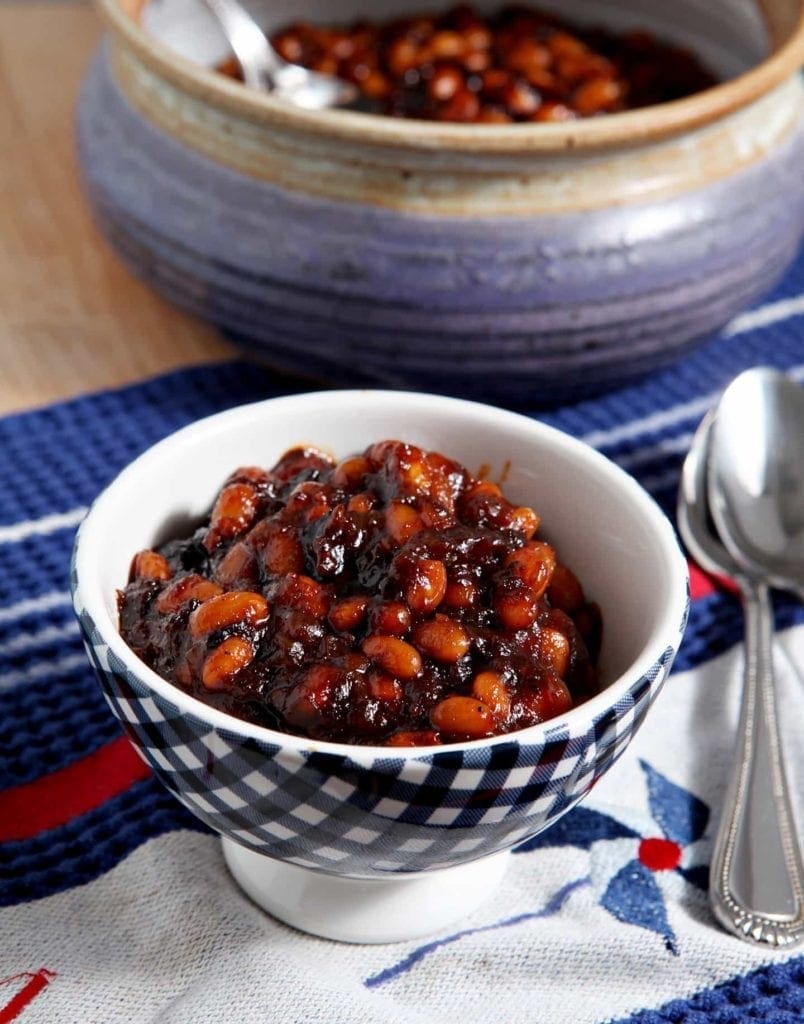 I'm a Memphis girl, and I love me some barbecue, as well as all the "traditional" barbecue sides that come with it, like baked beans and coleslaw. Pair 'em with Memphis Style Ribs (Dry Rub Oven Baked Ribs Recipe), and I'm a happy girl.
Since moving to Texas, the land of beef barbecue, I've learned about some new barbecue sides. They're all delicious, and I certainly won't complain when served fried okra or macaroni and cheese with my barbecue… but I like what I grew up with.
And whenever I think about making barbecue at home, I gravitate to those sides from my past.
Why I love this recipe:
These baked beans in the oven pack in a ton of flavor—they've got spice from Bloody Mary Mix and sriracha sauce. They've got some smoke from the bacon. And they've got sweetness from honey.
Quite honestly, I love 'em because they are less sweet than the canned variety. These beautiful baked beans are not too sweet and pack a major punch of heat.
While they're not as fast to make as my Instant Pot BBQ Baked Beans, they're worth the effort!
Dishes you should pair these BBQ baked beans with: Slow Cooker BBQ Chicken Sandwiches with Mustard Coleslaw | Apple Cider Pulled Pork with Apple Coleslaw | BBQ Chicken Burger Bites with Avocado Slaw | Pear BBQ Pulled Pork Sandwiches with Pear Slaw | Pulled Pork Coleslaw Eggrolls
Need some barbecue inspiration? Head on over to my BBQ Recipe Index for more ideas!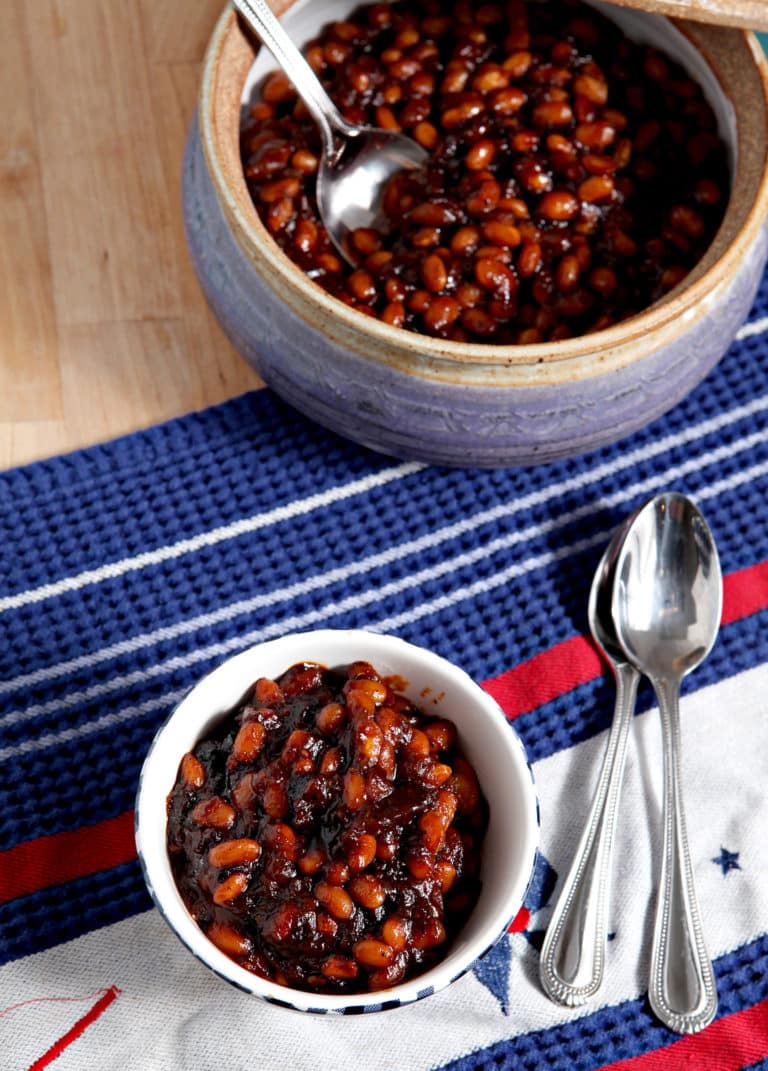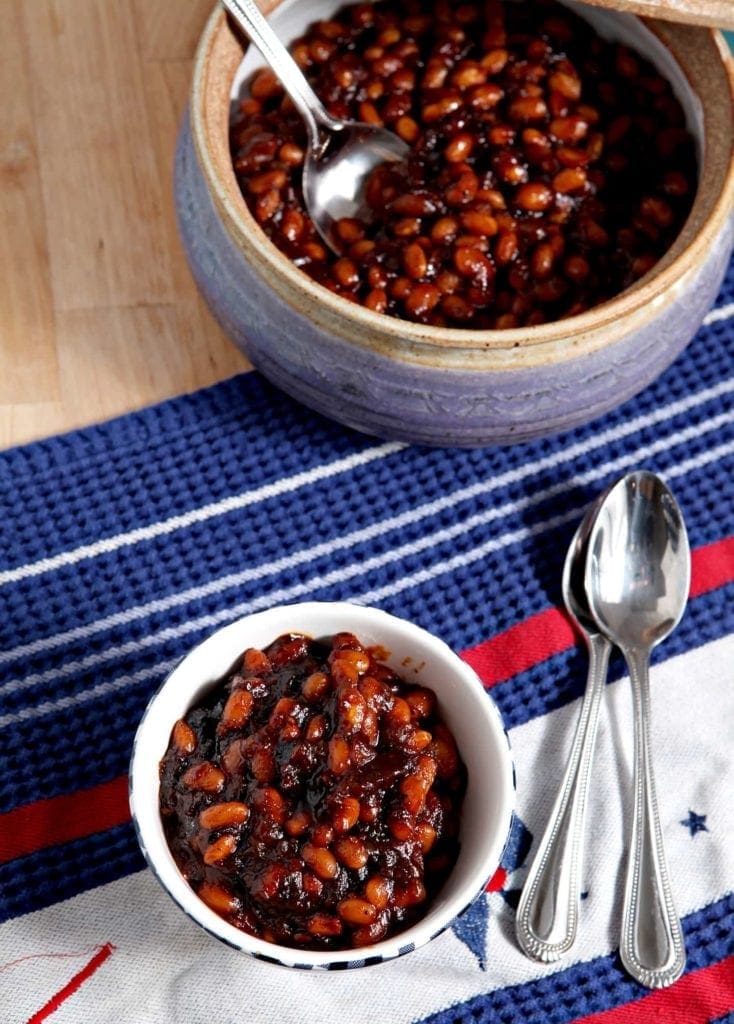 What you need to make Baked Beans with Bacon:
The Speckled Palate participates in affiliate programs. As an Amazon Associate, I earn a commission from qualifying purchases. Please refer to my disclosure page for more information about these affiliate programs.
Sharp knife and cutting board
In addition to those tools, you're going to need some ingredients, too:
N

avy beans

—the dried variety. We're going to soak them overnight before cooking, so make sure to do this! You could also use another white bean, like a northern white bean or a cannellini bean.
Water
K

osher salt

Bacon
White onions—yellow onions would work in a pinch, too!
Garlic cloves
Bloody Mary Mix—we're using this to give us a ton of flavor to the beans! Zing Zang is our favorite Bloody Mary Mix. Tabasco Bloody Mary Mix also has really good flavor!
Barbecue sauce—you can get your favorite at the store (we prefer Rendezvous and Stubb's brands in our house) or you can make your own barbecue sauce
Honey
Sriracha sauce
Dijon mustard
Worcestershire sauce
How to make Spicy Baked Beans with Bacon
First and foremost, go through the beans. Pick out any broken beans, plant debris or small rocks, and place them in a large bowl that has more than enough room. Soak the dried beans in water overnight.
Cook the beans. Drain the beans, and place them in a large Dutch oven. Add water, and bring to a boil over high heat for 1(ish) hour, or until the beans are tender. Drain and set aside.
Make the spicy baked beans. In the same Dutch oven, cook the strips of bacon until caramelized. Remove the bacon, but leave the drippings in the pan. Add the onions and garlic to the bacon drippings and cook until soft. Next, add the Bloody Mary Mix, barbecue sauce, honey, Sriracha sauce, mustard and Worcestershire sauce, and bring it to a boil. Stir in the beans, cover and bake in a preheated oven for 60 minutes. Remove the lid, and bake for an additional 30 minutes before serving.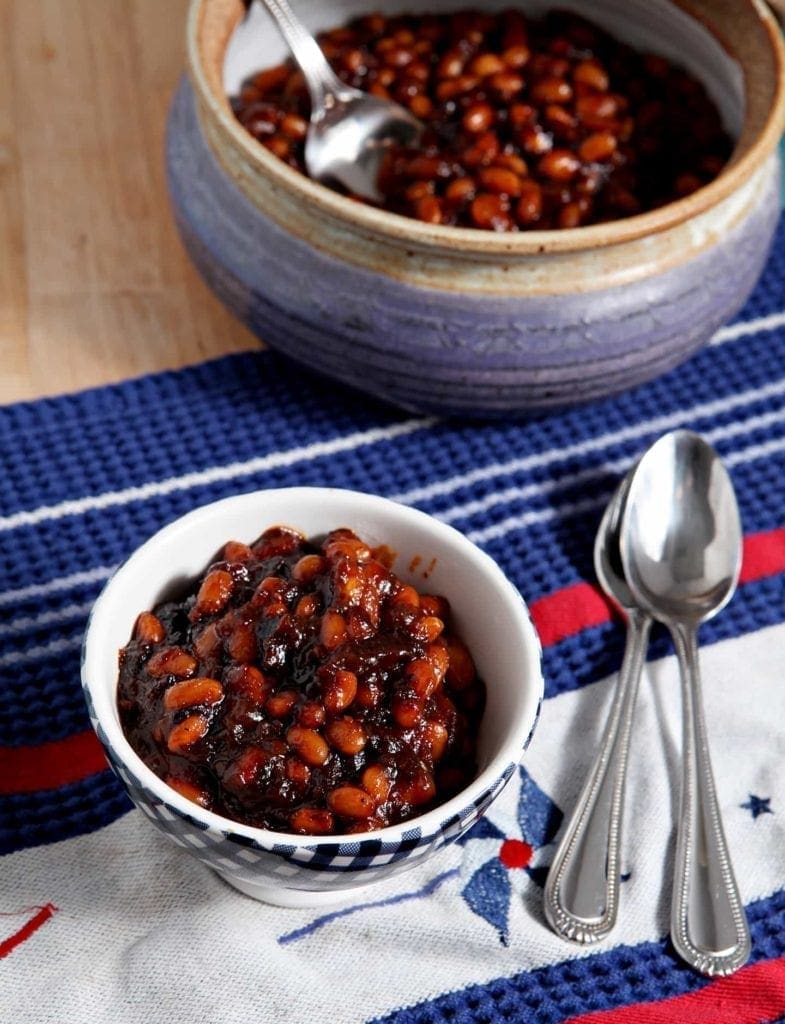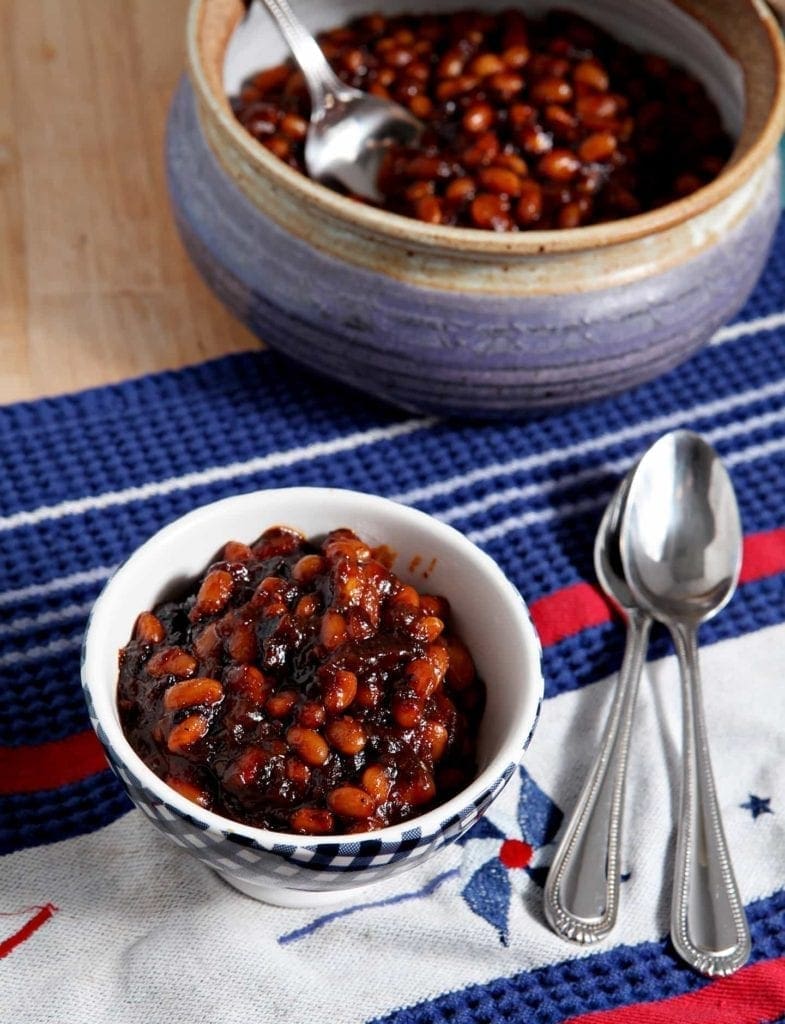 Erin's Entertaining Tips
Baked Beans with Bacon are one of my favorite dishes to serve at a backyard barbecue or any other outdoor gathering involving food because they go so well with so many dishes. Whether you're making actual barbecue, like Memphis Style Ribs (Dry Rub Oven Baked Ribs Recipe) or Slow Cooker BBQ Pulled Pork, or serving something like Juicy Lucy Burgers, this recipe is a delicious side dish.
With that in mind, here are a few tips and tricks I've learned over the years while making my baked beans from scratch.
Give yourself more than enough time. I always start cooking mine with 3-4 hours to go before guests arrive. Why? Sometimes, the beans take longer to soften when boiling. And if they finish early, they can always be kept warm or reheated in the oven.
Give 'em a good taste. These baked beans are less sweet than the canned variety, and I like that. However, before you serve them, give them a taste and doctor them as needed.
Double the easy baked beans recipe if you're feeding a crowd. The bean's cooking time might need to be a little longer since there are more beans.
Frequently Asked Questions
What are Baked Beans?
Baked Beans are a dish that contains beans. Sometimes, it's baked. Other times, it's not. The beans cook in a sauce, which is normally includes molasses.

Fun fact: One of Boston's nicknames is "Beantown." Apparently, it got this name because of the Colonists love for beans baked in molasses and salt pork. (Which is the traditional way to make Boston Baked Beans.)
How can I thicken baked beans without cornstarch?
The sauce will thicken on its own as it cooks. Also, if the sauce is a little runny for your liking, use a spoon to smash a few beans to thicken up the sauce!
What type of bean is used in baked beans?
Navy beans are the classic beans for baked beans!
Quick Tips And Tricks To The Best Baked Beans in the Oven
Use the right ingredients. We're using dried beans in this recipe, not canned beans. Also, choose your favorite bacon and use that!
How to store Spicy Baked Beans: Once these beans have cooled off, place in an airtight food storage container. Store in the fridge for 3-4 days. Reheat in the microwave until they're at the optimal temperature.
Season to taste. While I think this combination is pretty dang perfect, you might like your baked beans with bacon a little sweeter. That's OK. Follow the instructions below, then give the beans a taste. If it needs more sweetness, add in another drizzle of honey. If you like it spicier, feel free to add in more hot sauce.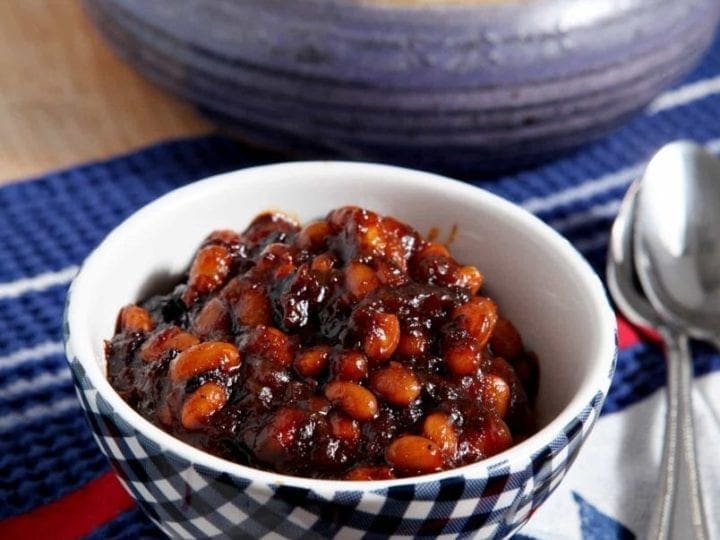 Yield:

4 servings
Spicy Baked Beans with Bacon
Sweetened with honey and barbecue sauce and spiced with Bloody Mary Mix and Sriracha, these Sriracha Baked Beans are a tasty side dish for any summertime get-together.
Ingredients
Beans
1 cup dried navy beans, soaked overnight and drained
6 cups water
1 teaspoon kosher salt
Baked Beans
4 slices bacon
2 white onions, diced
2 garlic cloves, minced
1 cup Bloody Mary Mix
½ cup barbecue sauce
¼ cup honey
2 tablespoons Sriracha sauce
1 tablespoon dijon mustard
1 tablespoon Worcestershire sauce
Instructions
In a large saucepan, boil the soaked beans in the water, which has been seasoned with salt.
Boil over high heat until the beans are tender, then drain and set aside.
In a Dutch oven, cook the peppered bacon down, then remove from the drippings. Leave the drippings in the pan.
Heat the pan to medium-high and add the onions and garlic to the bacon drippings, cooking until soft.
Pour in the Bloody Mary Mix, barbecue sauce, honey, Sriracha sauce, mustard and Worcestershire sauce, stirring and bringing to a boil.
Lower the heat, and add the beans, stirring until incorporated.
Preheat the oven to 350°F.
Cover the Dutch oven with its lid, and transfer it into the preheated oven.
Bake the beans for 60 minutes covered, then remove the cover for an additional 30 minutes.
Serve warm!
Recommended Products
As an Amazon Associate and member of other affiliate programs, I earn from qualifying purchases.
Nutrition Information:
Yield:
4 servings
Serving Size:
1 serving
Amount Per Serving:
Calories:

366
Total Fat:

4g
Saturated Fat:

1g
Trans Fat:

0g
Unsaturated Fat:

3g
Cholesterol:

9mg
Sodium:

1453mg
Carbohydrates:

64g
Fiber:

10g
Sugar:

35g
Protein:

12g
Nutrition facts are an estimate and not guaranteed to be accurate.