Cool off with a glass of Watermelon Agua Fresca! This light and refreshing drink is perfect for entertaining and keeping the kids hydrated on summer afternoons. Calling for just four ingredients, this recipe is easy to make and enjoy! Makes 10 servings.
Love a watermelon drink? Don't miss Spiked Watermelon Limeade and Watermelon Frose!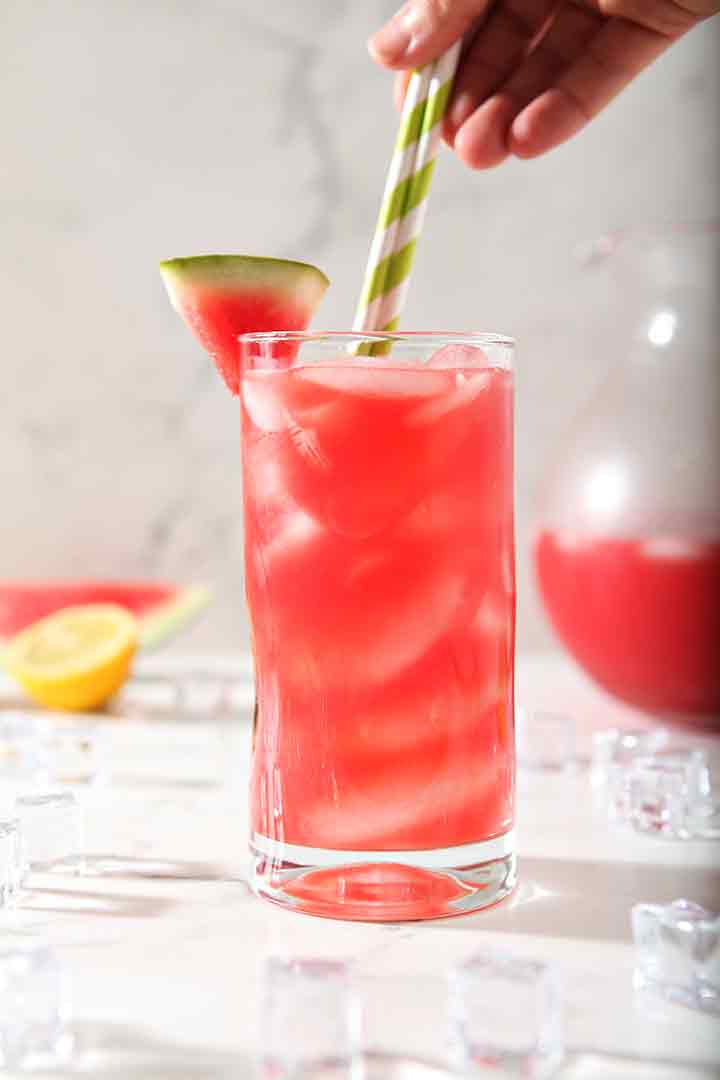 I don't know how the weather is where you live, but it's currently surface-of-the-sun temperatures here in Dallas.
We've got basically two months left of summer (hi, this is Texas, we don't see fall until October), and I'm over it.
So I'm combatting it by making all types of "fancy water" that our older daughter and I can sip on to stay cool.
And that right there is not a terrible thing!
This Watermelon Agua Fresca is the first recipe in a new collaboration I'm doing with Jenni from The Gingered Whisk. We're calling it The Lonely Parents Guide to Dinner Parties.
And the second post in this collaboration will go live Wednesday, so please come back for that because it's gonna be fun!
More refreshing summer drink recipes: Strawberry Margarita / Arnold Palmer Iced Tea Lemonade Mocktail / Blackberry Gin Slush / Sweet Sunrise Mocktail / Homemade Mint Lemonade / Watermelon Frose
Want a drink, but don't know where to begin? Check out my DRINKS landing page.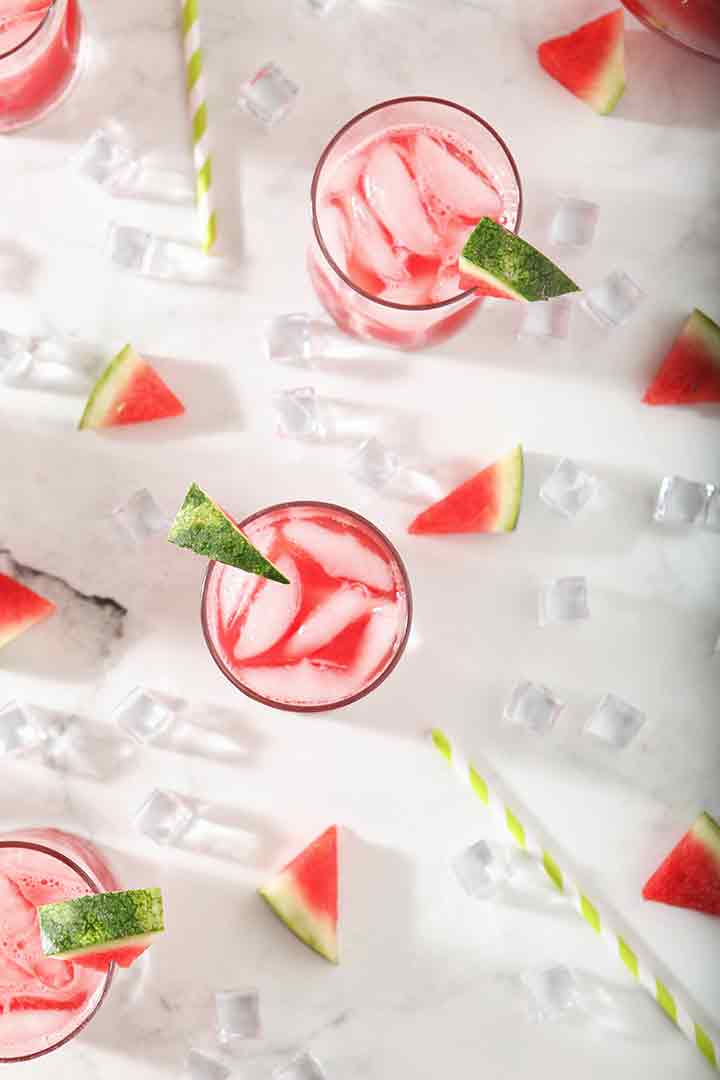 Tell me about the Lonely Parents Guide to Dinner Parties.
I'm glad you asked because this is something that Jenni and I are both passionate about.
Between the two of us, we have FIVE KIDS younger the age of 10… and we know how stressful it can be to think about making a dinner party happen.
That said, as parents, we both know things can get a little lonely when you're with your kids day-in and day-out. (And it's a wonderful thing to be with your kids—don't get us wrong!—but spending time with adult friends is nice, too!)
So we are teaming up to make at-home entertaining WITH KIDS a possibility for all! Our goal is to show how busy families with small children can host and enjoy entertaining, and that it can be easy and fun, too. Even on a weeknight.
Sound good? Because we think it does!
What you'll need to make Watermelon Agua Fresca
The Speckled Palate participates in affiliate programs. As an Amazon Associate, I earn a commission from qualifying purchases. Please refer to my disclosure page for more information about these affiliate programs.
In addition to these tools, you're going to need some ingredients to make this agua fresca recipe, too:
Watermelon
Lemons (or bottled cold pressed lemon juice)
Water
Granulated sugar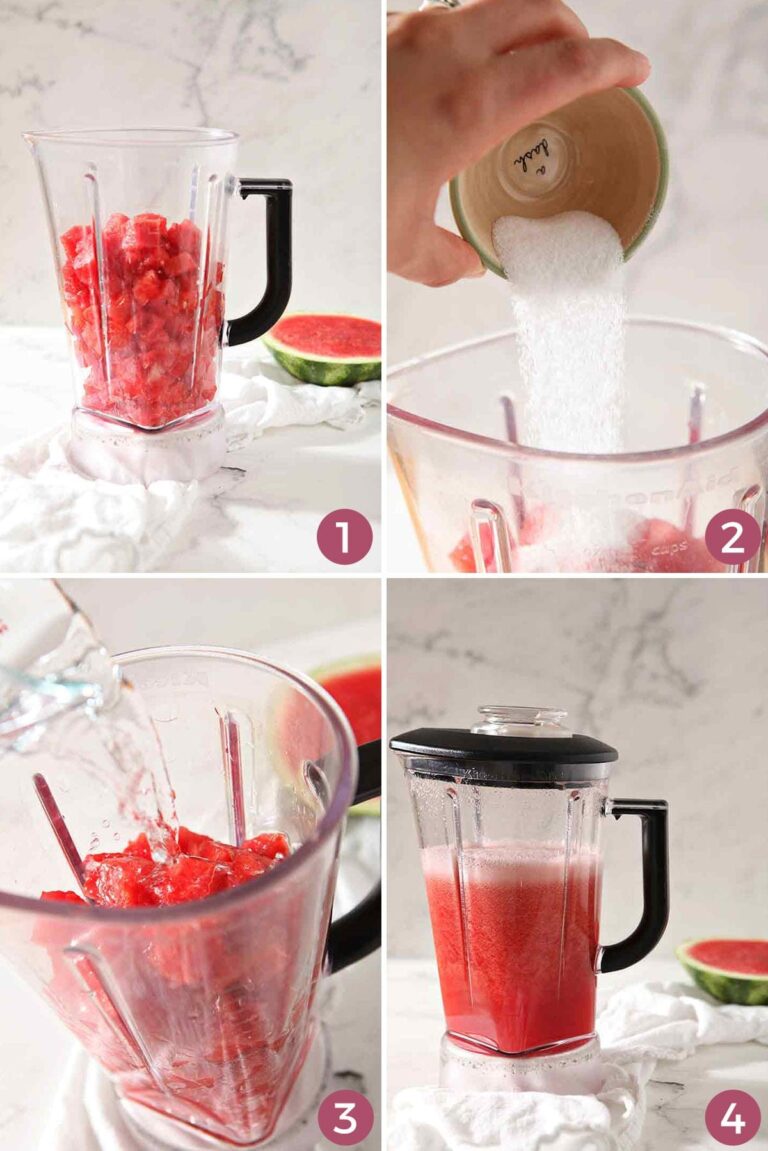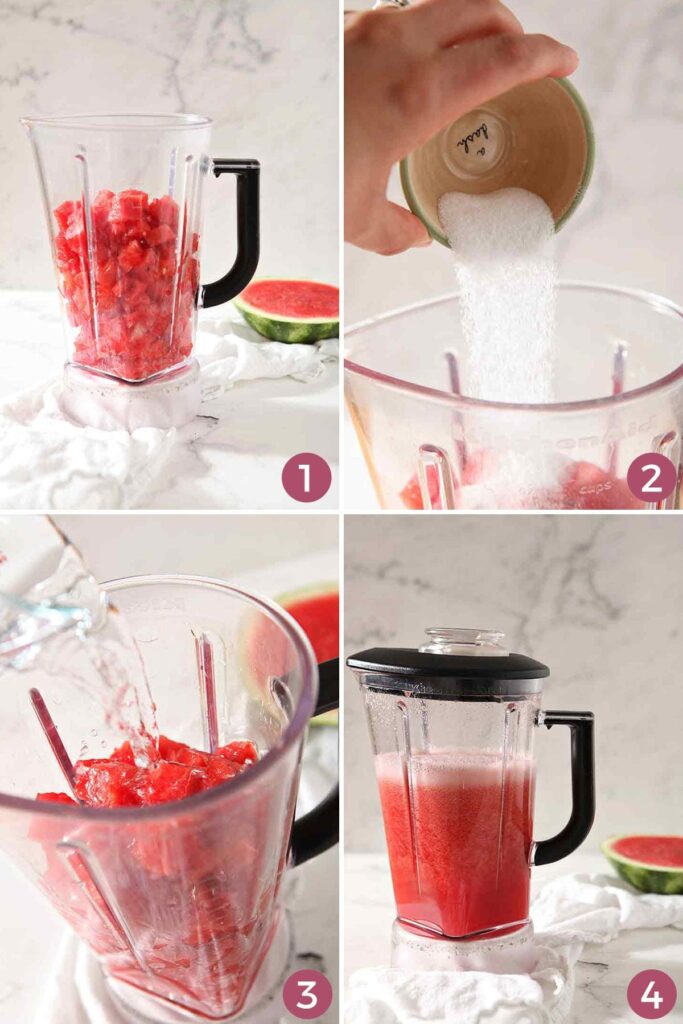 How to make Watermelon Agua Fresca
Blend together the ingredients.
Measure all the ingredients into the blender. You'll throw in your watermelon cubes (more on cutting the watermelons in a bit), water, lemon juice and some of the sugar.
Why won't you put in all of the sugar? Your watermelon might be sweet enough to make it unnecessary. So put in some or blend up the ingredients without the sugar before adding it incrementally to your taste.
Blend 'em together.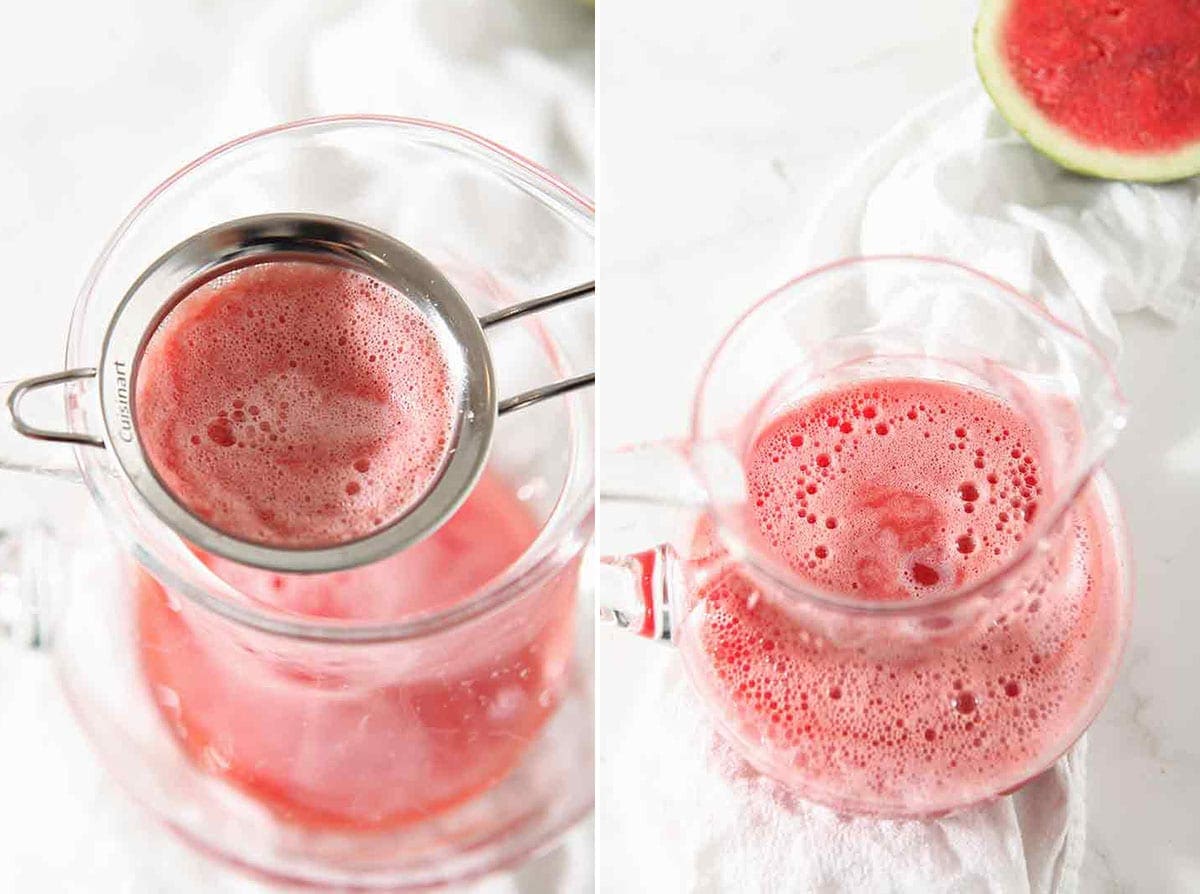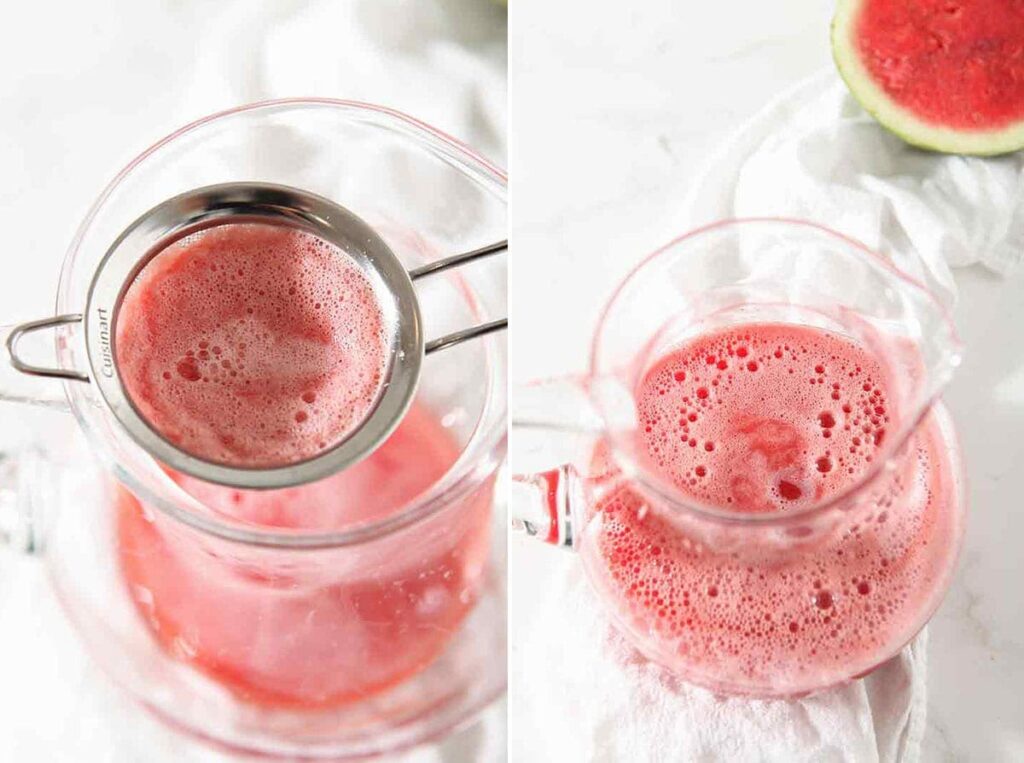 Strain the agua fresca.
Using a fine mesh strainer over your pitcher or a large bowl, strain the agua fresca.
Why do we strain it? To remove the fibrous parts of the watermelon that make the drink a little thicker.
If you don't have a strainer and want to drink the agua fresca as it is, you certainly can! Personally, I like for my drinks to be a little thinner, and thus, I strain them.
When I use the fine mesh strainer, I like to use a spoon to push the juices through. Sometimes, they'll get a little clogged, so circling a spoon around it can make the juice go through faster.
Once the agua fresca has been strained, stir it together with a wooden spoon to make sure everything is incorporated.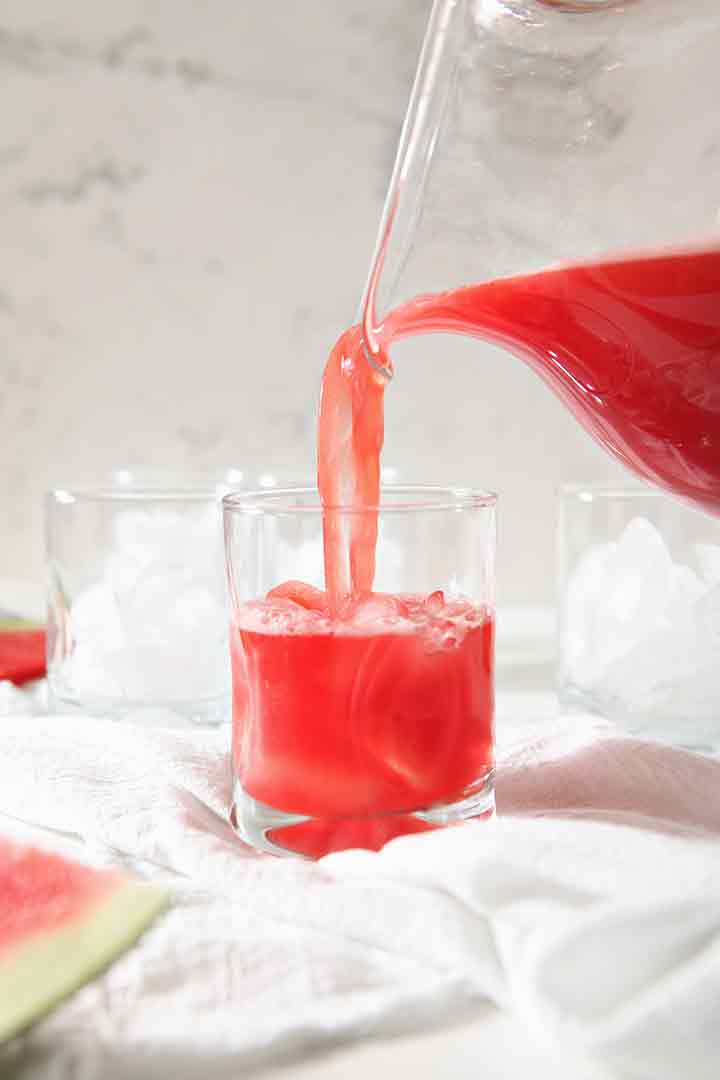 Serve the agua fresca.
Place ice cubes in glasses. Get out your fun paper straws. Slice small watermelon wedges, too, if you're feeling fancy.
Pour the strained agua fresca into the prepared glasses.
Enjoy immediately!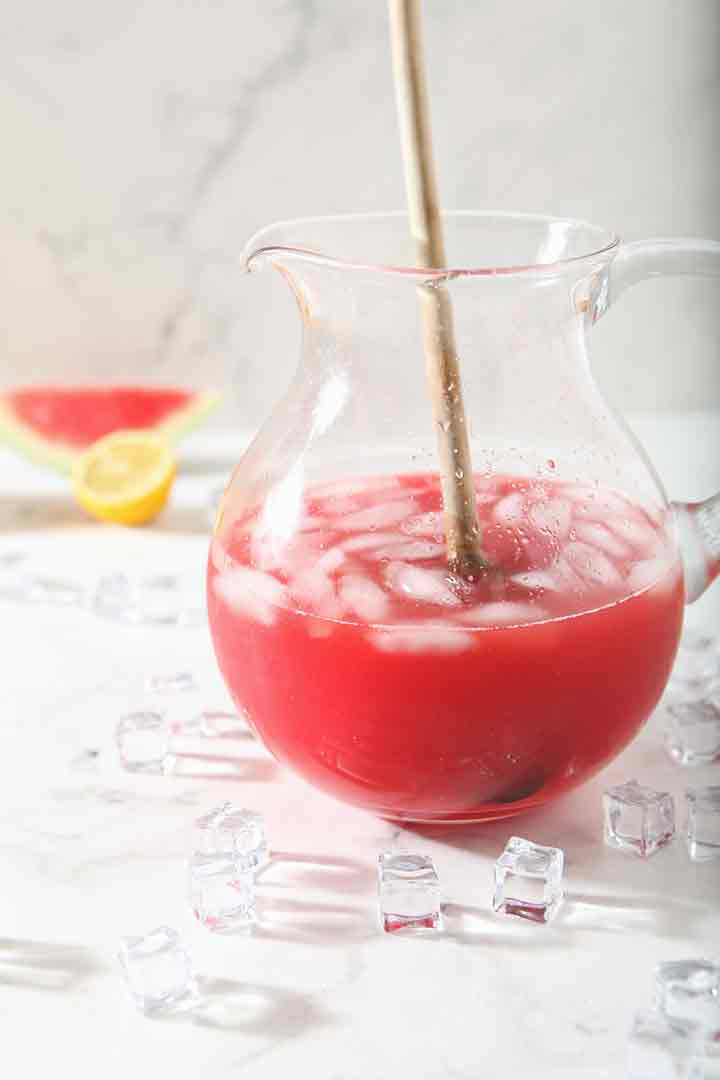 Erin's Easy Entertaining Tips
Obviously, I think this refreshing agua fresca recipe would be amazing for entertaining or I wouldn't have paired it with our Lonely Parents Mexican Dinner Party.
It's easy to make, you can do it a little while in advance and it's loved by kids and adults, which is the best of both worlds.
Here are a few things you can do when planning to make this for a gathering…
Make this agua fresca in advance. Refrigerate it until it's time to serve, then stir vigorously because it will separate as it sits in the fridge.
To make the drink frothy again, blend it a second time before serving. To simply get the ingredients back together, stir with a wooden spoon.
Let (adult) party guests spike their agua fresca with vodka or tequila! Just don't spike the whole pitcher if you've got kids around because no one wants a kid to accidentally drink an adult drink.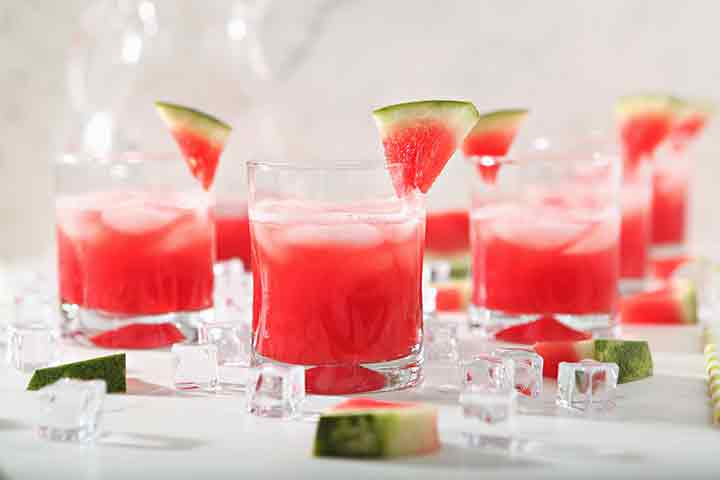 Frequently Asked Questions
What is agua fresca?
Agua fresca translates to "cool water" or "fresh water" from Spanish. It hails from Mexico and Central America.

Agua fresca is a refreshing, non-alcoholic drink. Generally speaking, water is combined with fruits and herbs or even veggies to create a delicious and light drink.

It can be made all types of ways, and I had a lot of fun researching this recipe because I wanted to wrap my brain around it before I attempted it. Spoiler alert: It's delicious.
Should you strain agua fresca?
It all depends on your tastebuds. Personally, I like to strain it to pull out any clumps of watermelon to make this watermelon drink easier to sip, but you do you.
How long does agua fresca last?
I wouldn't let this sit for longer than 3 days in the fridge. Not only will the watermelon separate from the water/lemon/sugar mixture, but the fruit could go a little sour on you, which is not pleasant in the least. Agua fresca is best enjoyed within 1-2 days of making.
What is the best way to cut watermelon?
First, cut off the ends. This will help the watermelon stay stable as you cut the rind off.

Next, using a sharp knife, slice off the rind. You'll follow the curvature of the side of the watermelon to remove the rind, cutting as close to the "meat" of the watermelon as possible. (You don't want to have any green or much of the white part left on the watermelon.)

I know it sounds tricky, but I promise it's not. It just takes a little practice to get used to, promise.

As you cut off the rind, you'll rotate the watermelon to continue until all the rind is removed. When there is no rind left, cut the watermelon in half. Then slice off 1" chunks of the watermelon, and cut it into cubes that way.

Alternately, you can keep the rind on the watermelon, and quarter it, then half the quarters. Cut diagonal lines going BOTH directions into the watermelon to create cubes that will fall directly out of the rind.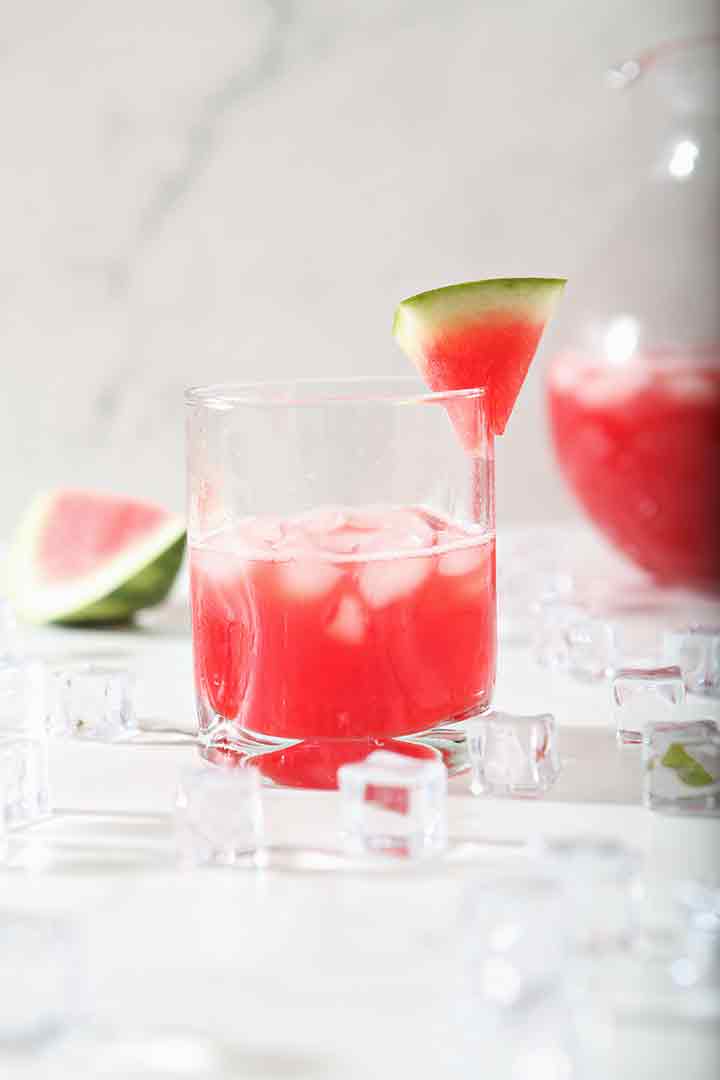 Quick tips for making Agua Fresca
Naturally sweeten the agua fresca by adding a little agave nectar or honey instead of the granulated sugar. (Again, see the note about sweetener in the recipe card because you might not need to add anything!)
Store the agua fresca in the refrigerator in its pitcher for up to 3 days. Blend it before serving since the ingredients will separate.
If you don't like lemon juice, add lime juice instead!
Dishes you can serve alongside Agua Fresca…
Now who's ready to make this goodness at home?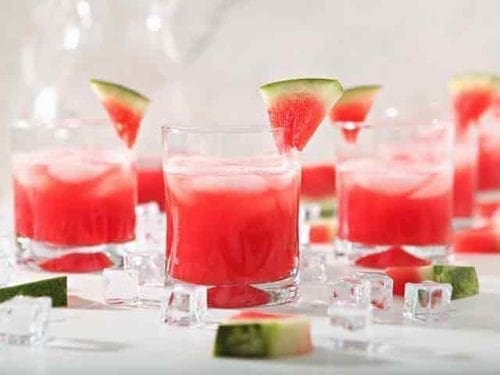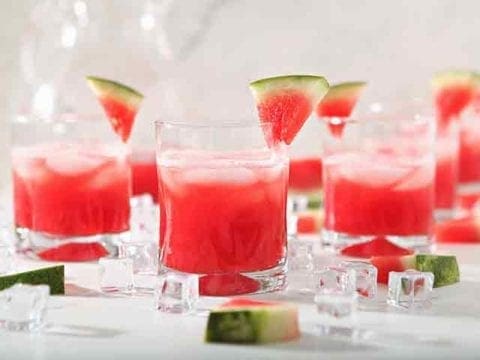 Yield:

10 servings
Watermelon Agua Fresca
Cool off with a glass of Watermelon Agua Fresca! This light and refreshing drink is perfect for entertaining and keeping the kids hydrated on summer afternoons. Calling for just four ingredients, this recipe is easy to make and enjoy! Makes 10 servings.
Ingredients
5 cups watermelon, chopped
2 cups water, cold
¼ cup lemon juice (about 2 medium-sized lemons, freshly juiced)
2-3 tablespoons granulated sugar
Instructions
If you haven't already, chop up your watermelon into bite-sized
pieces. (I made you a video and detail how to do this above in the post!)
Measure out your watermelon, water and lemon juice into the
blender.
Add the sugar. (See the note below about the sugar, as your agua
fresca might not need it!)
Blend until smooth, then strain through a fine mesh strainer.
Stir together using a wooden spoon, and then serve over ice.
Garnish with little watermelon wedges if you're feeling fancy!
Notes
Adapted from my Strawberry Pineapple Agua Fresca recipe.
Depending on how sweet your watermelon is, you might not need to
add sugar at all. I added ¼ cup to my first batch, and it was way too sweet for me. Use your discretion on the sweetness, and add a little bit and taste before adding more.
Simple swap: You can easily swap LIMES for the lemon in this recipe! We keep lemons on hand at all times, so I used lemons, but I know lime juice would be awesome in this agua fresca, too.
Easy entertaining tip: This Watermelon Agua Fresca can be made in advance, but it might separate in the refrigerator. If this happens, blend it again before serving OR stir vigorously with a wooden spoon. (Personally, I like the blender option because I like for it to be a little frothy, but to each their own.)
Recommended Products
As an Amazon Associate and member of other affiliate programs, I earn from qualifying purchases.
Nutrition Information:
Yield:
10 servings
Serving Size:
½ cup
Amount Per Serving:
Calories:

39
Total Fat:

0g
Saturated Fat:

0g
Trans Fat:

0g
Unsaturated Fat:

0g
Cholesterol:

0mg
Sodium:

4mg
Carbohydrates:

10g
Fiber:

0g
Sugar:

9g
Protein:

1g
Nutrition facts are an estimate and not guaranteed to be accurate.