Spiked Watermelon Limeade
This Spiked Limeade Watermelon Cocktail is the pitcher drink of our dreams! Made with just four ingredients, this beautiful pink mixed drink makes a refreshing sipper for the summer months. Makes 1 pitcher.
Love fruit forward drinks throughout the hot months? Be sure to check out and make this Blackberry Ginger White Wine Slush, Peach Moscow Mule, Homemade Cherry Limeade and Watermelon Frose!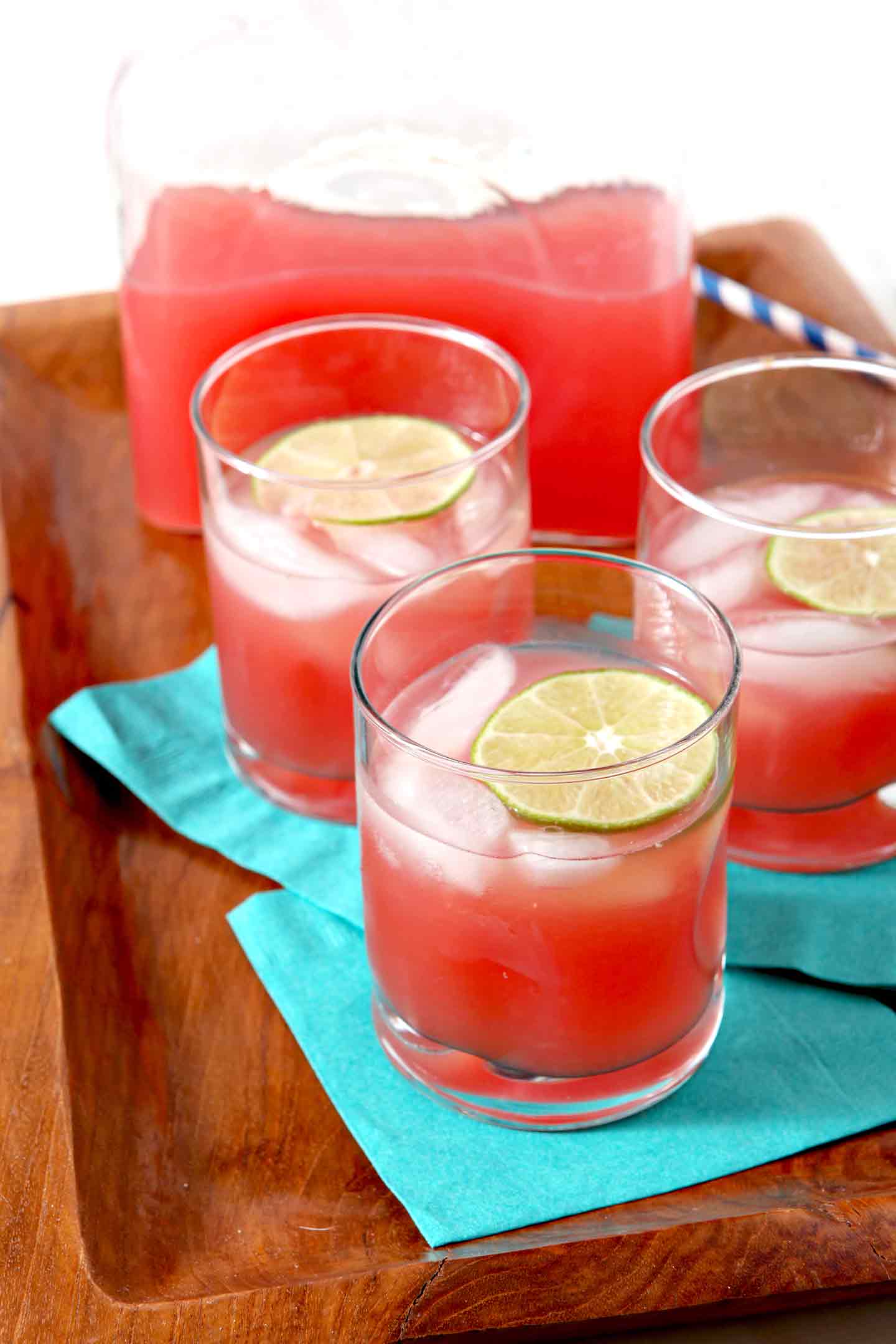 This watermelon cocktail recipe was originally posted on June 21, 2017. The post text and images were updated on August 5, 2020.
In my opinion, pitcher drinks are best enjoyed during the summertime months.
And as a Southern girl, I'm obsessed a little bit with watermelon. To me, it's the fruit of the summer because it is so wonderfully refreshing. We keep it in the fridge throughout the hot months so we can always have some on hand.
Why I love this limeade watermelon cocktail
It's hard not to love, quite honestly. This pitcher drink is refreshing and perfect for a hot summer's day.. and it can be made with or without the booze.
Spiked Watermelon Limeade would make a gorgeous drink to serve on July 4th—I mean, look at that color!—and it would also be amazing at a ladies' night, too.
Other pitcher drinks to sip this summer: Raspberry Mango Spring Sangria | Patriotic Tom Collins Punch | Peach Raspberry Sangria
Need more summer recipe inspo? Check out my Summer Recipe Index!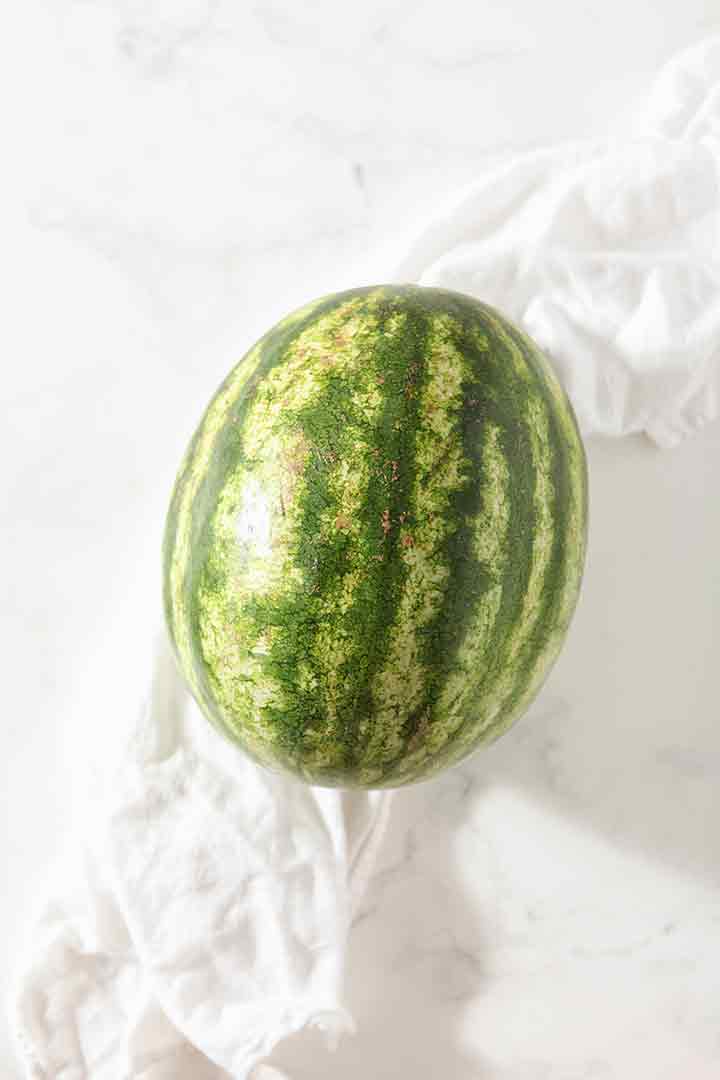 What you need to make this Lime Watermelon Cocktail
Disclaimer: The links below are affiliate links. If you click through and take action, I will receive a small commission. Please refer to my disclosure page for more information about the affiliate programs The Speckled Palate participates in.
In addition to these tools to make this watermelon pitcher drink, you're going to need some ingredients, too.
Granulated sugar and mint—for that homemade simple syrup! It sounds fancy, but I promise it's quite easy to put together.
Watermelon
Vodka—please don't use bottom shelf liquor. You'll taste the vodka in this watermelon cocktail, so you don't want it to taste bad.
Limes or freshly squeezed lime juice—not the shelf-stable bottled kind because it makes a difference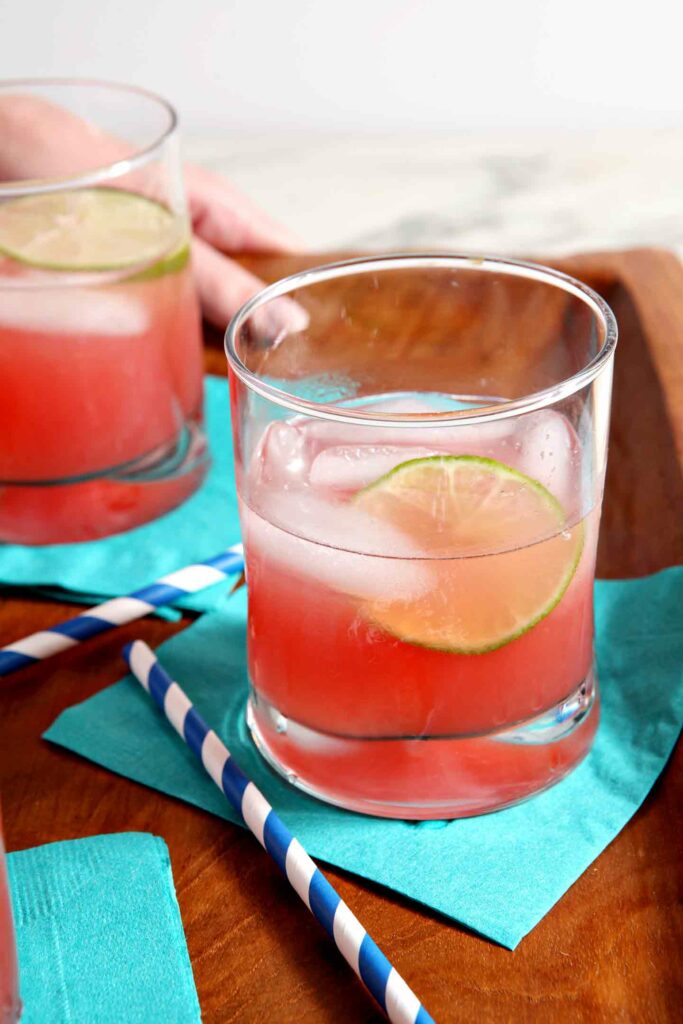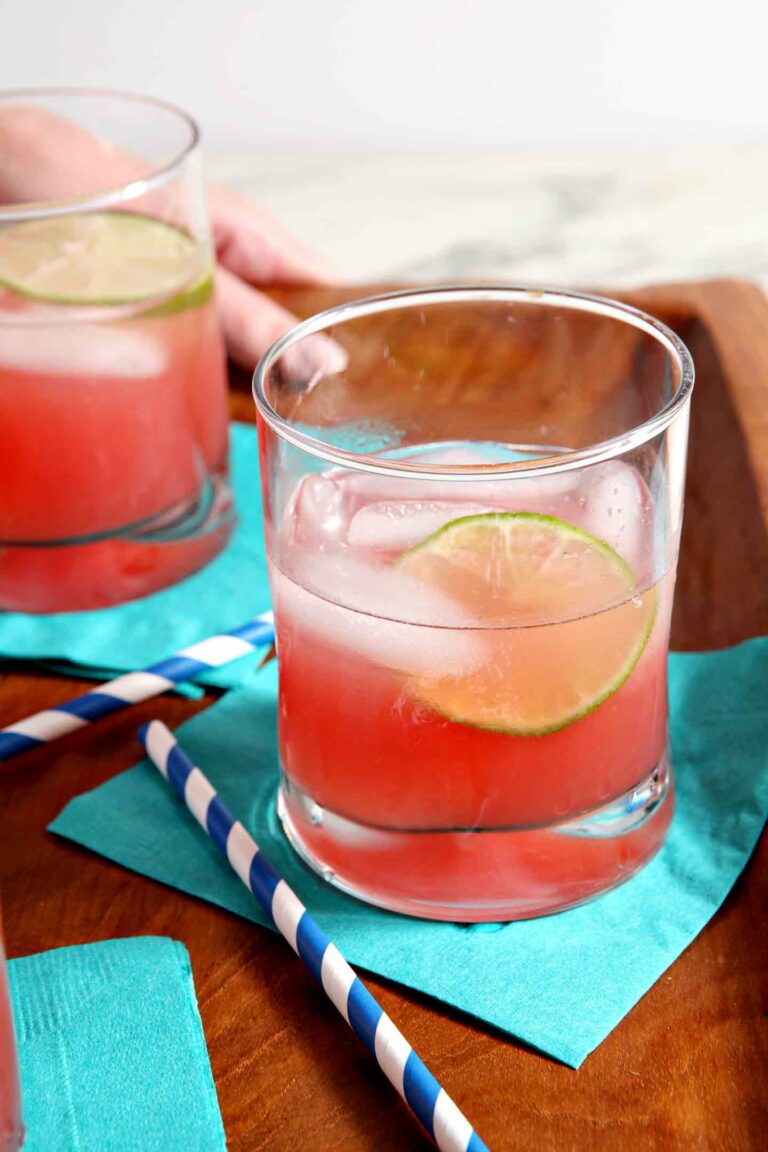 How to make this Limeade Watermelon Cocktail Pitcher
Make the Mint Simple Syrup
Measure the water and sugar into a saucepan. Heat it over medium heat, and bring to a boil.
When the sugar has completely dissolved, remove from the heat and add the sprig of mint.
Let the ingredients steep for 30 minutes before you strain (using a fine mesh strainer!) the mixture and transfer the simple syrup into a mason jar.
You can keep this in the fridge for up to two weeks! It's also really fantastic to add to Blueberry Lemonade and various other drinks. 🙂
Make the Pitcher Drink
First, we're going to make what I call the "watermelon liquor." Which is essentially blended up fresh watermelon.
Measure your watermelon chunks into your blender. Puree 'til smooth, then strain through a fine mesh strainer to remove the pulp. (If you don't remove the pulp, the drink will separate. It'll still taste great, but it's way prettier if you do this step.)
I like the strain my watermelon liquor directly into a large liquid measuring cup because that makes the next part even easier, but you do you. 🙂
Now we mix the limeade!
In the pitcher, combine the watermelon liquor/juice, freshly squeezed lime juice, mint simple syrup and vodka.
Stir until combined, then chill.
Serve cold over ice with a slice of lime!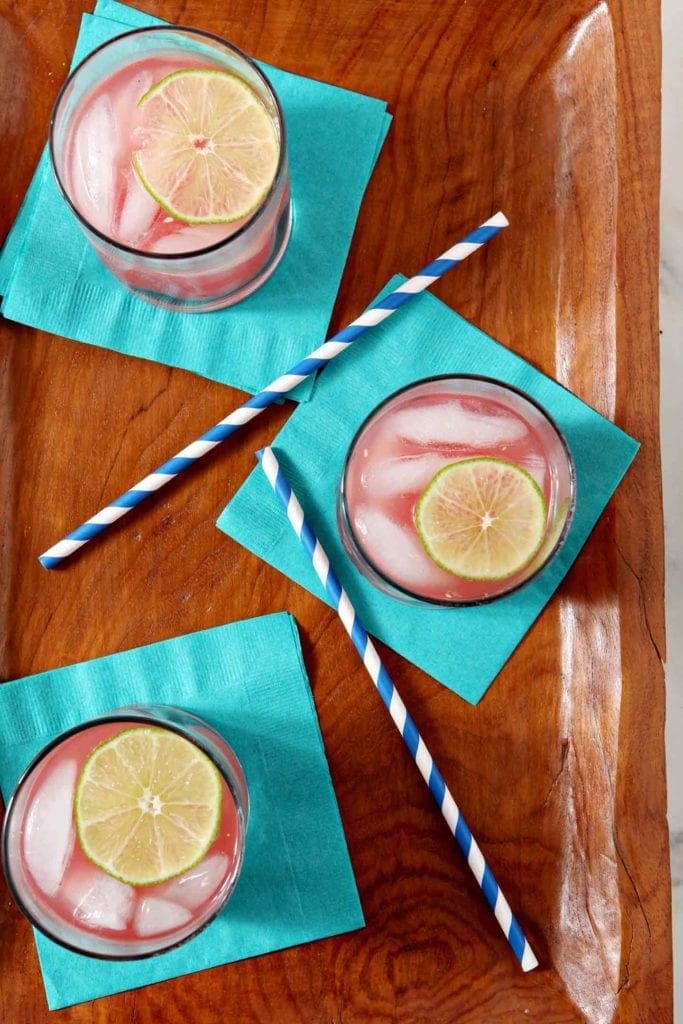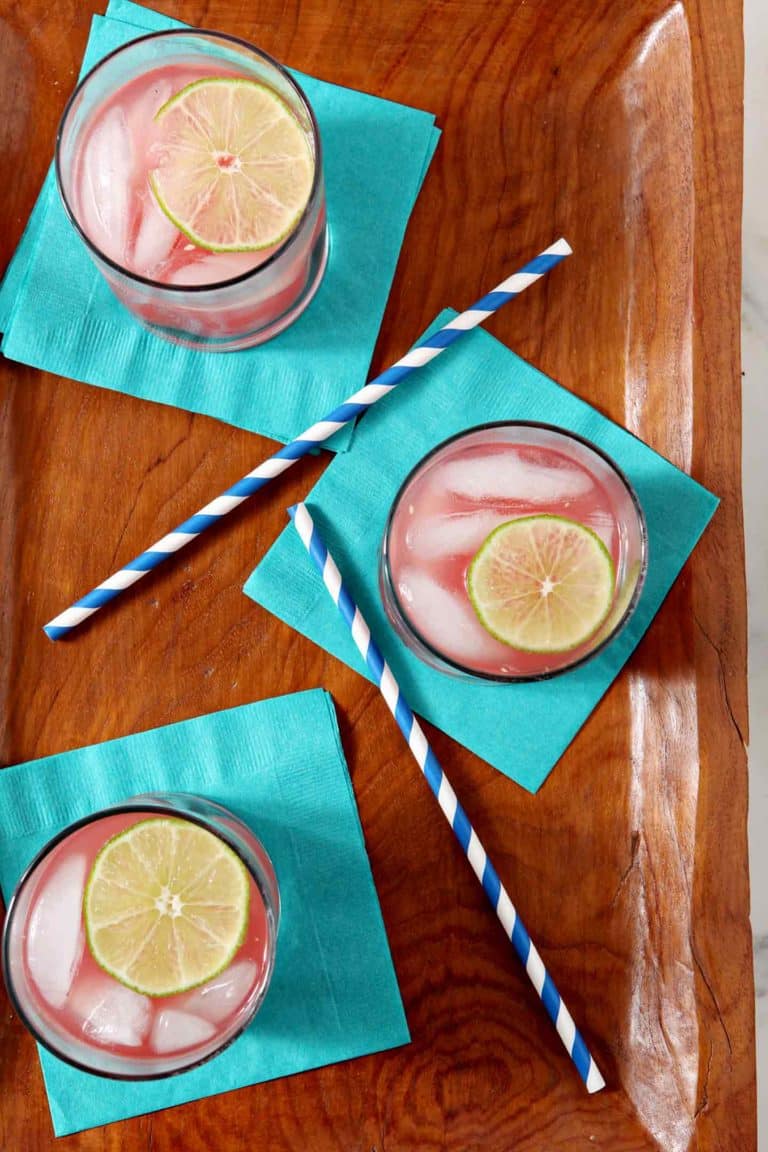 Erin's Easy Entertaining Tips
Y'all know what I'm going to say, right?
Pitcher drinks are awesome for summertime entertaining because a pitcher serves multiple friends.
Make your watermelon cocktail pitcher the day before you host guests. This way, it has more than enough time to chill out and be nice and ice cold. Also, you won't have to fret about blending up watermelon and combining the ingredients when guests are at your house.
Make it easy on yourself—purchasing fresh squeezed lime juice and pre-cut watermelon is a great way to cut down some of the prep time.
Leave out the vodka… and let friends spike it themselves! This would be a really thoughtful thing to do if you're hosting a mixed group of friends (especially if a friend doesn't drink and/or someone is pregnant or there are kids running about who might like to try some of this fun drink.)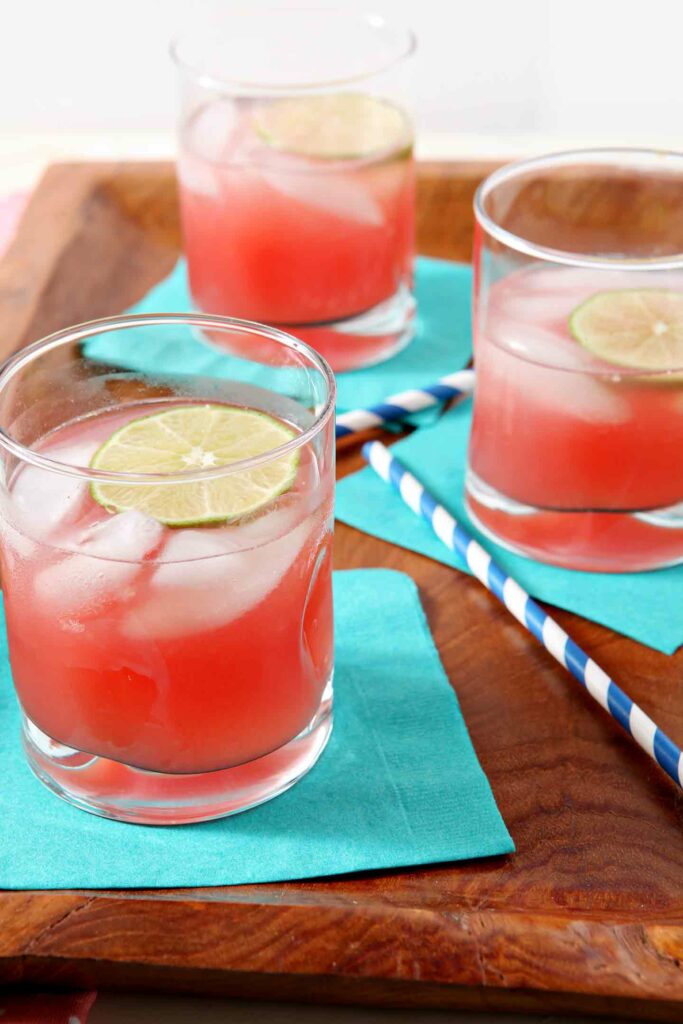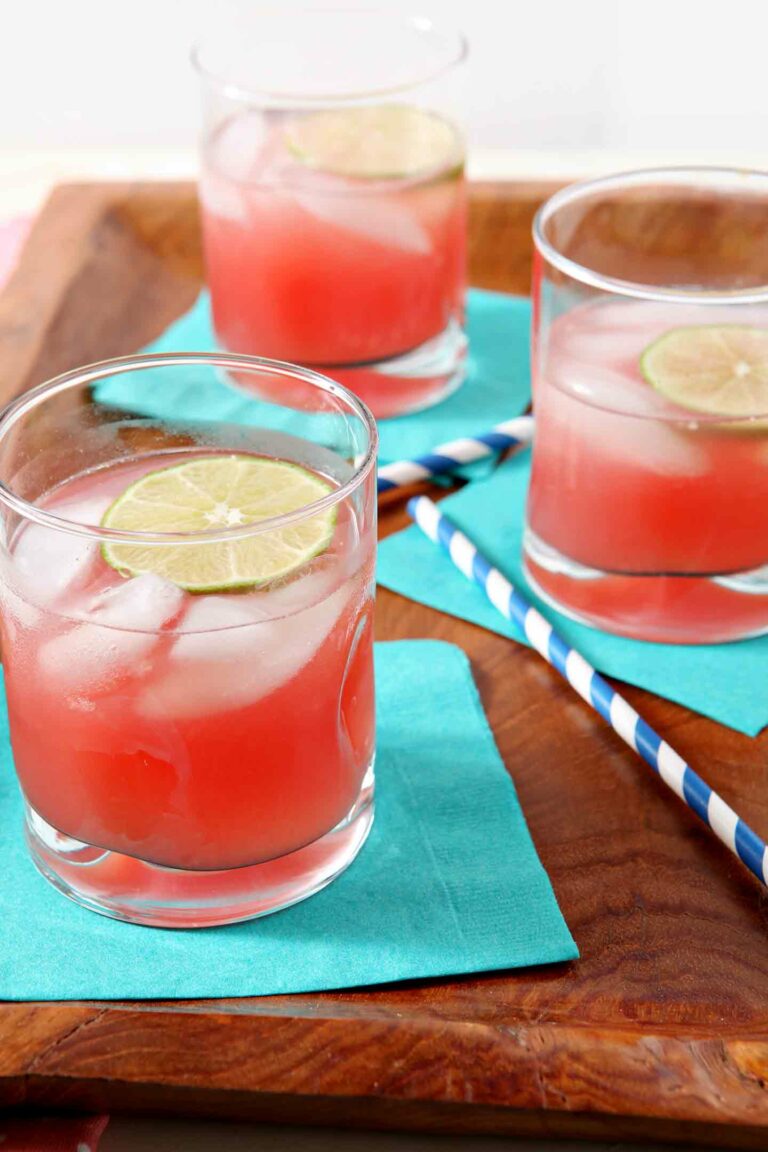 Frequently Asked Questions
How do I cut a whole watermelon?
I made a video for you!
Basically, you're going to slice off the bottom and the top of the watermelon so it can sit flat. Then you're going to run your knife down the sides, removing the rind. Take your time because you don't want your hands to slip!
When the rind has been removed, I always slice the watermelon into rounds and then dice it into smaller pieces.
What kind of vodka do you recommend for this pitcher drink?
Use a quality vodka. Period. The end.
Because you taste the alcohol in this lime watermelon cocktail, you want it to have good flavor. We're big fans of Tito's, if you're looking for a specific brand recommendation.
I'm hosting parents and kids. How should I mix this safely?
Whenever you're hosting kids and their parents, I like to mix a pitcher without the vodka so the kids can have sips (and so parents don't have to worry about their littles getting saucy.)
If you want to offer vodka for adults to spike their drinks with, do that! Just keep the vodka in a place where the kids can't access it. (So, in our house, we have our vodka in a pull out cabinet—and I will direct guests to it so they can add a shot to theirs.)
What are some dishes that pair well with this watermelon cocktail when you're entertaining?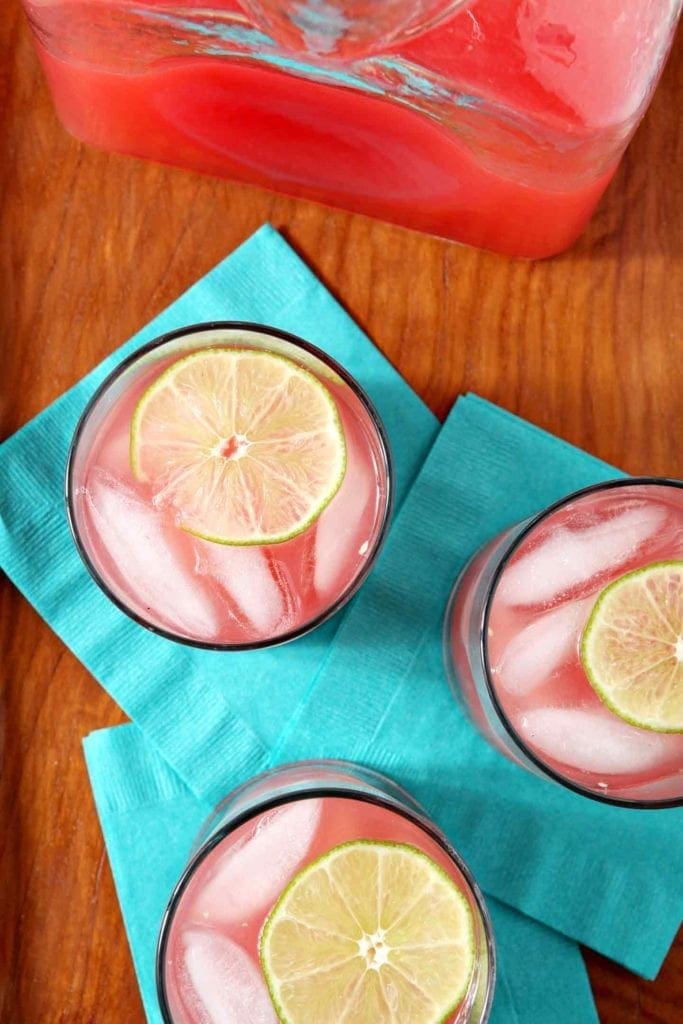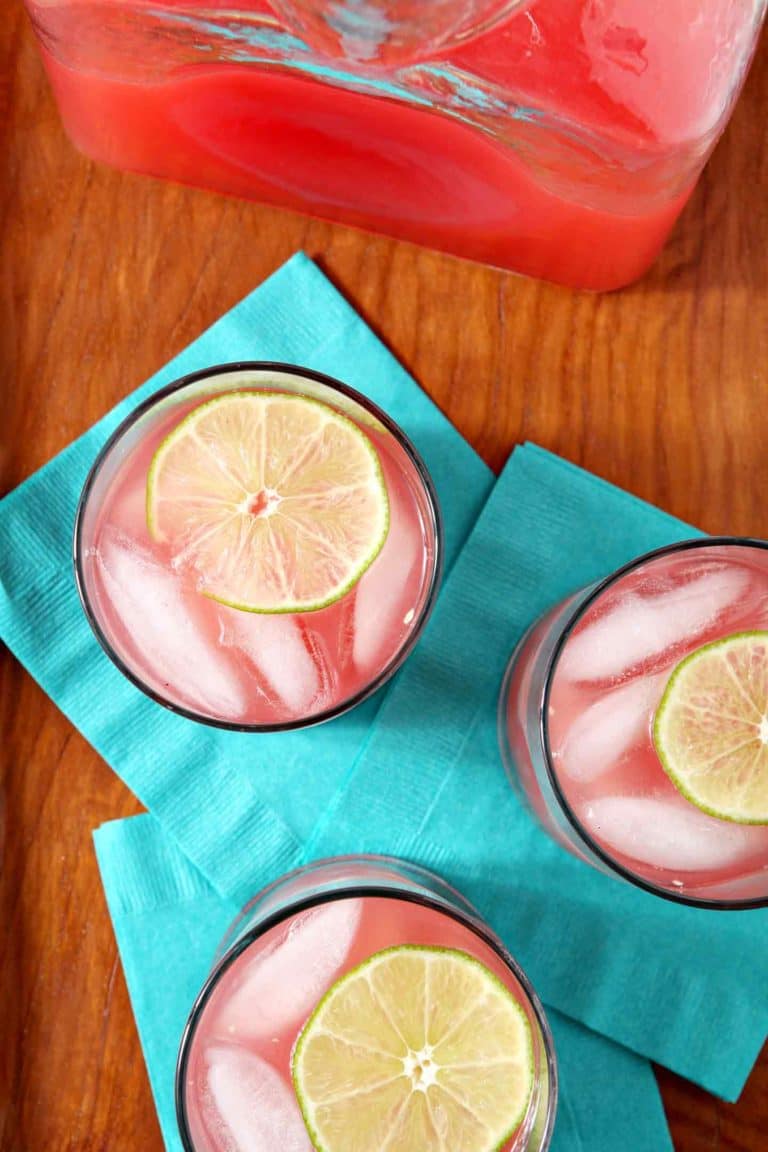 Quick Tips and Tricks for the Best Spiked Watermelon Limeade
Make it in advance. This watermelon cocktail keeps in the fridge well, so don't feel funny about mixing it a day before you plan to drink it with friends.
Take the time and strain the watermelon liquor. It'll separate and look really sad in your pitcher if you don't.
Use fresh lime juice. The shelf-stable lime juice just isn't as fresh or tart, and it makes a difference for this pitcher drink.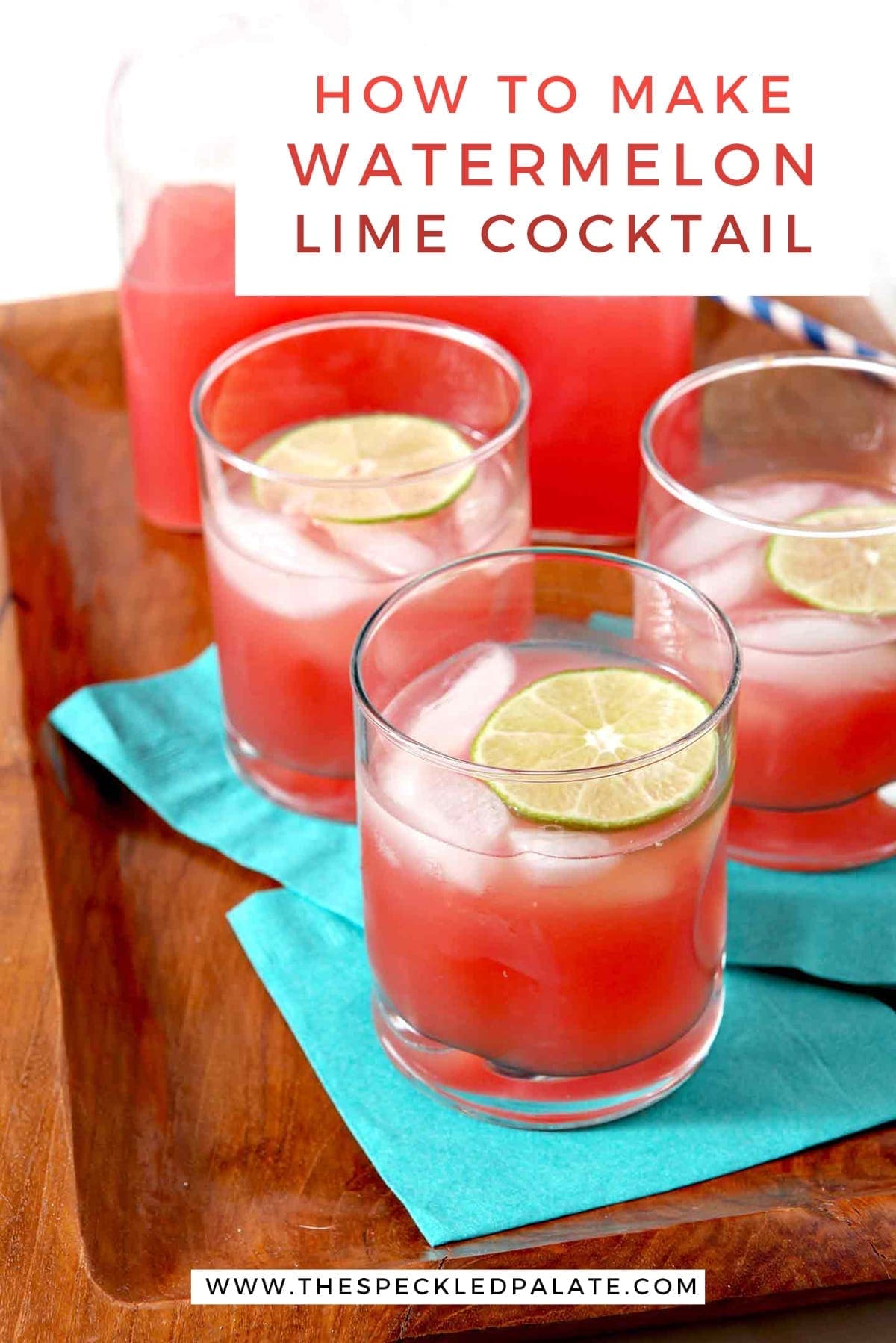 Interested in making a pitcher of this goodness?
Yield:

8 drinks
Spiked Watermelon Limeade
Spiked Watermelon Limeade is the pitcher drink of our dreams! This beautiful pink cocktail highlights just four ingredients for the ultimate summertime cocktail: watermelon, mint, lime and vodka. Puree watermelon chunks, then strain, and add to a pitcher with freshly squeezed lime juice and homemade mint simple syrup. Pour in vodka and chill, then serve to your besties! Refreshing and summery, this Spiked Watermelon Limeade makes a tasty sipper!
Ingredients
Mint Simple Syrup
1 cup water
1 cup granulated sugar
1 sprig fresh mint (about 10 leaves)
Watermelon Liquor
2 cups watermelon, bite-sized
Spiked Watermelon Limeade
1 ½ cups watermelon liquor (recipe above)
1 cup lime juice, freshly squeezed
¾ cup mint simple syrup
½ - ¾ cup vodka
Instructions
Make the Mint Simple Syrup
In a heavy bottomed saucepan, heat the water and sugar together over medium heat.
Bring to a boil, then remove from the heat.
Add the sprig of mint, and steep for 30 minutes.
Strain the simple syrup, and transfer into a mason jar. Cap and refrigerate for up to two weeks.
Make the Watermelon Liquor
Measure out the watermelon chunks, and place in the base of a blender.
Puree until smooth.
Using a fine mesh strainer, strain the watermelon liquor to remove the pulp.
Make the Limeade
In a pitcher, combine the watermelon liquor, freshly squeezed lime juice, mint simple syrup and vodka.
Stir until combined, then chill.
Serve cold (or over ice) with slice of lime, and enjoy!
Notes
This limeade can easily be made in advance and chilled until time to enjoy.
If you're serving a mixed crowd or some folks who do not drink alcohol, prepare the limeade in the pitcher without the vodka. When serving, add vodka to individual glasses, as per your guests' request.
Recommended Products
As an Amazon Associate and member of other affiliate programs, I earn from qualifying purchases.
Nutrition Information:
Yield:
8 drinks
Serving Size:
1 drink
Amount Per Serving:
Calories:

318
Total Fat:

0g
Saturated Fat:

0g
Trans Fat:

0g
Unsaturated Fat:

0g
Cholesterol:

0mg
Sodium:

12mg
Carbohydrates:

72g
Fiber:

0g
Sugar:

62g
Protein:

1g
Nutrition facts are an estimate and not guaranteed to be accurate.
How do you feel about watermelon?
Would you drink this limeade with or without the booze?