Strawberry Pineapple Agua Fresca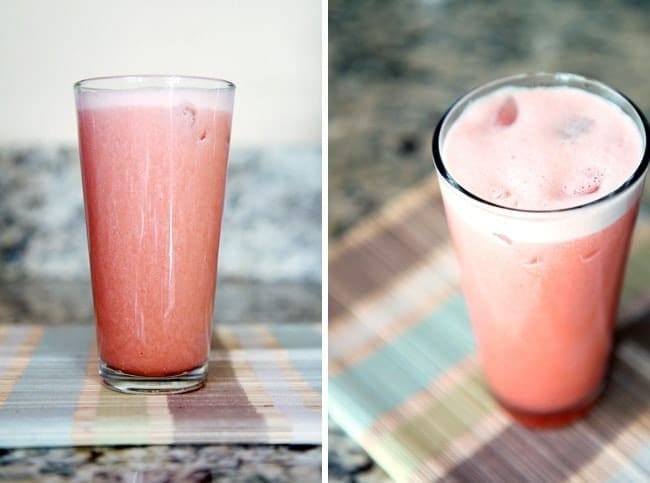 Before I go into this recipe, I want to say please don't be like me.
"Why?" you ask.
Because while I was sampling this recipe, I discovered a new food allergy — pineapple. And I ignored it. Because, clearly, that's what all the smart people do. (Actually, no, it's not.) And while I survived relatively unscathed with a swollen tongue as proof of my newfound allergy, food allergies are no joke. So don't be like me and push through an allergic reaction — it could be disastrous.
Whew, OK, so with that said, let's proceed…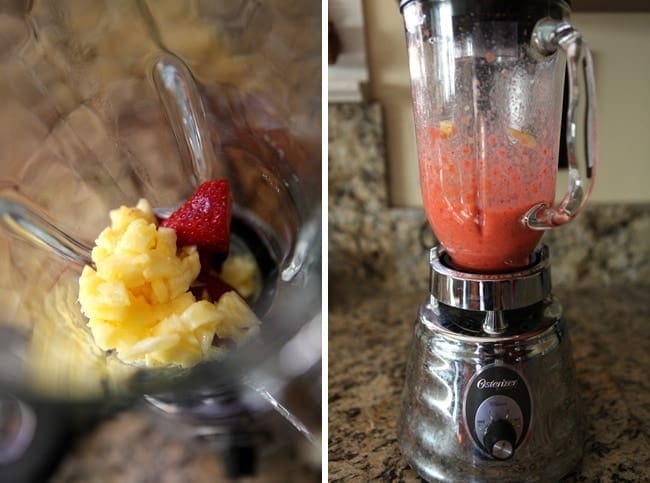 I originally tried this recipe out after a long run, and can I just tell y'all that it was perfectly refreshing? Because it was.
And because, despite the reaction I had afterward, it tasted pretty darn good, too.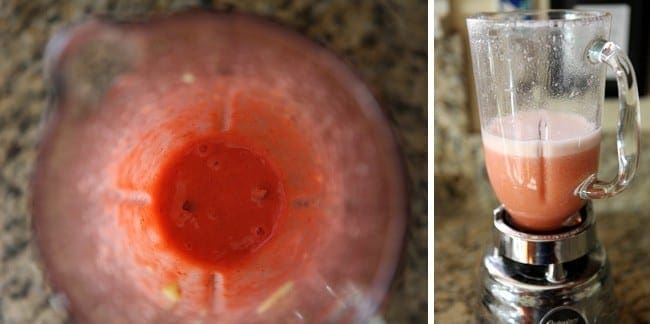 The recipe, itself, is super simple and is adapted from The Athlete's Palate Cookbook, a book lent to me by my Rouge-Orleans teammate, Katie. The recipes found in the book are fascinating, and of the few I have tried, I have enjoyed them all. However, this recipe jumped out as something to drink post-workout, and I just had to make it.
And while I'm no longer going to risk it where pineapple is involved, y'all better believe I'll be whipping this up sans-pineapple and perhaps adding a peach instead.
Check it out: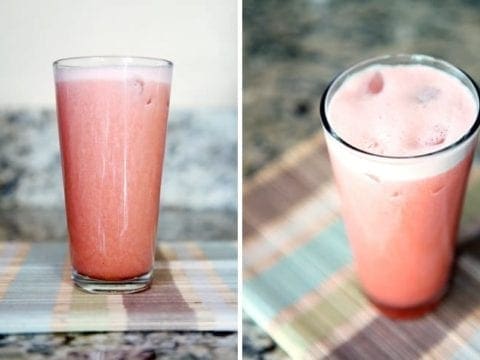 Yield:

1 drink
Strawberry Pineapple Agua Fresca
Strawberry Pineapple Agua Fresca is a delightfully refreshing and delicious warm weather drink that is startlingly simple to make in a hurry. Combine fresh pineapple and strawberries in a blender with chilled water and sugar, blend until combined, strain and enjoy! This agua fresca, adapted from Richard Sandoval's recipe inThe Athlete's Palate Cookbook, is the perfect sipper to enjoy on a warm summer's day!
Ingredients
¼ cup pineapple, chopped and fresh
4 strawberries, hulled
1 ½ cups water, cold
1 tablespoon plus 1 teaspoon granulated sugar
Instructions
In the base of a blender, puree the pineapple and strawberries together.
Using a fine mesh strainer, strain the puree to extract all the juice.
Combine the strained fruit puree and the water, then add sugar to taste. Stir until combined.
Pour over a few ice cubes, then enjoy!
Recommended Products
As an Amazon Associate and member of other affiliate programs, I earn from qualifying purchases.
Nutrition Information:
Yield:
1
Serving Size:
1
Amount Per Serving:
Calories:

60
Total Fat:

0g
Saturated Fat:

0g
Trans Fat:

0g
Unsaturated Fat:

0g
Cholesterol:

0mg
Sodium:

15mg
Carbohydrates:

15g
Fiber:

2g
Sugar:

12g
Protein:

1g
Nutrition facts are an estimate and not guaranteed to be accurate.
Here are my thoughts:
Was this recipe simple to make? Definitely.
Would I make this again? Yes, but I'd substitute out the pineapple for something else.
Other thoughts/ideas about the recipe? I'm glad I only added a tablespoon plus a teaspoon of sugar (which is still A TON) because this drink was more than sweet. Next time, I'd try adding less to see how it tasted.
…
Do you have a go-to post-workout drink?
If so, what is it? If not, what do you think would be awesome after a workout?