These classic Ground Beef Tacos are a simple and flavorful meal to make as an easy weeknight dinner for the whole family. Get your kids involved by letting them put together their tacos and add the toppings of their choice. Makes 8 tacos.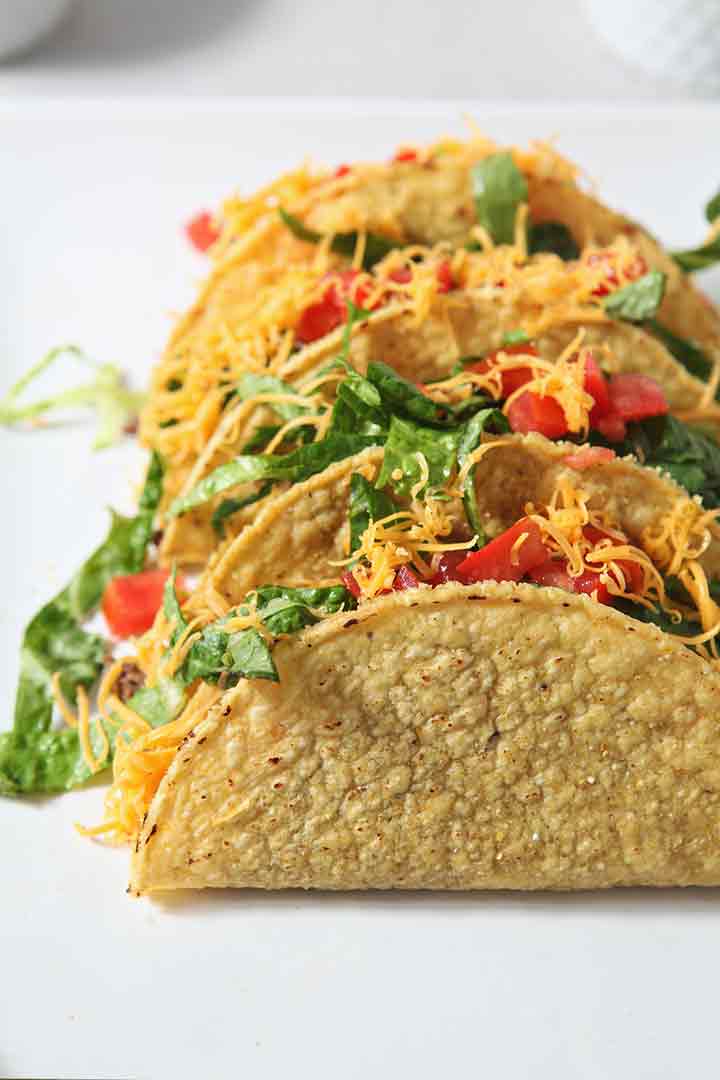 I'm sometimes not as eloquent as I would like to be, especially during moments of stress or doubt.
Simply put, I'm a bit of a mess. So are my house and my life on occasion.
I like to think that we all have these jumbled moments in our lives because, ahem, life is MESSY sometimes. And we are given the opportunity to make the most of these messy moments.
I'm working on capitalizing on 'em.
These tacos are kind of like me—they aren't necessarily eloquent and are kind of messy.
But they're amazingly flavorful once you get over that mess.
Why I love this recipe:
Who doesn't love a classic ground beef taco? These are, after all, the tacos that remind me of my childhood.
They also remind my kids of one of their favorite books. (There's a reason one of our friends calls these babies "Dragons Love Tacos" tacos.)
This is the BEST ground beef taco recipe because it's incredibly simple to put together, easy to scale and obviously, utterly delicious for any kind of meal.
Whether you're making a quick meal for the family or hosting Taco Tuesday (or perhaps a Mexican Dinner Party), these tacos are great for any occasion!
Other TexMex recipes we love for weeknights: Pork Carnitas Enchiladas / Blackened Shrimp Tacos / Chipotle Lime Spicy Beer Can Chicken / Creamy Chicken Enchilada Bruschetta / Soy Seared Cod Tacos with Spicy Slaw / Skirt Steak Tacos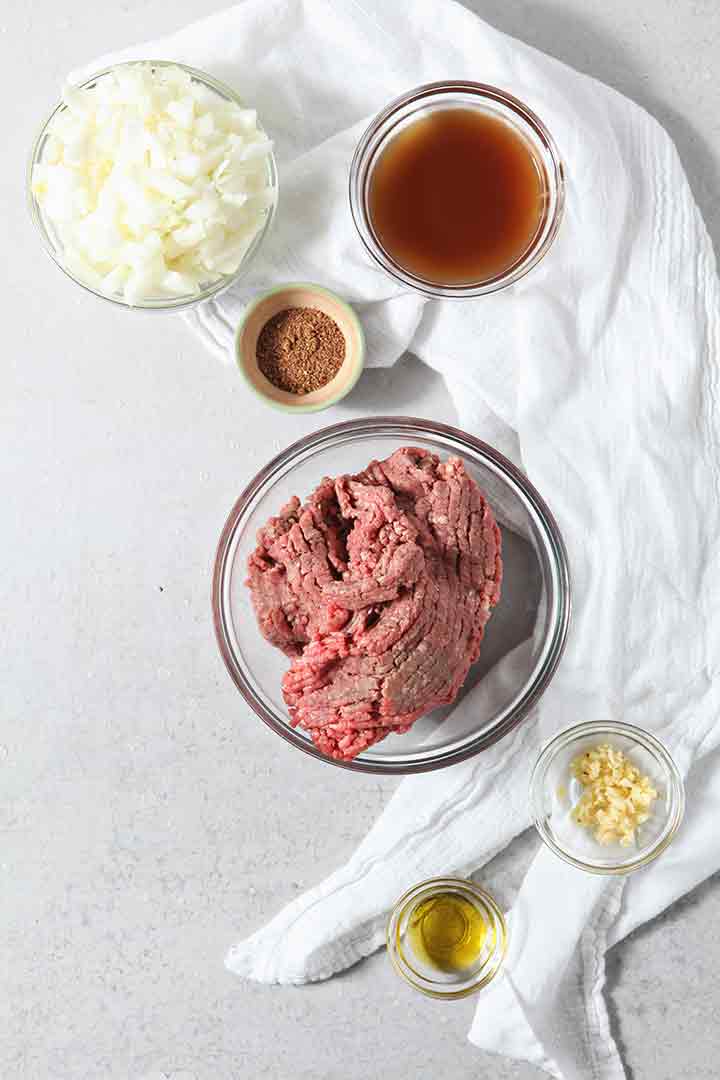 What you need to make this recipe
The Speckled Palate participates in affiliate programs. As an Amazon Associate, I earn a commission from qualifying purchases. Please refer to my disclosure page for more information about these affiliate programs.
Let's talk ingredients!
In addition to the tools above, you're going to need some ingredients to make this recipe, too! Chances are, you might already have some of them in your fridge or pantry. Scroll down to the recipe card for the full measurements and instructions.
Here's what you need:
85% ground beef — while I love lean ground beef, now is not one of the occasions to use it. The fattier ground beef makes for greater flavor, and that's what we want for these tacos.
Onion — we like yellow or white onion in this recipe because they add a sharpness and mellow as they cook
Garlic — we just need one pod, so you can mince it yourself or use the jarred kind. If you're using the pre-chopped garlic, I recommend using double the amount recommended.
Extra virgin olive oil — or another neutral oil
Taco seasoning — you can use the store-bought taco seasoning or a homemade taco seasoning. I like to make a big 'ol batch of the homemade kind and keep it in my cupboard for taco night.
Low sodium beef broth — we use this to deglaze the pan, and it adds a little extra flavor! If you don't have it on hand, use some water to create the same effect.
Tortillas — use flour tortillas, corn tortillas or crispy tortillas for this recipe. Whatever makes you happy is what you should use, and our family tends to rotate through the three of these on a pretty regular frequency.
The best toppings for homemade tacos:
This, obviously, all depends on you and your tastebuds. Here are a few of our favorites. Feel free to mix and match 'em:
Shredded lettuce
Chopped tomatoes
Shredded cheddar cheese
Sour cream
Pico de gallo
Avocado slices or avocado cream sauce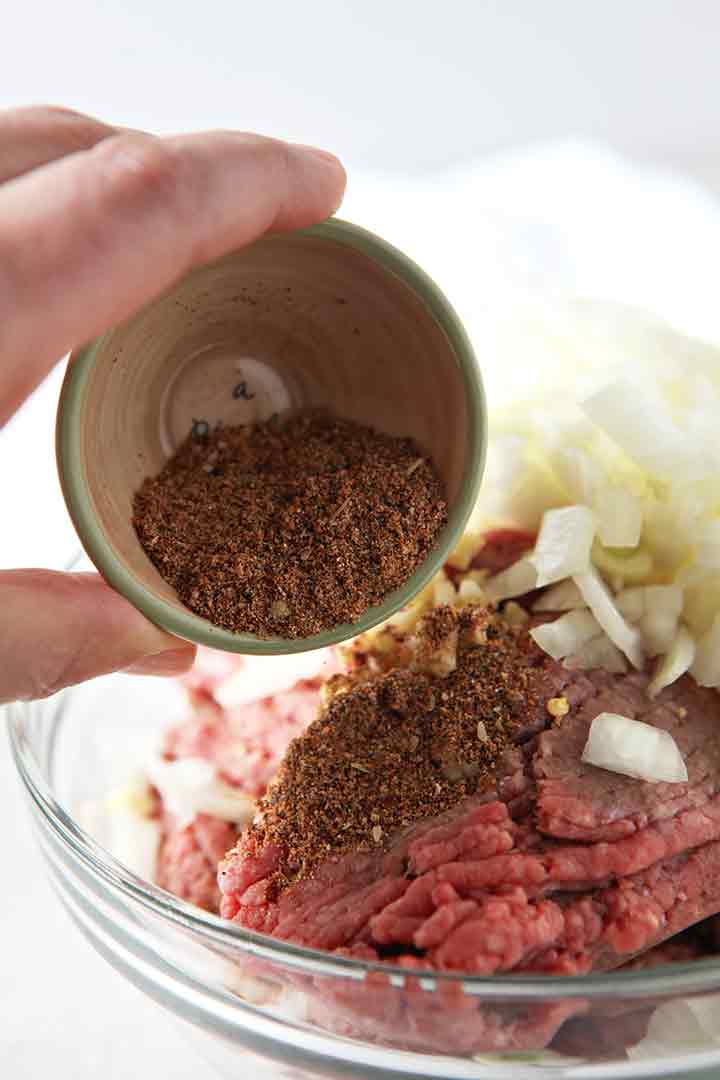 How to Make Ground Beef Tacos
Cook the onion.
Heat your favorite skillet over medium-high heat. When it's warm, add the oil.
Once the oil is shimmering, add the onion, and cook for about 5 minutes. You want it to become translucent.
When the onion is nearly done, add the garlic, and cook until it becomes fragrant. This will take 1-2 minutes tops, and you don't want your garlic to get too brown because burnt garlic will absolutely take away from the flavor of this dish.
Cook the ground beef.
When the onion and garlic are done, add the seasoned ground beef to the skillet. We're going to brown it.
Browning taco meat is the process of cooking the surface of the meat. (It can also be used to cook the meat completely through.) The browning process gives the meat a brown color and adds flavor. It also pulls out excess fats from the meat.
Use a wooden spoon or another kitchen tool to break it into smaller pieces, and season with the taco seasoning.
Cook the beef over the medium-high heat for about 10 minutes, constantly moving it around the skillet with the wooden spoon and occasionally breaking it into smaller pieces.
It will begin to get browner, and some will stick to the bottom of the pan. (Don't worry about this—we'll address it in a few.)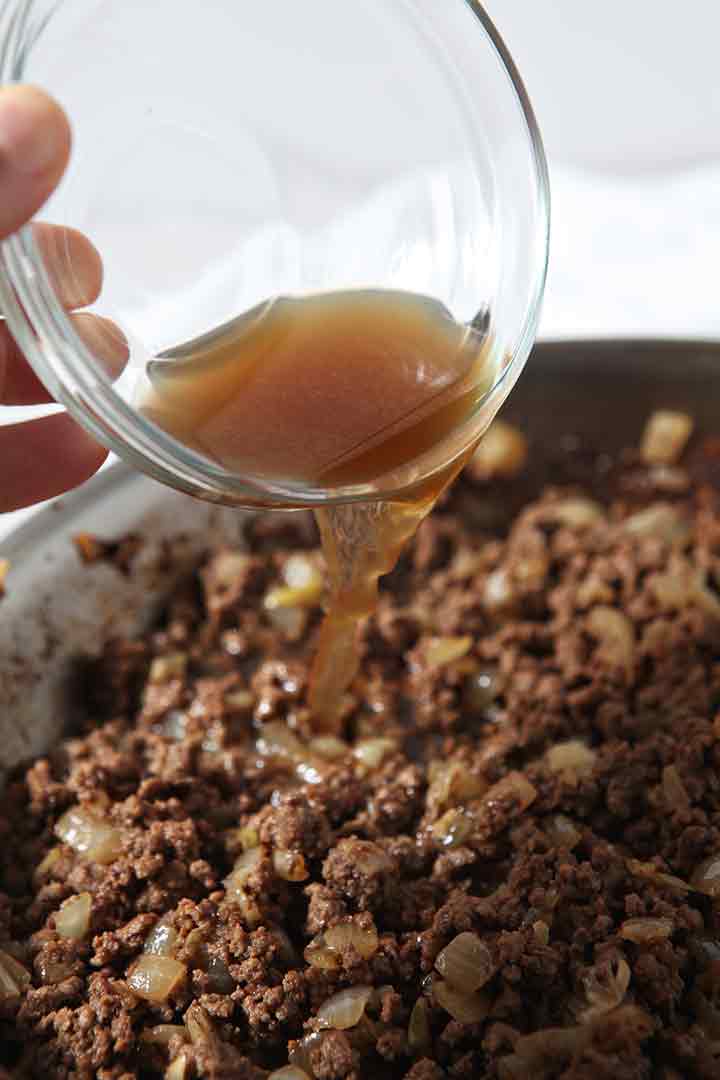 Deglaze the pan.
Deglazing the pan is simply adding liquid to help remove all those browned bits from the bottom of the pan.
Pour in your broth (you can sub water or veggie broth if you don't have beef broth on hand), and scrape, scrape, scrape the bottom of the pan as the liquid bubbles.
Once you've gotten all the goodness off the bottom of your skillet, turn down the heat, and simmer for 10 minutes.
Why? This is going to ensure our beef is thoroughly cooked, but still incredibly juicy.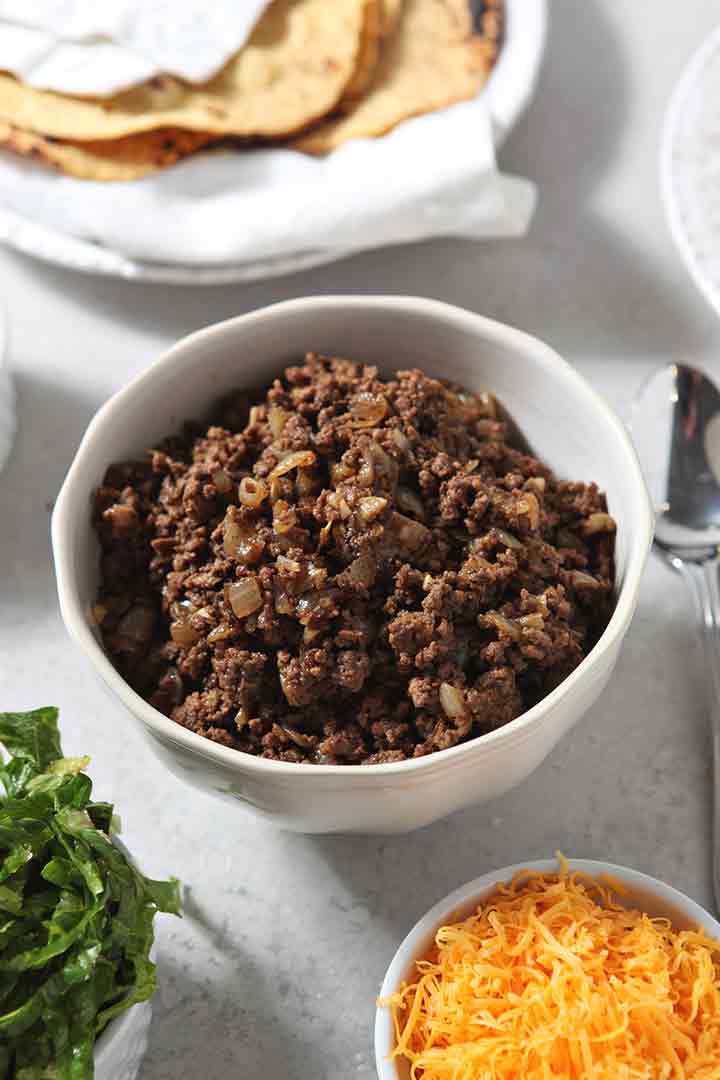 Assemble the tacos.
While the beef finishes cooking, I warm up hard taco shells in the oven and get color on the soft ones on the stovetop.
Chop all your toppings (and measure out the ones that are from packages in the fridge) and place in bowls.
Once everything is done, let everyone build their own tacos, adding the ground beef to the shell of their choosing and whatever toppings float their boat.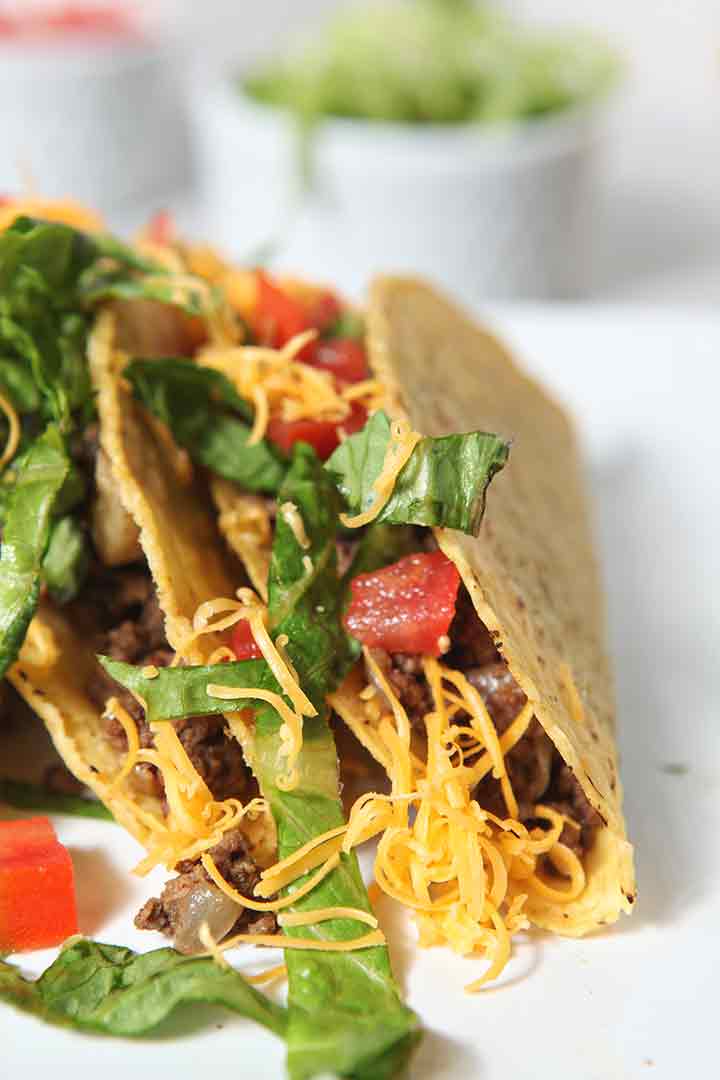 Erin's Easy Entertaining Tips
Tacos are excellent for entertaining! Not only are they incredibly flavorful and well-loved, but they're easy to eat in a variety of settings.
Here are some ideas of how you can entertain with these beef tacos:
Double or triple the recipe. Depending on how many people you're hosting, double or triple this recipe to make a big batch.
Make a taco bar! Cook up the ground meat, and serve in a giant bowl. Warm the taco shells, and place the toppings in smaller bowls. Set it all out on a flat surface, and let guests build their own tacos.
Cook the beef and onions in advance. If you're short on time at night or hosting folks, make the bulk of your meal in advance, and store it in the fridge. Heat it up in the microwave when it's just about time to eat.
Chop the lettuce and shred the cheese early, to make this an even easier weeknight meal. (Don't chop the tomatoes in advance because you want to leave those at room temperature.)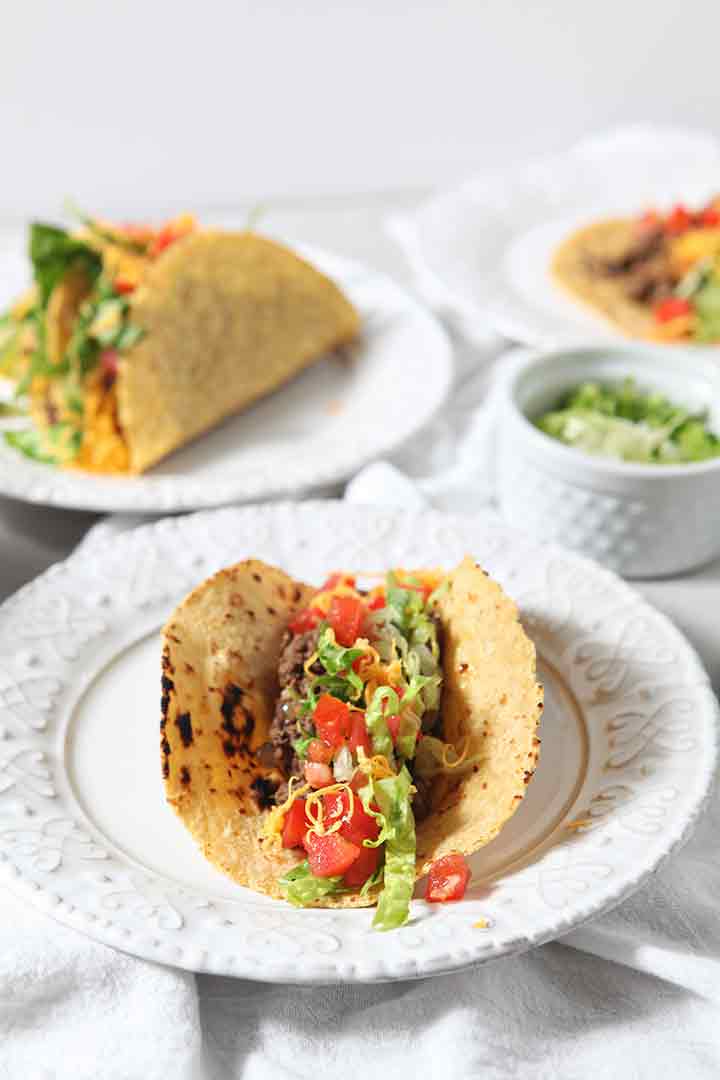 Frequently Asked Questions
How do you warm soft tortillas?
You can wrap them in a slightly damp kitchen towel. Heat in 15-20 second bursts in the microwave until warm.

OR you can place over an open flame on your stovetop, using tongs to turn the tortilla over the flame so it gets some color but doesn't catch fire. When you're heating it on the stovetop, you'll know it's time to turn it when the tortilla begins to fill with air and puff up.

Personally, I like the stovetop method, but I realize not everyone has a gas range.

If you'd like to warm them on the stovetop without a gas range, you can place them in a clean skillet over medium-high heat. When the tortilla begins to puff up, flip with a pair of tongs.
How many tacos will a pound of ground beef make?
Honestly, it depends on the size of your tacos and how much beef you like in them.

My recipe here calls for 1 ¼ lb. ground beef, and it makes for 8 tacos. I've also used a pound of beef in this recipe and made 8 tacos.
How do you drain ground beef?
Line a plate with paper towels, and then scoop the ground beef out of the pan onto it so that the paper soaks up any excess fat.

I don't drain the ground beef in this recipe and instead cook it down as much as possible before pouring broth into the skillet to deglaze it.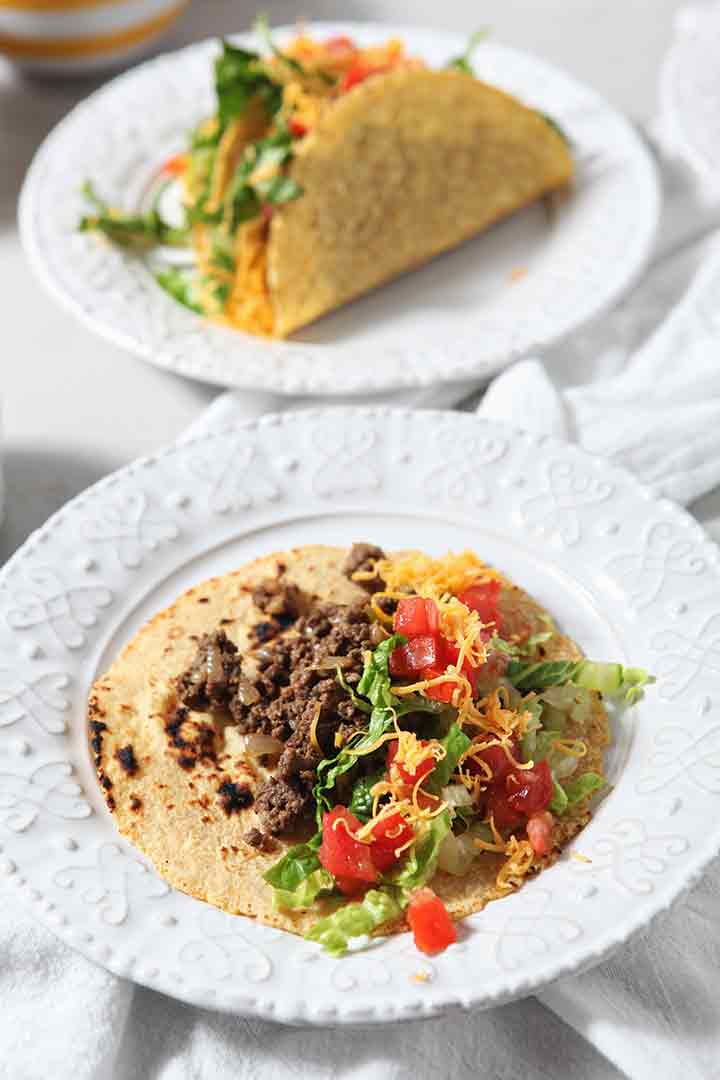 Quick tips and tricks for the best tacos
Do not use super lean ground beef. We want the fat in the less lean ground beef to add extra flavor to these classic beef tacos.
Heat up the tortillas. Whether you're using crispy, corn or flour, be sure to warm them up for the ultimate taco.
How to store: Store the taco filling in an airtight food storage container in the refrigerator. Store the taco toppings in separate containers in the fridge, too, for a few days.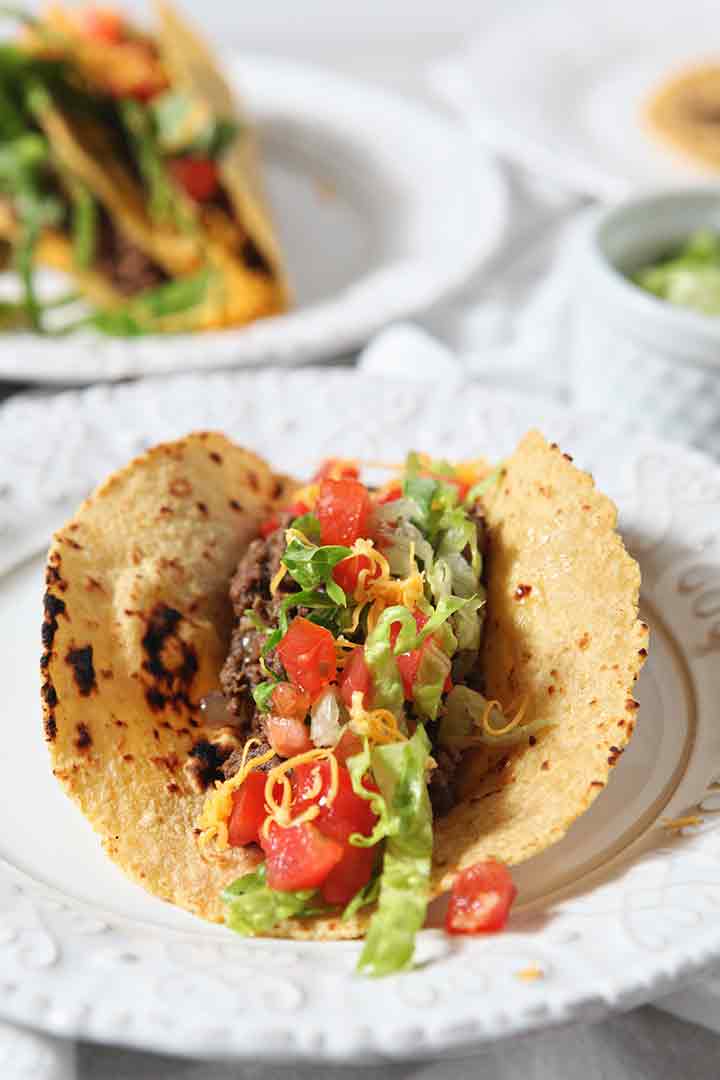 What are some side dishes I can serve with these beef tacos?
Love taco flavors? You've got to try Turkey Taco Salad with Homemade Catalina Dressing, Beef Taco Pasta Salad and Crock Pot Beefy Potato Taco Casserole.
Want this recipe? Scroll on down…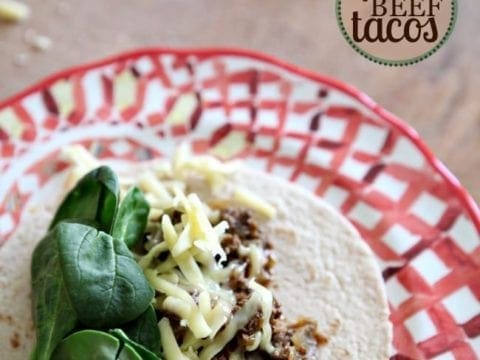 Yield:

8 tacos
Ground Beef Tacos
These soft shell Ground Beef Tacos are a simple meal to make any weeknight. Ground beef is cooked with onion and garlic, then simmered in vegetable broth before serving atop your favorite tortillas. Top with cheese, lettuce, tomatoes and more, then enjoy warm!
Ingredients
1 ¼ lbs. 85% ground beef
1 large onion, finely diced
1 garlic pod, finely minced
2 teaspoons extra virgin olive oil
1/3 cup low sodium beef broth
8 tortillas (flour, corn or crispy OK)
Toppings
Romaine lettuce, sliced thin
Tomatoes, chopped
Cheddar cheese, shredded
Sour cream
Instructions
Heat a skillet over medium-high heat, and add the olive oil.
When the oil is shimmering, add the onion.
Cook for about 5 minutes, or until the onion becomes translucent. Add the garlic once the onion is nearly done, stirring so it doesn't burn. (Burnt garlic is the worst!)
When the garlic becomes fragrant, add the ground beef. Use a wooden spoon to break it into smaller pieces.
Sprinkle in the taco seasoning.
Cook for around 10 minutes or until the beef is browned thoroughly, then pour in the broth, scraping the bottom of the pan for browned bits as the liquid soaks it up.
Turn down the heat and simmer for 10 more minutes. You'll know it is done once the broth has soaked into the meat and onion mixture. The meat will be entirely cooked through, but still juicy.
Serve immediately on tortillas and top with your favorite taco toppings.
Notes
Make this fun for the kids! Whenever we make these Ground Beef Tacos, I set out the different toppings for the tacos in small bowls and let our daughter make her own. She thinks it's so much fun, and this simple act gets her excited to eat the dinner that she had a hand in.
Recommended Products
As an Amazon Associate and member of other affiliate programs, I earn from qualifying purchases.
Nutrition Information:
Yield:
8 tacos
Serving Size:
1 taco
Amount Per Serving:
Calories:

416
Total Fat:

19g
Saturated Fat:

7g
Trans Fat:

1g
Unsaturated Fat:

10g
Cholesterol:

68mg
Sodium:

352mg
Carbohydrates:

35g
Fiber:

4g
Sugar:

3g
Protein:

26g
Nutrition facts are an estimate and not guaranteed to be accurate.
The photos and recipe for these Ground Beef Tacos were originally published on April 22, 2013. The photographs, along with the text of this blog post, were updated on June 19, 2019.