How to Host a Mexican Dinner Party
Love Mexican food? Love your people? Combine the two and host the ultimate Mexican Dinner Party. This step-by-step guide shows how to put together and successfully throw a dinner party without losing your mind… and we've made you a menu, a shopping list, a timeline, too, so it's as easy as possible!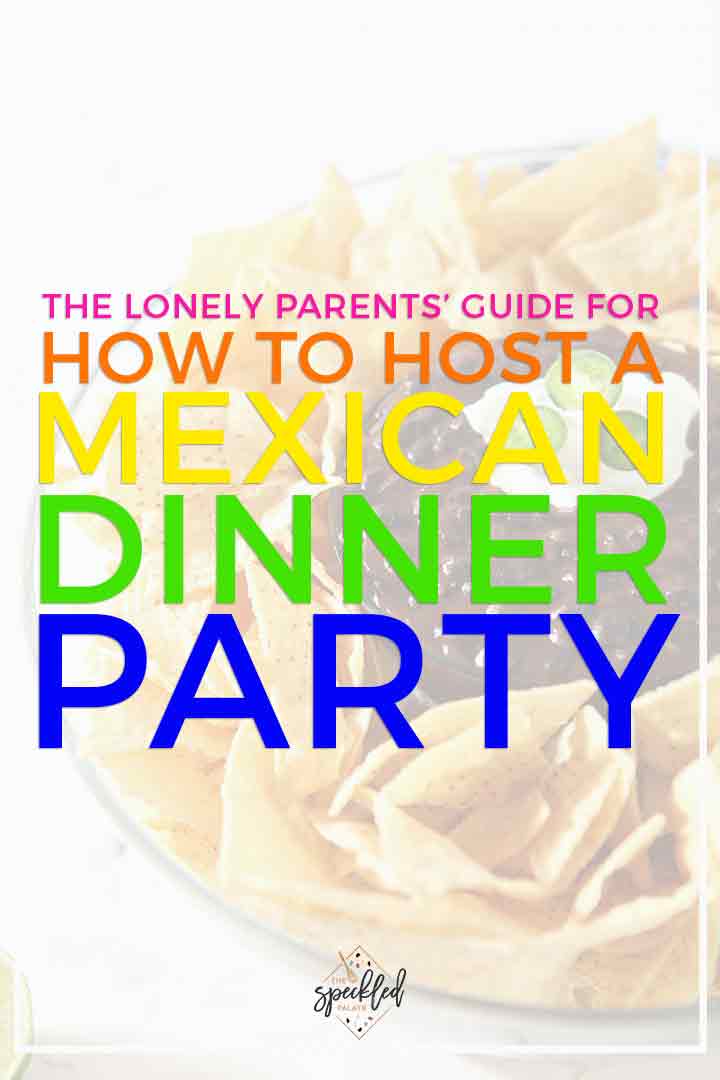 Real talk: I wasn't always an entertaining diva.
While my family absolutely hosted parties when I was a kid and while I know I enjoyed that, I didn't really do anything on my own until college… and even then, it was my final year.
A few girlfriends and I had the brilliant idea of having a rotating dinner club. Every Sunday, one of us would cook a recipe. The others would bring whatever the host suggested we bring (let's be real: drinks were always suggested.) We'd learn how to make the dish together, and then we'd eat.
Our Sunday Night Dinner Family instilled in me the love of cooking for my people, and those laid back dinner parties are exactly how I like to entertain now.
Four and a half years ago, we had our first daughter. Last year, our second one was born.
And suddenly, throwing together an impromptu dinner party (or even a relatively planned one) got a whole lot more challenging.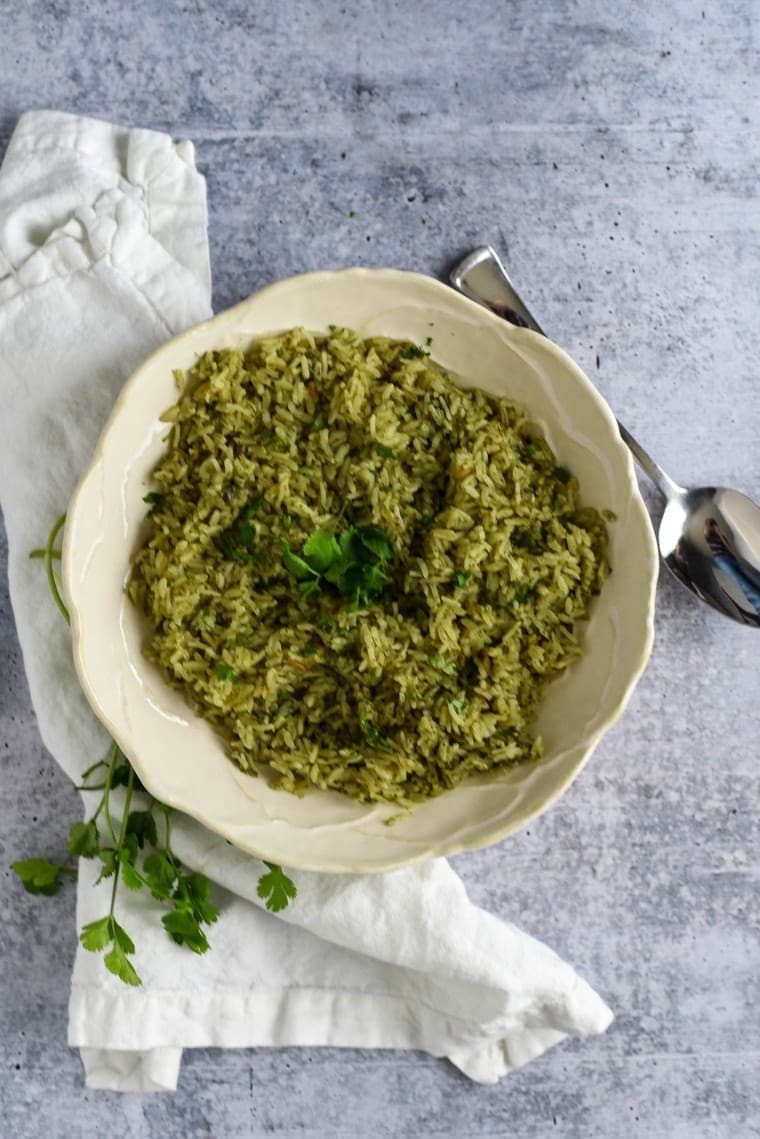 The Lonely Parents' Guide to Dinner Parties
I'm teaming up my friend, Jenni, from The Gingered Whisk. If you don't know Jenni, let me tell you all about her: She's a whiz in the kitchen, and her recipes are family-friendly, easy to make and even easier to eat. (I should know. We've gobbled up all the recipes of hers we've made, including her Lemon Cakes, which I tried to take down singlehandedly.)
She's my go-to person for cooking with my older daughter and finding age-friendly tasks, as well as things to occupy her as I cook that aren't the TV, since I struggle with coming up with reasonable tasks.
In other words, Jenni is a cooking-with-kids guru, and she and I are teaming up to bring y'all the ultimate guide of how to host parties while also being a parent.
Because it can—and should!—be done.
Between Jenni and I, we have five kids under the age of 10. We know the stress you feel whenever stepping into the kitchen. (Heck, we've felt it ourselves so many times.) We know how impossible it can seem to actually host something in your house.
BUT! As parents, you can get a little lonely, too. While we both love being moms and staying home with our girls—we're so lucky we get to do this!—we've both longed for adult interactions and connections, too.
So we're using our skills to make at-home entertaining WITH KIDS a possibility for all!
Our goal is to show how busy families with small children can host and enjoy entertaining, and that it can be easy and fun, too. Even on a weeknight.
Because we all deserve that time to be with our friends. And our kids deserve to have a place at the table, too.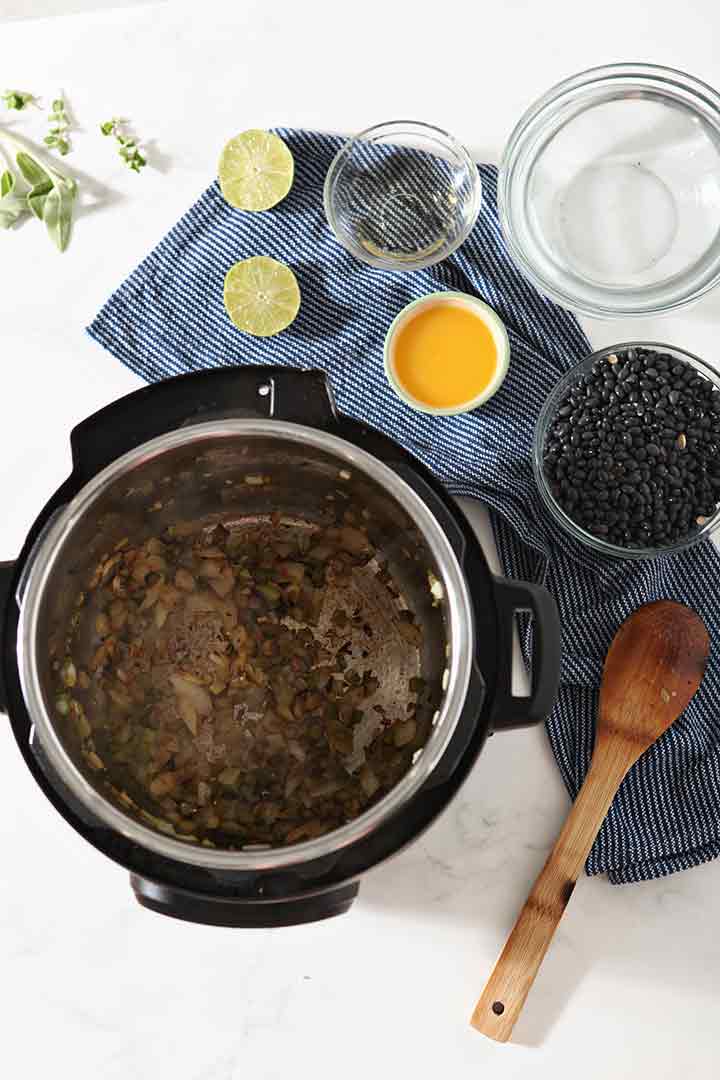 What you'll need to host a Mexican Dinner Party
Disclaimer: The links below are affiliate links. If you click through and take action, I will receive a small commission. Please refer to my disclosure page for more information about the affiliate programs The Speckled Palate participates in.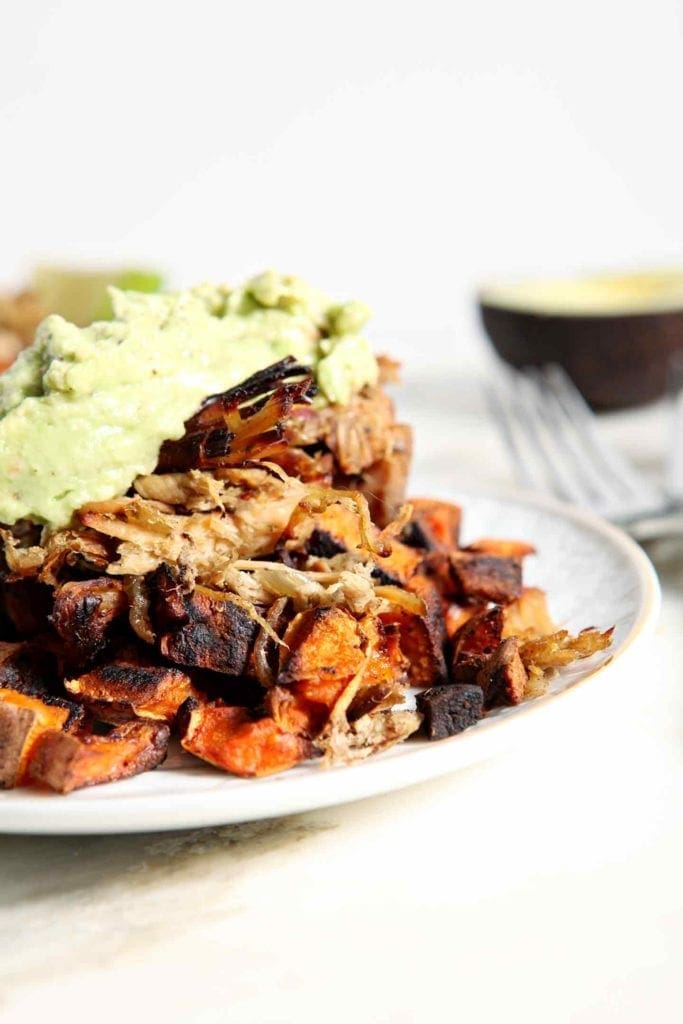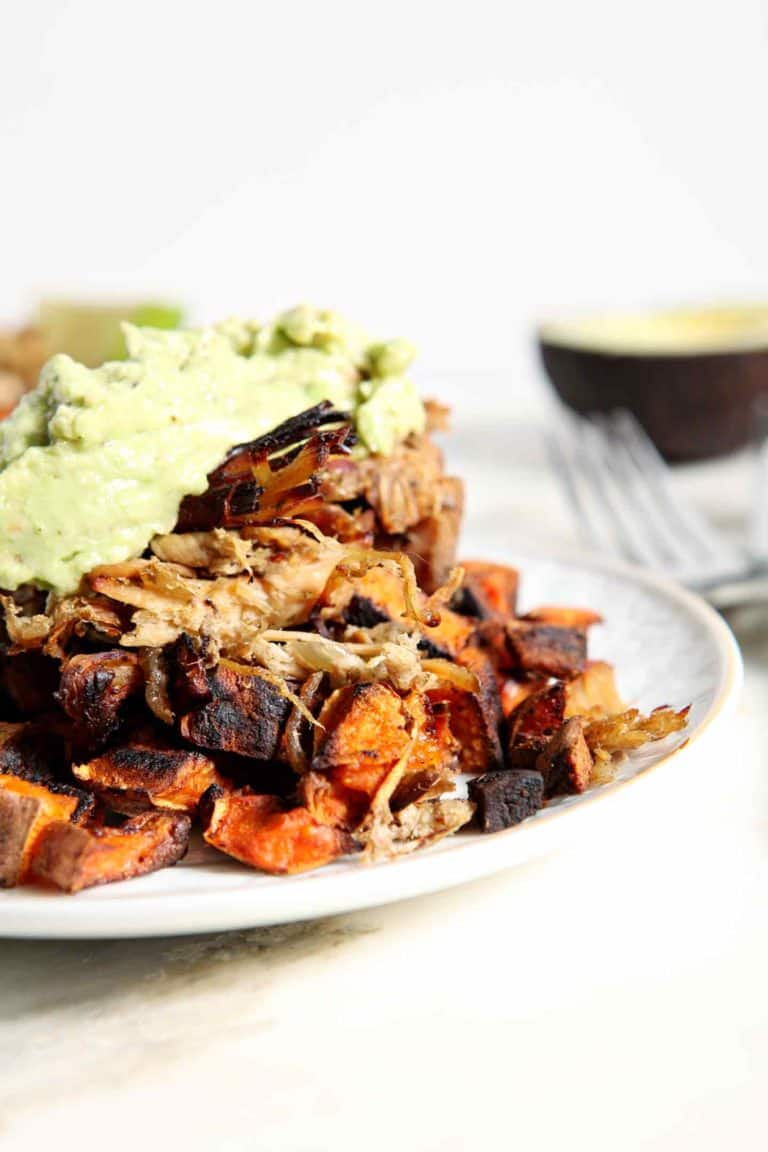 How to prepare ahead for a Mexican Dinner Party
Choose a time and a date for your dinner party. Select your guests and get everyone's RSVP's so you know when and where.
Create your menu and purchase your groceries.
For our menu, we've chosen to serve…
Black Bean Dip
Slow Cooker Carnitas with Sweet Potato Hash and Guacamole
Mexican Green Rice
Cocadas
Watermelon Agua Fresca
And we've made some brilliant downloads to help y'all know exactly what you need to execute this menu.
Make some of the food ahead of time, too. We've chosen dishes, listed in the recipe card below, that can be made a day or two before so that you don't have to panic while cooking everything the day of.
We have created a timeline download for you to successfully be able to execute our menu easily, but in case you don't want to look at it, here are some ideas of tasks that can be done in advance:
Chop all your veggies the day before, and store in the fridge.
Bake the Cocadas the day before.
Make the Agua Fresca the day before, and then blend before serving.
Make the Black Bean Dip the day before, and reheat in the microwave before garnishing and serving.
Cook the Carnitas in the slow cooker the day before. Shred and store in the fridge overnight. Before guests arrive, crisp it up in the oven.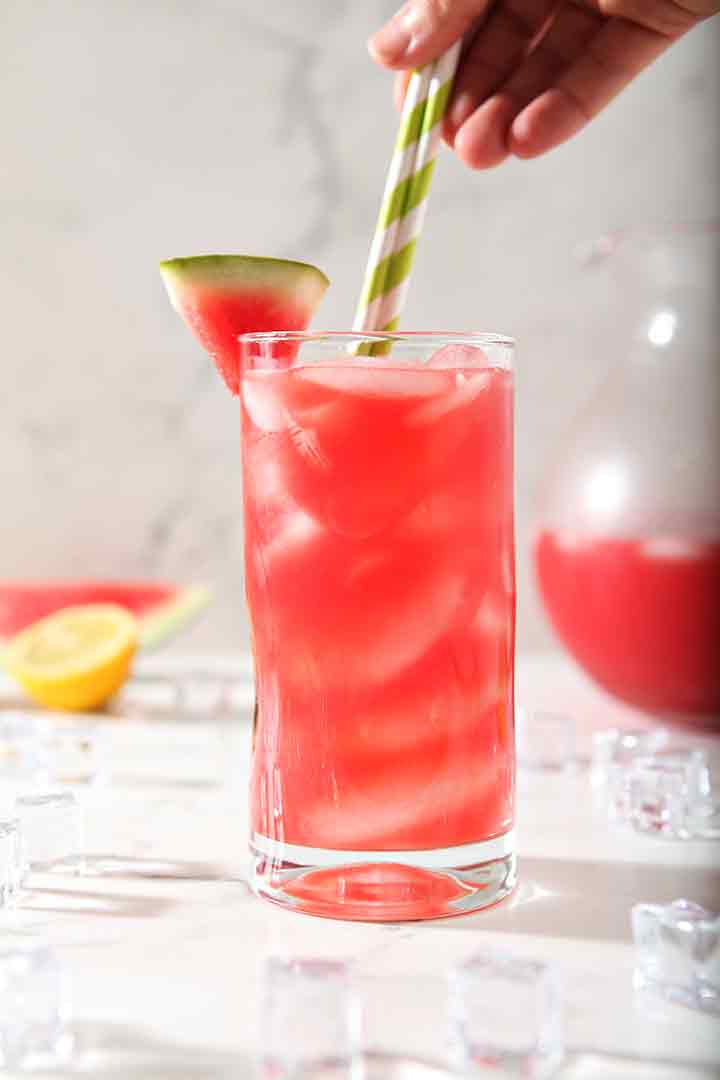 Easy entertaining tips for hosting success
Know your guests' dietary restrictions. If you've invited vegans, the menu Jenni and I have created for you isn't going to work.
That said, you can customize certain things on this menu.
The carnitas, sweet potatoes, guacamole, dip and rice are all gluten free and dairy free.
The agua fresca can be made without added sugar, provided your watermelon is sweet enough.
Choose your platters, dishes and servingware 2-3 days before the dinner party. I like to decide what every dish will be served in before I begin cooking. And then once they're chosen, I label them with a sticky note. You can leave them out on the table, or if you have cats (or small children who can reach the table), store in their usual spots, labeled.
Your platters, dishes and servingware do not have to be fancy or matchy-matchy. You should use what you already own!
Do a little digging in your cabinets a few days before the gathering to get an idea of what you have and what might be a good fit for various dishes.
The weird, colorful serving bowl you got as a wedding present that you've never used? It might be perfect for the rice! The silver serving platter you were gifted for your birthday? Perfect for the carnitas!
Be creative… I know you can make this work!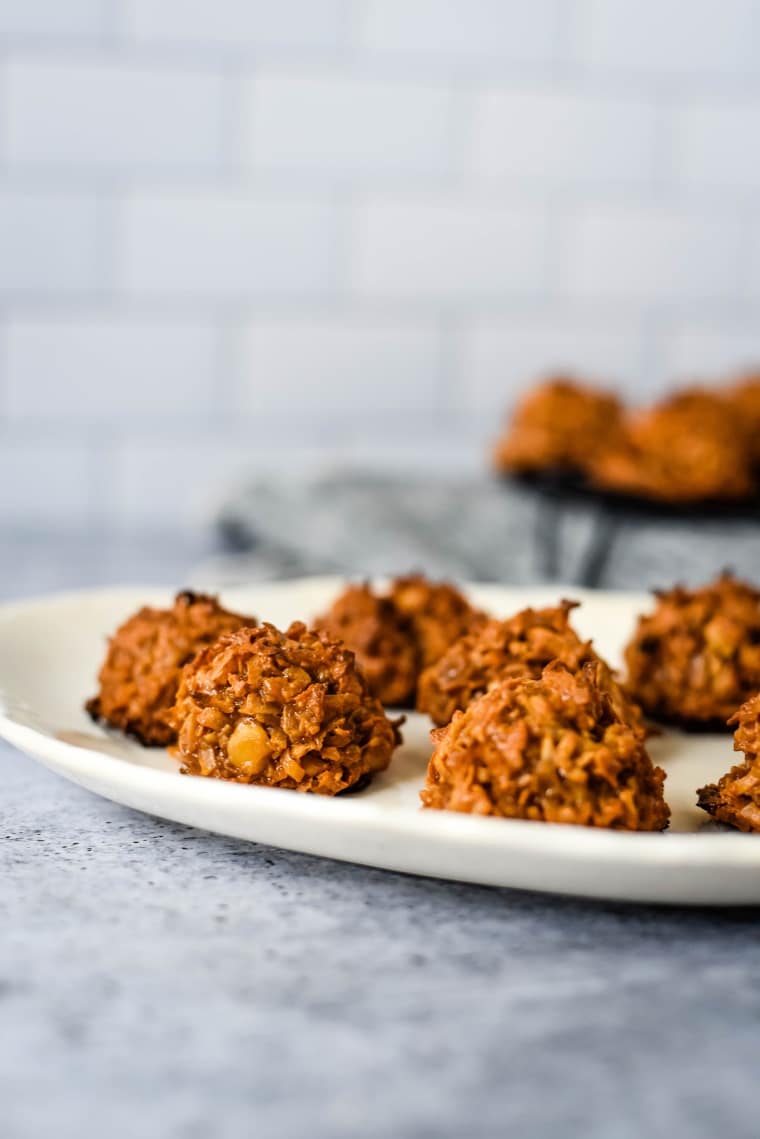 Frequently Asked Questions
What's this timeline you speak of?
I'm glad you asked! While planning out this dinner party, Jenni and I wanted to equip everyone with success.
Because of this, I've created a custom timeline for hosting this dinner party… and when you subscribe to my e-mail list below, it will be delivered to your inbox.
How the heck do I entertain with kids?
In my experience, you let go of expectations… and you learn to roll with the punches.
That said, you should head over to Jenni's post because she has tons of tips and tricks for getting your kids in the kitchen to help you prepare for and out together a dinner party. (Yes. Really!)
She's also put together a grocery list for our menu. On that list, you'll find things for kids to do while at the grocery fstore so shopping for your dinner party won't seem chaotic.
If you head over here and join her e-mail list, you'll receive that download as a thank you.
What are some easy décor Ideas for a Mexican Dinner Party?
Cut fresh greenery and flowers from your yard (or from your neighbor's once you get their permission) to create an easy peasy centerpiece on your table
Purchase or use festive paper (or fabric) napkins that match your gathering to add a pop of color to the 
tablescape.
Turn a buffet table or an unused table into a serving table! Set out the dishes on the buffet, and let guests walk through to fill their plates and cups.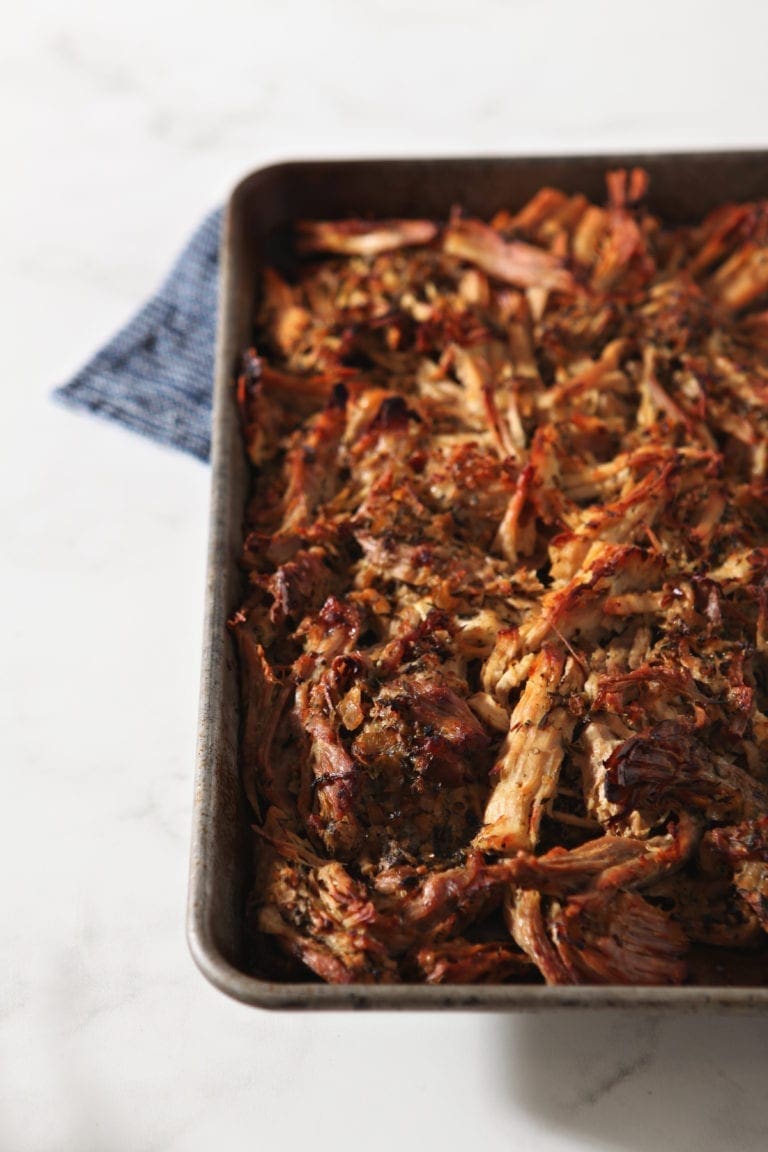 Ready to see our menu? Scroll on down…
Mexican Dinner Party Menu
Looking to host a dinner party highlighting all kinds of Mexican food? You've come to the right place! We've put together a perfect menu (that lends itself easily for making ahead) for a tasty family dinner party.