Cool down with a glass of naturally sweetened Mint Lemonade. This classic twist calls for very few ingredients and is refreshing on any warm day. Makes 1 glass of lemonade, but can easily be turned into a pitcher drink.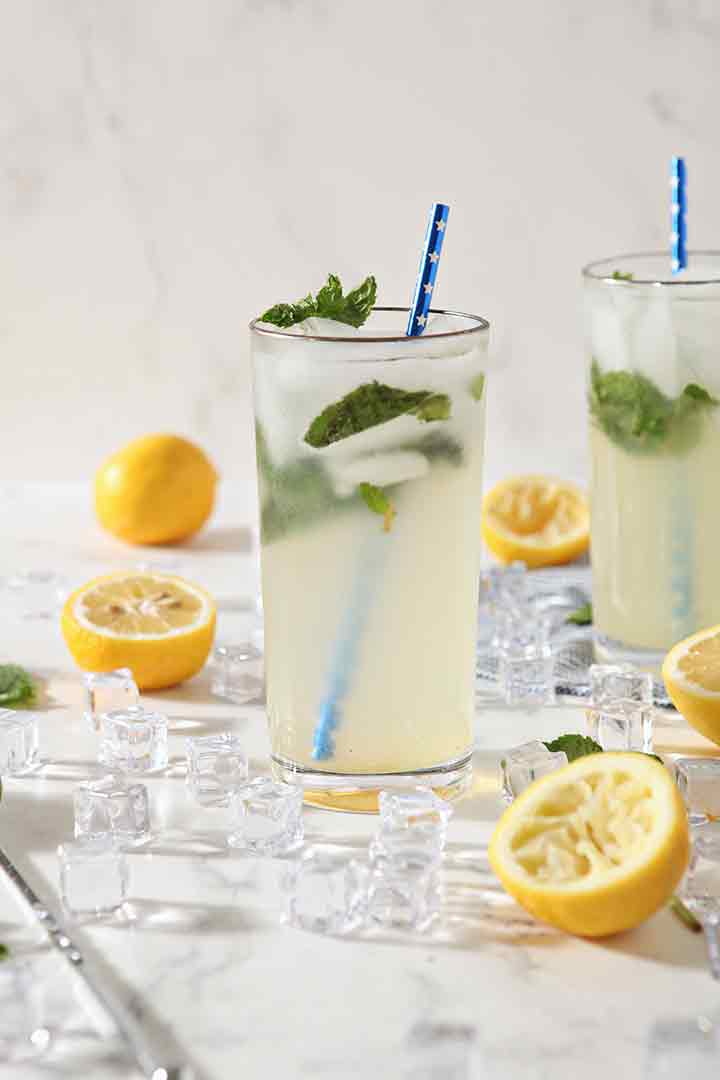 I don't know about you, but I want something that's going to cool me down as the temperature rises daily.
The impending summer scorch has me craving lemonade.
When I worked in Mississippi as a staff photographer, I stumbled upon the most charming little lemonade stand when I was searching for "wild art."
What's wild art, you say? When there were holes that needed to be filled in the paper, the photographers are sent out to drive around town and find something fun to make photos of… and I lucked out with a lemonade stand because it was hopping!
I haven't seen any lemonade stands pop up in my neighborhood just yet, but I know it's only a matter of time because the heat of summer is creeping toward us.
Other refreshing summertime drinks: Blackberry Mint Spa Water / Arnold Palmer Iced Tea Lemonade Mocktail / Blackberry Mint Spritzer / Sweet Sunrise Mocktail / Blueberry Lemonade / Pomegranate Ginger Orange Sparkling Mocktail | Fresh Squeezed Lemonade | Watermelon Lemonade | Lavender Lemonade
Looking for another refreshing summer drink? Be sure to check out my Nonalcoholic Drinks Recipe Index and The BEST Lemonade Recipes for Kids!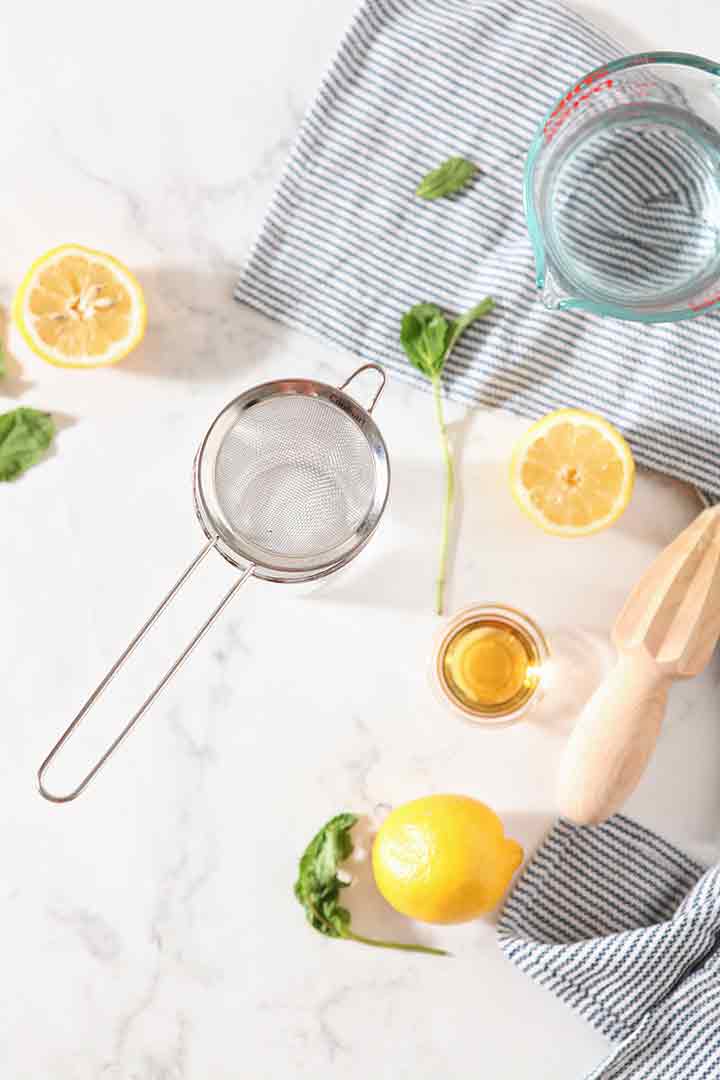 What you need to make this recipe:
The Speckled Palate participates in affiliate programs. As an Amazon Associate, I earn a commission from qualifying purchases. Please refer to my disclosure page for more information about these affiliate programs.
Individual glass or pitcher (if you want to turn this into something for a crowd!)
Let's talk ingredients!
In addition to the tools above, you're going to need some ingredients to make this recipe, too! Chances are, you might already have some of them in your fridge or pantry. Scroll down to the recipe card for the full measurements and instructions.
Here's what you need:
Fresh mint leaves — to make lemonade with mint, you're obviously going to need some mint! Any type of mint works here, so long as it's fresh. Grab it from your garden or from the grocery, if you're not growing it in your yard.
Lemon — please use fresh juice from a lemon or grab the freshly squeezed stuff from the refrigerated part of your grocery store. Shelf-stable lemon juice won't give you the same flavor.
Agave nectar — this is going to sweeten our lemonade. I like my lemonade tart. If you like yours sweeter, start with the measurements listed here, give it a taste and then add more, if necessary. You could easily use another type of liquid sweetener if you'd rather, like simple syrup, honey simple syrup or even maple syrup. Lavender Simple Syrup would be really interesting here, too.
Water — you may use tap water or bottled. Either works!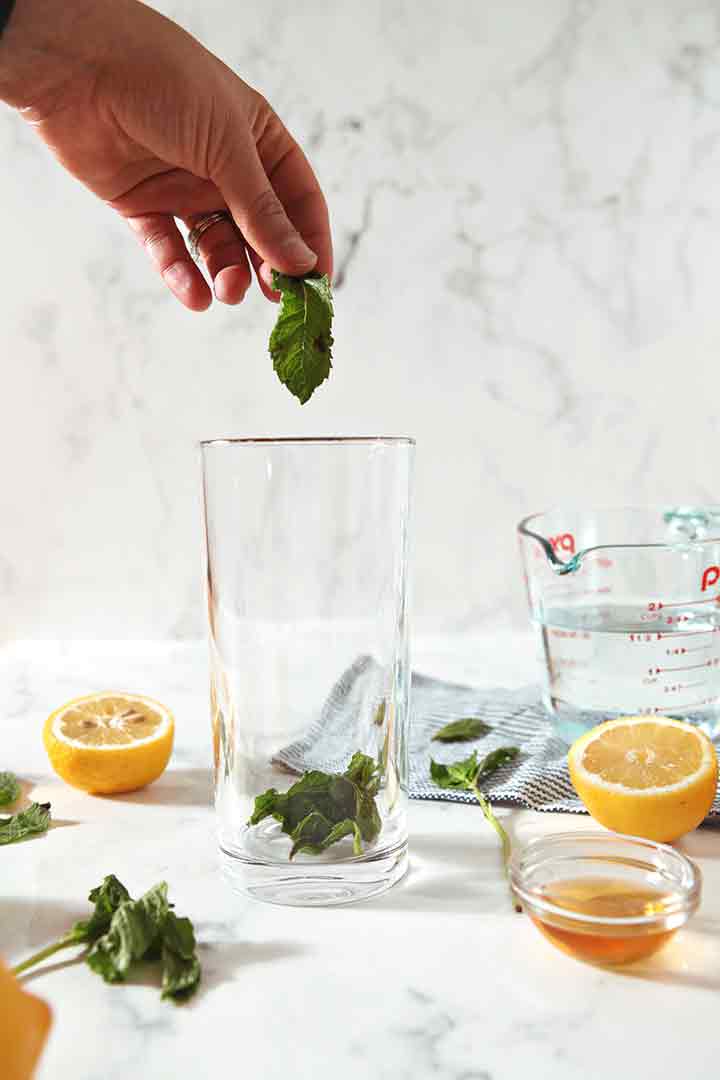 How to make Mint Lemonade
This recipe seriously only takes about 5 minutes, when all is said and done. The most time intensive part is juicing your lemon and measuring that out. 😉
So first… Decide if you're making an individual drink or a pitcher.
Depending on which you choose, where you make the lemonade will change.
Personally, I like to make individual lemonade for myself to sip on a warm summer afternoon, but if you're having friends over or want to let your kids sip, too, it's better to make a pitcher. (And quite honestly, I'm reaching the point where I should probably just make a pitcher because my 4-year-old is a lemonade monster.)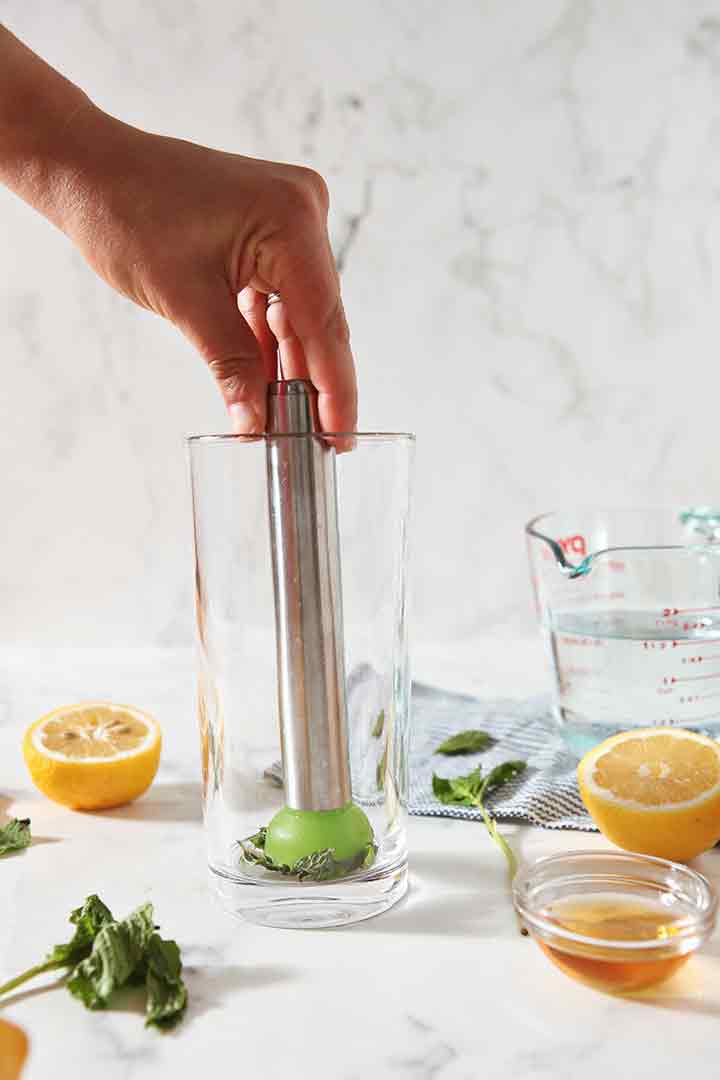 Muddle the mint
In either a cocktail glass or a pitcher, muddle the mint leaves using a muddler. (I linked to my favorite one above, as well as in the recipe card below.)
What does does it mean to muddle?
Use the tool to press the mint leaves against the bottom and sides of the glass. You want to break them apart a little bit without turning them into mush. It's important to use a gentle hand, as mint can become bitter if over-muddled.
Muddling helps release flavors from the leaves, as well as make them a little easier to drink. Nobody wants to have to chew when they're sipping lemonade.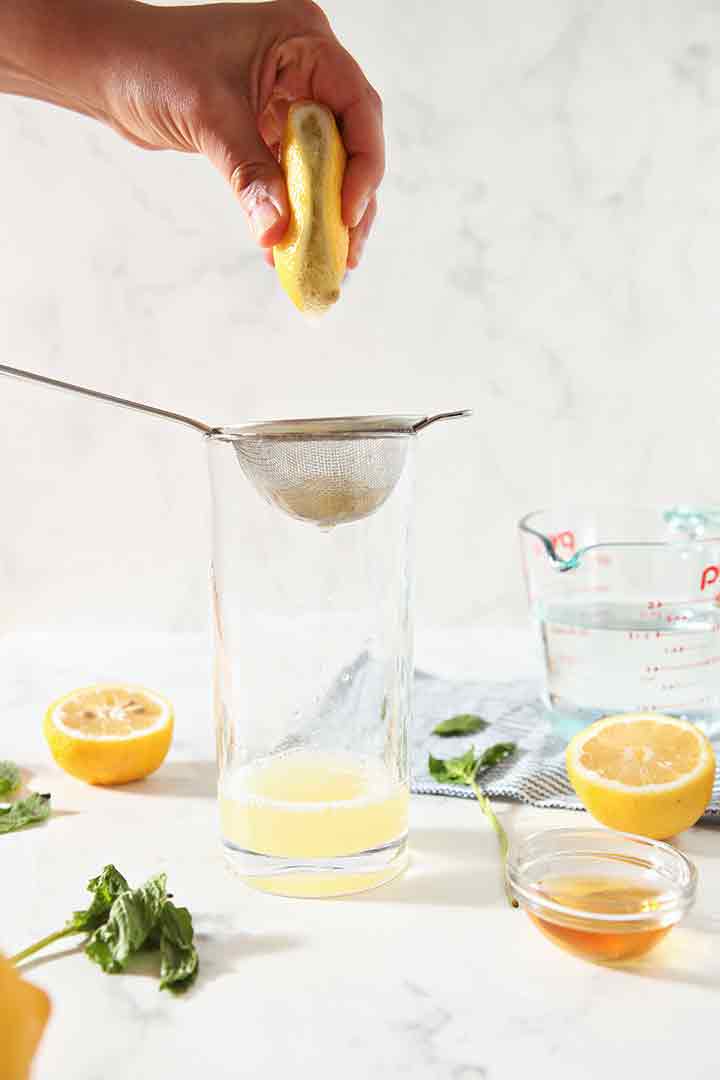 Juice the lemon.
Use a citrus reamer or juicer to juice a lemon. You'll only need one lemon to make a glass of this mint lemonade recipe.
Pour the juice on top of the muddled mint, and swirl it together.
Tips and Tricks for Juicing a Lemon
Don't juice a cold lemon. A cold lemon won't give as much juice as a room temperature one. If you keep your lemons in the fridge, let it come to room temperature, or pop it in the microwave for 20 seconds to get it to warm up.
Roll the lemon on the countertop. This will bring the juices to the surface.
Slice your lemon down the equator, not from the stem to the tip.
Don't just squeeze it with your hands… use a lemon reamer or a juicer to get that good juice out of it. Personally, I like a lemon reamer better, and I've shown it in the photos here. (I also linked to it above and in the recipe card.)
Run the juice through a fine mesh strainer if there is pulp and seeds in it before pouring into the glass.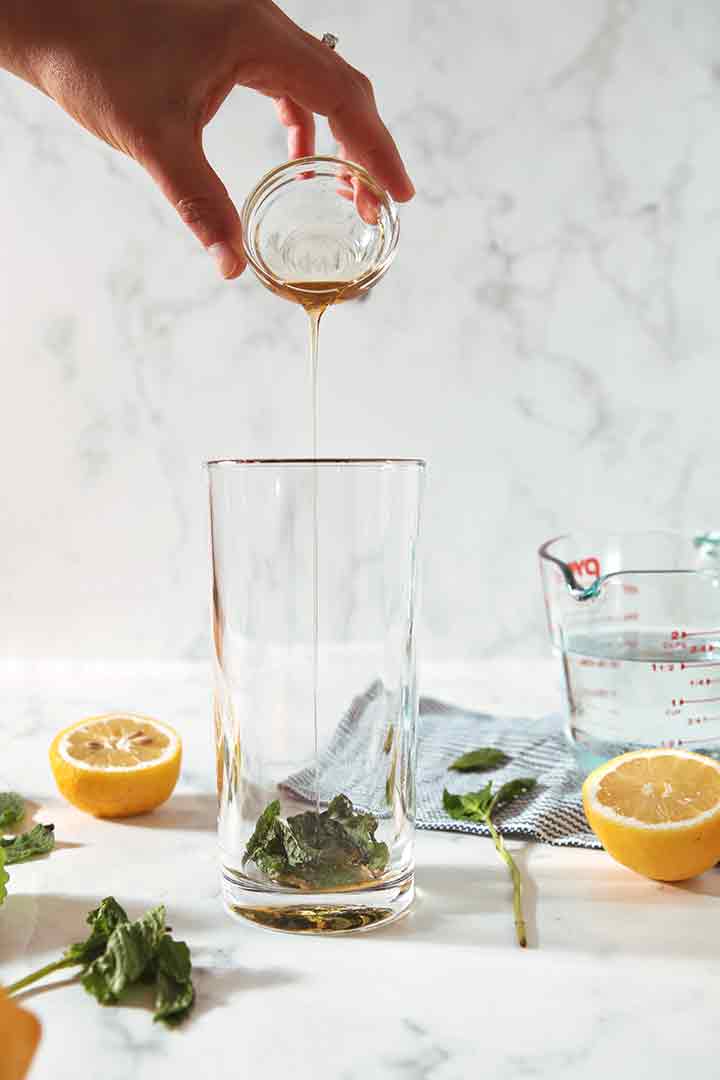 Add the sweetener.
Next, pour the agave nectar into the glass.
This is going to add some slight sweetness to the mint lemonade without it being overwhelmingly sweet.
That said, if you like your drinks on the sweeter side, you'll probably want to add more agave nectar. Only do this after you taste the final lemonade (but before you add the ice) because you can't take out the extra sweetness once it's added.
Stir with a cocktail spoon until everything is combined.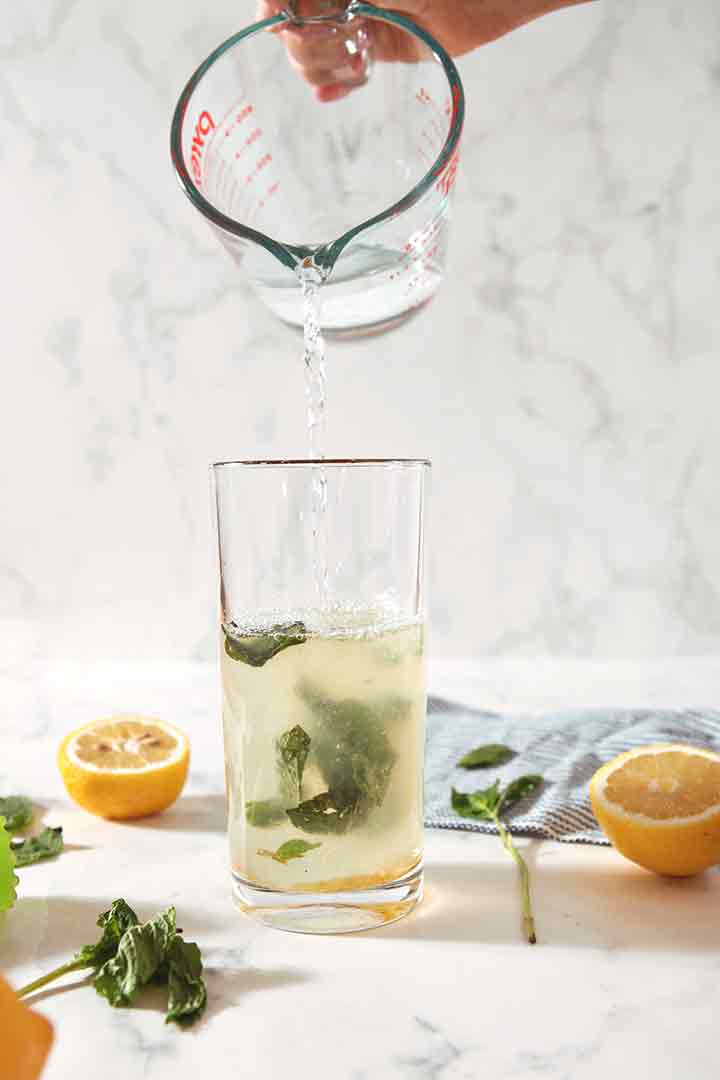 Finish the mint lemonade, and enjoy.
After that, add the water, and stir until combined.
Add ice, garnish with additional mint leaves and a lemon wheel, and enjoy!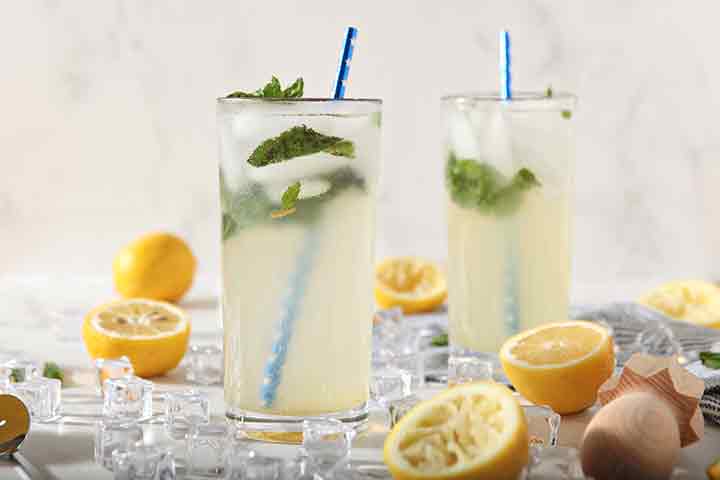 Erin's Easy Entertaining Tips
If you're hosting friends, make a large pitcher of this mint lemonade and keep it in the fridge.
How do I suggest to turn this recipe into a pitcher?
28 mint leaves
¾ cup freshly squeezed lemon juice
2 tablespoons plus 2 teaspoons agave nectar
5 cups cold water
Make it in advance. Mint lemonade is incredibly refreshing, and the flavors become more intense the longer you let them hang out.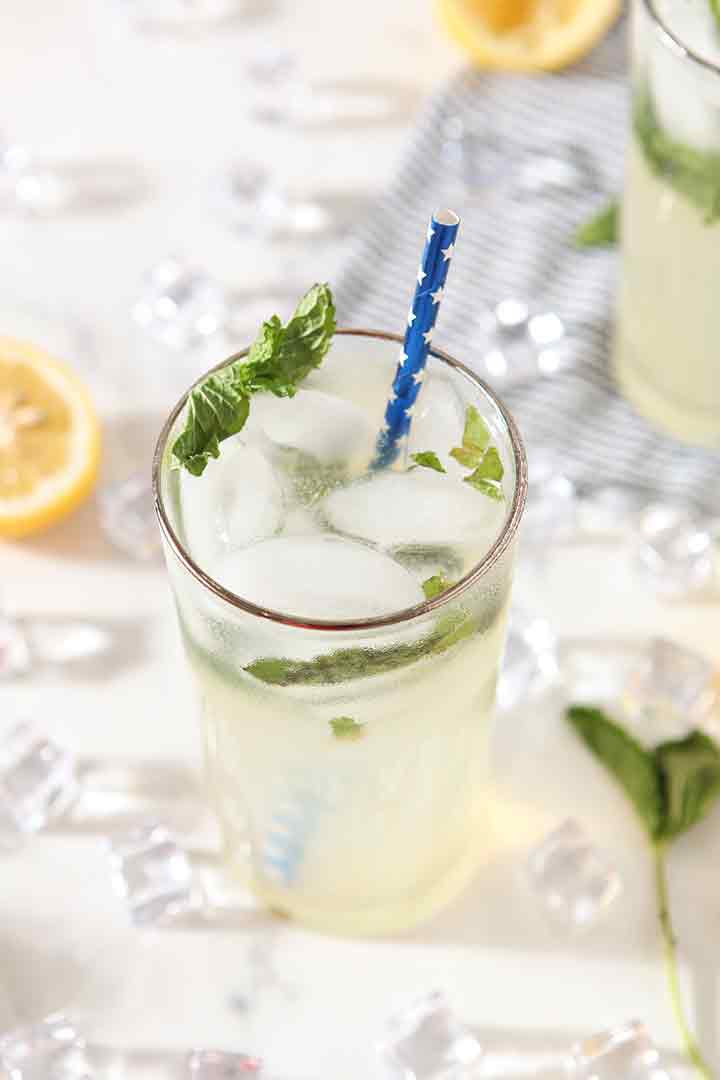 Frequently Asked Questions
Can I turn this mint lemonade into a pitcher drink?
Absolutely! I recommended what I would do above in the entertaining section, which is simply quadrupling the recipe.
What is the easiest way to store lemonade?
If you're making a pitcher of lemonade, it will keep for a week in the fridge. Just pop it in there, and let it hang out!

That said, you don't want to ice the lemonade if you're putting it in the refrigerator because it will become diluted.
More family-friendly summer drinks: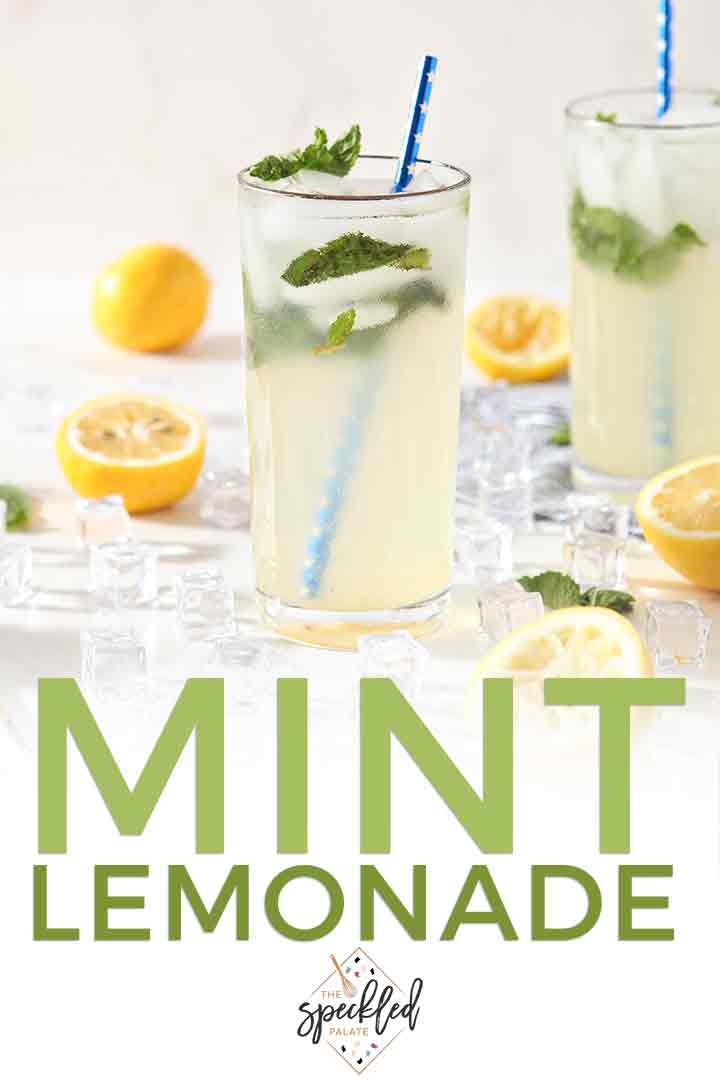 Now here's how you can make this crisp, tart mint lemonade at home: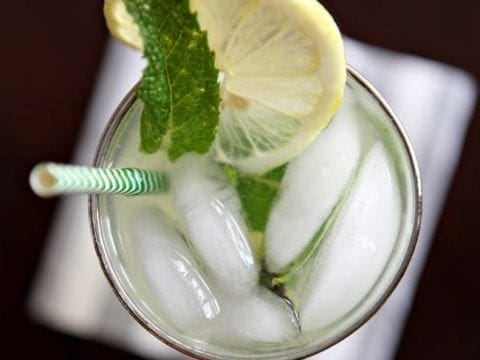 Yield:

1 drink
Mint Lemonade
Cool down with a glass of naturally sweetened Mint Lemonade this summer. This tart and refreshing twist on a classic calls for very few ingredients, but doesn't call for granulated sugar or a simple syrup. Including lemon juice, water and muddled mint leaves, this lemonade is incredibly refreshing to sip any warm day.
Ingredients
7 mint leaves
3 tablespoons freshly squeezed lemon juice
2 teaspoons agave nectar
1 ¼ cups cold water
Instructions
Muddle the mint leaves using a muddler in a tall drinking glass.
Juice the lemon with a citrus reamer or a citrus juicer. Strain the pulp and seeds out of it, if necessary.
Pour the juice on top of the muddled mint.
Pour in the agave nectar and stir with a cocktail spoon until just combined.
Pour in the water when the ingredients are mixed.
Stir the drink until combined.
Add ice, garnish with additional mint leaves and a lemon wheel, then enjoy immediately.
Notes
The longer you let this drink steep, the more minty it will become!
Make it a pitcher drink! Quadruple (or more!) the ingredients used in this recipe, and mix in a pitcher. Let it steep in the fridge and chill before serving over ice to guests with the same garnishes of fresh mint leaves and lemon wheels.
I suggest using the following measurements for a pitcher drink:
¾ cup freshly squeezed lemon juice
2 tablespoons plus 2 teaspoons agave nectar
5 cups cold water
Recommended Products
As an Amazon Associate and member of other affiliate programs, I earn from qualifying purchases.
Nutrition Information:
Yield:
1
Serving Size:
1
Amount Per Serving:
Calories:

78
Total Fat:

1g
Saturated Fat:

0g
Trans Fat:

0g
Unsaturated Fat:

0g
Cholesterol:

0mg
Sodium:

47mg
Carbohydrates:

18g
Fiber:

6g
Sugar:

9g
Protein:

3g
Nutrition facts are an estimate and not guaranteed to be accurate.
The photos and recipe for this Mint Lemonade recipe were originally published on April 30, 2014. The photographs, along with the text of this blog post, were updated and republished on June 25, 2019.