Last Updated on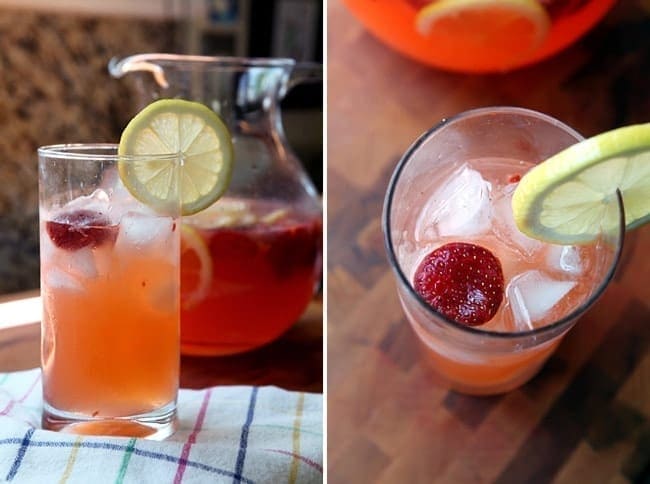 Could we stop and talk about the weather for a quick second? Y'all. I cannot even handle how ridiculous the heat and sudden summer storms has been recently, and it's not even August. Because everybody knows that the heat and craziness all comes to a head in August, when we all simultaneously hide inside our air conditioned homes and offices, then roast/sweat/glisten uncontrollably whenever we walk outside for more than a minute. True story… and I'm not looking forward to that, though I can't imagine the weather being worse than it already is.
Despite the weather we've been experiencing recently, I like the summertime. Honestly.
One of the major reasons I am digging summer is because of all the fresh fruits and veggies that are abundant this time of year. Surprise. (Not.) And while it is no longer strawberry season this far South, I have to tell y'all that I bought not one, but two FLATS of strawberries in March and April to prepare for this time of year and froze more than half of them for summer recipes like the following one.
Nothing is as refreshing on a hot summer's day like homemade lemonade. The real kind — not that stuff from a jar. (Sorry I'm not sorry, y'all. Real speak.)
And I've got the recipe for y'all… perfected to both refresh and hydrate during the dog days.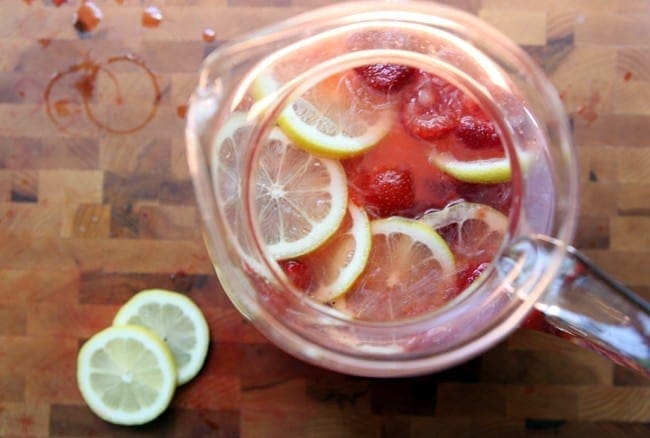 This recipe is an easy one to pull off, requiring little time and skill. In fact, the most time you'll spend on this recipe is juicing the lemons. And if that is the hardest thing you have to do for a recipe, I'd say you're in a good spot.
First off, juice the lemons and set the lemon juice aside. Next, you'll muddle the strawberries in a jar, letting them hang out for a bit and release those awesome juices. And then you'll combine the fruits and sugar in a pitcher, stirring until combined.
Once the fruits and sugar are happy, you'll add the water, stirring until the sugar has dissolved. Chill the lemonade out for about 30 minutes. And then, pour over a few ice cubes, cut a wedge off another lemon and pop that lemon piece on the side of your glass and enjoy.
It's the perfect summertime drink, if I do say so myself. And I bet this would be fabulous adding a little rum or vodka, too, if you wanted to make an adult version of this lemonade.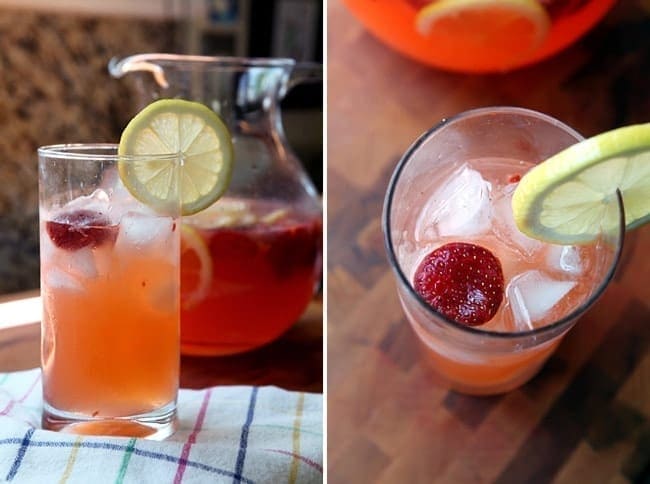 Strawberry Lemonade
Instead of making regular lemonade this summer, let's whip up some sweet Strawberry Lemonade! Lemons are squeezed for their juice and mixed with water in a pitcher. Fresh strawberries are mulled, then mixed with granulated sugar, and poured into the lemonade mixture. Stir until the sugar dissolves into the liquid, then refrigerate before pouring a glass! This refreshing lemonade is the perfect way to cool down on a hot summer afternoon.
Ingredients
1

cup

fresh-squeezed lemon juice

5

cups

water

1

cup

fresh strawberries

, mulled with juices

1/2

cup

granulated sugar
Instructions
In a drinking glass, measure out the strawberries and mull them, smashing most of them and leaving their juices.

In another glass, squeeze several lemons until you have a cup of fresh juice. (It'll take around 4, depending on their size and the amount of juice in each one.)

In a pitcher, mix the strawberries and their juices, lemon juice and the sugar. Stir until combined.

Pour the water into the pitcher, stirring until the sugar has dissolved and the ingredients have mixed.

Cool for 30 minutes, then enjoy!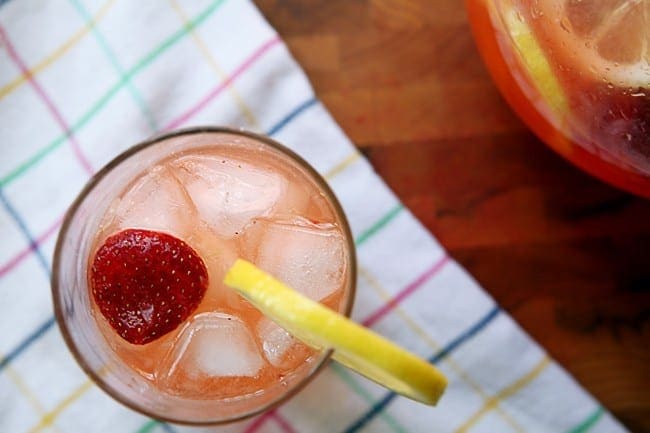 What is YOUR favorite summertime drink?