I was a kid who always enjoyed a good pizza pie, but I didn't realize how much I loved pizza and the art of making it until I lived in Italy.
The summer before my senior year of college, I traipsed over to the boot country with about a hundred other art students from the University of Georgia and lived in Cortona, a tiny Etruscan town atop a Tuscan hill. (Yes, it is the town that Under the Tuscan Sun was written in and based on. And yes, I met Frances Mayes while I resided there. And yes, she is awesome.) That summer, I learned of my love for all things Italian. Most every day, I would grab a slice or two of the eggplant pizza from the tiny pizzeria in Piazza della Repubblica before heading back up to the dorms for siesta.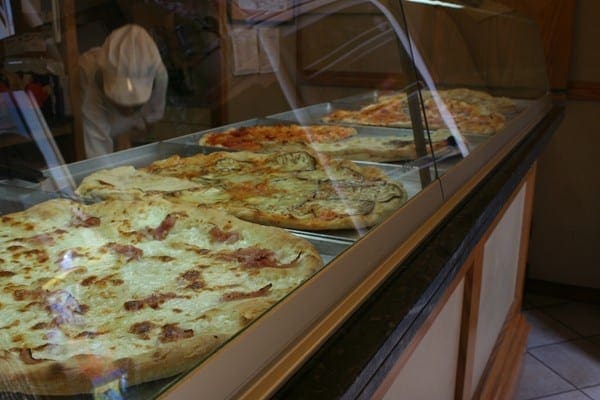 I also ate the best pizza of my life in Florence at a little place called Semolina when my friend Gabby and I were stranded on the outskirts of the city, unsure how to reach our friends on the other side because there was a cab strike the day we were in Florence. The hotel manager who felt bad for us recommended this little place, and it blew us away. I still have dreams about the veggie pie we consumed there. No joke.
So, needless to say, when the summer was over, I didn't want to come home because there was absolutely no way I would be able to find Italian food so wonderful in the States.
I went through a phase where I attempted to learn all foods Italian after my summer there, and while my Italian cooking was good, it was never as wonderful as the dishes I loved in Italy. And after a year went by, I had all but forgotten my love for the simple and fantastic Italian cuisine and focused my efforts elsewhere.
Fast forward two years. When I moved to Mississippi for a job at a newspaper, I lived by myself and began to come up with all kinds of things to prepare since I don't like eating the same old things day after day. I suddenly re-discovered homemade pizza, and I fell in love with the Jiffy kind where you simply mix water in with their dough. Fast forward two more years. When I moved back to Tennessee, I decided to try my hand at making homemade pizza dough. Sure, it would take a little time, but certainly, it would be tasty.
Turns out, I fell even more in love with homemade pizza and have been perfecting the recipe ever since. While I am unsure if my recipe would hold a candle to the pizza dough I loved during my time in Italy, it's pretty damn good for being stateside. And it's pretty damn easy to make, too, which is always a plus.
All you really need with this dough is time, and the best part is that you can freeze whatever you don't use immediately.
So let's make it, shall we?
You start off in two separate bowls. In a smaller one, combine hot water, olive oil, salt and sugar, stirring until the sugar has completely dissolved. In the larger bowl, combine unbleached all purpose flour, whole wheat flour and active dry yeast. Whisk those together.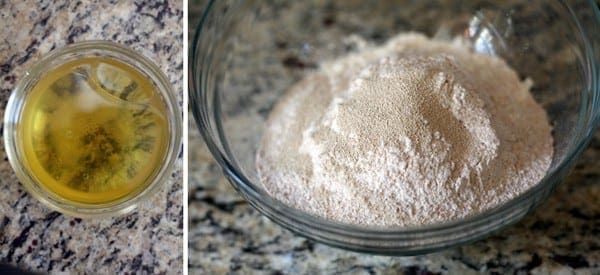 Then you'll pour the wet mixture into the dry mixture. Stir them together until just barely mixed, then turn out onto a floured countertop (or other area of the kitchen.)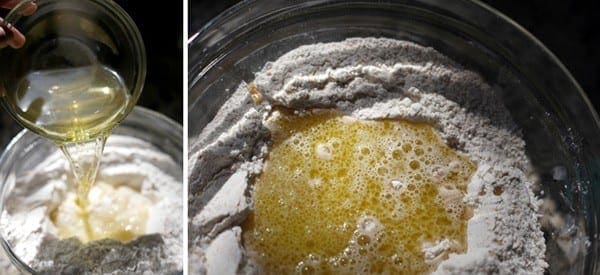 Knead the dough until it is elastic and completely combined. This should take about five minutes. Then form the dough into a ball, pour a little dollop of olive oil on top of it, cover it for 45 minutes to allow it rise time, and once it has doubled in size, you're good to go!

Break the dough down into four separate sections, forming them each into balls. At this point, you can freeze them or you can make pizza. Your choice!
If you choose to go ahead and make a pizza, roll the dough out as thin as you can get it, pop it onto a hot pizza stone and bake in the oven with the toppings of your desire for 10 minutes!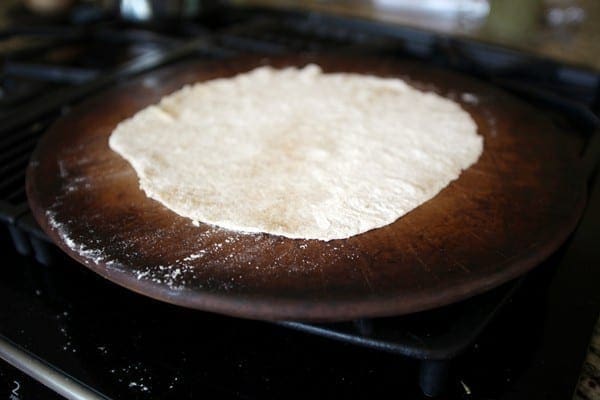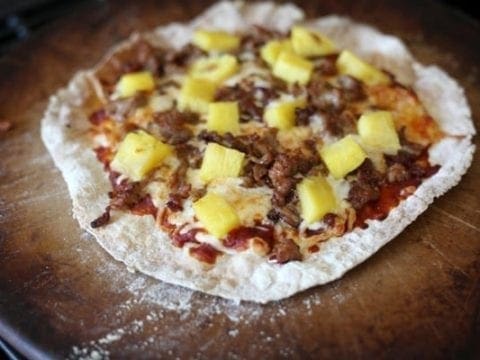 Yield:

4 pizza dough rounds
Simple and Delicious Pizza Dough
Total Time:
1 hour
10 minutes
The simplest ingredients make the tastiest pizza dough! This light dough that crisps up easily when baked works beautifully as the base any kind of pizza pie!
Ingredients
2 cups unbleached all-purpose flour
1 cup whole wheat flour
1 ½ teaspoons active dry yeast
1 cup hot water
3 tablespoons extra virgin olive oil
2 teaspoons granulated sugar
¾ teaspoon kosher salt
Instructions
In a large bowl, combine the unbleached flour, the whole wheat flour and yeast, mixing the ingredients together with a whisk.
In a small bowl, combine the hot water, olive oil, sugar and salt.
Stir the wet mixture until the sugar has completely dissolved.
Pour the wet mixture into the dry mixture, stirring with a wooden spoon until the mix is barely together.
Turn out onto a floured counter and knead for five minutes, working the dough until it is elastic.
Form dough into a ball, splash it with a little bit of olive oil, place back into the bowl and let rise for 45 minutes (or until the dough has doubled in size.)
Once the dough has doubled in size, cut into four equal-sized pieces.
From here, you can roll out the dough and start making your pizzas!
To make a pizza: Preheat the oven to 475°F. Let the pizza stone (or the pan you'll be using) preheat in the oven, too.
Lightly flour the surface of a flat counter, and roll out a round of pizza dough.
Once the oven and pizza stone are heated, remove the pizza stone from the oven using an oven mitt.
Transfer the pizza dough to the hot pizza stone. Swirl on pizza sauce and any toppings you desire, then transfer into the oven.
Bake the pizza for 10-15 minutes, checking every few minutes to confirm the toppings and crust are not burning.
Once the pizza is cooked through and the dough is crisp, remove from the oven, cut into slices and enjoy warm!
Notes
I've had questions about where to put the yeast, and the answer is that it mixes in with the dry ingredients. Why? If it's thrown in with the hot water too early, you run the ris of killing the yeast. If this happens, your dough won't rise.
Recommended Products
As an Amazon Associate and member of other affiliate programs, I earn from qualifying purchases.
Nutrition Information:
Yield:
4
Serving Size:
1 round pizza dough
Amount Per Serving:
Calories:

432
Total Fat:

12g
Saturated Fat:

2g
Trans Fat:

0g
Unsaturated Fat:

9g
Cholesterol:

0mg
Sodium:

402mg
Carbohydrates:

72g
Fiber:

5g
Sugar:

2g
Protein:

11g
Nutrition facts are an estimate and not guaranteed to be accurate.
And that, my friends, is how you make delicious homemade pizza dough.
Easy as pie, no?