Last spring, my friend Sam introduced me to Oyster Sauce. She had invited me and other girls from work to her home so we could learn how to make Laotian food. Sam makes the best food, but I particularly love her pork potstickers. She made the dish in front of me that evening, and as she was searing the ground pork for the potstickers, she explained that she always liked to add a little Oyster sauce to the mix to add a little flavor.
I was sold, and when the wontons were done steaming, I may or may not have eaten at least ten.
Oops?
Needless to say, I've been semi-obsessed with oyster sauce ever since, trying weekly to add it to everyday dishes to add a different flavor.
This is a riff on the Canadian bacon-pineapple pizza. Except this pork is Asian-inspired.
Just go with me. I promise this is good.
First and foremost, you're going to make your Asian Pork. This takes a pound of ground pork, oyster sauce and black pepper. Sautee these ingredients together and once the pork is cooked through, pull it off the heat and transfer the pork to a paper towel to let it drain.
I find that always helps and makes me feel a little less guilty about consuming an entire pizza.
Then preheat your oven – and your pizza stone. When the oven is at full blast, pull out the pizza stone, and you're ready to make your homemade Pork and Pineapple Pie.
Roll out your pizza dough.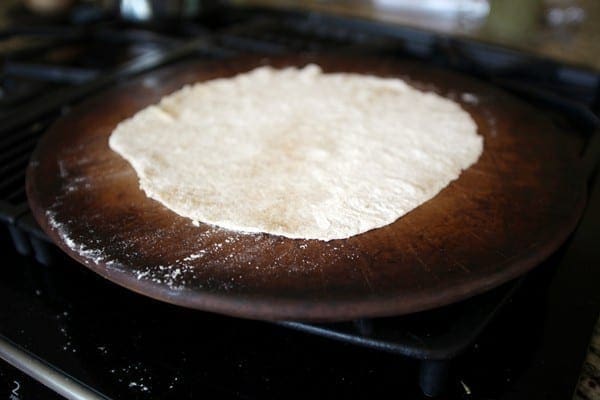 Add your simple red sauce.
Add your cheese, sprinkling lightly over the surface of your pie.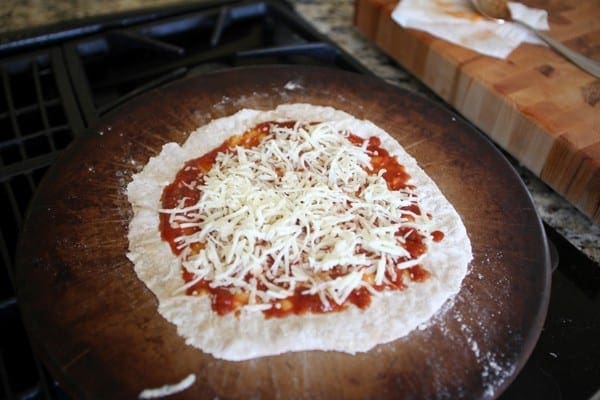 Sprinkle the ground pork on top of the cheese, spreading out evenly.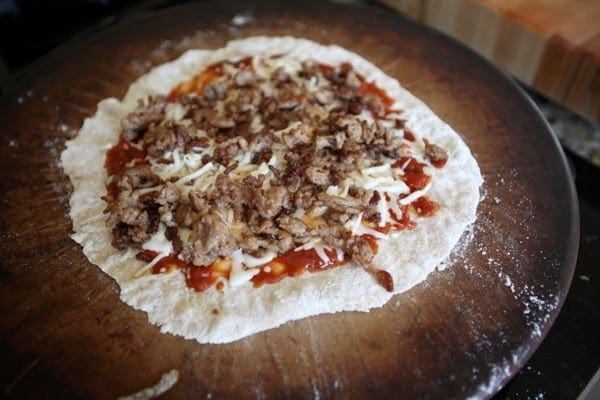 Then add your freshly-sliced pineapple. Make sure the pieces are bite-sized, and forget about those pineapple allergies you have for a moment. (Or just pretend you don't have any and then pick off the pineapple pieces when you begin eating.)
And then bake your pie for 7-8 minutes, until the pineapple pieces are warmed through, the cheese is bubbly and the crust is crisp.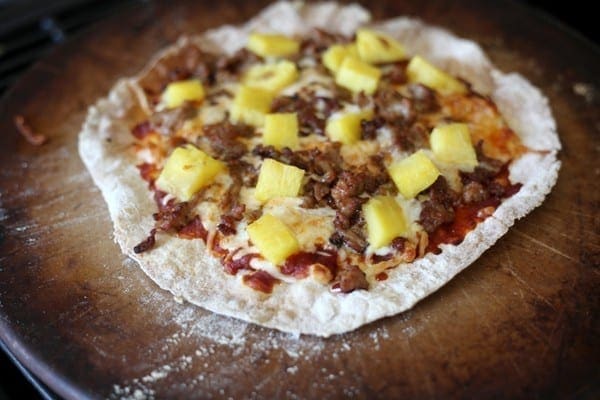 Let the pizza cool for just a moment, then slice it up and enjoy!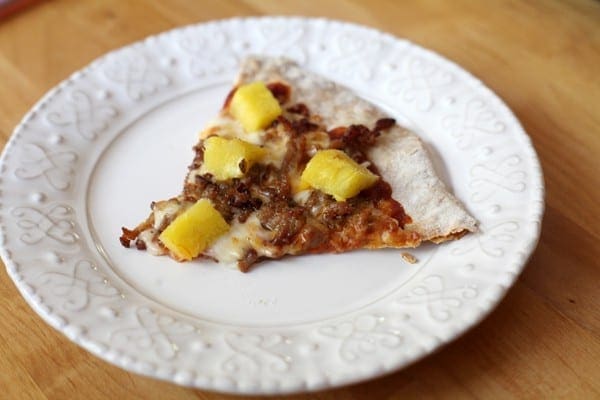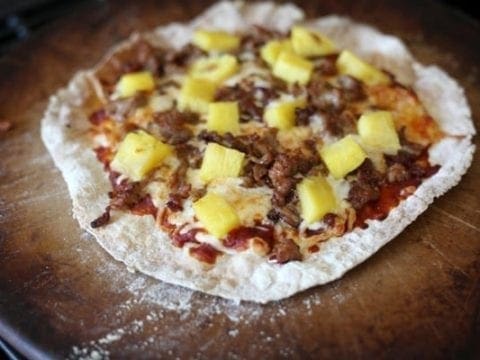 Yield:

1 pizza
Pork and Pineapple Pizza
Pork and Pineapple Pizza is a twist on the classic Canadian Bacon and Pineapple Pizza. Instead of using Canadian bacon, you'll cook ground pork in oyster sauce and use that as a flavorful topping! When the meat is cooked, roll out your favorite pizza dough, top with tomato sauce, then add the mozzarella cheese, pineapple and pork and bake until the pizza is crispy and delicious! The perfect weeknight meal!
Ingredients
Asian Ground Pork
1 pound reduced fat ground pork
1 tablespoon oyster sauce
¼ teaspoon black pepper
Pizza
2 round of pizza dough
1 cup tomato sauce
3 cups mozzarella cheese
Pineapple chunks
Asian Ground Pork
Instructions
Make the Asian Ground Pork
Heat a nonstick skillet over medium-high heat.
Place the pork in the hot skillet, and cook in its own juices.
As it cooks, add the oyster sauce and the spices.
When pork is cooked through, take the pan off the heat and transfer it to a plate lined in paper towels to soak up any excess fat.
Make the Pizza
Preheat the oven to 425°F. Place a pizza stone in the oven to heat as the oven heats.
Roll out the pizza dough using a rolling pin.
When the oven is ready, remove the pizza stone, and place the pizza dough onto the stone. Be careful, as the stone is very hot, and you'll want to work fast.
Smear the tomato sauce onto the dough.
Sprinkle on the cheese.
Add the pineapple chunks (as many or as few as you'd like.)
Add the Asian Ground Pork (as much or as little as you'd like.)
Bake for 10-15 minutes, or until the dough is crispy and slightly browned.
Let cool slightly, then enjoy while still warm.
Make the second pizza while you devour the first!
Nutrition Information:
Yield:
8
Serving Size:
½ pizza
Amount Per Serving:
Calories:

371
Total Fat:

24g
Saturated Fat:

11g
Trans Fat:

0g
Unsaturated Fat:

11g
Cholesterol:

96mg
Sodium:

545mg
Carbohydrates:

11g
Fiber:

1g
Sugar:

6g
Protein:

28g
Nutrition facts are an estimate and not guaranteed to be accurate.