Serve up Pepperoni Pizza Rolls to feed a crowd! All you need are four simple ingredients to make the BEST pizza rolls at home! These make the ultimate gameday finger food! Makes 16 rolls.
Need more perfect game-day appetizers? Check out Pepperoni Dip and Hot Spinach Artichoke Dip!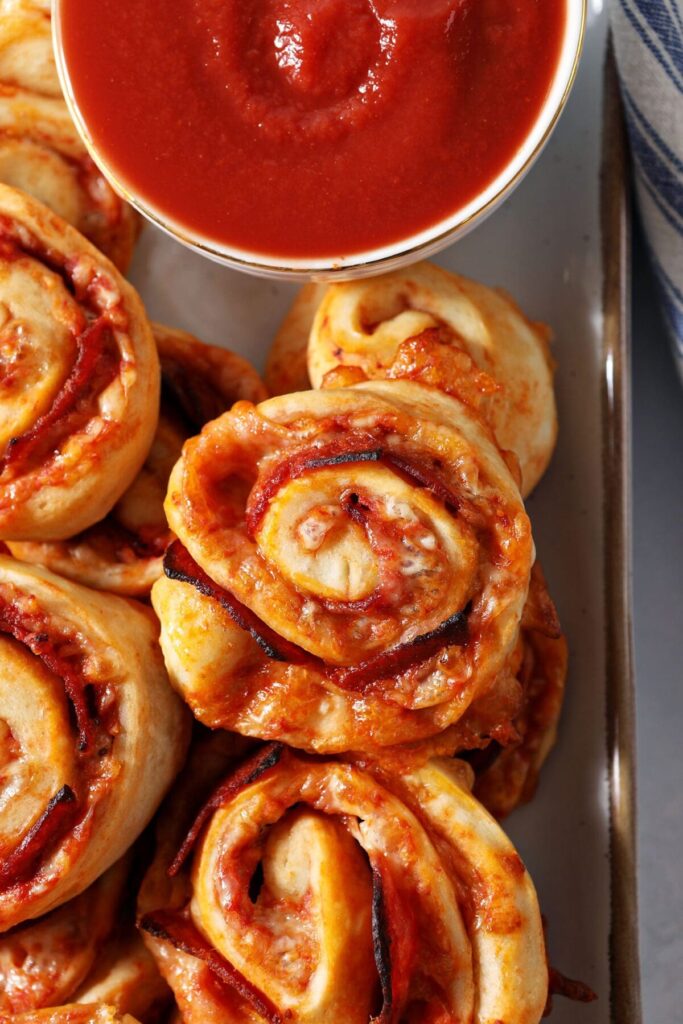 If you need a quick and easy appetizer, listen up.
Also, if you are prepping for any upcoming games — basketball, football, hockey and more — I've got a recipe that is gonna make you HAPPY.
I'm normally the girl who makes things from scratch, including pizza dough, king cakes, breads and the like, even though I could usually get something from the store that requires far less time and effort on my part.
I'm makin' this recipe super easy on us today.
You can purchase all the ingredients from the store to make this Pepperoni Rolls recipe as simple as possible.
I ended up using some homemade marinara sauce with ours, but that's only because we had it in the fridge.
Why I love this recipe:
These Pepperoni Pizza Pinwheels are a family favorite recipe and perfect for lunch, a main dish for pizza night, school snacks and more.
The star of this dish is obviously the combined pizza dough-pepperoni-cheese goodness. It packs in a TON of pizza flavor when you add the tomato sauce, too. (You can use homemade pizza sauce or grab your favorite canned sauce.)
And these Pepperoni Pizza Rolls might be the simplest appetizer I've ever shared, which is a win-win.
As an added bonus, they are so dang good… and we may or may not have eaten the entire batch in one sitting and called it dinner.
Whatever the case, I can imagine these going over really well at a party.
They're easy to eat and don't require much fuss putting together ahead of time, either, so you can spend more time with your party guests. And everyone can spend more time noshing on these pizza bites!
Other easy appetizers to serve for any gathering: Creamy Chicken Enchilada Bruschetta (Instant Pot Appetizer) | Garlic Herb Cream Cheese Dip | Homemade Loaded Queso | BBQ Nachos | Caramelized Onion Guacamole | Easy Cheese Ball
Need some starter inspiration? Head on over to my Appetizer Recipe Index for more recipe ideas.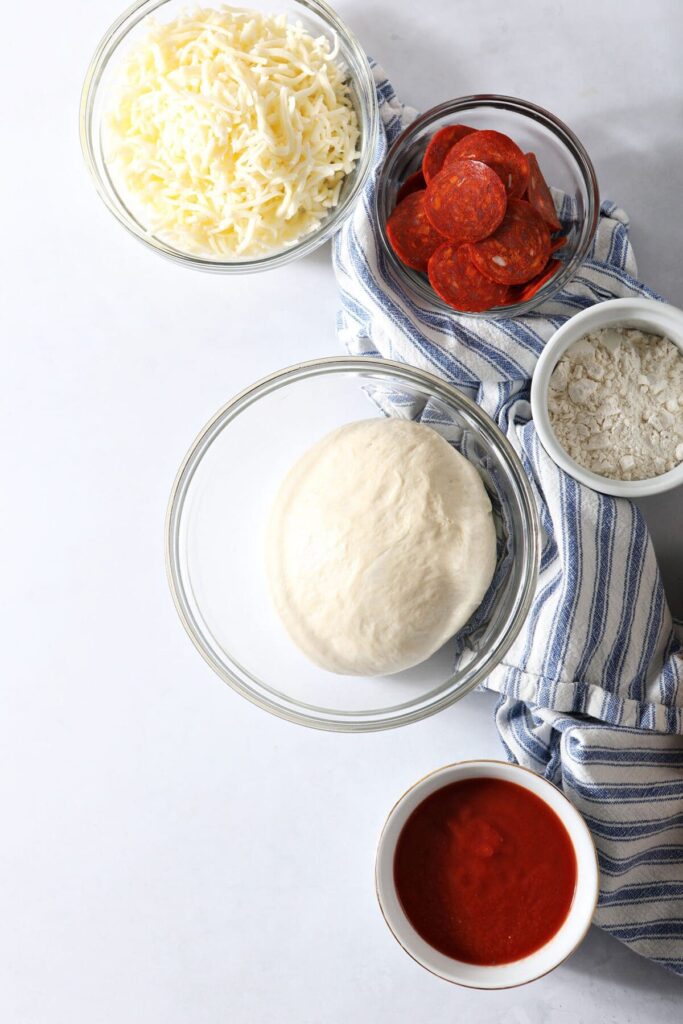 What you need to make this recipe:
The Speckled Palate participates in affiliate programs. As an Amazon Associate, I earn a commission from qualifying purchases. Please refer to my disclosure page for more information about these affiliate programs.
Let's talk ingredients!
In addition to the tools above, you're going to need some ingredients to make this recipe, too! Chances are, you might already have some of them in your fridge or pantry. Scroll down to the recipe card for the full measurements and instructions.
Here's what you need:
Pizza dough — you can make homemade pizza dough OR use a tube of the store-bought stuff. You can also grab a round from a local pizzeria. You'll need a pound, give or take.
Tomato sauce — like the pizza dough, you can use your favorite homemade marinara sauce or your favorite jarred sauce. You'll need a little extra for dipping, too. You can also use pizza sauce.
Mozzarella cheese — grab a bag of shredded mozzarella from the grocery store. While I love fresh mozzarella, it makes these homemade pizza rolls more challenging to work with.
Pepperoni — you can use turkey or regular pepperoni. Do not use mini pepperoni because they will fall out of the rolls once you slice them.
Other homemade pizza roll ingredients to consider adding:
If you have other favorite toppings, feel free to add a sprinkling of them onto your pizza rolls before rolling them up.
Here are some ideas:
Ground, cooked sausage
Chopped veggies, like bell peppers, mushrooms, onions and more
Parmesan cheese
A sprinkling of Italian seasoning
I just caution you to not overstuff them, or they will be challenging to roll and slice.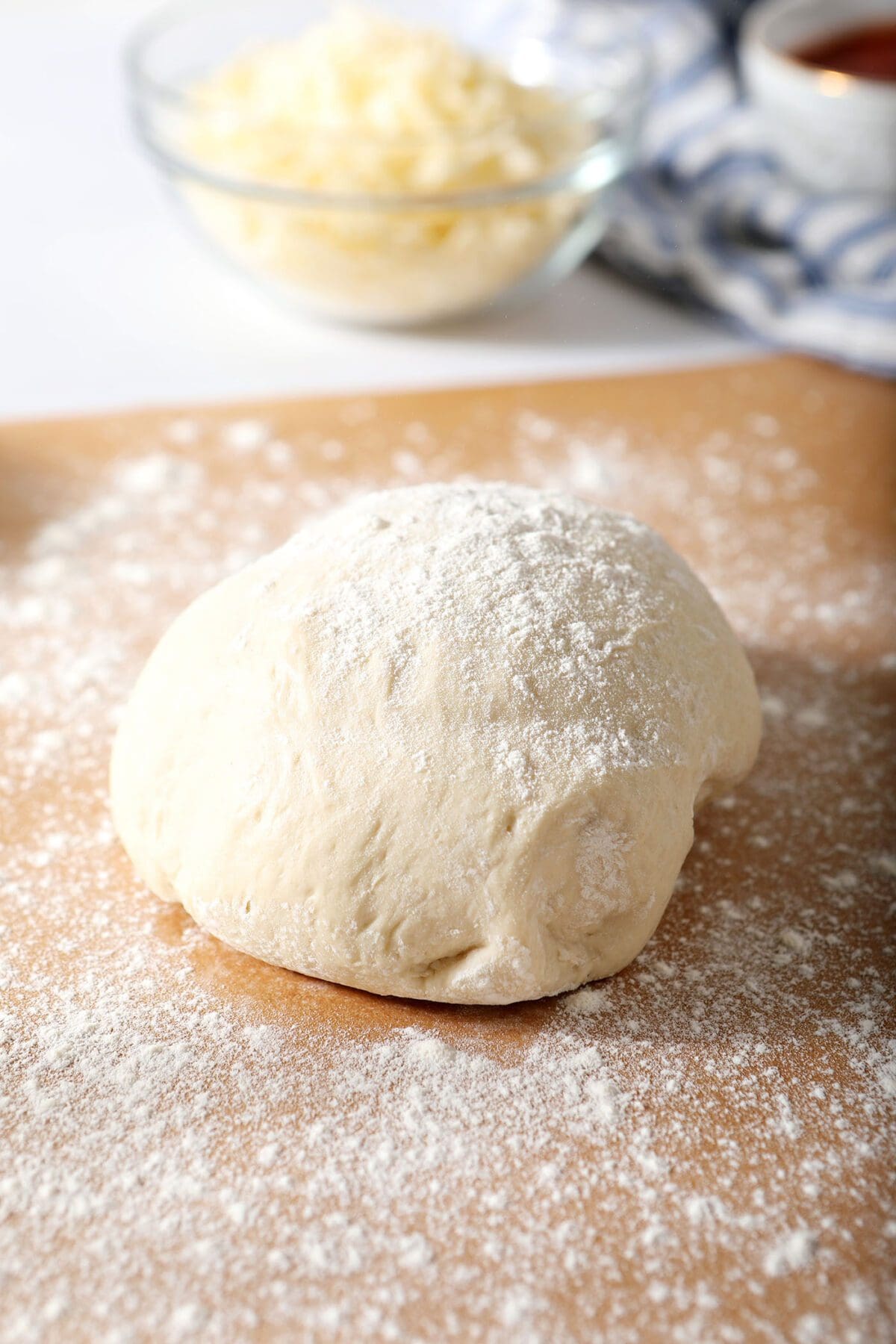 How to make this Pepperoni Pizza Rolls recipe
Preheat the oven, and line a baking sheet with parchment paper. Set it aside.
Roll out the dough. Sprinkle flour onto a flat surface. Roll out the pizza dough into a rectangle. You do not want it to be too thin or the dough will tear as you roll it.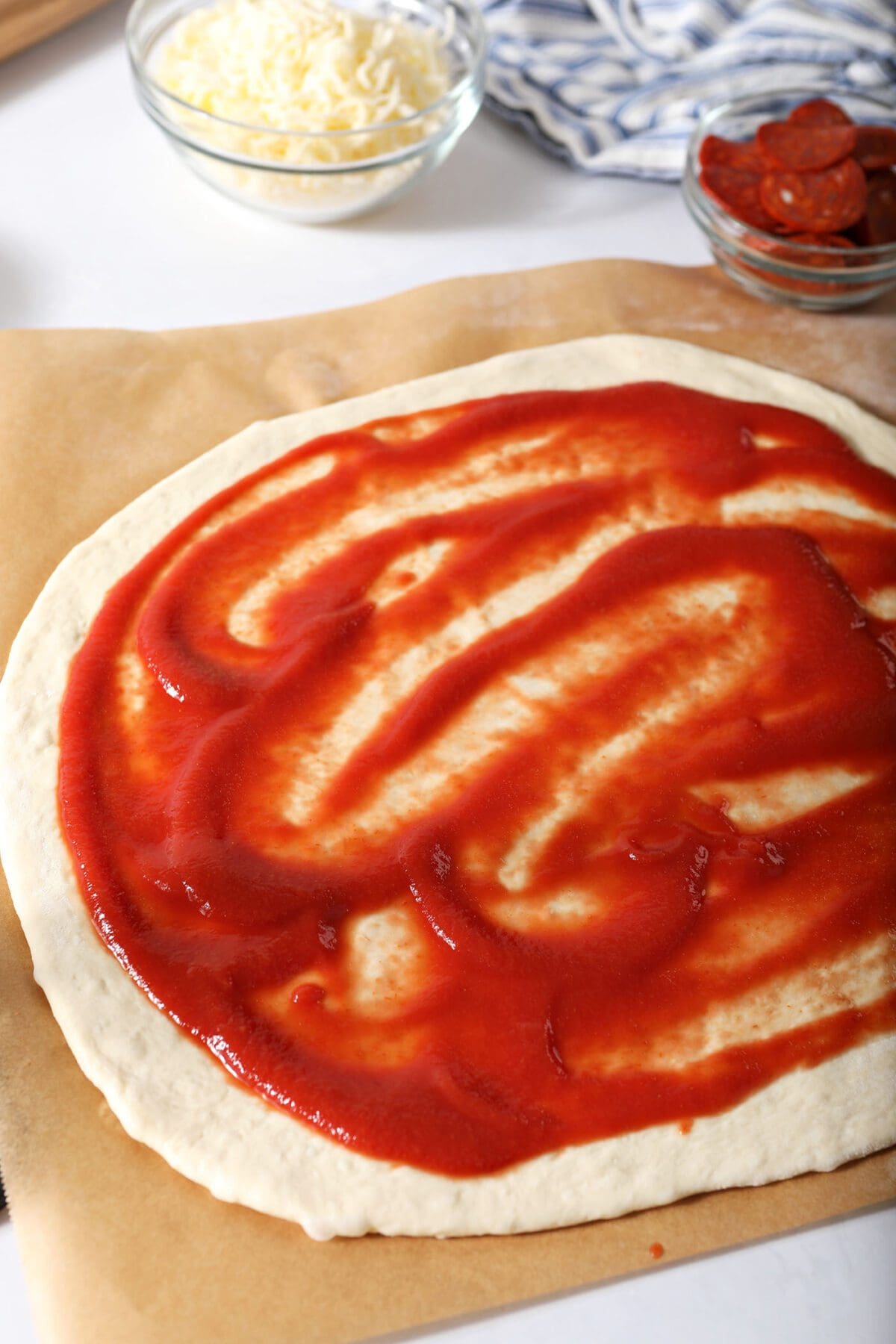 Add the fillings. Use a spoon to spread the tomato sauce onto the dough.
Sprinkle the mozzarella on top of the tomato sauce.
Place the pepperoni slices on top of the cheese.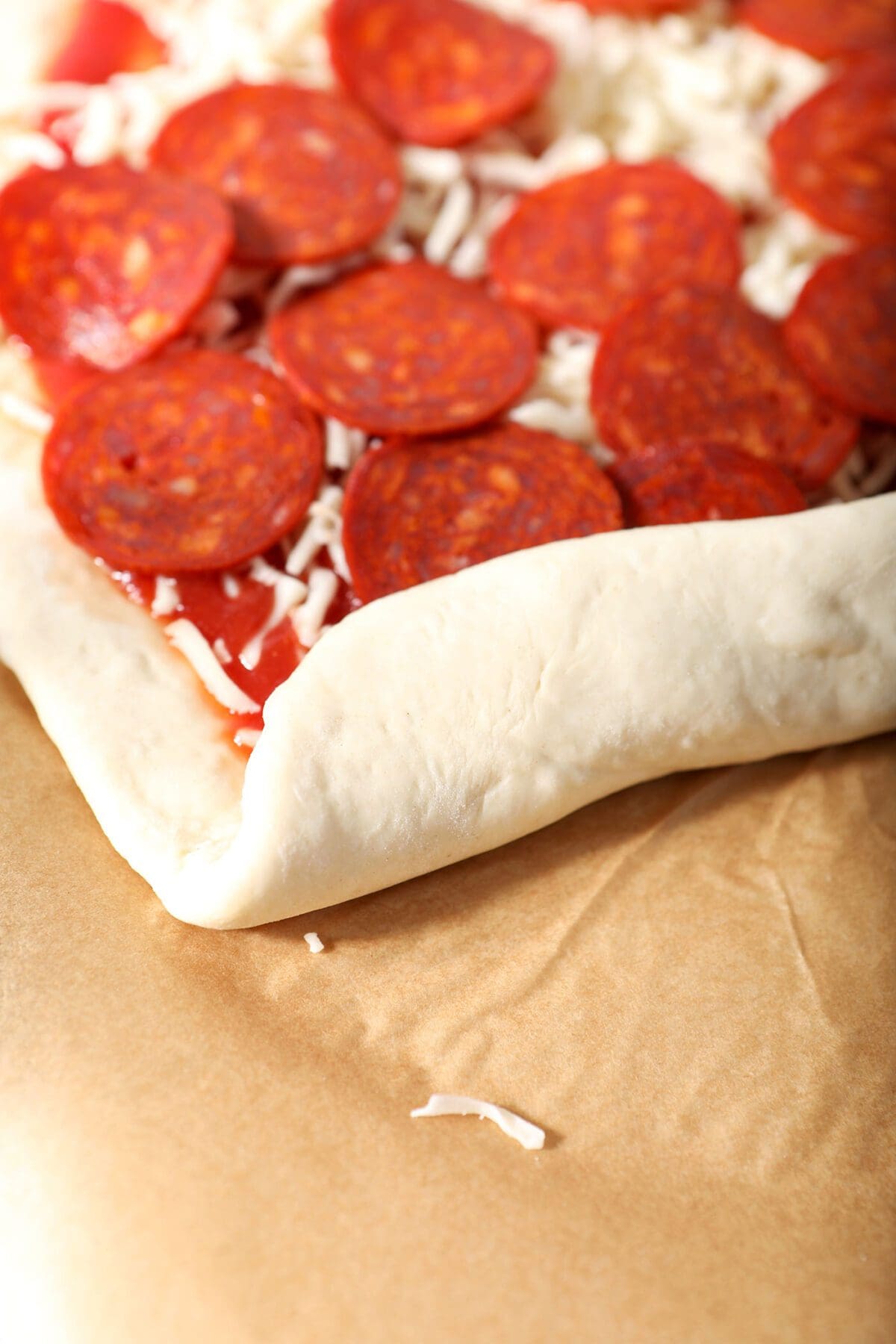 Roll! Starting on one of the long ends, gently roll the dough into a pinwheel. You'll need to coax it along, working to keep the ingredients inside as you slowly roll it together. This is very similar to a cinnamon roll.
Seal with a swipe of tomato sauce.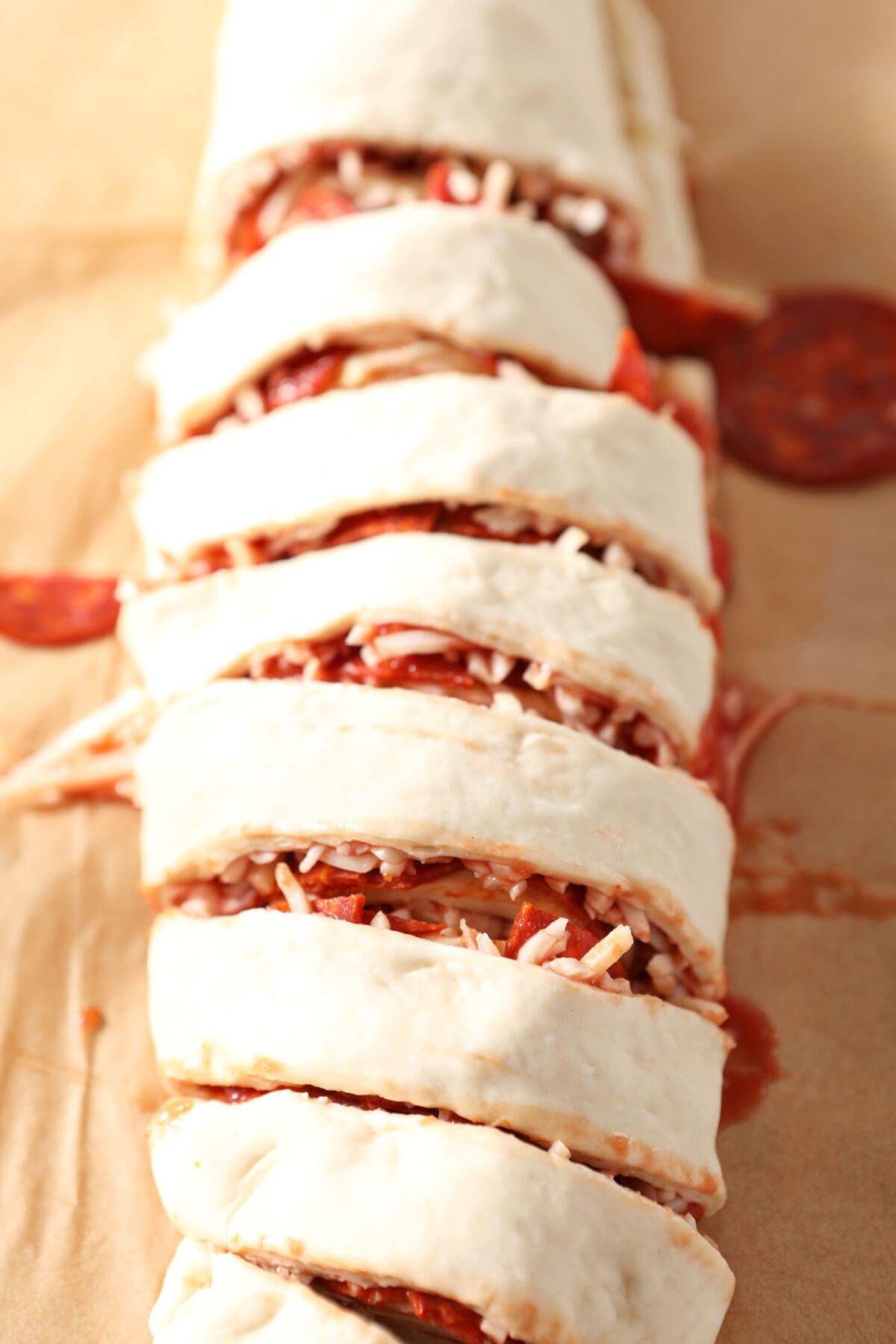 Slice into 1/2″ pinwheels.
Gently transfer them to the lined baking sheet. Be sure to leave a little space between the pinwheels because they will expand slightly as they bake.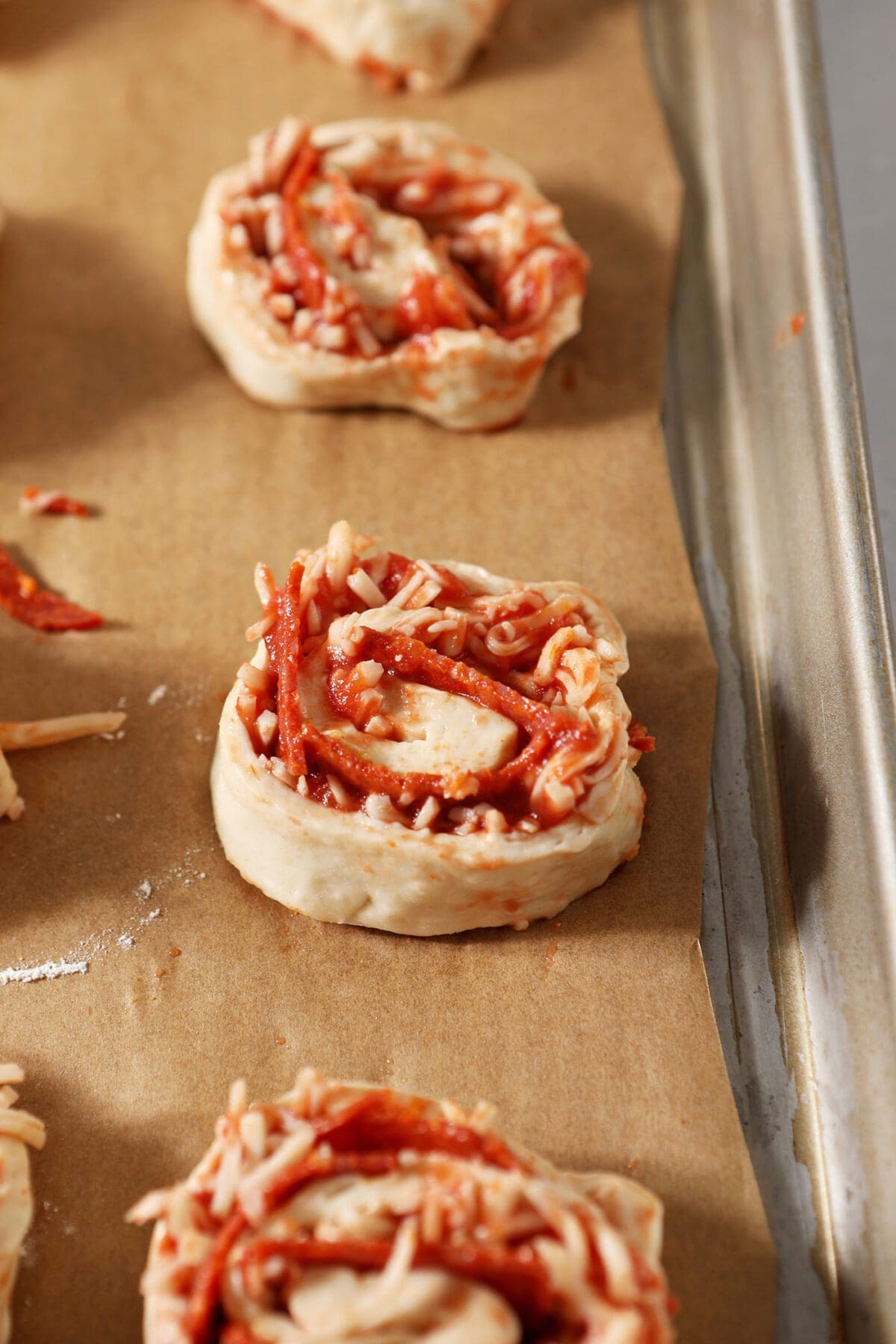 Bake for 15 to 20 minutes, or until the tops are golden brown.
Cool on a wire cooling rack for 10-15 minutes, then serve with warm marinara sauce.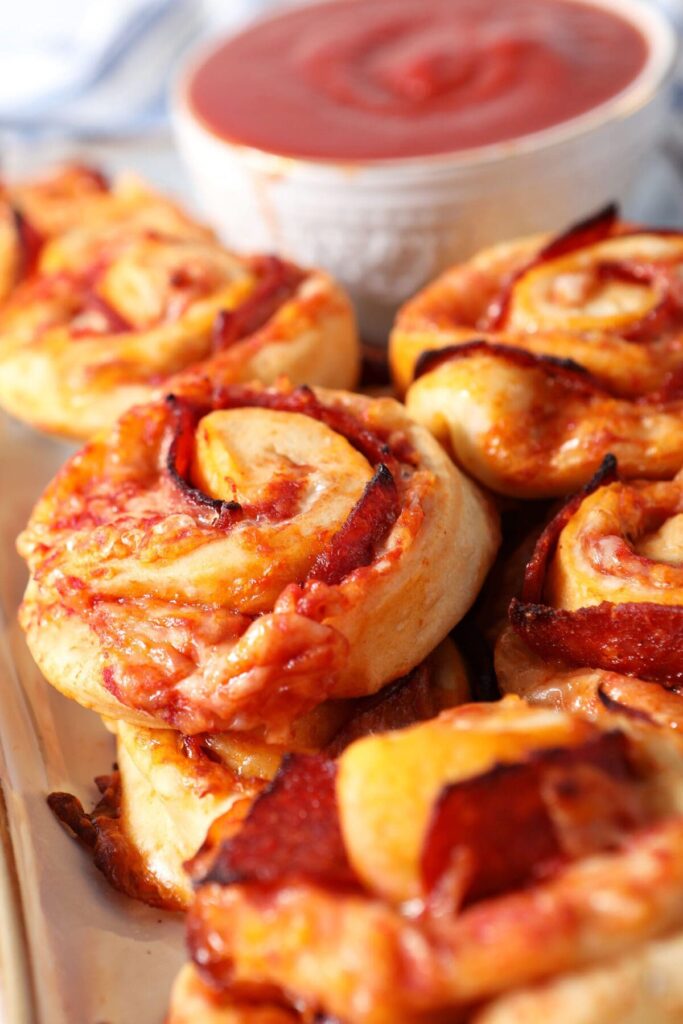 Erin's Easy Entertaining Tips
These Pizza Roll Ups are perfect for any type of entertaining because they're so easy to make!
It goes without saying that my family family loves them, and they are a big hit whenever we make 'em.
Whether you're hosting a big game party, a mama happy hour or anything in between, here are some tips and tricks as to how to make 'em as easy as possible so you can enjoy yourself, too. (Because that's important. You, as the host, need to have fun, too.)
Double the recipe. Especially if you're feeding more than a few people. My family has been known to turn these pizza rolls into dinner, so be sure to have enough if your guests are hungry.
Make them in advance… and freeze the pizza rolls before baking. All you're going to do is follow the instructions below, but before you pop that parchment paper-lined sheet pan into the oven, place it in the freezer. Let it freeze for 4-6 hours, or until the pizza rolls are frozen solid. Transfer them to a freezer-safe storage container or baggie until it's your hosting day. Bake them frozen, and plan to have them bake for up to 3-5 minutes more!
Switch up the fillings. While we love these with spicy pepperoni, you can add ground sausage, shredded chicken and more! Just be sure to use the same amount of filling as detailed below so your homemade pizza rolls aren't overfilled.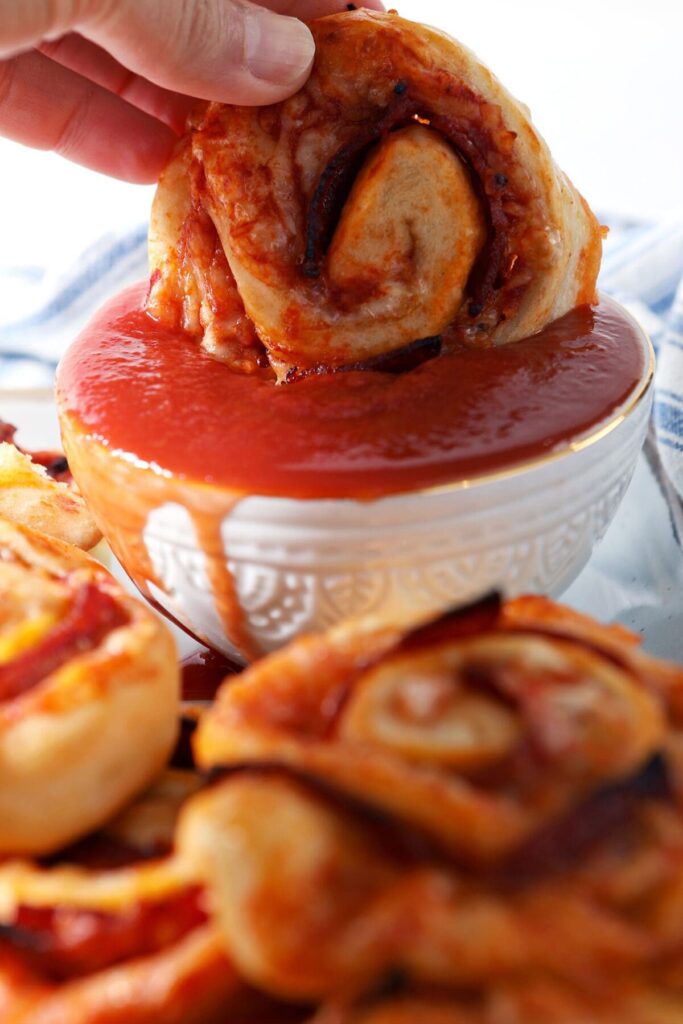 Quick tips and tricks to the best homemade pepperoni rolls:
If feeding a crowd, double (or triple) the recipe!
Let your kids help put them together. Yes, it can get messy, but the whole family can clean up together once the rolls are baking.
Switch up the fillings to include your favorite pizza toppings. Just don't overfill the rolls, or they'll fall apart when sliced.
How to store: Let the rolls cool completely, then place in an airtight container. Refrigerate for 3-4 days. Reheat in the toaster oven or air fryer for ultimate crispiness.
Other easy game day treats: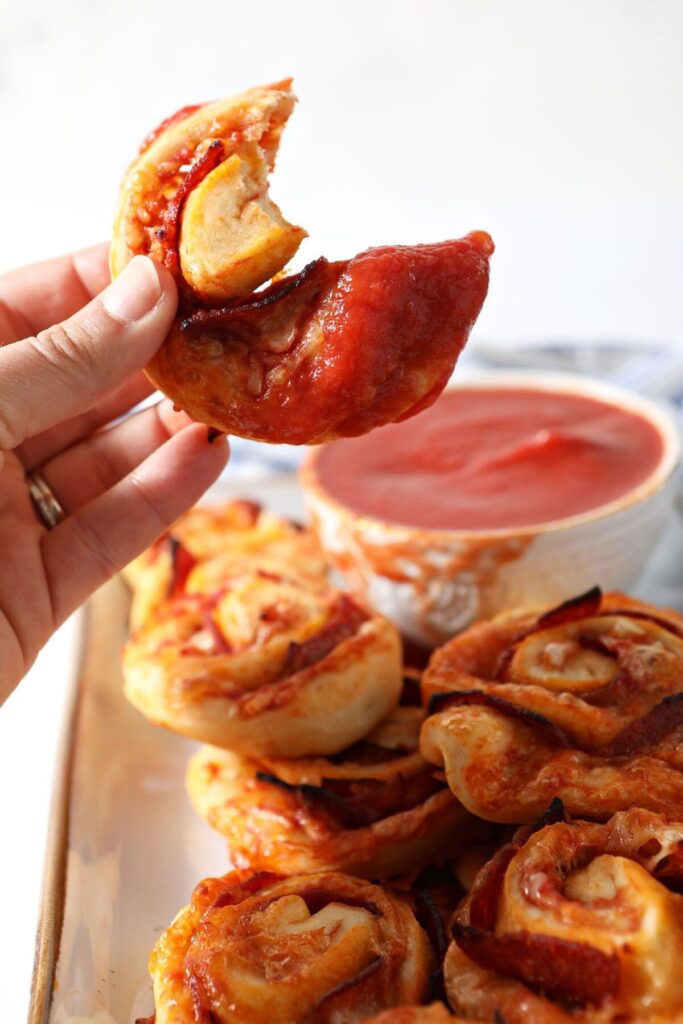 Here's how we made 'em:
Yield:

14 rolls
Pepperoni Pizza Rolls
Serve up Pepperoni Pizza Rolls to feed a crowd! Store-bought pizza dough is rolled flat, then filled with tomato sauce, mozzarella cheese and pepperoni, then rolled into pinwheels and baked to make the ultimate gameday appetizer.
Ingredients
1 lb. pizza dough
½ cup pizza sauce (homemade or jarred), plus more for dipping
1 ½ cups shredded mozzarella cheese
½ cup pepperoni (turkey or regular OK)
Instructions
Preheat the oven to 425°F. Line a baking sheet with parchment paper, and set aside.
Sprinkle flour onto a flat surface, and roll out the pizza dough into a rectangle using a rolling pin. Add extra flour, if necessary, so the dough doesn't stick to the surface. Do not roll too thin or the dough will tear when you attempt to roll it.
Use a spoon to dollop and spread tomato sauce onto the dough.
Sprinkle the mozzarella on top of the tomato sauce.
Place the pepperoni on top of the cheese.
Roll the pizza dough into a pinwheel slowly, then seal with a little more tomato sauce.
Slice into ½" pinwheels, and gently transfer them to the prepared baking sheet, leaving space between the pinwheels.
Bake 15-20 minutes, or until the tops are golden brown.
Let cool for 10-15 minutes, then serve with additional tomato sauce.
Notes
How to store: Let the rolls cool completely, then place in a food storage container. Keep in the refrigerator for 3-4 days. Reheat in the toaster oven for ultimate crispiness.
Recommended Products
As an Amazon Associate and member of other affiliate programs, I earn from qualifying purchases.
Nutrition Information:
Yield:
14
Serving Size:
1
Amount Per Serving:
Calories:

139
Total Fat:

6g
Saturated Fat:

2g
Trans Fat:

0g
Unsaturated Fat:

3g
Cholesterol:

11mg
Sodium:

288mg
Carbohydrates:

16g
Fiber:

1g
Sugar:

1g
Protein:

5g
Nutrition facts are an estimate and not guaranteed to be accurate.