5 Excuses Not to Host a Dinner Party (And Why You Should Do It Anyway)
We all have them: excuses. We have so many reasons why we can't host a dinner party or even invite our friends over. And I'm right there with you. Life is hard and messy and challenging… but life is worth spending with the people we love, and those people include our friends. Let's talk about some of our excuses for not hosting dinner parties (and other gatherings, too) and see how easy the solutions are to make hosting a normal occurrence.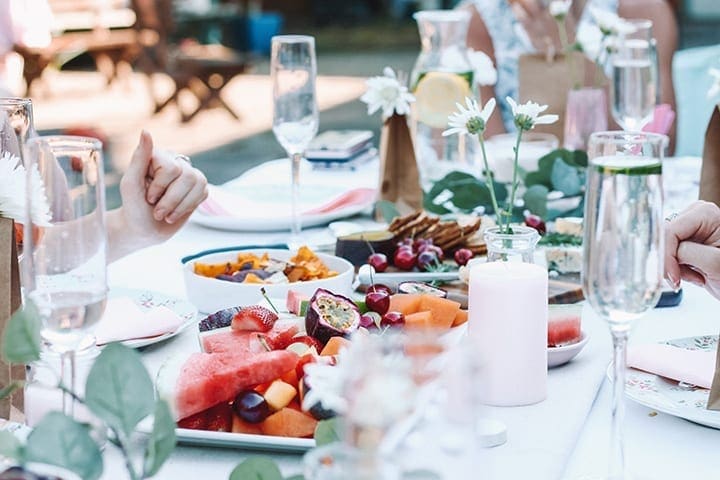 I've been talking on social media recently about why it's important to see my friends and open up my home as a mama of two.
When I asked my Instagram audience the one thing that stressed them out about hosting or entertaining, I received a lot of responses, and I wanted to address those in today's post.
Also, I plan to make an entire content series around how to host for y'all in the future, so if you have any entertaining or hosting questions, please send them my way.
Y'all ready to dive into these excuses NOT to host a dinner party? Let's do this…
Excuse #1: "I don't have the time."
You're busy. I'm busy. Everybody's mom and grandma are busy, too.
That said, you can make the time to see your people and invite them into your home if you want to.
Think about the amount of time you spend on your phone, checking the news or scrolling through social media. If you go into your phone's control settings, you can see a weekly breakdown, and I am always shocked at how I somehow spend FIVE HOURS every week on social media. (Sure, some of it is for business, but a lot of it is mindless scrolling through feeds.)
All that's to say that you can make the time… if you want to. You could use the time you're on social to put together something for friends. Granted, it's not the same as sitting on your rear and staring at your phone and requires a little leg work, but personally, I think it's worth the trouble to see my friends.
Solution #1: Stop scrolling through social media feeds and start reaching out to your friends. Make plans in advance, and let those hold you accountable.
Excuse #2: "I can't host a dinner party… My house is a wreck."
Your people will love you whether or not your house is spotless.
You know how I know this? Because my people love me, even though the dog fur dust bunnies that litter our floor could be molded into the shape of another 50 lb. dog on a daily basis. They love me, even though our home is cluttered by our daughters' toys. They love me, even though my pots and pans are hardly ever put away from the drying rack (or worse–are piling up in the sink when they arrive.)
Your home doesn't have to be perfect to host dinner (or anything else), and neither do you.
Extend some grace to yourself and your home because keeping things clean is HARD when you lead a busy life, and a messy home should not be the reason not to invite friends over.
Solution #2: Spend 10 minutes every night to do some tidying up. This isn't a deep clean… but you can get a LOT done in a little bit of time if you focus on a small area. Get your family members involved, too!
Excuse #3: "My kids are a disaster."
We addressed this a bit in the previous point, but let me repeat it for the folks in the back: Your people will love you whether or not your kids have their act together.
Heck, they'll love you whether or not you have your act together. (And if they don't and get all judge-y, then it's time to find some more empathetic friends who understand where you're at in life right now.)
We had friends over for dinner last week, and our older daughter made their son cry… and our younger one started squawking down the house before they left. No one batted an eyelash. We still enjoyed ourselves… and we even ate cupcakes.
Solution #3: Accept that your kids are kids, and they're gonna do what they do. Your friends–especially your friends with kids–aren't going to judge you for their behavior and will get a chuckle at whatever shenanigans happen.
Excuse #4: "Hosting is expensive AF."
While some hosting can be super expensive (hello, Mediterranean Herb Crusted Beef Tenderloin Easter celebration, you're a little extra, even if you are incredibly tasty), it doesn't have to be.
You know how I know?
The following dishes that feed a crowd are inexpensive hosting options that are packed with flavor. They also add variety for your guests and you to choose from and give you the option to do some tweaks to the recipes to meet dietary needs.
Solution #4: Budget-friendly meals! Your dinner party doesn't have to be fancy if you don't want it to be, and chances are, if you're hosting friends for a weeknight or weekend dinner party, they're not expecting it to be high falutin'. Make something you'd serve your family. Get creative with it… but don't feel compelled to spend hundreds of dollars.
Excuse #5: "I don't like doing the dishes."
I have one question for you: In five years, are you going to look back and say, "I'm glad I didn't see my friends because I didn't want to do dishes" or are you going be sad that you missed out?
In the long run, doing the dishes or cleaning the house doesn't even come into the equation for me.
At the end of the day, it's about whether you want to foster and nourish relationships you have with the people you love or if you don't want to put up the effort.
Some days, I don't want to put in the effort. I get it. But in the long run, I'd rather invite friends over to my messy house and stay up a little later that night cleaning dishes than not see them at all.
Solution #5: Don't do the dishes until the next day… or enlist the help of family members or friends in cleaning up afterwards. Chances are, they know the struggle to get things cleaned up, so they might already be clearing their places when they finish up and won't mind lending a hand. After all, if everyone does a little bit, things can be cleaned up a lot faster!
…
So now I've gotta know…
What's your go-to excuse to not host a dinner party?