Sweet and a little tart, this Strawberry Moscow Mule recipe is a twist on the classic cocktail! Calling for fresh strawberries, lime juice, ginger beer and vodka, this mixed drink is perfect for the spring and summertime. Makes 1 drink, but can be turned into a pitcher.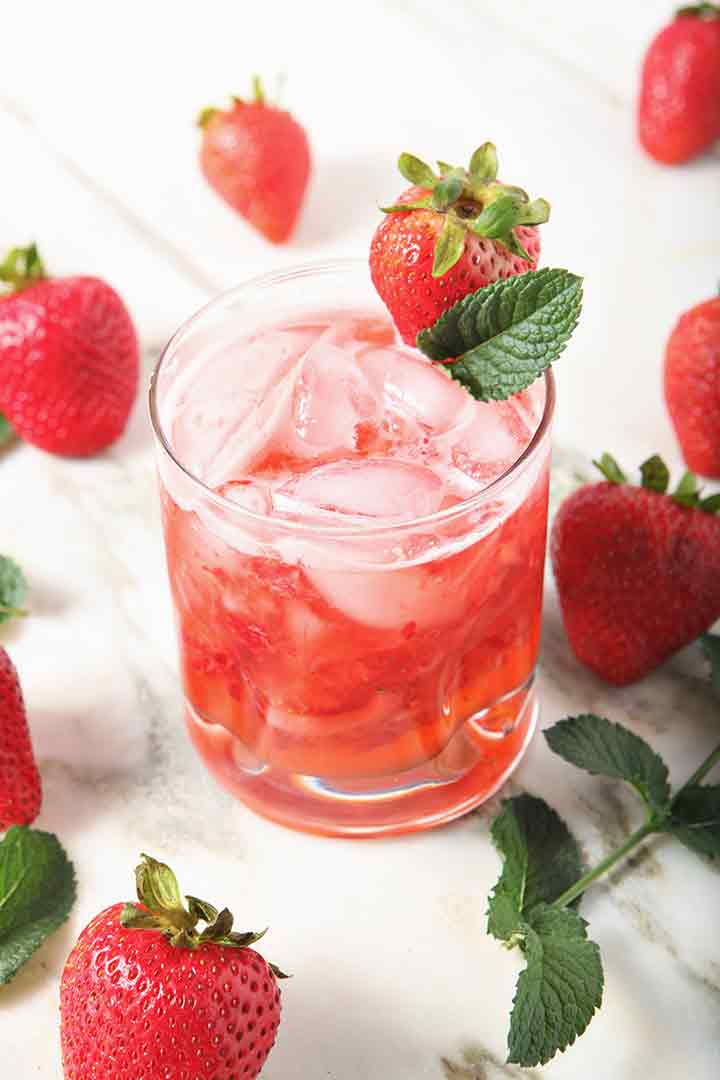 Y'all know I am all about a good seasonal Moscow Mule. So this month, I'm bringing you a mule that features my favorite fruit of all time: the strawberry.
When we lived in Louisiana, March was the month that local strawberries went wild at the markets. There were so many strawberries that you could buy a flat for $20.
It was amazing, and the years that we lived there, I overdosed on strawberries during the month of March. (Hello, Strawberry Mousse, Strawberry Vinaigrette, Strawberry Pineapple Agua Fresca and Strawberry Syrup. I LOVE YOU.)
So it's fitting for me to share this Strawberry Moscow Mule with y'all this month because it's springy and seasonal and bright and is perfect for any gatherings.
The Strawberry Mules bring out the best of the Moscow Mule flavor.
The strawberries add sweetness; the ginger offers a little bit of spice; the lime offers some much-needed acidity, and the vodka adds a little zing.
Funnily enough, I actually made this drink last summer and ran out of time to share it with y'all. So if you're looking for a mule that is non-alcoholic, let me just tell you: this one works without the booze, too!
As someone who is obsessed with fresh fruit and her drinks, I highly recommend giving this a try. Especially since strawberries are going to be everywhere soon.
Other fruity mule recipes we adore: Peach Moscow Mule | Raspberry Moscow Mule | Blood Orange Mocktail Mule | Apple Pie Moscow Mule | Cranberry Mule

Tools needed to make a Strawberry Moscow Mule
Disclaimer: The links below are affiliate links. If you click through and take action, I will receive a small commission. Please refer to my disclosure page for more information about the affiliate programs The Speckled Palate participates in.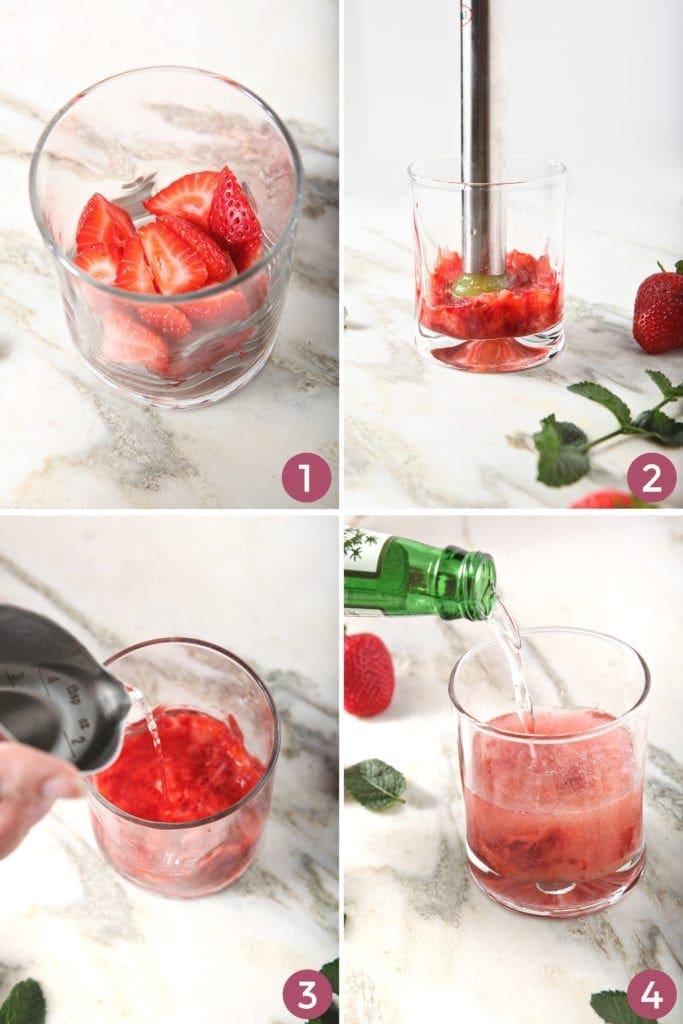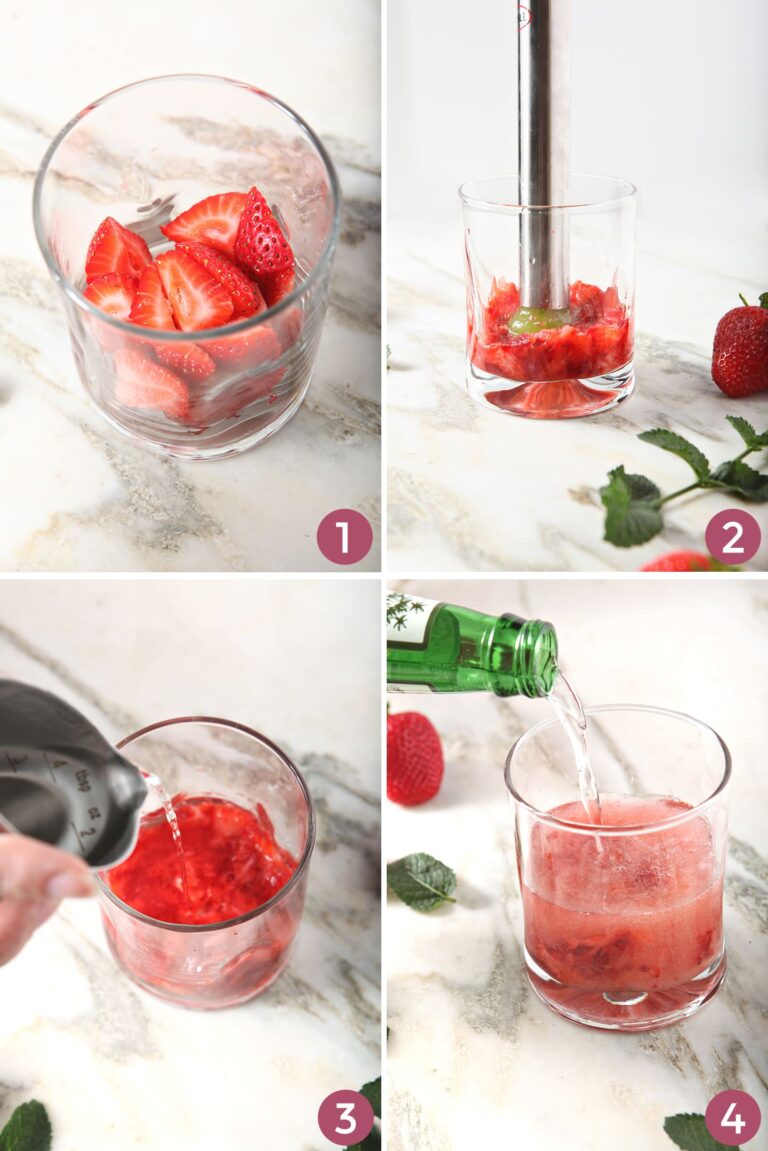 How to make a Strawberry Moscow Mule
This mule is a simple one to make.
First and foremost, muddle the strawberry. Next, add the ginger beer, the vodka, simple syrup and lime juice.
Stir, add ice, garnish, and boom! You're done, and it's time to enjoy this goodness.
Pro tip: Quadruple the ingredients to make this into a pitcher drink! "Muddle" the strawberries in the food processor or a blender, then combine everything in a pitcher and serve immediately.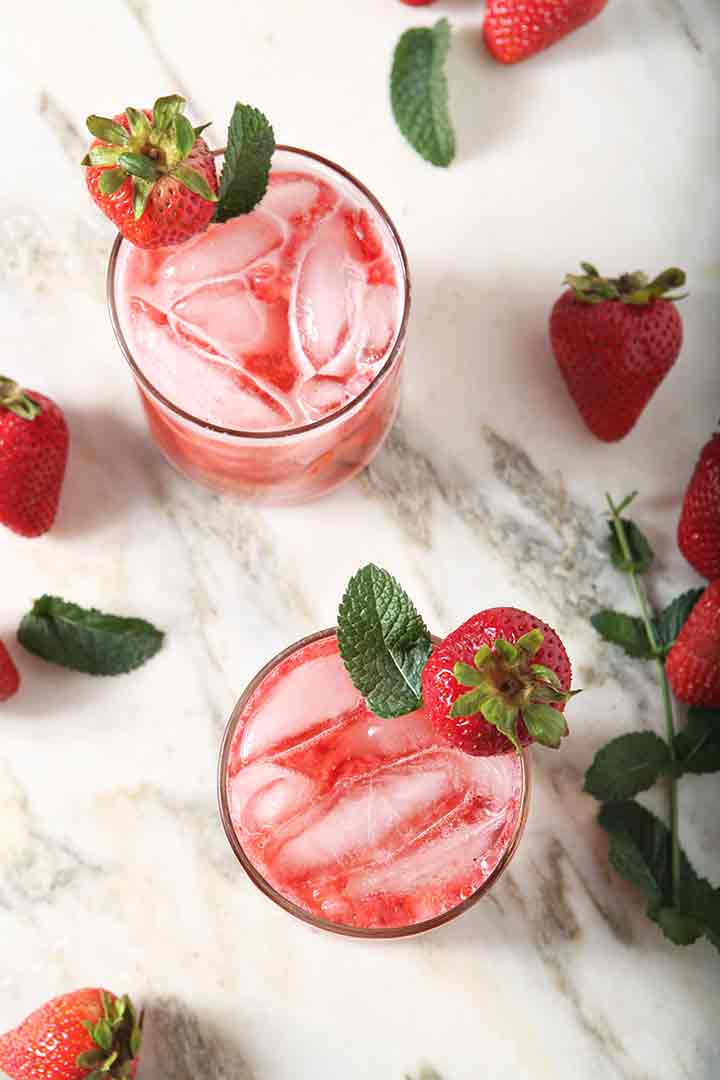 Erin's Easy Entertaining Tips
A Strawberry Mule is the perfect cocktail to mix up for a spring or summertime gathering. Whether you're hosting girlfriends or a kid's birthday (what? you don't serve mixed drinks to your kid's friends parents?), this light drink works well for a crowd!
Muddle your strawberries in advance. If you make these beauts individually, muddle those strawberries 1-2 hours beforehand, and let them get really juicy!
Make it a pitcher drink. If you're serving a crowd and don't want to mix them individually, blend up the strawberries in the blender or food processor and throw all the ingredients into a pitcher. Quadruple the recipe (or more!) to have enough for all!
Swap out the strawberries for a different berry. If you don't love strawberries or can't find good ones, use another berry! Just be aware that swapping the berries might call for more or less simple syrup. Taste the fruit and the drink before adding the simple syrup, then add it a little at a time until the sweetness if perfect for your tastebuds.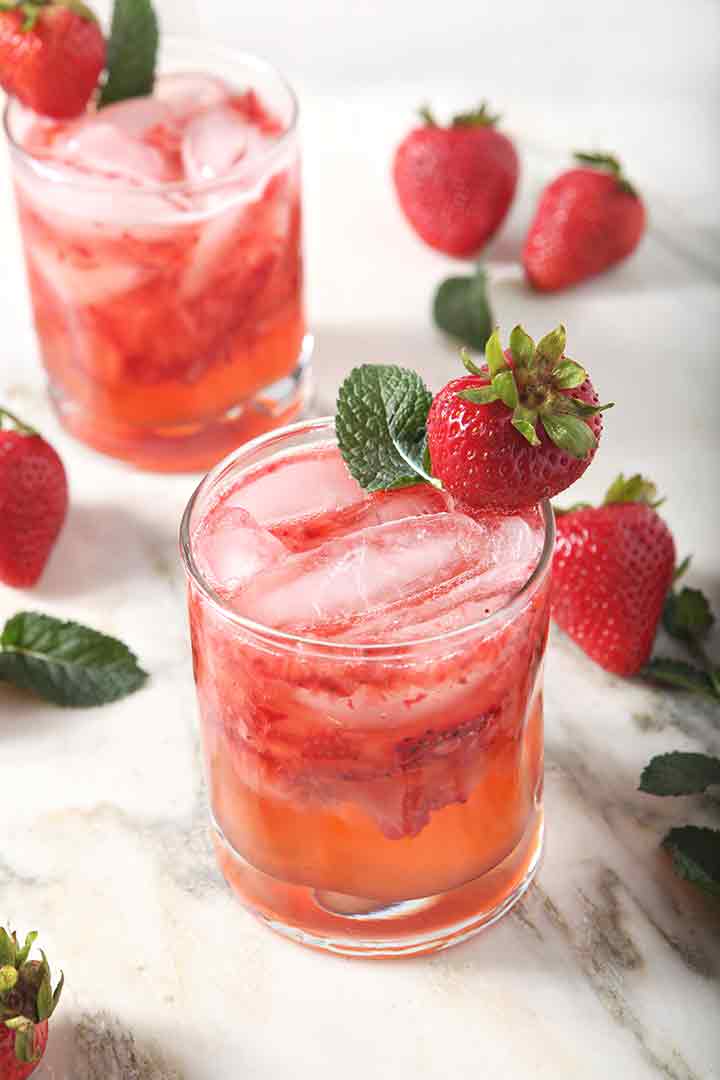 Frequently Asked Questions
What if I don't have fresh strawberries? Can I use frozen strawberries in this mixed drink?
You can absolutely use frozen strawberries if you don't have the fresh variety. However, if you use them, I recommend letting them thaw, then blending them up in a blender before mixing this drink.
Why is it called a Moscow Mule?
Back in the 1940s, Americans thought vodka was gross. Subsequently, they wouldn't drink it.
Legend has it that a the bartender at L.A.'s Cock 'n Bull mixed up this beverage after listening to three businessmen—a vodka maker, a ginger beer maker and a copper mug maker—lament about their lack of sales.
Or maybe he had just had too much of all three and created this cocktail to move product.
Whatever actually happened resulted in a delicious drink, traditionally served in a copper mug.
What are some other fruits you can use in a Moscow mule?
The world is your oyster here! Whatever fruit you use, just muddle or blend it like you do with the strawberries in this one.
Be aware that you might have to add more simple syrup, depending on the sweetness of the fruit used.
Can I make this mule without alcohol?
Yes, you can! Just leave out the vodka, and you have a delicious STRAWBERRY MULE MOCKTAIL!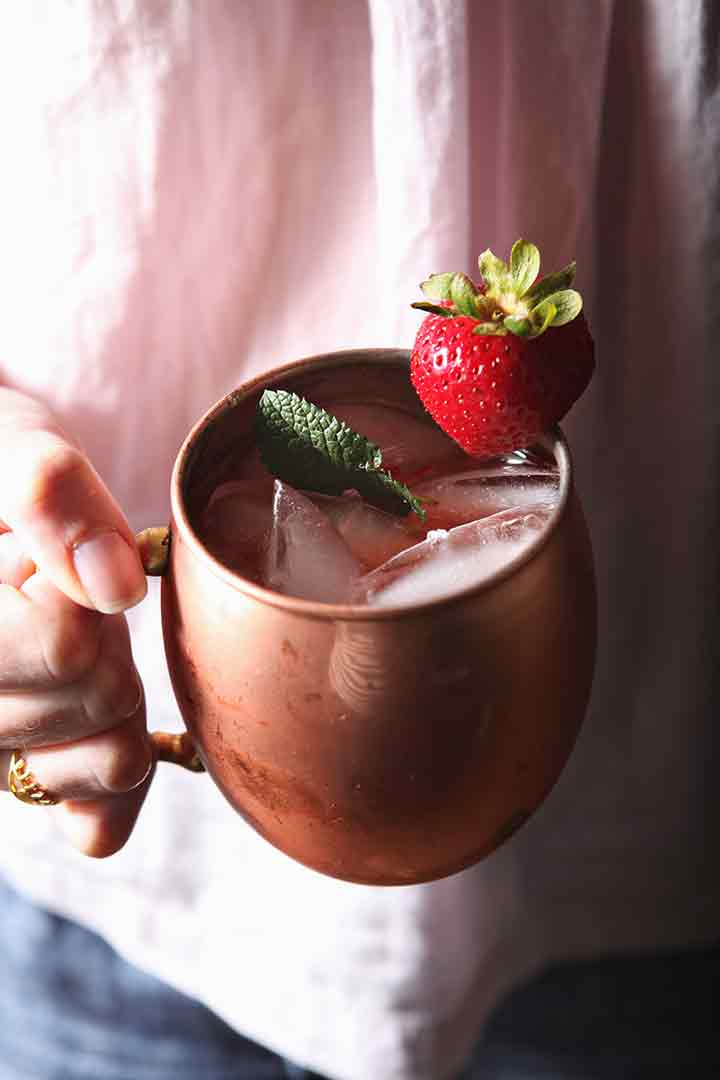 What recipes can I pair with this cocktail?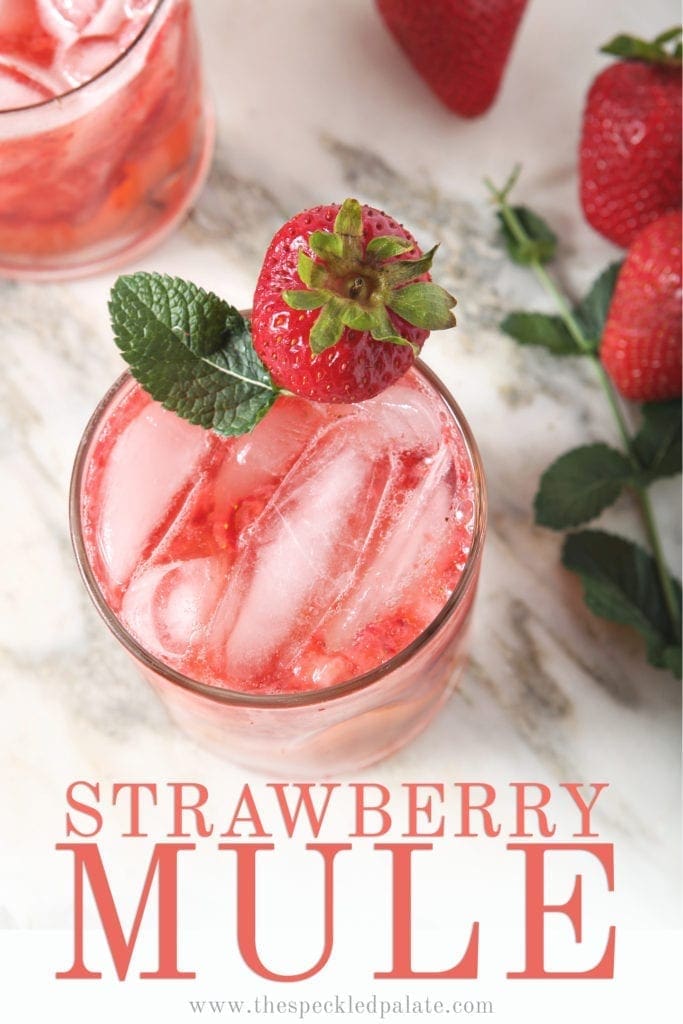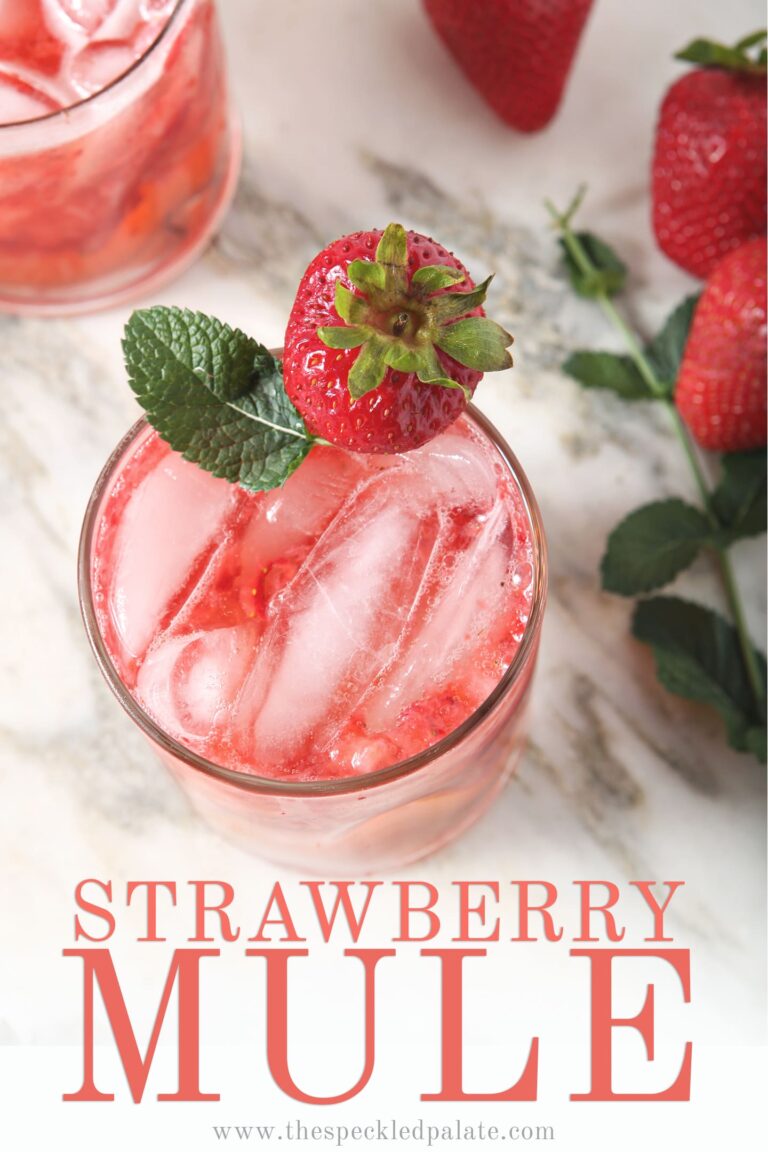 Now who's ready to make one of these cocktails? Heck, we can even make 'em a mocktail!
Trust me: You want to know how to do it. I explain below…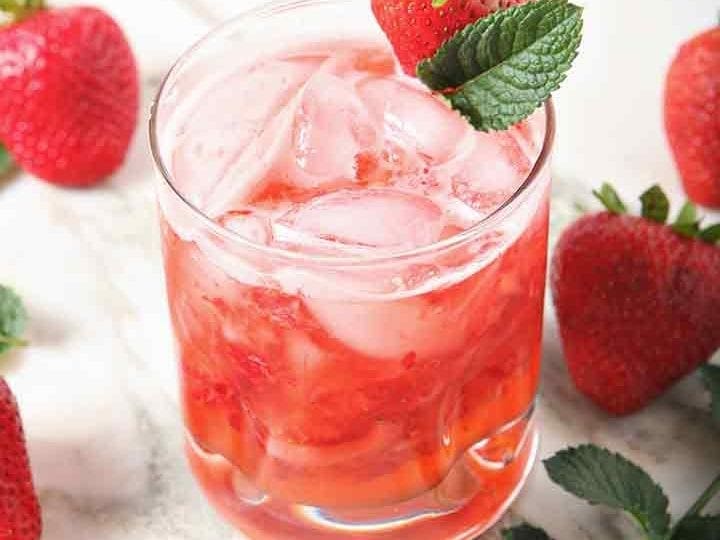 Yield:

1 cocktail
Strawberry Moscow Mule
Sweet and a little tart, this Strawberry Moscow Mule recipe is a twist on the classic cocktail! Calling for fresh strawberries, lime juice, ginger beer and vodka, this mixed drink is perfect for the spring and summertime. It can easily be made into a non-alcoholic drink for kids and non-drinkers to enjoy, too! Whether you're mixing up a drink for yourself or for a crowd at a gathering, Strawberry Moscow Mules are a wonderful, unique option.
Ingredients
5 strawberries, muddled
3 oz. ginger beer
1 ½ oz. vodka
1 oz. simple syrup
½ oz. lime juice , freshly squeezed
Ice , for serving
Fresh mint , for garnish
Instructions
Slice the strawberries.
Place the strawberries in a glass (a copper mug or your glassware of choice—we aren't picky here!), and muddle with a muddler.
Measure in the ginger beer, vodka, simple syrup and lime juice.
Use a spoon to stir up the ingredients.
Top with ice, garnish with an additional strawberry and a sprig of mint, and enjoy immediately.
Notes
If you want to make this a mocktail, simply leave out the vodka. No substitutions necessary, and it's still amazingly delicious!
This cocktail recipe is very easy to scale for a crowd, so it can be doubled, tripled, etc.
Recommended Products
As an Amazon Associate and member of other affiliate programs, I earn from qualifying purchases.
Nutrition Information:
Yield:
1
Serving Size:
1 drink
Amount Per Serving:
Calories:

226
Total Fat:

0g
Saturated Fat:

0g
Trans Fat:

0g
Unsaturated Fat:

0g
Cholesterol:

0mg
Sodium:

9mg
Carbohydrates:

33g
Fiber:

2g
Sugar:

30g
Protein:

1g