This post contains affiliate links. If you were to make a purchase through one, I would receive a small commission. For more information about the affiliate programs The Speckled Palate participates in, please refer to my disclosure page.
Last Updated on
The Cranberry Mule is a fun take on the more traditional Moscow Mule. Perfect as a Thanksgiving or autumnal cocktail, this drink calls for cranberry, ginger beer and spiced rum, then is topped with sugared cranberries as garnish. Makes 1 drink.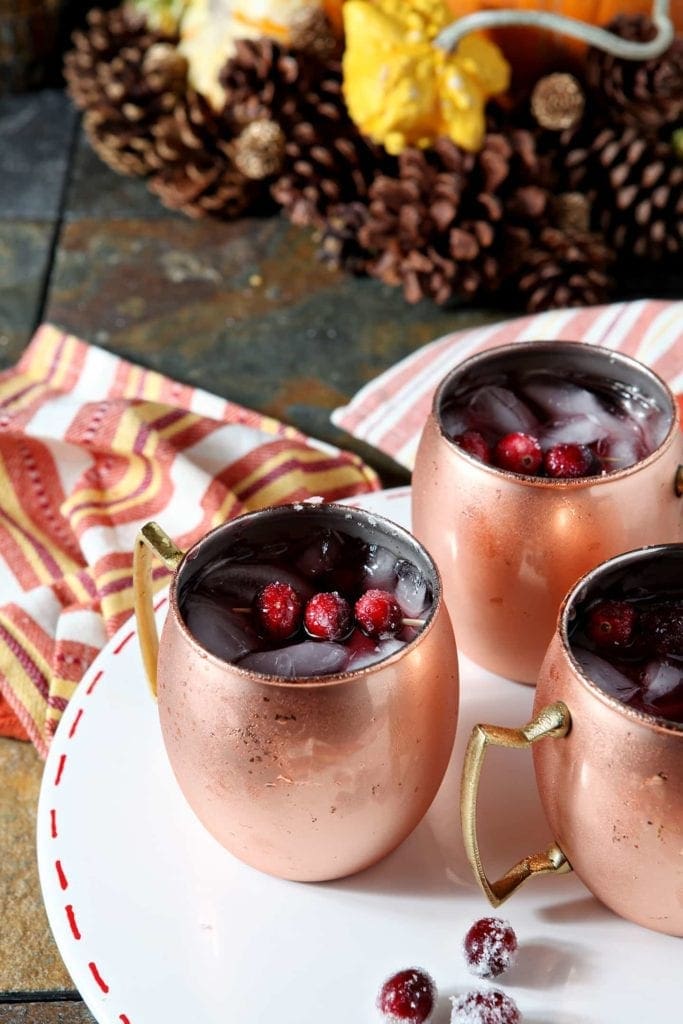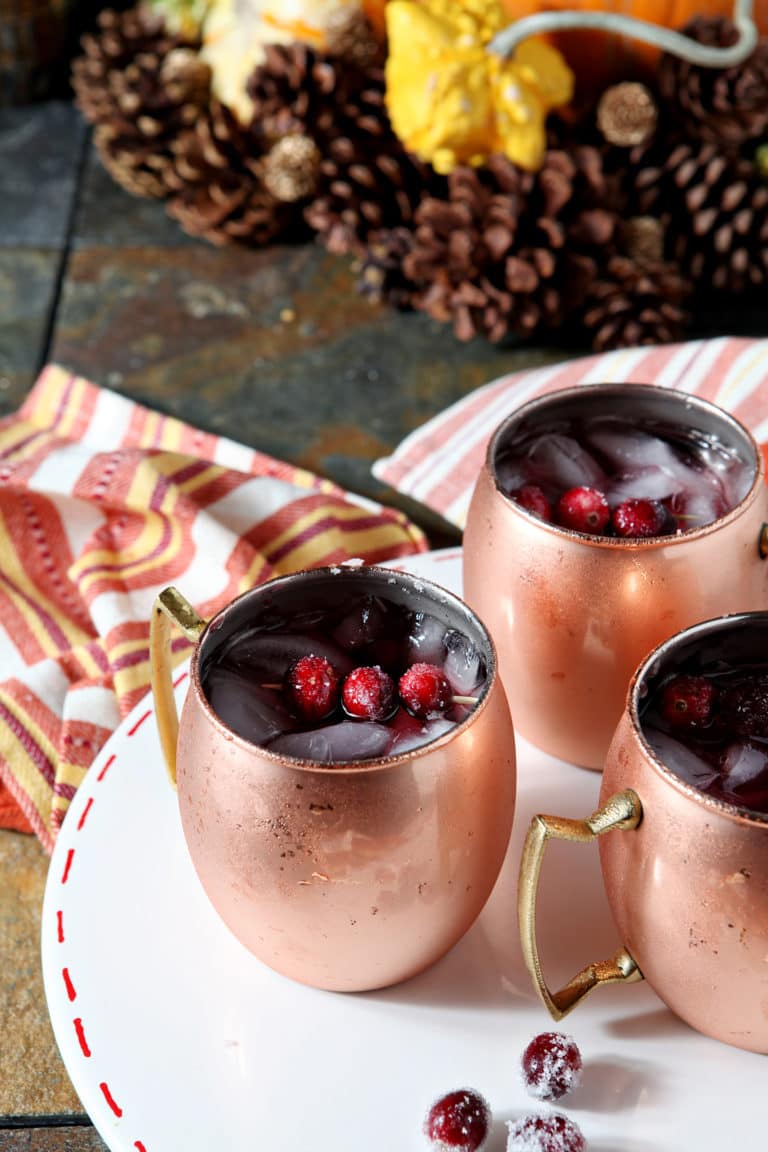 I drank my first Moscow Mule when I was on a photo assignment in Baton Rouge, visiting a hole-in-the-wall bar that offered entirely too many fun cocktails.
I normally don't drink when I'm working, but after photographing the owner of the establishment, he insisted I try something.
I asked what he recommended, and he said definitively, "The Moscow Mule."
And so I was introduced to one of my favorite cocktails.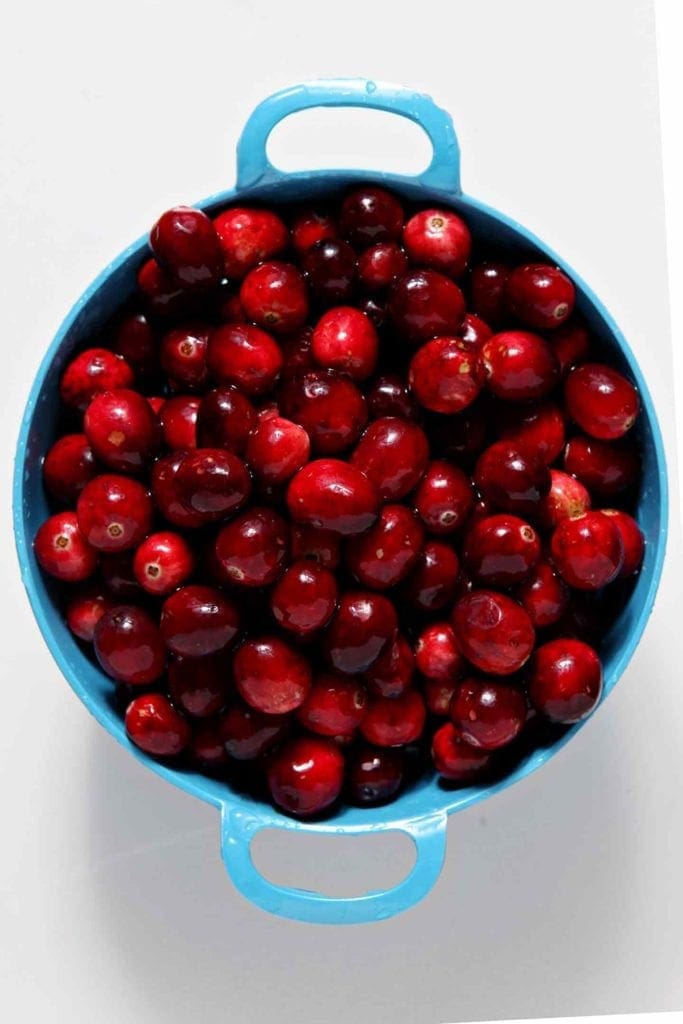 Fast forward a year or two later, and I was in New Orleans having lunch with a friend at Sylvain. We both spotted Moscow Mules on the menu and made the executive decision: we were having a cocktail lunch. (Duh.)
When we mentioned these cocktails to our waiter, he asked if we like gin.
"Of course," was my response. (Because, well, gin is delicious.) My friend, Katherine, agreed.
And then he suggested getting the Moscow Mule with gin instead of vodka. And it was delightful.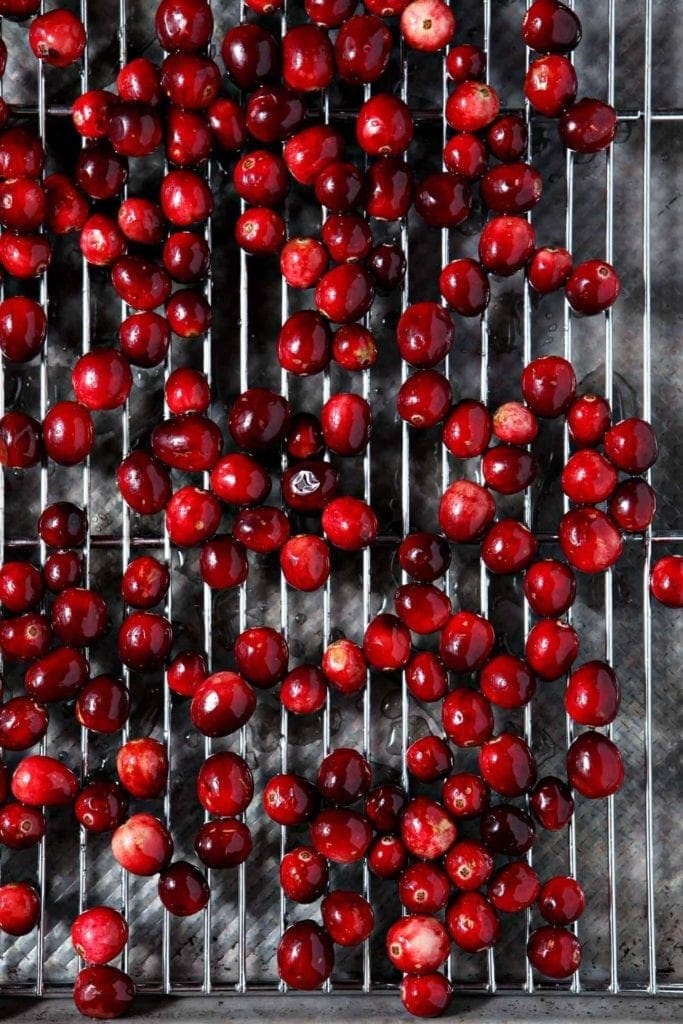 When I was thinking about drinks to make for Blogsgiving Dinner 2015, I knew I wanted to use cranberries as the centerpiece. And while I brainstormed, I thought it would be really fun to do a Thanksgiving take on the Moscow Mule.
So I began tinkering, keeping ginger beer and adding unsweetened cranberry juice, simple syrup and spiced rum. (Because spiced rum and cranberries pair marvelously.)
Then I made sugared cranberries as a garnish. (My pal, Ashley, whipped up some gorgeous spiced ones, and I used that as inspiration, even though mine don't have additional spice.)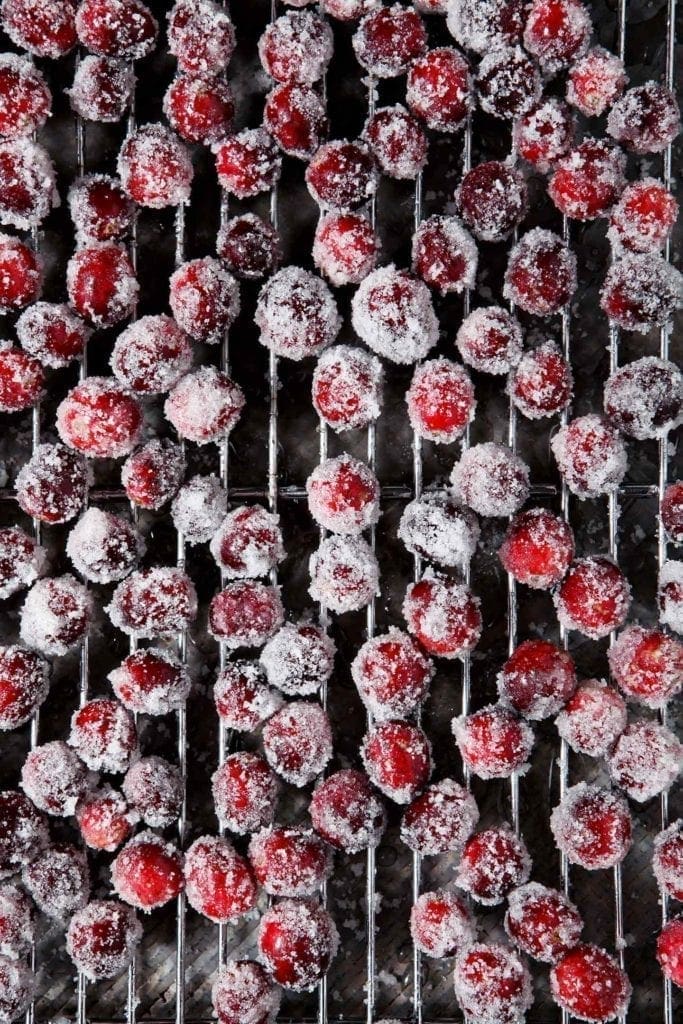 Can I use frozen cranberries to make the sugared cranberries?
Yes! Let them thaw a bit before following the instructions. While they might not hold their shape as well as the fresh ones, they will definitely serve well as a garnish.
What ginger beer do you prefer to use?
Fever-Tree is my all-time favorite ginger beer because it offers awesome spice without too much sweetness.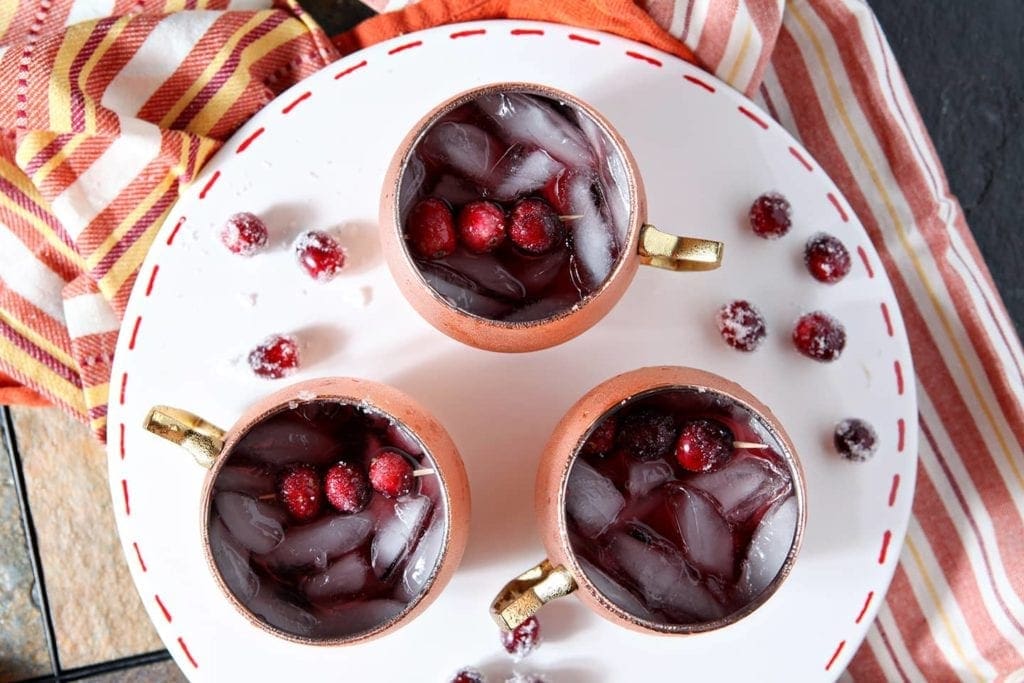 What happens if I don't have mule mugs to serve these in?
The Moscow Mule police are called. 😉
Kidding.
I've made several mules over the years, including a Strawberry Moscow Mule, Peach Moscow Mules and Apple Pie Moscow Mules that I didn't serve in mule mugs. While the copper mugs will keep the drinks insulated and chilly for an extended period of time, you don't have to have them to serve a mule. Promise.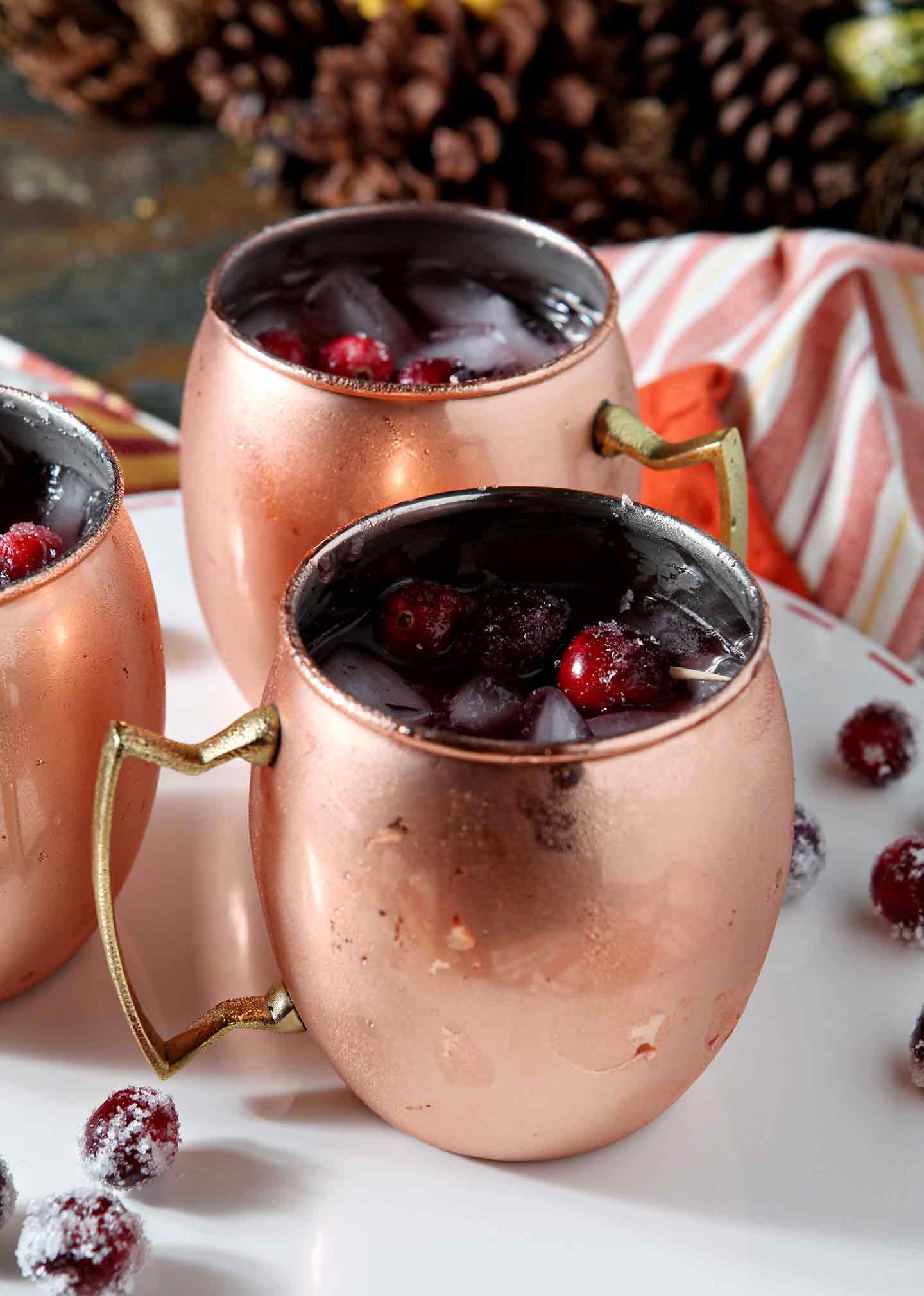 What do these Moscow Mules pair well with for a party?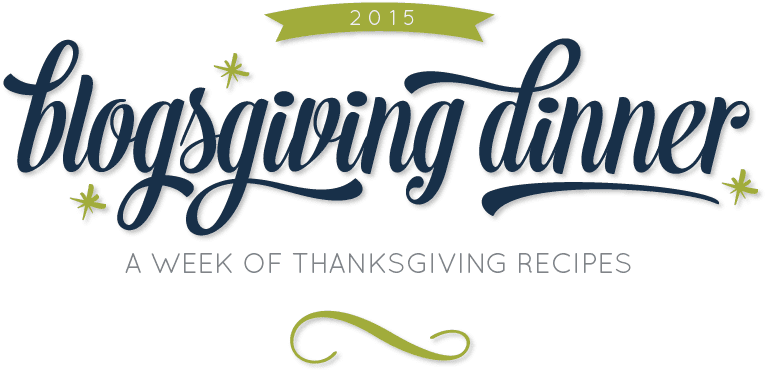 Thanksgiving is all about family, friends and delicious food. Luckily, the food blogging community is all about these things, as well. To celebrate the holiday, Meghan from Cake 'n Knife and Susannah from Feast + West are hosting Blogsgiving Dinner. And this year, there are more than 60 blogs sharing recipes this week!
The idea is based on an old-fashioned potluck dinner party.
Each blogger is bringing one or more dishes to the party, so be sure to stop by each one and get some ideas for your own Thanksgiving meal. We'll be posting to social media with the hashtag #blogsgivingdinner, but you can see all the whole menu in Part 1 and Part 2 of the recipe round-up.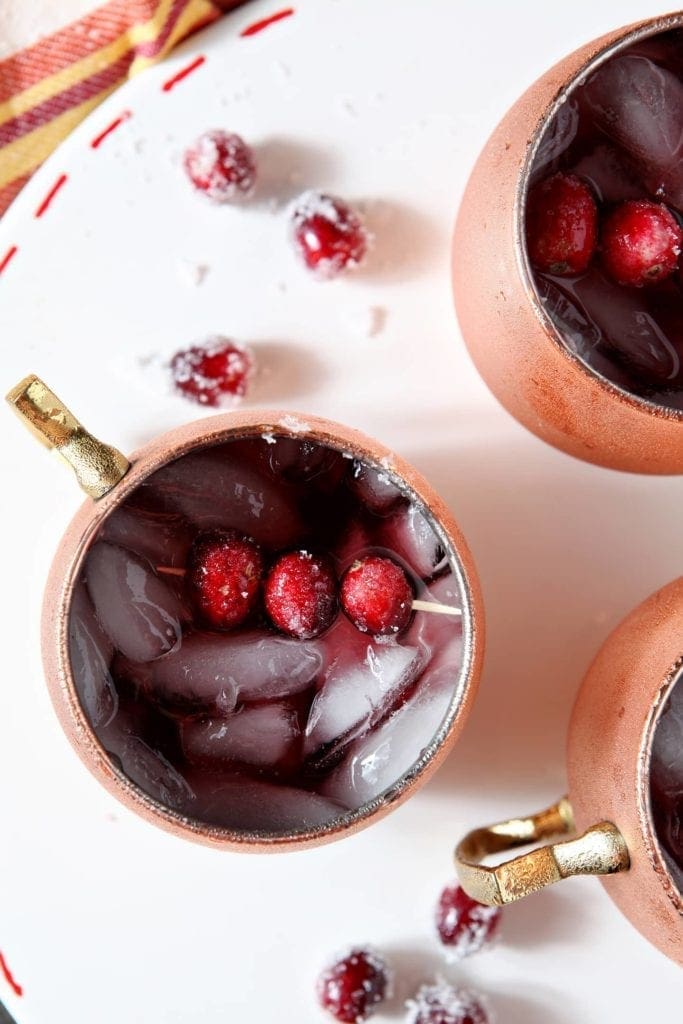 What do I need to make Cranberry Mules?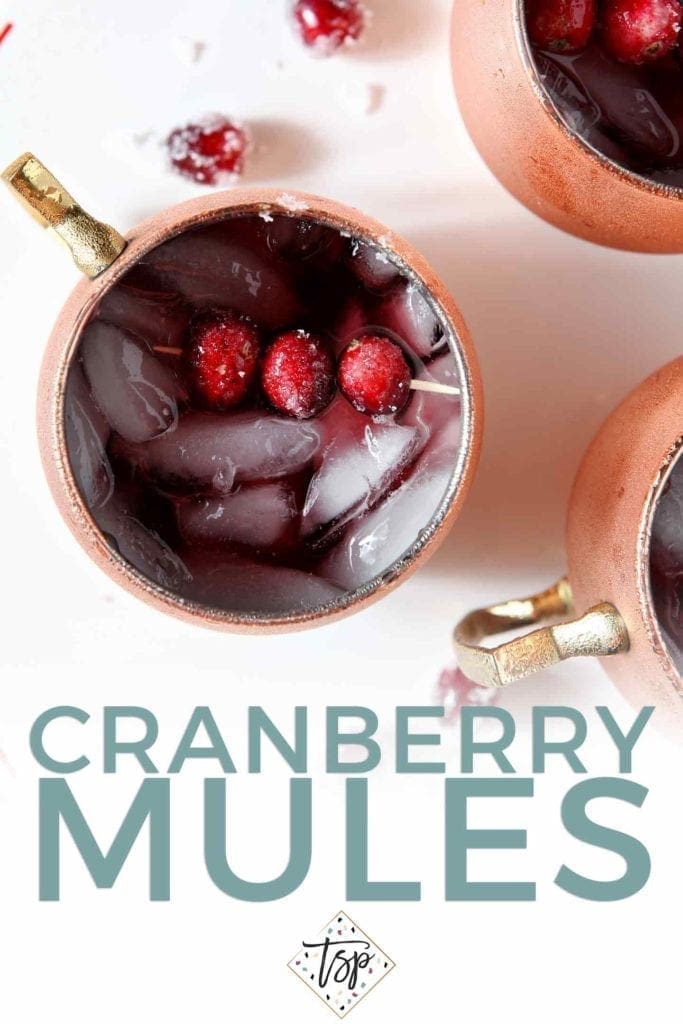 Now, who's ready for a cocktail?
Here's how you can mix one up: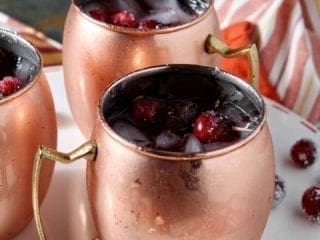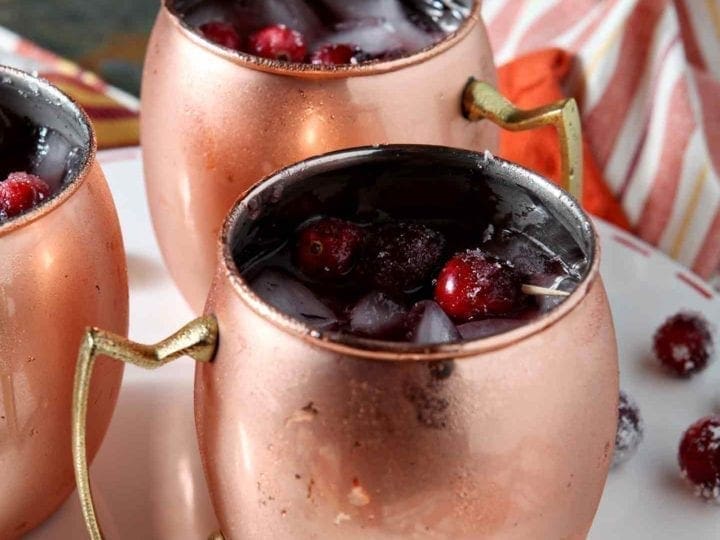 Yield:

1 cocktail
Cranberry Mule
Prep Time:
1 hour
45 minutes
Total Time:
1 hour
50 minutes
The Cranberry Mule is a fun take on the more traditional Moscow Mule. Perfect as a Thanksgiving cocktail, this drink calls for cranberry, ginger beer and spiced rum, then is topped with sugared cranberries as garnish.
Ingredients
Sugared Cranberries (for garnishing)
12 oz. fresh cranberries
½ cup simple syrup
½ cup granulated sugar
Cranberry Mule
2 oz. unsweetened cranberry juice (do NOT use cranberry cocktail)
3 oz. ginger beer
1 ½ oz. spiced rum
1 oz. simple syrup
Ice, for serving
Instructions
Make the Sugared Cranberries (Optional)
Line a baking sheet with aluminum foil. Place a wire cooling rack on top of the lined baking sheet, and set aside.
In a large bowl, measure in the simple syrup.
Toss the cranberries in the simple syrup, removing them with a slotted spoon, then place on the wire cooling rack.
Refrigerate for 30 minutes, or until the berries are sticky.
When the berries are sticky, measure the sugar into a large bowl.
Toss the cranberries in the sugar until coated, then transfer back to the wire cooling rack.
Coat all the cranberries, then refrigerate for an additional hour before using.
Make the Cranberry Mules
Place a handful of ice in a copper mug.
Combine the cranberry juice, ginger beer, rum and simple syrup in a cocktail shaker.
Shake until combined, then pour over ice.
Serve with sugared cranberries as garnish, and enjoy immediately.
Notes
Please note the prep time includes the total making of the sugared cranberries. The drink takes less than 5 minute to make when all is said and done.
Nutrition Information:
Yield:
1
Serving Size:
1
Amount Per Serving:
Calories:

229
Sodium:

23mg
Carbohydrates:

35g
Sugar:

35g
Nutrition facts are an estimate and not guaranteed to be accurate.
Have you tried this Cranberry Mule? If so, be sure to leave a comment below to let me know what you thought, as well as a star rating!