M&M's® Red Velvet Brownie Pops
This shop has been compensated by Collective Bias, Inc. and its advertiser. All opinions are mine alone. #RedVelvetLove #CollectiveBias
Bake your loved ones and friends these M&M's® Red Velvet Brownie Pops for Valentine's Day! These dense, rich brownie pops are studded with M&M's® Red Velvet, dipped in a decadent cream cheese icing and then topped with crushed M&M's.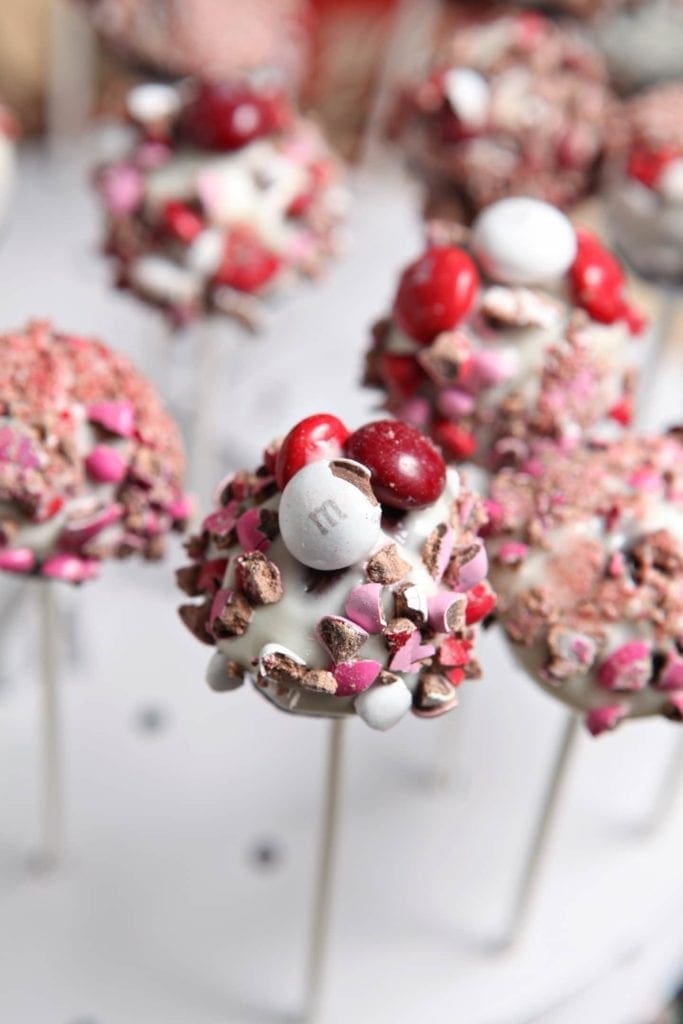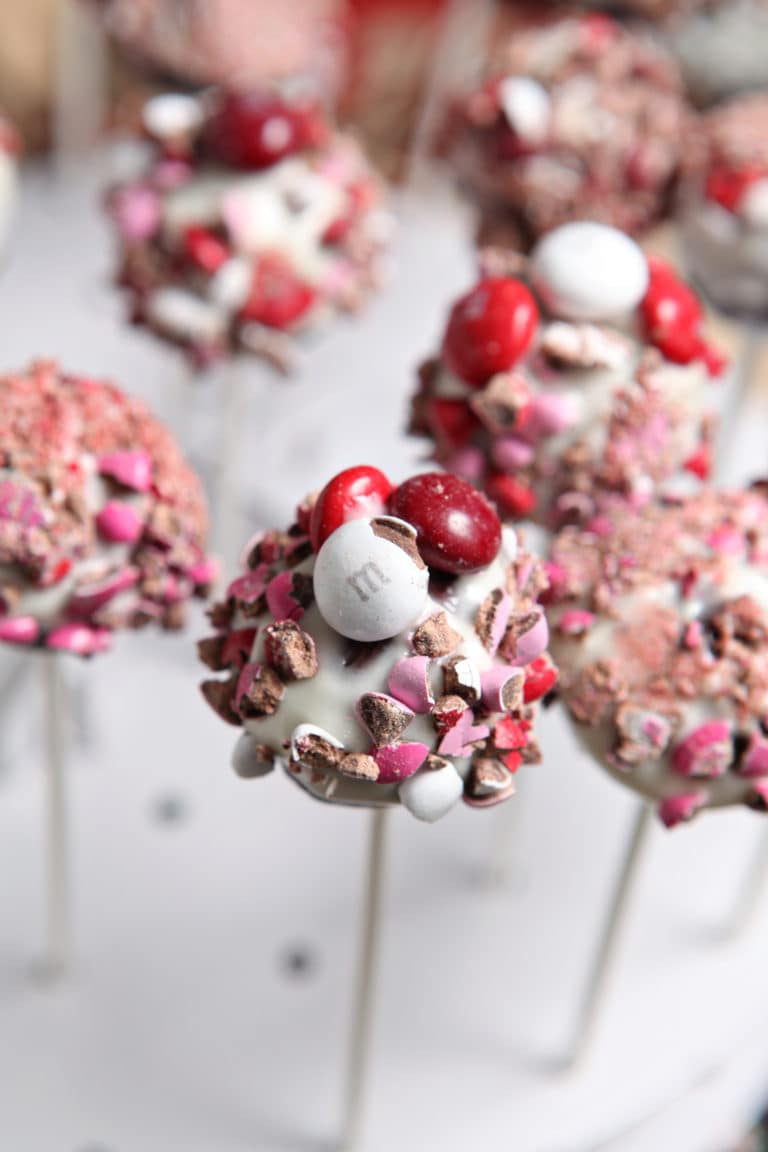 Valentine's Day has always been a big deal for my family.
So, unlike a large swath of people who feel ostracized on this upcoming day o' love, I've always felt cherished and adored. Valentine's Day presents and cards are kind of our thing, and I've received many pairs of festive socks, kitchen towels and pajamas throughout the years from family members to let me know they're thinking about me.
I'm hoping to be on the ball this year and that I can send cards and sweets. (It's debatable whether or not this will actually happen, as Lady Baby is due in a month, and I'm running around like a crazy person trying to complete all the arbitrary tasks I set for myself before she arrives.)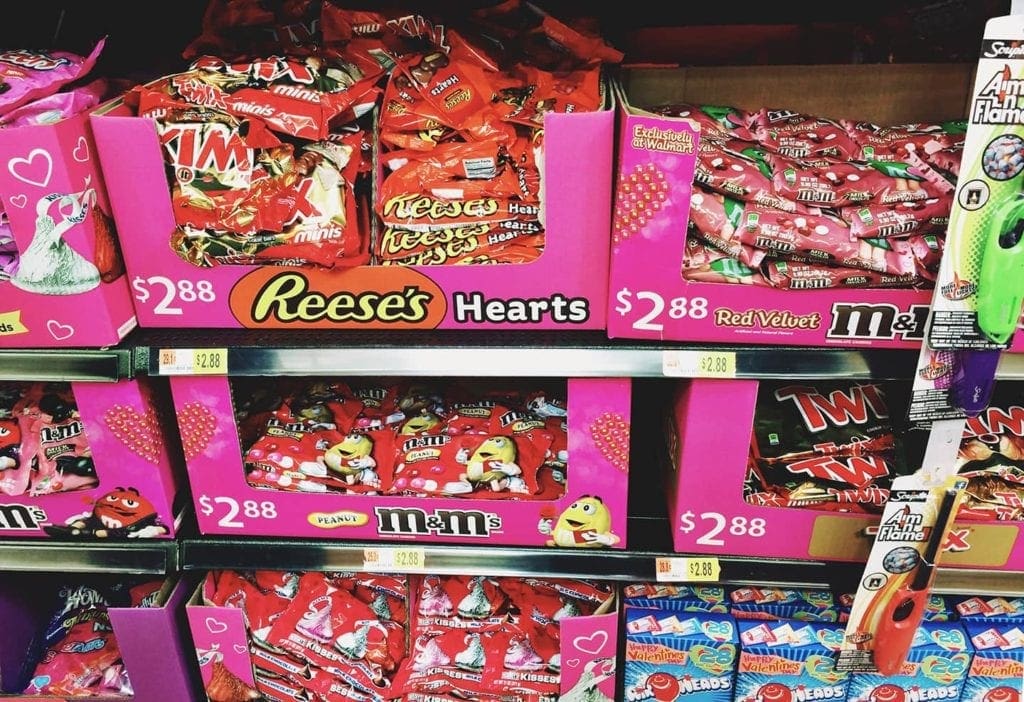 That being said, these M&M's® Red Velvet Brownie Pops are something I think you should make for the people you love, whether or not Valentine's Day is your thing.
But first: Did you know that M&M's® Red Velvet are an actual product? I didn't… and I'm so glad that I found them at Walmart because they are delicious and perfect for this sweet treat.
Using those candies as inspiration, I thought I'd make some red velvet brownie pops. But as I got into the baking process, I realized I was out of red food dye. (And since I was baking early one morning, there was no chance I was running out to the grocery to pick up more.) So I whipped up some "regular" brownies, and I threw in some M&M's® Red Velvet to add festive color and additional flavor.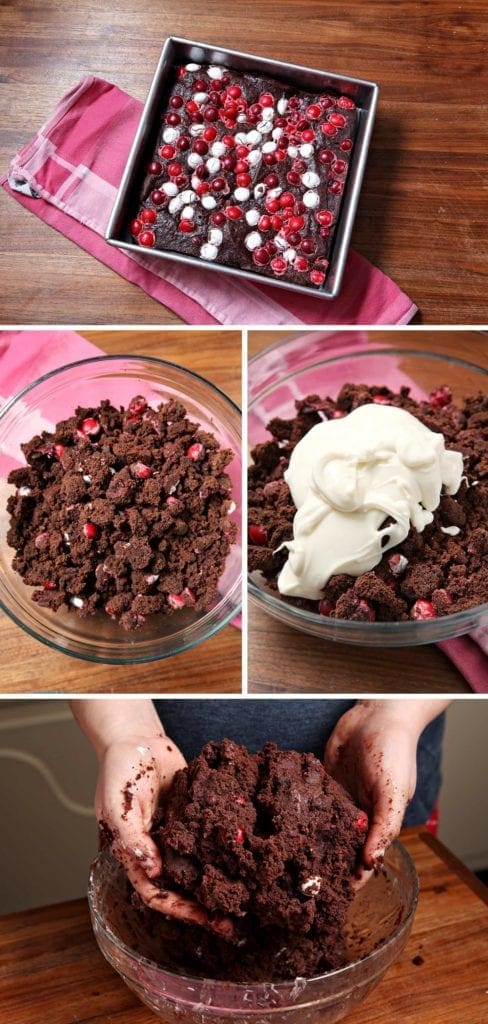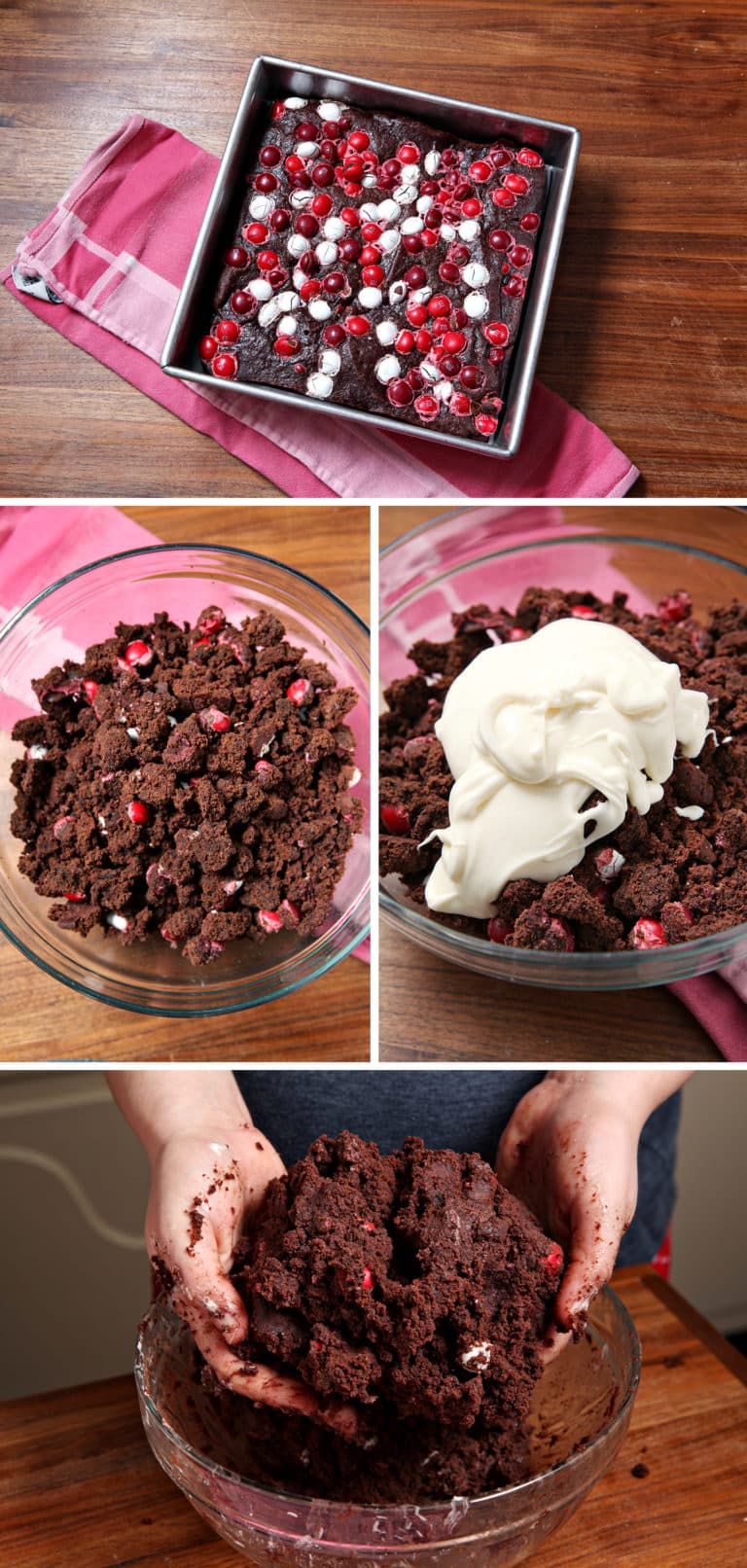 And just like that, these M&M's® Red Velvet Brownie Pops were born.
To be perfectly honest, this dessert would have been more than enough just as brownies, but since I wanted to make individual treats, I took it a step further.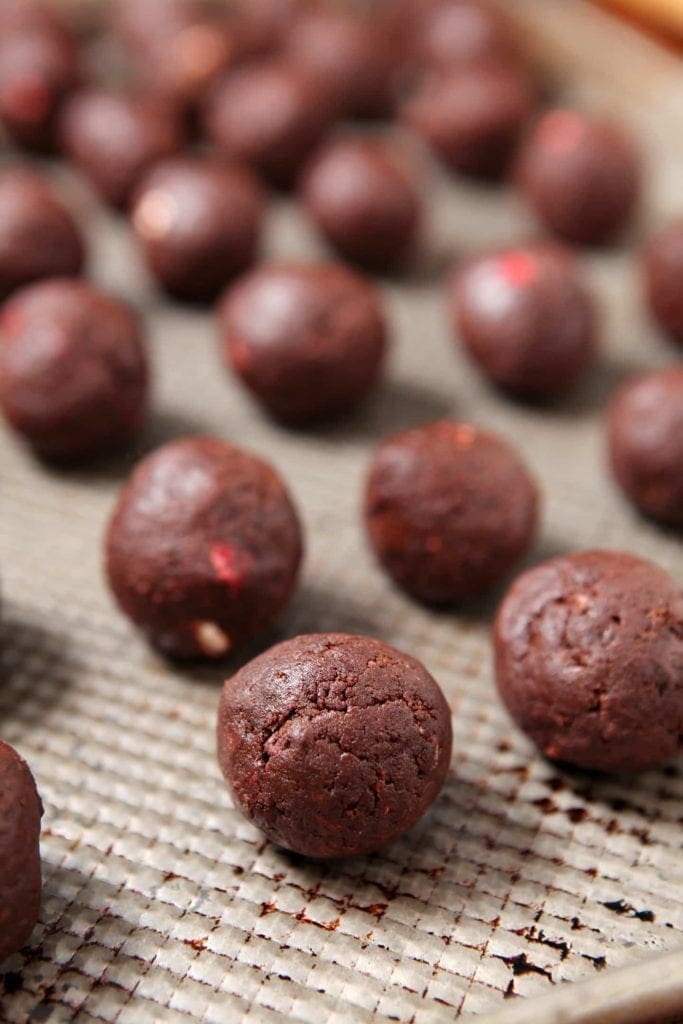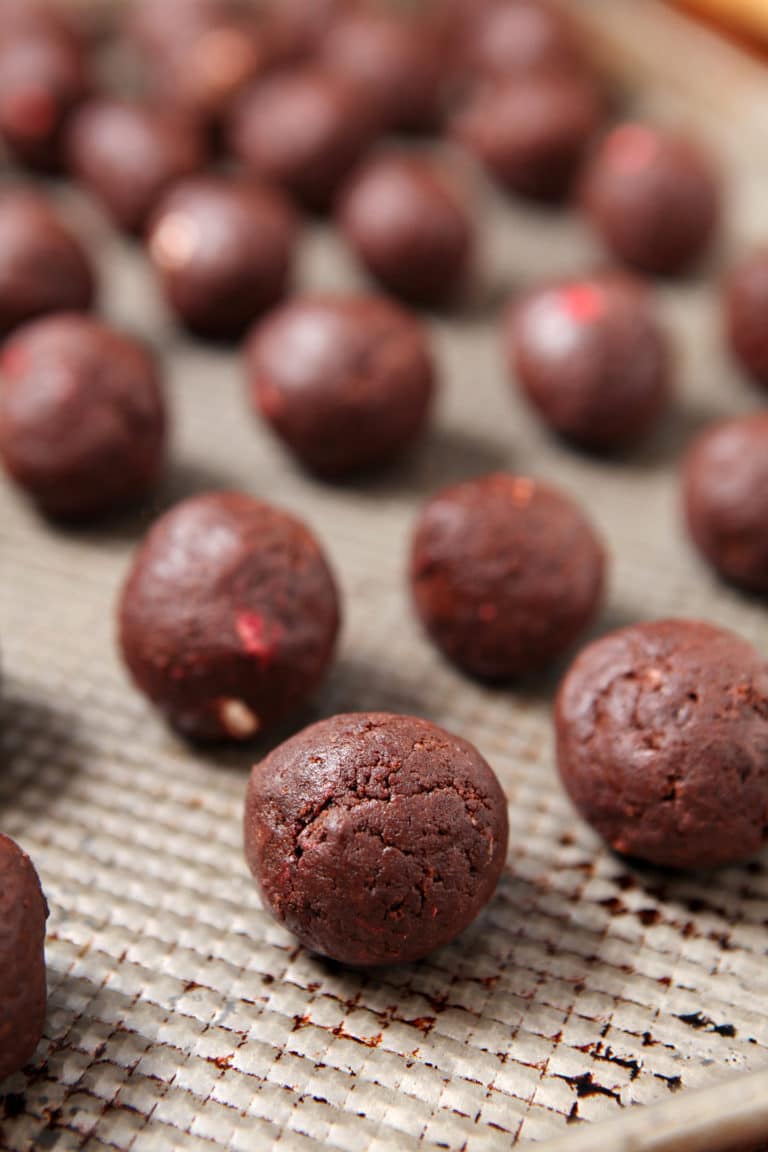 These brownie pops are a little bit of a production, but they're totally worth the potential fuss if you have the time.
You could make these all in one day, assuming you give the brownies enough time to cool and the brownie pops enough time to chill and set. We left ours chi overnight to ensure they would be perfect.
Then the next day, we dipped the pops in the cream cheese icing, sprinkled that with crushed M&M's® (in pink, red and white, of course!) and then let them sit in the fridge for an additional hour or two to firm up.
And then we dug in.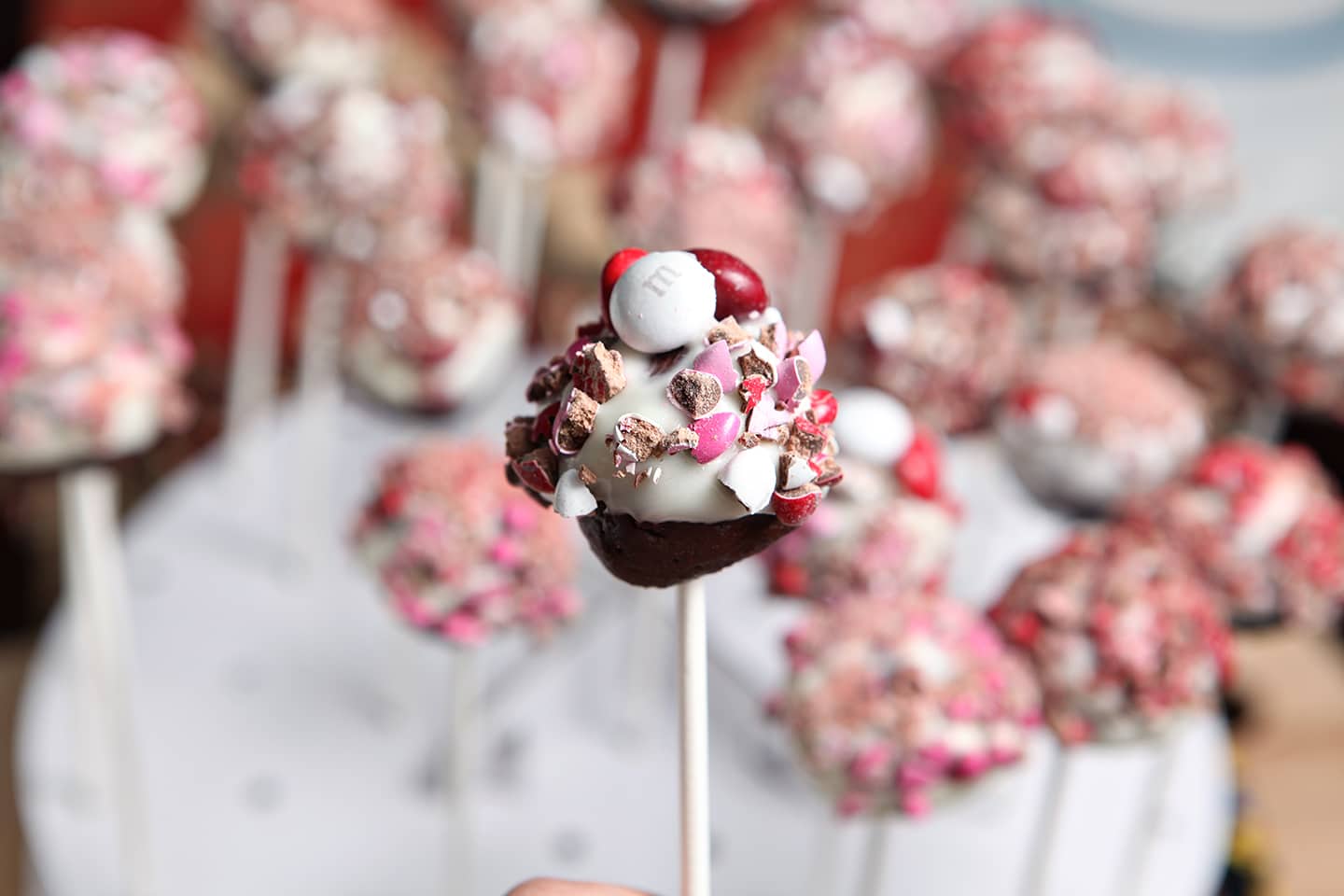 When I tell you these are a new favorite, please believe me. Winston and I have been hoarding them, and I'm going to be incredibly sad when they are gone.
However, that just means I can make more before Valentine's Day. And hopefully spread some love, even though I doubt they'd make it long enough for me to mail some to my family members.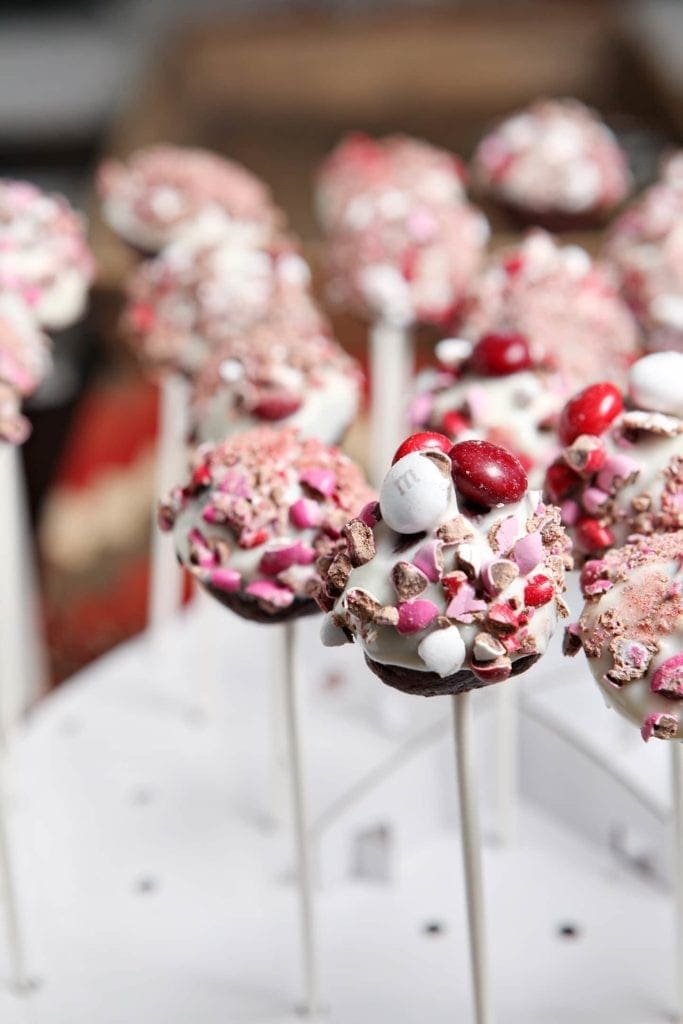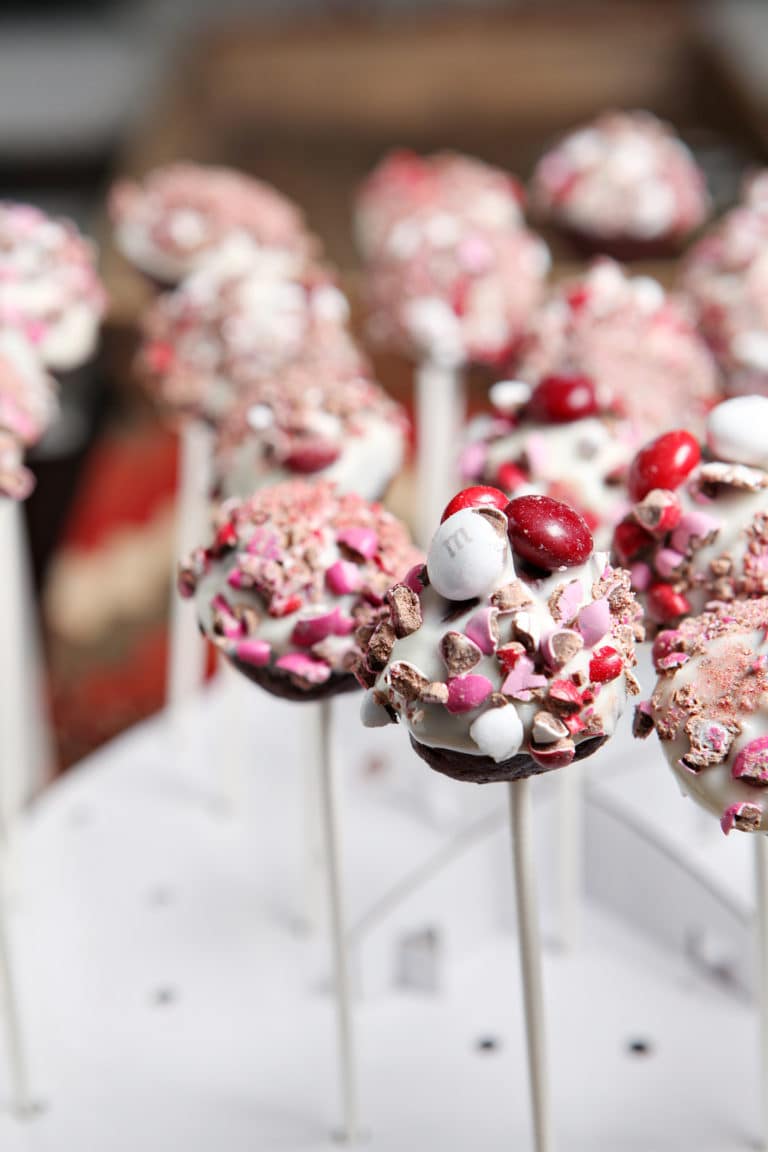 Other Awesome Valentine's Day Desserts
Interested in these beauties?
Scroll on down to learn how you can make these M&M's® Red Velvet Brownie Pops at home and share them with the people you love…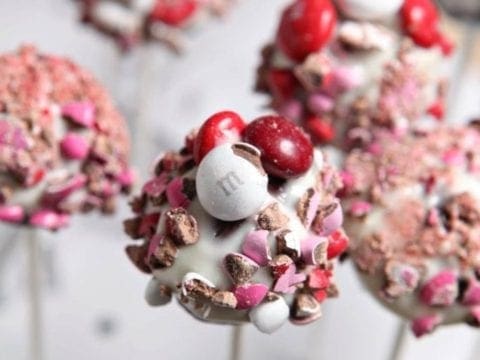 Yield:

40 brownie pops
Brownie Pops
Total Time:
1 hour
40 minutes
Bake your loved ones and friends these M&M's® Red Velvet Brownie Pops for Valentine's Day! These dense, rich brownie pops are studded with M&M's® Red Velvet, dipped in a decadent cream cheese icing and then topped with crushed M&M's®. What's not to love?
Ingredients
Brownies
3 tablespoons unsalted butter, melted
7 tablespoons unsweetened applesauce
1 cup unsweetened cocoa powder
1 ¼ cup granulated sugar
3 eggs
2 teaspoons pure vanilla extract
1 cup unbleached all-purpose flour
½ teaspoon kosher salt
1 cup M&M's® Red Velvet
Cream Cheese Icing
8 oz. cream cheese, softened
2 cups powdered sugar
1 tablespoons pure vanilla extract
2 tablespoons half and half, (or heavy cream)
Brownie Pops
3/4 cup Cream Cheese Icing, for inside brownie pops
Cake Pop Sticks
1 cup M&M's® Red Velvet, , crushed
Instructions
Make the brownies
Preheat the oven to 350°F. Line a 9" x 9" baking dish with parchment paper (on the bottom and sides), then spray with cooking spray. Set aside.
Melt the butter in the microwave, then combine with the applesauce and cocoa powder, mixing with a hand mixer until smooth.
Add the sugar, and beat until combined.
Add the eggs and vanilla extract. Mix until smooth and incorporated.
Add the flour and salt, stirring until just combined.
Pour the brownie mixture into the prepared baking dish, then sprinkle the M&M's® Red Velvet on top.
Bake for 40-45 minutes, or until the brownies have cooked through and an inserted toothpick comes out clean.
When cooked, remove from the oven, and let cool completely.
Prepare the Cream Cheese Icing
In a medium-sized bowl, whip the softened cream cheese using a hand mixer (or stand mixer.)
Add the powdered sugar, vanilla extract and half-and-half, mixing until smooth.
Cover and place in the refrigerator until this is needed.
Form the Brownie Pops
Crumble up the brownies into small pieces, as shown in this post, and add 3/4 cup of the Cream Cheese Icing. Using your hands, mix the ingredients together until slightly tacky.
Use a small cookie scoop to create the brownie pops. Scoop the dough, then round the pops between your two hands using a rolling motion. Repeat this step until all the pops have been formed.
Place the pops on a greased baking sheet, and let chill in the refrigerator for at least two hours.
Finish the Brownie Pops
Once the pops have chilled, insert the cake pop sticks into them until they are firmly in place.
Dip the brownie pops into the remaining icing, and stand upright (using a styrofoam box or a special cake pop stand). Sprinkle crushed M&M's® on top of the icing, then chill in the refrigerator for an hour... then dig in!
Notes
Please note that the total time does not include resting time and chilling time.
When the pops are finished, store covered in the refrigerator for up to a week. (I doubt they'll last that long, though!)
Nutrition Information:
Yield:
40
Serving Size:
1
Amount Per Serving:
Calories:

184
Total Fat:

7g
Saturated Fat:

4g
Trans Fat:

0g
Unsaturated Fat:

3g
Cholesterol:

25mg
Sodium:

72mg
Carbohydrates:

28g
Fiber:

1g
Sugar:

23g
Protein:

2g
Nutrition facts are an estimate and not guaranteed to be accurate.